An inaugural Arts Integration Conference held at the Chesapeake Arts Center (CAC) showcased the strength and excellence of the Arts Empowered Minds Initiative (AEMI)'s collective knowledge and resources. Over the course of the day, Anne Arundel County Public Schools (AACPS) educators and CAC artists participated together in classes, learning to integrate three different art forms into other academic areas.
"This was actually the first time we brought these two groups together and—WOW—what amazing things happened!"
"CAC is a fantastic arts hub next door to all 12 AEMI schools, but there isn't always time for teachers to experience all it has to offer," said Hana Morford, YA Education Director, Statewide Initiatives. "Our goal for the day was to create synergy between the amazing CAC artists and AACPS teachers—giving them space to work together and learn from one another through the arts. This was actually the first time we brought these two groups together and—WOW—what amazing things happened!"
The teachers and artists rotated in groups throughout the workshops, spending equal time weaving and stitching with Katherine Dilworth, a Young Audiences fiber artist; learning the elements of dance with Lacey Sheppard, Arts Integration Teacher Specialist; and forming clay vessels with CAC artist Cami Ascher. Then, in the afternoon, the teachers worked in their school teams to write an arts-integrated lesson plan that connected to one of the three art forms. During this time, CAC artists were able to get a taste of arts integration and develop ideas on how they might integrate their art form with some of the teachers' content areas.
As they engaged in the various art forms, ah-has and ideas filled the classrooms. Katherine Dilworth guided participants first in a weaving project using sturdy paper plates and colorful yarn, and later, in stitching. She shared finished samples with the teachers that focused on math and on literacy—incorporating felt and even beads into the designs. Her excitement was contagious. Working with burlap, needle, and thread, one history teacher imagined the possibility of students stitching constitutional amendments.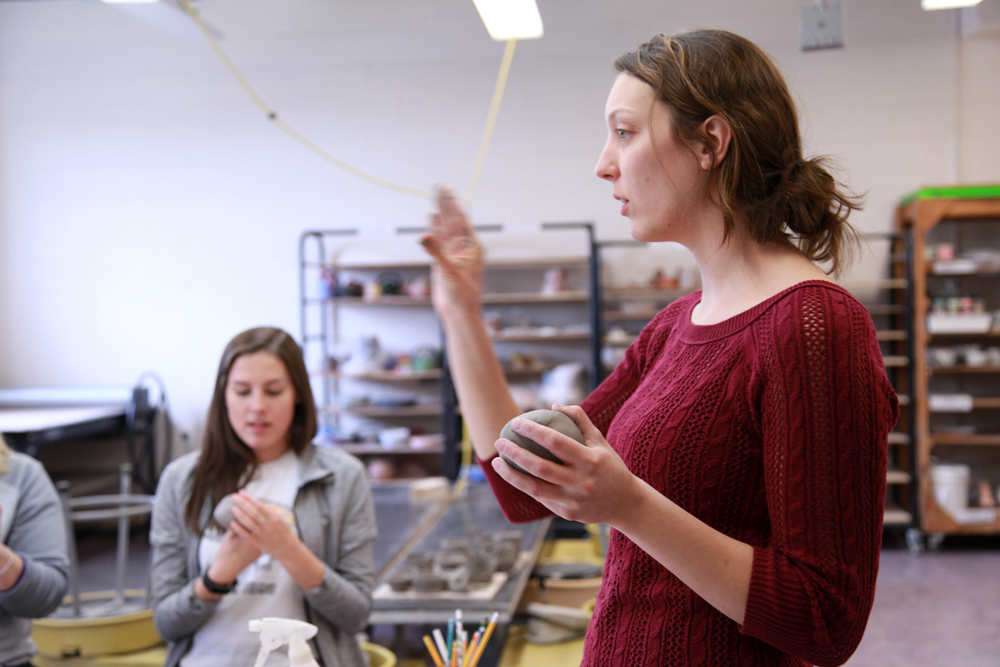 Teachers got their hands messy learning clay building techniques with Cami Ascher in the CAC's ceramics studio. They rolled long snakes and coiled them into different shapes. They transformed balls of clay into pots and funny characters with big eyeballs. And they learned how to "scratch and attach" to create a strong bond between formed pieces of the material. Cami had lots of advice for the group: which clays to use if they have/don't have access to a kiln, how to minimize mess, and how to preserve a project if more than a class period is needed to complete it.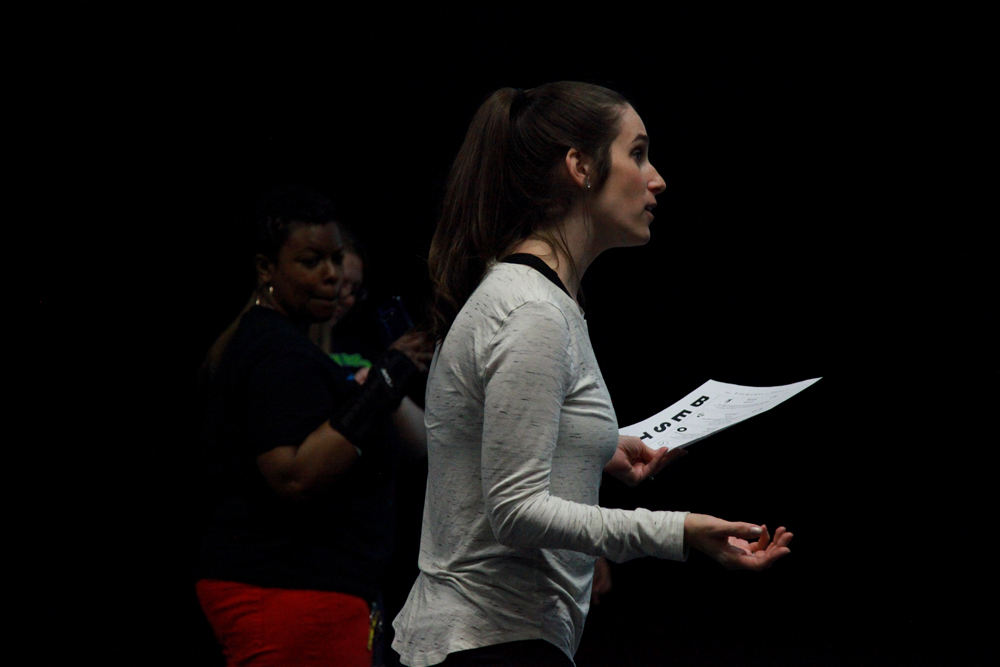 Lacey Sheppard divided participants into two groups for her workshop, each choreographing and performing an original dance for the other. They thought carefully about BEST: Body, Energy, Space, and Time—the elements of dance. Some stepped out of their comfort zones while others felt right at home in the limelight, but they all enjoyed the exercise in movement and the connections they could make through the art form to other classroom lessons.
One participant gained so much from the professional development workshops, she sent a note of appreciation the next day. "I just wanted to share that yesterday's PD was by far the best PD I have ever been to," she said. "I loved how you had us in groups that stayed together through the day. I am so excited to bring back new ideas to my school. Thank you so so much!"
Hana added, "It was so beautiful to see the AEMI community begin to take shape between teachers and artists!" And it is a community, we know, that will create so many opportunities in Northern Anne Arundel County. That is the power of the Arts Empowered Minds Initiative.
Learn more about the Arts Empowered Minds Initiative, its collective impact partners and the community it serves by visiting artsempoweredminds.org.
Written by Barbara Krebs,
Young Audiences volunteer and Sunburst Society member
Excited. Proud. Love. These are the three words that I heard repeatedly as I attended the unveiling of the mural that sixth-grade students from Brooklyn Park Middle School created. Though these are not words typically linked with a middle school science project, they help illustrate the magic that is produced when you combine science education with an arts-integrated approach to learning.
The collaboration between their science class and a professional teaching artist from Young Audiences, in partnership with Arts Empowered Minds Initiative (AEMI), resulted in a 10-foot science-themed mural, titled "Brooklyn Park Middle Students Research Cells and Viruses." As explained in the program, the mural "illustrates the dynamic, multifaceted interactions occurring thousands of times a day between cells, viruses, and living things."
I wasn't sure what to expect as I entered MedStar Harbor Hospital's Baum Auditorium in South Baltimore, but I immediately felt welcomed as a saxophone quartet from Brooklyn Park Middle played classical music. Their melodies formed a soothing backdrop to the animated conversations between medical personnel, artists, educators, politicians, parents, students, and others who had gathered for the event. A delightful spread of food – chicken satay, veggie trays, fruit and cheese platters, and even cupcakes for the kids – provided by the catering arm of the hospital, Morrison Healthcare, ensured that no one would walk away without all their senses satisfied.
But I digress.  As the reception wound to a close, the formal program began. First up, Stacie Sanders Evans, the President and CEO of Young Audiences. Reaching for a hospital analogy, she spoke of Young Audiences' facilitating role behind the scenes as the "spinal cord" or "backbone" that makes the arts-integrated learning possible in area schools. She described how Young Audiences partners with schools and other organizations like AEMI and the Arts Council of Anne Arundel County (who helped fund this project) to pair core curriculum teachers with professional teaching artists to enhance learning experiences in Maryland classrooms. Rather than rote learning, students explore academic subjects in any number of hands-on, arts-oriented ways.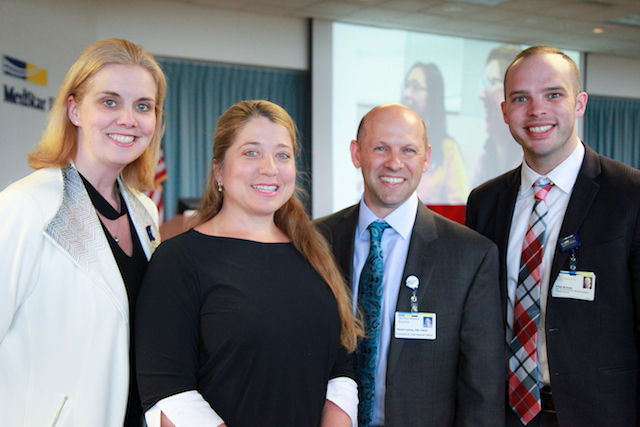 Next was Dr. Stuart Levine, President and Chief Medical Officer of MedStar Harbor Hospital. He told the young student artists just how meaningful their creation would be to the hospital, saying that it would be proudly displayed in MedStar's Emergency Department lobby. He talked about the VIPs in the room – the sixth graders – who had created this mural. He told them, "When community members come in for care, when they're sick, when they are at their moment of need, they're going to come into a place that has this incredibly hopeful work on the wall that's made with love by the kids of their community."
Then Dr. George Arlotto, Superintendent of Anne Arundel County Public Schools, spoke, stressing, "People who don't even know you love you; people who don't know you are proud of you." This was the legacy that, even as young tweens, they were creating for their community.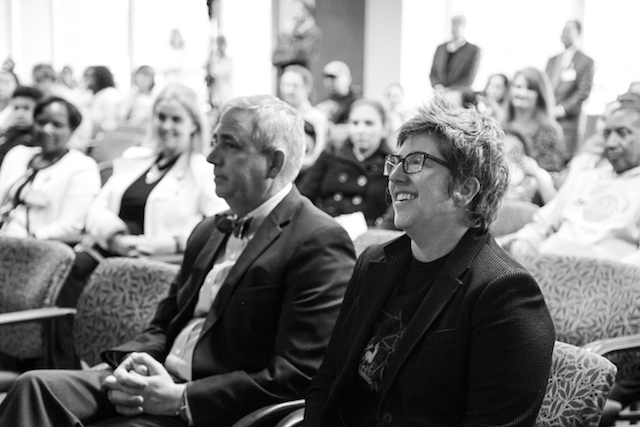 Following Dr. Arlotto, the two teachers who guided the kids through the process spoke. Lisa Radike, the Brooklyn Park Middle school science teacher, recalled that this process helped the kids learn more than just the science of cells, it also helped them "learn how to get along, how to work together." Amanda Pellerin is the Young Audiences artist who taught them to mold clay, shape it into the cells and viruses they were studying, and then assemble an entire mural from all the different parts they had imagined and created. As she looked proudly onto the students, she made sure they understood the significance of what they had done. "You now have artwork that is on permanent display– and you're not even out of sixth-grade yet!"
Finally, it was time for the unveiling of the mural. As the students and their teachers surrounded the mural, people leaned forward in their seats, many creeping to the front with cell phones to capture the much-anticipated moment. After a few more remarks from one of the students who reiterated the theme of how creating the artwork had required them to put aside differences and work together, the veil was cast off and everyone could finally see the finished artwork.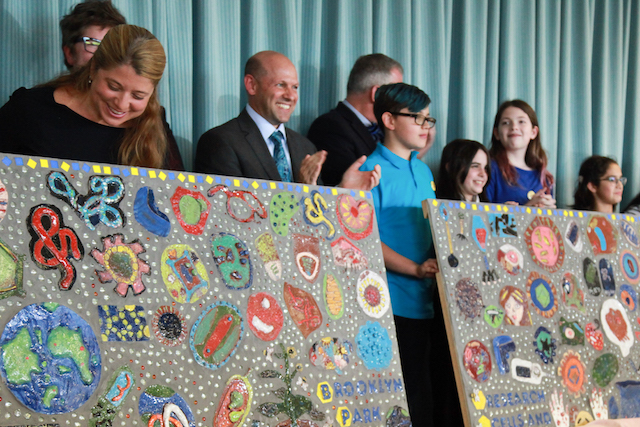 Brightly colored cells wiggled and squirmed their way across the surface. And like a visiting rock star, the mural sat "patiently" as a host of people came up to be photographed with it.
As the event wound down, I finally managed to talk to one of the students, asking simply, "How long did it take all of you to create this?" His answer pulled me out of my adult world of man-hours and Outlook schedules. "About 10 classes."
There it is simply. It's about the classes. It's about what you learn in the classes. It's about how the classes are taught. It's about the knowledge you retain from the classes. And though my own knowledge of sixth-grade biology is but a dim memory, it didn't take a Jonas Salk knowledge of cells to clearly see how wonderful this evening was. That these kids were excited about science. That the folks in attendance were proud of what the middle schoolers had learned and created. And that everyone loved the intersection of science and art.
Written by Barbara Krebs,
Young Audiences volunteer and Sunburst Society member
If you follow education trends even a little, you can't avoid the STEM acronym. In fact, at many area high schools, getting a slot in the highly popular STEM (Science, Technology, Engineering, and Math) magnet program is tricky at best.
Why is that?  Why do people automatically assume that if you want your student to get ahead in life, your best bet is to seek out an education that prioritizes a STEM-based curriculum over one that values the humanities or visual and performing arts? Now, enrolling in a STEM-focused program is certainly not bad advice. But, it's definitely not the only path to success as one recent Washington Post article reported.
"Kids have been educated in a computer world.  But that computer world continues to threaten traditional jobs, so success will rely on the ability of students to innovate and use tools in a non-traditional way."
In the article, "The surprising thing Google learned about its employees – and what it means for today's students," the Post reported on a 2013 study that Google conducted on its own hiring practices. Its founders, with solid backgrounds in computer science, felt certain that only "technologists can understand technology." But after every bit of data was gathered and analyzed, the company discovered something unexpected. Of the top eight criteria considered essential for a top employee, STEM expertise rated… um… eighth.
This led to a deeper dive into the data, which ultimately led to Google re-evaluating its employment processes and putting more emphasis on hiring "humanities majors, artists, and even MBAs." Other companies (such as Chevron and IBM) have also discovered the positives of hiring liberal arts majors because they "prize their ability to communicate."
On a personal level, I feel very strongly about this. My daughter, Colette, spent seven years (three in middle school and four in high school) pursuing a Performing and Visual Arts education. She learned to sing, dance, act, write, and most importantly from my perspective, think creatively. And while she was singing and acting her way through high school, she was also taking AP Physics and Calculus and learning to wire circuit boards. So it didn't come as a huge surprise when she enrolled in Engineering as a college freshman.
While some people were shocked at the 180° turn she made, I viewed it as the logical conclusion to a style of learning that she honed as an arts major in high school. Combining a love of math and science with the arts is not as unusual as you might think.
"Finding a path to my final images is a complex choreography of math, my sensibilities as an artist/scientist, and the subtleties of the subject."
Take, for instance, Dr. Tim Christensen, biology professor at East Carolina University (ECU) and Senior Faculty Fellow in their Honors College (full disclosure – that's how I first met him, when touring ECU with my daughter, who was accepted into both ECU and their Honors College). Dr. Christensen is primarily a scientist but also an artist. Merging the two disciplines, he fully embraces and personifies the concept of STEAM (Science, Technology, Engineering, Arts, and Math).
I was immediately struck while perusing the awe-inspiring galactic photographs on his website, AstroWimp. "As an artist, I've been heavily influenced by my scientific training," he wrote. "To a scientist, images are 'data.' Standing in both art and science worlds, I attempt to convey the art of the data." In his role as teacher, Dr. Christensen transfers the wonder he experiences as a scientist and an artist to his students.
He readily admits that while he finds jumping back and forth between scientific and artistic worlds a natural leap, that is not the case with every scientist.  "Some are still wary of anything that can't be measured scientifically."  Nevertheless, he continues to champion the intersection of science and art, as evidenced in his own artwork. "Finding a path to my final images is a complex choreography of math, my sensibilities as an artist/scientist, and the subtleties of the subject."
Dr. Christensen is currently collaborating with a fellow faculty member, Daniel Kariko, Associate Professor of Fine Art Photography. Their project, dataSTEAM, "focuses on artists who work directly with scientists to develop a deep understanding of the data, preparing artists to contextualize data in their art, connecting both disciplines… art to science, and science to art."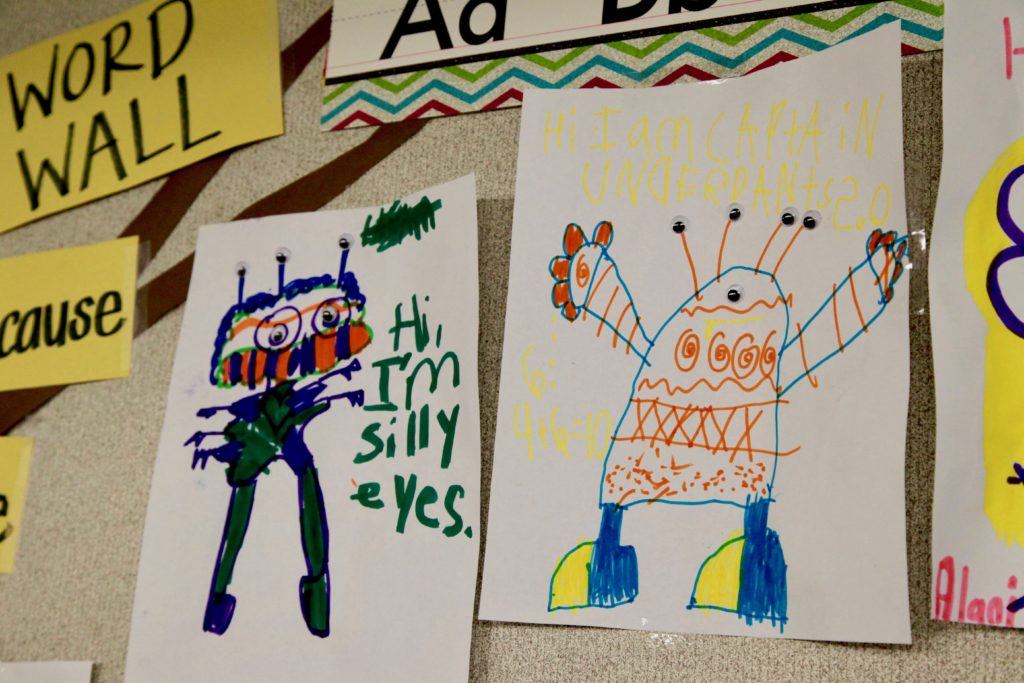 Starting in the fall semester, the two will "facilitate collaborations between Art and Honors/Science students" leading to a gallery exhibit at the university. But more important than the exhibition is, of course, the concept of cross-fertilization between the two disciplines.
As Dr. Christensen explained it, "Kids have been educated in a computer world.  But that computer world continues to threaten traditional jobs, so success will rely on the ability of students to innovate and use tools in a non-traditional way." He feels that merging science and art will create students who are quicker to think outside the box and can straddle both the worlds of imagination and hard-core data.
Similarly, what Google has identified as the top characteristics of successful employees are not unlike the same skills that educators and other business leaders identify as being critical to a person's success in careers, in college, and as a citizen: critical thinking, collaboration, communication, and creativity. These are behaviors that Young Audiences' teaching artists observe and nurture every day among students in arts-integrated classrooms. And so, for those folks who doubt the value of arts integration into core curriculum subjects such as science and math, the, ahem, data demonstrate that arts and science together create a more balanced individual who can successfully work in today's fast-paced, ever-changing work environment.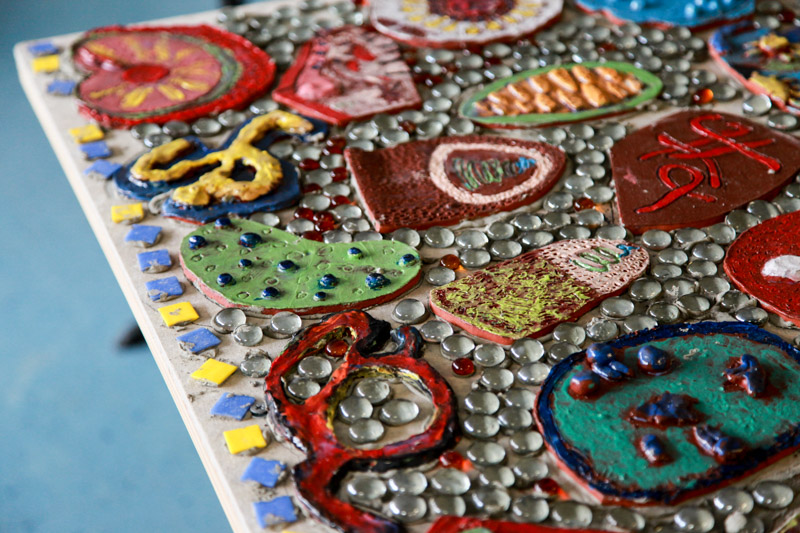 But don't take my word for it, just ask my daughter.  In a recent phone call, Colette was excitedly discussing her Statics class.  The definition of her Statics class from ECU's website- the analysis of equilibrium of particles, addition and resolution of forces, equivalent system of forces, equilibrium of rigid bodies, centroid and moment of inertia, structural analysis, internal forces, friction, and virtual work- left my head spinning.
When I commented on the apparent difficulty of the class, she assured me breezily, "Oh Mom, it's easy for me.  After all those arts classes in high school, I can see in 3-D." 
Before there is art, there is planning- lots of planning. This is something that 7th graders at the Baltimore Design School know all too well. Without it, the mural that these students created under the guidance of YA roster artist Amanda Pellerin and art teacher Stephanie Cafaro would not be the magnificent work that it is.
The class began with brainstorming and list-making. "We asked the students, "What's important to you?" Amanda Pellerin explained, "And we had different posters that asked, "What's important to you at home? What's important to you at school? What's important to you in your city? What's important to you in the world?"
From these ideas, Miss Cafaro had the students narrow down what they believed to be most important into one list of possible mural themes. Some suggested a tribute to President Obama or a better Baltimore. Others wanted to illustrate the power of protesting or important issues in the world today. "When I looked at this, I didn't see 10 different murals," Pellerin said. So, the artist proposed combining each idea into one single, powerful mural, and the students were all for it.
Before they could get to work on cutting and etching and glazing their tiles, however, the group first had to decide what the project was going to actually look like. After discussing composition and scale, and considering how the piece would flow visually, the group decided that the mural would feature three "larger than life" role models among a crowd of protesters. The class felt that President Obama, Harriet Tubman and a native American should stand out. The choices that the class made in the design process were purposeful. Role models weren't chosen randomly, they were justified and carried significance for each student.
Small teams of students worked together to create each larger than life figure, then reunited to complete the picture and piece the mural together. In their finished artwork, historic role models protest alongside important figures of the present. The figures carry protest signs that reflect current issues with sentiments that students imagined each role model might express if given the chance today.
"We're trying to help them understand that designers work as teams."
From conception to execution, the class was instrumental in seeing the project to completion. Directing the vision of the finished piece allowed the students to take ownership of the artwork and truly see it as their project. "I love that they had to come up with a concept and work together," noted Miss Cafaro. Every material that needed to be prepped and every decision that needed to be made happened because the class took charge, collaborated, and cooperated. "We're trying to help them understand that designers work as teams," Miss Cafaro said. "Even if it's not their favorite idea, they're part of a team and still need to contribute."
Amanda Pellerin specializes in handmade tile murals and clay sculptures and has 20 years of experience in teaching both children and adults. Learn how to bring Amanda's residency, Handmade Tile and Mosaic Murals, into your school.