Providing students with engaging, meaningful, arts-infused learning experiences is a team effort—and we're incredibly excited to announce that ours is growing!
We're pleased to welcome Jessica Smith Hebron to the Young Audiences team as our new Chief Program Officer!
Jessica's strong experience as a master teaching artist, arts manager, and entrepreneur uniquely positions her to enhance our many programs that ignite learning. For years, Jessica has successfully engaged young learners in the arts—both in classrooms in her role as teaching artist, and by planning and coordinating big picture programs. She's done the work on behalf of students, and her approach could not be a better fit!
Jessica is a multidisciplinary artist and accomplished playwright, musician, screenwriter, and children's book author with wide-ranging talents and a deep understanding of the arts' power to positively transform a child's self-image.
As Chief Program Officer, Jessica will lead Young Audiences' development and enhancement of innovative programs that use the arts to spark student learning, curiosity, and expression while building relationships with educators across the state. She will work to diversify our offerings, support the program team as they support educators, and apply a racial justice approach to program development and evaluation.
"Early and continuous exposure to arts programming enriched my childhood with imagination, empowerment, and countless learning opportunities," says Jessica. "I believe that every child deserves access to arts programming that is as inspiring and educational as it is impactful, and I am excited to use my extensive experiences as a master teaching artist, arts manager, and entrepreneur to continue the crucial work of innovating and transforming the dynamic programs offered by Young Audiences."
Prior to joining Young Audiences, Jessica was the Interim Executive Director of Prince George's African-American Museum and Cultural Center and served as Children's Program Coordinator for Busboys and Poets. She is also the owner and founder of Culture Kingdom Kids, LLC, which delivers innovative and empowering children's events with a cultural twist, including assemblies, festivals, and professional development workshops for diverse audiences.
Throughout her career, she has engaged thousands of students in the arts and managed programs that connect cultural awareness with arts integration. The experiences and ideas she brings will mean stronger programs and expanding impact on the students and educators we reach. Welcome, Jessica!
Written by Stacie Sanders Evans,
President and CEO of Young Audiences/Arts for Learning
In November, the Director of Arts Administrators of Color, Quanice Floyd, penned an op-ed with the title The Failure of Arts Organizations to Move Toward Racial Equity that called on the national arts advocacy group Americans for the Arts (AftA) to increase transparency and accountability and make progress toward racial equity in its role as a national leader in the arts and culture sector.
My hope is that you will read this piece to understand the many concerns of artists and arts administrators of color; and the many opportunities that AftA was given to respond to these concerns. No wonder Ms. Floyd put the call out for Black, Indigenous, and other POC artists, arts leaders—and the organizations that serve them—"to come together to build agency, support one another, shift the current systems that have alienated members of our community since their inception, and invest in ourselves when these organizations will not."
Ms. Floyd's courage in standing up to a titan in the arts caught the attention of many who had observed or experienced harmful actions as well—and resulted in leaders in the arts to call for five actions listed here. The Washington Post has now elevated the voices who are calling for change at AftA. My hope is you will read both of these articles, too.
What Ms. Floyd did, she shouldn't have had to do. Imagine the risk she had to take in her professional life to call out someone, and an organization with so much power? She displayed a love for our field and a belief in the potential of AftA to do and be better—these are two things we have yet to see from AftA's board of directors. It is out of love that I write this piece and use our platform to amplify Ms. Floyd's voice.
Many of you know our organization and me, so you know I am white and lead a nonprofit that predominantly serves Black and brown students in Baltimore City. Our community of staff, board, artists, and teacher faculty has become increasingly and intentionally more racially diverse to better reflect the young people we reach.
What some of you may not know is that Black and brown artists of Young Audiences have loved me and our organization in the same way that Ms. Floyd loves this field and AftA. These artists have shared that there have been times when they have felt hurt, unseen, and ignored by Young Audiences. Their sharing these experiences was a tremendous gift to me—because it helped me understand what I was doing to get in the way of my own commitment to advancing race equity through our work in schools and our organizational structures—but it is a gift that they should never have had to give. We can't continue to expect people of color to continue these acts of love at their own peril.
It is always Young Audiences' responsibility to stand up for racial justice. We stand with Ms. Floyd and ask that you do so, too.
Black lives matter. Young Audiences stands with those fighting for justice in Maryland, Minneapolis, Louisville, and across our country. We honor those who have been murdered and otherwise harmed by our nation's systemic racism and police brutality.
We recognize that #BlackLivesMatter is a movement, not a moment, and as an organization it is our responsibility to be engaged and stay engaged—both in this powerful moment, and in those that follow. We acknowledge that our organization has benefitted from systems of oppression, and in the fight for racial justice, we must continue to examine and change our own organizational practices and culture.
Artists shape culture. Artists help us to see, understand, and express injustice. And, if we want to build a world that is just—we as a society need to be able to imagine that world. The arts are critical to that. 
Knowing that this time, while not new, is extremely challenging for Black people, we wanted to share a Black only healing space that some may be interested in: 
The Healing Hour: On Thursday, June 4, a safe space on Zoom for Black voices to process feelings surrounding black lives lost to police brutality, hosted by a Black clinician Brie Sutton, LGPC
We also want to share some of the organizations and resources that we have found valuable in our learning. The resources below are just some of many resources to explore. 
We are committed to continuing to learn. To listen. To question. To be questioned. To respond. To act. We look forward to growing together.
Resources
Organizations:
Resources:
Arts Integration Episodes Will Air Weekly Through Partnership with
Baltimore City Public Schools
BALTIMORE – Young Audiences of Maryland, the Baltimore-based nonprofit delivering arts-integrated learning to Maryland students, is partnering with Baltimore City Public Schools to produce Arts & Learning Kids, a weekly series of TV broadcasts bringing engaging, arts-integrated classroom lessons directly into the homes of students and families while schools are closed.

The Arts & Learning Kids series launches Saturday, April 11 at 10:15am on the City Schools' Channel 77 and will air every weekend. Multiple curriculum-aligned episodes will be tailored to three grade bands: pre-k/kindergarten, 1st-2nd grade, and 3rd-5th grade. Baltimore City Public Schools is using Channel 77 to deliver educational content to support students and families during school closures. Click here to view the full schedule of programming.

Young Audiences will create new 30-minute episodes every week for all grade bands, starting with four Arts & Learning Kids programs that support Baltimore City Public Schools' Wit & Wisdom literacy curriculum and Eureka Math curriculum. Each episode will feature a Young Audiences teaching artist and an educator. For example, one episode shows songwriter Mary Fields working with teacher Kevin Older to write song lyrics that help them solve a word problem. In another episode, dancer Valerie Branch partners with educator Kristina Berdan to create choreography connected to the character traits of important civil rights leaders like Ruby Bridges. 
The Arts & Learning Kids videos will offer modified versions of the teaching artists' classroom activities, tailored for students learning at home and incorporating activities that could include their families. Episodes will encourage students to share their creation or performance with Young Audiences, which will make them available on social media and possibly include them in future episodes of Arts & Learning Kids. 
Check out one of the first episodes, focused on math:
Teaching artists are professional artists who work with classroom teachers and deliver hands-on, arts-infused learning experiences that support traditional academic content. 
Young Audiences suggested the Arts & Learning Kids programs to Baltimore City Public Schools, and is the only provider of education content for City Schools' Channel 77 programming beyond programming from Great Minds, the DC-based organization which created the Wit & Wisdom and Eureka Math curricula.
"Young Audiences has been a consistent and positive influence in our community and we look forward to continuing our partnership in creative, new ways as we implement the district's Continuity of Learning plan in response to school closures," said Janise Lane, Baltimore City Public Schools Executive Director of Teaching and Learning. "The Continuity of Learning plan is designed to continue learning while being as flexible as possible for our families; to continue the connections that matter – between teacher and student, family, and school; and to create a safe and nurturing virtual classroom community where everyone supports each other. To achieve these goals it is vital to provide alternate avenues for learning and connection and The Arts & Learning Kids show is a key component of that effort."
"Ensuring that students are engaged, learning and connected during this period of school closures is critical," said Stacie Sanders Evans, President and CEO of Young Audiences of Maryland. "Arts & Learning Kids will provide a consistent place for young people to visit — particularly those that do not have access to the internet for online learning — and to connect with dynamic artists and teachers. There they can explore literacy and math through a variety of art forms and be challenged to share their new knowledge with caregivers and parents who also need an opportunity to express and create."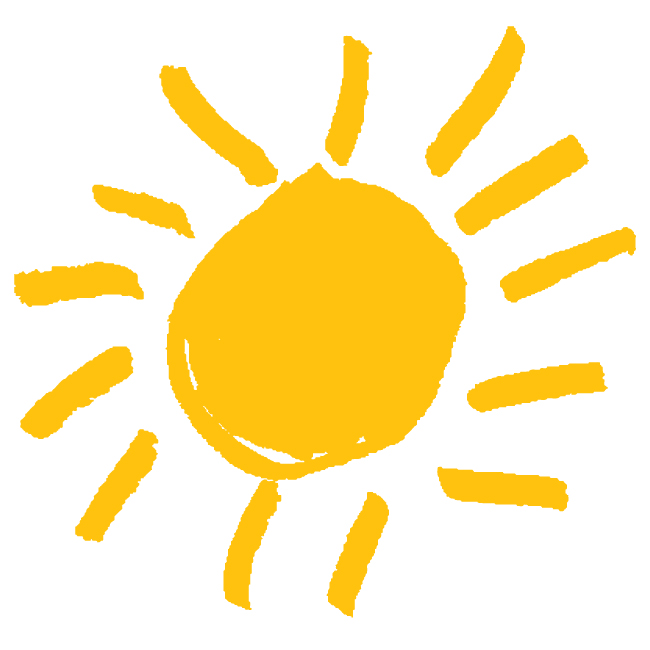 About Young Audiences/Arts for Learning:
Started in Baltimore in 1950, Young Audiences is the nation's largest arts-in-education provider. As the Maryland affiliate, Young Audiences/Arts for Learning (YA) is devoted to enriching the lives and education of Maryland's youth through educational and culturally diverse arts programs. Through Young Audiences, professional artists from all disciplines partner with leaders and schools for nearly 10,000 hands-on arts learning experiences that reach more than 190,000 Maryland students. Young Audiences envisions a Maryland where the arts are valued for their capacity to transform lives, and where every student is immersed in opportunities to imagine, to create, and to realize their full potential.
Written by Barbara Krebs,
Young Audiences volunteer and Sunburst Society member
Recently I toured Ireland, circumnavigating this gorgeous island from the Republic of Ireland, to Northern Ireland before returning to Dublin. If you have half a day, I'll be happy to tell you about everything I learned there, from Irish history to Irish dancing to Irish food to (ahh) Irish whiskey. But if you have only a few moments, then I'll just tell you about my biggest takeaway from this trip–passion.
So now you're thinking, "What does this have to do with Young Audiences?" In the great tradition of Irish storytelling, I will let you know how one starts in Ireland and ends up in Baltimore with passion as the theme.
My story starts with a tour guide in Northern Ireland named Garvin, who told us about his wonderful city, Derry. Following the itinerary map, I had been puzzled since I couldn't find it. This mystery was quickly cleared up as Garvin explained that Derry is the town's traditional Irish name but it had become Londonderry during British rule. But he was also quick to explain with a broad grin that what his city actually is, is Legen-Derry (Get it? "Legendary!").
And thus began his tour of a city that he was obviously totally devoted to and passionate about. Today Derry is a wonderful city, with much to offer tourists–historic 17th fortification walls (the most intact in Ireland), Gothic-style cathedrals, a vibrant waterfront restaurant/bar scene and fascinating museums. But if, like me, you think of Derry during The Troubles, your memories will be very different, with scenes of bombed-out buses and civilian and British troop deaths.
But Garvin used that very history to make his point about his city being a wonderful place. He took us to Bogside, scene of infamous clashes between citizens and British military police, and said, matter-of-factly, "You would not be on a bus going here in the '70s, because it would be hijacked, turned on its side and burned out to use as a barricade to block the street against the British." This, while we looked out the bus windows at calm, clean streets.
I loved the beauty of Derry, its rich and troubled history, and yes, the passion of Garvin. And what struck me most forcefully was how many times he repeated, "I thank you for coming to visit my beautiful city. Please tell your friends and relatives what a wonderful place it is." And I knew then how deep his passion was for his flawed and scarred, yet fascinating city. And through him, I fell in love with it, too.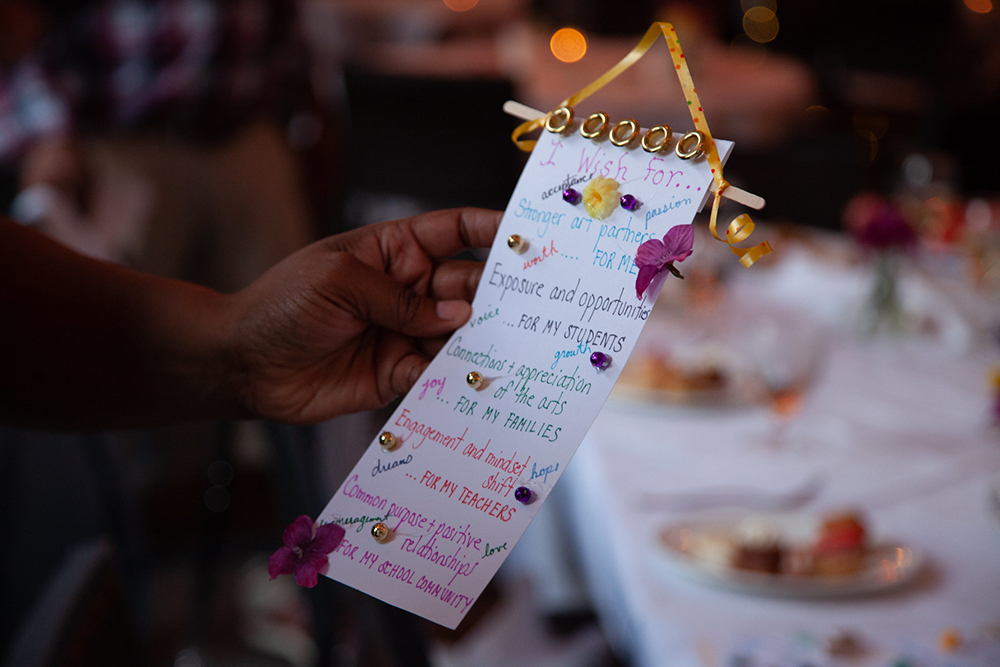 So now here's the connect with Young Audiences. I have witnessed the passion of Young Audiences artists like Femi the DriFish and their teacher partners who, despite challenging situations, work tirelessly to promote learning in their classrooms, using the innovative arts techniques taught by YA. I have seen deep passion in our principals who set aside hard-fought funds to bring the arts into the classrooms when others are choosing to cut these opportunities. I see this passion in the YA board, who includes my husband, who donate their limited time outside of work and family to ensure that more kids have opportunities. It is through them that I fell in love with Young Audiences, too.
I am pleased to announce that Garvin's passion for his birth city is contagious. With his example, I am happy to tell all who will listen that I am passionate about Young Audiences. I will tell folks about how fantastic Young Audiences is–and that includes you!
Wanna know more? Consider joining CEO Stacie Sanders Evans and a Young Audiences teaching artist on Thursday, December 5, 5:30-6:30 pm for a free, one-hour Meet YA Event. To register, please contact Micaela Gramelis via email or phone – micaela@yamd.org or (855) 245-2787. All I ask is that afterward, like Garvin, you tell all your friends and relatives about the wonderful work that YA does.
Written by Soni Kunwar,
2019 SummerREADS Intern
When I was looking for a summer internship during my spring semester at college, I came across an internship for the SummerREADS program at Young Audiences of Maryland. What caught my eye about this internship was that it offered a unique experience like no other. I was excited to work for an organization whose mission is to promote arts in education including through summer learning.
When I found out that I was offered the intern position for the SummerREADS program, I was very excited to get started. One of the main reasons why I joined the SummerREADS team is because of the opportunity to be an active member of my community. A library is a vital part of what makes a community so great. It is a place of learning and a hub for community activity for kids of all ages. Some of my favorite childhood memories took place in my school and community library. The joyful feeling of being in a brightly colored room with an endless supply of books is something all kids should be able to experience.
From the very first day of the internship, everyone welcomed me with open arms and made me feel like part of the team. Right off the bat, I was working alongside the team in the enrollment/registration process. It was exciting to see how spaces were filling up at the different sites as we inched closer to the start of the program. In the weeks of preparations, there were lots of team meetings, phone calls made, supplies sorted, and lesson plans printed. Once the program began, I provided support at the eleven different sites.
The most rewarding part of the internship was seeing the students engage in arts-integrated literacy workshops with teaching artists and visitors. Every time I stepped into a Weinberg library, students were participating in activities that showed creativity and innovation. I loved seeing collaboration amongst students when they were building 3D kinetic creatures with Futuremakers or when they were writing and performing hip hop verses with Bomani. I was able to capture many moments like this and post them on the SummerREADS Facebook page. Managing the Facebook page allowed me share photos of all the learning that took place, whether a site was learning about music, dance, theater, or visual arts on a particular day.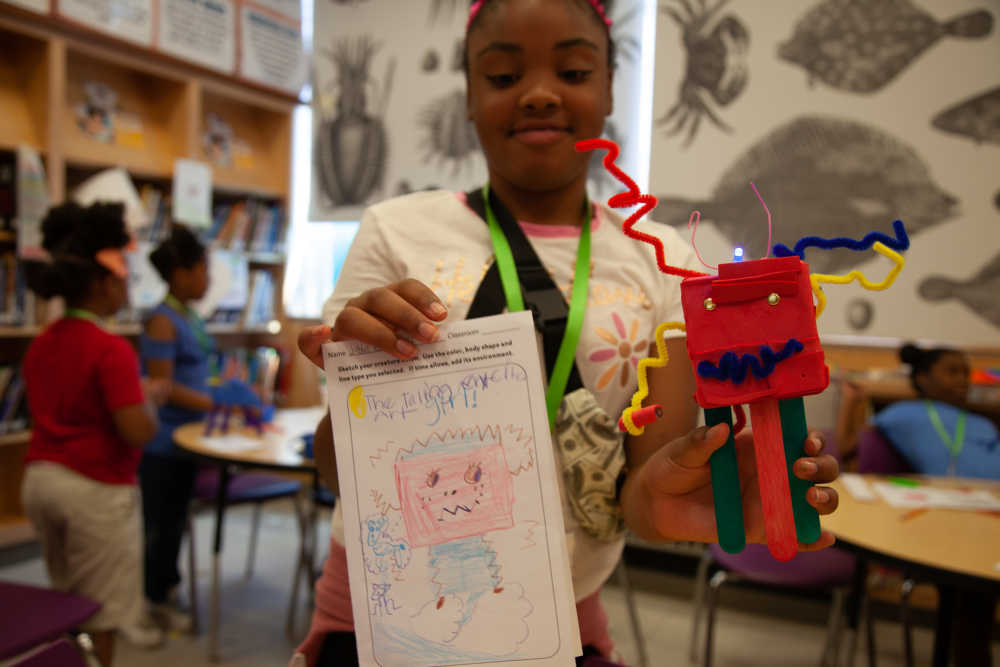 It makes me proud to have been part of a team of hard-working and dedicated people. I was constantly surrounded by people that were truly passionate about their job and who did everything they could to make the program a success. Everyone I met, from the librarians and teachers to the staff at YAMD, helped me grow not only at my job, but also as a person. Throughout the whole experience, I was able to see how a summer program that promotes arts in education really changes lives. It gives a child an opportunity to elevate their learning and dream big.
SummerREADS is a free literacy initiative that provides weekly drop-in programming for Baltimore City students. Each host school and library offers a safe and welcoming space where students can participate in literacy workshops with teaching artists and enrichment activities with special guests. Students also earn incentives for reading, receive two free and well-balanced meals per day, take books home, and access other library resources.
Written by Stacie Sanders Evans,
President and CEO of Young Audiences/Arts for Learning
Belonging. That's the word that has been on my mind. Our founder, Nina Collier, understood belonging. She felt music belonged in schools, that artists belonged in a child's education. In 1950 she inspired a movement of artists-in-schools. What started in Baltimore has now grown to 30 Young Audiences–the largest arts-in-education network in the US.
Today, Young Audiences artists like Femi the DriFish and Valerie Branch ignite a child's desire to learn. Whatever our partner artists' art form is–hip hop dance or improvisational theatre–they use it to draw kids into learning. We train our artists to integrate their art form with whatever is being taught in students' literacy, math, social studies, and science classes.
We do that because when kids create something they get to make choices. They make meaningful connections. They express themselves. Choice and voice–that makes the learning matter.
When we, as a community, provide children with these kinds of opportunities, we are telling them, "You matter!" All of this, what we do, it nurtures the sense of belonging in our kids, artists, parents, and teachers. And it is belonging that I feel when I walk into one of our classrooms. Listen to how Tiffani, Dawn, and Valerie talk about our community in Together–we are their people–and we all belong.
Think back to when you were growing up. Who were YOUR people? What teacher or coach left their imprint. Who helped you become the person that you are today?  I bet that person made you feel visible. Known. That you belonged.
My moment was in ninth grade. I was struggling in many different ways and my drama teacher, Mrs. Howard, saw something in me. She knew how to draw that "something" out–just like the 200 artists (both YA roster artists and independent artists) we work with. In her class, I belonged. She cast me as Juliet in Romeo and Juliet. And that moment was like rocket fuel for me.
Belonging is a strong human need, particularly in our children. I see belonging as the net below the trapeze. When kids have that net of belonging, they are more likely to lean into learning–kids like Josh Ajala, who in Together, spoke about moving from the back of the class to the front–and his sister Tiffani Ajala–who was brave enough to apply for Baltimore Design School (and got the highest possible score on her fashion portfolio!) These are the courageous risks we want our kids to take so that they can grow.
But public education for the last 17 years, after the birth of No Child Left Behind, hasn't been focused on this. It has been about raising standards and increasing school accountability–measured through standardized testing. What do kids who are part of this system think about this? In Brenna's poem, she says students feel like they are just inputs and outputs in one simple equation.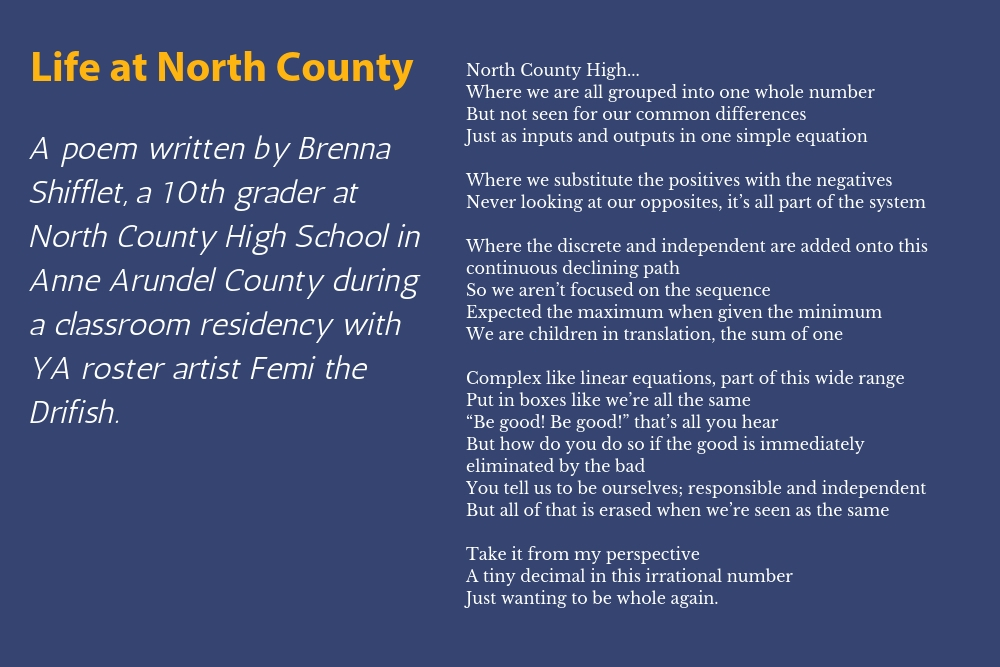 The outcomes we are seeing are heartbreaking and not sustainable as a society. Eight out of ten Baltimore City Schools students do not meet "proficiency" in math or reading. Nearly half of our children across the state entering Kindergarten are already behind. Four out of ten Maryland teachers leave teaching within five years because this isn't the equation they want to be a part of.
A different way is needed. Young Audiences is a different way. Our movement is to make sure all kids–and the people who teach them–are not treated like inputs and outputs but as the whole beautiful human beings that they are.
Today, thanks to our 450 school partners, our Sunburst Society members, and our game-changing evidence, our movement is growing. Outreach has doubled in the last five years. We impact the education of 191,000 children EVERY year–children in EVERY Maryland county.
We are on a mission to close the opportunity gaps in this educational system. We have four strategies:
Preventing summer learning loss by operating 20 summer programs across our city
Increasing school readiness through early childhood programs in four counties
Improving student engagement in learning by providing professional development to 500 teachers every year
Increasing equity in access to opportunity–more than 30,000 of our children are in under-resourced communities, so we provide more to them
We have made tremendous progress over the last five years but we can take this to a new level. Five years from today, I think we can change the educational trajectory of 50,000 more kids. Here is how we can get there:
Expand our evidence-based Summer Arts & Learning Academy in and beyond Baltimore City. This is the program that Tiffani, Alice, and Josh participated in that continues to have a ripple effect in their life. To expand to just one more school district, we have to find and train 20 more artists.
This Academy is only 25 days of a kid's life–and in that short time, we see lots of benefits. Imagine if kids had that kind of arts-integrated learning during the school year and school day? We want to launch year-round professional development and support for teachers and principals to make that happen. If we were able to add just one more person to our staff that focused on professional development, we could support 100 more teachers and principals every year.
To have the greatest impact on a child's potential, we need to invest early. (Did you know that 80% of the brain's synaptic connections are made by age 3?) In 2024, we want to bring our Baby Artsplay program to 5,000 infants and toddlers across Maryland and–to their very first teacher–their parents. This will require our artists to be trained in early childhood development.
Think back to your person–your Mrs. Howard. Think back to that feeling of belonging. Imagine if you could create that opportunity for someone else. For another Josh. Another Brenna. Take that opportunity and multiply it by 50,000. Fifty thousand children sitting in the front of the class, trying out for Baltimore Design School, reaching for that trapeze handle.
That is the opportunity in front of us. For Brenna, that is the equation she wants us to come together and solve.
An inaugural Arts Integration Conference held at the Chesapeake Arts Center (CAC) showcased the strength and excellence of the Arts Empowered Minds Initiative (AEMI)'s collective knowledge and resources. Over the course of the day, Anne Arundel County Public Schools (AACPS) educators and CAC artists participated together in classes, learning to integrate three different art forms into other academic areas.
"This was actually the first time we brought these two groups together and—WOW—what amazing things happened!"
"CAC is a fantastic arts hub next door to all 12 AEMI schools, but there isn't always time for teachers to experience all it has to offer," said Hana Morford, YA Education Director, Statewide Initiatives. "Our goal for the day was to create synergy between the amazing CAC artists and AACPS teachers—giving them space to work together and learn from one another through the arts. This was actually the first time we brought these two groups together and—WOW—what amazing things happened!"
The teachers and artists rotated in groups throughout the workshops, spending equal time weaving and stitching with Katherine Dilworth, a Young Audiences fiber artist; learning the elements of dance with Lacey Sheppard, Arts Integration Teacher Specialist; and forming clay vessels with CAC artist Cami Ascher. Then, in the afternoon, the teachers worked in their school teams to write an arts-integrated lesson plan that connected to one of the three art forms. During this time, CAC artists were able to get a taste of arts integration and develop ideas on how they might integrate their art form with some of the teachers' content areas.
As they engaged in the various art forms, ah-has and ideas filled the classrooms. Katherine Dilworth guided participants first in a weaving project using sturdy paper plates and colorful yarn, and later, in stitching. She shared finished samples with the teachers that focused on math and on literacy—incorporating felt and even beads into the designs. Her excitement was contagious. Working with burlap, needle, and thread, one history teacher imagined the possibility of students stitching constitutional amendments.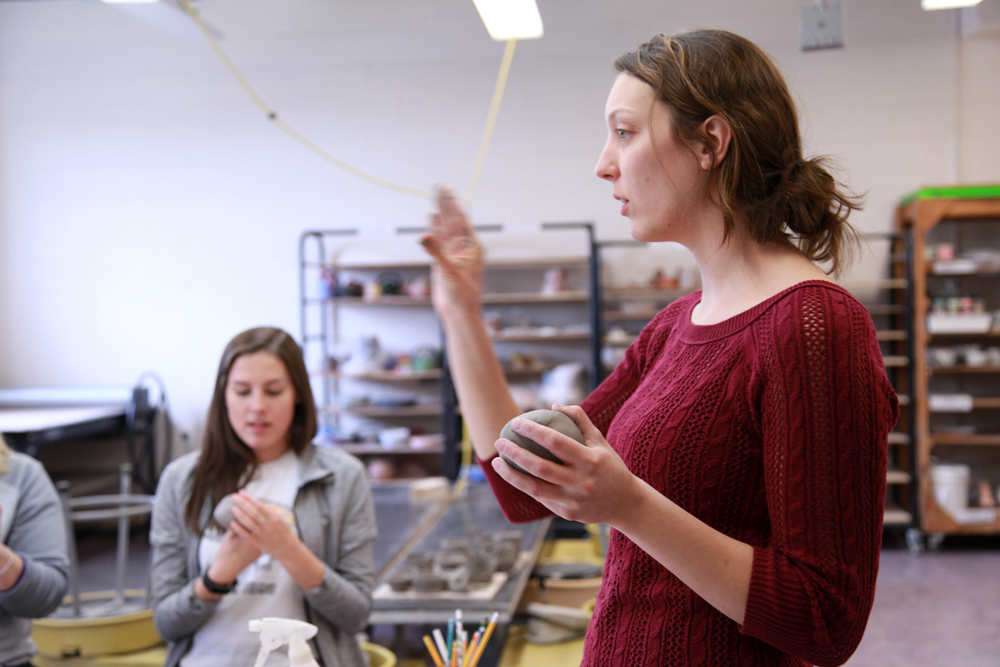 Teachers got their hands messy learning clay building techniques with Cami Ascher in the CAC's ceramics studio. They rolled long snakes and coiled them into different shapes. They transformed balls of clay into pots and funny characters with big eyeballs. And they learned how to "scratch and attach" to create a strong bond between formed pieces of the material. Cami had lots of advice for the group: which clays to use if they have/don't have access to a kiln, how to minimize mess, and how to preserve a project if more than a class period is needed to complete it.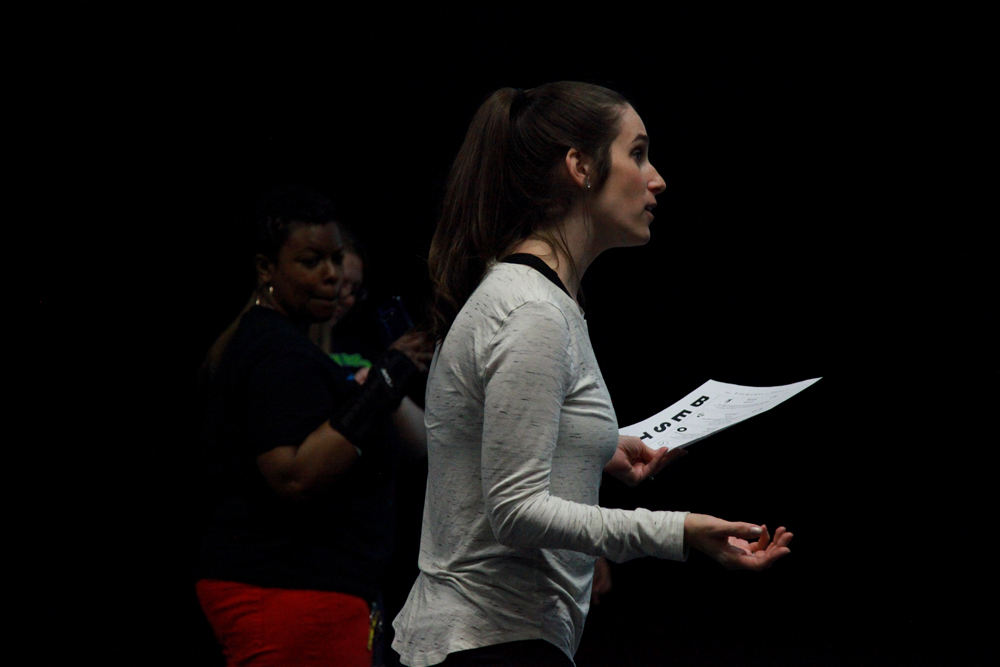 Lacey Sheppard divided participants into two groups for her workshop, each choreographing and performing an original dance for the other. They thought carefully about BEST: Body, Energy, Space, and Time—the elements of dance. Some stepped out of their comfort zones while others felt right at home in the limelight, but they all enjoyed the exercise in movement and the connections they could make through the art form to other classroom lessons.
One participant gained so much from the professional development workshops, she sent a note of appreciation the next day. "I just wanted to share that yesterday's PD was by far the best PD I have ever been to," she said. "I loved how you had us in groups that stayed together through the day. I am so excited to bring back new ideas to my school. Thank you so so much!"
Hana added, "It was so beautiful to see the AEMI community begin to take shape between teachers and artists!" And it is a community, we know, that will create so many opportunities in Northern Anne Arundel County. That is the power of the Arts Empowered Minds Initiative.
Learn more about the Arts Empowered Minds Initiative, its collective impact partners and the community it serves by visiting artsempoweredminds.org.
In January, the sun disappears so quickly—its absence makes the air that much colder. It feels funny to reflect on my youngest daughter's first experience at Summer Arts & Learning Academy (SALA) when, outside, it feels like it just might snow.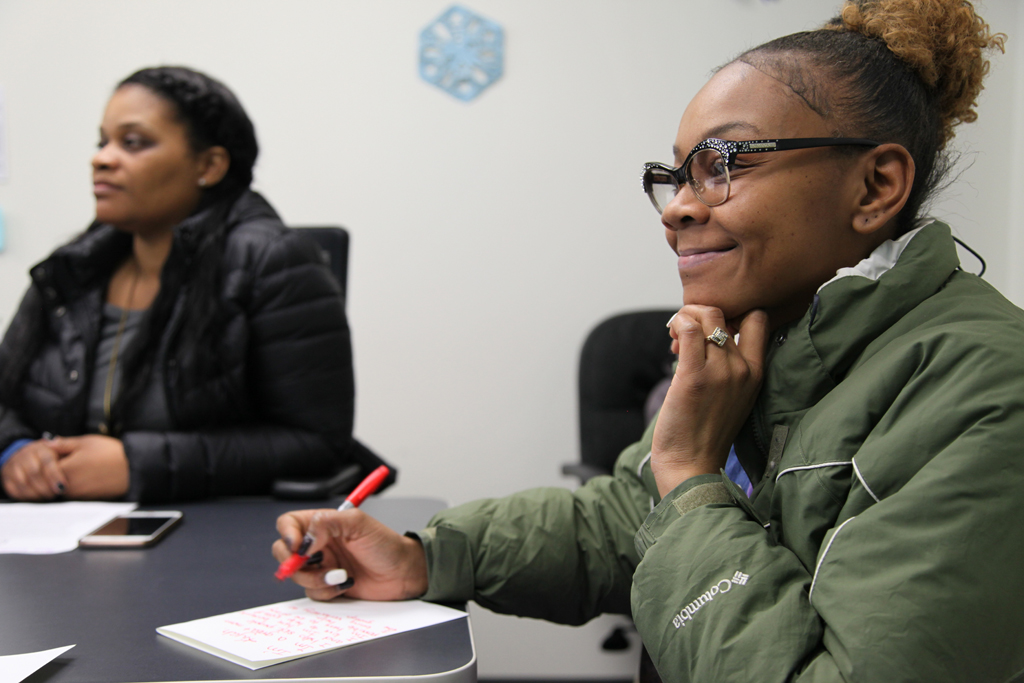 Kiyah and I, both of us parents of children who attended SALA 2018, were asked to meet at Young Audiences a couple of weeks ago. A teacher, Jesika Paige, was here, too. She wasn't at my child's SALA site last year, but I remember meeting her once. And I recognize her from our How We Do Summer video. Her smile is warm and her energy is radiant and it was so nice to be sitting at the table with her. Joining us were five teaching artists: Katherine Dilworth, Jamaal "Mr. Root" Collier, Vonnya Pettigrew, and Mama Kay and Mama Rashida of WombWork Productions, along with staff members Michael Brush, Monique Cox, Kurtis Donnelly, and Kristina Berdan.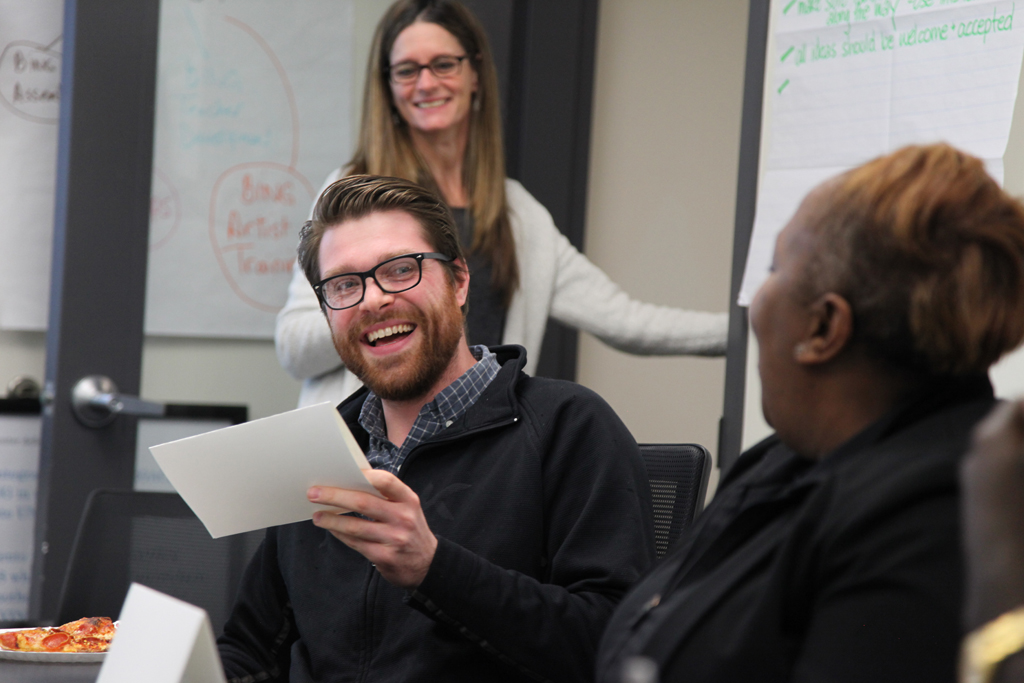 Parents love SALA for a multitude of reasons. For one, Baltimore City Public Schools students participating in SALA have not only avoided summer learning loss but, in many cases, gained ground on their national peers in standardized testing. Between this and the fact that kids in SALA are immersed in meaningful art projects every single day, enrolling my 6-year-old was an easy decision. And as Ms. Paige noted in How We Do Summer, "for children who suppress their art during the school year, this was a time for them to actually show up and show out and show their artistic ability." So, how can we take this amazing and enriching educational experience and make it even better? This is what we are here to find out.
Something that Young Audiences always makes sure to do is collect and evaluate feedback from all of a program's stakeholders. If you are ever asked to fill out a survey regarding one of YA's programs, know that your comments are read, your answers to questions are carefully considered, and your voice matters. The idea to form a community advisory for SALA was brought about in the feedback we collected from parents, and from students, teachers, and artists. Our mission is to ensure that SALA (an incredible, free, arts-filled, and academically excellent program) is student-centered and to identify program changes and improvements to implement during SALA 2019.
Coming together with other stakeholders for the SALA Community Advisory's inaugural meeting reiterated to me the desire of everyone involved to improve, and to be wise, and strong. The group committed to making sure all families are involved all along the way and that all ideas are welcome. We look forward to sharing and listening with open hearts and open minds, reflecting on what we did well in 2018, what we can do better, on ideas for the future, and welcoming the unexpected. We cannot wait for another summer of SALA, each one better than the last—in the meantime, let it snow. Written by Shannon Kline, parent and Young Audiences Communications Associate.
If you would like to be a part of the Summer Arts & Learning Academy (SALA) Community Advisory, we invite you to contact Kurtis Donnelly at kurtis@yamd.org. Your thoughtful input helps to make our programs the very best for students and we appreciate your time and dedication.
Thanks to our smARTbeats partners, WTMD, we have five Family Four-Packs for the Saturday Morning Tunes Grateful Dead tribute show with Ed Hough's Dead Collective to give away! That means five of our lucky Facebook followers will receive four tickets each to the SOLD-OUT 9:30 a.m. show at the American Visionary Art Museum on Saturday, February 2, 2019! 
Grateful Dead fans with young kids won't want to miss out on the chance to attend this sold-out event! Ed Hough's Dead Collective, who are some of Baltimore's best roots and Americana musicians, will be channelling the music of the Grateful Dead in AVAM's banquet hall among the museum's renowned colorful and engaging artwork. Tickets also include organic snacks and juice for kids and coffee for adults. Doors open at 9 a.m., and the show runs 9:30 a.m.-10:30 a.m.
Many thanks to WTMD for sharing this amazing opportunity! This contest is now closed.
Written by Barbara Krebs,
Young Audiences volunteer and Sunburst Society member
It's all about priorities. There are only 24 hours in a day, and as a busy person, you have to prioritize the most important things. I could tell that this principal really wanted to talk about the Arts Empowered Minds Initiative (AEMI), Young Audiences, and how arts-based learning was impacting his school. That's because, despite the week-long game of telephone and email tag we played just before the start of the new school year, he kept contacting me to set up the next potential interview time. Happily, I finally connected with Rodney Walker, principal of Brooklyn Park Elementary School in Northern Anne Arundel County.
But first–what is AEMI? According to its website, it is "a collective impact initiative that utilizes the arts to improve school achievement, parent involvement, and student engagement and empathy in Northern Anne Arundel County Public Schools (AACPS)." That collective involves more than a half dozen organizations selected for, among other things, their "expertise in the arts, education, or both."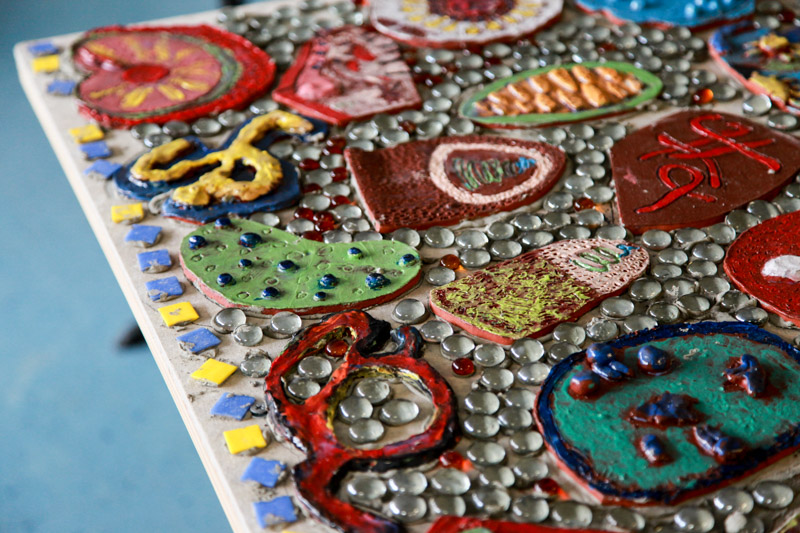 So when I spoke to Principal Walker, I was curious as to how his school had become involved, how the partnership worked in his school, and what his observations of its impact were. Brooklyn Park Elementary had become an AEMI school about three years ago when he received info about the group from AACPS' Central Office. When he met with AEMI staff and learned of their mission and partnerships, he knew that it would be a "natural fit" for his school. He liked the idea that it "gives kids different opportunities to expand their learning. It exposes them to different art genres and focuses on creative ways to teach core subjects."
Over the summer, Principal Walker attended one of Young Audiences' tours of Summer Arts & Learning Academy (SALA), which was specifically geared towards introducing principals to the program. Having toured SALA earlier in the summer myself, I wondered how his experience as an educator differed from mine.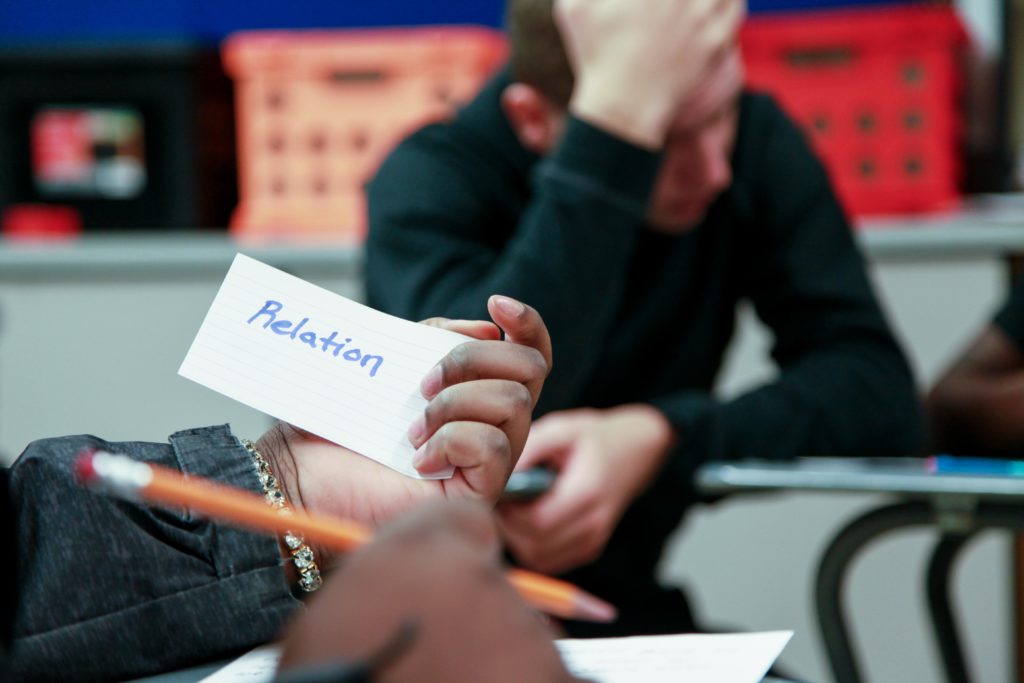 Like me, he was impressed with the fourth-grade classroom he observed using a rap song to learn math concepts. We both noticed how much fun the kids were having while they were learning, a crucial element in creating positive learning experiences.
But as a long-term educator, he noticed something that I had missed. "Sometimes our kids have difficulty in learning the math vocabulary. Here, they're connecting because they're having fun. But in the process, the kids are becoming leaders. They're holding themselves accountable." In other words, it was the children who were helping to create a positive classroom culture. Of course, the teachers were guiding it, but by empowering their students, the kids took ownership and were self-motivated.
Principal Walker's assessment of the learning techniques he witnessed was "phenomenal," but how will this translate back on the ground at Brooklyn Park Elementary? With AEMI's focus on arts-based learning and its links to other arts/education groups, Principal Walker sees a continued focus on "creating a safe space for learning and exploration."
"We will continue to work with AEMI, Young Audiences, and its partners to add professional development for our teachers, and incorporate new and creative ways to add arts-based learning into our writing and math classes."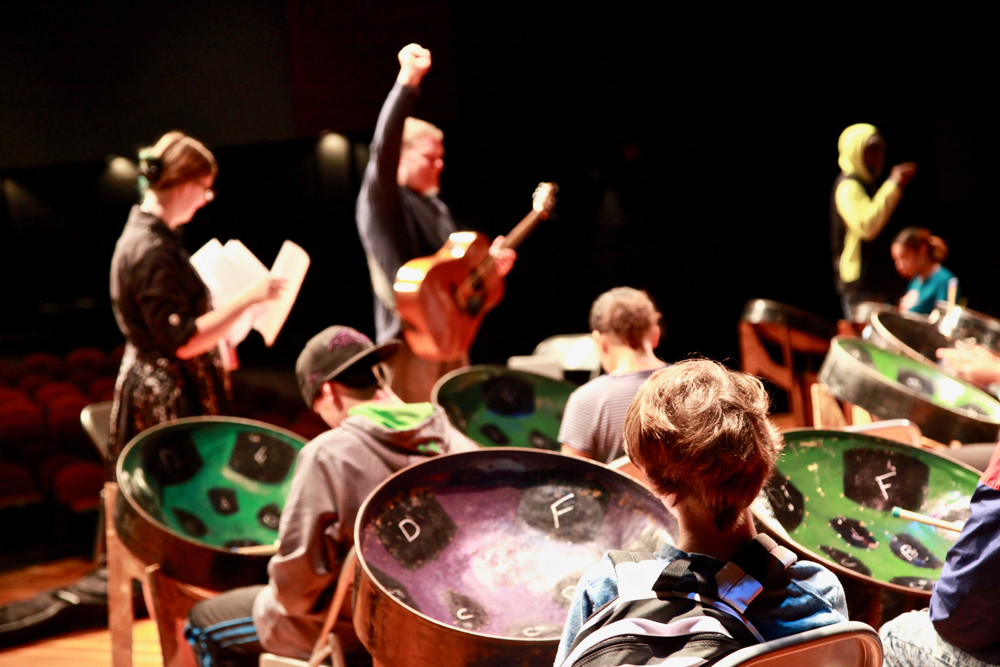 AEMI's priority is to "increase access to high-quality, arts-integrated learning opportunities…" Though it's not always easy to quantify any particular program's impact, there is one thing that Principal Walker is absolutely certain of. That's the "happy faces" he sees during assemblies with an arts orientation.
As Principal Walker's enthusiasm for AEMI and its partners show, I suspect that arts-focused education will continue to be a priority at Brooklyn Park Elementary School.
The Arts Empowered Minds Initiative is the combined effort of many groups and individuals seeking to build a movement for increased equity through the arts in their community. With funding from the NEA in 2016, we built partnerships with Anne Arundel County Public Schools (AACPS), Chesapeake Arts Center (CAC), Arts Education in Maryland Schools Alliance (AEMS), Arts Council of Anne Arundel County, and University of Maryland – Baltimore County (UMBC).
Written by Barbara Krebs,
Young Audiences volunteer and Sunburst Society member
Spark. Ahh, now that's a great word. Quick, simple, to the point.  And it's versatile – noun or verb – it's all good. And if you're a fan of onomatopoeia (and who isn't?), well, I think spark works well there, too.
If you attended the 11th annual Young Audiences Impact Breakfast, you heard that word a lot. First, from Stacie Sanders Evans, President and CEO of Young Audiences, whose drama teacher sparked a passion that would put her on the path to her leadership of YA. You heard it from Jaime Clough, a second-grade Baltimore City Public School teacher who taught in YA's Summer Arts & Learning Academy (SALA) and who has used the tools and strategies learned at SALA to transform her classroom during the school year. You even heard it from a student. High school senior Jahsol Drummond spoke about his experience developing his video and editing skills at the Center for Innovative Research in the Creative Arts (CIRCA) at UMBC  in last summer's Bloomberg Arts Internship. He shared his plans for the future as a college student (he was awarded a full scholarship to Bard College) and as a filmmaker. "My career has only just begun, and it's already so exciting," Jahsol beamed.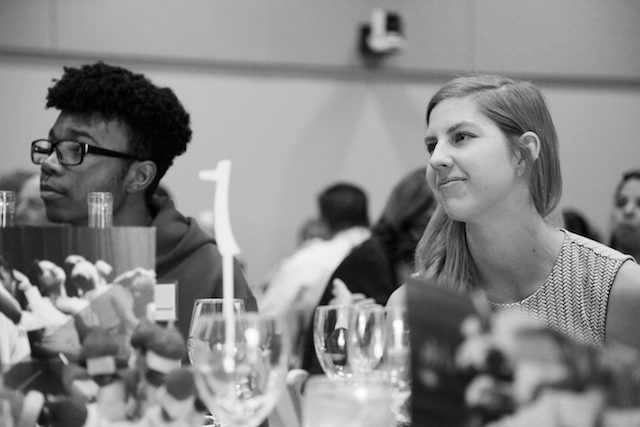 It is amazing where a spark will take you if you have the passion and determination to stoke the fire.
But, of course, the thing about the Impact Breakfast is not just the inspirational stories we hear from the presenters, nor is it solely about acknowledging the remarkable strides Young Audiences has made over the past few years in overcoming summer learning loss. These are important and wonderful things to witness, no doubt. But what truly struck me this time around was the synergy of people attending this event united by the desire to improve educational opportunities for the children in our communities.  
Seated to my right was Kariz Marcel, a DJ, music producer, teaching artist, and founder of the nonprofit Innovation Echo Alliance who is seeking ways to partner with Young Audiences and other educational organizations through his music industry connections. As he explained it to me, he was hoping to establish a roster of professional recording artists who would be willing to donate a small portion of their music royalties to these organizations as an ongoing and sustainable way to raise funds for education in our local schools.
Another gentleman at our table was Lieutenant Steven Thomas, a member of the Anne Arundel County Police Crisis Intervention Team.  He and his team identify youth who can be helped by, for instance, after-school programs, like the Police, Artist, and Community Engagement program (PACE), and then find ways to make these things happen.  For example, when it was discovered that transportation was an issue, they partnered with the school system to provide it.  That meant getting the school-approved CDL bus license so they could drive students on the county's buses.  A little spark of creativity to problem solve what might otherwise have been a deal killer. Instead, police officers are keeping local youth involved in enrichment programs.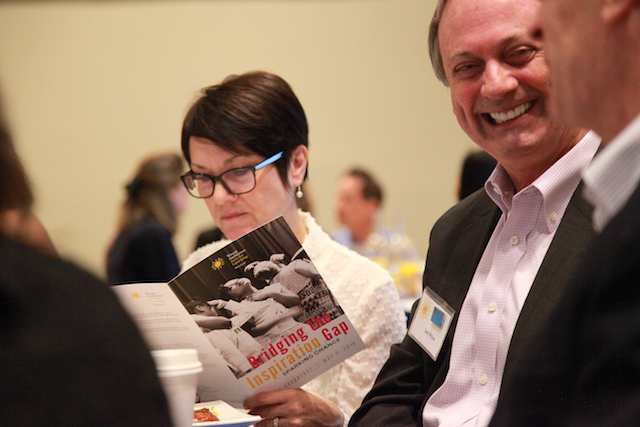 Likewise, I got a chance to talk briefly with Dr. Stuart Levine, President and Chief Medical Officer of MedStar Harbor Hospital, who I had heard speak only a week before at the unveiling of the mural that now sits in the lobby of the hospital's Emergency Department. This mural, which focused on how cells and viruses interact with human and animal bodies, was created by sixth-grade biology students from Brooklyn Park Middle School. The project was the result of a multi-week Young Audiences teaching artist residency in partnership with Arts Empowered Minds Initiative (AEMI). So here was yet another way that a group, which is pivotal to the lives and health of its local community, had found a way to connect with young students, perhaps sparking future collaborations?
And that is just a small sampling of the conversations I had at my table alone. As I looked across the room, I could only imagine what discussions, ideas, creative solutions, and inspirational tales were being shared elsewhere. Knowing that so many people had gathered because they have a passion to improve the educational lives of our youth, I came away from the event feeling recharged, hopeful and, yes, ready to find fresh ways to kindle the spark – in whatever myriad forms it appears – in my own life and those of others.
Indeed, there is no telling what particular spark at what precise table will catch fire and generate a lasting, positive impact. 
But that's the Impact Breakfast for you – a kaleidoscope of people who are sparking change and impacting the future for our children!