Did you catch Arts & Learning Kids! on Channel 77 this weekend? Young Audiences created this cool educational TV show in partnership with City Schools to reinforce what our students are learning remotely through interactive arts-integrated lessons!
Each episode is geared toward one of three grade bands (PreK/K, 1/2, and 3rd-5th Grades), and features a teacher and professional artist co-teaching an arts-integrated math or literacy lesson in-line with the math and literacy work students are currently doing either virtually or via packets. After each episode airs, it is accessible anytime online at yamd.org/kids.
This is not a passive viewing experience! During each episode, students are challenged to explore learning through a variety of art forms. They'll learn key math concepts using their whole bodies and voices; write and animate their own myths by creating a flip book; learn basic tap steps to help review fractions; engage in storytelling using an actor's tools; or even solve math problems with shadow puppets!
In the episode "Character Traits Choreography," students have the opportunity to identify their own character traits and those of important Civil Rights leaders like Dr. Martin Luther King Jr. and Ruby Bridges. Students will be able to unlock their creativity and communicate those character traits through dance! Learning several elements of dance like frozen poses, levels, shapes and energy, students will not only get to perform the Ruby Bridges choreography, but will be inspired to look for the leaders—particularly those who respond to injustice—in their communities and in themselves, identify character traits of those individuals, and create their own choreography. (This episode is recommended for students in 1st and 2nd Grade) 
As a fun bonus, within each episode are two special segments. The "Sweet Stuff Showcase" highlights an engaging and educational digital experience from outside of our own organization. The "Artsplosions" segment features YA artists presenting a cool and quick experience in their art form that often encourages kids to get up and get moving. We are so excited to share Arts & Learning Kids! with you. It really is an AWESOME program and we think that even parents and caregivers will find that it's super fun to watch. Check it out!
When Quynn Johnson steps into the Pre-K and Kindergarten classrooms at Margaret Brent Elementary School in Baltimore City, she is met with hugs and big, bright smiles. The students love that they've been learning to tap with the artist and they've been waiting patiently for her to return. "What do I do?" the artist asks. "You make music with your feet and you keep a steady beat!" the students respond.
Quynn is a multi-award-winning performing artist, choreographer, author, and the co-director of SOLE Defined, a percussive dance company. Though she has performed tap dance for national and international audiences, on this morning, she is captivating our state's youngest learners—not on a stage, but in a classroom—through rhythm, imagination, and dance. Already a professional teaching artist on the Young Audiences roster, Quynn is now training to also become a Maryland Wolf Trap Artist. 
As the Maryland regional affiliate of Wolf Trap, Young Audiences is proud to be expanding access to the arts for Maryland's youngest students during the critical early learning years. 
High-quality early childhood education is absolutely essential to giving children the best possible start in school and in life. Decades of practice and research prove that integrating the arts into classroom experiences contributes to greater academic achievement and social/emotional development for our youngest students. The creative collaboration between teachers and artists in the Wolf Trap residency builds foundations and fuels momentum in arts-integrated early learning classrooms.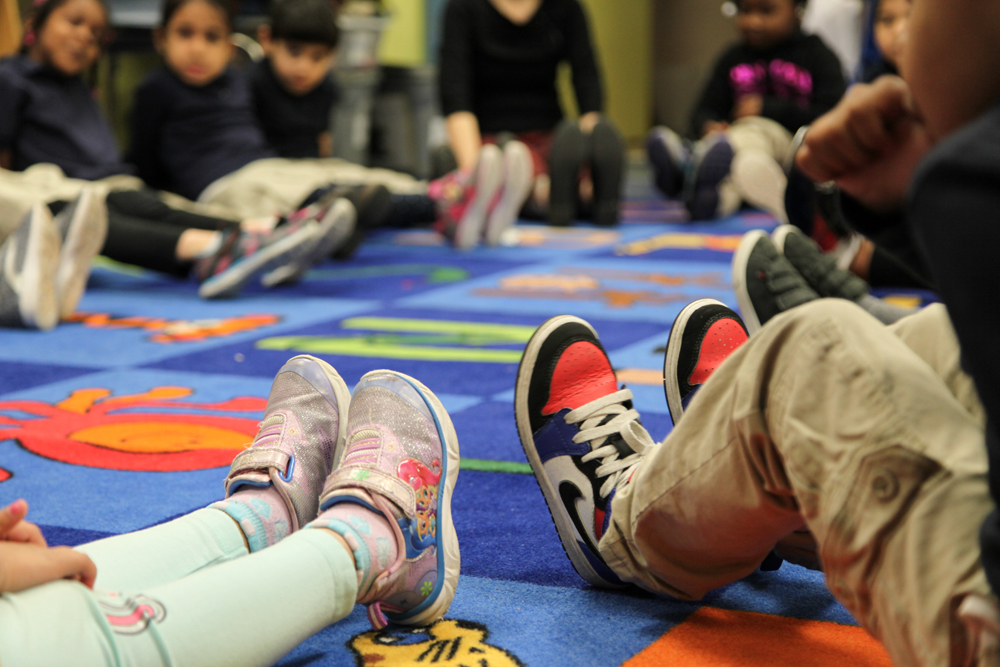 The children sing along with the artist to the tune of Frère Jacques, "I am ready, You are, too, Eyes on the teacher, We're going to learn." Everyone knows the song and everyone is excited to sing it—first in English, then in Spanish.
Estoy listo
Estás tambien
Ojos en la profe
Vamos a aprender
Quynn made up the song while teaching in the Summer Arts & Learning Academy last summer, but now sings it with students in lower elementary grades at every school she visits. Mrs. Jager, the Kindergarten teacher, likes it, too. She uses "I am ready" as a transition song all the time—and her students will remind her if she forgets!
The artist is not only here to teach the young students how to tap, she is here to build the teachers' skills and knowledge and demonstrate how to integrate the art form into their lessons throughout the year. This embedded professional development is something that distinguishes the Wolf Trap Early Learning Residency from other artist residencies.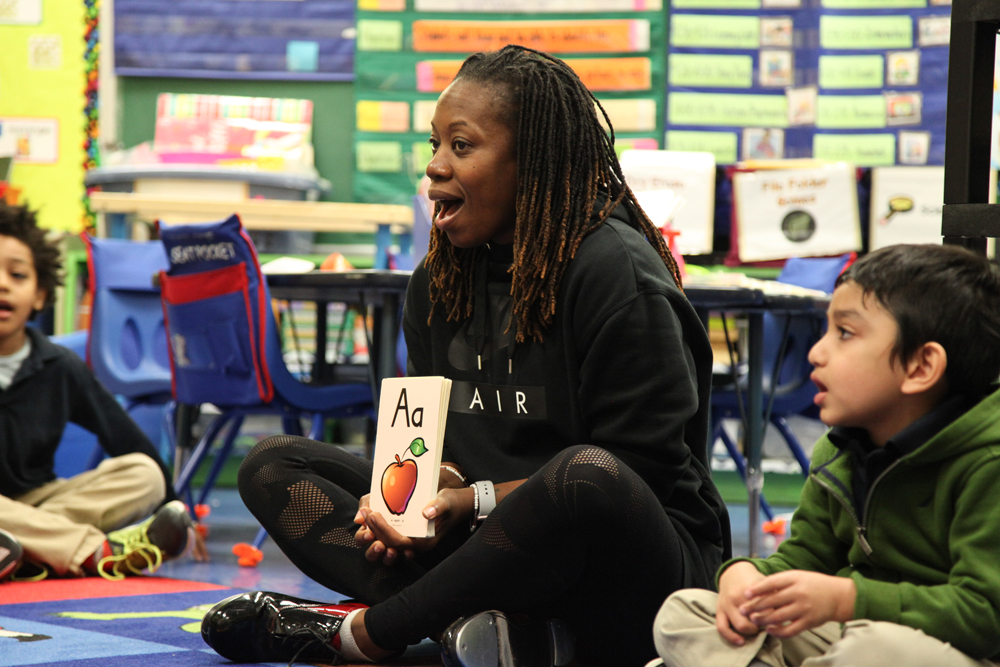 As Quynn leads the students in an exercise stomping out beats, another skill is being fortified. They are identifying patterns and practicing word sounds like "Apple, apple, ah, ah, ah," and "Bat, bat, buh, buh, buh." The classroom teachers and the artist work together to tailor the residency to each particular classroom—deciding how refined the dance movements should be for each age group and which literacy skills to focus on.
"The process is pretty new and different to me but I like it," said Quynn. The artist pays particular attention to teach the elements of her art form that educators will feel comfortable utilizing in the future—and not just off the cuff, but with some artistic integrity. "I think the embedded PD portion is a great way to keep the teachers involved and shows them how it doesn't have to be its own lesson but can be incorporated within what they're already doing. I never want them to feel like it's unreachable."
By the end of Quynn's residency in the Pre-K and Kindergarten classrooms, the students know how to keep a steady beat on their feet, and they remember a beat pattern and two basic tap steps. And the teachers can connect the art form to literacy—leading students to sound out words and sounds with their feet. "They both felt great and comfortable with everything we did in class and I could hear them using it after our time was over." They were ready.
Eighty-five percent of brain development occurs during the first five years of a child's life. Participation in the arts encourages positive growth in a child's emotional, physical, intellectual, creative, and social development. As the Maryland affiliate of the Wolf Trap Institute for Early Learning Through the Arts, Young Audiences expands access to the arts for Maryland's youngest students during the critical early learning years. Bring a Maryland Wolf Trap 16-Session Residency into your school.
An inaugural Arts Integration Conference held at the Chesapeake Arts Center (CAC) showcased the strength and excellence of the Arts Empowered Minds Initiative (AEMI)'s collective knowledge and resources. Over the course of the day, Anne Arundel County Public Schools (AACPS) educators and CAC artists participated together in classes, learning to integrate three different art forms into other academic areas.
"This was actually the first time we brought these two groups together and—WOW—what amazing things happened!"
"CAC is a fantastic arts hub next door to all 12 AEMI schools, but there isn't always time for teachers to experience all it has to offer," said Hana Morford, YA Education Director, Statewide Initiatives. "Our goal for the day was to create synergy between the amazing CAC artists and AACPS teachers—giving them space to work together and learn from one another through the arts. This was actually the first time we brought these two groups together and—WOW—what amazing things happened!"
The teachers and artists rotated in groups throughout the workshops, spending equal time weaving and stitching with Katherine Dilworth, a Young Audiences fiber artist; learning the elements of dance with Lacey Sheppard, Arts Integration Teacher Specialist; and forming clay vessels with CAC artist Cami Ascher. Then, in the afternoon, the teachers worked in their school teams to write an arts-integrated lesson plan that connected to one of the three art forms. During this time, CAC artists were able to get a taste of arts integration and develop ideas on how they might integrate their art form with some of the teachers' content areas.
As they engaged in the various art forms, ah-has and ideas filled the classrooms. Katherine Dilworth guided participants first in a weaving project using sturdy paper plates and colorful yarn, and later, in stitching. She shared finished samples with the teachers that focused on math and on literacy—incorporating felt and even beads into the designs. Her excitement was contagious. Working with burlap, needle, and thread, one history teacher imagined the possibility of students stitching constitutional amendments.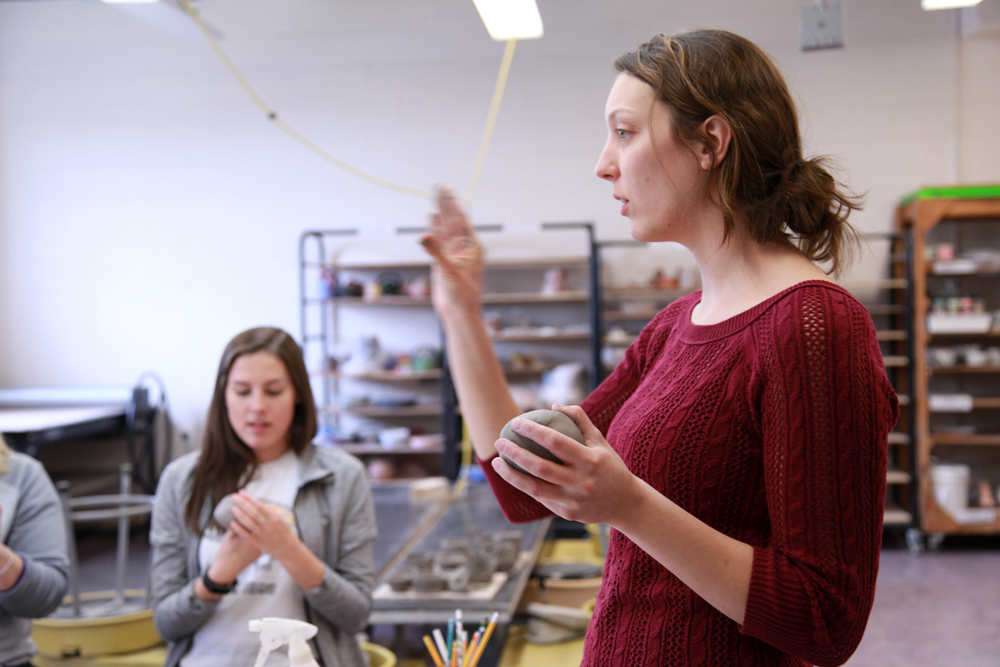 Teachers got their hands messy learning clay building techniques with Cami Ascher in the CAC's ceramics studio. They rolled long snakes and coiled them into different shapes. They transformed balls of clay into pots and funny characters with big eyeballs. And they learned how to "scratch and attach" to create a strong bond between formed pieces of the material. Cami had lots of advice for the group: which clays to use if they have/don't have access to a kiln, how to minimize mess, and how to preserve a project if more than a class period is needed to complete it.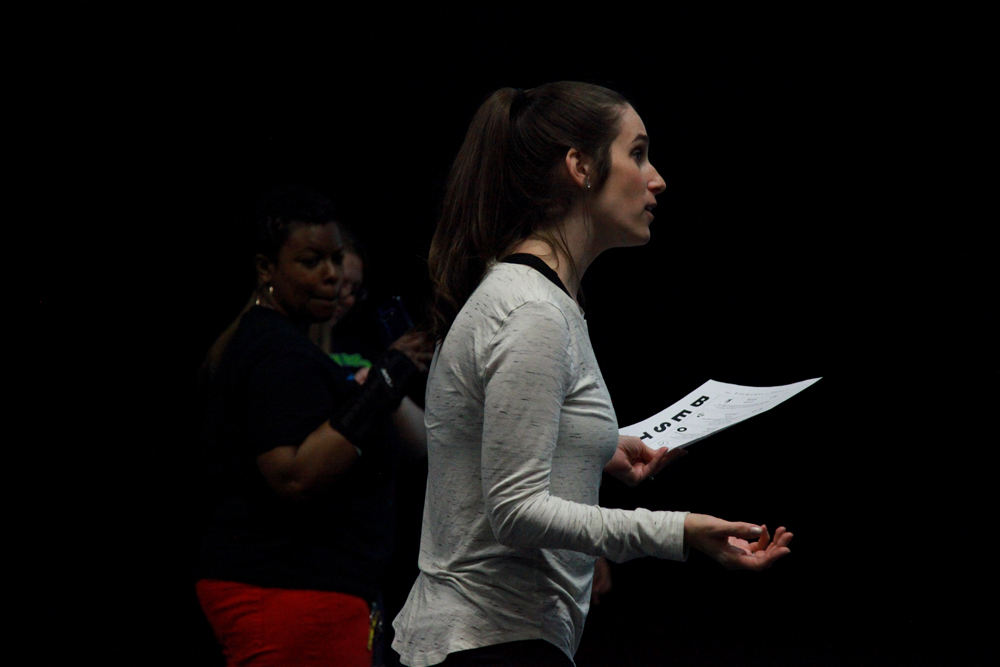 Lacey Sheppard divided participants into two groups for her workshop, each choreographing and performing an original dance for the other. They thought carefully about BEST: Body, Energy, Space, and Time—the elements of dance. Some stepped out of their comfort zones while others felt right at home in the limelight, but they all enjoyed the exercise in movement and the connections they could make through the art form to other classroom lessons.
One participant gained so much from the professional development workshops, she sent a note of appreciation the next day. "I just wanted to share that yesterday's PD was by far the best PD I have ever been to," she said. "I loved how you had us in groups that stayed together through the day. I am so excited to bring back new ideas to my school. Thank you so so much!"
Hana added, "It was so beautiful to see the AEMI community begin to take shape between teachers and artists!" And it is a community, we know, that will create so many opportunities in Northern Anne Arundel County. That is the power of the Arts Empowered Minds Initiative.
Learn more about the Arts Empowered Minds Initiative, its collective impact partners and the community it serves by visiting artsempoweredminds.org.
Written by Barbara Krebs,
Young Audiences volunteer and Sunburst Society member
As a pair of dancers performed, a group of elementary school children sat, crisscross applesauce, watching their every move. Valerie Branch, a dancer and choreographer with Young Audiences had been working with the Belle Grove Elementary students in an artist residency made possible through the Arts Empowered Minds Initiative (AEMI). When the last notes faded away, Valerie asked the children what they had observed.
"They love each other," one child offered.
"They share," another chimed in.
Then she asked the kids to explain what dancing techniques they had witnessed. "Negative space," "weight sharing," and "weight bearing" were some of the answers shouted out.
Next, she gathered a group of her second-grade students to pair off with each other to demonstrate some of those concepts. Once the children had done so, half of the students were instructed to use a frozen pose in a high, medium, or low position. The rest were to react to whatever their partner had created. With the new poses in place, she asked the other children in the assembly to discuss what they saw and how the partners had related to one another.
And, in true arts integration form, this exercise was not just about learning dance terminology and positions, but was tied to lessons at the school. This particular one was used in conjunction with a poetry-writing assignment in which the children described themselves through the creation of "I am" poems. Later, choreography was added to illustrate their autobiographical poetry.
Such was the back-and-forth learning that observers witnessed at the Arts Empowered Minds Announcement Event and Celebration on Friday, March 8. The group of educators, politicians, state and local arts administrators, and volunteers gathered at the school was celebrating a $100,000 grant from the National Endowment for the Arts (NEA), which will be used to expand arts integration and teacher professional development in Northern Anne Arundel County.
This is the third time that the NEA has awarded Young Audiences, the program's managing partner, a grant for AEMI. This collaborative partnership between a wide array of arts and education organizations throughout Anne Arundel County seeks to "address the disparity in arts access–and associated gaps in student achievement–between students in Northern Anne Arundel County and the rest of the county."
Now in its third year, AEMI has already racked up an impressive set of statistics. But even better than the numbers are the inspiring stories that teachers and administrators had to share during the event. Brittany Roger, a teaching artist with a scientific illustration background, spoke of bringing exotic animals (Madagascar hissing cockroaches, iguanas, corn snakes) to the classroom and allowing children to explore the creatures through sight, sound, touch, and smell. Afterward, the students draw and sketch the animals based on their observations.
Amy Goodman, who heads the math department at North County High School, told of her department's initial skepticism about linking arts and math together. But as the teachers learned arts integration techniques and applied them in the classroom, they began to see students who had been turned off or struggling with math begin to make connections that helped them grasp the concepts they needed to learn.
And so, step by step, AEMI partners create opportunities for children to learn through the arts. Step by step, the Initiative changes minds about the importance of integrating the arts with reading, 'riting and 'rithmetic. And, step by step, it makes converts of those who witness how the arts engage young minds and help them stay, not only focused on their education, but truly inspired to learn.
Learn more about the Arts Empowered Minds Initiative, its collective impact partners and the community it serves by visiting artsempoweredminds.org.
smARTbeats returns Saturday, December 2 during the weekly children's music program Young At Heart on WTMD. On this month's smARTbeats segment, Young At Heart host Lisa Mathews sits down with YA roster artists and Latin Grammy winners Andrés Salguero and Christina Sanabria, better known as 123 Andrés.
The two have brought many multicultural performances and bilingual musical experiences in Spanish and English to children across the United States and Latin America. Their second album, Arriba Abajo, even won the Parents' Choice Gold Award for children's music!
Andrés' career began at a very young age in his home country of Bogota, Colombia, performing and even recording an album at only eight years old. His love of children's music and the opportunity to teach and inspire through music, however, came to the artist as an adult. And we are so happy it did! His talent, energy, and charisma make it easy to see why Billboard Magazine called him "a rockstar for little language learners!"
Families could spend hours surfing just their youtube channel filled with the songs, videos, and cartoons that have kids and adults alike hooked and learning. But these catchy, uplifting beats will make you want to enjoy 123 Andrés in person.
"My aim is for children to emerge more accepting, tolerant and curious when they meet others who are different from them," says Andrés. Likewise, he says, "For Latino children, it's especially important to have opportunities to see a positive role model who looks like them and to experience programming that celebrates their language and background."
123 Andres' audiences are treated to a tour of Latin America, learning new vocabulary, history, culture, and geography through songs in both Spanish and English, and dances like salsa, bachata, plena, mariachi, vallenato, bolero, champeta, and more.
What 123 Andrés brings into schools is fun, plain and simple. And fun is something everyone understands no matter what language you're speaking! 123 Andres will make the whole family salta, salta (jump, jump)!
Young At Heart airs weekly from 7 to 8 am on Saturdays, featuring music that appeals to parents and children alike. Previous shows have featured music by Wilco, David Bowie, Andrew & Polly, Weezer, and others.
Hear YA teaching artist and musician 123 Andrés online now!
It was a summer filled with activity, singing, dancing, reading, creating, and sunshine. We witnessed the excitement of mastering new skills and discovering new talents. We felt the calm of classrooms illuminated with only the rays of light peeking in from behind drawn shades, students enveloped in peace, quietly drawing, ink and graphite on white paper.
When families initially enrolled their children in our Summer Arts and Learning Academy, we asked them why their child was interested in participating. Many stated that their children were creative and hoped that through the program, they'd be able to enhance their skills. Others emphasized the integrated academics or latent benefits of the arts. Some registrants celebrated the availability of the arts and educational summer program, as these opportunities are limited in Baltimore City.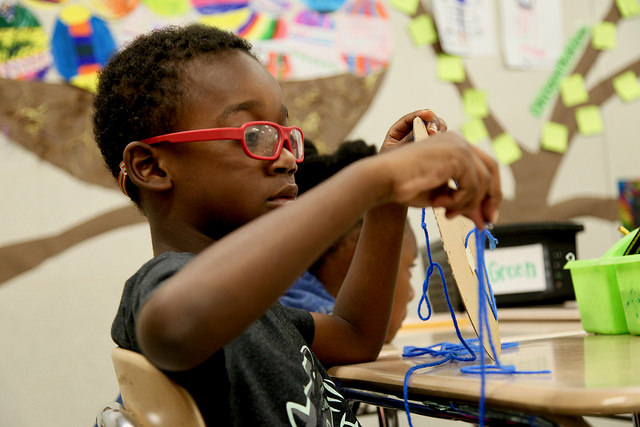 Did our Summer Arts and Learning Academy live up to families' expectations? Culmination ceremonies came to a close, classrooms were disassembled and packed up for next year, and students prepared for their next summer adventures. We asked parents and families if they'd give us feedback about their experience by filling out a survey. Their responses poured in- 413 of them to be exact. We discovered that in Summer Arts and Learning Academy, parents watched their children not only learn, but grow and thrive artistically, emotionally, and academically.
When asked about any positive changes they noticed in their kids, one parent replied, "An eagerness to attend school. IN THE SUMMER! Who knew?!"
87% of families who completed surveys told us that their child found something new that he or she has fun doing. "My son began to enjoy sewing and dancing," one parent told us. Another let us know that her grandson was very proud of the work he did in ceramics class. "He usually gives me all of his drawings and art projects, but he kept his claywork for himself."
Even when one particular art form grabbed a student's interest above all others, the children in Summer Arts and Learning Academy developed a deeper appreciation of and openness to all art. Students discovered that flexibility leads to new passions, discovery, and opportunity. "I learned that I am exceptionally good at ceramics. I knew I would like it but I didn't know I would actually be good at it," a rising sixth grader told us. "She was disappointed that the Coldstream Park site didn't offer theatre for older kids," her dad explained. "We're working on 'rolling with it,' though, and she ended up really loving African Dance and Ceramics. She would never have known, otherwise."
Parents told us that their kids were excited to get to the academy every morning, on time. When families reunited in the afternoons, kids would talk and talk about everything they did that day. When asked about any positive changes they noticed in their kids, one parent replied, "An eagerness to attend school. IN THE SUMMER! Who knew?!"
Upwards of 80% of parents who responded told us that they noticed an increase in their child's reading and math skills. With this strengthening of skills, their children became more confident. Of one student who enjoys writing poetry, we were told, "she will now actually share her writing with others." Many families reported their children not only enjoying reading but choosing to read books over watching television. Still others described students proudly reading on their own and teaching younger siblings what they had learned.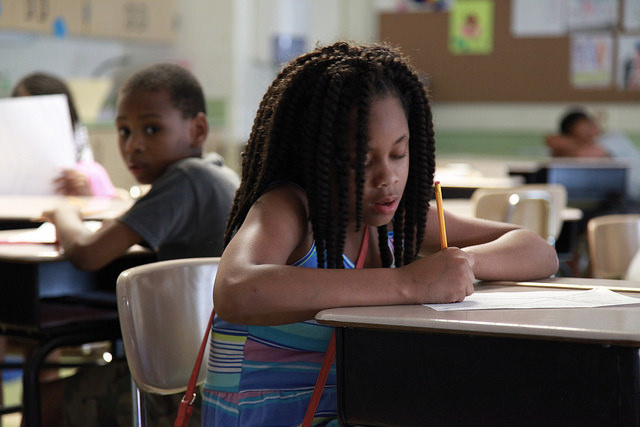 The positive changes parents noticed in their children exemplified 21st Century Skills, a set of higher order skills that have been identified by educators and business leaders as being critical to a person's success in careers, in college, and as a citizen. These are skills that typically cannot be measured through standardized testing and include critical thinking, collaboration, communication, and creativity.
Through Summer Arts and Learning Academy, students were introduced to many new ways of thinking, seeing, and expression. They learned to look at things from different perspectives through the eyes artists, characters in literature, and through new friends, which made their own experiences more joyful and meaningful. Children embraced their curiosity, asking questions, exploring, and researching independently. "My daughter is better able to integrate her love of arts (fun) with learning (not as much fun) and see ways to make learning something that's both fun and something she can accomplish," one mom told us.
Families described their students as being more social, friendly, outgoing, and connected. One student told her mom that she "enjoys being a loving and caring friend." Another student "wants to take care of the neighborhood." Students discovered that they liked working in groups and parents thought their children were now better able to deal with conflict. Through collaboration, the kids learned how to communicate, compromise, and achieve a common goal. They learned to 'roll with it', an enviable and necessary skill for 21st century children and adults alike.
Baltimore City School students closed out a summer of creativity and arts-integrated education with performances and visual art exhibitions at Young Audiences Summer Arts and Learning Academy. The academy's culmination events were an opportunity for students to showcase their art forms and what they learned to family and friends. 
The Summer Arts and Learning Academy took place over five weeks, giving students from Title 1 schools in Baltimore City a free, daily opportunity to explore art forms with teaching artists while improving literacy and math using hands-on, arts-integrated learning techniques. They wrote songs to memorize grammar rules, learned dances to recall fractions, and immersed themselves in a multitude of art forms, making literacy and math concepts stick. The third annual academy had children and staff laughing, learning, and inspired.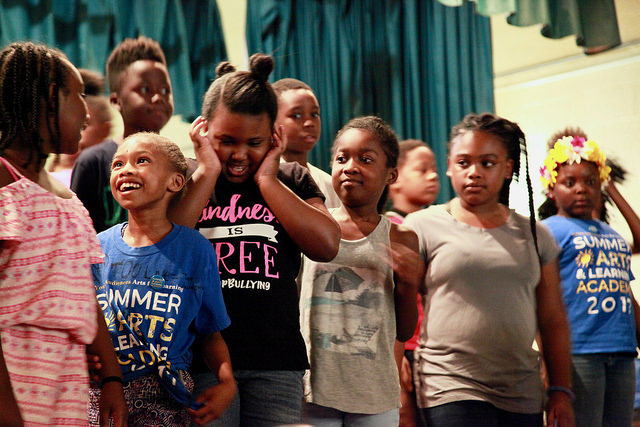 This kind of summer engagement with the arts is proven to have a significant impact on kids' education. In Summer Arts and Learning Academy, classroom teachers and teaching artists work together to continue to build momentum while stemming summer learning loss, or the loss of academic knowledge over the summer months. According to a study last year by Baltimore City Schools, students in 3rd-5th grade attending the Summer Arts and Learning Academy avoided summer learning loss, and in many cases, gained ground on their national peers in literacy and math.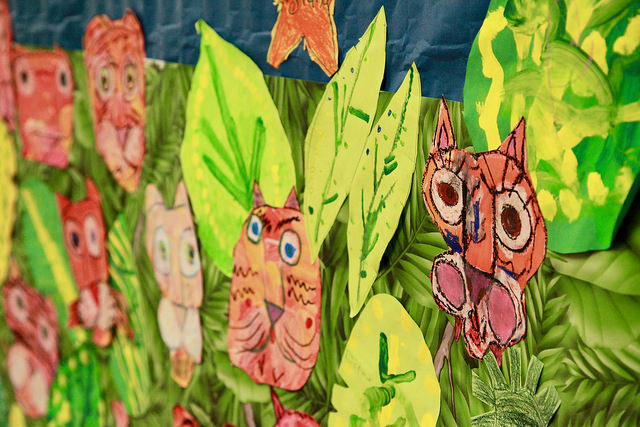 The culmination events, held at Thomas Jefferson Elementary/Middle, Coldstream Park Elementary/Middle, James Mosher Elementary, and Gardenville Elementary, put students on stage to showcase the art they created at the academy for parents, teachers, friends and family. Here is some of what we saw.
Two students from YA roster artist Femi theDrifish's spoken word poetry class read aloud their own inspiring words. They expressed the challenges caused by bullying through their writing, moving the audience with their heartfelt performance.

A larger group of students performed African dance on stage as their teacher, YA roster artist Ssuuna, led an accompanying rhythm section. A dance circle broke out at the end as students entered and showed the audience their skills. Cheers, laughs and applause filled the auditorium.
Music, poetry, and theater graced the stage as another group performed a chapter from a short story they read during the Academy. Kids performed as trolls and goats while their teacher, YA roster artist Drew Anderson narrated. Positive energy filled the room.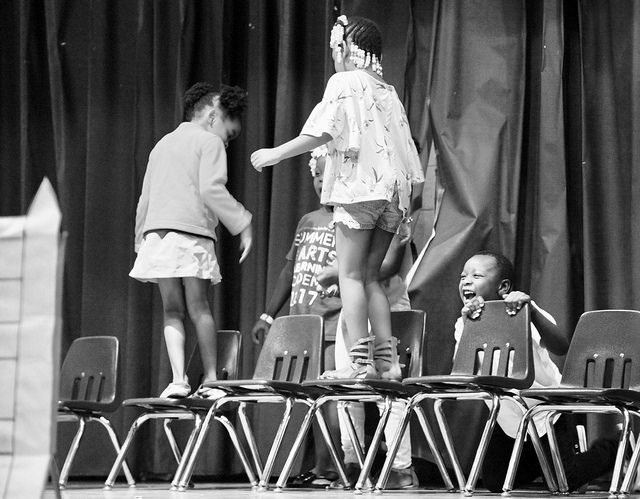 And that's only a taste of the dozens of performances that took place at culmination events around the city. Watching students light up and enjoy learning with the infusion of arts experiences is remarkable. We can't wait for next summer.
You can view images from all four of our summer sites by visiting our Flickr page. More information about Summer Arts and Learning Academy can be found on our website.
Written by Barbara Krebs, a Young Audiences volunteer and Sunburst Society member.
Colorful sticky notes adorned the walls of the classroom. Like before-and-after photos of an amazing remodel, the notes told the story of how a group of Head Start teachers in Southern Maryland unveiled their hidden talents to reach their young students through the arts. The 'before' stickies began, "I used to think…" Teachers filled in the rest of the sentence with thoughts such as, "dance, music and theatre weren't that effective," or "movement and story time could not go together," and "it was hard to integrate the arts into the classroom."
Then, as Young Audiences teaching artists demonstrated techniques that blend learning and the arts, the Head Start classroom teachers began making their own artistic/educational connections – connections that would help them return to their classrooms and engage kids in ways they had been hesitant to trust before. They soon realized that when kids are singing, dancing, and moving, it's easy for them to forget that they're actually learning!
The Professional Development course was held on February 17th and sponsored through the PNC Grow Up Great® initiative. Created to help children from birth through age five develop a passion for learning that lasts a lifetime, the program generously funded training that provided Head Start teachers with a variety of resources to increase learning, engagement and confidence by incorporating art into the curriculum.
Three YA teaching artists, musician Lisa Mathews, actor Khaleshia Thorpe-Price, and dancer Anna Menendez, taught the group. They learned, for example, how to use dance tools to create patterns, how to use their bodies and musical instruments to express themselves, and how the use of props and different character voices can more fully engage students in story time. At the end of the class, each teacher was tasked with writing and presenting a lesson seed in each art form for when the class reassembled in May.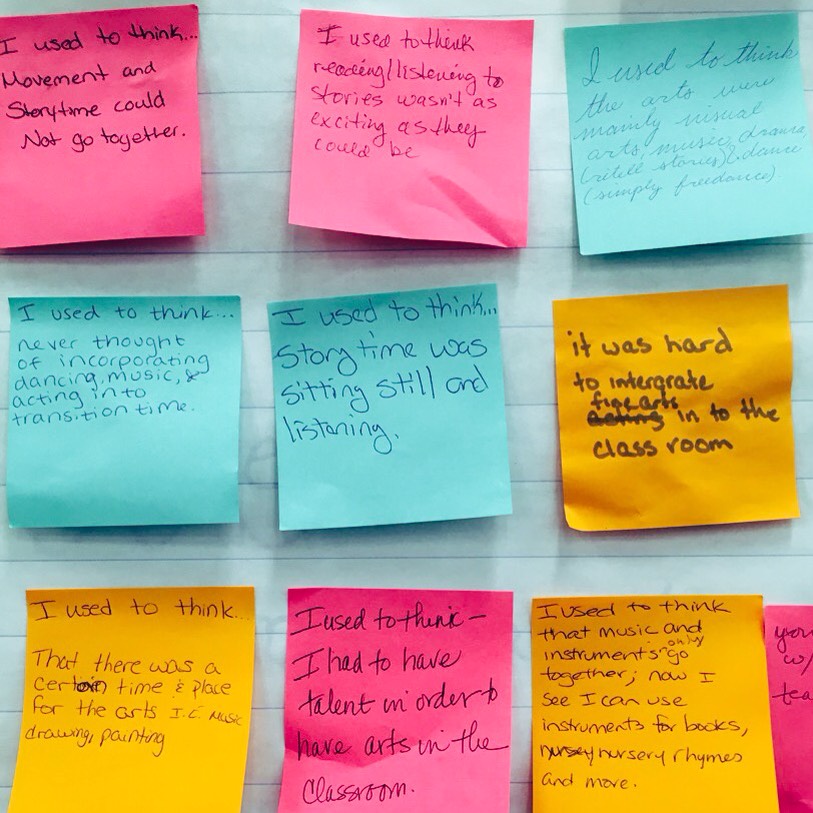 "It was very evident from their participation on the first day and their reflections on the second day that teachers were excited about these arts strategies and implemented them immediately," explained Kristina Berdan, YA's Education Director. "Having strong backgrounds in social and emotional learning, they were able to quickly experience and understand the impact that the arts can have on this kind of growth in young people. Most of them tap into the arts regularly through chants and songs, yet these professional development opportunities allowed them to learn deeper, more meaningful strategies in and through the arts. The 'ah-ha's and feelings of excitement were palpable!"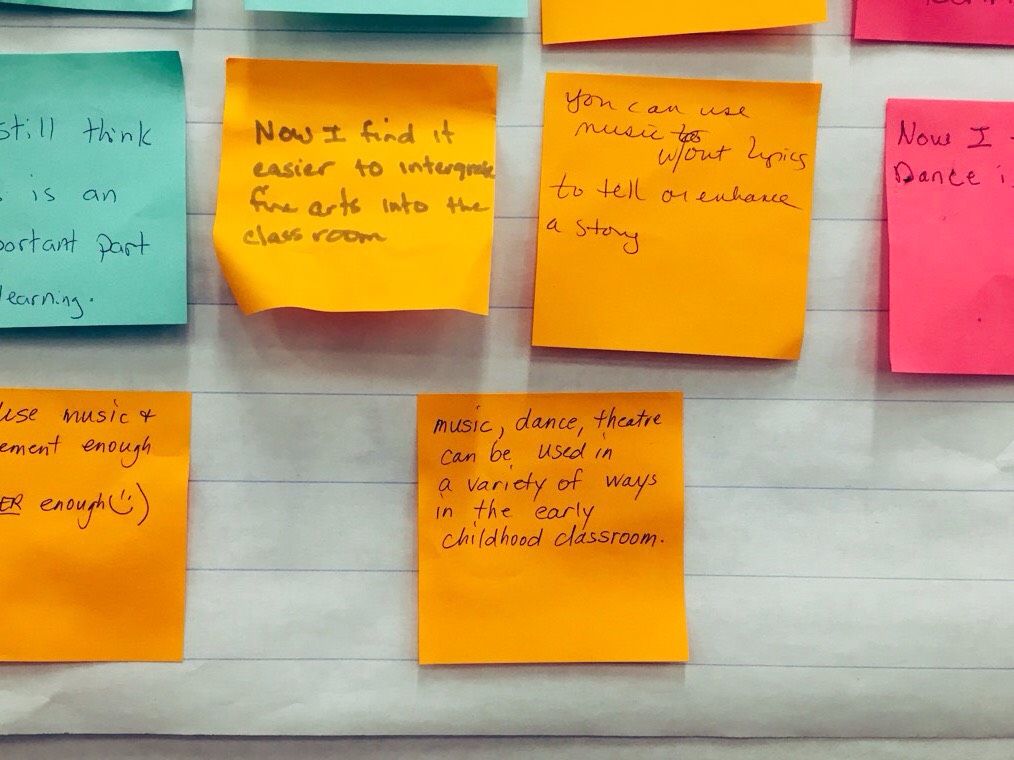 For some, wariness about the role arts could play in the classroom had been replaced with a newfound willingness to incorporate them into their lesson plans. Through the introduction of dramatic play and puppetry, for example, students had a greater understanding of the stories they read in class than they did before the professional development course. One Head Start teacher, Jessica Wiley, summed up her experience in YA's Professional Development class this way, "The ideas and suggestions were practical, applicable, and personalized. I love how Young Audiences was able to address our questions, challenges and concerns very well."
The teachers ended the day completing sentences on sticky notes that began, "Now I think…" Their statements showed how their opinions about using the arts as a tool for learning had evolved from hesitancy to a feeling of openness and anticipation, writing, "you can use music in all areas of teaching," and "dance can be a calming technique," or "movement in story time is helpful to keep children engaged."
For Maryland's youngest students, the new strategies will be especially impactful. "Head Start supports our nation's most vulnerable children by offering a comprehensive, high quality early-learning experience that prepares them for kindergarten and strengthens family participation in their children's learning," said Yasmina S. Vinci, executive director, National Head Start Association.
Like any successful renovation, the before-and-after sticky notes showed what can be created when you effectively blend harmonious elements – education and the arts – to capture a child's natural desire to learn.
Young Audiences teaching artist Ssuuna, a dancer, musician, and storyteller from Uganda, brought his incredible stage presence to Dr. Henry A. Wise, Jr. High School recently. There, he taught over 100 high school students African dance and drumming using the same focused energy and passion he delivers on stage. What struck the teachers in attendance, however, was how well Ssuuna guided his students in building a community and how expertly he handled distractions in the classroom, even with pointed interruptions.

"He never raised his voice with them, but made it clear that their choices would have consequences," recognized Mrs. Black, a 9th-grade teacher at the school. By encouraging students to examine each of his or her options and the consequences and rewards that go along with them, Ssuuna cultivates classrooms built on cooperation and encouragement. "He put the responsibility on the students to take ownership of their actions and choices, and it was very meaningful for students to have that responsibility."
Another participating teacher, Mr. Hughes, observed that the residency made students feel more relevant. "Ssuuna met the students where they were and gave them confidence and a sense of belonging, no matter what their interest," he said. This "relevancy" seemed to be felt not only internally, but collectively. Participants created their own inclusive ritual by uniting and forming a prayer circle before performing at the culminating dance. Mrs. Black recalled how powerful the moment felt to her, "I was really inspired to see all kinds of students coming together to be supportive and work as a team in that way."
It is so important for students to be understanding, especially at this age, rather than making others feel like they don't fit in.
The culminating dance introduced one last challenge when a student suffered a panic attack onstage. Ssuuna stepped in to join the student and spoke with her. In the moments that followed, she was able to regain control, breathing and finally relaxing. Teachers could actually see the transition from panic to calm occur within the student. Mrs. Black described the experience as transcendent for the teachers, the students, and the audience. "That moment made the whole experience feel more intimate, supportive, and vulnerable," Mrs. Black explained. By witnessing first-hand Ssuuna's kindness and encouragement with the student in distress, the audience was inspired to also be encouraging and supportive. "It is so important for students to be understanding, especially at this age, rather than making others feel like they don't fit in."
Baltimore students in Young Audiences Summer & Learning Arts Academy Outperform Peers
Baltimore City Public Schools students who participated in a new arts-related summer academic program from Young Audiences avoided summer learning loss and, in many cases, gained ground on their national peers in standardized testing, according to evaluations released Tuesday. The new findings showed potentially groundbreaking progress in tackling summer learning loss, a chronic challenge facing public schools.
The results, confirmed in two separate studies involving nearly 800 students, are significant because summer learning loss – particularly among students at or below poverty level – is among the most difficult challenges facing the Baltimore school district and other high-poverty schools across the country. During summer, students typically fall below where they ended the previous grade, setting them back as they start a new school year. In fact, a 2013 National Summer Learning Association (NSLA) survey of 500 teachers found that 66 percent reported the need to spend three to four weeks re-teaching students course material at the beginning of the year. Another 24% reported the need to spend five to six weeks doing the same.
"City Schools has enjoyed a great partnership with Young Audiences, not only during the school year but also the past two summers," said Dr. Sonja Brookins Santelises, chief executive officer of Baltimore City Public Schools (City Schools). "During the summer, Young Audiences reinforces key math and reading concepts through the arts and creative activities – and we're pleased with the results we've seen. When students participate in summer learning programs that help them move ahead or reduce learning loss, they start the school year off stronger."
The Young Audiences Summer Arts & Learning Academy (SALA), run by the Baltimore-based arts-in-education nonprofit Young Audiences of Maryland in partnership with City Schools, was free for students and held at four sites across the city: Gardenville Elementary, Thomas Jefferson Elementary/Middle, William Pinderhughes Elementary, and Fort Worthington Elementary/Middle. Eighty-eight percent of the participating students were from high-poverty Title I schools.
"These results were a pleasant surprise given that we generally expect that students will lose ground over the summer," commented Dr. Marc L. Stein, Associate Professor at the Johns Hopkins University School of Education, who conducted a separate program evaluation for Young Audiences which looked at participating students' academic skill and social-emotional development. "The Young Audiences summer program combines many of the best practices of summer learning programs and appears to be a promising model. These findings deserve to be investigated more rigorously to find out how and for whom the program appears to be working."
"This is not your typical summer school program," said Stacie Evans, Executive Director of Young Audiences. "We taught literacy and math through the arts every day and instruction was collaboratively taught by teaching artists and teachers specifically trained in arts-integration methods. If you walked into one of our classrooms, you might have seen students using hip hop music to help solve word problems in math, or creating dances to summarize and sequence main events in a story."
The Baltimore City Public Schools evaluation found:
For math, statistically significant results showed that students in grades 3-5 who regularly attended (defined as attending at least 75% of the program) the SALA improved 1.8% percentile points in national student rankings on i-Ready standardized testing from the spring of 2016 to the fall of that year. That compares to a decrease of 2.8% percentile points for city schools students who did not attend any summer programming.
In reading, SALA students in grades 3-5 with regular attendance fell only .8% percentile points while students who did not attend any summer programming fell 2.1 percentile points upon returning to school in the fall.
Results for all grade 3-5 students regardless of attendance rate showed SALA attendees falling just .3% percentile points in math and .7% in reading. These were significantly smaller losses than students with no summer programming (down 2.8% in math, down 2.1% lost in reading).
In literacy, only 3% of the students in grades K-2 attending SALA did not meet their benchmark goal (the empirically derived target score that represents adequate reading progess1) on the standardized DIBELS assessment in the fall after returning to school compared to 8.1% of students not attending any summer programming not meeting the benchmark.
Young Audiences external program evaluation found:
79% of students who attended at least 75% of the program and who took pre- and post-tests had a positive change from the first to the last week of the program on a curriculum based measure of mathematics.
Approximately 60% of students who attended at least 75% of the program and who took pre- and post-test writing prompts showed positive change in their structure and content of their writing.
71% of students who attended 75% of the program and were administered pre- and post-assessments showed growth in at least one out of three social emotional competency areas over the course of the program. The social emotional competencies studied were relationship skills, self-awareness, and goal directed.
"The arts offer an extraordinary opportunity, particularly during the summer, to reignite the joy of learning and to set young people on the right course to start the school year strong. These impressive results from Young Audiences mirror findings of the landmark Wallace Foundation study showing that elementary school students with high levels of attendance in high-quality, voluntary summer learning programs can experience benefits in math and reading," commented Matthew Boulay PhD, National Summer Learning Association founder and interim CEO.
Eric Harrell, father of 9 year-old Academy participant, Aria Harrell, said "Before this academy, I could tell that my daughter was struggling in math. By using the arts she was able to learn math in a different way-a way that worked for her. She has so much more confidence in her math class."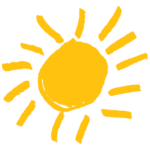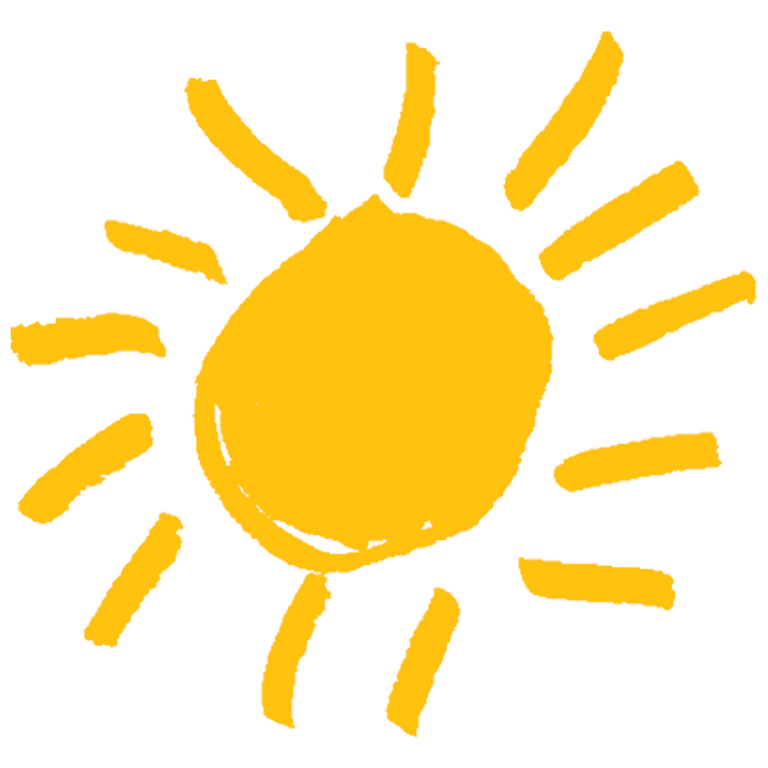 1 "Dibels Next Benchmark Goals and Composite Score, " Dynamic Measurement Group, Inc. (December 1, 2010). https://dibels.uoregon.edu/docs/DIBELSNextFormerBenchmarkGoals.pdf
Links to complete City Schools and Young Audiences Evaluations:

YAMD evaluation
Young Audiences' Summer Arts & Learning Academy is funded by Baltimore City Public Schools, The Abell Foundation, The Family League of Baltimore with the support of the Mayor and the City Council of Baltimore, The Alvin and Fanny B. Thalheimer Foundation and individual contributions to Young Audiences. All participants are students at a Title I Baltimore City Public School.
Skher Brown teaches world cultural awareness, body coordination and interpersonal skills through the basics of Capoeira Angola, an African-Brazilian martial art form that is a blend between a dance, game, and self-defense. In his new residency, Capoeira Speaks: Dancing for Social Intelligence and Life Success Skills, students develop non-verbal communication skills through body language and kinesthetic movement. This residency is well-suited for inclusive learning settings and those with behavioral, social, emotional, and/or physical disabilities.
"Over 90% of all communication is nonverbal, yet far too little focus is placed on teaching our children how to empathize with others and build relationships. Capoeira Angola is a non-verbal language that uses our bodies to speak instead of our mouths."
Social intelligence affects how students manage their own behavior, their decision-making process, and how well they are able to navigate social situations. It is, along with academic achievement, one of the greatest predictors of success. Learning to read and respond to body language helps students learn to communicate more effectively, strengthening their social intelligence, thus increasing their chances of success.
"C
apoeira Angola creates a culture of being more aware of one another. It's communicating all at once with everyone in the room," Skher explains. "I will say with my movement, 'I'm about to ask you a question, I need an answer,' and the student will respond with his or her choice of movement–the 'answer'. Over 90% of all communication is nonverbal, yet far too little focus is placed on teaching our children how to empathize with others and build relationships. Capoeira Angola is a non-verbal language that uses our bodies to speak instead of our mouths. Once students learn the movements, they come together and begin to have a conversation."
Capoeira requires students to be very expressive with their entire bodies, including their faces. Participants smile, open their eyes wide, and use animated gestures. These movements help students connect with their own emotions, which translates into being able to recognize and connect to the emotions of others.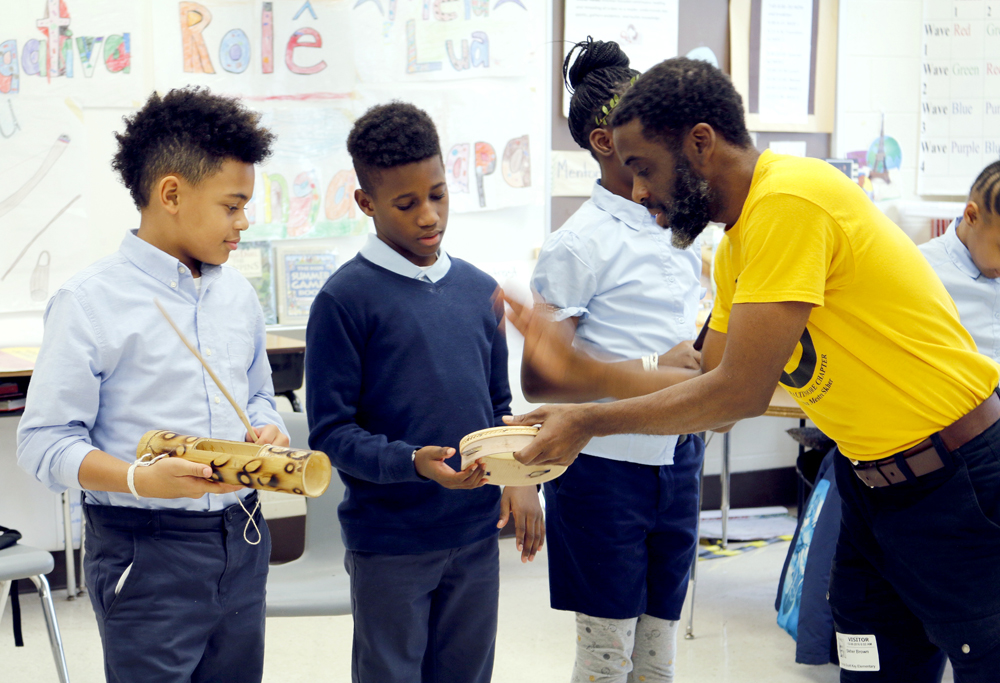 "Students take ownership of the new community culture and protect it."
In Skher's residency, students take turns observing one another performing the dance movements of Capoeira. "After the dance routine, we form a large circle for participants to look at one another using eye contact. Here, students express what positive observations they noticed about their partners. Then, students share how it felt to give and receive positive reflections. Invariably, though the expressions might start out a little stiff, the mood and classroom environment always turns into a welcoming and connected space. Students take ownership of this new community culture and protect it."
Skher Brown is one of nine selected roster artists who received training in a variety of inclusion tactics to utilize in the classroom through the Inclusive Allies program in partnership with Disability Rights Maryland. Learn more about our programs for students with special needs and the work we are doing to ensure that all students receive the many benefits of engaging and inclusive arts-integrated classroom experiences.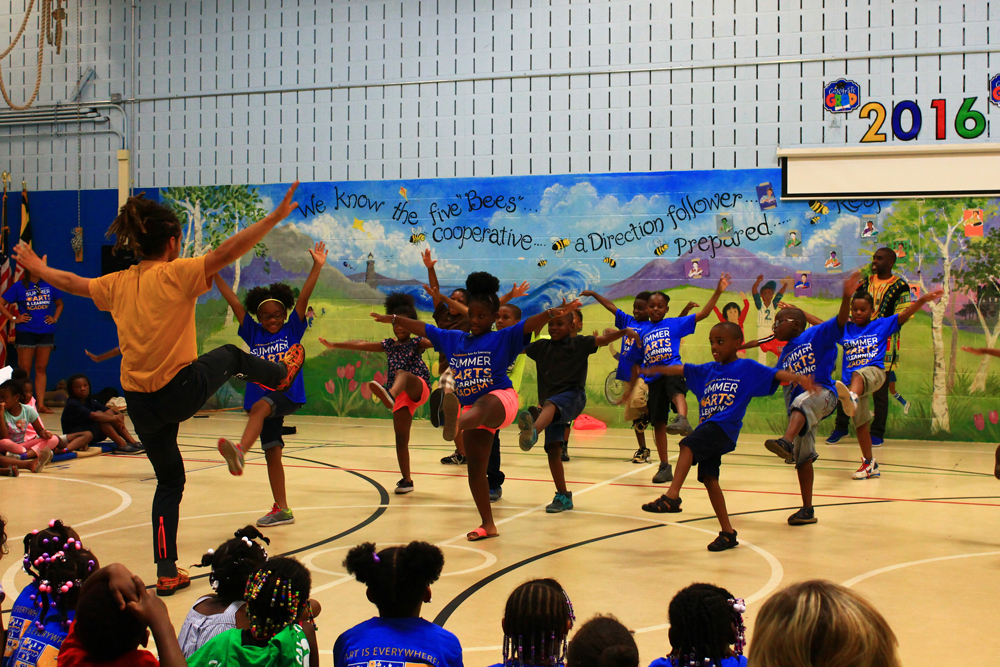 107 Maryland Schools Partnered with Young Audiences to obtain funding for Arts in Education Residencies through the Maryland State Arts Council Arts in Education initiative.
At Young Audiences, our philosophy is simple: the more arts-integrated learning experiences we can provide Maryland students, the better. We are thrilled to be doing just that with help from the Maryland State Arts Council (MSAC) 2017 grants! We teamed up with 107 Maryland schools to write MSAC Arts in Education Initiative grant applications and secure more than $124,000 in funding for Young Audiences artist-in-residence programs in the coming year.
MSAC grants help fund up to 30% of the cost of a Young Audiences residency program. With 194 total MSAC grants distributed this year, more than half were secured with support from Young Audiences!  We couldn't be prouder.
And the fit couldn't be better. Like Young Audiences' mission, the MSAC Arts in Education initiative is designed to promote, strengthen, and enhance the arts and arts education in Maryland's elementary and secondary schools. The grants will help fund Young Audiences artist-in-residence programs which bring professional teaching artists into classrooms to work alongside teachers and students. Teaching artists integrate their art form into the curriculum with hands-on, intensive arts workshops that engage students in creative experiences and bring joyful learning into the classroom.
The Young Audiences residencies resulting from these MSAC grants will be found in private, public and charter elementary, middle and high schools in counties that include Baltimore City, Baltimore County, Anne Arundel, Dorchester, Harford, Frederick, Montgomery and more. The art forms vary too, including residencies focused on dance, poetry, improv, steel drums, theater, music, sculpture, and photography.
For a full list of MSAC-funded Young Audiences residencies, click here. To learn more about Young Audiences artist-in-residence programs, click here.
Interested in bringing a Young Audiences artist-in-residence program to your school? We may be able to help you apply for grant funding! Email info@yamd.org