Is there a better feeling than sharing news so exciting you want to shout it from the rooftop? Maybe you heard us all making some noise when the 64th annual GRAMMY award nominations were announced—because our chief program officer, Jessica Smith Hebron a.k.a Culture Queen, has been nominated in the Children's Music category!
Jessica is one of the artists featured on the album All One Tribe by the One Tribe Collective. Released on Juneteenth of this year, the album features 24 Black children's music artists making it the first children's music album of its kind! Check out her video for the song "I am the Future of Black History" and the full album at 1tribecollective.com!
Not only that, WolfTrap/Early Learning artist 123 Andrés was nominated in the same category for their new album Actívate. The album brings together over 40 musicians celebrating sounds, rhythms, and flavor from across Latin America and features Arts for Learning roster artist Jamaal "Mr. Root" Collier! 
Let's get up, get moving, and cheering! Hooray and congratulations, Jessica, Andrés and Christina, and Mr. Root!! You ROCK!
In January, the sun disappears so quickly—its absence makes the air that much colder. It feels funny to reflect on my youngest daughter's first experience at Summer Arts & Learning Academy (SALA) when, outside, it feels like it just might snow.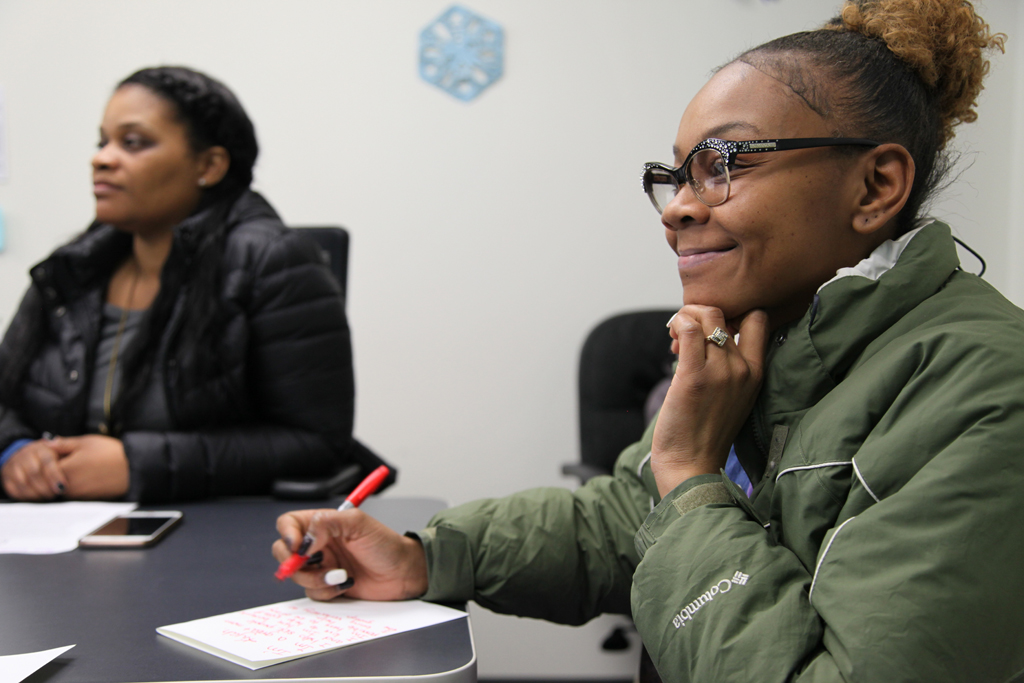 Kiyah and I, both of us parents of children who attended SALA 2018, were asked to meet at Young Audiences a couple of weeks ago. A teacher, Jesika Paige, was here, too. She wasn't at my child's SALA site last year, but I remember meeting her once. And I recognize her from our How We Do Summer video. Her smile is warm and her energy is radiant and it was so nice to be sitting at the table with her. Joining us were five teaching artists: Katherine Dilworth, Jamaal "Mr. Root" Collier, Vonnya Pettigrew, and Mama Kay and Mama Rashida of WombWork Productions, along with staff members Michael Brush, Monique Cox, Kurtis Donnelly, and Kristina Berdan.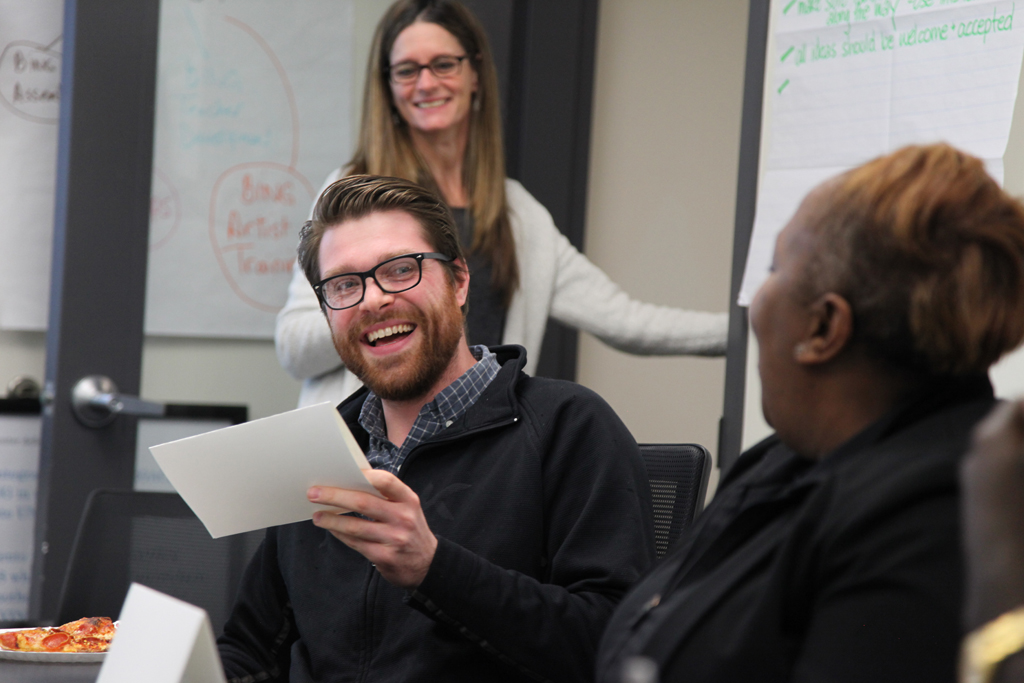 Parents love SALA for a multitude of reasons. For one, Baltimore City Public Schools students participating in SALA have not only avoided summer learning loss but, in many cases, gained ground on their national peers in standardized testing. Between this and the fact that kids in SALA are immersed in meaningful art projects every single day, enrolling my 6-year-old was an easy decision. And as Ms. Paige noted in How We Do Summer, "for children who suppress their art during the school year, this was a time for them to actually show up and show out and show their artistic ability." So, how can we take this amazing and enriching educational experience and make it even better? This is what we are here to find out.
Something that Young Audiences always makes sure to do is collect and evaluate feedback from all of a program's stakeholders. If you are ever asked to fill out a survey regarding one of YA's programs, know that your comments are read, your answers to questions are carefully considered, and your voice matters. The idea to form a community advisory for SALA was brought about in the feedback we collected from parents, and from students, teachers, and artists. Our mission is to ensure that SALA (an incredible, free, arts-filled, and academically excellent program) is student-centered and to identify program changes and improvements to implement during SALA 2019.
Coming together with other stakeholders for the SALA Community Advisory's inaugural meeting reiterated to me the desire of everyone involved to improve, and to be wise, and strong. The group committed to making sure all families are involved all along the way and that all ideas are welcome. We look forward to sharing and listening with open hearts and open minds, reflecting on what we did well in 2018, what we can do better, on ideas for the future, and welcoming the unexpected. We cannot wait for another summer of SALA, each one better than the last—in the meantime, let it snow. Written by Shannon Kline, parent and Young Audiences Communications Associate.
If you would like to be a part of the Summer Arts & Learning Academy (SALA) Community Advisory, we invite you to contact Kurtis Donnelly at [email protected]. Your thoughtful input helps to make our programs the very best for students and we appreciate your time and dedication.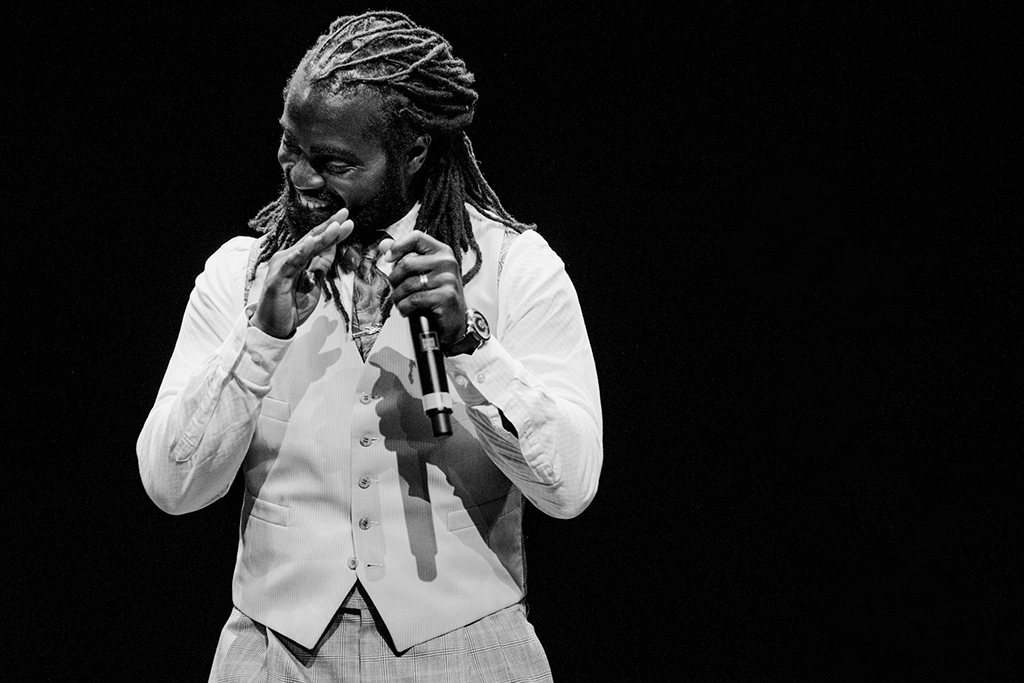 smARTbeats is back this Saturday, January 13 on WTMD during the weekly children's program Young At Heart! On this month's segment, host Lisa Mathews sits down for a chat with Hip Hop performer, YA teaching artist, and Maryland Wolf Trap Artist, Jamaal "Mr. Root" Collier.
A dynamic and engaging Hip Hop artist, Jamaal has been working with Young Audiences/Arts for Learning since 2007, has served on its artist roster since 2013, and was named Artist of the Year for 2016. His energy and passion for the arts is boundless, and show in the volume of work he does, not only offering assemblies and long-term residencies in schools, but also providing professional development for teachers.
By incorporating rapping, vocal percussion, and dynamic stage presence, Jamaal articulates his passionate appreciation for his artistry every time he teaches and performs.
During the segment, you'll hear how the artist, who is also half of the family-friendly beatboxing duo Baby Beats, invites students to learn, listen, and participate.
"(Mr. Root's program) was a true testament of how you can take learning and make it fun," said Ms. Hines, Principal of Villa Maria School after the artists' residency. "He was able to get some of the most resistant kids engaged."
Jamaal uses rapping, freestyling, and beatboxing to appeal to a variety of learners. His students craft rhyming couplets and non-traditional quatrains to analyze and summarize their course content, gaining a deeper understanding of lesson material through elements of Hip Hop.
Take a look for yourself:
Staci Taustine, Fifth Grade Teacher at F.L. Templeton Preparatory Academy said that through her class' residency with Mr. Root, students didn't just advance academically, but socially.
"My students learned how to be vulnerable with one another, brave enough to share their feelings, and empowered to use their voices to express everything they learned," she said. "Each and every one of my students came away with a unique perspective on who they are as individuals."
Jamaal's passion for the arts is clear, as is the impact it has had on his life. "Our life without the arts can be so empty," he has said. Thankfully, the artist shares the power of art, music, and rhyme with students and their teachers across the state of Maryland every day.
Young At Heart airs weekly from 7 to 8 am on Saturdays, featuring music that appeals to parents and children alike. Previous shows have featured music by Wilco, David Bowie, Andrew & Polly, Weezer, and others.
Hear Jamaal "Mr. Root" Collier online now:
Arts integration is a valuable tool for reaching multiple learning styles across the curriculum and is linked to enhanced academic outcomes as well as positive social and emotional development for children. While this is true for all students, studies have found that the impact of the arts on language development and core subject learning is particularly beneficial for students with disabilities or those with special learning needs.
As an inclusive organization, Young Audiences' goal is to bring high-quality, arts-integrated instruction that is accessible, supportive, and welcoming to children of all backgrounds and abilities into the classroom.
Reality is a social definition. Disability is the social process that turns impairment into a negative by creating barriers to access. Difference should be accommodated and celebrated. You can create new ways to create together by taking into account universal access to creativity.
We are diligently laying the foundation for inclusive practice to be incorporated into arts-integrated curriculum, increasing the opportunities for youth of all abilities to participate in artistically-excellent programs. To help us achieve this goal, our staff received specialized inclusion training through the Inclusive Allies program in partnership with Disability Rights Maryland.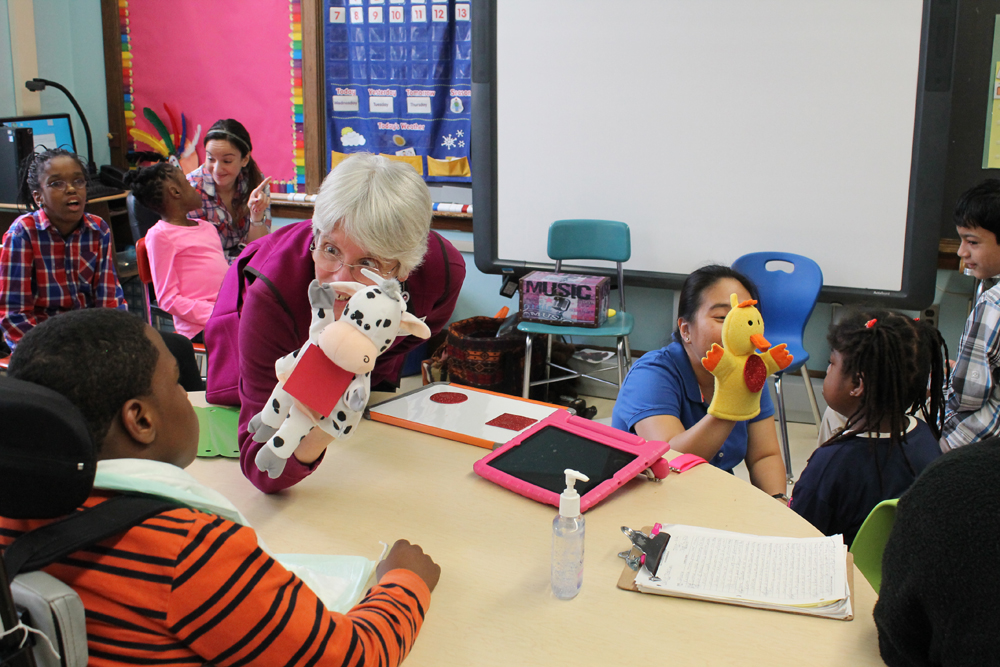 Nine selected roster artists also received training, participating in a comprehensive workshop covering a variety of inclusion tactics to utilize in the classroom. YA Roster Artist and FutureMakers founder Matt Barinholtz observed, "Reality is a social definition. Disability is the social process that turns impairment into a negative by creating barriers to access. Difference should be accommodated and celebrated. You can create new ways to create together by taking into account universal access to creativity."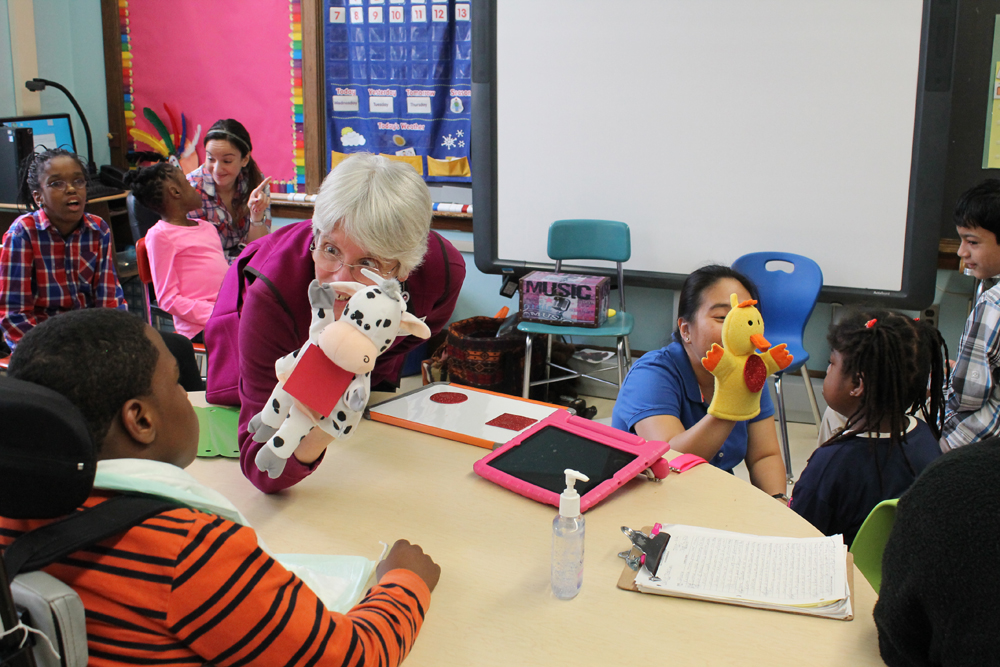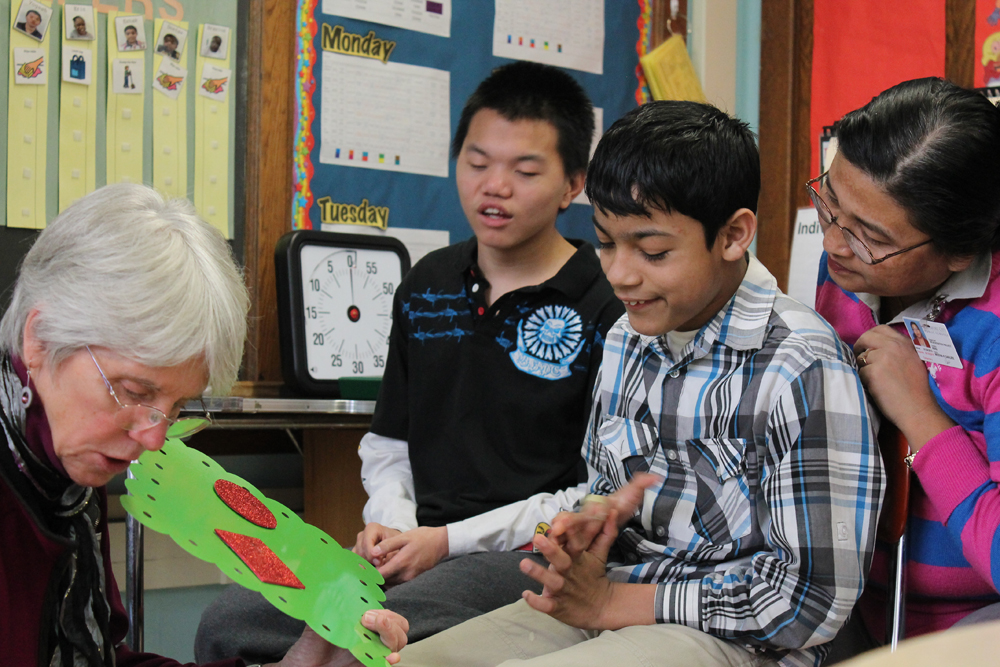 YA artists approach this "universal access to creativity" by rethinking the norms behind the ways we allow people to communicate, socialize and behave. We create a culture where all students receive the many benefits of engaging and inclusive arts-integrated classroom experiences, adapting lessons with audio/visual cues and different levels of kinesthetic movement, and applying inclusion tactics.
The following Young Audiences Roster Artists have completed the training as of 2016:
In the coming months, we will proudly share artists', teachers' and coordinators' stories about their roles in this important work.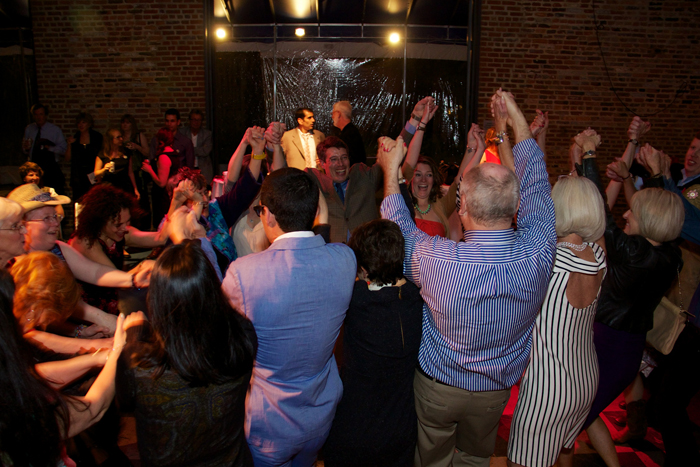 Taste the Arts X:
An evening of performance and culinary art!
Friday, May 6 at the Hippodrome Theatre in Baltimore
The lineup for our 10th annual Taste the Arts Fundraising Gala is set! We've put together another fantastic evening featuring award-winning artists and top culinary talent in Baltimore.
The best part? When you buy your ticket, you support Young Audiences' programs and mission to bring high quality, low-cost arts experiences to Maryland schoolchildren! Last year we delivered arts experiences to 183,153 students in Maryland. With your ticket purchase, we can keep it up – and do even more.
At Taste the Arts, we'll transform all three levels of The Hippodrome Theatre into a celebration of the arts through live performances and interactive arts experiences, with food and drink served on all three floors. Here's a taste of what to expect:
Taste delicacies from 25 restaurants:
Absolutely Perfect Catering
Alma Cocina Latina
Argosy Café
Baltimore Waffle Company
Blackwater Distilling
Blue Pit BBQ
Brio Tuscan Grille
Charm City Cakes
Charmington's
Chiapparelli's
Clavel
Gertrude's
Golden West Café
Heavy Seas Alehouse
La Cuchara
Maggie's Farm
Mother's
Teavolve
The Charmery
The Food Market
The Hipp Cafe
The Local Oyster
The Oceanaire
The Scratch Mill Kitchen
Tio Pepe
Wine from Noble Vintners
Beer from Union Craft Brewing
On the menu from Clavel is Cochinita Pibil, a traditional Mexican slow-roasted pork dish, with a side of Hex Ferments special slaw. The tapas-inspired menu from La Cuchara features Charred Broccoli Pintxo and Pickled Mushroom Pintxo. The Local Oyster will be shucking out sustainably farm-raised raw oysters. Maggie's Farm is serving chicken liver pate with fig jam on baguette and Heavy Seas Alehouse brings it home with Smoked Brisket Mac & Cheese. On the sweet side, Baltimore Waffle Co. will serve up Belgian Liege Waffles and Gertrude's presents a twist on a Baltimore classic with its Berger Cookie Cheesecake. Local winery, Noble Vintners, has graciously donated wine, and Union Craft will be on hand, offering their award-winning brews!
Don't miss 9 live performances and interactive art demonstrations, including: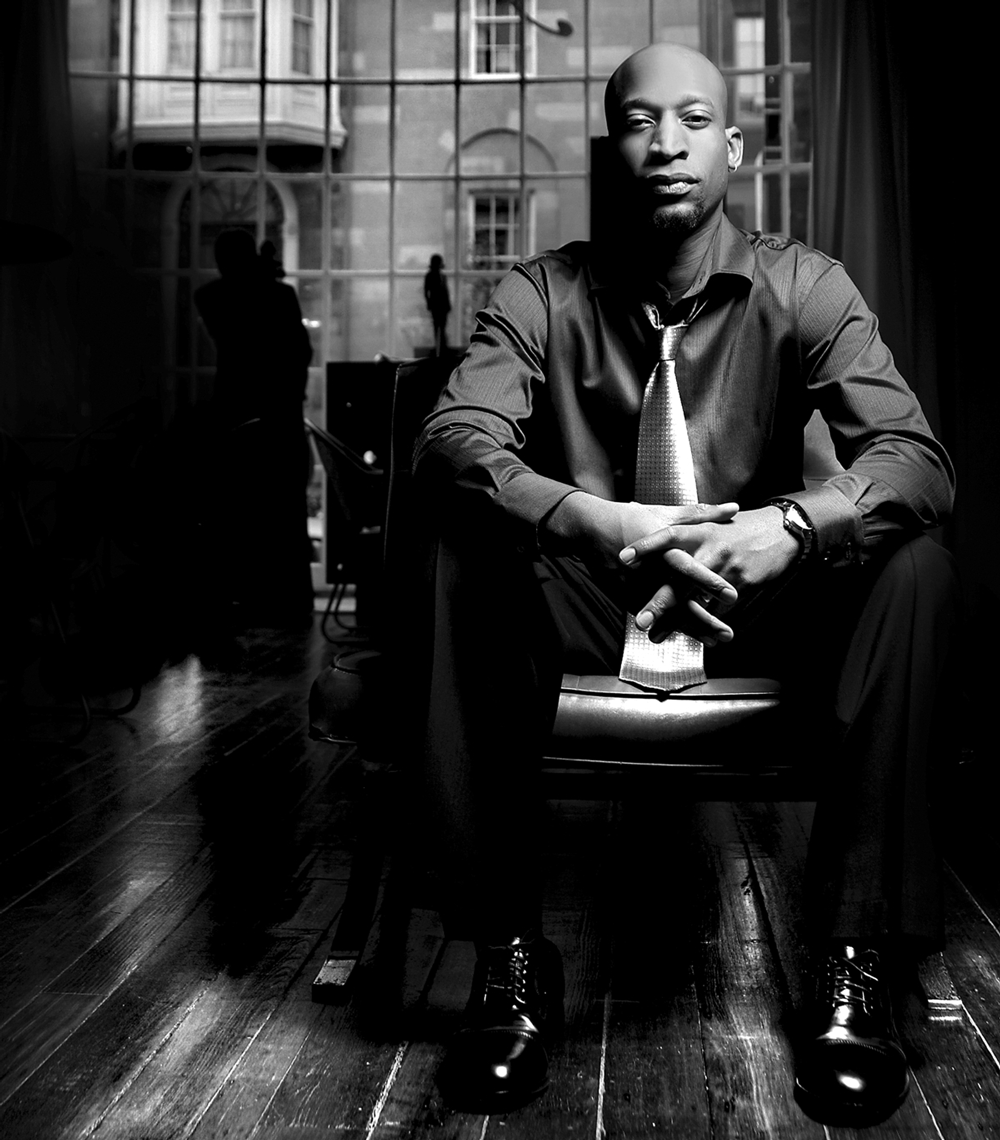 A collaborative music production composed and directed by Wendel Patrick, YA Artist and 2015 Baker Artist Award Winner, and performed by Peabody Institute musicians Jahi Alexander, Blair Skinner, Louna Dekker-Vargas, and Yoshi Horiguchi and YA artists Max Bent, Wendel Patrick, and Jamaal Collier—2016 Artist of the Year.
I don't want to give away TOO much. But at Taste the Arts, I'll be working with an arrangement from one of my favorite hip hop producers." —Wendel Patrick, 2015 Baker Artist Award Winner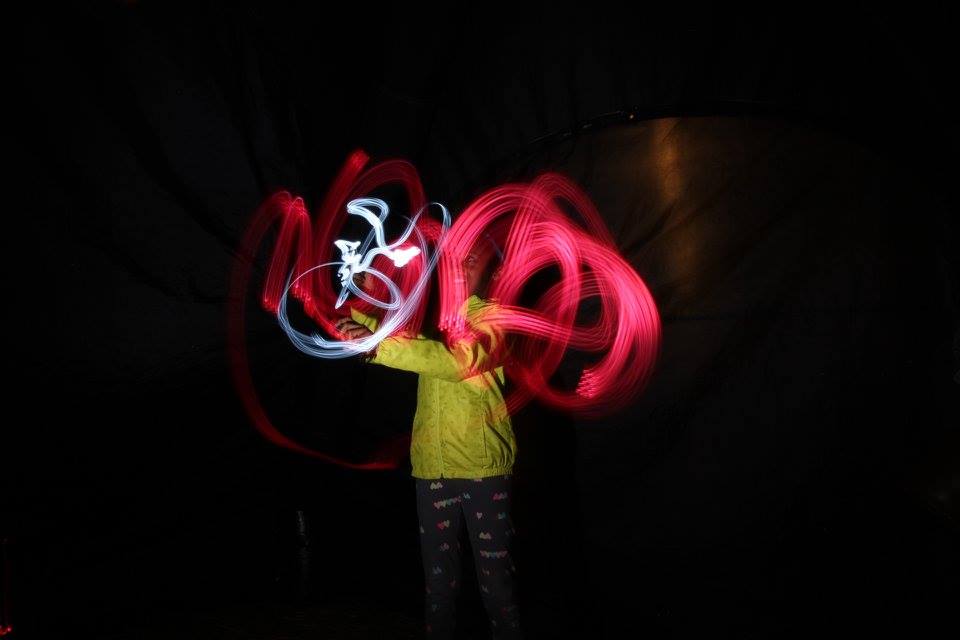 Interactive "light painting" with maker-educators FutureMakers (fresh from Light City!)
Get ready for light painting with LED brushes at Taste the Arts! You'll even be able to email your creation home!" —Matt Barinholtz, FutureMakers

Indian classical dance performance by NRITYA
I have had the opportunity to be a performer at several Taste the Arts over the years, and I am excited to be a part of the 10th Taste the Arts gala," she said. "When my students perform with me at the gala, it is a wonderful experience for them as they get to showcase their talent and culture through their performance to the guests. It is almost as if they are cultural ambassadors." —Lakshmi Swaminathan, NRITYA, as quoted in the article "Tasty fundraiser hits the Hippodrome" on Avenue News.com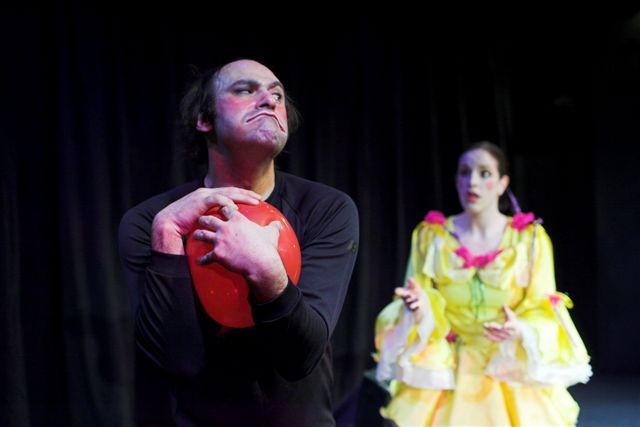 Pantomime theatre from DC's award-winning Synetic Theater
The Magic Balloon is a series of hilarious sketches synthesizing music, ballet, clowning, and audience participation. At Taste the Arts, you'll discover the art of acting without words and open the door to your imagination. 'Balloon' tells a wonderful story of a traveling actor and his magical trunk of tricks and toys." —Tori Bertocci, Synetic Theater
Plus:
Acoustic roots and blues music by Curtis Blues
Screen painting with John Iampieri
Performances by Thomas Jefferson Elementary/Middle School's String Ensemble and Kindergarten ballet dancers
Kevin Martin of Rockcreek Steel Drums performing with students from the Holistic Life Afterschool Program at Robert W. Coleman Elementary School
Taste the Arts also includes a live and silent auction with one-of-a-kind items and experiences and an awards ceremony honoring Maryland's arts-in-education leaders, including 2016 Artist of the Year Jamaal Collier, who has more than a decade of professional experience facilitating Hip Hop workshops and live performances across the state.
"I'm thankful to have an effect on kids' lives and for the effect they have on me. Every human has talent. YA helped me to build skill within that talent. I have become a better artist because of YA." —Jamaal Collier, 2016 Artist of the Year
Tickets are only $100 and ensure high-quality art experiences for Maryland schoolchildren. We're expecting hundreds of artists, educators, and arts supporters in attendance and hope to raise $150,000. Get your tickets now!
—
Can't make it to Taste the Arts?
You can still be part of our fundraising efforts by bidding on some fantastic items in our online auction—happening now through Thursday, May 5. There are still a bunch of great items available with low or no bids, and several new items were just added this week!
by Ken'Niya Baltimore, Young Audiences Summer Arts Academy student
My name is Ken'Niya Baltimore. I am 13 years old and in the 8th grade at Henderson Hopkins. During the summer, my mother told me that I was accepted into Young Audiences' Summer Arts Academy. My face was puzzled because I had no idea I was even signed up. But after I started to learn more about the program, I could not wait for it to start. Before it started, I would take my 5-year-old sister to school and come home. My father was at work, my mother was in school, so I was at home alone, watching TV, bored out of my life.
Before I started the program I did not know there were celebrities here in Baltimore that should be in Hollywood with Taraji P. Henson or Beyoncé — artists like Femi the DriFish or Black Root. These were my teachers!
When I first arrived at the Academy I did not want to talk out a lot or share any ideas that I had in groups. I took poetry, theatre, and hip hop dance.  In my hip hop dance class, I had to dance differently in front of the class which I was not comfortable.  I had to realize that I need to get myself together and be more confident.  Confident.  That word helped me out a lot.  In all the classes I took I had that word in my mind — I kept telling myself that I can do it. I can do it just keep going. In dance class, I told myself I cannot do it, but I knew that, in life, I will always have to try something new so I danced a solo at the Academy's final performance!
My poetry class was my favorite. Femi the DriFish was my favorite teacher because he helped me a lot through my writing by giving me examples and showing me his awesome poems. The most challenging and rewarding thing I did in the Academy was my poem "I am Baltimore." It was emotional because of what was going on my city. I wanted to quit and switch classes but I realized I was the oldest in the class and the younger kids were having the same problem. So I told myself if you quit, they will too. So I pushed myself and everyone else, and made sure we were organized and ready to perform.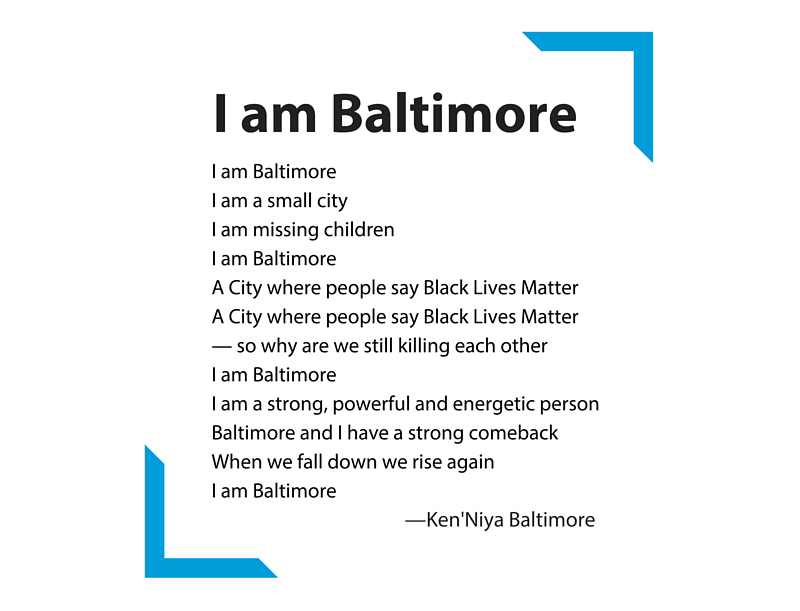 I performed that poem at Artscape.
When the program ended I did not want to leave. I wanted to cry and stay longer. I asked the teachers, "Can I come back next year and help as a youth worker?" I already knew that wasn't an option because I would be in the 9th grade and too old for the program, but I told my parents I would find a way to get back there. This experience has impacted my life so much. I now feel great about speaking to a crowd. I feel confident about my tomorrow. I am going to attend City College or Baltimore School for the Arts. I am going to be an actress, writer, producer, and lawyer…and maybe in my spare time a singer.
I hope many kids have the same experience I did at the Summer Arts Academy; it will change their lives too.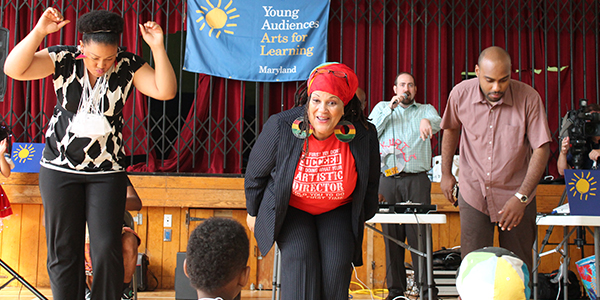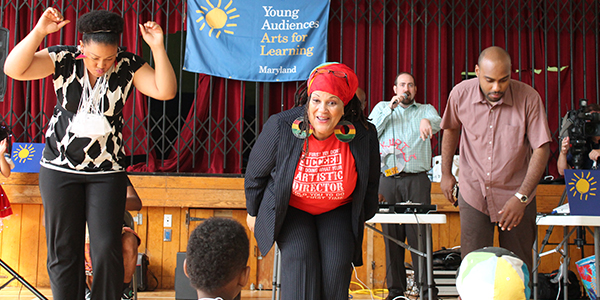 Young Audiences has again partnered with Baltimore City Public Schools to make sure that arts-integrated learning does not end with the school year. On Monday, June 29, energy filled the gymnasium of Thomas Jefferson Elementary/Middle School as Young Audiences artists greeted 250 Baltimore City students and their families with high-energy performances, live music, and vibrant interactive art demonstrations during the kick-off assembly of the Summer Arts Academy.
The Academy is a five-week, city-wide program that provides students, third-grade through seventh-grade, with a free once-in-a-lifetime opportunity to spend their summer learning from the talented artists who live in our communities. The Academy was created as part of City Schools CEO Dr. Gregory Thornton's plan to increase arts education opportunities for Baltimore City students. The Academy's literacy component, with the overarching theme of "What Makes a Hero?" will be team-taught through the arts by City Schools teachers and faculty artists specializing in visual art, sound production, clay, African Drumming, modern and African dance, and improvisational and urban theatre. The Academy also gives students the opportunity discover art forms they have never experienced before and delve into two artistic disciplines of their choice. Students will perform at Artscape and visit other arts destinations through field trips. See the full list of the Academy's artist faculty here!: Summer Academy Artists
See more photos from the Summer Arts Academy kick-off assembly here!
Hip Hop musician Jamaal "Mr. Root" Collier set the stage for the crowd during the Academy's kick-off assembly. Joined by another Young Audiences musician, Kevin Gift, on the turntables, the performance used high-energy beats, improvised rapping, and beatboxing to get the crowd swaying and dancing. A couple of shy boys watched from afar, but slowly began to inch their way toward the booming set with growing curiosity.
Nearby, the dance moves of Cynthia Chavez of Baltimore Dance Crews Project (BDCP), caught the eye of three girls who were interested in learning how to moonwalk. Cynthia worked through foot techniques and demonstrations until the girls were ready to  try it themselves.
Filmmaker and photographer Ras Tre showed one intrigued student how he operates his professional video camera equipment.
Artists, students, and family members began to gather on the dance floor as the popular music began to flow out of the speakers. One talented student stepped toward the center of the floor with confidence. He began to lead the choreography of one popular song while the crowd stepped back, learned the moves, and cheered him on. This encouraged other nearby students and artists to join in until the entire dance floor was full.
The assembly wrapped up with artists, teacher partners, and other Academy staff introducing themselves by dancing onto the stage. As students broke off into their grade-level groups, one parent asked: "Is there an adult Young Audiences class that the parents can take? We want to have this much fun, too!"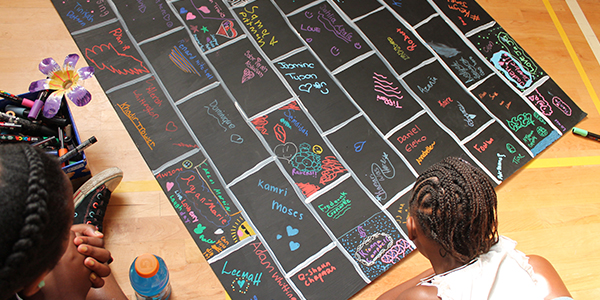 On average, all children can lose approximately two months of learning from the previous school year during the summer months without engaging education activities, and for low-income students, the loss is even greater. More than half of the achievement gap between low-income students and their more affluent peers can be attributed to the unequal access to summer learning opportunities. Programs like the Summer Arts Academy provide students with a safe place to go during the day, access to free healthy meals, adequate adult supervision, and positive, educational activities.
The high-energy kick-off assembly was only the beginning of what is to be expected this summer. Be sure to follow the Young Audiences blog, as well as our Facebook page, for updates from the Summer Arts Academy throughout July.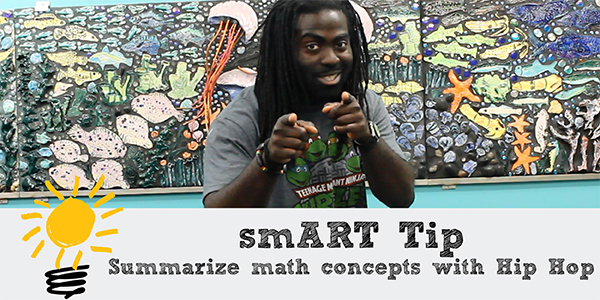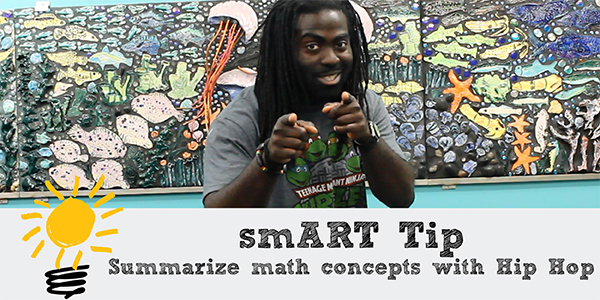 Rhyming couplets are a great way for students to summarize their knowledge and demonstrate their understanding of math concepts. In April's smART Tip, Young Audiences Hip Hop musician Jamaal "Mr. Root" Collier shows teachers how to get started!
smART Tips is a monthly video series sharing tips for educators who are interested in new, creative ways to use the arts in their classroom with students. See all smART Tips to date here. Interested in a specific topic? Let us know!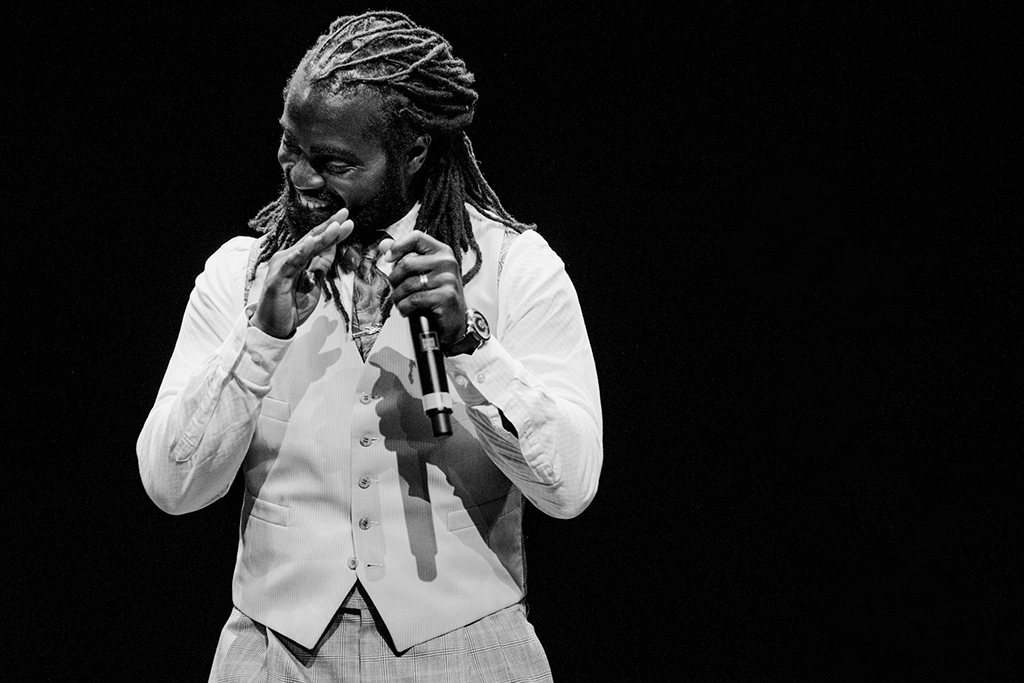 "Our life without the arts can be so empty," rapped Jamaal Collier at Young Audience's 2014 Impact Breakfast, "so I'm proud to be a part of YAMD!" A dynamic and engaging Hip Hop artist, Jamaal has been working with Young Audiences/Arts for Learning since 2007 and has served on its artist roster since 2013. His energy and passion for the arts is boundless, and show in the volume of work he does: not only does he offer assemblies and long-term residencies to elementary, middle, and high school students, but he also provides professional development for teachers, in addition to currently being trained for the renowned Maryland Wolf Trap Early Learning Through the Arts 16-session residencies for preschool and kindergarten students.
Jamaal began making donations to support Young Audiences ever since he joined Young Audiences' roster. This past fall, he became the first roster artist to make a multi-year pledge of support. Asked why he chose to do this, especially since he dedicates so much time to the organization, Jamaal stated simply, "I believe in what we do. We do a lot, and there is a lot to be done."
Jamaal's passion for the arts is clear, as is the impact it has had on his life. Today he brings the power of the arts into the lives of students and teachers in Maryland. In every case, the results are remarkable. For example, during a Maryland Wolf Trap Early Learning Through the Arts program in Baltimore, Jamaal witnessed students evolve from using one-word answers to expressing themselves in full sentences!
Young Audiences is truly grateful to donors like Jamaal, whose passion for and commitment to the arts helps students realize their full potential. As he put it, speaking about the relationship between artists, teachers, and students, "We're the ones who need each other, and we will help each other move forward."
Schedule a program with a Young Audiences teaching artist today! Browse Young Audiences' roster of more than 100 professional teaching artists, whose talent spans all art forms, including music, theater, dance, and visual arts.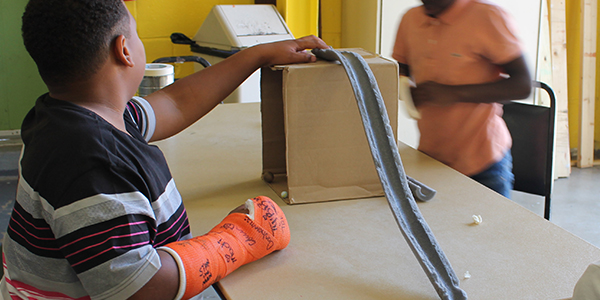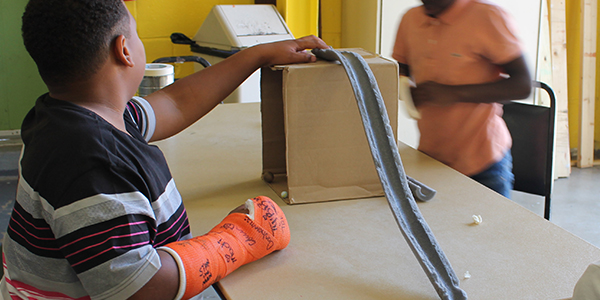 During the past few weeks, nearly 150 middle school students have dived into math and science concepts through the arts at the Young Audiences and Baltimore City Public Schools 22nd Century Pioneers Arts-Based Summer Camp. Students have learned how ratios are used in photography and how the physics of sound affect each note played on a steel drum. Through these art forms, and many more, students have been engaged in learning this summer so that they are prepared to hit the ground running this school year.
While most of the learning goes on inside the school, students have also had the opportunity to take their knowledge beyond the classroom walls on field trips. These excursions allow students to continue their hands-on learning in a new atmosphere, applying the skills and knowledge they've acquired throughout the summer.
The first trip was a visit to the Baltimore Museum of Industry, where students learned the ins and outs of technology and put their own engineering skills to the test. In one activity, students worked together in small groups to create a track that would carry a wooden ball and drop it into a can. This required them to go through the five steps of solving an engineering problem: plan, get materials, build, test, fix, and re-rest. Students were forced to adjust and readjust their designs before finally reaching their goal, usually resulting in loud cheers.
Students received another challenge: creating an artistic interpretation of the word industry. Groups joined together, combining their knowledge and creativity to come up with dances, skits, and songs that showed what they had learned that day.
See more photos from summer learning!
The following week, students traveled to Baltimore's Artscape, America's largest free arts festival organized by the Baltimore Office of Promotion and the Arts. Surrounded by artists of all disciplines, the students put on a show of their own at the Station North Stage, showcasing what they've been working on during their arts enrichment classes. The show opened with a lively Hip Hop dance performance from Jamaal Collier and Alicia Shaw's Hip Hop class. After the performance, one student explained the four pillars of Hip Hop, the most important one being knowledge. Next, Valerie Branch and Heather Tuttle's dance class got the crowd cheering with a dance set to Ariana Grande and Iggy Azelea's "Problem." Kevin Martin and Kevin Older's students also got to show off their steel drum skills.
Even those who didn't perform on stage took part in their own form of art-making. Throughout the day, Christina Delgado's photography students captured Artscape from behind the lens, while Danyett Tucker's illustration students filled up their sketchbooks with drawings of everything from festival attendees to graffiti on buildings.
Bridget Cavaiola's improv class performed an exercise called "Improv Everywhere." All over the festival, they held compliment battles, gave flowers to strangers, and posed as wax statues, making them the target of many curious stares and even a few pictures. See this group in action in the video below!
[youtube http://youtu.be/hg-sdwpGYQg]
Read more about the arts-integrated learning happening at the Young Audiences 22nd Century Pioneers Arts-Based Summer Camp site and see photos here.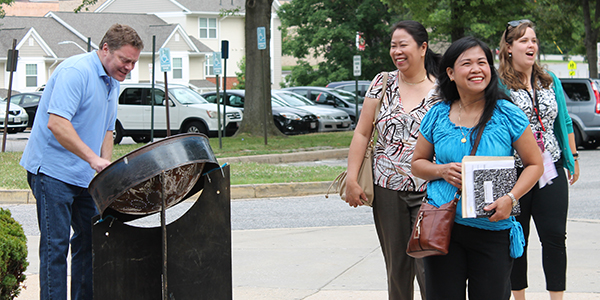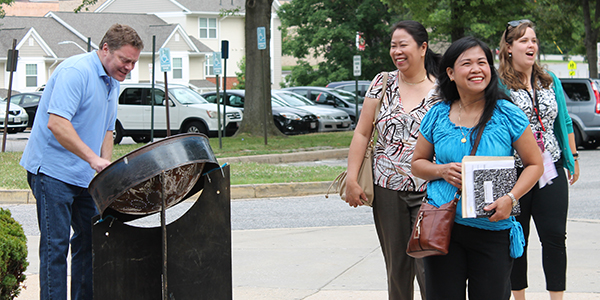 The school year may have ended, but for Young Audiences, that doesn't mean the fun, arts-integrated learning stops. Young Audiences has again partnered with Baltimore City Public Schools to bring arts enrichment activities to seven Baltimore City 22nd Century Pioneers Arts-Based Summer Camp sites. In addition, for the first time Young Audiences is also managing an eighth completely arts-integrated camp site at Edmondson Westside High School. The 22nd Century Pioneers Summer Camp is free to Baltimore City Public Schools middle school students.
At the Young Audiences camp, nearly 150 students will explore math and science concepts through the arts in classes and arts enrichment activities led by Baltimore City teachers and Young Audiences artists during the five-week program. Students can select the art form they will focus on during enrichment sessions, with choices including dance, photography, illustration and mural painting, theatre, Hip Hop, steel drum, or VEX robotics.
Because this is the first-ever Young Audiences arts-based summer learning site, we thought it deserved an equally spectacular kick-off event. As students arrived, what better way to greet them than with the arts?
On Monday, June 30, as students walked up to the school for the opening day of camp, the first thing that hit their ears was the sound of a steel drum being played by Young Audiences roster artist Kevin Martin of Rockcreek Steel Drums. Kevin has been building and playing steel drums for more than 20 years; this summer, he will show students how the instrument connects to math.
See more photos from the Young Audiences arts-integrated summer learning site!
On the way into the building, students passed the dancing Valerie Branch, a new Young Audiences artist whose energetic moves caused many to stop and watch. Valerie will get students moving while studying science this summer. Those walking in also got to witness the Hip Hop talents of musician Jamaal "Mr. Root" Collier, who will use his skills to bring math to life. Bridget Cavaiola of Baltimore Improv Group used improvisational theatre techniques to direct students inside the building. With her help, students will learn how theatre can make abstract science concepts concrete.
The excitement wasn't just at the front of the school. Once inside, students had the opportunity to take part in photographer Christina Delgado's photo booth, dressing themselves in hats and glasses before striking poses. Students will have the chance to go behind the lens with Christina to learn the art of photography and its connections to math. Visual artist Danyett Tucker will link illustration to science. As students looked on, she created a colorful mural with images of various art forms incorporated into the design, from music notes to microphones to Polaroid pictures. Students were invited to create murals of their own, as each table was decked with markers and a giant sheet of paper.
All children, regardless of their resources or where they live, lose some math skills during the summer. Studies show that economically-disadvantaged students also lose literacy skills during this "summer learning slide." Experts believe that the achievement gap between middle- and low-income students not only grows during the summer—it exists largely because of the summer.
Programs like 22nd Century Pioneers provide students with a safe place to go during the day, access to free healthy meals, adequate adult supervision, and positive, educational activities. This summer Young Audiences artists will connect students with new experiences through the arts as they learn about math and science in a new way and build their self-confidence as they gain knowledge and skills.
Check back in with the Young Audiences blog throughout July as we look at how these artist and teacher pairs are using arts integration in their classrooms.
Happy summer and happy learning!
Earlier this week, Young Audiences roster theatre ensemble Single Carrot Theatre joined our celebration of National and Maryland YA Week with a dramatic reading of the gubernatorial proclamation. Today, Hip Hop musician and teaching artist Jamaal "Mr. Root" Collier is helping us close out the week on a high note with a musical interpretation of the proclamation. Warning: Be prepared to have this catchy beat stuck in your head all day!
[youtube http://youtu.be/KtE5TZKTsG0]
Thank you to Jamaal and Single Carrot for lending their talents to our recognition of Maryland YA Week 2014 and providing two examples of how our roster of more than 110 teaching artists infuse the arts, creativity, and fun into learning and inspire and engage nearly 170,000 students and educators across Maryland each year.
Although YA Week ends tomorrow, Young Audiences and our artist and school partners will continue our work of increasing access to valuable arts experiences in all Maryland schools throughout the year. We agree with Jamaal: Let's celebrate the arts all the time!
If you believe, like we do, that learning in and through the arts gives students opportunities to imagine, create, and realize their full potential, stay up-to-date with Young Audiences news by checking back in with our blog and following us on Facebook and Twitter. You can also sign up for our monthly enewsletter here.
See all Maryland YA Week posts here.
Learn more about Jamaal's arts-in-education programs for schools here, and Single Carrot's assembly program here.