Some big ideas are meant to be shared. It is through partnership and collaboration that the big ideas grow roots and become an integral part of something even bigger. In 2015, Pat Cruz, YA's then-chief innovation officer, and educator Mary Kate Bransford had a dream. What if every kindergarten classroom in Prince Georges County Public Schools (PGCPS) had an arts-integrated environmental literacy program?
Their big idea brought together twenty teachers and five teaching artists to write a five-day lesson plan that both met environmental literacy and visual art criteria and explored themes like habitat restoration, local ecosystems, the life cycle of plants, and the lifecycle of animals for a brand new program: Growing Up Green. The program, a partnership between Young Audiences and the Prince Georges County Office of Environmental Literacy, would be piloted in 17 schools in the district in the 2015-16 school year.
That first year resulted in the creation of five separate 5-day arts-integrated environmental literacy lessons. Teaching artists worked side by side with kindergarten teachers all five days of the program with the goal of handing off that role to each individual school's art teacher in future years. To prepare teachers, Kristina Berdan, Young Audiences Education Director, trained teacher ambassadors, kindergarten lead teachers, and art/music teachers to use the arts as a teaching tool in their classrooms. "I used to think art was a product of a lesson," said one kindergarten teacher in Prince George's County Public Schools after being trained in arts integration through Growing Up Green. "Now I think art is the process to achieve the objective."
The team constantly listened, assessed, reflected, and revised, resulting in a comprehensive catalog of resources for teachers and the refinement of, in the second year, four unique residencies instead of the initial five, and then in its third year, one: Fiber artist Pam Negrin's The Lifecycle of Plants. Kindergarteners and their teachers explored nature with their real-life senses—looking, smelling, touching—to not just learn about our natural world, but experience it. Classrooms across the district were outfitted with custom-made embroidery tables where students could gather and stitch their observations, building with and learning from one another. "We think with our hands and when students are immersed in a lesson together, they begin to make their own connections," said Pam. From sharing what they learned during the school day at home to internalizing and remembering more information, the effects on learning were so profound that once-resistant teachers embraced learning through arts integration and extended it into other content areas.
Growing Up Green combines the arts and time outdoors with making connections between humans and the environment and brainstorming solutions. "The program gets kids outside and thinking about the bigger picture and the combination of all the elements of the program supports the district's goals," said James Roberson, PGCPS Instructional Specialist for Environmental Literacy. And after the lessons have ended, classes are left with beautiful embroidered tapestries they can share with the school community. "The tapestries are a great way to showcase what they've learned."
Our state was the first in the nation to approve an environmental graduation requirement for all Maryland students. In 2011, the school board created Environmental Literacy Standards that would support the growth of the planet's next generation of stewards. Prince George's County Public Schools is intentionally integrating these standards into the PreK-12 curriculum, and through Growing Up Green, they are successfully reaching the county's youngest students. This is the first year that PGCPS is running Growing Up Green without Young Audiences' support. "Young Audiences has been an outstanding partner over the last four years," said Roberson. 
"I'm really impressed by how different teachers have taken what they learned and run with it," said Jhanna Levin, PGCPS Environmental Literacy Outreach Teacher. As a result of Growing Up Green, teachers in the district's Autism Program, for instance, have embraced the art of embroidery, the fine motor skills it develops, and the calm it inspires. "It soothes the kids in a way they weren't expecting." Levin, new to the department, has taken the reigns of Growing Up Green and nurtured the development of teachers new to the program as well as veteran educators. She is constantly checking in and helping the teachers to do what works best for them.
She is holding a training session this coming January for lead kindergarten teachers to explore additional arts integration techniques for classrooms and it's not just new teachers who are looking forward to it. "We're talking about turning T-shirts into yarn and using dance for the observational piece," said Levin. James Roberson added, "We're really excited about what Jhanna brings to the program."
Growing Up Green was a tiny seed that with research and tremendous effort and love, Young Audiences was able to sow. Through the amazing partnership we've had with PGCPS, we've seen the program evolve and take shape in a way that both works best for the district and stays true to the vision of Growing Up Green at its conception. We are extremely proud to see the district take charge and continue nurturing and developing this incredible program. Levin said, "There are teachers who have done this for three years now and they say, 'Just give us the materials. We've got this.'"
smARTbeats is back this Saturday, January 13 on WTMD during the weekly children's program Young At Heart! On this month's segment, host Lisa Mathews sits down for a chat with Hip Hop performer, YA teaching artist, and Maryland Wolf Trap Artist, Jamaal "Mr. Root" Collier.
A dynamic and engaging Hip Hop artist, Jamaal has been working with Young Audiences/Arts for Learning since 2007, has served on its artist roster since 2013, and was named Artist of the Year for 2016. His energy and passion for the arts is boundless, and show in the volume of work he does, not only offering assemblies and long-term residencies in schools, but also providing professional development for teachers.
By incorporating rapping, vocal percussion, and dynamic stage presence, Jamaal articulates his passionate appreciation for his artistry every time he teaches and performs.
During the segment, you'll hear how the artist, who is also half of the family-friendly beatboxing duo Baby Beats, invites students to learn, listen, and participate.
"(Mr. Root's program) was a true testament of how you can take learning and make it fun," said Ms. Hines, Principal of Villa Maria School after the artists' residency. "He was able to get some of the most resistant kids engaged."
Jamaal uses rapping, freestyling, and beatboxing to appeal to a variety of learners. His students craft rhyming couplets and non-traditional quatrains to analyze and summarize their course content, gaining a deeper understanding of lesson material through elements of Hip Hop.
Take a look for yourself:
Staci Taustine, Fifth Grade Teacher at F.L. Templeton Preparatory Academy said that through her class' residency with Mr. Root, students didn't just advance academically, but socially.
"My students learned how to be vulnerable with one another, brave enough to share their feelings, and empowered to use their voices to express everything they learned," she said. "Each and every one of my students came away with a unique perspective on who they are as individuals."
Jamaal's passion for the arts is clear, as is the impact it has had on his life. "Our life without the arts can be so empty," he has said. Thankfully, the artist shares the power of art, music, and rhyme with students and their teachers across the state of Maryland every day.
Young At Heart airs weekly from 7 to 8 am on Saturdays, featuring music that appeals to parents and children alike. Previous shows have featured music by Wilco, David Bowie, Andrew & Polly, Weezer, and others.
Hear Jamaal "Mr. Root" Collier online now:
On an early Saturday morning this past fall, Drew Anderson, a hip hop artist, slam poet, screenwriter, producer and veteran school teacher, stood up in front of a sunny classroom filled with teaching artists and commanded:
"You are all now 6th graders!"
That's how most mock lessons begin at Young Audiences' Teaching Artist Institute (TAI); a weekend retreat giving Young Audience Teaching Artists and School Teachers the skills they need to maximize the huge potential of arts integration for students in classrooms.
Drew's bold command at first surprises, but quickly shifts observing teaching artists into the mindset of a student absorbing an unexpected, uncommon classroom experience. A teaching artist himself, Drew asks his "students" to listen to Michael Jackson and break down the beat, eventually re-writing verses with science vocabulary taught by his teacher partner in the classroom, Justin Leonard. The two make an exceptional team, as both have backgrounds in public science education. They smoothly interchange directing the classroom, keeping students engaged – a flow reminiscent of Drew's own performances on stage.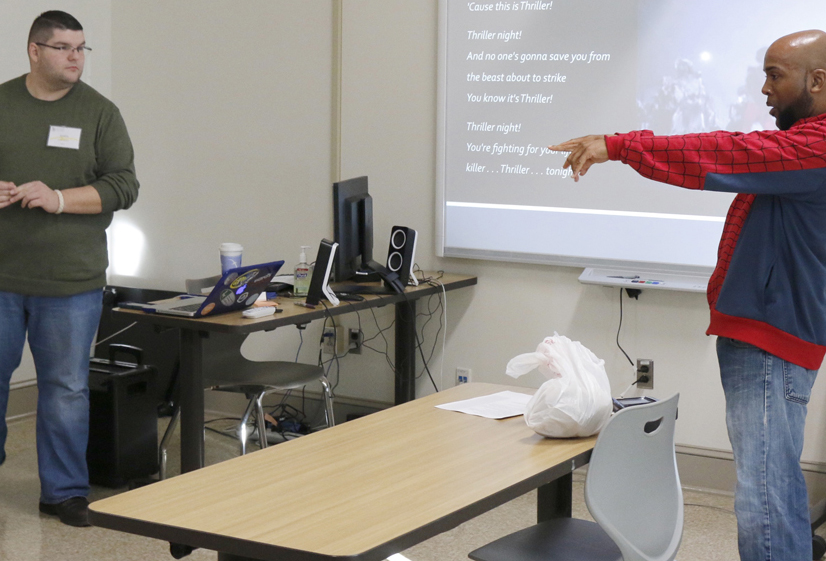 The experience is one of two Common Core compatible arts-integrated performance residencies Drew created at TAI: "C.R.U.N.K. Academy" and "Spoof School" – bridging his longtime passions for performing and teaching.
Here's an excerpt from Drew for the first lesson of his residency:
The first step is to pick a good song to spoof. It is important to pick a song that is catchy and easily recognizable with simple lyrics. As technology guru, Mr. Leonard will record and project the students' suggestions for spoof criteria and will play a few songs asking students to put their thumbs up or down to indicate whether the song would be easy or difficult to spoof. Students defend their responses and the creation of replacement lyrics begins!
"TAI
 forever altered my understanding of what it is to be a  teaching artist.
I learned more than I knew there was to know about arts integration and teaching artistry. I felt utterly enhanced in the realm of mind-shaping magic as if I'd been given a spell book of scholarly sorcery. I learned how to more dynamically apply my art form to educational content, how to break down my creative process for students and teachers, and how to connect my artform to 21st Century Skills, Maryland Art Standards, and the Common Core Curriculum. Every engaging exercise, helpful strategy, and supportive piece of advice from the superb staff and my equally excited peers confirmed that I had found where I belonged.
I am now prepared to convert all the potential energy hidden in classrooms into explosive kinetic energy, using engaging assemblies and super-charged residencies! I've been an educator and performing artist for my entire adult life and have observed the changes in both worlds. Gone are the days when students are programmed with rote memorization of stale "facts." Employers want workers who can think on their feet and on their own. This ever-evolving environment needs young entrepreneurs armed with the creativity to solve problems that have yet to appear. Through its audacity, its abstractions, its "aliveness," art activates parts of the brain that any teacher or employer should want to turn on. You might find yourself "shocked" at how much electricity comes from the marriage of art and education!"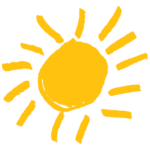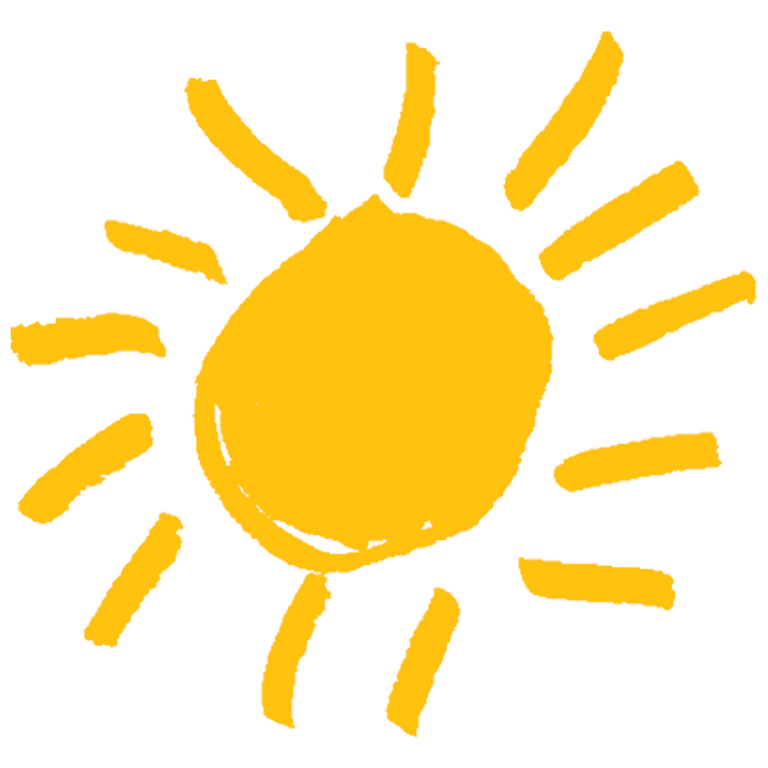 Interested in learning more about TAI? Click here!