When Quynn Johnson steps into the Pre-K and Kindergarten classrooms at Margaret Brent Elementary School in Baltimore City, she is met with hugs and big, bright smiles. The students love that they've been learning to tap with the artist and they've been waiting patiently for her to return. "What do I do?" the artist asks. "You make music with your feet and you keep a steady beat!" the students respond.
Quynn is a multi-award-winning performing artist, choreographer, author, and the co-director of SOLE Defined, a percussive dance company. Though she has performed tap dance for national and international audiences, on this morning, she is captivating our state's youngest learners—not on a stage, but in a classroom—through rhythm, imagination, and dance. Already a professional teaching artist on the Young Audiences roster, Quynn is now training to also become a Maryland Wolf Trap Artist. 
As the Maryland regional affiliate of Wolf Trap, Young Audiences is proud to be expanding access to the arts for Maryland's youngest students during the critical early learning years. 
High-quality early childhood education is absolutely essential to giving children the best possible start in school and in life. Decades of practice and research prove that integrating the arts into classroom experiences contributes to greater academic achievement and social/emotional development for our youngest students. The creative collaboration between teachers and artists in the Wolf Trap residency builds foundations and fuels momentum in arts-integrated early learning classrooms.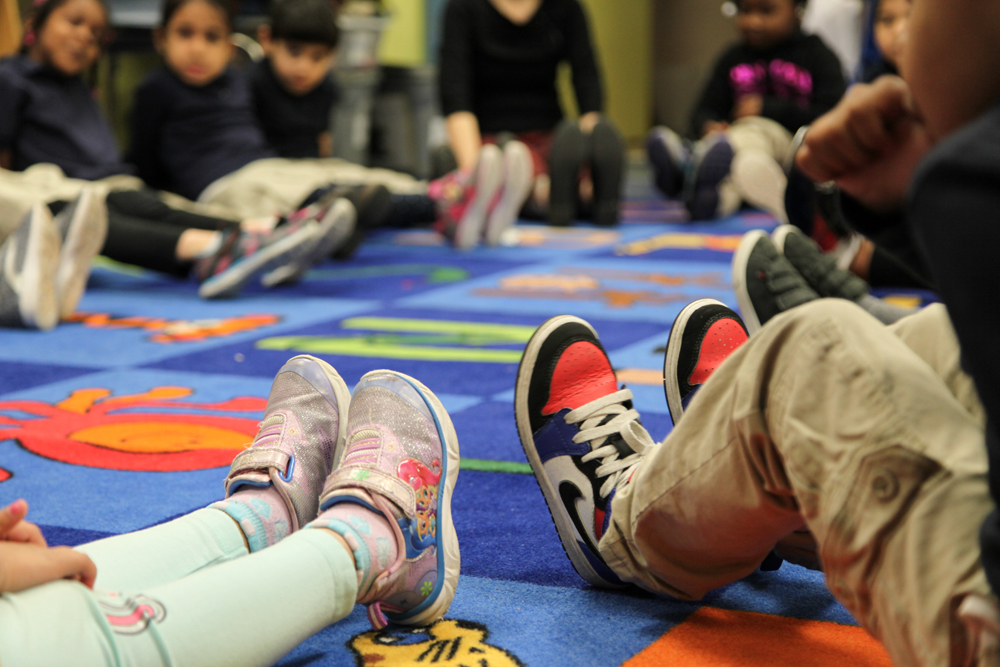 The children sing along with the artist to the tune of Frère Jacques, "I am ready, You are, too, Eyes on the teacher, We're going to learn." Everyone knows the song and everyone is excited to sing it—first in English, then in Spanish.
Estoy listo
Estás tambien
Ojos en la profe
Vamos a aprender
Quynn made up the song while teaching in the Summer Arts & Learning Academy last summer, but now sings it with students in lower elementary grades at every school she visits. Mrs. Jager, the Kindergarten teacher, likes it, too. She uses "I am ready" as a transition song all the time—and her students will remind her if she forgets!
The artist is not only here to teach the young students how to tap, she is here to build the teachers' skills and knowledge and demonstrate how to integrate the art form into their lessons throughout the year. This embedded professional development is something that distinguishes the Wolf Trap Early Learning Residency from other artist residencies.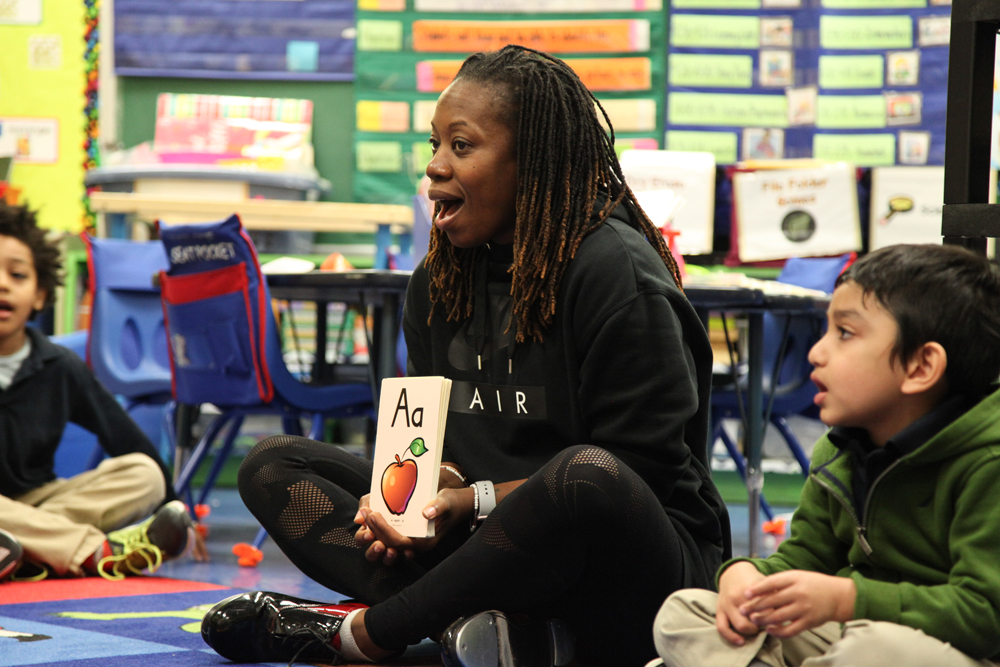 As Quynn leads the students in an exercise stomping out beats, another skill is being fortified. They are identifying patterns and practicing word sounds like "Apple, apple, ah, ah, ah," and "Bat, bat, buh, buh, buh." The classroom teachers and the artist work together to tailor the residency to each particular classroom—deciding how refined the dance movements should be for each age group and which literacy skills to focus on.
"The process is pretty new and different to me but I like it," said Quynn. The artist pays particular attention to teach the elements of her art form that educators will feel comfortable utilizing in the future—and not just off the cuff, but with some artistic integrity. "I think the embedded PD portion is a great way to keep the teachers involved and shows them how it doesn't have to be its own lesson but can be incorporated within what they're already doing. I never want them to feel like it's unreachable."
By the end of Quynn's residency in the Pre-K and Kindergarten classrooms, the students know how to keep a steady beat on their feet, and they remember a beat pattern and two basic tap steps. And the teachers can connect the art form to literacy—leading students to sound out words and sounds with their feet. "They both felt great and comfortable with everything we did in class and I could hear them using it after our time was over." They were ready.
Eighty-five percent of brain development occurs during the first five years of a child's life. Participation in the arts encourages positive growth in a child's emotional, physical, intellectual, creative, and social development. As the Maryland affiliate of the Wolf Trap Institute for Early Learning Through the Arts, Young Audiences expands access to the arts for Maryland's youngest students during the critical early learning years. Bring a Maryland Wolf Trap 16-Session Residency into your school.
smARTbeats is back this Saturday, January 13 on WTMD during the weekly children's program Young At Heart! On this month's segment, host Lisa Mathews sits down for a chat with Hip Hop performer, YA teaching artist, and Maryland Wolf Trap Artist, Jamaal "Mr. Root" Collier.
A dynamic and engaging Hip Hop artist, Jamaal has been working with Young Audiences/Arts for Learning since 2007, has served on its artist roster since 2013, and was named Artist of the Year for 2016. His energy and passion for the arts is boundless, and show in the volume of work he does, not only offering assemblies and long-term residencies in schools, but also providing professional development for teachers.
By incorporating rapping, vocal percussion, and dynamic stage presence, Jamaal articulates his passionate appreciation for his artistry every time he teaches and performs.
During the segment, you'll hear how the artist, who is also half of the family-friendly beatboxing duo Baby Beats, invites students to learn, listen, and participate.
"(Mr. Root's program) was a true testament of how you can take learning and make it fun," said Ms. Hines, Principal of Villa Maria School after the artists' residency. "He was able to get some of the most resistant kids engaged."
Jamaal uses rapping, freestyling, and beatboxing to appeal to a variety of learners. His students craft rhyming couplets and non-traditional quatrains to analyze and summarize their course content, gaining a deeper understanding of lesson material through elements of Hip Hop.
Take a look for yourself:
Staci Taustine, Fifth Grade Teacher at F.L. Templeton Preparatory Academy said that through her class' residency with Mr. Root, students didn't just advance academically, but socially.
"My students learned how to be vulnerable with one another, brave enough to share their feelings, and empowered to use their voices to express everything they learned," she said. "Each and every one of my students came away with a unique perspective on who they are as individuals."
Jamaal's passion for the arts is clear, as is the impact it has had on his life. "Our life without the arts can be so empty," he has said. Thankfully, the artist shares the power of art, music, and rhyme with students and their teachers across the state of Maryland every day.
Young At Heart airs weekly from 7 to 8 am on Saturdays, featuring music that appeals to parents and children alike. Previous shows have featured music by Wilco, David Bowie, Andrew & Polly, Weezer, and others.
Hear Jamaal "Mr. Root" Collier online now: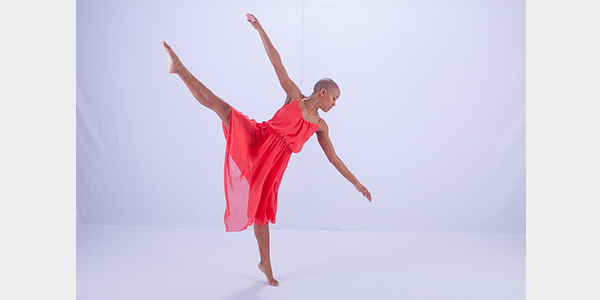 During the last two years, our roster has grown in size to encompass new artists, ensembles, and art forms. From slam poets to improvisers to Capoeira masters, these new artists are undeniably unique.
To introduce audiences to our new artists, we'll be posting interviews with those who recently joined our roster, giving them a chance to share more about themselves and their experiences with Young Audiences so far.
What is your background as an artist?
I graduated from University of Maryland College Park (UMCP) with a Bachelor of Arts degree in Dance. Since graduation, I have been at the forefront and background of different dance organizations and have traveled around the world as a result of my passion for dance.
The first company I danced with was Lesole's Dance Project, a traditional South African dance company where I was able to hone in on my leadership, creativity, organizational skills, and learn and appreciate a new form of dance. I served as rehearsal director, administrative and fundraising support staff and learned how to make a dance company successful. The Director and I worked together to create and organize an edu-dance program for young students in South Africa, which we were successful in implementing two years in a row.
In 2011, I was invited to Copenhagen, Denmark as a visiting artist to explore the country's culture and art. As a result, REVISION dance collaborative (a company in which I co-directed its first season) had the opportunity to perform in and be part of the Kids Euro Festival where we performed in locations throughout Washington, DC.
How did you hear about Young Audiences?
I heard about Young Audiences through Laura Schandelmeir, who had partnered with Young Audiences through the Maryland Wolf Trap program as a teaching artist. Laura was one of my professors at UMCP and is a wonderful dance educator, and someone whom I have had the opportunity to be inspired by.
You recently completed the Teaching Artist Institute (TAI) Seminar this spring. What was your favorite part of the program? How has that experience changed your approach to a program or your teaching practices?
Saying that I loved the TAI program is an understatement. Though I have been working with students within and outside of the classroom for years, I felt that this program truly changed the way I think about and approach my lessons, teachers, and students. I really appreciated Karen Bernstein, the dance facilitator on staff. Karen truly guided and provided me with advice so I could grow. I felt that Karen was the true support that I needed. She gave me feedback when I needed it; let me struggle in order to figure out what I needed to do; and was there when I needed encouragement. So often in programs like this, artists just receive a generalization of arts education/arts integration and then have to figure out: "What should I do with my art form and where do I start?" It was helpful to receive a plethora of examples from different artists. I enjoyed that the staff was fun and made the experience fun.
What made you decide to become a YA roster artist?
I initially joined Young Audiences as a Maryland Wolf Trap Teaching Artist serving preschool classrooms. In my first year on the Young Audiences roster, my opportunities have grown tremendously to reach older students and I am appreciative of that. Being part of the Young Audiences organization, I truly feel like I am growing and developing as an artist–where I am right now in my career is exactly where I want to be. Taking this journey has allowed me to focus on my career, taking everything that I have learned and witnessed throughout the early stages in my career, and create something new.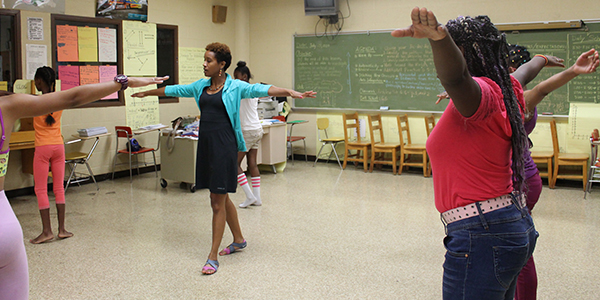 Have you had any programs through YA yet? If yes, what was the most memorable part? If no, what are you most looking forward to?
I love teaching within the classroom and working with the teacher and the students to explore learning and understanding subject matter through movement. I am really looking forward to assemblies!
Why do you believe art is important for every student to have access to?
Children need to be allowed to think creatively and develop their own opinions. They need to develop their critical thinking skills at an early stage so that they have a clear understanding of why they think the way they do and why they feel a certain way about different situations. They have to develop their own understanding of how to accomplish tasks. The arts provide a creative outlet by allowing them to explore, imagine, and test new ideas. The arts target a different area of their brain, and once students have this experience it opens them to new possibilities. It allows them to take risks in the classroom that they may have been shy to before an arts experience. The arts help to develop self-confidence.
What does your art form in particular teach students?
Self-confidence, patience, respect for self and others, and focus. It also gives them an understanding of their own bodies–they find out new and exciting things that their limbs can explore, plus they learn their own limitations and to appreciate what others can do.
Learn more about Valerie Branch Dance Ensemble's offerings through Young Audiences.
Keep an eye out for more interviews featuring our newest roster artists! See past new artist interviews here.