Did you catch Arts & Learning Kids! on Channel 77 this weekend? Young Audiences created this cool educational TV show in partnership with City Schools to reinforce what our students are learning remotely through interactive arts-integrated lessons!
Each episode is geared toward one of three grade bands (PreK/K, 1/2, and 3rd-5th Grades), and features a teacher and professional artist co-teaching an arts-integrated math or literacy lesson in-line with the math and literacy work students are currently doing either virtually or via packets. After each episode airs, it is accessible anytime online at yamd.org/kids.
This is not a passive viewing experience! During each episode, students are challenged to explore learning through a variety of art forms. They'll learn key math concepts using their whole bodies and voices; write and animate their own myths by creating a flip book; learn basic tap steps to help review fractions; engage in storytelling using an actor's tools; or even solve math problems with shadow puppets!
In the episode "Character Traits Choreography," students have the opportunity to identify their own character traits and those of important Civil Rights leaders like Dr. Martin Luther King Jr. and Ruby Bridges. Students will be able to unlock their creativity and communicate those character traits through dance! Learning several elements of dance like frozen poses, levels, shapes and energy, students will not only get to perform the Ruby Bridges choreography, but will be inspired to look for the leaders—particularly those who respond to injustice—in their communities and in themselves, identify character traits of those individuals, and create their own choreography. (This episode is recommended for students in 1st and 2nd Grade) 
As a fun bonus, within each episode are two special segments. The "Sweet Stuff Showcase" highlights an engaging and educational digital experience from outside of our own organization. The "Artsplosions" segment features YA artists presenting a cool and quick experience in their art form that often encourages kids to get up and get moving. We are so excited to share Arts & Learning Kids! with you. It really is an AWESOME program and we think that even parents and caregivers will find that it's super fun to watch. Check it out!
Written by Stacie Sanders Evans,
Chair, Young Audiences' National Residency Teaching Artist Credential
President & CEO, Young Audiences of Maryland
One of the things I admire about many of the artists I encounter is their ability to envision and create without constraint. Most of the time, I feel my ability to dream is tethered to my day to day constraints. Fortunately, I have the rare board of directors at Young Audiences of Maryland (YAMD) that isn't asking me why our copying budget is over by 10%. Instead, they are encouraging me to dream bigger dreams and actually discouraging me from worrying about how to pay for it. They want to help shoulder the burden of these constraints so I have enough moments to live in the delicious "what if" space.
"What if" moments have gotten Young Audiences to where it is today both locally and nationally. One "what if" moment just recently led to a successful pilot of the Young Audiences National Residency Teaching Artist Credential for exceptional teaching artists. Up until this pilot, unlike almost all other professions within education, there has been no nationally recognized credential for the field of teaching artistry. 
Twelve artists (featured below) from seven different states have completed a very rigorous application process and earned the National Residency Teaching Artist Credential to date. Let's applaud these amazing artists who took a chance with us and contributed to the larger idea of "what if" in an effort to help us test and refine a credentialing system.
Young Audiences formed in 1950 in Baltimore because of our founder, Nina Collier's, "what if" moment. Nina's question, "What if we bring musicians into our schools to perform?" ultimately led to the movement that created 32 Young Audiences affiliates across the United States and now benefits five million students annually. She had no idea the impact that question would have on children and artists.
In the '90s, YAMD's first paid executive director, Patricia Thomas, had another important "what if" moment: "What if artists are no longer limited to the auditoriums of our schools? What if they go into classrooms to give kids a chance to create in an art form?" Today, artists in partnership with Young Audiences, impact 230,000 hours of classroom learning in the arts every year, creating powerful moments for Maryland's young people. Thank goodness there were Nina Colliers in communities across our country who were creating the same kind of opportunities for more children.
Once Young Audiences saw the transformative power of our artists in classroom settings to inspire kids and we saw how high stakes testing was narrowing the curriculum and negatively impacting student engagement in the classroom, we asked another "what if."
"What if Young Audiences played a larger role in education and in our communities to bridge the gap between what we know the best conditions are for learning and what children actually receive in school? I call this the inspiration gap.
This "what if" led us to invest heavily in artist training (far beyond even our own roster of artists) and to create many more opportunities for artists to partner with academic teachers to use their art form to draw kids into learning in literacy, math, social studies, and science classes. This is known as arts integration, which could be learning fractions through the steel drum or about figurative language through writing and performing their own poems, or about the scientific method by writing rap songs.
Using the arts helps students connect to the academic content in meaningful ways–so the learning "sticks." Young Audiences' arts integration approach also requires students to "show what they know" through the arts by either performing or exhibiting. Students become more visible in this kind of classroom and it nurtures the sense that they matter. When you make the learning matter and students know that they matter–that is the secret sauce to bridging the inspiration gap.
Now school districts and foundations see us in a broader light, as an organization that can help improve educational outcomes for kids. These groups are investing nearly three million dollars in YAMD this year so we can address stubborn problems in education: preventing summer learning loss, increasing school readiness, and improving teacher practice.
Across the country, we have artists who are ready to bridge the inspiration gap, and there are even more who, with the right training and support, will soon be ready to join them. We believe the National Residency Teaching Artist Credential, along with a network of coordinated, affordable professional development opportunities, could lead to kids in all communities having greater access to a quality education–one that includes arts education and opportunities to learn in, through, and about the arts from the best professional artists in their community (even where there is no local Young Audiences affiliate).
Imagine a society where teaching artists are recognized for the valuable role they play in breathing creativity and possibility into our schools. Work which, in turn, draws kids back into learning. Imagine how many more kids would benefit if artists were able to choose teaching artistry as a profession because it was treated like other professions.
Many, many things are needed to realize this vision, and I believe a credentialing system–one that is developed in partnership with artists and educators with students at the center–is one important component in a larger ecosystem that needs attention. And I'm not alone. A national survey revealed that 94% of teaching artists want a credential like the one we are designing for the field. One reason artists support this idea is that, currently, since our field lacks a credential, there is no unified way for that expertise to be recognized or validated.
For example, dance and teaching artist Valerie Branch has performed with over 10 dance companies, choreographed over 100 dance works, has a Bachelors degree in Dance (Magna Cum Laude), and has led artist-in-residence programs in 150 schools. But as a teaching artist, she had no signifier of her expertise, excellence, or the value she brings to the classroom. The National Residency Teaching Artist Credential solves this problem.
We are still early in this "What if we created a National Residency Teaching Artist Credential?" moment. And we hope one day, after thoughtful adjustment and many discussions with different stakeholders (that includes you!), and in partnership with the many other national and local organizations that care about education, this credential could be something that the broader field will welcome.
Was there ever a time an artist closed the "inspiration gap" for you or a young person you love?  Let's make more moments like that for our young people. Wanna "what if" with Young Audiences around this idea? Let me know because it will take all of us–you, me, our friends, and our friends' friends–to turn this new"what if" into a reality.
2018 Young Audiences' National Residency Teaching Artist Credential Recipients
Valerie Branch, Young Audiences of Maryland
Melli Hoppe, Arts for Learning, the Indiana Affiliate of Young Audiences
Molly Johnson, Young Audiences of New Jersey and Eastern Pennsylvania
Laura Marchese, Young Audiences of New Jersey and Eastern Pennsylvania
Ray McNiece, Center for Arts-Inspired Learning, the NE Ohio Affiliate of Young Audiences
Emma Parker, Center for Arts-Inspired Learning, the NE Ohio Affiliate of Young Audiences
Malke Rosenfeld, Arts for Learning, the Indiana Affiliate of Young Audiences
Chris Sheard, Young Audiences of Louisiana
2019 Young Audiences' National Residency Teaching Artist Credential Recipients:
Carrie Sue Ayvar, Arts for Learning / Miami
Harlan Brownlee, Kansas City Young Audiences
Quynn Johnson, Young Audiences of Maryland
Brittany Roger, Young Audiences of Maryland
Written by Barbara Krebs,
Young Audiences volunteer and Sunburst Society member
As a pair of dancers performed, a group of elementary school children sat, crisscross applesauce, watching their every move. Valerie Branch, a dancer and choreographer with Young Audiences had been working with the Belle Grove Elementary students in an artist residency made possible through the Arts Empowered Minds Initiative (AEMI). When the last notes faded away, Valerie asked the children what they had observed.
"They love each other," one child offered.
"They share," another chimed in.
Then she asked the kids to explain what dancing techniques they had witnessed. "Negative space," "weight sharing," and "weight bearing" were some of the answers shouted out.
Next, she gathered a group of her second-grade students to pair off with each other to demonstrate some of those concepts. Once the children had done so, half of the students were instructed to use a frozen pose in a high, medium, or low position. The rest were to react to whatever their partner had created. With the new poses in place, she asked the other children in the assembly to discuss what they saw and how the partners had related to one another.
And, in true arts integration form, this exercise was not just about learning dance terminology and positions, but was tied to lessons at the school. This particular one was used in conjunction with a poetry-writing assignment in which the children described themselves through the creation of "I am" poems. Later, choreography was added to illustrate their autobiographical poetry.
Such was the back-and-forth learning that observers witnessed at the Arts Empowered Minds Announcement Event and Celebration on Friday, March 8. The group of educators, politicians, state and local arts administrators, and volunteers gathered at the school was celebrating a $100,000 grant from the National Endowment for the Arts (NEA), which will be used to expand arts integration and teacher professional development in Northern Anne Arundel County.
This is the third time that the NEA has awarded Young Audiences, the program's managing partner, a grant for AEMI. This collaborative partnership between a wide array of arts and education organizations throughout Anne Arundel County seeks to "address the disparity in arts access–and associated gaps in student achievement–between students in Northern Anne Arundel County and the rest of the county."
Now in its third year, AEMI has already racked up an impressive set of statistics. But even better than the numbers are the inspiring stories that teachers and administrators had to share during the event. Brittany Roger, a teaching artist with a scientific illustration background, spoke of bringing exotic animals (Madagascar hissing cockroaches, iguanas, corn snakes) to the classroom and allowing children to explore the creatures through sight, sound, touch, and smell. Afterward, the students draw and sketch the animals based on their observations.
Amy Goodman, who heads the math department at North County High School, told of her department's initial skepticism about linking arts and math together. But as the teachers learned arts integration techniques and applied them in the classroom, they began to see students who had been turned off or struggling with math begin to make connections that helped them grasp the concepts they needed to learn.
And so, step by step, AEMI partners create opportunities for children to learn through the arts. Step by step, the Initiative changes minds about the importance of integrating the arts with reading, 'riting and 'rithmetic. And, step by step, it makes converts of those who witness how the arts engage young minds and help them stay, not only focused on their education, but truly inspired to learn.
Learn more about the Arts Empowered Minds Initiative, its collective impact partners and the community it serves by visiting artsempoweredminds.org.
Arts integration is a valuable tool for reaching multiple learning styles across the curriculum and is linked to enhanced academic outcomes as well as positive social and emotional development for children. While this is true for all students, studies have found that the impact of the arts on language development and core subject learning is particularly beneficial for students with disabilities or those with special learning needs.
As an inclusive organization, Young Audiences' goal is to bring high-quality, arts-integrated instruction that is accessible, supportive, and welcoming to children of all backgrounds and abilities into the classroom.
Reality is a social definition. Disability is the social process that turns impairment into a negative by creating barriers to access. Difference should be accommodated and celebrated. You can create new ways to create together by taking into account universal access to creativity.
We are diligently laying the foundation for inclusive practice to be incorporated into arts-integrated curriculum, increasing the opportunities for youth of all abilities to participate in artistically-excellent programs. To help us achieve this goal, our staff received specialized inclusion training through the Inclusive Allies program in partnership with Disability Rights Maryland.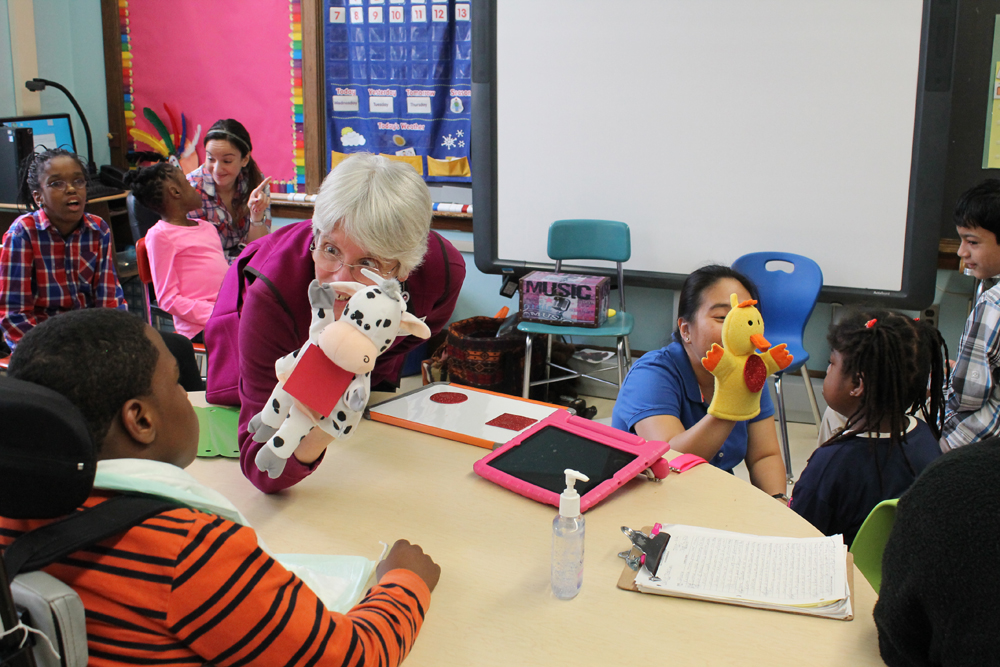 Nine selected roster artists also received training, participating in a comprehensive workshop covering a variety of inclusion tactics to utilize in the classroom. YA Roster Artist and FutureMakers founder Matt Barinholtz observed, "Reality is a social definition. Disability is the social process that turns impairment into a negative by creating barriers to access. Difference should be accommodated and celebrated. You can create new ways to create together by taking into account universal access to creativity."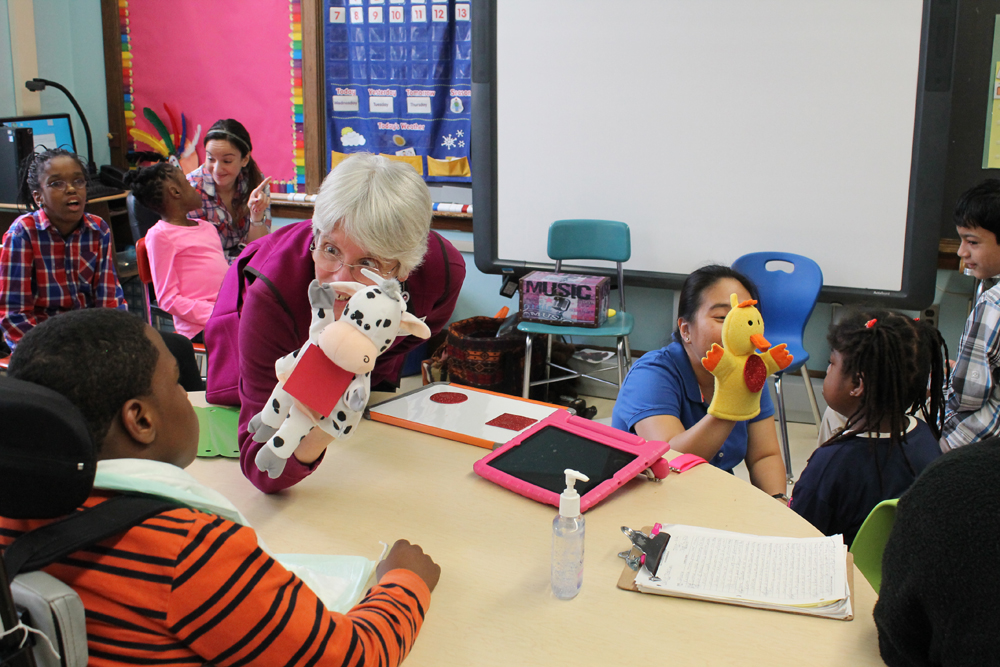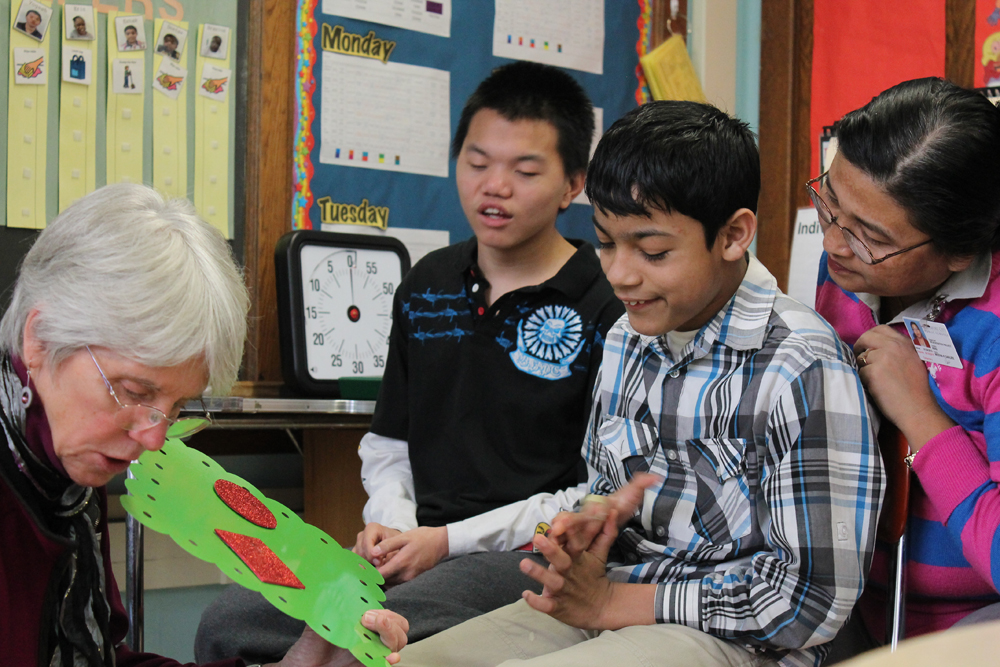 YA artists approach this "universal access to creativity" by rethinking the norms behind the ways we allow people to communicate, socialize and behave. We create a culture where all students receive the many benefits of engaging and inclusive arts-integrated classroom experiences, adapting lessons with audio/visual cues and different levels of kinesthetic movement, and applying inclusion tactics.
The following Young Audiences Roster Artists have completed the training as of 2016:
In the coming months, we will proudly share artists', teachers' and coordinators' stories about their roles in this important work.
 
A reflection from Valerie Branch, professional dancer, master teaching artist, and YA roster artist, on the triumphs (and challenges) of teaching Summer Arts and Learning Academy kindergarteners math and literature through dance with her teacher partner, Sara Myers.
"If we stay true to our art form, and what we know about our art form, then the students have an active and engaging educational experience where they are learning, processing, and applying information.
At this year's Summer Arts and Learning Academy, I was partnered with elementary school teacher, Sara Myers, at William Pinderhughes Elementary/Middle School in West Baltimore. Together, we taught kindergarteners math and literacy through dance and movement. I love working with this age group because it reminds me that we are all multi-sensory learners, it doesn't just take one mode of teaching/instruction to help students learn.
In our arts-integrated math lessons, we created Number Bonds in motion to help the students gain a higher understanding of addition and subtraction. Students were able to break the number apart to figure out what two numbers it would take to create / get to that number; they were also able to put two numbers together and process the final product.
It's a fun and magical thing to watch the brain work and watch the students process and apply information learned. I saw students raise their hands for an answer – give the wrong answer – and not be afraid to use their brains to ultimately find the correct answer. I saw students learn about and apply their knowledge of contrasting words in their physical bodies, and they created dances that were a representation of these words.
Working with Ms. Myers was an awesome experience for me as a Teaching Artist. I loved that she always had new fresh ideas, and wasn't afraid to try new things with our students. It's so important to trust your teacher partner and build a strong collaborative relationship. If the students sense that you are not able to work together and respect one another, they will continually challenge that relationship. Be open, but also don't be afraid to give your ideas and to take risks.
"When we're fully engaging with the students, moving throughout the room, using all of our resources and allowing the students to take ownership of their learning — that is when we are having the best time together, and when the students are learning the most.
When we're fully engaging with the students, moving throughout the room, using all of our resources and allowing the students to take ownership of their learning — that is when we are having the best time together, and when the students are learning the most. I appreciated that Ms. Myers was open and willing to have those experiences with us! However, it was important for us to be in tune with the needs of our students, to challenge them to push beyond their comfort zone, but also to know when they simply needed a break.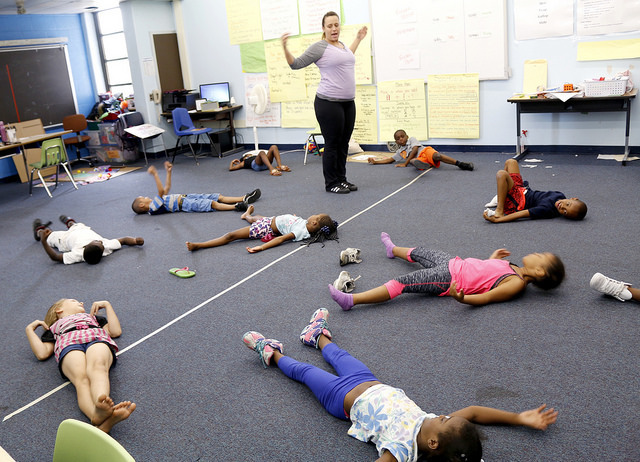 In the afternoon, Academy teaching artists have the opportunity to share their art form with students during artist-led Arts Explorations classes. These daily classes gave students the chance to delve deeper into dance and movement.
Zoe, a student from my last Arts Exploration class, came to me very shy and almost afraid to shine. I challenged her to push past her comfort zone and be proud of her individuality. There were times during class when she would simply shut down. However, I continued to work with and encourage her, and it was amazing to see her classmates also supporting her.
Our ultimate goal in this Arts Exploration class was to create a dance about friendship, a dance we would later perform during a culminating event on the last day of the Academy. Through perseverance and her ability to trust herself, she was able to obtain a starring role in the dance, working together with another student to create a duet that began the whole dance.
As with any live performance, even though you make a plan, you simply do not know what is going to happen on the day of the show. On the day of our culminating performance —and in front of dozens of other students, parents, teachers, and artists — Zoe truly rose to the occasion and was a star performer. I was so proud of what she was able to accomplish and to see all our young students working together to create dances. They collaborated, engaged in meaningful discussion with one another, and were able to activate their short-term and long-term memory skills to process information and produce work.
"As with anything we do in life, in our careers as artists, etc., we face challenges. It's how we deal with those challenges that define the person we are and are striving to be."
Every day there was a challenge at the Academy, whether it was too hot in the building, students having a difficult time adjusting, creating an effective lesson structure that engages all students, or making sure that I remained as neutral and open as possible. I think what was remarkable about this whole experience is that we — myself, my teacher partner, and our students — always started each day with a fresh, clean slate. We continually found ways to improve the course of our day and the success of each child.
We encouraged our students to continue to rise above the challenges and try their best in all things. It was simply an awesome experience walking into or leaving the building and have students call out to say "Good Morning" or "Goodbye," and run up to you to give a hug. You know you've positively impacted a child simply by the way they engage with you — even if the events of the day brought some challenges.
Learn more about Valerie Branch or schedule a program
——–
The mission of  Young Audiences' Summer Arts and Learning Academy is to provide Baltimore City Public School students with an opportunity to spend a summer learning from the best teachers and teaching artists in Maryland. Through a dynamic and supportive environment, students developed an understanding of the creative process and 21st Century Skills with an exploration into arts integration that focused on math and literacy. Students had a fabulous culminating event, showcasing their skills in visual art, songwriting, spoken word poetry, dance, piano, drumming, playwriting, fiber art, and filmmaking.
The Academy is funded by Baltimore City Public Schools, The Abell Foundation, The Family League of Baltimore with the support of the Mayor and the City Council of Baltimore, The Alvin and Fanny B. Thalheimer Foundation and individual contributions to Young Audiences. All participants are students at a Title I Baltimore City Public School.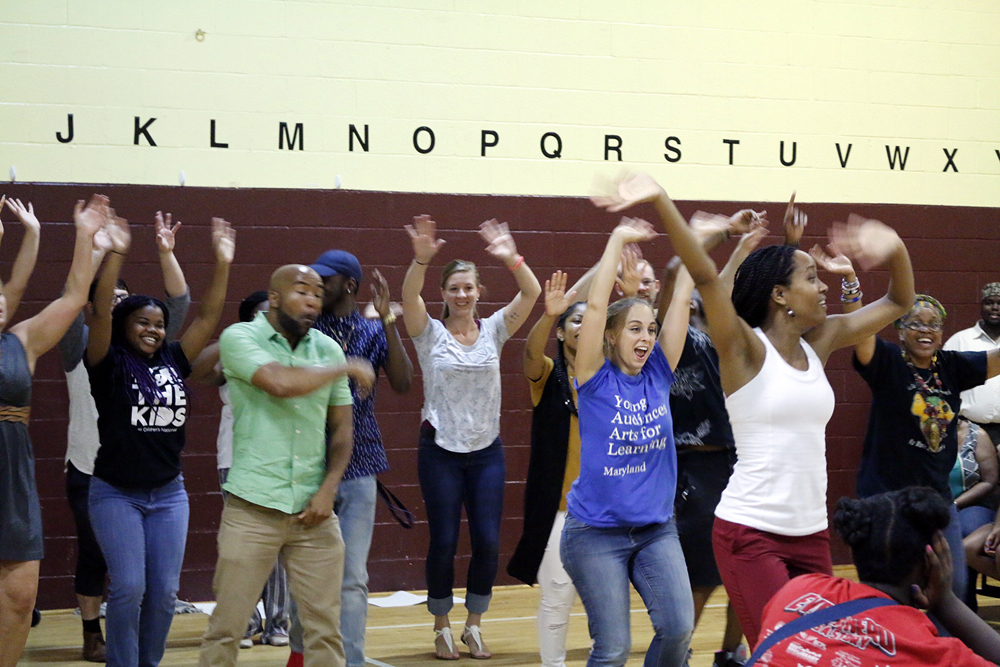 This morning, we kicked off our expanded Summer Arts and Learning Academy – a free, five week program immersing 900 City students in a variety of art forms taught by 36 locally-based professional artists. The full-day program welcomes students grades K-5, encouraging imagination, creation and expression through the arts, such as painting, songwriting, spoken word poetry, dance, piano, singing, visual art, sound production, playwriting, fiber art, and filmmaking.
Our kickoff this morning was a blast – welcoming students and their parents to the Academy's four sites with high-energy performances, live music, and vibrant interactive art demonstrations – giving them a preview of the truly unique and empowering experiences to come throughout the next five weeks.
Due to last year's success; with academic gains by students drawing from 93 different city schools—the district asked us to expand the Academy to four sites: Thomas Jefferson Elementary, William Pinderhughes Elementary, Gardenville Elementary and Fort Worthington Elementary.
Working with kids as they discover passions, refine creative processes and integrate arts in their everyday learning is an inspirational experience we and our Teaching Artists look forward to every year. We spoke with a few participating Teaching Artists about their plans and why the Summer Arts Academy is such a great opportunity for students and artists:
Scott Paynter, reggae singer:
I wanted to teach at this year's Summer Arts and Learning Academy to gain more experience working with Baltimore's greatest resource…it's children. My art form helps students express themselves through lyrics, it introduces them to cultures and people they've never encountered before, and it brings life to a classroom environment. Music is like a force of nature. It's everywhere you are if you pay attention."
Bridget Cavaiola, Baltimore Improv Group:
This is such a unique experience to provide our students with collaborative and engaging arts experiences that they may not get to during the school year. The mood and energy are contagious as you get to watch the students engage themselves in something in which they have passion."
Alden Phelps, musician:
My focus has always been on playing with words and the joy of language. Language is the foundation of how we communicate and function as human beings. Students who practice manipulating language, expanding their vocabulary, using rhymes, and counting syllables will better succeed in their regular academic work. Creative thinking opens up new pathways in our brains. There's also a wonderful freedom when a student can express an idea creatively. They synthesize their academic knowledge with skill in the arts, such as using color or figurative language, and the result is far more engaging to them."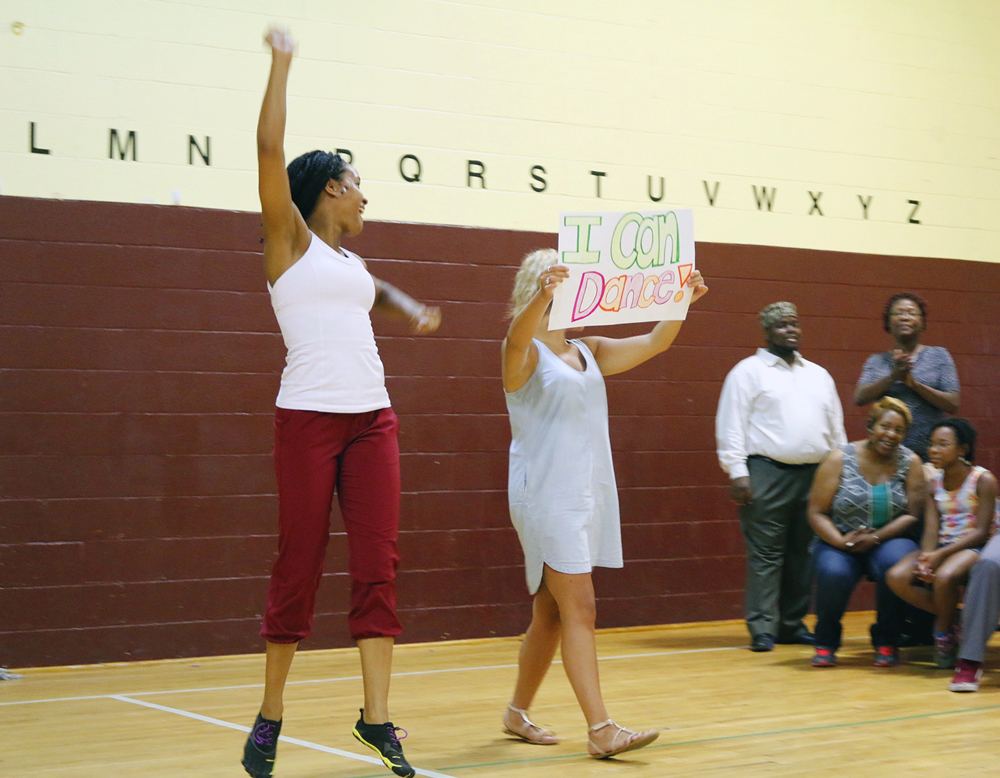 Students will imagine, create and express themselves through the arts, with a chance to concentrate on two art forms. The students even show-off their talents at Artscape, at pop-up performances in mobile art galleries around the city and at the August 5 final culminating event. We can't wait to see the students perform!
After this morning's successful kick-off event, led by teaching artists Valerie Branch and Sean Roberts, at William Pinderhughes Elementary, one parent said:
"I am just so excited to get to see my child perform soon. Seeing what the [teachers and artists] did just now, I know they are in trusted hands. It made me look at my daughter and think yes! This is going to be different, we are so excited! She LOVES art! I can't wait for the workshops too!"
Kicking off YA's Summer Arts Academy at #TJEMS with Femi the Drifish @BaltCitySchools #yamdsummer #SummerLearning pic.twitter.com/C8HwIkJ6MS

— Young Audiences MD (@arts4learning) July 5, 2016
Young Audiences' Summer Arts and Learning Academy is funded by Baltimore City Public Schools, The Abell Foundation, The Family League of Baltimore with the support of the Mayor and the City Council of Baltimore, The Alvin and Fanny B. Thalheimer Foundation and individual contributions to Young Audiences. All participants are students at a Title I Baltimore City Public School.

By Valerie Branch, Young Audiences and Maryland Wolf Trap teaching artist
Empowering youth through my art form is something that I'm very passionate about. As a dance teaching artist, my role in the classroom is to enhance students' development in decision-making, communication, and self-confidence through individual and shared movement explorations and experiences. Students learn how to control their impulses and self-manage when it is time to be silly and when it is time to stop and focus.
I recently completed a year-long Maryland Wolf Trap residency at Holabird Academy with teacher partner Ms. Katie Fincke and her pre-kindergarten class of students ages three to six. Our residency specialized in Language Arts with a focus on narratives and storytelling, so Ms. Fincke and I found ways to integrate movement experiences into the curriculum.
We accomplished our major teaching goal by using the elements of dance to help children convey meaning. We did this through a series of six different books that Ms. Fincke read with her students throughout the year. Ms. Fincke and I guided the children through the process of generating imaginative ideas about how to portray and connect to moments in the story through movement. Ms. Fincke's class had many students whose first language was not English, so our goals uniquely overlapped with language development and vocabulary enhancement.
Ms. Fincke and I wanted the children to define and understand the meaning of creative movement. Our dancing activities did not follow the typical routine of me modeling a movement and students mimicking me. It was more about finding a way for me, Ms. Fincke, and the students, to have the experience together. Ms. Fincke and I didn't want to robotically lead the children by saying, "Arm up, arm up, down, turn, turn!" Instead, it was the children leading us. We would hear, "No, let's do our arms like this!" or "Let's move like this! Let's go here!" Students were given the chance to be creative and collaborate with their teachers and their peers. They were empowered to speak up and share their ideas because dance has no wrong answers. We encouraged our students to improvise without fear because we wanted them to know that their thoughts and ideas were valued. It's a scary thing to express yourself with your body in front of a crowd. We wanted them to find a comfort level that would allow them to express themselves without limitations.
When I first walked into Holabird Academy, many of the students struggled with understanding personal space, body impulses, and self-confidence in creating and sharing ideas. Ms. Fincke and I have seen so many students flourish during the course of our partnership, but one student who made tremendous strides in social development and leadership was Oscar. We have watched Oscar become a leader and set a great example for his peers. He was never afraid to demonstrate his ideas through dance. He encouraged his peers to make strong independent choices. His classmates have been able to take risks and explore their creativity because they saw Oscar doing just that. Oscar demonstrated his leadership through an activity called the "mirror game," which required students to slow down their energy and express themselves through dance in a calm and channeling way.
During the mirror game, one student at a time would face the class from the front of the room and then create slow movements with their body. The goal was to get the rest of the class to slowly repeat the leader's movements as if they were the reflection in a mirror. Oscar really took interest in this activity and whenever he was up at the front of the room, he made sure that his movements were clear for his classmates to follow. Because he took the activity so seriously, there were times when other students would poke fun at him, but he didn't let it bother him. A great leader is not somebody that forces their own ideas on people, but explores how people can share ideas together. Oscar led this activity with the intention to work with everyone as a team and that trait was very admirable.
What I loved most about working with this group was that I was not only able to teach them, but they were always teaching me. During the first few sessions, we would sing a greeting song in English, but by the third class, I had introduced the song in Spanish, a language I knew most of Ms. Fincke's class was familiar with. Suddenly, the looks on their faces changed and they realized they knew the words. The kids lit up with excitement when they felt that sense of home and comfort in the classroom. Ms. Fincke and I always took time for the Spanish language and that was important to her students. It was also crucial for Ms. Fincke to take time to do translations and have the kids work together through their language differences.
It was important that we did not tell them to always speak English. Yes, we were in an environment where English was the primary language, but we also wanted them to hold strong to their heritage. Seeing them take ownership of their language was inspiring. We often let them sing and dance in Spanish and those were truly their moments to shine and demonstrate how far they were excelling in the knowledge and understanding of the skills we were sharing with them.
It's been amazing to watch these students grow, interact with one another, and also feel better about themselves. It's important to get them thinking about these things at an earlier age because I think that we often forget that children can have problems and stresses, too. We think that they don't have any issues because they're young, but our youth go through so much. They are witnesses to everything. They may be young, but they are just as much a part of our world as we are. Using dance and movement to build our youth into better citizens is something that empowers me as an artist.
Learn more about Valerie Branch and her dance programs for schools.
The arts were an integral and memorable part of Chris Wallace's childhood. Her mother, Doris Morgan, an elementary school teacher and learning disabilities specialist, taught both her children and her students with joy, positivity, and an arts-integrative approach. This had a lifelong impact on them all: Chris made the arts a central component in her speech-language pathology work; her sister flourished as a writer; and former students or their parents would often approach Doris, thanking her for the impact she made on their lives and letting her know that they believed she was instrumental in their—or their children's—success.
Several years ago, Chris was invited to attend Young Audiences' annual Impact Breakfast, where she was impressed by the extent and impact of Young Audiences' programs, students' testimonials, and Executive Director Stacie Sanders Evans. In November 2013, Chris joined the Young Audiences board and, after her mother passed away in early 2014, she and her husband David made a generous, multi-year donation in Doris' memory. The Doris Morgan Fund supports teaching artists participating in Young Audiences' Maryland Wolf Trap Early Learning Through the Arts program, a 16-session residency that gives Pre-K students an in-depth experience with an artist as well as providing embedded professional development for teachers, making an impact that extends far beyond the life of the program.
At a recent site visit, Chris witnessed her first Wolf Trap residency in action, led by Young Audiences teaching artist and dancer Valerie Branch. On the day of Chris' visit, the classroom teacher was leading her first arts-integrated lesson, developed after several sessions of collaboration with, and mentorship by, Valerie. Chris was impressed by what she saw, especially the embedded professional development that is an integral part of the Wolf Trap program.
Chris believes that the work that Young Audiences does with Maryland's youngest learners is essential, and is happy that her mother's legacy of bringing creativity into the classroom can live on with Young Audiences' help. We are deeply grateful for the Wallaces' generosity and are proud to honor Doris Morgan's life by continuing to supply the resources needed to empower students and teachers in the classroom.
If you have a loved one whose memory you would like to honor, please consider making a donation to Young Audiences in their name, knowing your support will positively impact children's lives through the arts.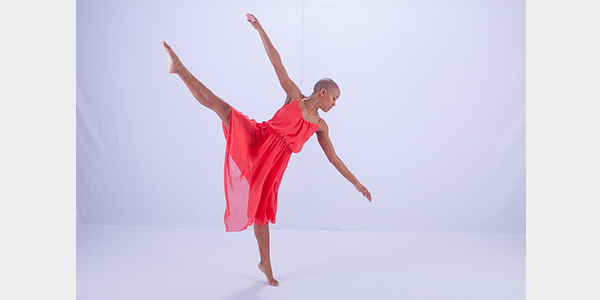 During the last two years, our roster has grown in size to encompass new artists, ensembles, and art forms. From slam poets to improvisers to Capoeira masters, these new artists are undeniably unique.
To introduce audiences to our new artists, we'll be posting interviews with those who recently joined our roster, giving them a chance to share more about themselves and their experiences with Young Audiences so far.
What is your background as an artist?
I graduated from University of Maryland College Park (UMCP) with a Bachelor of Arts degree in Dance. Since graduation, I have been at the forefront and background of different dance organizations and have traveled around the world as a result of my passion for dance.
The first company I danced with was Lesole's Dance Project, a traditional South African dance company where I was able to hone in on my leadership, creativity, organizational skills, and learn and appreciate a new form of dance. I served as rehearsal director, administrative and fundraising support staff and learned how to make a dance company successful. The Director and I worked together to create and organize an edu-dance program for young students in South Africa, which we were successful in implementing two years in a row.
In 2011, I was invited to Copenhagen, Denmark as a visiting artist to explore the country's culture and art. As a result, REVISION dance collaborative (a company in which I co-directed its first season) had the opportunity to perform in and be part of the Kids Euro Festival where we performed in locations throughout Washington, DC.
How did you hear about Young Audiences?
I heard about Young Audiences through Laura Schandelmeir, who had partnered with Young Audiences through the Maryland Wolf Trap program as a teaching artist. Laura was one of my professors at UMCP and is a wonderful dance educator, and someone whom I have had the opportunity to be inspired by.
You recently completed the Teaching Artist Institute (TAI) Seminar this spring. What was your favorite part of the program? How has that experience changed your approach to a program or your teaching practices?
Saying that I loved the TAI program is an understatement. Though I have been working with students within and outside of the classroom for years, I felt that this program truly changed the way I think about and approach my lessons, teachers, and students. I really appreciated Karen Bernstein, the dance facilitator on staff. Karen truly guided and provided me with advice so I could grow. I felt that Karen was the true support that I needed. She gave me feedback when I needed it; let me struggle in order to figure out what I needed to do; and was there when I needed encouragement. So often in programs like this, artists just receive a generalization of arts education/arts integration and then have to figure out: "What should I do with my art form and where do I start?" It was helpful to receive a plethora of examples from different artists. I enjoyed that the staff was fun and made the experience fun.
What made you decide to become a YA roster artist?
I initially joined Young Audiences as a Maryland Wolf Trap Teaching Artist serving preschool classrooms. In my first year on the Young Audiences roster, my opportunities have grown tremendously to reach older students and I am appreciative of that. Being part of the Young Audiences organization, I truly feel like I am growing and developing as an artist–where I am right now in my career is exactly where I want to be. Taking this journey has allowed me to focus on my career, taking everything that I have learned and witnessed throughout the early stages in my career, and create something new.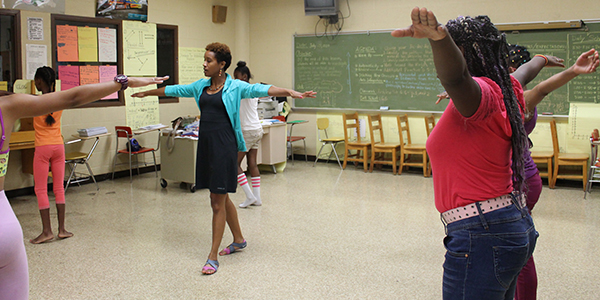 Have you had any programs through YA yet? If yes, what was the most memorable part? If no, what are you most looking forward to?
I love teaching within the classroom and working with the teacher and the students to explore learning and understanding subject matter through movement. I am really looking forward to assemblies!
Why do you believe art is important for every student to have access to?
Children need to be allowed to think creatively and develop their own opinions. They need to develop their critical thinking skills at an early stage so that they have a clear understanding of why they think the way they do and why they feel a certain way about different situations. They have to develop their own understanding of how to accomplish tasks. The arts provide a creative outlet by allowing them to explore, imagine, and test new ideas. The arts target a different area of their brain, and once students have this experience it opens them to new possibilities. It allows them to take risks in the classroom that they may have been shy to before an arts experience. The arts help to develop self-confidence.
What does your art form in particular teach students?
Self-confidence, patience, respect for self and others, and focus. It also gives them an understanding of their own bodies–they find out new and exciting things that their limbs can explore, plus they learn their own limitations and to appreciate what others can do.
Learn more about Valerie Branch Dance Ensemble's offerings through Young Audiences.
Keep an eye out for more interviews featuring our newest roster artists! See past new artist interviews here.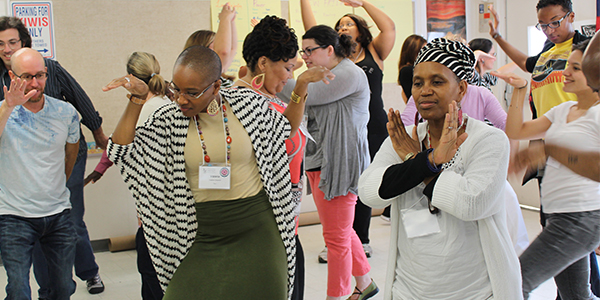 The 2014-2015 Teaching Artist Institute (TAI) Seminar is already underway, but we wanted to share some reflections from artists who have graduated from the program. Here's what they had to say about the experience:
As a full-time preservationist of acoustic Delta Blues from the 1920s and 1930s, I must make my history of Blues show academically relevant to the curriculums of Maryland and Virginia schools. I completed the TAI training program in 2009, and the course completely transformed my understanding of how I can support the current teaching standards in schools with my music programs.

As Young Audiences knows better than anyone, all the arts are under tremendous pressure to prove their relevance to school systems that are struggling to meet national testing standards in different disciplines. What I learned from my TAI training is that the arts serve a valuable role in preparing students with the 21st Century thinking skills they need for their future success in our rapidly changing world.

By creating a residency with a language arts teacher as my partner, I was able to use songwriting to teach students figurative writing skills. Without the TAI training, my school music programs would not be as academically relevant to the school's goals. This connection is critical for the arts to survive in our schools, not as a reward for difficult academic work, but as a means to help students meet their academic goals.

The TAI program is well-run by dedicated educators and artists. It is challenging, rigorous, and exposes artists, teaching artists, and professional educators to each other's thinking styles. This program deserves support, and I hope it continues to transform serious performing artists into skilled teaching artists.
– Curtis Blues, Blues Musician, Exploring Math and Music by Making a One String Guitar
I had never thought of myself as an educator, at least not in the traditional sense. Musically, there is always an underlying truth or teachable moment I try to impart. However, now I needed to do so in a structured, educational format. Although the curriculum was challenging, I am ever so grateful for having gone through the process. The fellowship with the teachers and other artists truly cannot be measured. As an artist, mentally you have to re-wire your brain to remember that it is not about you or a performance; it is about what the children learn and take away from the experience. A few months later I had the opportunity to return to the school for a musical performance for a general assembly. My class was so excited to see me and the feeling was more than mutual. For that reason alone, it was a journey worth taking.
– Uncle Devin, Musician and "Drumcussionist," Uncle Devin's World of Percussion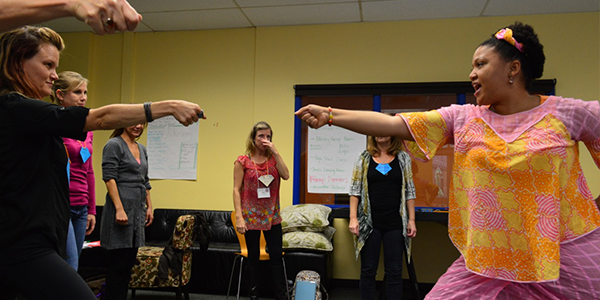 TAI gave me such an appreciation for the life of the classroom teacher. Not only did I learn how to plan and sequence a project into realistic, meaningful lesson plans, I learned a whole new vocabulary and some best practices of a strong teacher as well. Field testing my lessons with my teaching partner gave me real world practice in collaboration, classroom management, solid preparation and flexibility.

TAI is also a rare opportunity to work and learn side-by-side with artists from other disciplines. I met so many energetic, thoughtful, creative people who are not only committed to their art, but also to making a difference in the lives of children. It was incredibly valuable to me to be stretched and out of my comfort zone. As a visual artist, I found that experiences in music, dance and drama helped me move out of my head and in to my body. I learned that this whole body engagement is something that I want to bring to students when I lead them in the visual arts.

On the last day of TAI we were asked to say one word that summed up our experience. My word was "ALIVE." That pretty much says it all.
– Pam Negrin, Visual Artist, Transformative Textiles: Weaving Together Math, Literacy and History and
Collaborative Stitching: Connecting and Inventing with Needle and Thread
TAI is an amazing opportunity where artists, educators, and staff truly collaborate to help process, define, and designate the importance of art in the classroom. I loved the guided lessons, hands on experience, and being around such amazing, talented individuals. I feel like this experience helped to shine a new light on my own experiences as a classroom teacher and now a teaching artist.
– Bridget Cavaiola and Michael Harris, Baltimore Improv Group, Life is Improvised!
The staff and artists who coached us through TAI opened a whole new level of integrated content, planning, and instructional skills to us. The opportunity to develop new programming for excited young artists, alongside engaged education professionals in so many unique environments has grown our vision as an organization. This fall, three more team members will begin TAI. Best professional development around!
– Matt Barinholtz, FutureMakers, It's Alive: Kinetic Creature Lab!
I really felt like I was re-energized in my way of thinking and the facilitators brought a plethora of knowledge to the table. I appreciated their ability to listen, answer questions, and make the experience fun, interactive and simply enjoyable.
– Valerie Branch, Modern Dancer, Exploring, Creating, and Dancing with our Friends!

By Grace Galarpe, Baltimore City Public School teacher
When I got involved in the Young Audiences and Baltimore City Public Schools 22nd Century Pioneers Arts-Based Summer Camp, I wasn't sure if I was in the right place at first. Even though I've seen arts integration in the news, this summer was my first time really working with it. It was my first time working with Young Audiences, too, so when they told me that this program was all about arts integration, I was curious to learn more.
As a high school teacher, I've had the opportunity to collaborate with other core subject teachers before, but a collaboration with an artist? This was my first time and the idea interested me. In the past, I've used the arts in my classroom in the sense that we would sometimes draw or dance or sing. If I did incorporate the arts, it was separate. These activities would be after instruction or after school. The program this summer, where arts integration happened within the instruction, used a completely different method.
I was paired with Valerie Branch, a dancer. Before Valerie and I started teaching, we did lesson planning. Looking back, we consider this the biggest factor in our success because the planning helped us gain a greater understanding of how we would integrate the arts into our lessons.
I was very fortunate because both of us took the program very seriously. We would do thorough planning and would really talk about what was going to happen the next day and the next. Everything that Valerie and I accomplished this summer was possible because we had time to plan together. I wasn't just going into a classroom where I would do everything by myself; it was a partnership.
See more photos from the Young Audiences arts-integrated summer learning site!
Our lessons weren't always perfect, but since the teacher and the artist planned together, we could always reflect and revise–not just one of us, but both of us. We helped and respected each other, and as the summer went by, we became very comfortable with one another. When Valerie and I would sit down together, she made me feel confident about where the arts would come in and how we would make it possible. She made me feel more comfortable with her art form, too, and because of this, I could easily explain the elements of dance to students.
This summer, I realized that a dance activity can be incorporated with a science activity using the same concepts and vocabulary. That was amazing to me. At first, I wondered, "How will my students benefit from this collaboration and integration of the arts?" I now feel that arts integration gives students the chance to learn at a different level because we are able to touch multiple intelligences. I believe that our students achieved a deeper understanding of the science concepts and vocabulary that we taught them due to the integration of the arts into our teaching. They were able to apply what they had learned, not only through science but through dance, too.
Sometimes during the science instruction, students would ask: "Why do we need to learn this?" I would respond that they needed to know the terms and concepts so that we could apply them to our next dance choreography, and then they would get excited. When Valerie would talk about the elements of dance at the same time as the science, the students would be able to perform a dance choreography based on something related to science, such as pollution. That was a really wonderful outcome.
I can now see that if arts integration is a regular part of a classroom, it helps increase academic achievement and positive intervention regarding behavioral problems. I could tell that the arts were a huge help in attendance in our classroom, too, and I was so happy that the students looked forward to our class every day.
The arts also helped create responsibility. For example, Valerie and I decided that we needed to do something that would make the students understand that they had an obligation in the classroom. As a part of our teaching, we did an activity we called "Human Mirror," which incorporates dance movements that develop a sense of responsibility. It requires listening, following directions correctly, being observant, and an understanding of what it means to be a leader and a follower. This was a great success for our class. I could sense that the students also gained respect for both of us. They called both me and Valerie artists, which surprised me. I was like, "Oh wow, I'm an artist!"
[youtube http://youtu.be/7laf55H68VE]
If ever given the chance, I would tell teachers who haven't used arts integration not to be afraid of co-teaching with an artist. If there were an opportunity for me to be involved in another arts integration program, I would gladly do it. I've realized that in programs like this, the artist and teacher can become more than just teachers. I believe that they can do more than just share concepts or explain the academic side of things: they can inspire students' lives.
Read more about the Young Audiences 22nd Century Pioneers Arts-Based Summer Camp site and see photos here.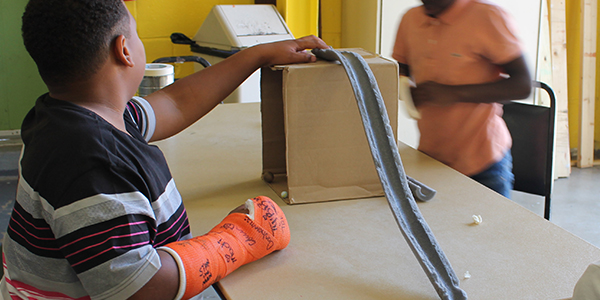 During the past few weeks, nearly 150 middle school students have dived into math and science concepts through the arts at the Young Audiences and Baltimore City Public Schools 22nd Century Pioneers Arts-Based Summer Camp. Students have learned how ratios are used in photography and how the physics of sound affect each note played on a steel drum. Through these art forms, and many more, students have been engaged in learning this summer so that they are prepared to hit the ground running this school year.
While most of the learning goes on inside the school, students have also had the opportunity to take their knowledge beyond the classroom walls on field trips. These excursions allow students to continue their hands-on learning in a new atmosphere, applying the skills and knowledge they've acquired throughout the summer.
The first trip was a visit to the Baltimore Museum of Industry, where students learned the ins and outs of technology and put their own engineering skills to the test. In one activity, students worked together in small groups to create a track that would carry a wooden ball and drop it into a can. This required them to go through the five steps of solving an engineering problem: plan, get materials, build, test, fix, and re-rest. Students were forced to adjust and readjust their designs before finally reaching their goal, usually resulting in loud cheers.
Students received another challenge: creating an artistic interpretation of the word industry. Groups joined together, combining their knowledge and creativity to come up with dances, skits, and songs that showed what they had learned that day.
See more photos from summer learning!
The following week, students traveled to Baltimore's Artscape, America's largest free arts festival organized by the Baltimore Office of Promotion and the Arts. Surrounded by artists of all disciplines, the students put on a show of their own at the Station North Stage, showcasing what they've been working on during their arts enrichment classes. The show opened with a lively Hip Hop dance performance from Jamaal Collier and Alicia Shaw's Hip Hop class. After the performance, one student explained the four pillars of Hip Hop, the most important one being knowledge. Next, Valerie Branch and Heather Tuttle's dance class got the crowd cheering with a dance set to Ariana Grande and Iggy Azelea's "Problem." Kevin Martin and Kevin Older's students also got to show off their steel drum skills.
Even those who didn't perform on stage took part in their own form of art-making. Throughout the day, Christina Delgado's photography students captured Artscape from behind the lens, while Danyett Tucker's illustration students filled up their sketchbooks with drawings of everything from festival attendees to graffiti on buildings.
Bridget Cavaiola's improv class performed an exercise called "Improv Everywhere." All over the festival, they held compliment battles, gave flowers to strangers, and posed as wax statues, making them the target of many curious stares and even a few pictures. See this group in action in the video below!
[youtube http://youtu.be/hg-sdwpGYQg]
Read more about the arts-integrated learning happening at the Young Audiences 22nd Century Pioneers Arts-Based Summer Camp site and see photos here.