Arts integration is a valuable tool for reaching multiple learning styles across the curriculum and is linked to enhanced academic outcomes as well as positive social and emotional development for children. While this is true for all students, studies have found that the impact of the arts on language development and core subject learning is particularly beneficial for students with disabilities or those with special learning needs.
As an inclusive organization, Young Audiences' goal is to bring high-quality, arts-integrated instruction that is accessible, supportive, and welcoming to children of all backgrounds and abilities into the classroom.
Reality is a social definition. Disability is the social process that turns impairment into a negative by creating barriers to access. Difference should be accommodated and celebrated. You can create new ways to create together by taking into account universal access to creativity.
We are diligently laying the foundation for inclusive practice to be incorporated into arts-integrated curriculum, increasing the opportunities for youth of all abilities to participate in artistically-excellent programs. To help us achieve this goal, our staff received specialized inclusion training through the Inclusive Allies program in partnership with Disability Rights Maryland.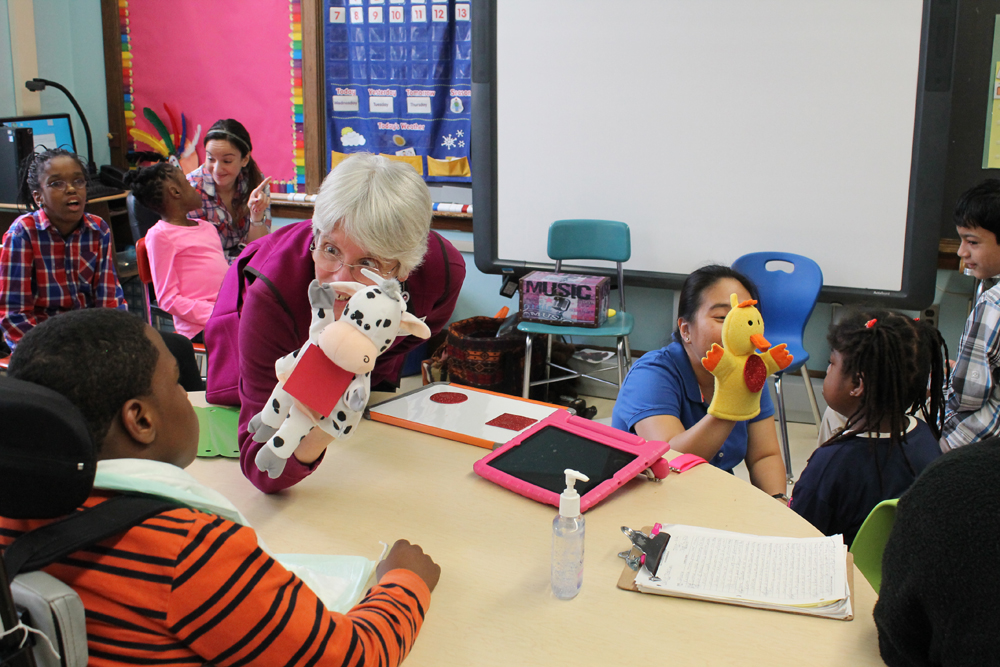 Nine selected roster artists also received training, participating in a comprehensive workshop covering a variety of inclusion tactics to utilize in the classroom. YA Roster Artist and FutureMakers founder Matt Barinholtz observed, "Reality is a social definition. Disability is the social process that turns impairment into a negative by creating barriers to access. Difference should be accommodated and celebrated. You can create new ways to create together by taking into account universal access to creativity."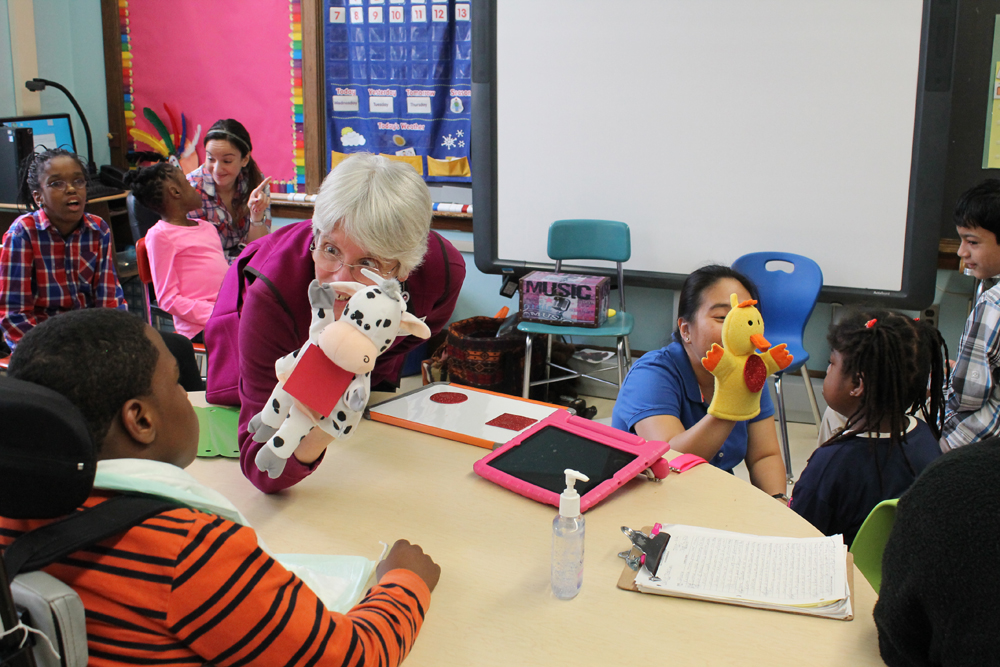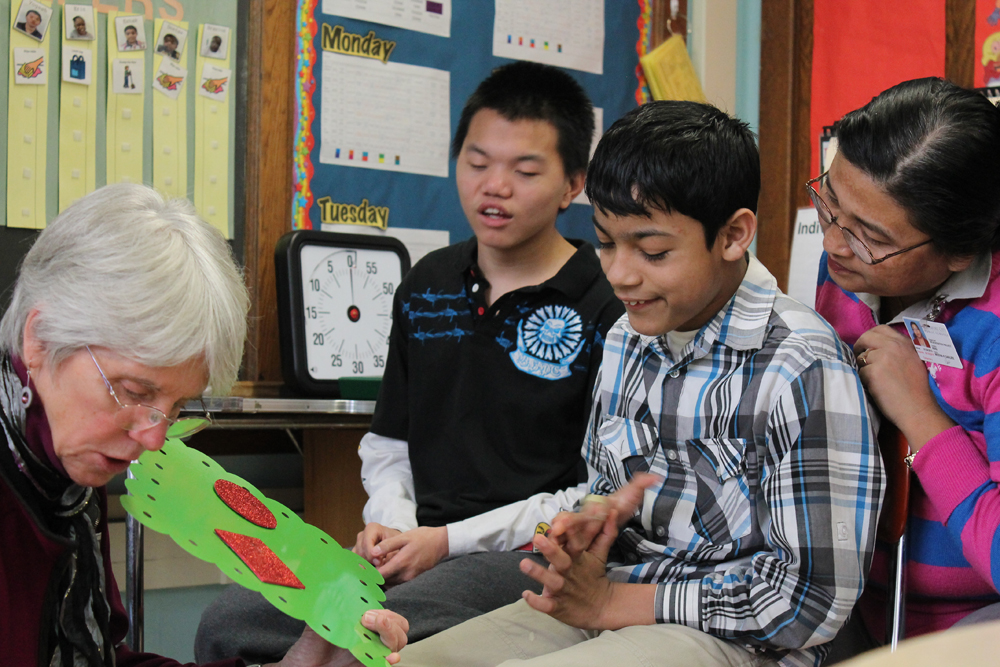 YA artists approach this "universal access to creativity" by rethinking the norms behind the ways we allow people to communicate, socialize and behave. We create a culture where all students receive the many benefits of engaging and inclusive arts-integrated classroom experiences, adapting lessons with audio/visual cues and different levels of kinesthetic movement, and applying inclusion tactics.
The following Young Audiences Roster Artists have completed the training as of 2016:
In the coming months, we will proudly share artists', teachers' and coordinators' stories about their roles in this important work.
"Our main purpose in life as human beings is to help others," believes Barbara Howard, special education teacher at the William S. Baer School in Baltimore. "When we do that, the blessings come back to us, ten-fold." Barbara's journey to teaching was a long one, but she knew, once her mother introduced the idea, that it was exactly where she needed to be.
As evidenced in the 2014 video "Beautiful Surprises," Barbara is extremely dedicated to her students and cares deeply about helping them realize their full potential, and this is why she became not only a teacher partner, but also a donor. Young Audiences' acclaimed Maryland Wolf Trap Early Learning Through the Arts 16-Session Residency, with embedded professional development, helps teachers like Barbara to develop arts-integrative teaching skills with proven outcomes. Designed to serve students ages three to five, this program has been a wonderful way to also serve children with disabilities. Working with Wolf Trap has helped Barbara to more effectively reach her students – all of whom learn differently and have unique needs – and build their confidence, while fostering in them a love of learning. As she puts it, "they have a purpose now in becoming successful in whatever they do."
One student, Raymond, has continued to blossom since Wolf Trap came into his classroom and the Beautiful Surprises video was made. "As soon as Raymond comes into the classroom, he will walk over to the bin of tambourines," shares Barbara. "He will pull his assigned one out of the bin and begin to play it. He, along with the other six children I teach, is the main reason as to why I rise each morning at 4:30. Sometimes I wonder, who's teaching whom?"
Young Audiences is grateful to have the support of dedicated individuals like Barbara, who share with us a vision to help many children flourish like never before.
Join the Solstice Club today by pledging just $10 or more monthly, and your sustaining gift will help Young Audiences to continue to bring exceptional arts programs to students and offer professional development for both teachers and artists.
By Sue Trainor, Young Audiences artist and singer/songwriter
In 1998, I sang for the first time in a classroom for and with children who have profound special needs. That 45-minute gig rocked my world: the children may not have been "typical" physically or cognitively, but their connectivity was palpable and potent! I still get goosebumps thinking about it. Ever since, my motto has been, "meet people where they are," because you miss out if you don't reach out.
This spring I had the opportunity to work with William S. Baer School in Baltimore City, another school attended by children with profound special needs. During my eight-week residency at the school I worked in four preschool classrooms with children who were three to five years old, but were approximately 12 months old developmentally. Many of them were very fragile medically, most were non-verbal, and some were non-locomotor. Several were blind and/or deaf.
This residency followed the Wolf Trap 16-Session Literacy Residency model. I have been on the roster of the Wolf Trap Institute for Early Learning Through the Arts since 2003, and I'm thrilled that Young Audiences has just joined the Wolf Trap family as the Maryland sponsor of Wolf Trap programs! In the Wolf Trap model, the teaching artist's primary goal is to provide professional development for the classroom teachers by modeling arts-integrated strategies and coaching the teacher to practice the strategies in the classroom with students. It sounds serious and technical, and it is in some ways, but didn't we just have the best time ever!
I'm a musician, so the artistic interest for me is the exploration of my art form's fundamental expression and interpersonal connectivity. What does it mean, for example, to sing with someone who is non-verbal? It's not singing in the traditional sense, but what is it that makes singing together work? Can we still engage in a more basic element of joined vibration? We can, and it is joyful—all the more so because it's usually a brand new experience for the children and the response is profound.
I think fondly of Sean, a four-year old student at Baer. He is blind and non-verbal, and he loves music. I would play my ukulele and he would belt out his sounds. It was delightful! One day while we were waiting for the class to assemble, I sat face to face with him and joined his vocalizing, using his sounds. He was surprised at first, but he leaned in, kept "singing," and together we created a joined sound-space and a profound connection. Now his teacher understands and can do this as well.
One of my favorite lesson experiences that came out of this residency was "Funky Duck." The children were learning shapes, and the traditional math teaching strategies had them focusing on a specific shape which was velcroed to a felt board. The student's task was to pull the shape off the board (or focus on the shape with their eyes if they were immobile). More advanced students were supposed to choose a specific shape from a small group of different shapes
I used the same fundamental teaching strategy, but I transferred it to a puppet that I dubbed "Funky Duck." I velcroed shapes on the puppet's chest, taught the teachers basic puppet manipulation, and created a chant for them to recite to a steady beat:
"I'm Funky Duck, hey hey
I'm Funky Duck, hey hey
I want to know, can you find
My circle today?"
We had 100% success—the children loved the puppet, focused intently and reached out to pull off the shape. The teachers promptly scoured their classrooms for puppets of their own that they could adapt to this and other purposes, including lessons about numbers, colors, and letters.
I look forward to returning to Baer School this fall, to reconnect with my preschool friends and to develop new connections in classrooms with older students.
Click here to learn more about Maryland Wolf Trap residencies. To schedule a program, please contact Young Audiences at (855) 245-2787.