Young Audiences of Maryland (YA) believes that every student – even the smallest ones – should have the opportunity to imagine, create, and realize their full potential through the arts. That is why YA serves as the Maryland affiliate of the Wolf Trap Institute for Early Learning Through the Arts. Through this 16-session residency program, YA pairs trained teaching artists with classroom teachers to provide young learners with literacy and STEM skills through an arts-based lens.
This investment in developing learning opportunities for pre-K students is one that YA shares with the PNC Foundation. PNC Grow Up Great® is a $350 million, multi-year, bilingual initiative that began in 2004 to help prepare children from birth to age 5 for success in school and life. To date, the program has served 4 million children. With the generous support of the PNC Foundation, YA will reach 30 Baltimore City pre-K classrooms and 600 pre-K students with Wolf Trap residencies in the 2017-2018 school year.
These residencies have consistently shown improvement in student attention span, self-regulation, and the ability to connect new information with prior knowledge. Teachers also report that through these residencies, they develop valuable skills and techniques that they utilize in their classroom long after the artist has left. 
PNC recognizes the importance of training teachers to use arts-integrated approaches that have been shown to result in better academic outcomes for young learners. In 2018, in collaboration with Baltimore City Public Schools and with the support of the PNC Foundation, YA is, in addition to the Wolf Trap residencies, providing professional development for pre-K teachers in the use of arts-integration.
"PNC recognizes the role kindergarten readiness plays in the wellbeing of local children, their families and ultimately, our economy," said Laura Gamble, PNC regional president for Greater Maryland. "By preparing our youngest citizens for educational success, we help build a solid foundation for the future of this region."
Together, YA and the PNC Foundation are providing engaging learning environments for pre-K students and strengthening Baltimore's pre-K teachers so that our students' first experiences in schools prepare them to succeed for years to come. 
Learn more about how YA is creating new learning experiences for pre-K students and their teachers through our Wolf Trap classroom residencies!
For more information about the PNC Foundation, please visit their website. 
For 58 years, Young Audiences of Maryland (YA) has been combining arts and education to create inventive and exciting learning experiences for children across the state. We believe that these experiences shouldn't stop when the school year does, so we created the Summer Arts & Learning Academy – a five-week summer program that provides an opportunity for Baltimore City students who are behind in math or literacy to improve their skills through an arts-integrated curriculum. Through high-quality, engaging lessons, the Academy not only decreases summer learning loss in reading, but also eliminates summer learning loss in math, helping our students to return to school ahead of their peers.
With the help of M&T Bank Corporation, YA is working to expand this transformative summer program. Founded in 1856, M&T Bank is a regional financial services company that provides banking, insurance, investments, mortgage and commercial financial services in New York, Maryland, New Jersey, Pennsylvania, Delaware, Connecticut, Virginia, West Virginia and Washington, DC. It has been recognized for its financial strength and sound management, and is proud to continue its tradition of reliability in the way it serves customers and supports the communities where they live and work.
M&T Bank is supporting students in the Baltimore community by partnering with Young Audiences as a sponsor of our 2018 Impact Breakfast. This year's event will raise funds for the Bridging the Inspiration Gap Campaign, which will double the number of students served by the Summer Arts & Learning Academy.
YA knows that there is a space between the best conditions for learning and what our students in Baltimore City receive in school. We are grateful to M&T Bank for helping us to close this gap and give students the opportunity thrive in the summer and achieve year-round.
Learn about how Young Audiences is transforming summer experiences for Baltimore students through our Summer Arts & Learning Academy!
For more information about M&T Bank's charitable giving, please visit their website.
In 2016, Baltimore Gas and Electric Company (BGE) celebrated its 200th anniversary as the nation's first gas utility in the country. With such deep roots in Maryland, BGE invests in organizations that support education, the environment, arts and culture, and community development programs. BGE has expanded its efforts in Carroll and Harford counties by partnering with organizations and programs that focus on children and education.
Young Audiences of Maryland is a natural partner for BGE. As Maryland's leading arts-in-education organization, we are devoted to enriching the lives of Maryland's youth through curriculum-aligned and culturally diverse arts programs. Young Audiences of Maryland is dedicated to ensuring that all communities, regardless of available resources or funding, have access to quality arts programs. In fact, with the support of public, private and individual sponsors, Young Audiences of Maryland is able to provide programs to hundreds of schools and community organizations throughout Maryland to ensure that all students have access to the arts. In 2016, with the support of BGE, we reached 11,711 students through 47 live performances and 185 in-depth workshops in underserviced communities in Carroll, Frederick, and Harford counties.
"BGE is proud to support Young Audiences of Maryland and its commitment to exposing children of all backgrounds to art, and using artistic expression as a means to promote diversity and inclusion," said Denise D. Galambos, vice president of human resources for BGE and Young Audiences of Maryland board member. The great work that Young Audiences of Maryland is doing to help lift up our communities is extremely important and BGE is pleased to partner with such an organization.
Young Audiences of Maryland is grateful for BGE's contribution to our work and for its commitment to the arts and education.
Learn more about how YA brings arts programs to rural communities. For more information about BGE's charitable giving, please visit their website.
The Nancy Peery Marriott Foundation, Inc. was established with the mission to help support organizations to increase arts, music, and culture in the community, as well as education and human services. For thirteen years, the Foundation has impacted the Southern Maryland and Greater DC area thanks to founder and President Nancy Peery Marriott, who is fueled not only by the area's needs but by her own passion for the arts.
Originally from Palo Alto, California, Mrs. Marriott is an accomplished lyric soprano who received her B.A. from the University of Utah and continued her vocal studies at the LONGY School of Music and the University of Maryland. Mrs. Marriott has performed at the highest level in some of the most prestigious venues across the United States, including the John F. Kennedy Center for the Performing Arts, Boston's Symphony Hall and Carnegie Hall in New York. Young Audiences is both grateful and excited to work with Mrs. Marriott and the Nancy Peery Marriott Foundation.
In 1950, Young Audiences' founder Nina Collier hosted a well-known violinist, Yehudi Menuhin, to play for and talk with a group of children in her Baltimore home. Noticing how much the children enjoyed the experience, she organized a series of 20 chamber music concerts for Baltimore City elementary students, launching an organization that now provides diverse and inspiring arts experiences to over 183,000 students throughout the state. Like the Nancy Peery Marriott Foundation, Young Audiences was founded on a belief in the power of music. This has made the Foundation an ideal partner as we work to give all children the opportunity to learn in, through, and about the arts.
During the first year of partnership with the Foundation nearly a decade ago, Young Audiences reached 20,809 students in southern Maryland's Montgomery and Prince George's counties. Since that time, the number of students reached has grown by over 40%, and we now annually give nearly 30,000 Montgomery and Prince George's County students opportunities for artful learning. Young Audiences is deeply grateful for the support of the Nancy Peery Marriott Foundation.
Since 1950, Young Audiences of Maryland (YA) has significantly expanded the availability of educational and culturally diverse art programs for Baltimore City youth. YA's programs are delivered in multiple settings including schools, libraries, and community centers. In 2013, YA grew its capacity to serve our youngest students by becoming the sole Maryland affiliate of the Wolf Trap Institute for Early Learning Through the Arts. Wolf Trap, the National Park for the Performing Arts, has spent the last 30 years developing the 16-session arts-based residency model, which supports improved literacy and STEM (Science, Technology, Engineering, and Math) skills in early learners.
During the residency, trained teaching artists work with classroom teachers through a comprehensive modeling and collaborative co-teaching approach to build teachers' arts-integration knowledge and skills and enable them to incorporate new practices in their classrooms. A 2006 Wolf Trap study¹, supported by funding from the U.S. Department of Education, showed that preschool students whose teachers participated in Wolf Trap residencies grew in every measured area and strengthened their math, literacy, creativity, and social and emotional skills.
In 2014-15 alone, Young Audiences served 52 teachers—and 1,163 Baltimore City pre-k and kindergarten students—through the Wolf Trap residency program. The T. Rowe Price Foundation has been a longstanding supporter of YA and, more recently, the Wolf Trap Early Learning classroom residency program. Since its founding in 1981, the T. Rowe Price Foundation has worked closely with nonprofits to identify innovative solutions that improve educational outcomes for youth and enrich community life. YA is grateful to the T. Rowe Price Foundation for supporting our work for nearly 20 years and for helping to launch the Wolf Trap initiative in Baltimore.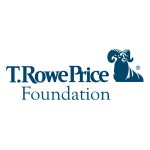 According to John Brothers, the Foundation's president, "We have been pleased to support YA and its mission of integrating arts into the educational process, particularly for children who have limited exposure to the arts. The classroom residency program is backed by research and the Wolf Trap Institute's ongoing commitment, and it aligns with the Foundation's desire to support innovative practices that enhance educational opportunities and outcomes for youth."
Through the combined efforts of YA and the T. Rowe Price Foundation, Baltimore City's youngest low-income students have a greater opportunity to gain the skills and knowledge that they need to succeed in school and in life.
Learn more about how our Wolf Trap classroom residencies can motivate and empower early learning teachers and their students!
For more information about the T. Rowe Price Foundation, please visit their website.
¹Klayman, D. (2006). Executive summary of the final evaluation report for Fairfax pages professional development project: An effective strategy for improving school readiness. Potomac, MD: Social Dynamics.
The arts were an integral and memorable part of Chris Wallace's childhood. Her mother, Doris Morgan, an elementary school teacher and learning disabilities specialist, taught both her children and her students with joy, positivity, and an arts-integrative approach. This had a lifelong impact on them all: Chris made the arts a central component in her speech-language pathology work; her sister flourished as a writer; and former students or their parents would often approach Doris, thanking her for the impact she made on their lives and letting her know that they believed she was instrumental in their—or their children's—success.
Several years ago, Chris was invited to attend Young Audiences' annual Impact Breakfast, where she was impressed by the extent and impact of Young Audiences' programs, students' testimonials, and Executive Director Stacie Sanders Evans. In November 2013, Chris joined the Young Audiences board and, after her mother passed away in early 2014, she and her husband David made a generous, multi-year donation in Doris' memory. The Doris Morgan Fund supports teaching artists participating in Young Audiences' Maryland Wolf Trap Early Learning Through the Arts program, a 16-session residency that gives Pre-K students an in-depth experience with an artist as well as providing embedded professional development for teachers, making an impact that extends far beyond the life of the program.
At a recent site visit, Chris witnessed her first Wolf Trap residency in action, led by Young Audiences teaching artist and dancer Valerie Branch. On the day of Chris' visit, the classroom teacher was leading her first arts-integrated lesson, developed after several sessions of collaboration with, and mentorship by, Valerie. Chris was impressed by what she saw, especially the embedded professional development that is an integral part of the Wolf Trap program.
Chris believes that the work that Young Audiences does with Maryland's youngest learners is essential, and is happy that her mother's legacy of bringing creativity into the classroom can live on with Young Audiences' help. We are deeply grateful for the Wallaces' generosity and are proud to honor Doris Morgan's life by continuing to supply the resources needed to empower students and teachers in the classroom.
If you have a loved one whose memory you would like to honor, please consider making a donation to Young Audiences in their name, knowing your support will positively impact children's lives through the arts.
Barbara and Mitch Krebs are both firm believers in the importance of the arts, even though their backgrounds are very different. Barbara holds a BFA in Theater and utilizes drama techniques to get into character when approaching her work as a corporate writer. Mitch is a business banker and claims to have two left brains, but he makes sure to balance his number-heavy career with a variety of arts experiences when not in the office.
The Krebs were surprised to learn that Young Audiences/Art for Learning had been providing professional development training to the teachers at their daughter Colette's school, as well as artist-in-residence programs, for many years. They were intrigued by our work and started learning more. They saw first-hand with Colette that when the arts are integrated into the learning process as a result of the professional development training, it makes a huge difference in how kids learn and retain knowledge. The caliber of Young Audiences' artists impressed them. "When I see these artists pour their hearts into their jobs," says Barbara, "and how they get kids fired up about learning, I just want to make sure more and more kids get this experience."
The scope of Young Audiences' work in schools across Maryland is what moved the Krebs to join Young Audiences' Sunburst Society, a multi-year giving society. "We wanted to offer our support because, throughout our lives, giving back to the community has been very important to us. And our focus for supporting groups has always been either in the arts or in education. And here was an organization that combined both of our favorites!"
The Krebs believe that, in an age of school budgets facing reduced arts funding, it will require public-private partnerships–like those that Young Audiences fosters with public schools across the state–to ensure that our children get the chance to continue learning in an environment that enhances the educational process. "It's no surprise that when we think about our own school experiences, we always recall the teachers who did more than recite boring facts," says Barbara. "We remember the teachers who incorporated memorable, arts-oriented teaching techniques and who made us think and create for ourselves."
Young Audiences is grateful to Barbara and Mitch, and other members of the Sunburst Society, who make it possible for thousands of students to imagine, create, and realize their full potential through the arts.
Our Sunburst Society is made of generous donors whose high-level, multi-year pledges help to build a legacy of learning in, through, and about the arts. These contributions give Young Audiences the financial confidence to plan strategically for tomorrow's educational needs, while meeting the demand for today's programs. Join them.
"Our main purpose in life as human beings is to help others," believes Barbara Howard, special education teacher at the William S. Baer School in Baltimore. "When we do that, the blessings come back to us, ten-fold." Barbara's journey to teaching was a long one, but she knew, once her mother introduced the idea, that it was exactly where she needed to be.
As evidenced in the 2014 video "Beautiful Surprises," Barbara is extremely dedicated to her students and cares deeply about helping them realize their full potential, and this is why she became not only a teacher partner, but also a donor. Young Audiences' acclaimed Maryland Wolf Trap Early Learning Through the Arts 16-Session Residency, with embedded professional development, helps teachers like Barbara to develop arts-integrative teaching skills with proven outcomes. Designed to serve students ages three to five, this program has been a wonderful way to also serve children with disabilities. Working with Wolf Trap has helped Barbara to more effectively reach her students – all of whom learn differently and have unique needs – and build their confidence, while fostering in them a love of learning. As she puts it, "they have a purpose now in becoming successful in whatever they do."
One student, Raymond, has continued to blossom since Wolf Trap came into his classroom and the Beautiful Surprises video was made. "As soon as Raymond comes into the classroom, he will walk over to the bin of tambourines," shares Barbara. "He will pull his assigned one out of the bin and begin to play it. He, along with the other six children I teach, is the main reason as to why I rise each morning at 4:30. Sometimes I wonder, who's teaching whom?"
Young Audiences is grateful to have the support of dedicated individuals like Barbara, who share with us a vision to help many children flourish like never before.
Join the Solstice Club today by pledging just $10 or more monthly, and your sustaining gift will help Young Audiences to continue to bring exceptional arts programs to students and offer professional development for both teachers and artists.
For more than 40 years, the Maryland State Arts Council (MSAC) has supported artists and arts organizations in their pursuit of artistic excellence, ensured the accessibility of the arts to all citizens, and promoted statewide awareness of arts resources and opportunities. Due to the MSAC's support of both regional and statewide arts organizations, the arts community in Maryland is thriving. We are so proud to be a part of this community, and are grateful for the leadership of the MSAC.
As our single largest funder, the MSAC has helped Young Audiences provide high-quality arts experiences to hundreds of thousands of children across the state of Maryland, many of whom otherwise would not have had such experiences. It has also supported our work to offer exceptional artists the employment opportunities and salaries they deserve, and to underwrite costs for schools with limited resources through its Arts in Education Programs. In partnership with Arts Education in Maryland Schools (AEMS) Alliance, the MSAC also supports professional development for teaching artists through the Teaching Artist Institute (TAI), Maryland's only state-wide artist training program that is made possible by the partnership of Arts Education in Maryland Schools Alliance, MSAC, and Young Audiences.
"The MSAC has chosen to partner with Young Audiences," writes Theresa M. Colvin, Executive Director, "as they are uniquely qualified to carry out this important work because of their unwavering commitment to artistic excellence, their long-standing reputation across the state, and their tireless commitment to securing funding for underserved communities."
The MSAC's partnership with Young Audiences spans decades, and the impact is astounding. In the past 10 years, the MSAC has doubled its support, allowing Young Audiences to expand its number of services from 1,798 in 2004 to 12,509 in 2014–a 596% increase! We are proud to share the MSAC's goal of investing in the arts across the state of Maryland, and are grateful for its continued support.
Student access to regular arts instruction and enrichment has greatly declined in the last 10 years. Help us change this by becoming an advocate for the arts today!
Help us keep Maryland's arts community as vibrant as possible by becoming an advocate for the arts today! The MSAC not only supports Young Audiences in bringing the arts to thousands of students each year, but also ensures that the arts are accessible to all citizens in Maryland.
"Our life without the arts can be so empty," rapped Jamaal Collier at Young Audience's 2014 Impact Breakfast, "so I'm proud to be a part of YAMD!" A dynamic and engaging Hip Hop artist, Jamaal has been working with Young Audiences/Arts for Learning since 2007 and has served on its artist roster since 2013. His energy and passion for the arts is boundless, and show in the volume of work he does: not only does he offer assemblies and long-term residencies to elementary, middle, and high school students, but he also provides professional development for teachers, in addition to currently being trained for the renowned Maryland Wolf Trap Early Learning Through the Arts 16-session residencies for preschool and kindergarten students.
Jamaal began making donations to support Young Audiences ever since he joined Young Audiences' roster. This past fall, he became the first roster artist to make a multi-year pledge of support. Asked why he chose to do this, especially since he dedicates so much time to the organization, Jamaal stated simply, "I believe in what we do. We do a lot, and there is a lot to be done."
Jamaal's passion for the arts is clear, as is the impact it has had on his life. Today he brings the power of the arts into the lives of students and teachers in Maryland. In every case, the results are remarkable. For example, during a Maryland Wolf Trap Early Learning Through the Arts program in Baltimore, Jamaal witnessed students evolve from using one-word answers to expressing themselves in full sentences!
Young Audiences is truly grateful to donors like Jamaal, whose passion for and commitment to the arts helps students realize their full potential. As he put it, speaking about the relationship between artists, teachers, and students, "We're the ones who need each other, and we will help each other move forward."
Schedule a program with a Young Audiences teaching artist today! Browse Young Audiences' roster of more than 100 professional teaching artists, whose talent spans all art forms, including music, theater, dance, and visual arts.
Since 2000, the Wright Family Foundation has supported diverse educational initiatives that provide intervention, support, and enrichment programs for at-risk children to realize their full potential. Young Audiences/Arts for Learning is extremely grateful for the partnership of the Wright Family Foundation and its support of our early learning initiative, Maryland Wolf Trap Early Learning Through the Arts 16-session residency program.
Young children have a natural curiosity and a unique love of learning. Young Audiences' Wolf Trap residencies cultivate and encourage this love of learning in our youngest students by providing joyful, arts-integrated early learning programs in low-income schools throughout Baltimore. In addition to providing exceptional arts programming, Wolf Trap residencies are proven to increase student academic outcomes and improve teacher instructional practice. With the generous support of the Wright Family Foundation, Young Audiences has quadrupled the number of Wolf Trap residencies and increased the number of students served from 276 to over 1,100 – all in just three years.
According to the Wright Family Foundation, its support of Young Audiences grew out of its desire to provide children with opportunities to have arts-rich experiences. "One of our focus areas is Early Childhood Education," writes Mari Beth Moulton, Executive Director. "When Young Audiences partnered with Wolf Trap to bring quality arts programs to early learning classrooms, we were eager to support this partnership. This is an opportunity for the Foundation and Young Audiences to have far-reaching impact for many of Baltimore's children."
The Wright Family Foundation is passionate about providing educational opportunities for our most at-risk youth in Baltimore. Young Audiences shares this passion, and is proud to partner with the Wright Family Foundation to provide our youngest students, in some of Baltimore's most impoverished schools, with the opportunity to learn in and through the arts. With the support of generous donors like the Wright Family Foundation, we can offer a better and brighter future to our youngest students.
Young Audiences programs teach students about teamwork, tap into their creativity and imagination, and increase their understanding of other cultures through performances and artist-in-residence programs. We believe it is critical to share these opportunities with all students in Maryland.
In 2012-2013, Young Audiences reserved $102,847 of contributed funds to provide deeply-discounted programs for special needs and Title I schools in Baltimore City and rural Maryland counties through the Access for All Initiative.
To expand access in the city, public and private funds were matched with funds from the Baltimore City school district and the Maryland State Arts Council, which allowed us to serve more than 14,500 youth in 53 high-need schools, where on average 87.5 percent of the student body is eligible for free and reduced-price meals.
Blaustein Philanthropic Group, one of the contributors to this initiative, has significantly increased its support of Young Audiences to help lower the financial barrier to the arts.
Lara Hall, Blaustein Philanthropic Group program officer, said that supporting Young Audiences and Access for All allows the group to meet their goals of increasing their support of educational arts experiences in Baltimore City.
"The Blaustein family has a long history as patrons of the arts," Lara said. "As the younger generation has come into leadership roles at the foundation, they have posed the question: How do we use the arts as a spark to make sure kids have the best educational experience in Baltimore?"
Blaustein chose Young Audiences as the strongest nonprofit candidate to accomplish this work.
"Supporting Young Audiences' Access for All Initiative is the most efficient way for Blaustein Philanthropic Group to support more arts education in the city," Lara said.
Learn more about the Access for All Initiative.
Read about the work Young Audiences supporters have helped make possible in our 2013 Annual Report.