When schools closed last spring, we knew it was time to improvise. Even (or especially!) at home, students need high-quality learning experiences and creative engagement to ensure they continue growing. Closed classrooms presented a significant challenge for artists to collaborate with teachers and inspire students.
Enter Arts & Learning Kids. Young Audiences' talented team created this arts-integrated TV show where  master teaching artists and educators guide children in fun and inventive math and literacy lessons. The 30-minute, arts-infused episodes—there are more than 100 of them—bring joyous learning to life with music, beat boxing, illustration, puppetry, dancing, and more. Arts & Learning Kids are tailored to specific grades—preK to K, 1st and 2nd, and 3rd to 5th—and the content they are studying.
The shows have been available to Baltimore City and Prince George's County students through local cable TV channels, on our Facebook page, and through direct, weekly emails to more than 175 educators. And now, EVERY Maryland public school district can purchase these lessons for its students and families!
All Arts & Learning Kids episodes are available for purchase by school districts, educators, and care providers across the state.
The episodes support both remote and in-person learning and can be a useful tool for teachers working with students in both spaces. Check out some highlights, here!
Like all of us in so many ways, we didn't know what to expect after launching the show. But soon it became clear: thousands of students, families, and educators have used the Arts & Learning Kids shows to stay in touch, add some joy and diversity to their lessons, and continue to learn and grow. And with each show, we include written extensions – academic and arts-based activities that can be taught in a virtual or in-person classroom. As one school principal put it, the shows make it easier for teachers because it is easy to access and the kids are so engaged. "It is central to instruction."
In the New Year, Arts & Learning Kids will reach more districts, more educators, and more students. Spread the word! If you're interested in bringing Arts & Learning Kids to your district, students, household, or schools, send an email to katherine@yamd.org.
Pure and simple, our teaching artists are the engine for the inspired learning Young Audiences brings to the classroom and to students. They drive the creativity. They are the inspiration that excites and motivates students. And they give selflessly.
Now it's our turn to give to them – through the Teaching Artist Emergency Fund.
 
You can support our partner artists in this unusually challenging time. Classrooms are closed. Programs and schools that contract for our teaching artists are financially challenged. As a result, our artists have lost more than $80,000 in earnings between September and December—and we project greater losses this Spring—and their opportunities to use their craft outside of YA have largely disappeared. Many of our partner artists are struggling, and there is no clear timeline for when they can again return to the classroom and restore their income.
By pivoting to online learning—and also through the generosity of our incredible supporters—we've been able to mitigate some of that financial impact. We've partnered with our artists to develop incredible online content. We also raised more than $57,000 through the Teaching Artist Emergency Fund launched in the Spring of 2020—all of which was given to our artists. We've helped to keep them working and reducing their financial gap.
Prior to the Winter holidays, our Board allocated $30,000 financial relief to artists…but it's not enough.
Today, we are reopening the Teaching Artist Emergency Fund. Two generous donors are furthering the relaunch of the Fund with an additional gift of $5,000. Knowing that 100% of the money contributed to the Fund goes directly to the artists and their families, we are asking you to offer your support by making a contribution to the Fund.
On behalf of our artists, their families, and the students who benefit from their work, thank you.
Stacie and the YA Team
If you are part of any nonprofit, what kinds of things come to mind that a board member might ask you to bring to a meeting? Is it a budget? The latest donor report? 
This is why I love the Young Audiences Board of Directors. Yes, sometimes they ask me for these things. But, prior to our last meeting, the Board Chair asked me, "How are the artists doing?" He wanted to bring a report that spoke to this.
If you are reading this, you likely already know that COVID-19 has hit the artist community hard.  Nearly two-thirds of artists and creative workers report being unemployed. Last year, when COVID-19 hit, it was the Board that launched the Teaching Artist Emergency Fund and, between the individuals who donated to that, foundations that allowed us to repurpose grant funds, and the Maryland State Arts Council, YA was able to ensure that those artists who were depending on contracted income last school year received what they were counting on. YA provided over $270,000 in earnings and financial relief to artists in our community. In turn, our artists innovated, and we found new ways to put them to work continuing to inspire and engage children during the pandemic: Check out Arts & Learning Snacks and Arts & Learning Kids, two of our innovations, which continue to positively impact kids.  
COVID-19 is still with us. School budgets are frozen, and money typically earmarked for the arts is being directed elsewhere. The result: Our artists lost more than $80,000 in earnings between September and December, and we project greater losses this Spring. On December 18th, when Board members saw this, they agreed to allocate $30,000 in immediate financial relief to artists. Five days later, on December 23rd, this relief hit artists' bank accounts.  
Board members also agreed to relaunch the Teaching Artist Emergency Fund, and swiftly found two donors to kick off the Fund with $5,000. We know our artists want more than financial relief. They want to be put to work, to breathe joy and creativity into virtual learning, and to show up for kids when they could really use us! One hundred percent of the funds raised will go directly to putting artists to work and benefiting children. 
Wanna see who these amazing board members are?!? Check them out here. 
In closing out this love letter, I am sharing just one example of the outpouring of love from YA artists when they received this unexpected and much needed financial relief: 
It brings me to tears but tears of great joy to know we have people like you in support of your artists in these trying times! With the holidays coming up and very low income on our part, we want to say God is good and this blessing is just in time and right on time and much needed. Working with YAMD for two decades has been one of our best journeys, as we are still working to create top quality virtual prerecorded videos and live Zoom performances, etc. To have some kind of income flow and we are more than dedicated to staying connected to youth and community which is most important. We love you dearly, Brandon Albright, Illstyle Peace Productions. 
We love our Board dearly, too! Be on the lookout for how you can join our board in loving our artists through the Teaching Artist Emergency Fund this Friday.
With appreciation,
Stacie
By now, Maryland students will have started their new school year. We know they have been missed terribly by their teachers and by their friends. And while they might not be reuniting in the ways that they had hoped, we know that they can still feel the love, the excitement, and support they would normally get in person. We know this because this summer, we were able to build and maintain the community and connections that students and families have come to expect from our programs—even though the circumstances were different.
Just as in years prior, students practiced their math and literacy skills each day with educators and professional teaching artists in our Virtual Summer Arts & Learning Academy (SALA). Besides the traditional benefits of summer learning, our students had the additional experience of getting adjusted to online learning in the fall. One parent said, "I really appreciated the fact that students were able to be in a virtual camp and prepare themselves for the upcoming virtual school year."
"I really appreciated the fact that students were able to be in a virtual camp and prepare themselves for the upcoming virtual school year."
And because they were learning through the arts, students were engaged, they had fun, and they were driven to learn and succeed. We saw puppet theatre performances and were treated to kitchen instrument concerts. We heard all about new passions ranging from embroidery to engineering. And we saw students and their families and caregivers having fun while learning and engaged in the arts together.
Teaching artist Marian McLaughlin's class made a collaborative crankie—a moving illustrated story—after reading the book "City Green". The crankie shows everyone's garden plots in their imaginary community garden.
We discovered that our Virtual SALA students RULE Zoom! At this year's program culmination, students presented collaborative class projects and Creative Challenges and we were absolutely blown away by their creativity and hard work. And it's not just the time and effort that was apparent in their presentations—you can feel their joy and pride, their camaraderie and excitement—even through the screen!
Students in this year's Virtual Summer Arts & Learning Academy worked with teaching artist Femi the Drifish and educator Mrs. Cassin to create "Our Changing World News".
We also had the honor of congratulating 19 incredible students on their completion of the Bloomberg Arts Internship, the college and career readiness program for rising high school seniors. Like our SALA students, the 2020 interns completed the entirety of the program virtually. All summer long, these students honed their writing skills, prepared applications for college, attended virtual workshops on financial literacy and college preparedness, and met over Zoom with professional artists working across a multitude of disciplines.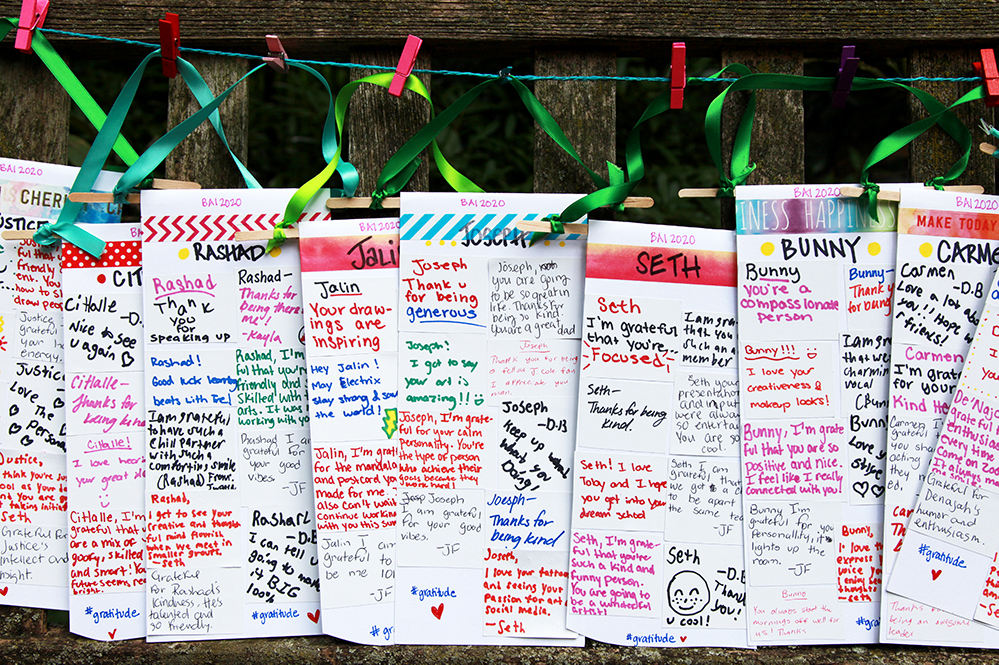 At their worksites, interns completed projects that required extensive research and the development of new skills. They engaged in lively and thoughtful discussion; they showed up and challenged themselves and inspired each other to aim high; and they cared for and supported one another daily.
This video, created by Gyasi Mitchell, BAI class of 2019, offers a glimpse into week four of our virtual Bloomberg Arts Internship.
We learned so much about reaching and inspiring students virtually and about connecting talented and committed teaching artists and educators with families in all new ways this summer. This was not the summer any of us expected when we started planning for it last year—in what now feels like a very different time. But summer is a magical season at Young Audiences, pandemic or not, and we are so thankful to be able to take this experience and all the lessons we learned and apply it to the new school year.
We are truly excited to now offer a diverse array or synchronous and asynchronous programing to help schools engage students this school year. We know that creating content that changes the pace of remote learning can be a daunting challenge for educators. Young Audiences' remote learning programs provide the tone and flow that makes learning interesting and fun. Our standards-based resources motivate students to stay engaged and provide busy educators with high-quality, fully customizable options for delivering content. Visit yamd.org/remote-learning to learn more about how our professional teaching artists bring excitement and joy into your virtual classrooms!
Bringing photographer Christina Delgado to Cross Country Elementary Middle School in Baltimore City this spring for a self portrait residency was supposed to be one of the highlights of the school year. Last year, when Kristine Buls, the lead science teacher at the school, responded to a call to work with the artist, she knew the opportunity would be just right for her students. In her previous life, Ms. Buls worked as a photographer, so the thought of getting cameras into her students' hands was irresistible. It had to happen! At the time, of course, no one imagined that by spring, working together in a classroom would not be possible.
As it did around the globe, the COVID-19 pandemic sent the Cross Country students into a starkly different way of living and learning. "I was really upset when I realized we weren't coming back to school," said Ms. Buls. The artist residency that had been planned was special. Exelon, the energy provider and parent company of BGE, commissioned the project and would display the finished Cross Country student photographs and mixed media pieces as a permanent installation within their Chicago headquarters. It was a big deal—one that the school faculty and staff, Christina Delgado, and the students and their families had all been looking forward to.
Could the adults in our students' lives be resourceful and creative, proactive, and flexible–not just to ensure that children's basic needs are met, but that their whole selves are nurtured—even in times of crisis? The answer is yes. Ms. Buls said that she was met universally and enthusiastically with support. "It means so much that they're using actual cameras instead of cell phones. It's a very different experience and most of them haven't had that. And the fact that we could morph this experience from in-person to virtual… I think it's gonna be different, but I think it's gonna be great!"
The public health crisis could have halted any dreams of working on the project, but this was an opportunity too special to let slip away. With so much already being taken from students because of COVID-19, Principal Stanfield and Young Audiences thought it was more important than ever to create this work during this unique moment in history. "This has been a big undertaking and I wouldn't have been able to do it without the efforts and guidance of Katherine Dilworth from Young Audiences and Kristine Buls—there have been many successes along with many moments of learning and adjusting," said Christina Delgado. "This experience has played a pivotal role in my teaching/teaching artist career."
Christina reworked her in-person lessons so that they could be delivered virtually and the school district got the students the equipment they needed to complete the project. "I was elated that through this experience, Cross Country was able to purchase 50 cameras for their school," said the artist. "It has always been a dream of mine to leave cameras for students and teachers so that the work can continue."
"Parents have been really, really excited about participating," said Ms. Buls. "I think the school closures and social distancing has been really difficult on the kids. They feel special—they're getting a camera! And I think it's gonna be special, too, because of the time they're doing this in. They're recording history."