Written by Barbara Krebs,
Young Audiences volunteer and Sunburst Society member
Classes may be just about to wrap up, but for 33 Baltimore students who have accepted positions in the Bloomberg Arts Internship this summer, a different kind of learning experience is only beginning. Young Audiences, with funding from Bloomberg Philanthropies, established a now eight-week program three years ago to offer paid internships to rising high school seniors. Twenty local arts facilities and museums are currently providing jobs that offer a wide range of dance, music, art, theatre, cultural, and curatorial opportunities.
It's no great secret that internships are often viewed (and rightfully so) as stepping stones to higher education opportunities and greater career possibilities. Internships offer high school and college students crucial job skills and mentorship relationships that help them stand out in an often crowded job market. But paid internships can be few and far between.
The Bloomberg Arts Internship aims to make paid internships in the arts and culture field more inclusive and available to students who otherwise may not have the opportunity to network and build skills in that professional setting.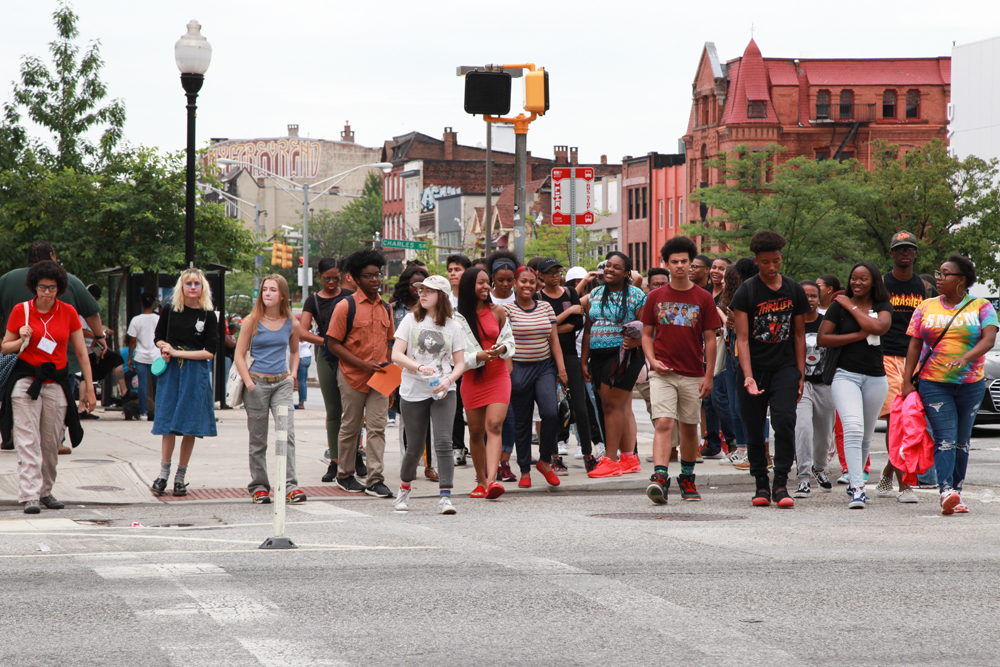 An article–How Internships Are Changing the Art World–from Artsy.net has this to say about how intertwined the relationships and skill building are. "It's not only that your intern could be your successor, they might one day be your colleague," said Selene Preciado, program assistant for the Getty Marrow Undergraduate Internships in Los Angeles.
Indeed, they might! But these Bloomberg Arts internships go far beyond job training and networking, as important as these are. These students will gain familiarity and comfort with workplace etiquette, improve verbal and written communication skills, explore cultural assets in our city, develop critical life and work skills, and prepare to apply and transition into college. In addition, the program aims to encourage a more equitable and diverse range of staff and audiences among cultural institutions, while instilling in the students an understanding and appreciation of the important civic contributions of arts and culture.
That's a lot to learn in just eight weeks! And yet, these arts internships provide not just amazing arts education, the students also strengthen their:
computer capabilities (Center Stage – "how to use leading software for the industry")

 

research, interview, and publishing skills (Baltimore Office of Promotion & the Arts – "the student will research history, interview artists, and ultimately publish a youth-organized 'tour' of murals and sculptures")

proficiencies in following a project to completion (Maryland Film Festival – by curating and promoting short films, the student will "be involved in every aspect, from curation to marketing to execution.")

 
In short, skills to last a lifetime. In the Artsy article, Maxwell Anderson, president of the Souls Grown Deep Foundation in Atlanta said, "Museums desperately need talent in all sorts of positions–curators represent a fraction of the staff of museums. We'd be thrilled if an accountant emerges from [our program] and finds their way into the museum profession, but they're an accountant who has knowledge and experience in a particular cultural remit that otherwise they may not have."
In the short bios that the students provided, I noticed one recurring theme: learning. These are students who have a passion for learning, who will make the most of their internship, and who will carry what they learn with them into the future. I have no doubt that they will take this small stepping stone and use it to build a solid foundation in the years to come.
smARTbeats returns Saturday, December 2 during the weekly children's music program Young At Heart on WTMD. On this month's smARTbeats segment, Young At Heart host Lisa Mathews sits down with YA roster artists and Latin Grammy winners Andrés Salguero and Christina Sanabria, better known as 123 Andrés.
The two have brought many multicultural performances and bilingual musical experiences in Spanish and English to children across the United States and Latin America. Their second album, Arriba Abajo, even won the Parents' Choice Gold Award for children's music!
Andrés' career began at a very young age in his home country of Bogota, Colombia, performing and even recording an album at only eight years old. His love of children's music and the opportunity to teach and inspire through music, however, came to the artist as an adult. And we are so happy it did! His talent, energy, and charisma make it easy to see why Billboard Magazine called him "a rockstar for little language learners!"
Families could spend hours surfing just their youtube channel filled with the songs, videos, and cartoons that have kids and adults alike hooked and learning. But these catchy, uplifting beats will make you want to enjoy 123 Andrés in person.
"My aim is for children to emerge more accepting, tolerant and curious when they meet others who are different from them," says Andrés. Likewise, he says, "For Latino children, it's especially important to have opportunities to see a positive role model who looks like them and to experience programming that celebrates their language and background."
123 Andres' audiences are treated to a tour of Latin America, learning new vocabulary, history, culture, and geography through songs in both Spanish and English, and dances like salsa, bachata, plena, mariachi, vallenato, bolero, champeta, and more.
What 123 Andrés brings into schools is fun, plain and simple. And fun is something everyone understands no matter what language you're speaking! 123 Andres will make the whole family salta, salta (jump, jump)!
Young At Heart airs weekly from 7 to 8 am on Saturdays, featuring music that appeals to parents and children alike. Previous shows have featured music by Wilco, David Bowie, Andrew & Polly, Weezer, and others.
Hear YA teaching artist and musician 123 Andrés online now!
Over the summer, Baltimore City Public School principals convened for the third time to attend a professional development course unlike any other. The first session was held in May at the Baltimore Museum of Industry where they explored the many ways arts and creativity intertwine with local industry of both the past and the future. The second, at Creative Alliance, where the group attended a workshop and lunch with Artesanas Mexicanas, a group of talented Mexican women, now residents of Southeast Baltimore, who share their rich cultures and folkloric traditions through art.
On this third session, principals gathered on a stage where so many critically acclaimed actors and singers have stood before. Looking out into the house of the Hippodrome Theatre, one could only imagine the thrill a performer might feel standing before a crowd of fans.
But how does an actor get to the stage? And what needs to happen for a show to go on? What can Baltimore City Public Schools do to prepare students for careers in theatre? These are some of the questions local principals explored in Creative Collaborations for School Improvement, a leadership course designed for principals to experience first-hand the many facets of Baltimore arts and cultural organizations, as well as how innovative partnerships with area cultural resources can help schools prepare their students for careers in fields related to the industry.
Throughout the course, principals have the opportunity to build strong relationships with not only engaged cultural organizations, but with expert teaching artists, like YA roster artists Matt Barinholtz of FutureMakers and internationally acclaimed slam poet Gayle Danley, as well as guest speakers including arts integration advocates.
"I do think that in my 31 years in City Schools that the Creative Collaborations for School Improvement course is among the most beneficial professional developments in which I have participated," said Sinclair Lane Elementary School principal Roxanne Thorn-Lumpkins.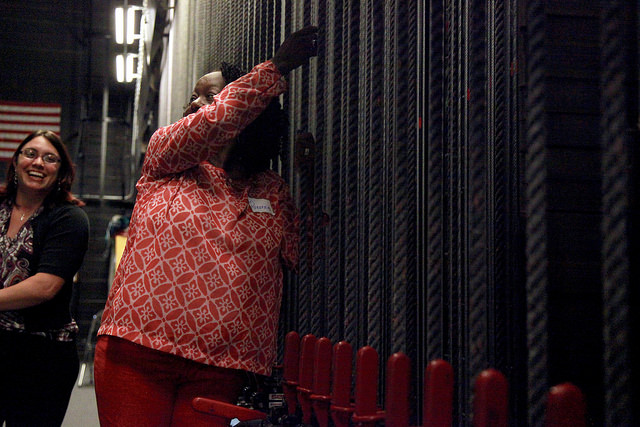 The principals were briefed on the history of the renowned theatre, then were led on a tech tour of the space by assistant electrician Danyela Marks. High above the stage is home to the control center of all of a production's moving parts: the fly system. Thick, strong ropes, levers, weights and counterweights are all strung taut, connected precisely and purposefully, reminiscent of the inside of a piano. Any movement on the set during a production: a wall sliding, scenes changing, or an actor flying, is made from here. To work on this side of the curtain, they discover, a person needs a solid foundation in math and physics.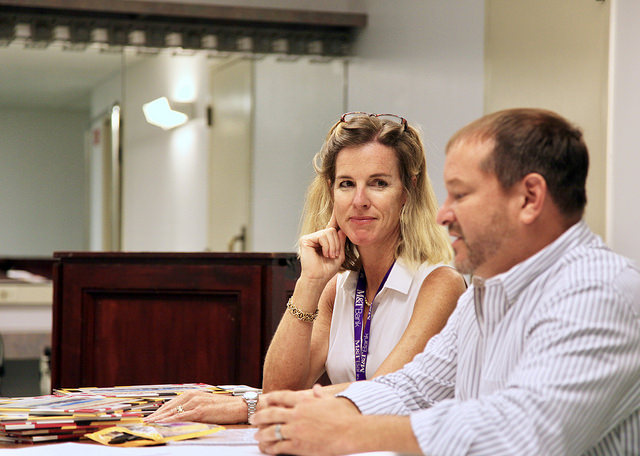 The group descended from the tech booth to the dressing rooms, located one level beneath the stage. Here, among the bright lights and mirrors, they learned about the Hippodrome Foundation (HFI), its mission & educational outreach programs, and how their schools can take advantage of them. They spoke with Olive Waxter, Director of the Hippodrome Foundation and Ron Legler, President of the France-Merrick Performing Arts Center about their institutions' commitment to providing opportunity in the community.
Former long-time Baltimore Sun critic and current WYPR theatre critic Judy Wynn Rousuck met principals for a fun written exercise. Part of Judy's work with HFI centers on enhancing written communication skills with young people. On this day, she challenged the educators to write a short descriptive piece using just one of their fives senses to illustrate their subject. It is easy to imagine the excitement young people must feel in Judy's classes when they see their words come alive and work together to paint a vivid picture.
Of course, no visit to the theatre is complete without getting a taste of the performers' experience. So here, on the Hippodrome Stage, principals stepped into students' shoes to work with co-director of the Hippodrome Foundation's summer theatre camp, Becky Mossing, education director Barb Wirsing, and Markia Smith, a former camper, now a counselor to learn a number from the musical 70, Girls, 70. At the piano, they worked on vocals. The group then moved on to blocking (the movements and positions actors are assigned on stage), and after some practice, revealed their grand performance of "Coffee (In a Cardboard Cup)." And they did a pretty great job.
The next Creative Collaborations for School Improvement course will be held at Center Stage on October 7, 2017. Principals and assistant principals who would like to register for the course should contact Valeriya Nakshun for more information.
Young Audiences of Maryland and the Greater Baltimore Cultural Alliance are searching for 25 rising Baltimore City public high school seniors for a six-week paid summer internship!
In 2012, Bloomberg Philanthropies created the Bloomberg Arts Internship program in New York City as a pipeline for public school students to college and careers. It is a rigorous program with three major elements: a six-week placement and project working day-to-day in an arts organization; visits to arts/cultural organizations; and professional development. This program's success led the foundation to expand its reach, first to students in Philadelphia, and in 2017, to Baltimore City. Young Audiences and GBCA are thrilled to be able to offer this opportunity to Baltimore City School students as well as Baltimore's arts and cultural institutions.
This is so much more than a summer job, it is a chance for young scholars to be challenged and inspired while getting meaningful, real-world experience. This phenomenal opportunity is made possible through the Bloomberg Arts Internship program which places qualified students at arts and cultural institutions across Baltimore City. This summer, 25 students will participate in a rich, immersive, and dynamic learning environment in which they will build career skills and plan for their futures. Baltimore's renowned and reputable arts and cultural organizations will guide interns through both creative and administrative projects, offering a unique perspective of  day-to-day operations within the art world.
STUDENTS
Interns are paid $9.25 per hour for 35 hours per week for the six-week internship, and an additional 20 hours during the orientation week—a total of 230 hours from June 20 – August 4, 2017. To apply, students must be enrolled in a Baltimore City public high school and:
Successfully complete junior year in 2016-17
Be 16 years of age or above by June 15, 2017
Have a passion for the arts
Commit to attend the 35-hour/week internship plus 20 hours of orientation  (June 20-23)
Commit to working full-time for 6 weeks  from June 26-August 4
Be able to work legally in the U.S.
Applications are due March 31, 2017
Submit an Application  |  Learn More
ARTS & CULTURAL ORGANIZATIONS
Arts and Cultural organizations play a critical role in The Bloomberg Arts Internship. We are looking for 12-15 partners with the capacity to provide a rich, quality experience for the interns and meet the necessary Bloomberg guidelines. Worksite partners will be paid $750 per intern to help offset the costs of staff time in supervising and guiding the intern(s). Although only 12 to 15 organizations will be selected as worksite partners, there will be other ways to collaborate with us on BAI, such as hosting visits as part of the cultural field trip days or participating as a presenter/panel member as part of the professional development curriculum.
The YA/GBCA team comprises members with expertise in arts leadership and management, curriculum development, and arts education. Partners can expect consistent support from the YA/GBCA staff throughout the program.
Applications are due April 14, 2017
Apply to Become a Worksite Partner |  Learn More
For more information
contact Chaz Walters, Bloomberg Program Coordinator
chaz@yamd.org or call (855) 245-2787