Written by Stacie Sanders Evans,
President and CEO of Young Audiences/Arts for Learning
The arts shape who we are. When we're exposed to an art form–when we're diving in and really experiencing it–we're seeing life through a different lens. This means that we're accessing information that might otherwise have been out of reach and making connections that may not have been evident. And when these experiences happen in the classroom, students are empowered to make decisions, to collaborate and build with their peers, and to understand lessons in a way that is accessible to them. In celebration of National Arts in Education Week, we want to amplify the message that now more than ever, the arts are an essential part of every child's education.
I remember the steel drums from my first assembly in second grade, the ballet performance of my first field trip at the Columbia Coliseum in South Carolina, and music class in the trailer. My first artist-in-residence experience introduced me to Batik in fourth grade. We had arts integration before anyone thought we needed to define what that was: In fifth grade, our teachers gave us a camcorder, and we produced a music video using Cyndi Lauper's lyrics to True Colors as part of ELA curriculum.
This was all before I turned 12 years old. These moments made a mark on me. #BecauseOfArtsEd, I knew that life existed beyond my neighborhood, that history expanded beyond what I knew, and that those who "got" Cyndi Lauper "got" me at a time when I needed to feel understood. Three decades later, these moments from school resonate with me more than anything else.
It turns out my robust arts education back in the 80's is now deemed a privilege. In the years since I was in elementary school, the facts show that kids today have fewer artists and arts teachers in their lives and as part of their public education.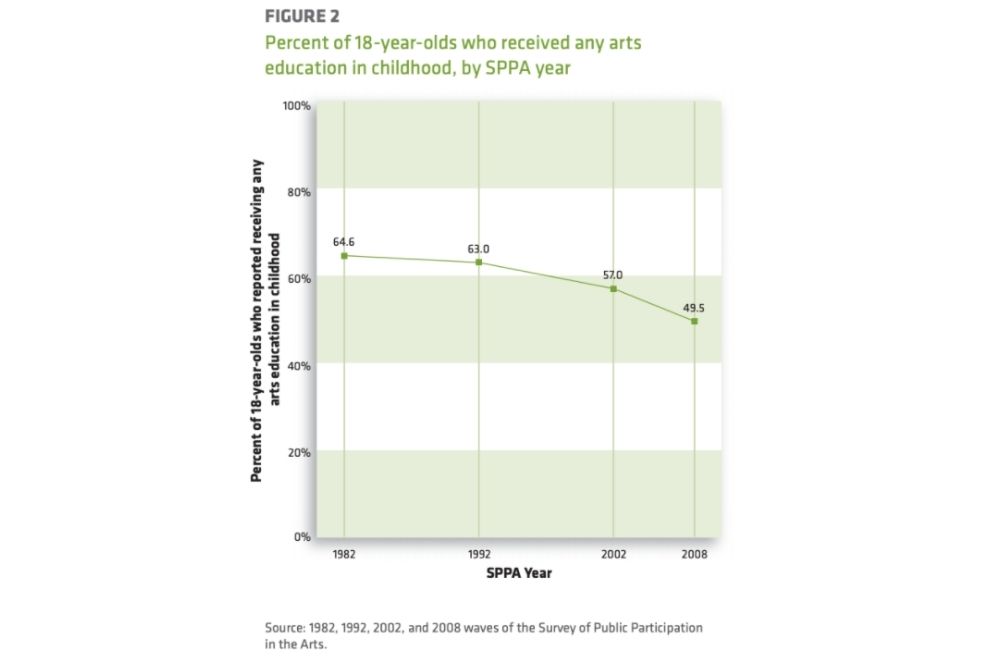 This is not the only privilege that I benefit from and, when you are a person carrying privilege, it's easier to look at the world through a window instead of raising the mirror to the world you are a part of. The mirror reveals a City where the police receive a budget of half a billion dollars–a sixth of the overall city budget–while our school system receives a mere fraction of that. The mirror shows that Black and Brown children in our state are less likely to have visual arts, dance, music, and theatre as part of their education. Imagine all of the moments of discovery, expression, connection, and cohesion that are eliminated by not having those kinds of teachers in their life?
The disinvestment grows. With the economic fallout of COVID, "belt-tightening" is already happening in school budgets; arts positions for the current school year in my kids' public school have been cut, and I've heard that other arts teachers have either lost their positions or have been asked to not teach their art forms (i.e. an "elective") but in a "core" subject. How is this ok when children are experiencing the trauma of a global pandemic and the murdering of Black people, including George Floyd, Breona Taylor, and Ahmaud Arbery? How is this ok when the arts could help build the sanctuary our kids need and fuel the empowerment and self-actualization needed for the next generation to create a more racially just world?
At Young Audiences, we see that when we integrate the arts into instruction–beyond the art room or dance studio, and into literacy and math–you get high levels of engagement and, in turn, higher levels of achievement, particularly for kids who are identified as below grade level. This is because different things motivate and speak to different learners. For many kids, the arts may just be that thing. Each child has their own light switch that they sometimes need help turning on. The arts, teaching artists, and arts teachers in my life flipped that switch for me.
We at Young Audiences have come to realize that it can play a more intentional role in disrupting systems, like public education, when we see that system oppressing Black and Brown children instead of uplifting them. We are starting by getting our own classrooms in order, so that the faculty who teach in our Summer Arts & Learning Academy can construct anti-racist classrooms where all children are celebrated, honored, and affirmed. We asked this faculty to step into their roles as change agents within the current system. We understand that, in order to transform systems, we need to lift up an alternative model for what a new just system could look like. Artists, arts teachers, and arts organizations are essential to dismantling and rebuilding.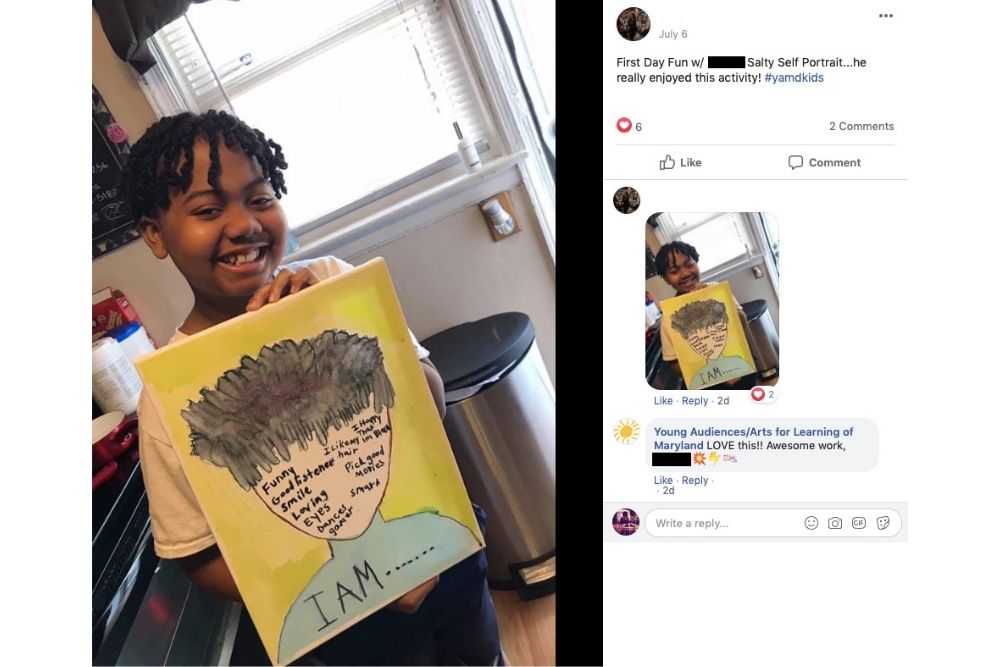 YA, in community with teaching artists, is on a course to re-envision how the arts can be used to transform the learning environment in school settings and at a systemic level. We know that #BecauseOfArtsEd, children start Kindergarten better prepared and ready to learn; that #BecauseOfArtsEd, students experience less summer learning loss, leading to more instruction time devoted to learning new material; and that #BecauseOfArtsEd, school communities see positive academic achievement and social and emotional development among students. The new system undoubtedly includes the arts. And we know that students absolutely deserve the arts as part of a well-rounded education. But, in this society, if we want to see a different reflection when looking in the mirror, we need them.
This post originally was written for AEMS and their #WeAllDeserveArts campaign. To learn more about the important work AEMS does to support and advance quality arts education in Maryland, visit their website at aems-edu.org.
Baby Artsplay!™ provides multi-sensory learning at Judy Centers with funding from Saul Zaentz Foundation
BALTIMORE – Beginning this month, hundreds of Baltimore's youngest children, their families, care providers, and educators will engage in hands-on, arts-integrated programs at five Baltimore City Public School Judy Centers that support early childhood education and expand kindergarten readiness. This innovative new initiative is being offered by the local nonprofit, Young Audiences of Maryland.
Baby Artsplay!™, a nationally-renowned program developed by the Wolf Trap Institute for Early Learning Through the Arts, serves infants and toddlers from birth to age three and the family members and educators who play a critical role in their development. Wolf Trap is a nationally respected leader in early childhood education research and programming and is supported by the U.S. Department of Education.
"Research shows that early childhood programs are critical to school readiness and that the arts foster language development as well as social and emotional development, creativity, and self-expression—all of which contribute to school readiness and the long-term success of kids."
The program's creative caregiver/child workshops, classroom programs, and professional development for caregivers are led by teaching artists—professional artists who have been trained by Wolf Trap to integrate their art forms into more traditional learning settings.
The launch of Baby Artsplay!™ in Baltimore is funded through a $360,000 grant from the Saul Zaentz Foundation. The program is now offered in several cities including Indianapolis, New Orleans, Fairfax, and Pittsburgh.
Through Young Audiences, Baby Artsplay!™ programming began in October at five Baltimore City Public School Judy Centers and their care provider affiliates. The Judy Centers include: Liberty Judy Center, Moravia Judy Center, Harford Heights Judy Center, Lakeland Judy Center, and the DRU Judy Center at Dorothy I Height Elementary. Judy Centers throughout Maryland provide wrap-around services for early childhood development and parenting support.
Baby Artsplay!™ programming includes:
● Caregiver/Child Workshops: Caregivers and their children work with teaching artists in the performing arts to enhance parenting and playtime techniques by incorporating singing, dancing, drama, and multi-sensory experiences. Teaching Artists guide caregivers as they engage with their children, encouraging mindfulness and intentionality in common parenting practices such as rocking children, singing to them, and more. These free, drop-in workshops also provide tips to continue the approach at home.
● Teaching Artist Residencies: Teaching artists work with teachers and care providers to create arts-integrated experiences in their classrooms that provide social and emotional, empathy-filled learning to children. Teaching Artists guide teachers and care providers in research-based techniques similar to those in parent workshops, all with the goal of aligning joyful learning with children's developmental needs.
● Professional Development: Pre-K teachers, kindergarten teachers, and care providers convene at Judy Centers for an immersive, three-hour professional development experience to build skills in creative childhood development using research-based arts-integrated approaches.
"Research shows that early childhood programs are critical to school readiness and that the arts foster language development as well as social and emotional development, creativity, and self-expression—all of which contribute to school readiness and the long-term success of kids," said Stacie Sanders Evans, Young Audiences President & CEO. "We are thrilled that, thanks to the Saul Zaentz Foundation, we can infuse the arts into the development of children in the first years of their lives."
"Baby Artsplay is an engaging program with a great teacher and is a big draw for our Judy Center families with babies and toddlers," said Crystal Francis, Director of Early Learning at Baltimore City Public Schools. "Thank you to Young Audiences and the Saul Zaentz Foundation for helping to make this program possible."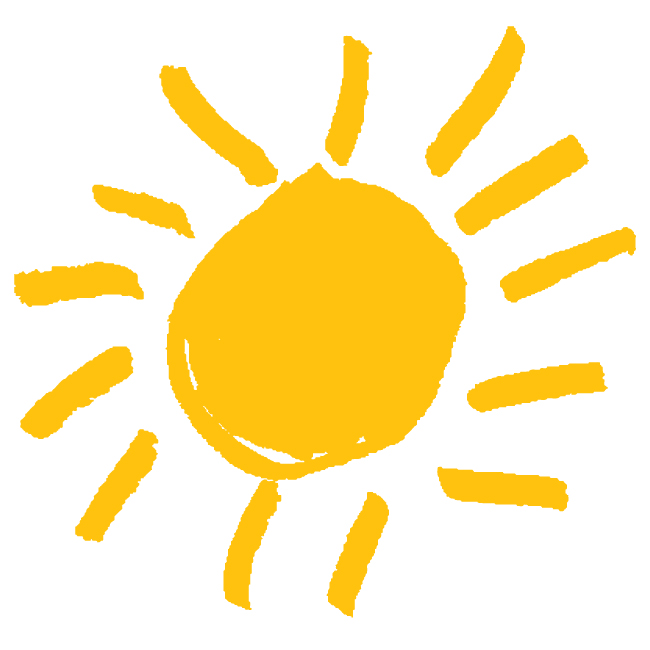 About Young Audiences/Arts for Learning:
Started in Baltimore in 1950, Young Audiences is the nation's largest arts-in-education provider. As the Maryland affiliate, Young Audiences/Arts for Learning (YA) is devoted to enriching the lives and education of Maryland's youth through educational and culturally diverse arts programs. Through Young Audiences, professional artists from all disciplines partner with leaders and schools for over 7,000 hands-on arts learning experiences that reach more than 190,000 Maryland students. Young Audiences envisions a Maryland where the arts are valued for their capacity to transform lives, and where every student is immersed in opportunities to imagine, to create, and to realize their full potential.
Written by Alan Hoff,
Young Audiences Board of Directors, Vice Chairman
The arts are not just nice, they're critical to the development and well-being of our communities. I am both excited and proud that Baltimore County has continued to recognize the importance of funding for the Arts, particularly Arts in Education, in the current budget.
In addition to being a proud citizen of Baltimore County, I am also the Vice Chair of the board of Young Audiences/Arts for Learning, an arts-in-education organization that serves more than 12,000 Baltimore County students each year. I also serve as the president of the board of WTMD, Towson University's radio station.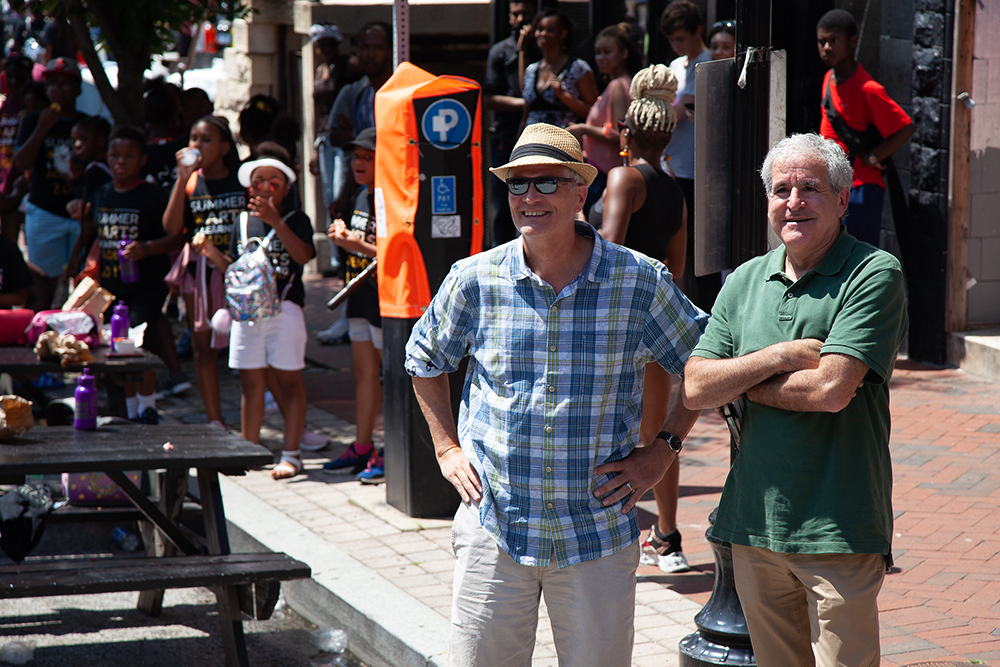 I've seen the power of the arts and what the arts can do for our community here in Baltimore County. The fact that the County–even with budget challenges–has continued to support the arts is impressive and commendable.
From a pure cost-benefit analysis, the arts provide a strong return on investment to the County. For example, Young Audiences is grateful to have received $40,000 in funding from the Citizens of Baltimore County through the Baltimore County Commission on Arts & Sciences last year. At the same time, with that investment, we served more than 12,000 County students and provided nearly $770,000 in payments to teachers and to teaching artists who live in Baltimore County.
Beyond a cost-benefit analysis is what I call the tangible intangible: The power of the arts that I see every day. I see it in kids' eyes, I see it when they look up to a teacher who they admire, I see it in the difference it makes in helping them learn, and I see the impact the arts have in programs like WTMD's Saturday Morning Tunes where we've literally welcomed thousands of kids and their parents.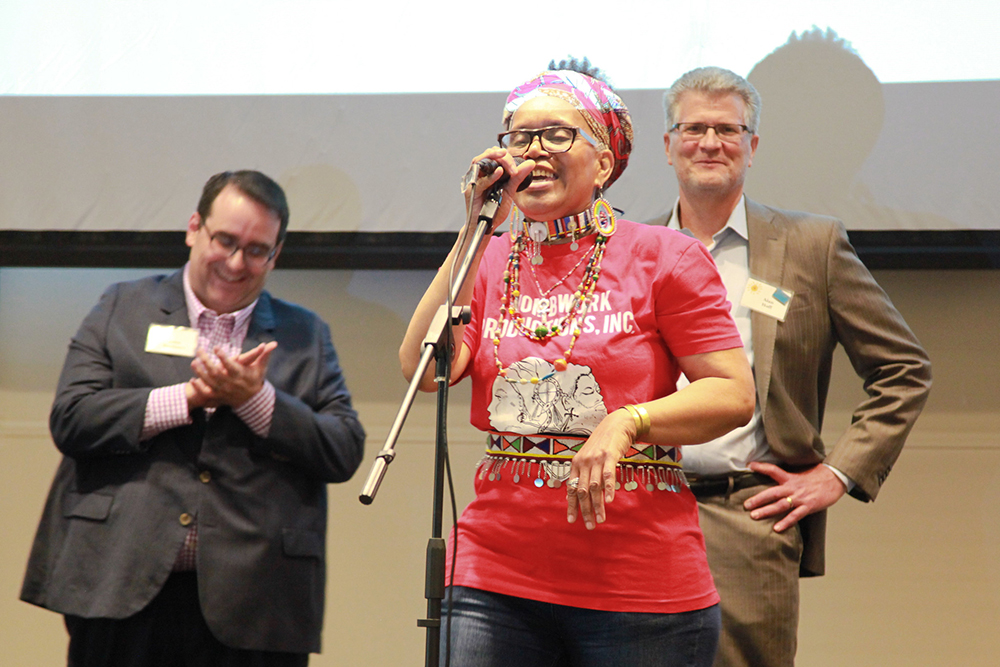 At Young Audiences, I have seen students learn fractions by beatboxing, math from drumming, and grammar from a poet or a spoken word artist. Not only do the arts provide kids with opportunities to express themselves and build confidence, but they also support all those educational priorities we talk about–like math and reading skills.
I'm probably the biggest anomaly that there is to talk about the power of the arts. I'm a lawyer–and I'm a business lawyer at that. But I am making this case because I see every day the power of the arts and I see that it makes a difference in people's lives.
Alan Hoff joined Young Audiences, Arts for Learning Maryland's Board of Directors in July of 2014. In addition to volunteering on both the Executive and Bridging the Inspiration Gap Committees, he currently serves as Vice Chairman of the Board. Alan has volunteered countless hours of his time and is a passionate advocate for ensuring the artistic, emotional, and intellectual growth of the children in our community. We are thankful every day for his advocacy, for his voice, for his vision, and for his generous spirit.
Young Audiences, the statewide nonprofit that boosts student achievement by bringing arts integration into classrooms and children's learning experiences, has hired Leyla Layman as its new Chief Operating Officer.
Former Young Audiences COO Kurtis Donnelly will remain with the organization, taking on the newly created role of Director of Summer Learning, to enhance and expand Young Audiences' summer programming and impact.
Leyla Layman is a career public servant, most recently serving as Deputy Executive Director, Operations and Chief of Staff for the Maryland Department of Human Services' Child Support Administration where she managed strategic initiatives to increase program effectiveness and worked to identify and create systems to improve operating efficiency.
"Working to improve outcomes for children and communities has been the primary focus of my career," said Layman. "Young Audiences offers an innovative approach of using the arts to keep children interested in learning. I am honored and excited to become part of the team."
Previously, Layman was Director of the Baltimore City Health Department's Office of Youth Violence Prevention and was responsible for program oversight, expansion, and evaluation.Under her leadership, youth outreach increased by 150%.
"Leyla's experience working with communities, families and local institutions made her an ideal candidate for our COO," said Stacie Sanders Evans, Young Audiences President and CEO. "Welcoming a uniquely talented, proven leader like Leyla will allow our organization to connect with more children, sparking their passions with arts-integrated learning. I'm excited to work with her."
Kurtis Donnelly's transition to Director of Summer Learning comes as Young Audiences expands its focus on year-round learning, implementing and growing programs in the summer. In his nearly three years as COO, Donnelly streamlined the success of Young Audiences' Summer Arts & Learning Academy while implementing and coordinating all of Young Audiences programming.
"Kurtis' leadership and understanding of how arts-integrated summer learning can be effective puts Young Audiences in a great position for continued success," said Sanders Evans. "Engaging children in ways that make learning fun is crucial to uncovering opportunities for positive development and growth. I'm incredibly thankful that Leyla and Kurtis are here to help build on Young Audiences' work doing just that."
"Working to improve outcomes for children and communities has been the primary focus of my career," said Layman. "Young Audiences offers an innovative approach of using the arts to keep children interested in learning. I am honored and excited to become part of the team."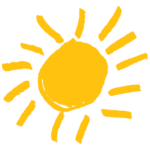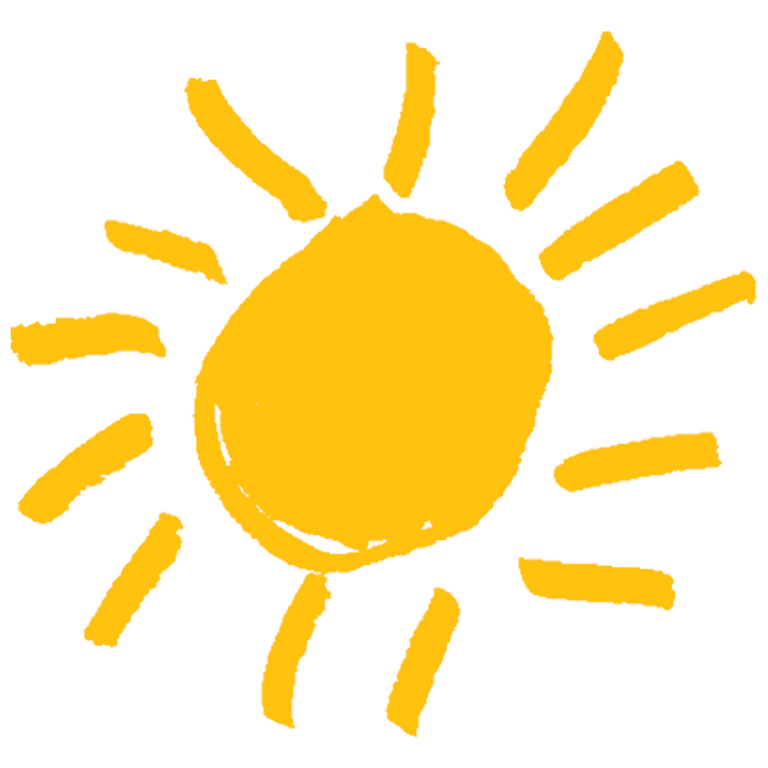 Started in Baltimore in 1950, Young Audiences is the nation's largest arts-in- education provider. As the Maryland affiliate, Young Audiences/Arts for Learning (YA) is devoted to enriching the lives and education of Maryland's youth through educational and culturally diverse arts programs. Through Young Audiences, professional artists from all disciplines partner with leaders and schools for over 7,000 hands-on arts learning experiences that reach more than 190,000 Maryland students. Young Audiences envisions a Maryland where the arts are valued for their capacity to transform lives, and where every student is immersed in opportunities to imagine, to create, and to realize their full potential.
Written by Barbara Krebs,
Young Audiences volunteer and Sunburst Society member
On Friday, November 17, Young Audiences hosted its second annual Art Crawl at City Neighbors High School, an arts-integrated public charter school in Baltimore City. Approximately 75 attendees filled the school's stylish café, mingling among lush booths, comfy couches, ambient lighting, and in the glow of neon signs. As the group noshed on delicious hors-d'oeuvres and drinks provided by Flavor, Union, and Noble Vintners, Young Audiences President & CEO Stacie Sanders Evans welcomed the crowd, "Every person in this room played a role in closing the inspiration gap this summer." The inspiration gap, she explained, is the difference between what we know the best conditions are for learning and what kids actually get these days in school. "Thanks to you, we reached 825 MORE young people last summer and expanded our summer programs to include middle and high school students."
She presented a short video highlighting Young Audiences' Summer Arts & Learning Academy, talked about the impact on the students that it serves, and shared the organization's plans for the future. This year, Young Audiences brought their Summer Arts & Learning Academy to four Baltimore-area schools, serving more than 1,100 students over a 5-week period.  Next year, the goal is to double this achievement by expanding to eight academies with an enrollment of 2,200 students.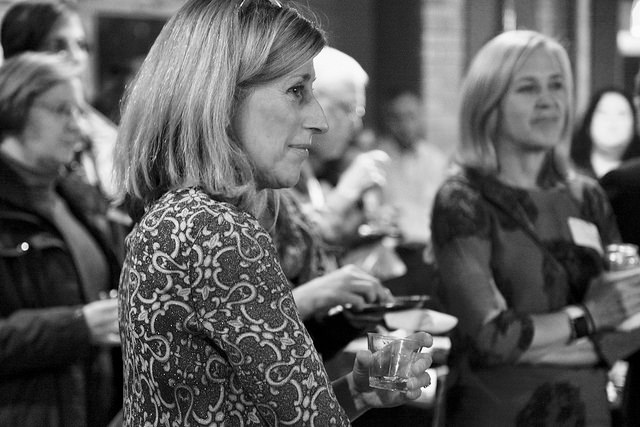 You couldn't help but feel proud of what Young Audiences has accomplished in stemming summer learning loss. With the help of dedicated artists and academic teachers, children who regularly attended the Academy not only avoided summer learning loss in reading and math, but in many cases made significant gains over their national peers in standardized testing. The findings showed potentially groundbreaking progress in tackling summer learning loss, a chronic challenge facing public schools.
That sense of pride was especially felt among the attendees who, either through corporate or private donorship, provided funding to bridge the gap between the City School system's budget and the actual cost of the Academy. I had been fortunate enough to observe one Summer Arts & Learning Academy over the summer and was delighted by how many guests shared their own stories of Academy site visits. And on this evening, we had the pleasure of experiencing the Academy not just as observers, but from the perspective of students.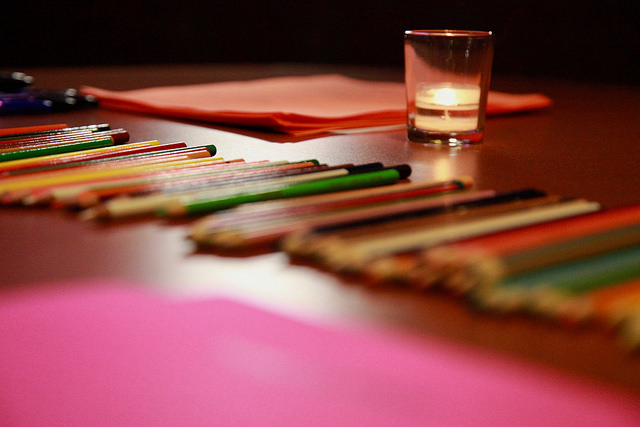 We were divided into groups before departing on our journey to experience learning with Young Audiences. At three arts-integrated learning stations set up throughout the school, artist-teacher partners invited attendees to step into the shoes of students and learn academic content through the use of various art forms. Of course, since it was an art crawl for adults, there were cocktails to enjoy as well!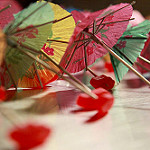 One Fish, Two Fish, Red Fish, Blue Fish
Lemonade, vodka, and Blue Curaçao garnished with a Swedish fish
Concocted by Board Chairman and Sunburst Society Member Randy Osteen and Stephanie Felix
We took our seats in the library where paper, markers, glue sticks and googly eyes had been set out on tables. Fiber artist Kathrine Dilworth and her teacher-partner, Jaime Clough, explained they had worked with first graders in the Summer Arts & Learning Academy to reinforce math skills.
We were instructed to draw a monster, name it, and then partner with someone to create a mathematical word problem, as this is a difficult skill for six-year-olds.  So after Pink Plush (my furry pink monster) was completed, the gentleman across the table handed me his monster, Curley, and I wrote the following, "If you subtract Curley's eyes (3) from Pink Plush's (4), you are left with one eye."  The teacher smiled and encouraged me with a cheery, "Perfect!" I can picture her having done that many times this summer.
S.T.E.A.M.
Belgian-style amber ale and Grand Marnier
Concocted by Board Secretary and Sunburst Society Member Tea and Kevin Carnell
You've heard of STEM, haven't you – Science, Technology, Engineering, and Math?  Well, when you add the Arts, you get STEAM!  In the music room, after grabbing our next cocktail, we met percussionist Jason Armstrong Baker who taught us the basics of beatboxing.  After demonstrating how to get Siri, Apple's virtual assistant, to beatbox for you – one incredulous person asked, "Seriously?" to which another wit deadpanned, "No, Siri!" (you gotta love this crowd) – we went through a couple of patterns to master the skill.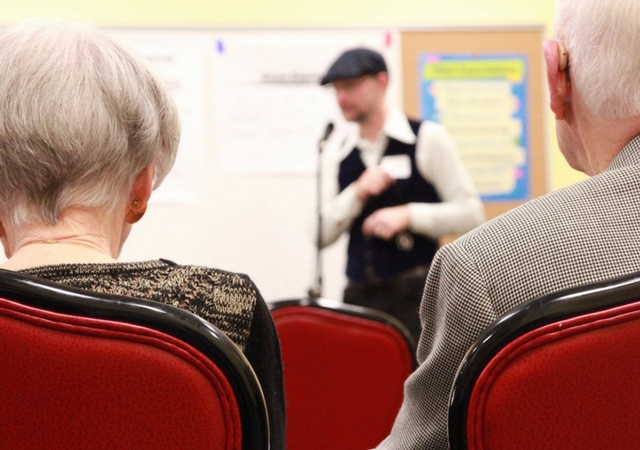 Convinced we were ready (really?), he turned the floor over to classroom teacher Shana Smith who had assisted third graders with their multiplication tables.  After picking a card (the 5 of hearts), which was our factor (in this case, rhythm size), and after a roll of the die (3), which determined our group size (in this case, the number of times the rhythm was repeated), we had our multiplication problem, 5 x 3.  Thus prepared, we broke into a stuttering chorus of BttKt, BttKt, BttKt – our answer, 15!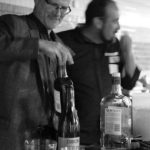 Poetic License
Dark Rum, lime, bitters, mint, and a splash of Prosecco
Concocted byVice Chairman of the Board and Sunburst Society Member Alan Hoff and Trisha Frick
Moving back into the room in which we had begun the evening, we grabbed our cocktail and gathered around tables as Femi the DriFish, a slam poet, and his teacher-partner, Erin Inouye, explained how they used the book Seedfolks as a basis for their lessons.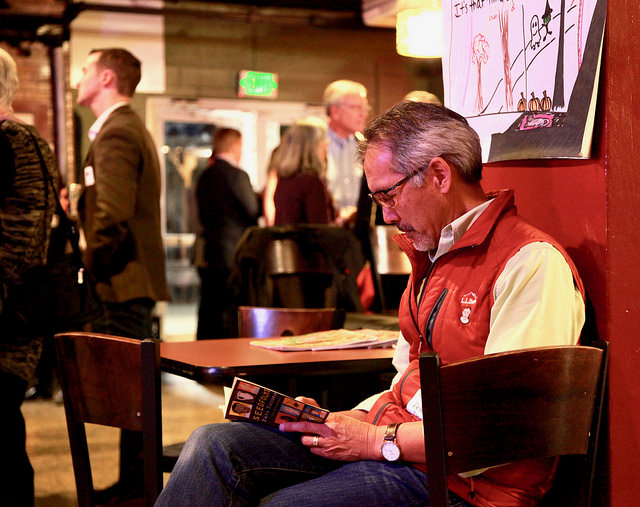 Using the example of "Through My Window," we were asked to write our own poems to illustrate what we see through our window. Just as the pair had done with the fourth and fifth graders they led this summer, they offered several ways to accomplish this. A green sheet provided partial sentences with blanks left for the author to fill (think Mad Libs). Some participants were handed blank pink sheets of paper on which to pen a poem from scratch (a few brave souls chose this). For those feeling intimidated by the written word, colored markers and a blank white sheet were provided on which we could draw our window scenes.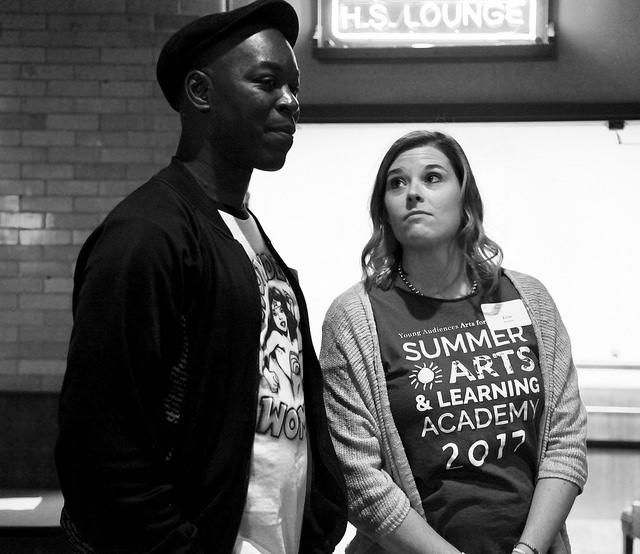 After completing our poems, we were invited into a circle to share them. And folks from each group (pink, green and white) did so. Particularly sweet was a gentleman who drew his poem, explaining that the trees were still green, not because they hadn't changed colors yet, but because he left for work before the sun rose and got home after it set.  So the last time he saw his trees, they were still leafy and green – a detail he might have felt hesitant to explain in writing, but that came flowing from him through his artwork!
At the end of the evening the groups reunited for a few more snacks and conversation. And what struck me as I talked with these people was their shared passion for both the arts and education. One woman, Sharon Button, had actually been the Executive Director of a Young Audiences affiliate in Buffalo, NY in the 1970s. At the time she was a workforce of only one, but toiled tirelessly to secure funding for arts-integrated programs long before the term was in fashion.
Another gentleman who had worked with Young Audiences affiliates in other states had this to say, "Young Audiences in Maryland is one of the most highly respected groups, both in this city and among its peers."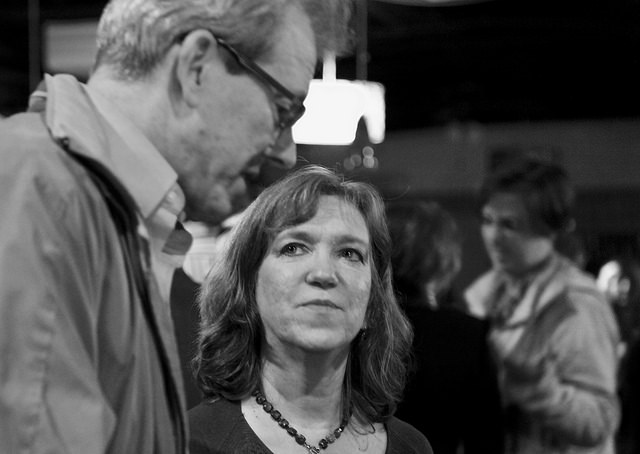 I can believe it.  The energy, passion, creativity, imagination, and sheer fun that Young Audiences exhibits makes me very proud to be associated with it. I have been fortunate to meet teachers and artists who blend academic subjects and art to reach school children. And I have been doubly blessed by being able to contribute monetarily to this amazing organization as a Sunburst Society member.
If you believe, as Young Audiences does, that the arts transform lives, and that every student should have the opportunity to imagine, create, and realize their full potential through the arts, then I urge you to join us in supporting this amazing organization. And then next year, join us at the Art Crawl and discover the magic that happens when arts, education, and handcrafted cocktails are combined.
Find more photos from Young Audiences' 2nd annual Art Crawl can be found on our Flickr page. 
YA roster artist Ryan Diehl and the Global Beat Connection's music assembly connects students' love of modern music to its rhythmic roots, revealing its history. Their highly interactive assembly invites students to explore a diverse array of cultures from locations in the U.S., Brazil, the Caribbean, and Africa.
Ryan is a professional singer and renowned drummer who has recorded and toured internationally with numerous artists including jazz legend Ethel Ennis. Using his drum kit, Ryan performs examples of jazz-inspired world rhythms like hip-hop, samba, reggae, and soca, to help students hear the connections between geographic locations and subtle changes in beat formation. Tracing the lineage of the rhythms from today's popular music is akin to tracing the branches of a family tree. Understanding and appreciating the musical evolution of jazz helps students connect to its history, to another culture, and to a different generation.
Ryan Diehl and the Global Beat Connection's assembly is a time-traveling journey around the world initiated through today's popular music. Students may be surprised to learn their favorite music's influences, creating an opportunity to appreciate a teacher's musical knowledge and experience. "A student will come up to me at the end of the assembly, usually on their way out, and tell me that they recognized a song or two from their parents' playlist," Ryan said. "They enjoy the modern take on the standard tunes!" This is a program that can spark an intergenerational conversation at home or at school and help kids relate to the adults in their life. Music does that. When adults and children can relate to one another, ears and minds open.
Ryan Diehl and the Global Beat Connection introduces students to music and rhythms from various world cultures. Learn how you can bring their residency, The Global Beat Connection, into your school today.
On this month's smARTbeats segment, Young At Heart host Lisa Mathews sits down with jazz vocalist, songwriter, and YA teaching artist Renée Georges. You'll hear about the artist's experience as a Raelette traveling the globe with Ray Charles and His Orchestra, as well as her work in schools where she shares her powerful voice and perspective with Maryland's children, and guides them on a journey through the history of Jazz.
Renèe's love of Jazz and interest in learning through music developed into a small family collaboration known as Kidz MusiQ Club. She had begun writing educational songs after her son was born to help kids have fun with essential concepts, such as reading, listening, and retention skills. The program she and her family created introduces kids to acoustic music and furthers an appreciation for jazz, all while learning about cool things like making healthy food choices and counting in Spanish. Renèe said, "When I was young, I used music methods, like making up songs about content, to help me study and remember things. Music is a great tool for retention. It improved my confidence and helped me become a better student."
"The arts are a great way to cultivate excellence, for the beauty that is found through the arts, translates into life."

In classrooms, Renée Georges unfolds the many facets of the music industry, presenting the field as a career option when it might not have been considered before. "For me, music was my path out of poverty. It also became a pathway for me to see the world since I was fortunate to sing and tour for six years with the late Ray Charles," the artist explained. "Now more than ever, students have broader opportunities to forge careers as entertainers, arts educators, or even in sound engineering and physics." Talking with Renée, kids realize that there are many paths related to music and the arts that are available to them.
She routinely advises students to be vigilant about copyrighting the work they create and to recognize that their work has value- a principle, she says, that would provide Ray Charles with a lucrative career for more than 50 years. "I first learned the value of copyrighting from my mother, who is also a singer/songwriter. She taught me the importance of protecting your work. My mother struggled as a single parent, but ownership fosters independence and can serve as a means to creating wealth. I like to help kids see that a little planning now can go a long way in setting up a career in the arts."
During a question and answer period after her assembly at the Mann Residential School earlier this year, Renèe told students that music was her way to deal with hardship and adversity. "Along with learning to play the piano, reading books, and reading and writing poetry, the arts provided a way to cope with challenges like poverty, discrimination, and tragedy." Moreover, she said, "The arts are a great way to cultivate excellence, for the beauty that is found through the arts, translates into life."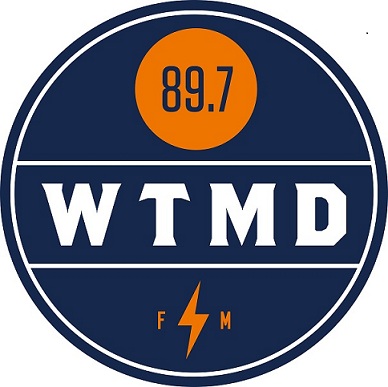 Young At Heart airs weekly from 7 to 8 am on Saturdays, featuring music that appeals to parents and children alike. Previous shows have featured music by Wilco, David Bowie, Andrew & Polly, Weezer, and others.
Hear YA teaching artist and vocalist Renèe Georges online now!
Written by Barbara Krebs, a Young Audiences volunteer and Sunburst Society member
With all the talk of entirely eliminating funding for organizations such as the National Endowment for the Arts (NEA) from the federal budget, a recent Washington Post Magazine article caught my attention. The June 11, 2017 issue featured a boldly colored cover and the caption, "Is Arts Funding Essential or Wasteful? We traveled the country to find out."
I was especially intrigued since one of the arts projects they highlighted was in Wilson, NC – where I lived as a teenager. I admit that I haven't been back in many years, but I had heard from friends that the town had fallen on hard times as tobacco warehouses (once the backbone of the economy) closed down.
The article opened with the development of Whirligig Park, which is dedicated to the artwork created by Vollis Simpson, who fashioned giant whirligigs out of scrap metal that he collected from his day job of transporting houses and heavy machinery. Before his death in 2013, Simpson had gained quite a following; the man and his artwork had been featured in publications that range from The New York Times, USA Today, The Washington Post, and the Smithsonian Magazine, among many.
As I read the Post article, it highlighted how the NEA had been "an early believer in the civic power of Simpson's creations." With the help of the organization and its grants, locals also began seeing the possibilities – to draw tourists and their dollars to Wilson – and skeptics gradually became believers. People who had originally viewed Simpson's whirligigs as junk now began to see how the arts could help revitalize a moribund downtown.
But just as all politics is local, so too are the arts.  You focus on where you live.  With that in mind, a quick check of the NEA web site revealed that in the Fall of 2016, 19 grants, totaling $520,000, were awarded to a variety of Maryland arts groups. And while these groups range widely in mission and artistic focus, two things stood out:  1) how many of these groups reach out with the arts to educate and 2) these NEA grants create much-needed jobs.
Over the years NEA support has made it possible for Young Audiences to reach children in every county in our state…
Under the education category, award recipients include the Baltimore Symphony Orchestra's OrchKids program, which provides Baltimore City Public School students with a music and mentorship program; Wide Angle Youth Media, Inc., which teaches students how to share their voices through media arts education; The National Association of Black Storytellers, Inc., whose Adopt-A-Teller Program places African American storytellers in schools for performances and workshops to share and preserve the rich heritage of the African Oral Tradition; Arts on the Block (AOB) who provides teens in and around Montgomery County real-world work experiences through the arts; and World Arts Focus in Mount Rainier, for a program developed improve the health, identity, and independence of teenagers and adults with autism, Down syndrome, cerebral palsy, or other disabilities through dance.
Over the years NEA support has made it possible for Young Audiences to reach children in every county in our state and has provided consistent support for teaching artist training, ensuring that our programs are not only accessible and affordable to underserved students, but are of high quality and enhance the curriculum of our schools.
What about the job creation category?  Here are a few thoughts on the economic impact of the arts in our communities.
Employment opportunities – we're not just talking artists and dancers here. The arts also employ carpenters, electricians and many other technical and administrative jobs needed to produce showcases, exhibitions and museum presentations.
Arts education – at Young Audiences we see every day, firsthand, what a huge impact the arts have in helping students connect to reading, math, and science. Educated youth become educated adults with jobs that create a tax base.
Tourism – Many struggling small towns, and even larger cities, have boosted the local economy by creating arts zones, which draw in tourists, which, in turn, creates the need for restaurants, hotels, and other tourist-oriented businesses.
So what lesson can we take from all this? I think it is simply that the arts do matter – a lot.  The arts help create and maintain vibrant community ties, which in turn translates into real economic impact. Before the Post Magazine article caught my eye, I had read an article in the April 2017 issue of Our State, Celebrating North Carolina. I read about 217 Brew Works, which opened last November, hmm, across the street from Whirligig Park.  Tourists certainly enjoy the proximity of the brewery to the park, but more importantly, locals are the true economic boosters – coming down to talk, to relax and to enjoy their community's new meeting spot.
It's also worth noting that when the arts are supported, great synergies are created. For example the Our State article ended with, "another developer has moved forward with plans to create Whirligig Station – apartments, restaurants, and some office space – in an empty red-brick tobacco warehouse on another edge of the park."
Far from being an unnecessary frill as some critics of the NEA portray it, what is readily apparent is how many small communities discovered an economic lifeline from the grants that the NEA provides. The closed factory, the shuttered mill, the abandoned plant are sadly a fact of life in too many small towns.   But as many of them have discovered, there are opportunities here as well. Who knows what might happen in your community when you combine artistic vision, a good beer, and an NEA grant?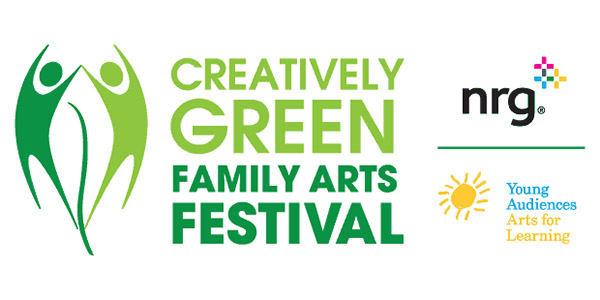 Young Audiences has announced two winning schools in the NRG Energy Creatively Green Award competition, sponsored by NRG Energy, Inc.: Chesapeake Public Charter School and Port Towns Elementary School!
Each winning school will host its own NRG Creatively Green Family Arts Festival for its school and community members with services worth up to $7,000. The two-and-a-half hour family arts festivals will consist of a performance by Young Audiences Blues musician Curtis Blues focusing on the importance of protecting the environment; hands‐on art making workshops led by a variety of Young Audiences teaching artists that promote environmental sustainability, from creating plastic monster puppets with old milk jugs to learning about kinetic energy through movement; and a community art‐making project to be played, displayed, or shared during the event. Each school has also garnered the support of a number of community organizations that will also be participating in the festivals.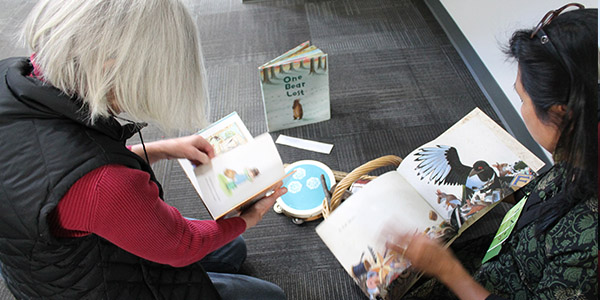 The festivals will be held in May 2015 but Young Audiences artists are already hard at work creating family fun performances and workshops for the events. Artists recently gathered at the Young Audiences offices to participate in the Irvine Nature Center's "Artistry of Nature" professional development workshop. Artists learned how to engage children in their environment, and even braved January's snow and ice to explore the natural world right outside the office.
Congratulations to the winning schools!
Earlier this week, Young Audiences roster theatre ensemble Single Carrot Theatre joined our celebration of National and Maryland YA Week with a dramatic reading of the gubernatorial proclamation. Today, Hip Hop musician and teaching artist Jamaal "Mr. Root" Collier is helping us close out the week on a high note with a musical interpretation of the proclamation. Warning: Be prepared to have this catchy beat stuck in your head all day!
[youtube http://youtu.be/KtE5TZKTsG0]
Thank you to Jamaal and Single Carrot for lending their talents to our recognition of Maryland YA Week 2014 and providing two examples of how our roster of more than 110 teaching artists infuse the arts, creativity, and fun into learning and inspire and engage nearly 170,000 students and educators across Maryland each year.
Although YA Week ends tomorrow, Young Audiences and our artist and school partners will continue our work of increasing access to valuable arts experiences in all Maryland schools throughout the year. We agree with Jamaal: Let's celebrate the arts all the time!
If you believe, like we do, that learning in and through the arts gives students opportunities to imagine, create, and realize their full potential, stay up-to-date with Young Audiences news by checking back in with our blog and following us on Facebook and Twitter. You can also sign up for our monthly enewsletter here.
See all Maryland YA Week posts here.
Learn more about Jamaal's arts-in-education programs for schools here, and Single Carrot's assembly program here. 
Young Audiences is using Maryland YA Week as an occasion to ask those running for governor of Maryland for their views on arts education. We extended the invitation to all candidates to respond to two questions that would be shared on our blog. We posted responses to the first question earlier this week and today we are sharing all of the responses we received to the second and last question:
Young Audiences/Arts for Learning is a nonprofit that transforms the lives and education of youth by connecting professional artists with schools and communities. Last year, Young Audiences created more than 9,000 opportunities for nearly 170,000 students and educators in 23 out of the 24 school districts, to learn in, about, and through the arts. The President's Committee on the Arts and the Humanities made five recommendations to reinvest in arts education (included in the full report, "Reinvesting in Arts Education: Winning America's Future Through Creative Schools"). Two of them are expanding the in-school use of teaching artists and developing the field of arts integration, the practice of using the arts as a tool to teach other academic subjects. Do you agree? If so, how would you, as governor, move these recommendations forward?
We've listed the candidates' responses alphabetically below. Thank you to Anthony Brown, David Craig, Doug Gansler, Ralph Jaffe, and Heather Mizeur.
Anthony Brown
Over the last seven years, Maryland has augmented arts learning in schools through the Maryland State Arts Council's Arts-in-Education Program, which supports performances, workshops, and residencies, as well as professional development for teaching artists. More than 500 schools and many teaching artists benefit each year from this program. The Brown-Ulman Administration will not only continue our support of this important program, but work to increase funding levels.
Every student learns differently. Arts integration is an exciting concept, which can enrich learning for more students. We will encourage our educators and local school boards to explore innovative course design that integrates the arts in ways that optimize education for all students.
The Governor's P-20 Leadership Council established a Task Force on Arts Education in Maryland Schools in 2013, which is currently in the process of developing an action plan that ensures a quality arts education for all Maryland students.
We strongly support a high-quality arts education for every child in Maryland. We look forward to reviewing the report of the P-20 Leadership Council's Task Force in September of this year and working together to implement recommendations that will help all Maryland children access the arts and reach their greatest potential.
Learn more about Anthony Brown here.
David Craig
As governor I would appoint members of the State Board who have a background of support in the field of art education and who would ensure that better policies move forward to expand education capacity. Some students love athletics, some love art, some both; we must provide equal acquisition on both aspects. When I taught I saw that children who were engaged in art transferred their enthusiasm to math, language arts, science, and social studies and did well across the board. I will ensure that this gets done.
Learn more about David Craig here.
Doug Gansler
I wholeheartedly agree. As someone who felt stifled by traditional learning approaches growing up, I wish I had benefited from the rich and creative approaches to teaching [Young Audiences] promotes. Expanding the use of teaching artists would give more students the opportunities to discover a mode of learning that ignites them, and more teachers the fulfillment that comes from offering classroom instruction in a form that resonates with their own creativity. Developing arts integration would enable more students to experience the arts as part of their everyday learning, and would also serve to better reinforce the subjects they learn; research shows that multimodal repetition and reinforcement help improve learning.
As governor, I will move these recommendations forward through setting goals early to deepen the reach of these approaches in our schools. Right now your work reaches nearly 200,000, but many thousands have yet to enjoy an arts-infused education, and many teachers have yet to discover how powerful the arts can be as a teaching tool. I will convene leading educators, including [Young Audiences] artists, at the start of my term to explore how we can best ensure that arts education is woven into our state's overall education strategy. And I will work with teaching artists as I develop the Governor's Teacher Corps, a program I have proposed to help close the achievement gap through improving teacher quality. The Governor's Teacher Corps will pair selected new teacher recruits in our high-need elementary schools with exceptional teacher mentors for a period of three years. Participants will receive coaching, training, and professional development instructional resources and will be incentivized with loan assistance, provided the recruits attend Maryland universities. I will design the Corps to nurture aspiring teachers of all types, including aspiring teaching artists.
Fundamentally, I will be a governor who is open to new ways of approaching education. That shift in attitude alone will create a new space for visions like yours to flourish in our schools. And I will make clear to the leadership I appoint that arts education is important for helping our kids thrive. This is especially so in high-poverty areas, where arts education can serve as a vital, affirming form of enrichment for students who are subjected to daily struggles. Too often people assume arts education should be the first to go when school budgets are cut, but for many students, the arts are a lifeline, without which they may not be able to succeed in other areas of their education. Denying arts education, especially in lower-income areas, only widens the inequalities in education that are already too great in this state, inequalities that I want to work to close as governor.
Learn more about Doug Gansler here.
Ralph Jaffe
I agree with all of those goals. I think they are very worthy and I support that 100%. You need to contact the artists to see if they would like to help your program. I would call artists for you for free and place volunteers to call people for you. I don't want to replace anybody who has a job and once they leave we will replace them with a volunteer. I would never be against anything that is educational. If your coordinator leaves I would replace them with a volunteer, but I would never want them to lose their job. I support the five recommendations entirely.
Learn more about Ralph Jaffe here.
Heather Mizeur
Our curriculum is going through tremendous change with the implementation of Common Core. While I understand a lot of the fear that exists with such a transition, there are a lot of things to like about the new standards. There is more emphasis on practical skills like careful observation and evidence-based problem solving—and I think arts integration could play a huge role in shaping more exciting and creative teaching methods in math, reading, writing, and science.
While there is an important separation between lawmakers and curriculum development, there is an important role for the governor to step in when certain skills are not being addressed in our schools: financial, civic, and sustainability literacy all come to mind. More emphasis on the arts falls into that category, and as governor, I will work with the Maryland State Department of Education and the local school boards to make art a key component of teaching methods. We can transition our focus from STEM to STEAM, where arts is added to science, technology, engineering, and math. We have already seen this done successfully in Anne Arundel, where several elementary schools have piloted arts integration. There is no reason why it cannot be brought up to scale throughout the state.
We need to have a bigger conversation about improving the prestige of educators. We know that the single most effective way to improve our academic outcomes is to improve the effectiveness of our educators. If we are truly going to prioritize art education in our schools, then we also have to prioritize art educators. My "Thornton 2.0" commission to study school funding will also study how to help educators be their best in the classroom. I fully expect that this commission will make recommendations to increase the number of teaching artists in our schools, and I will move swiftly to implement those recommendations.
Learn more about Heather Mizeur here.
Help us celebrate National and Maryland YA Week!
Join us in recognizing the importance of arts education this week by joining the conversation online and spreading the word. Be sure to check back in with the Young Audiences Blog and follow us on Facebook and Twitter as we continue highlighting the work of our artists and ensembles who are bringing valuable arts learning experiences to Maryland students this week!
To see all Maryland YA Week news, click here.
Young Audiences' roster of more than 110 professional artists inspires Maryland students each day. Teaching artists bring music, dance, theatre, and visual arts into schools and classrooms throughout the state–sharing their artistic knowledge with students, but also engaging them in learning in a new way. Students are exposed to art forms that they have never seen before, learn about new cultures, and discover new things about themselves and their abilities. To celebrate Maryland YA Week, we knew we had to call upon our artist partners to help us infuse this week's celebrations with the same artistic expression, creativity, and fun that they share with Maryland students throughout the year.
Young Audiences roster theatre ensemble Single Carrot Theatre answered our call by performing a dramatic reading of the gubernatorial proclamation. Watch the video below!
[youtube http://youtu.be/b9YNTdQBSYo]
Many, many thanks to Single Carrot for lending their talent to this video and joining our celebration of Maryland YA Week 2014. You can learn more about Single Carrot's assembly performance for schools here! Also, be sure to check out their upcoming show "The Memo" by Vaclav Havel, running April 2 to 27.
You can join the celebration, too!
If you believe, like we do, that learning  in and through the arts gives students opportunities to imagine, create, and realize their full potential, help us recognize the importance of arts education this week by spreading the word online. Check back in with the Young Audiences Blog and follow us on Facebook and Twitter as we continue highlighting the work of our artists and ensembles in schools every day.
To see all Maryland YA Week news, click here.
Click here to learn more about Governor O'Malley's Maryland Young Audiences Arts for Learning Week proclamation.