It's been almost a year since we announced our partnership with WTMD to feature YA teaching artists on their family-favorite Saturday morning radio show Young At Heart! Since May 6, 2017, host Lisa Mathews—YA teaching artist and lead singer of Grammy-nominated children's band Milkshake—has invited eleven top-notch, talented YA roster musicians to date into the studio to chat on a monthly segment called smARTbeats. Listeners have learned about the artists' professional work outside of schools, arts integration, and heard how they've reached students through art in the classroom.
"Listening to music is great, but making music is transformative." –Alden Phelps
Some of the featured artists have talked about the guidance they've received and diligence and artistic discipline they learned from parents, peers, or mentors. Some have revealed the inspiration they've found through their own small children. All have shared with listeners the energy, kindness, and expertise that they bring into every Maryland classroom they visit.
"If we never spoke a word, we could communicate through music." –Devin Walker
From memories of touring with the one-and-only Mr. Ray Charles, reaching audiences around the world in Spanish, English, and through poetry, taking a musical journey to outer space, to finding out not just how artists inspire children every day in Maryland classrooms, but hearing what motivates, energizes, and inspires them, getting to know these fantastic teaching artists has been a real treat for Saturday mornings!
"There's power in words, build or destroy, so watch what you say." –Femi the Drifish
And just in case you prefer to sleep in on the weekends, we've compiled WTMD's Soundcloud links here for you to enjoy any time of day or night!
Young At Heart airs weekly from 7 to 8 am on Saturdays, featuring music that appeals to parents and children alike. Previous shows have featured music by Wilco, David Bowie, Andrew & Polly, Weezer, and others.
All summer long, kids and families made their way to one of seven city school libraries, each one beautifully renovated as part of The Weinberg Foundation's Library Project to take part in SummerREADS, a free literacy initiative that provides six weeks of drop-in programming for Baltimore City students, grades K through 8.
The host schools and libraries offered safe and welcoming spaces where students participated in literacy workshops and arts enrichment with teaching artists as well as enrichment activities with special guests including Art with a Heart, Maryland SPCA, The Maryland Zoo in Baltimore, and The National Aquarium.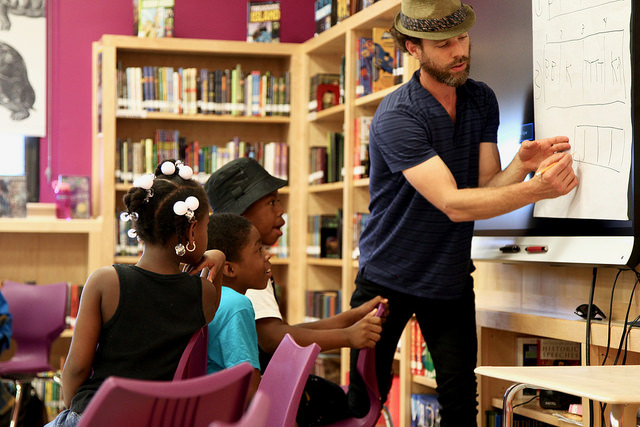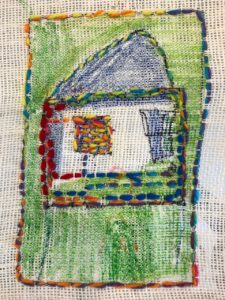 Every week, YA teaching artists introduced students to new experiences. Some learned to make music using their bodies with beatboxer Max Bent while others used lines, shapes, and shading to draw bunnies, snakes, and slugs with Brittany Roger of The Drawing Zoo. From jazz vocalist Renèe Georges, they learned about braille and how the late, great Ray Charles overcame adversity. They stitched colorful portraits of home with textile artist Pam Negrin and used what they learned about composition and digital photography from artist Christina Delgado to capture images of their library, teachers, and classmates. Actor Katherine Lyons gave students the tools, space, and permission to pretend, allowing even older children to travel wherever their imaginations would take them.
And through all of these art activities, young students strengthened their literacy skills, their vocabularies, and even their math skills. As they wrote songs, they considered the division of time when deciding how beats would fill their measures. Students explored new adjectives to best describe the textures and patterns they set out to draw, and they learned many many new ways of communicating- through art, through song, through dance, and through touch by learning the braille alphabet.
Perhaps most of all, students in SummerREADS learned that the library is a space for them. The library is open for them to use, to learn in, to explore, and to grow in. It's a place where magic happens, not only in books, but in minds and hearts. It's a place that challenges your ideas and is as good at surprising you with facts as it is at mesmerizing you with fiction. They learned that the library is a place where they want to be and even in summer, its doors are open.
Registration for SummerREADS 2018 is now open! This year, the program will expand to nine school library sites and operate Monday through Friday. SummerREADS programs are geared toward students in grades K-3 and their families, although the library is open to all Baltimore City School students in current Pre-K-8th grades. Learn more and register today at yamd.org/summerreads.
On this month's smARTbeats segment, Young At Heart host Lisa Mathews sits down with jazz vocalist, songwriter, and YA teaching artist Renée Georges. You'll hear about the artist's experience as a Raelette traveling the globe with Ray Charles and His Orchestra, as well as her work in schools where she shares her powerful voice and perspective with Maryland's children, and guides them on a journey through the history of Jazz.
Renèe's love of Jazz and interest in learning through music developed into a small family collaboration known as Kidz MusiQ Club. She had begun writing educational songs after her son was born to help kids have fun with essential concepts, such as reading, listening, and retention skills. The program she and her family created introduces kids to acoustic music and furthers an appreciation for jazz, all while learning about cool things like making healthy food choices and counting in Spanish. Renèe said, "When I was young, I used music methods, like making up songs about content, to help me study and remember things. Music is a great tool for retention. It improved my confidence and helped me become a better student."
"The arts are a great way to cultivate excellence, for the beauty that is found through the arts, translates into life."

In classrooms, Renée Georges unfolds the many facets of the music industry, presenting the field as a career option when it might not have been considered before. "For me, music was my path out of poverty. It also became a pathway for me to see the world since I was fortunate to sing and tour for six years with the late Ray Charles," the artist explained. "Now more than ever, students have broader opportunities to forge careers as entertainers, arts educators, or even in sound engineering and physics." Talking with Renée, kids realize that there are many paths related to music and the arts that are available to them.
She routinely advises students to be vigilant about copyrighting the work they create and to recognize that their work has value- a principle, she says, that would provide Ray Charles with a lucrative career for more than 50 years. "I first learned the value of copyrighting from my mother, who is also a singer/songwriter. She taught me the importance of protecting your work. My mother struggled as a single parent, but ownership fosters independence and can serve as a means to creating wealth. I like to help kids see that a little planning now can go a long way in setting up a career in the arts."
During a question and answer period after her assembly at the Mann Residential School earlier this year, Renèe told students that music was her way to deal with hardship and adversity. "Along with learning to play the piano, reading books, and reading and writing poetry, the arts provided a way to cope with challenges like poverty, discrimination, and tragedy." Moreover, she said, "The arts are a great way to cultivate excellence, for the beauty that is found through the arts, translates into life."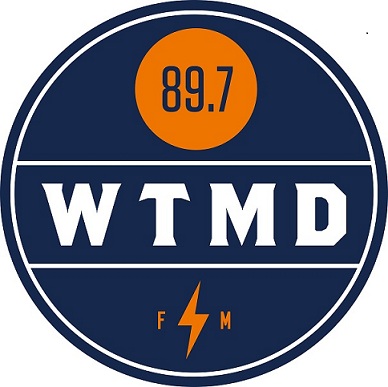 Young At Heart airs weekly from 7 to 8 am on Saturdays, featuring music that appeals to parents and children alike. Previous shows have featured music by Wilco, David Bowie, Andrew & Polly, Weezer, and others.
Hear YA teaching artist and vocalist Renèe Georges online now!