Written by Soni Kunwar,
2019 SummerREADS Intern
When I was looking for a summer internship during my spring semester at college, I came across an internship for the SummerREADS program at Young Audiences of Maryland. What caught my eye about this internship was that it offered a unique experience like no other. I was excited to work for an organization whose mission is to promote arts in education including through summer learning.
When I found out that I was offered the intern position for the SummerREADS program, I was very excited to get started. One of the main reasons why I joined the SummerREADS team is because of the opportunity to be an active member of my community. A library is a vital part of what makes a community so great. It is a place of learning and a hub for community activity for kids of all ages. Some of my favorite childhood memories took place in my school and community library. The joyful feeling of being in a brightly colored room with an endless supply of books is something all kids should be able to experience.
From the very first day of the internship, everyone welcomed me with open arms and made me feel like part of the team. Right off the bat, I was working alongside the team in the enrollment/registration process. It was exciting to see how spaces were filling up at the different sites as we inched closer to the start of the program. In the weeks of preparations, there were lots of team meetings, phone calls made, supplies sorted, and lesson plans printed. Once the program began, I provided support at the eleven different sites.
The most rewarding part of the internship was seeing the students engage in arts-integrated literacy workshops with teaching artists and visitors. Every time I stepped into a Weinberg library, students were participating in activities that showed creativity and innovation. I loved seeing collaboration amongst students when they were building 3D kinetic creatures with Futuremakers or when they were writing and performing hip hop verses with Bomani. I was able to capture many moments like this and post them on the SummerREADS Facebook page. Managing the Facebook page allowed me share photos of all the learning that took place, whether a site was learning about music, dance, theater, or visual arts on a particular day.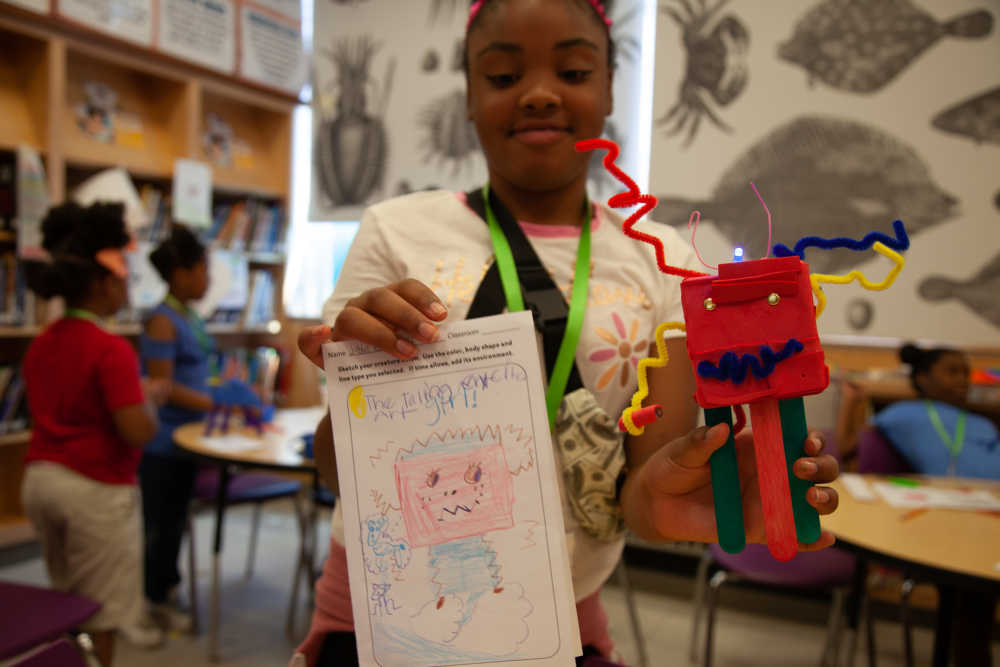 It makes me proud to have been part of a team of hard-working and dedicated people. I was constantly surrounded by people that were truly passionate about their job and who did everything they could to make the program a success. Everyone I met, from the librarians and teachers to the staff at YAMD, helped me grow not only at my job, but also as a person. Throughout the whole experience, I was able to see how a summer program that promotes arts in education really changes lives. It gives a child an opportunity to elevate their learning and dream big.
SummerREADS is a free literacy initiative that provides weekly drop-in programming for Baltimore City students. Each host school and library offers a safe and welcoming space where students can participate in literacy workshops with teaching artists and enrichment activities with special guests. Students also earn incentives for reading, receive two free and well-balanced meals per day, take books home, and access other library resources.
Written by Stacie Sanders Evans,
President and CEO of Young Audiences/Arts for Learning
Belonging. That's the word that has been on my mind. Our founder, Nina Collier, understood belonging. She felt music belonged in schools, that artists belonged in a child's education. In 1950 she inspired a movement of artists-in-schools. What started in Baltimore has now grown to 30 Young Audiences–the largest arts-in-education network in the US.
Today, Young Audiences artists like Femi the DriFish and Valerie Branch ignite a child's desire to learn. Whatever our partner artists' art form is–hip hop dance or improvisational theatre–they use it to draw kids into learning. We train our artists to integrate their art form with whatever is being taught in students' literacy, math, social studies, and science classes.
We do that because when kids create something they get to make choices. They make meaningful connections. They express themselves. Choice and voice–that makes the learning matter.
When we, as a community, provide children with these kinds of opportunities, we are telling them, "You matter!" All of this, what we do, it nurtures the sense of belonging in our kids, artists, parents, and teachers. And it is belonging that I feel when I walk into one of our classrooms. Listen to how Tiffani, Dawn, and Valerie talk about our community in Together–we are their people–and we all belong.
Think back to when you were growing up. Who were YOUR people? What teacher or coach left their imprint. Who helped you become the person that you are today?  I bet that person made you feel visible. Known. That you belonged.
My moment was in ninth grade. I was struggling in many different ways and my drama teacher, Mrs. Howard, saw something in me. She knew how to draw that "something" out–just like the 200 artists (both YA roster artists and independent artists) we work with. In her class, I belonged. She cast me as Juliet in Romeo and Juliet. And that moment was like rocket fuel for me.
Belonging is a strong human need, particularly in our children. I see belonging as the net below the trapeze. When kids have that net of belonging, they are more likely to lean into learning–kids like Josh Ajala, who in Together, spoke about moving from the back of the class to the front–and his sister Tiffani Ajala–who was brave enough to apply for Baltimore Design School (and got the highest possible score on her fashion portfolio!) These are the courageous risks we want our kids to take so that they can grow.
But public education for the last 17 years, after the birth of No Child Left Behind, hasn't been focused on this. It has been about raising standards and increasing school accountability–measured through standardized testing. What do kids who are part of this system think about this? In Brenna's poem, she says students feel like they are just inputs and outputs in one simple equation.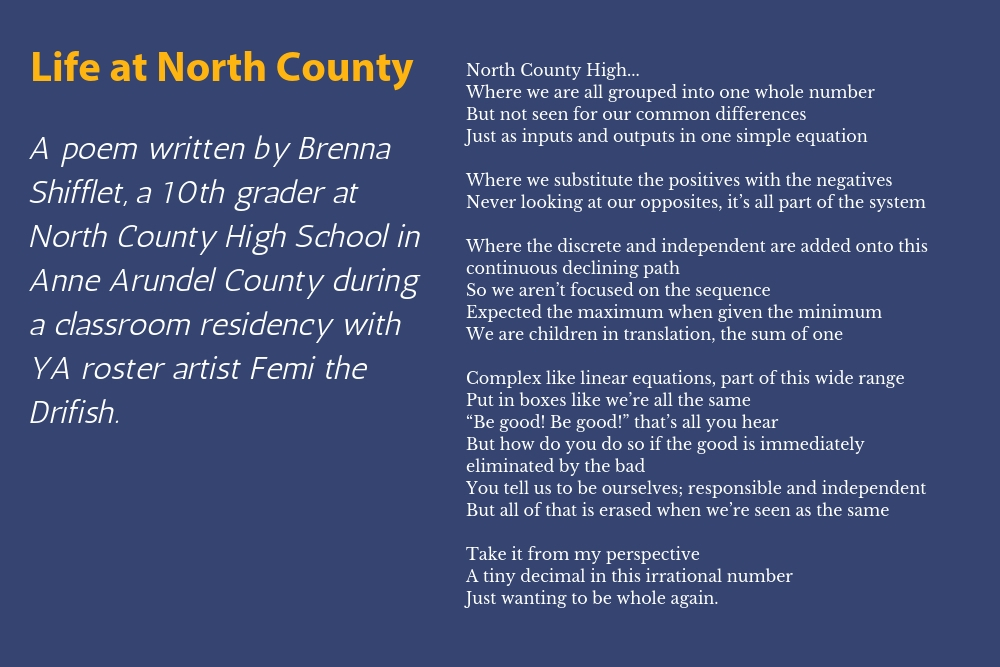 The outcomes we are seeing are heartbreaking and not sustainable as a society. Eight out of ten Baltimore City Schools students do not meet "proficiency" in math or reading. Nearly half of our children across the state entering Kindergarten are already behind. Four out of ten Maryland teachers leave teaching within five years because this isn't the equation they want to be a part of.
A different way is needed. Young Audiences is a different way. Our movement is to make sure all kids–and the people who teach them–are not treated like inputs and outputs but as the whole beautiful human beings that they are.
Today, thanks to our 450 school partners, our Sunburst Society members, and our game-changing evidence, our movement is growing. Outreach has doubled in the last five years. We impact the education of 191,000 children EVERY year–children in EVERY Maryland county.
We are on a mission to close the opportunity gaps in this educational system. We have four strategies:
Preventing summer learning loss by operating 20 summer programs across our city
Increasing school readiness through early childhood programs in four counties
Improving student engagement in learning by providing professional development to 500 teachers every year
Increasing equity in access to opportunity–more than 30,000 of our children are in under-resourced communities, so we provide more to them
We have made tremendous progress over the last five years but we can take this to a new level. Five years from today, I think we can change the educational trajectory of 50,000 more kids. Here is how we can get there:
Expand our evidence-based Summer Arts & Learning Academy in and beyond Baltimore City. This is the program that Tiffani, Alice, and Josh participated in that continues to have a ripple effect in their life. To expand to just one more school district, we have to find and train 20 more artists.
This Academy is only 25 days of a kid's life–and in that short time, we see lots of benefits. Imagine if kids had that kind of arts-integrated learning during the school year and school day? We want to launch year-round professional development and support for teachers and principals to make that happen. If we were able to add just one more person to our staff that focused on professional development, we could support 100 more teachers and principals every year.
To have the greatest impact on a child's potential, we need to invest early. (Did you know that 80% of the brain's synaptic connections are made by age 3?) In 2024, we want to bring our Baby Artsplay program to 5,000 infants and toddlers across Maryland and–to their very first teacher–their parents. This will require our artists to be trained in early childhood development.
Think back to your person–your Mrs. Howard. Think back to that feeling of belonging. Imagine if you could create that opportunity for someone else. For another Josh. Another Brenna. Take that opportunity and multiply it by 50,000. Fifty thousand children sitting in the front of the class, trying out for Baltimore Design School, reaching for that trapeze handle.
That is the opportunity in front of us. For Brenna, that is the equation she wants us to come together and solve.