New Name Reflects 71 Year Evolution and Impact on Students
Young Audiences of Maryland, the Baltimore-based nonprofit transforming student learning through arts integration, has changed its name to Arts for Learning Maryland.
The name change reflects Arts for Learning Maryland's evolution over the past 71 years, its impact on students, and its plans for the future. What started as a classical music series in 1950 in Baltimore schools has evolved into a statewide organization where educators partner with musicians, actors, poets, visual artists, and dancers to co-create dynamic, arts-integrated, curriculum-based learning experiences. Today, Arts for Learning Maryland reaches more than 180,000 Maryland students a year in every Maryland school district with arts-integrated artist residencies, performances, and professional development experiences for educators.
"As we expanded our reach and developed new initiatives, we realized that our name wasn't relevant for our collaborative, hands-on experiences for students, educators, and school leaders," said Stacie Sanders Evans, Arts for Learning President and CEO. "We wanted our name to describe the meaningful "what," the creative "how," and the important "why" of our work."
The selection of Arts for Learning Maryland is the result of a two year process in which board members, staff, artists, educators, students, donors, community, and education leaders explored the organization's mission, values, and programs in order to guide the name selection. The process affirmed the nonprofit's universal truths: The arts transform lives. Integrating the arts with academic learning produces powerful results.
"We believe that the arts are for learning," continued Stacie Sanders Evans. "The words "Arts for Learning" are the right words and the right message for who we are and the exciting journey we're on. And by adopting Arts for Learning Maryland, which was part of our previous name, we're honoring our history and affiliation with National Young Audiences/Arts for Learning, the nation's oldest and largest arts-in-education learning network."
The new name is represented in a bold new logo. Young Audiences' sun symbol has evolved into a radiating and joyful kaleidoscope reflecting the diversity of the community and the spark that Arts for Learning Maryland creates for learning and personal growth.
Coinciding with the adoption of its new name, the Arts for Learning Maryland office is moving this week into the historic, renovated Odell's building in the Station North Arts District in downtown Baltimore. In addition to nearly 12,000 feet of offices, training space for artists and teachers, and classroom space for students and families, the office will feature a tribute to the iconic Odell's nightclub.The Brock family, which founded Odell's nightclub, has donated historical artifacts, clothing, memorabilia, and stories that will be incorporated as a permanent display in the new offices.
Says Stacie Sanders Evans, "Arts for Learning was drawn to make Odells its home, in part, because Odells was a gathering place that was so beloved by so many people in the community and so many creative people gathered there."
To read more about Arts for Learning's process for selecting its new name, click here. For more information about Arts for Learning Maryland, click here.
"Arts Career Day! Every single art form's got something to say. If your art is your career, you deserve to be paid!"
Those lyrics to the Arts Career Day theme song, written by the amazing teaching artist and hip-hop artist Jamaal "Mr. Root" Collier, encapsulate the power of the arts and the importance of ensuring our young, creative students understand how to build careers in the field.
Last month, Young Audiences' first-ever Arts Career Day did just that through helpful tips and guidance directly from artists for K-12 students on building arts-based careers! Hundreds of students and educators tuned in to the free, fun, virtual event.
No matter your goals or your roles, the insights were inspiring. See for yourself! Check out some artist tips heard in Arts Career Day:
"Love all the things you do. There are no mistakes." – Christina Delgado
"Find your WHY." – Brother David, Wombwork Productions
"Dance to the music playing in movies. Try to understand what it makes you feel." – Emily Brennan
"Always believe in yourself. And believe in your gift: it is yours. … Don't compare your journey." – Zori Patrick
"My best advice is follow your passion. Be yourself. And practice, practice, practice." – Amanda Pellerin
"Always keep your mind open for opportunities. Be willing to go outside of your comfort zone. … I am a strong believer that, if you get started, the world will meet you halfway." – Ahmad Abdullah
"As artists, we all get ideas from each other. … It's ok to borrow (as long as you credit). And then make it your own!" – Lisa Mathews
To learn more, check out a full recording of the event here.
Next Thursday, 9/23, Young Audiences' first Arts Career Day will give K-12 students the opportunity to engage with and learn from professional artists who have successfully built a career in creative fields.
This free, virtual program is broken into four one-hour workshops with practical, child-friendly advice on creating a career in the arts; engaging and informative Q&As; and fun, arts-infused panel discussions. Students, educators, and caregivers can register for free here. The artists offering insight at Arts Career Day are seasoned, successful, and inspiring. See for yourself:
Dancers
– Ballet Theatre of Maryland: BTM is Maryland's only professional classical and contemporary ballet company!
– Footworks Percussive Dance Ensemble: Internationally renowned for their theatre and festival productions, Footworks has been committed to arts education for more than 35 years.
– Laura Schandelmeier: Laura is a choreographer, performer, teacher, and co-artistic director of Dance Box Theater … and a Wolf Trap master teaching artist!
– Tiffanie Horner: Tiffanie is a trained dancer and teaching artist at dance schools and in classrooms for the last 15 years.
Musicians

Ball in the House: This high-energy R&B/Soul/Pop a cappella group keeps audiences singing, dancing, and beatboxing along in hundreds of shows a year.
Baltimore Brass: This group of six world-class musicians specializes in the performance of classical and contemporary music that appeals to audiences both young and young at heart!
Drew Anderson: Entertainer and educator Drew Anderson has spent his entire adult life engaging audiences as a science teacher and performer of hip hop, spoken word, and comedy.
Lisa Mathews: Lisa is a Wolf-Trap trained teaching artist and fronts the amazing Milkshake, an award-winning Grammy-nominated rock band for kids!
Storytellers, Actors, & Literary Artists
Happy Theater: Founder Natasha Mirny is stage director, choreographer, and teaching artist with a background in pantomime, puppetry, and physical theater.
Schroeder Cherry: With a passion for puppets since childhood, Dr. Schroeder Cherry now performs original puppet shows in museums, libraries, and cultural centers for adults and children across the US.
Synetic Theater: Synetic Theater emerged from the creative vision of founders Paata and Irina Tsikurishvili, who use movement, music, technology, and visual arts to transcend the limits of language.
Wombwork Productions: Founded in 1997 by three visionary artists, Wombwork utilizes dance, music, and theatre as traditional sources of healing and empowerment for the community.
Visual and Digital Media Artists
Ahmad Abdullah: A Baltimore-born graphic designer and digital arts educator, Ahmad is an advocate for using art and design as vehicles for interpreting social issues and prompting restorative justice.
Amanda Pellerin: Amanda specializes in handmade tile murals and clay sculptures and has 20 years of experience in teaching, including at the Walters Art Gallery and Baltimore Clayworks.
Christina Delgado: First just a hobby, Christina's work as a photographer and artist grew into a profession later in life. She now has a decade of experience as an educator, photographer, and community advocate.
Find details and FREE registration for Arts Career Day, here!
What. A. Summer!
Through Young Audiences' programs, 2,149 students in Baltimore City and throughout Maryland spent their summer infusing learning with joyful, hands-on arts experiences led by teaching artists. Their days were filled with inspiring moments as they danced to Ugandan drums, wrote songs about fractions, beatboxed to practice counting, illustrated plot points in stories, and explored how creativity enhances learning and helps reach goals.
Our Summer Arts & Learning Academy engaged nearly 1,700 students across Baltimore City in a full-day, six-week arts-integrated experience. Summer LIT! welcomed nearly 500 Baltimore City K-5 students to work with teaching artists to expand literacy skills using creativity. The Bloomberg Arts Internship Program matched 22 rising City Schools seniors with local arts organizations for meaningful work experiences in creative fields, supplemented by mentorship and guidance toward college and career readiness. And in Howard County, our incredible teaching artists delivered daily, arts-integrated programming to 600 students.
The many art forms explored across our programs included design, embroidery, hip-hop, improv, Japanese Taiko drumming, miming, music, dance, beatboxing, painting, photography, poetry, sculpture, theatre, and more!
We are proud to have helped City Schools support more students than ever before with meaningful summer programming. Take a look at our summer – by the numbers.
Young Audiences Summer Programs By The Numbers
To learn more about Young Audiences summer programs, visit www.yamd.org.
For the first time in our history, the U.S. Secretary of Education, Miguel Cardona, visited a Young Audiences program to experience arts-integrated learning! Secretary Cardona came to our Summer Arts & Learning Academy (SALA) site at Graceland Park Elementary/Middle School to unveil his national plan to reopen schools.
After visiting our classrooms, he shared that "SALA in Spanish means living room. Living rooms are where families come and they grow together. That's what I saw here today." In addition to Secretary Cardona, the Executive Director of the National Summer Learning Association Aaron Dworkin, Baltimore Mayor Brandon Scott, and most of City Schools' leadership experienced SALA, too. Each person was so enthusiastic about what the program provides to children. Creativity, collaboration, student expression, engagement, and care are infused throughout the Academy, and so are our students' voices—about their identities, their communities, and how they want to change their communities and the world for the better. Our visitors saw that.
For all of us, this pandemic has taken away so much—whether it be the lives of people we love, our economic security, or the ability to simply live our lives in the ways that keep us healthy. We know that for our teachers, teaching artists, and staff, showing up for SALA was a daily act of love. Anyone who visited the program felt that love through the masks, through the separation that comes with dividing classes into pods, and through the social distancing.
The words of Bettina Love have been guiding the team at Young Audiences this summer: "To love all children we must struggle to create the schools we are taught to believe are impossible, schools built on justice, love, joy, and antiracism."
We are on a mission to make this a reality for our children and are so grateful for everyone who is on this mission with us — including YOU.
Learn more about Summer Arts & Learning Academy here: yamd.org/programs/summer-arts-academy/.
PS. Could these SALA students have created the next famous TikTok dance? Watch the video and see why Secretary Cardona and Mayor Scott think so!
It could be a famous TikTok dance!

Students couldn't wait to share this dance they created with special guests @MayorBMScott & @SecCardona this morning at Graceland Park Elementary Middle! Thank you for visiting & taking in the joyful learning at Summer Arts & Learning Academy! pic.twitter.com/BbMAGPiexJ

— Young Audiences MD (@arts4learning) August 4, 2021
Young Audiences' mission is to transform the lives and education of young people through the arts. To do this, we must understand, appreciate, and celebrate our students – and each other.
Last month, our staff and board came together to recognize the cultural heritage of our Black and brown staff and community. Our inaugural Juneteenth celebration began with a dive into the history of Juneteenth, the oldest nationally celebrated commemoration of the ending of slavery in the United States. The holiday commemorates June 19, 1865, when Union soldiers, led by Major General Gordon Granger, arrived in Galveston, Texas, with news that the Civil War had ended and that the Black people who were enslaved were now free. This was two and a half years after President Lincoln's Emancipation Proclamation, which had become official January 1, 1863.
The YA Juneteenth celebration continued with meaningful performances from teaching artists, presentations on African American cultural heritage, a festival dance party, and some cool ice cream on a hot summer day. Also onsite was a gorgeous ancestral garden designed by Early Learning School & Relationship Coordinator Shana Teel, and flashcards honoring the names of Kings and Queens who made Black History in the marvelous state of Maryland. Participants were invited to call out the names of those people and other Africans throughout the diaspora who have passed on. The scene was decked out in colors of the Pan-African flag to honor Juneteenth: red, black, and green to represent the blood, soil, and prosperity of Africa and its people.
Young Audiences of Maryland honors the diverse cultures, contributions, and achievements of Black and brown staff, children, artists, board members, and partners. This joyful event, coordinated by the Young Audiences Black Caucus and Party Planning Committee, reminded us of the power of infusing our lives with cultural appreciation, understanding, our individual histories, and shared experiences.
As Jessica Hebron, our Chief Program Officer, put it: "We are immensely excited about the celebration and look forward to our continued work honoring Race Equity through social justice initiatives for our current staff and those to come."
As we all move forward – both as individuals and as an organization – race equity will help guide our work in having an honest and lasting impact on students, artists, and our community. And coming together will help us focus on this priority in the months and years ahead.
"Do you know what a stage manager is? You might be a stage manager." CJ Philip would know. The award-winning choreographer and artistic director of Dance and Bmore has spent more than enough time on, in front of, and behind the stage to identify the qualities necessary for the role. "The stage manager is air traffic control," she tells a group of rising high school seniors over Zoom. "If you're stage manager, you're communicating with lighting, dance directors, sound—if you wanna know something, ask the stage manager."
The students are rapt. Not only is CJ an expert in her field, she knows how to cultivate relationships with young people. How lucky we are that Dance & Bmore has returned for a 5th year as a worksite for the Bloomberg Arts Internship.
Since 2017, the Bloomberg Arts Internship has matched rising high school seniors in Baltimore City Public Schools with the city's premiere arts and cultural institutions to explore careers in the arts first-hand. The students learn that it takes talented individuals from a variety of backgrounds and with skills across many disciplines to create a final product—what the public experiences. The seven-week program, now in its 5th year in Baltimore, runs this summer from July 6 to August 20, with 25 interns working with 18 organizations.
Kristina Berdan, YA's education director of Baltimore City initiatives, organized the virtual matching session for new interns and worksites. She and team member Joanna Thursby, her executive assistant, have created a loving, energetic, and comfortable space for participants to gather and get to know each other. "You should not consider this a formal interview, but a question and answer period," she said.
The session begins with small groups completing an introductory task: design the vending machines of their dreams. In no time at all, participants imagine wild combinations of comfort and happiness nestled in springs and levers and housed behind glass. One is stocked with guinea pigs, band aids, and lots of peace. The contents are a delicious blend of fantastic and practical, abstract and essential: sushi, hope, and hair ties; puppies, kittens, and a good night's sleep.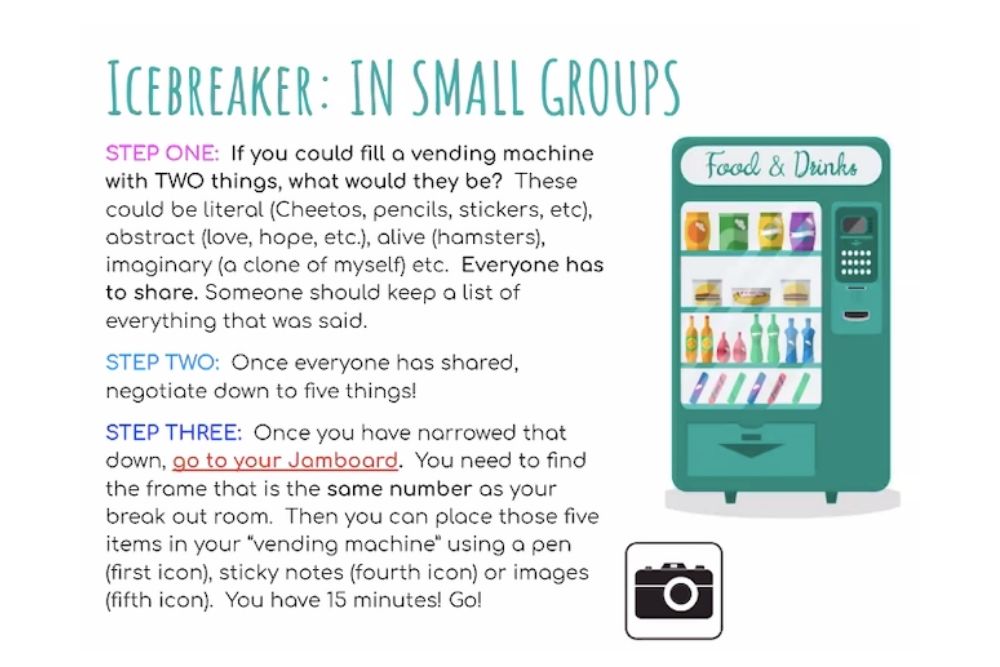 This icebreaker is anything but awkward. There is laughter and collaboration as a student wonders out loud, "How often do these get changed out anyway?" One group is trying to make their vending machine bigger. They have no trouble envisioning their unlikely contraptions. And because this is Smalltimore, there are reunions of sorts. One student recognizes another from their TWIGS program at Baltimore School for the Arts from years back, while another immediately recognizes a worksite partner—a dear friend of her mother. It's amazing how connected the worksite partners and interns feel after just a few minutes of brainstorming together. "I feel like I've known you forever," said Chin-Yer from Dewmore Poetry. "Well, one of you I have known forever."
The participants reunite after a while, a little bit smilier than they left, a little bit less nervous, and, some, wishing the vending machine of their dreams really did exist. It is at this point that the interns introduce themselves to the group, and worksite representatives learn that this talented cohort will bring everything from out-of-the-box thinking, communication skills, teamwork, and good vibes to photo-editing skills and visual art and musical talent to their internships. What's more, they will bring an invaluable resource to the arts and cultural organizations: youth voice.
Single Carrot Theatre, another worksite returning to the program, is seeking their next community partnership intern. They're looking for a student who enjoys research and connecting with people. Over the course of this internship, students will be in conversation with designers, and even get to sit in and observe auditions and experience the callback process.
Local nonprofit Art with a Heart is looking for a student interested in digital arts, 3D printing, and digital fabrication and design. This intern will assist in developing products for their online store, Heartwares, that was created in order to continue connecting with the community despite COVID restrictions.
The engaging process made it clear: worksites are as equally excited to share their work as they are to learn from and partner with these students. Together, they will engage and inspire younger audiences through the creation of new programs and activities. This, worksites understand, is an opportunity for them to harness the unique technical and social skills of this generation.
Between time at their worksites, in professional development workshops, and virtual field trips, the 2021 interns will receive college guidance, life skills, and build meaningful relationships and connections with Baltimore artists and people working in the arts. "This is deeper than an internship," said Chin-Yer. "We stay in touch for years and years and become a family."
To learn more about the Bloomberg Arts Internship Program, click here, and be sure to follow the program's Instagram page to stay up to date on interns' experiences this summer.
If you live in Baltimore, you already know: our city's incredible arts and cultural organizations bring joy, curiosity, and beauty to the area. They enrich life, inspire ideas – and directly support residents. A perfect example: The Bloomberg Arts Internship Program! This summer, 18 of those organizations will welcome 25 rising Baltimore City Public School seniors as paid Bloomberg Arts Interns.
The seven-week program, managed by Young Audiences, is an incredible opportunity to gain meaningful work experience while getting a feel for a career in the arts – all while preparing for college and career! Through college mentoring, working with writing coaches and professional development activities, the program gives students guidance on college applications, essays, future planning and more. Interns spend three days a week with their host organizations and the other two in a cohort of fellow interns, learning and growing together. This summer's program – a combination of virtual and in-person experiences – runs from July 6 to August 20.
A huge thank you to the following Baltimore arts & cultural institutions that will be hosting interns this summer!
–  Art with a Heart
– Arts Education in Maryland Schools (AEMS)
– Arts Every Day
– Baltimore Center Stage
– Baltimore Clayworks
– Baltimore Jewelry Center
– Baltimore Museum of Art
– Dance & Bmore
– DewMore Baltimore
– Eubie Blake Cultural Center
– Everyman Theatre
– Johns Hopkins University Museums – Homewood Museum and Evergreen Museum & Library
– Living Classrooms – Ascend through Music Program
– Maryland Art Place
– Maryland Center for History and Culture
– Maryland Institute College of Art
– Port Discovery Children's Museum
– Single Carrot Theatre
To learn more about the Bloomberg Arts Internship Program, click here, and be sure to follow the program's Instagram page.
It's been crystal clear over her 16 years of leading Young Audiences of Maryland, Stacie Sanders Evans rocks! An incredible leader, supporter, mentor, and motivator, Stacie leads us to do more, reach higher, and support more students, families, artists, and educators. It's great to know others recognize it too: The Maryland Daily Record named Stacie one of its Maryland Top 100 Women Award winners for 2021!
Award winners were selected for their positive impact through leadership, community service, and mentoring—three qualities Stacie brings to Young Audiences every single day. Her fun, positive, passionate approach to leadership sets the tone for our work. Stacie inspires the YA team to create engaging programs that bring joy to students and support them in their academic successes. She truly believes in the arts' and artists' power to transform lives. And she understands how to support and manage the many elements of success; we continue to grow as a thriving organization serving more than 250,000 students in every Maryland County and remaining fiscally responsible—especially over the last year.
A heartfelt congratulations to Stacie on this well-deserved honor!
To learn more about the awards and to see the full list of incredible women honored this year, click here.
The scene: A Station North community centered around the arts, where Baltimoreans explore, dance, laugh, and learn.
The site: Odell's, the historic nightclub on North Avenue, which brought Baltimoreans together time and time again to share in the joy of living creatively.
The story: This fall, that same curious, creative spirit will return to the now-vacant building as our new home. We are more honored than words can express.
On Monday, March 15, we celebrated what's to come at the Odell's Virtual Groundbreaking. The celebration marked the beginning of a ten-month renovation, preparing the beloved former nightclub to become the home we will share with Code in the Schools.
Moving into a building with a history of such free expression and creativity is an absolute joy. This $6.6 million renovation of the 18,000 square foot building at 19-21 E. North Avenue will transform the building into a community hub for arts-integrated and STEM-based learning. For decades, Young Audiences has been welcomed into school and community buildings across the state. Now, for the first time in our 70-year history, students and their families and caregivers will be able to come to our home and explore their creativity, express themselves, and discover the arts' power to enhance learning, to enrich communities, and to change lives.
Hundreds watched online as we celebrated on the 15th, with city and educational leaders on-site to honor the day, including Mayor Brandon Scott, City Schools' CEO Dr. Sonja Santelises, City Councilman Robert Stokes, State Delegate Marlon Amprey, and others.
Like everything we do, the celebration featured arts experiences—with teaching artist Femi the DriFish moving the audience through a spoken word poem to start the day, and teaching artist Amanda Pellerin leading a collective creative experience to close it out. Pellerin is creating a clay mural for installation in the building after having the speakers and few in-person attendees make their impression in a block of clay using an object that, to them, represents learning, creativity, and community.
The excitement was palpable. But don't take our word for it—here is what a few of our special guests had to say:
Mayor Brandon Scott:
"Thank you to Code in the Schools and Young Audiences for keeping up the tradition of Odell's… You'll know when you'll belong was the saying at Odell's, and what Young Audiences and Code in the Schools are doing here is telling our young people that they belong. We know the arts are a vital tool in allowing our young people to imagine and envision a future for themselves and their community… We need to allow our young people to dream about what they want Baltimore to be for them. This is how we inspire the beautiful minds of our young people."
Dr Sonja Santelises:
"It is because of organizations like Young Audiences and Code in the Schools that young people in Baltimore have the kind of enrichment opportunities that are going to allow our community to not only bounce back from the last year of challenge, but actually to move forward. We know that a lot of our young people's healing, their re-engagement, their belief in themselves, is going to be connected to what's going to be happening in this building… A lot of that work is because of the dedication we have from partners like Young Audiences and Code in the Schools, who were committed long before this building to young people in Baltimore having the kinds of experiences that make school worth coming back to."
Find a recording of the ceremony, here. A huge thanks to our partners and funders in this project, including Jubilee Baltimore, Property Consulting Inc, The Harry and Jeanette Weinberg Foundation, Central Baltimore Partnership, Central Baltimore Future Fund, The Abell Foundation, and The France-Merrick Foundation.
We're filled with excitement and anticipation for the day our doors open at Odell's. We cannot wait to welcome you into our home to explore, create, learn, and have fun. Keep an eye out for updates as our renovation progresses. In the meantime, check out some photos from the celebration.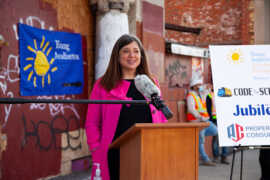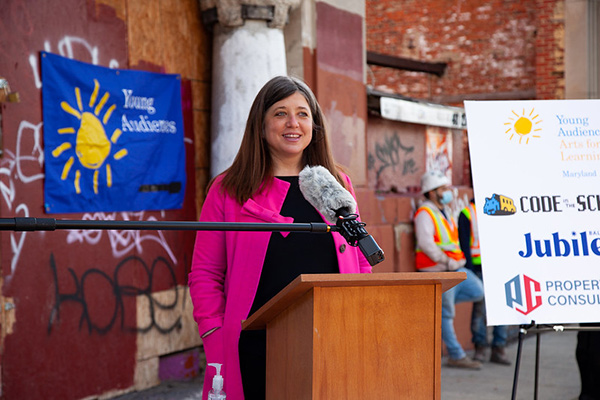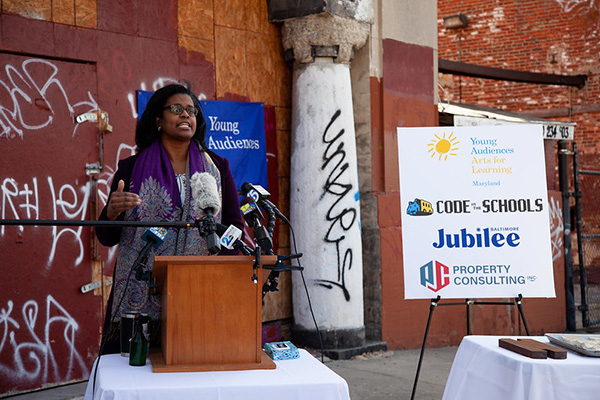 When schools closed last spring, we knew it was time to improvise. Even (or especially!) at home, students need high-quality learning experiences and creative engagement to ensure they continue growing. Closed classrooms presented a significant challenge for artists to collaborate with teachers and inspire students.
Enter Arts & Learning Kids. Young Audiences' talented team created this arts-integrated TV show where  master teaching artists and educators guide children in fun and inventive math and literacy lessons. The 30-minute, arts-infused episodes—there are more than 100 of them—bring joyous learning to life with music, beat boxing, illustration, puppetry, dancing, and more. Arts & Learning Kids are tailored to specific grades—preK to K, 1st and 2nd, and 3rd to 5th—and the content they are studying.
The shows have been available to Baltimore City and Prince George's County students through local cable TV channels, on our Facebook page, and through direct, weekly emails to more than 175 educators. And now, EVERY Maryland public school district can purchase these lessons for its students and families!
All Arts & Learning Kids episodes are available for purchase by school districts, educators, and care providers across the state.
The episodes support both remote and in-person learning and can be a useful tool for teachers working with students in both spaces. Check out some highlights, here!
Like all of us in so many ways, we didn't know what to expect after launching the show. But soon it became clear: thousands of students, families, and educators have used the Arts & Learning Kids shows to stay in touch, add some joy and diversity to their lessons, and continue to learn and grow. And with each show, we include written extensions – academic and arts-based activities that can be taught in a virtual or in-person classroom. As one school principal put it, the shows make it easier for teachers because it is easy to access and the kids are so engaged. "It is central to instruction."
In the New Year, Arts & Learning Kids will reach more districts, more educators, and more students. Spread the word! If you're interested in bringing Arts & Learning Kids to your district, students, household, or schools, send an email to katherine@yamd.org.
Pure and simple, our teaching artists are the engine for the inspired learning Young Audiences brings to the classroom and to students. They drive the creativity. They are the inspiration that excites and motivates students. And they give selflessly.
Now it's our turn to give to them – through the Teaching Artist Emergency Fund.
 
You can support our partner artists in this unusually challenging time. Classrooms are closed. Programs and schools that contract for our teaching artists are financially challenged. As a result, our artists have lost more than $80,000 in earnings between September and December—and we project greater losses this Spring—and their opportunities to use their craft outside of YA have largely disappeared. Many of our partner artists are struggling, and there is no clear timeline for when they can again return to the classroom and restore their income.
By pivoting to online learning—and also through the generosity of our incredible supporters—we've been able to mitigate some of that financial impact. We've partnered with our artists to develop incredible online content. We also raised more than $57,000 through the Teaching Artist Emergency Fund launched in the Spring of 2020—all of which was given to our artists. We've helped to keep them working and reducing their financial gap.
Prior to the Winter holidays, our Board allocated $30,000 financial relief to artists…but it's not enough.
Today, we are reopening the Teaching Artist Emergency Fund. Two generous donors are furthering the relaunch of the Fund with an additional gift of $5,000. Knowing that 100% of the money contributed to the Fund goes directly to the artists and their families, we are asking you to offer your support by making a contribution to the Fund.
On behalf of our artists, their families, and the students who benefit from their work, thank you.
Stacie and the YA Team