This summer, up to 40 Baltimore City Public Schools students will gain impactful real-world experience with local arts institutions through the Bloomberg Arts Internship Program! We're thrilled to partner with Bloomberg Philanthropies to manage the 7-week experience.
If you are familiar with the program, you know that BAI is much more than a summer job. It is a chance for young scholars to be challenged and inspired while gaining meaningful, real-world experience working side-by-side, three days a week, with experts within Baltimore's stellar arts and cultural institutions. Each year, students tackle creative and administrative projects at their worksites—projects that are not only meaningful in the moment but integral to the fabric of the organizations. Thursdays and Fridays are spent in rich, immersive, and dynamic learning environments where students prepare for college, build career skills, plan for their futures, and explore a variety of art and connect with artists in different locations across the city. Since 2017, 136 students have taken advantage of this incredible experience!
There is a tremendous amount of learning and growing happening in these summer months in the program, but it is important to note that interns aren't just acquiring skills: they are taking creative risks, forging lasting friendships, and building a community. The following excerpt is from the poem "Assumptions" by this year's BAI social media manager (and 2020 alumna). This piece, as does work created by other interns over the course of the program, illustrates the mindsets and positive impacts BAI helps foster in students.
Tears fall daily but do anyone notice
I would honestly say barely
I always say why this or why that
How about why not?
life gets tougher everyday but you can't let it bring you to a stop
Failure is okay because it's not a tattoo it don't last forever
Be that person who is open minded and prepared for whatever
I would say that's the real definition of clever
With the student selection process in full swing, it's hard not to feel excitement for the coming summer. Each year, an entire village comes together to ensure students have the chance to participate in this incredible opportunity. For the past several months, staff, alumni, and community partners have been working hard behind the scenes, brainstorming and putting into place plans of action to recruit applicants from across the city. Student Ambassadors–BAI alumni Shae Harris, Tyjanae Simmons, and Makayla Singletary designed and delivered info sessions virtually and in person at 11 city schools. Teachers and administrators in City Schools have spent countless hours writing heartfelt and comprehensive letters of recommendation; their support of and dedication to students unwavering–and we have nearly arrived at the moment when we get to meet these awesome future interns!
Once selected, students will gain an immense amount of knowledge from mentors and writing coaches, from their worksites, and from each other—and we will learn from them. If it is one thing we've seen over the past five summers, it's that the poetic insight and artistic talent, the worldly curiosity and the stoic perseverance of our students is a constant reminder of how excellent, interesting, and kind our world can be—and that is something we can all learn from and be thankful for.
Learn more about the program at artsforlearningmd.org/bloomberg-arts-internship and be sure to follow along with our 2022 Bloomberg Arts Interns' adventures on Instagram and on their blog. 
Over Early Learning Week's five days and 20+ hours of residency sessions, we danced, sang, moved, laughed, and learned! In total, more than 3,500 children along with 300 teachers and caregivers from 16 Maryland Counties tuned in to Early Learning Week's 20+ hours of programming. A huge thank you to everyone who attended!
Early Learning Week was packed with engaging, arts-integrated residencies and on-demand Family Involvement Workshops led by amazing Wolf Trap trained teaching artists. Learn more about each artist and explore their available programs: Caroline Ferrante, Maria-Ines-Tripodi, Mary Fields, and Katherine Lyons.
Check out what a few attendees had to say about the experience:
— "I had a wonderful time and thoroughly enjoyed the week as did my students!"
— "I loved how Ms. Lyons used props and toy animals to support her lesson in order to help students gain a better understanding of the details and sequence of events that occurred in the story. As the teacher, I am grateful to have learned how to say goodbye in another language."
— "My son keeps talking about cooperation and working together [the themes in Ms. Caroline's residency], so that was a major takeaway for us!"
Interested in more high quality, arts-integrated early learning experiences? Check out the many options to do just that, below!
— Sign up for our Early Learning Video Portal! Thanks to support from the Maryland State Department of Education and partnership with Ready At Five, ALL Marylanders can access this library of 50+ artist-led educational experiences through June! Learn more and register for access here!
— Register for a FREE Arts Integrated Professional Development Workshop on Saturday, May 7, 2022 at 10am! This virtual workshop, "Good Vibrations All Day Long," led by teaching artist Sue Trainor, will offer practical strategies that caregivers and parents of young children can use throughout the day to manage focus and transitions, encourage social-emotional and oral literacy skills, develop basic musical chops, and have loads of fun at the same time! PLUS: We are able to offer all participants Core of Knowledge Hours through MSDE's Office of Childcare.
How to Stay Connected and Book Programs:
— What We Offer: We offer a range of programs for early learners, from assembly performances to Family Involvement Workshops to Wolf Trap residencies for infants and toddlers and grades PK & K. Visit our website here for more information on programs!
— To Book a Program: For information on booking programs and bringing an artist into your center or classroom, please contact Shana Teel ([email protected]), our amazing Senior Early Learning Coordinator.
On February 23, students and educators across Baltimore and Maryland turned UP and OUT for our Blacktastic: A Children's Festival of Black History & Culture!
Thanks to all of the love and support from across the state, our second year of Blacktastic was the largest event in Arts for Learning Maryland's 70+ year history. With 35,000 student and 133 school registrants, participants danced, sang, and acted in six engaging, educational virtual performances by Arts for Learning's incredible teaching artists.
The virtual event honored Black History Month in the best way possible: through joyful expression! Using dancing, hip-hop, theater, and storytelling, Arts for Learning's wonderful teaching artists explored the lives and impact of such amazing Black Marylanders as Billie Holiday, and Cab Calloway, Valerie Thomas, and Frederick Douglass. A huge thanks to the amazing Jamaal "Mr. Root" Collier, Ryan Johnson of Sole Defined, Matthew Cittendon, Debra Mims, Wombwork Productions, and Baba Bomani for sharing their beautiful, inspiring, and educational art forms with viewers.
It's clear that students and educators had fun — and learned! As they said after the program:
"What a creative way to engage students in Black History. The fact that the focus was on people in the very state the students live in, made history "closer" to them."
"The kids in my classroom were inspired today! One of my students performed a song to the entire class! While he was singing another student danced! They were so proud and it made my heart happy!"
"I feel that it was a very well rounded, educational, and engaging program. Kids loved it!"
"Blacktastic. It's not a word. It's a feeling, a celebration! This festival was an amazing opportunity for students and teachers alike to experience the power of the arts. Can't wait to see where this goes next year!"
And the Blacktastic learning didn't stop at the end of the broadcast. Students and teachers have access to videos of the presentations until June 30, 2022.
Interested in more opportunities to work with our artists and celebrate Black history and culture? Click here and explore our wide range of engaging, educational programs!
(BALTIMORE, MD) February 09, 2022 – Arts for Learning Maryland (formerly Young Audiences of Maryland) announced that it has been awarded a nearly $4 million grant from the U.S. Department of Education to demonstrate arts-integrated school programs that improve academic performance and emotional well-being of students in low-wealth schools.
Senator Chris Van Hollen (D-MD) informed Arts for Learning Maryland of the five-year $3,970,442 grant award to work with Prince George's County Public Schools for Start with the Art: Arts Integration + Co-Teaching — A Transformative Approach to Increasing Academic Achievement and Fostering Socioemotional Development in Elementary Students. Arts for Learning Maryland, a nonprofit organization that enriches the lives and education of 180,000 Maryland children each year through arts integration experiences, is the only organization in Maryland to have been awarded one of the 30 EIR grants in FY2021.
The DOE Education Innovation and Research grant – the largest in Arts for Learning Maryland's 70-year history – will allow the organization to research, demonstrate and model the effectiveness of using arts and artists in Kindergarten through third-grade classrooms in Prince George's County, Maryland.
The project will establish and sustain collaboration between Prince George's County Public School classroom teachers and Arts for Learning Maryland teaching artists as they plan and deliver lessons, including re-engaging students in the classroom following educational disruption precipitated by the COVID-19 pandemic.
Start with the Art will incorporate four arts-integrated instructional strategies that have been demonstrated to foster the academic achievement and socioemotional development of students, particularly students placed at risk by poverty: using the arts to foster students' engagement in the classroom; using arts experiences to allow students to experience a wider range of emotional experience than is often possible in regular classroom activities; using students' experiences of setbacks and failure in their artistic work as a way to develop students' perseverance; and capitalizing on students' collaborative work to foster students' positive peer relationships.
As part of Start with the Art, classroom teachers will participate in a Training Institute offered as an extension of the Prince George's Artist Teaching Institute (PGATI), a long running, highly respected summer professional development experience.
Start with the Art will begin in early 2022 with recruiting the initial cohort of schools, classroom teachers, teaching artists, and instructional coaches who will participate in the pilot. The first program for students will be offered in Fall 2023, with a goal to engage 2,500 students in kindergarten through third grade who are living in or near poverty and are attending school in PGCPS.
Start with the Art will be developed in collaboration with Prince George's County Public Schools (PGCPS), WolfBrown, and West Chester University (WCU). The program's principal investigators from Wolf Brown and WCU will co-lead all aspects of the evaluation, including recruitment, assignment, data collection, analysis, reporting, and dissemination to research audiences. They have collaborated extensively on other projects at the intersection of arts education and the early development placed at risk by poverty.
The EIR grant accounts for 75% of the total cost ($4.962,000) of the project through 2026.
The U.S. Department of Education Innovation and Research Program provides funding to create, develop, implement, replicate, or take to scale entrepreneurial, evidence-based, field-initiated innovations to improve student achievement and attainment for high-need students; and rigorously evaluate such innovations. The program is designed to generate and validate solutions to persistent educational challenges and to support the expansion of effective solutions to serve substantially larger numbers of students.
Said Stacie Sanders Evans, president and CEO of Arts for Learning Maryland, "This grant is a testament to our artists, staff, and board, as well as the powerful work happening within our community. It recognizes the two strategies that have been at the heart of our Summer Arts for Learning Academy – collaborative lesson planning and co-teaching – and that has resulted in academic and personal growth for nearly 9,000 students at Title I schools. Start with the Art will build additional evidence of the transformational impact that our work has on children so that even more children will have access to this kind of learning in the future."
In informing Arts for Learning Maryland of their grant award, U.S. Senator Chris Van Hollen (D-MD) said "The quality of our students' education should not be determined by their zip code. As we continue working to invest in public education, I'm proud to support the work of organizations like Arts for Learning Maryland that take an innovative approach to helping all our students succeed. Arts for Learning Maryland's critical work enriches students' lives, sets them up for future success, and helps them achieve academically through hands-on engagement in the arts and their community. I will continue working to support Maryland students and to bring educational opportunities to our communities."
"The PGCPS Department of Creative and Performing Arts has enjoyed a wonderful partnership with Arts for Learning Maryland for many years," said Chief Executive Officer Dr. Monica Goldson. "This collaboration will support both our educators and youngest learners through arts integration experiences providing alternative, creative, and engaging instruction to meet the needs of diverse learners."
About Arts for Learning Maryland
Arts for Learning Maryland (formerly Young Audiences of Maryland) is a nonprofit organization devoted to enriching the lives and education of Maryland's youth through educational and culturally diverse arts programs. Through Arts for Learning, professional teaching artists from all disciplines partner with educators, schools, and school districts to provide, on average, over 300,000 hours of learning in, through, and about the arts to more than 185,000 Maryland students annually.
BALTIMORE— Arts for Learning Maryland (formerly Young Audiences of Maryland) has been approved for a $40,000 Grants for Arts Projects award from the National Endowment from the Arts to support its Principal Fellowship Program, a year-long initiative supporting Baltimore City Public School principals in integrating the arts into learning.
Now in its third year, the Principal Fellowship will create a cohort of school leaders to explore the arts' power to transform school culture, enhance learning and spur social emotional growth. In 12 sessions over the 2022 summer, they will engage in collaborative planning, one-on-one coaching by teaching artists, and observations of the Summer Arts for Learning Academy and cultural institutions. The 10 principals in the cohort will each create an action plan to leverage the arts as a tool for positive change and academic improvement at their school.
The Principal Fellowship supports Baltimore City Public Schools' Blueprint For Success priorities of whole child development, literacy, and leadership.
This grant, which marks the fifth consecutive year that Arts For Learning Maryland has received NEA funding, is part of the NEA's nearly $29 million in funding of 1,248 projects across America that were selected to receive this first round of fiscal year 2022 funding in the Grants for Arts Projects category.
"Year after year, our work reiterates that true commitment to the arts in ways that help students thrive requires strong school leadership," said Stacie Sanders Evans, President and CEO of Arts for Learning Maryland. "We're so thankful for the NEA's support in ensuring Baltimore's principals understand the impact of the arts and have the tools necessary to leverage creativity and enhance student learning."
"The National Endowment for the Arts is proud to support arts projects like this one from Arts for Learning Maryland that helps support the community's creative economy," said NEA Acting Chair Ann Eilers. "Arts for Learning Maryland in Baltimore is among the arts organizations nationwide that are using the arts as a source of strength, a path to well-being, and providing access and opportunity for people to connect and find joy through the arts."
For more information on other projects included in the Arts Endowment grant announcement, visit arts.gov/news.
Alert! Alert! We're hiring practicing artists to transform student learning by using their art form in the classroom!
Beginning in February, our paid Summer Artists Corps training program will guide artists through workshops, mentorships, shared experiences and personal reflection to discover the processes and dynamics of co-teaching arts integrated lessons with an educator. Artists will join a community of like-minded peers to explore how to emotionally support students, create a productive classroom climate, and use arts integration as anti-racist pedagogy – all while building marketable teaching artist skills.
A series of Race Equity Trainings will allow artists to examine existing biases and better understand the history and current impact of institutional and structural racism on policies and practices in public education.
The 60+ hour training program runs from late February through early June 2022.
Artists who successfully complete the training will receive a $500 stipend and will be hired to work at our Summer Arts for Learning Academy (SALA), with earnings up to $11,500 ($50/hour)!
SALA is a six-week program where practicing artists collaborate with classroom teachers, using art to make morning math and literacy lessons more joyful and understandable. And in the afternoon, artists engage with students directly in their art form.
Spread the word to artists you know! For more information about Summer Artist Corps and to find the application – due January 26 – click here.
Is there a better feeling than sharing news so exciting you want to shout it from the rooftop? Maybe you heard us all making some noise when the 64th annual GRAMMY award nominations were announced—because our chief program officer, Jessica Smith Hebron a.k.a Culture Queen, has been nominated in the Children's Music category!
Jessica is one of the artists featured on the album All One Tribe by the One Tribe Collective. Released on Juneteenth of this year, the album features 24 Black children's music artists making it the first children's music album of its kind! Check out her video for the song "I am the Future of Black History" and the full album at 1tribecollective.com!
Not only that, WolfTrap/Early Learning artist 123 Andrés was nominated in the same category for their new album Actívate. The album brings together over 40 musicians celebrating sounds, rhythms, and flavor from across Latin America and features Arts for Learning roster artist Jamaal "Mr. Root" Collier! 
Let's get up, get moving, and cheering! Hooray and congratulations, Jessica, Andrés and Christina, and Mr. Root!! You ROCK!
New Name Reflects 71 Year Evolution and Impact on Students
Young Audiences of Maryland, the Baltimore-based nonprofit transforming student learning through arts integration, has changed its name to Arts for Learning Maryland.
The name change reflects Arts for Learning Maryland's evolution over the past 71 years, its impact on students, and its plans for the future. What started as a classical music series in 1950 in Baltimore schools has evolved into a statewide organization where educators partner with musicians, actors, poets, visual artists, and dancers to co-create dynamic, arts-integrated, curriculum-based learning experiences. Today, Arts for Learning Maryland reaches more than 180,000 Maryland students a year in every Maryland school district with arts-integrated artist residencies, performances, and professional development experiences for educators.
"As we expanded our reach and developed new initiatives, we realized that our name wasn't relevant for our collaborative, hands-on experiences for students, educators, and school leaders," said Stacie Sanders Evans, Arts for Learning President and CEO. "We wanted our name to describe the meaningful "what," the creative "how," and the important "why" of our work."
The selection of Arts for Learning Maryland is the result of a two year process in which board members, staff, artists, educators, students, donors, community, and education leaders explored the organization's mission, values, and programs in order to guide the name selection. The process affirmed the nonprofit's universal truths: The arts transform lives. Integrating the arts with academic learning produces powerful results.
"We believe that the arts are for learning," continued Stacie Sanders Evans. "The words "Arts for Learning" are the right words and the right message for who we are and the exciting journey we're on. And by adopting Arts for Learning Maryland, which was part of our previous name, we're honoring our history and affiliation with National Young Audiences/Arts for Learning, the nation's oldest and largest arts-in-education learning network."
The new name is represented in a bold new logo. Young Audiences' sun symbol has evolved into a radiating and joyful kaleidoscope reflecting the diversity of the community and the spark that Arts for Learning Maryland creates for learning and personal growth.
Coinciding with the adoption of its new name, the Arts for Learning Maryland office is moving this week into the historic, renovated Odell's building in the Station North Arts District in downtown Baltimore. In addition to nearly 12,000 feet of offices, training space for artists and teachers, and classroom space for students and families, the office will feature a tribute to the iconic Odell's nightclub.The Brock family, which founded Odell's nightclub, has donated historical artifacts, clothing, memorabilia, and stories that will be incorporated as a permanent display in the new offices.
Says Stacie Sanders Evans, "Arts for Learning was drawn to make Odells its home, in part, because Odells was a gathering place that was so beloved by so many people in the community and so many creative people gathered there."
To read more about Arts for Learning's process for selecting its new name, click here. For more information about Arts for Learning Maryland, click here.
"Arts Career Day! Every single art form's got something to say. If your art is your career, you deserve to be paid!"
Those lyrics to the Arts Career Day theme song, written by the amazing teaching artist and hip-hop artist Jamaal "Mr. Root" Collier, encapsulate the power of the arts and the importance of ensuring our young, creative students understand how to build careers in the field.
Last month, Young Audiences' first-ever Arts Career Day did just that through helpful tips and guidance directly from artists for K-12 students on building arts-based careers! Hundreds of students and educators tuned in to the free, fun, virtual event.
No matter your goals or your roles, the insights were inspiring. See for yourself! Check out some artist tips heard in Arts Career Day:
"Love all the things you do. There are no mistakes." – Christina Delgado
"Find your WHY." – Brother David, Wombwork Productions
"Dance to the music playing in movies. Try to understand what it makes you feel." – Emily Brennan
"Always believe in yourself. And believe in your gift: it is yours. … Don't compare your journey." – Zori Patrick
"My best advice is follow your passion. Be yourself. And practice, practice, practice." – Amanda Pellerin
"Always keep your mind open for opportunities. Be willing to go outside of your comfort zone. … I am a strong believer that, if you get started, the world will meet you halfway." – Ahmad Abdullah
"As artists, we all get ideas from each other. … It's ok to borrow (as long as you credit). And then make it your own!" – Lisa Mathews
To learn more, check out a full recording of the event here.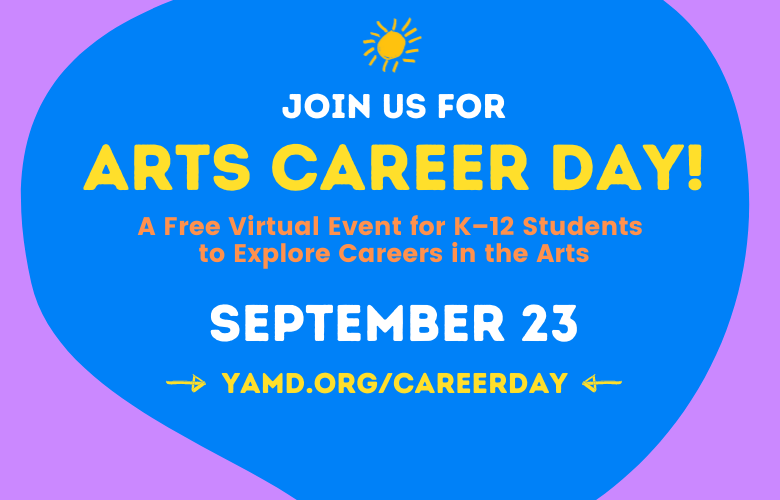 Next Thursday, 9/23, Young Audiences' first Arts Career Day will give K-12 students the opportunity to engage with and learn from professional artists who have successfully built a career in creative fields.
This free, virtual program is broken into four one-hour workshops with practical, child-friendly advice on creating a career in the arts; engaging and informative Q&As; and fun, arts-infused panel discussions. Students, educators, and caregivers can register for free here. The artists offering insight at Arts Career Day are seasoned, successful, and inspiring. See for yourself:
Dancers
– Ballet Theatre of Maryland: BTM is Maryland's only professional classical and contemporary ballet company!
– Footworks Percussive Dance Ensemble: Internationally renowned for their theatre and festival productions, Footworks has been committed to arts education for more than 35 years.
– Laura Schandelmeier: Laura is a choreographer, performer, teacher, and co-artistic director of Dance Box Theater … and a Wolf Trap master teaching artist!
– Tiffanie Horner: Tiffanie is a trained dancer and teaching artist at dance schools and in classrooms for the last 15 years.
Musicians

Ball in the House: This high-energy R&B/Soul/Pop a cappella group keeps audiences singing, dancing, and beatboxing along in hundreds of shows a year.
Baltimore Brass: This group of six world-class musicians specializes in the performance of classical and contemporary music that appeals to audiences both young and young at heart!
Drew Anderson: Entertainer and educator Drew Anderson has spent his entire adult life engaging audiences as a science teacher and performer of hip hop, spoken word, and comedy.
Lisa Mathews: Lisa is a Wolf-Trap trained teaching artist and fronts the amazing Milkshake, an award-winning Grammy-nominated rock band for kids!
Storytellers, Actors, & Literary Artists
Happy Theater: Founder Natasha Mirny is stage director, choreographer, and teaching artist with a background in pantomime, puppetry, and physical theater.
Schroeder Cherry: With a passion for puppets since childhood, Dr. Schroeder Cherry now performs original puppet shows in museums, libraries, and cultural centers for adults and children across the US.
Synetic Theater: Synetic Theater emerged from the creative vision of founders Paata and Irina Tsikurishvili, who use movement, music, technology, and visual arts to transcend the limits of language.
Wombwork Productions: Founded in 1997 by three visionary artists, Wombwork utilizes dance, music, and theatre as traditional sources of healing and empowerment for the community.
Visual and Digital Media Artists
Ahmad Abdullah: A Baltimore-born graphic designer and digital arts educator, Ahmad is an advocate for using art and design as vehicles for interpreting social issues and prompting restorative justice.
Amanda Pellerin: Amanda specializes in handmade tile murals and clay sculptures and has 20 years of experience in teaching, including at the Walters Art Gallery and Baltimore Clayworks.
Christina Delgado: First just a hobby, Christina's work as a photographer and artist grew into a profession later in life. She now has a decade of experience as an educator, photographer, and community advocate.
Find details and FREE registration for Arts Career Day, here!
What. A. Summer!
Through Young Audiences' programs, 2,149 students in Baltimore City and throughout Maryland spent their summer infusing learning with joyful, hands-on arts experiences led by teaching artists. Their days were filled with inspiring moments as they danced to Ugandan drums, wrote songs about fractions, beatboxed to practice counting, illustrated plot points in stories, and explored how creativity enhances learning and helps reach goals.
Our Summer Arts & Learning Academy engaged nearly 1,700 students across Baltimore City in a full-day, six-week arts-integrated experience. Summer LIT! welcomed nearly 500 Baltimore City K-5 students to work with teaching artists to expand literacy skills using creativity. The Bloomberg Arts Internship Program matched 22 rising City Schools seniors with local arts organizations for meaningful work experiences in creative fields, supplemented by mentorship and guidance toward college and career readiness. And in Howard County, our incredible teaching artists delivered daily, arts-integrated programming to 600 students.
The many art forms explored across our programs included design, embroidery, hip-hop, improv, Japanese Taiko drumming, miming, music, dance, beatboxing, painting, photography, poetry, sculpture, theatre, and more!
We are proud to have helped City Schools support more students than ever before with meaningful summer programming. Take a look at our summer – by the numbers.
Young Audiences Summer Programs By The Numbers
To learn more about Young Audiences summer programs, visit www.yamd.org.
For the first time in our history, the U.S. Secretary of Education, Miguel Cardona, visited a Young Audiences program to experience arts-integrated learning! Secretary Cardona came to our Summer Arts & Learning Academy (SALA) site at Graceland Park Elementary/Middle School to unveil his national plan to reopen schools.
After visiting our classrooms, he shared that "SALA in Spanish means living room. Living rooms are where families come and they grow together. That's what I saw here today." In addition to Secretary Cardona, the Executive Director of the National Summer Learning Association Aaron Dworkin, Baltimore Mayor Brandon Scott, and most of City Schools' leadership experienced SALA, too. Each person was so enthusiastic about what the program provides to children. Creativity, collaboration, student expression, engagement, and care are infused throughout the Academy, and so are our students' voices—about their identities, their communities, and how they want to change their communities and the world for the better. Our visitors saw that.
For all of us, this pandemic has taken away so much—whether it be the lives of people we love, our economic security, or the ability to simply live our lives in the ways that keep us healthy. We know that for our teachers, teaching artists, and staff, showing up for SALA was a daily act of love. Anyone who visited the program felt that love through the masks, through the separation that comes with dividing classes into pods, and through the social distancing.
The words of Bettina Love have been guiding the team at Young Audiences this summer: "To love all children we must struggle to create the schools we are taught to believe are impossible, schools built on justice, love, joy, and antiracism."
We are on a mission to make this a reality for our children and are so grateful for everyone who is on this mission with us — including YOU.
Learn more about Summer Arts & Learning Academy here: yamd.org/programs/summer-arts-academy/.
PS. Could these SALA students have created the next famous TikTok dance? Watch the video and see why Secretary Cardona and Mayor Scott think so!
It could be a famous TikTok dance!

Students couldn't wait to share this dance they created with special guests @MayorBMScott & @SecCardona this morning at Graceland Park Elementary Middle! Thank you for visiting & taking in the joyful learning at Summer Arts & Learning Academy! pic.twitter.com/BbMAGPiexJ

— Young Audiences MD (@arts4learning) August 4, 2021