Young people especially have felt the brunt of disappointment this year. It's been hard for adults not to throw up our hands defeated by what felt like every important event and pivotal milestone of 2020 being cancelled. Imagine how that feeling must be amplified in teenagers. And it wasn't just the celebratory moments, the graduations, dances, concerts, performances, and year-end trips being cancelled. Important next steps were postponed and progress, halted.
Many students relying on the professional experience an internship provides have missed out on those opportunities as well. But not Bloomberg Arts interns. The Bloomberg Arts Internship (BAI) has always been special. Since 2017, the chance to work within arts and cultural organizations, to learn from and alongside arts and cultural professionals, and to be a valued voice within an organization has been extraordinary for rising high school seniors in Baltimore City. Couple that with mentorship, college prep, and practice with writing coaches, and you can understand what makes BAI such an invaluable opportunity for young people at the intersection between high school and college. It had to happen.
Each host city—Baltimore, Boston, New York City, and Philadelphia—stepped up to the challenge of reimagining and delivering an intense and multifaceted program involving multiple organizations and students from many different high schools in a virtual space this summer. If that doesn't tell you that the Bloomberg Arts Internship is something extraordinary, know this: 75% of our Baltimore program's college mentors are BAI 2017 graduates and our social media manager, Josh Ray, is a BAI 2018 graduate. To have so many alumni return full-circle to guide students, to make sure that they, too, have the opportunities, training, and insight needed to be successful in college and careers speaks volumes. We are so honored.
The 2020 Bloomberg Arts Internship Worksites:
Art with a Heart
Arts Education in Maryland Schools (AEMS)
Arts Every Day
Baltimore Jewelry Center
Baltimore Youth Arts
Creative Alliance
Dance & Bmore
DewMore Baltimore
Evergreen Museum and Library
Homewood Museum
Living Classrooms – Ascend through Music Program
Maryland Historical Society
Maryland Institute College of Art
Single Carrot Theatre
The Baltimore Museum of Art
By now, our 2020 cohort of Bloomberg Arts Interns have each settled into working with one of these 15 arts and cultural organizations in Baltimore–some who have welcomed interns since the program began in 2017, some brand new this year, all of them excited to work with students and make the most of their internship even in a virtual landscape. We cannot wait to hear and read about the projects they will imagine and develop this summer in their blog and through their Instagram page. Like most programs post-COVID-19, the Bloomberg Arts Internship looks a little different this year. But it feels right.
The Bloomberg Arts Internship is managed by Young Audiences through the support of Bloomberg Philanthropies. Learn more about the program here.
Black lives matter. Young Audiences stands with those fighting for justice in Maryland, Minneapolis, Louisville, and across our country. We honor those who have been murdered and otherwise harmed by our nation's systemic racism and police brutality.
We recognize that #BlackLivesMatter is a movement, not a moment, and as an organization it is our responsibility to be engaged and stay engaged—both in this powerful moment, and in those that follow. We acknowledge that our organization has benefitted from systems of oppression, and in the fight for racial justice, we must continue to examine and change our own organizational practices and culture.
Artists shape culture. Artists help us to see, understand, and express injustice. And, if we want to build a world that is just—we as a society need to be able to imagine that world. The arts are critical to that. 
Knowing that this time, while not new, is extremely challenging for Black people, we wanted to share a Black only healing space that some may be interested in: 
The Healing Hour: On Thursday, June 4, a safe space on Zoom for Black voices to process feelings surrounding black lives lost to police brutality, hosted by a Black clinician Brie Sutton, LGPC
We also want to share some of the organizations and resources that we have found valuable in our learning. The resources below are just some of many resources to explore. 
We are committed to continuing to learn. To listen. To question. To be questioned. To respond. To act. We look forward to growing together.
Resources
Organizations:
Resources:
Written by Barbara Krebs,
Young Audiences volunteer and Sunburst Society member
Excited. Proud. Love. These are the three words that I heard repeatedly as I attended the unveiling of the mural that sixth-grade students from Brooklyn Park Middle School created. Though these are not words typically linked with a middle school science project, they help illustrate the magic that is produced when you combine science education with an arts-integrated approach to learning.
The collaboration between their science class and a professional teaching artist from Young Audiences, in partnership with Arts Empowered Minds Initiative (AEMI), resulted in a 10-foot science-themed mural, titled "Brooklyn Park Middle Students Research Cells and Viruses." As explained in the program, the mural "illustrates the dynamic, multifaceted interactions occurring thousands of times a day between cells, viruses, and living things."
I wasn't sure what to expect as I entered MedStar Harbor Hospital's Baum Auditorium in South Baltimore, but I immediately felt welcomed as a saxophone quartet from Brooklyn Park Middle played classical music. Their melodies formed a soothing backdrop to the animated conversations between medical personnel, artists, educators, politicians, parents, students, and others who had gathered for the event. A delightful spread of food – chicken satay, veggie trays, fruit and cheese platters, and even cupcakes for the kids – provided by the catering arm of the hospital, Morrison Healthcare, ensured that no one would walk away without all their senses satisfied.
But I digress.  As the reception wound to a close, the formal program began. First up, Stacie Sanders Evans, the President and CEO of Young Audiences. Reaching for a hospital analogy, she spoke of Young Audiences' facilitating role behind the scenes as the "spinal cord" or "backbone" that makes the arts-integrated learning possible in area schools. She described how Young Audiences partners with schools and other organizations like AEMI and the Arts Council of Anne Arundel County (who helped fund this project) to pair core curriculum teachers with professional teaching artists to enhance learning experiences in Maryland classrooms. Rather than rote learning, students explore academic subjects in any number of hands-on, arts-oriented ways.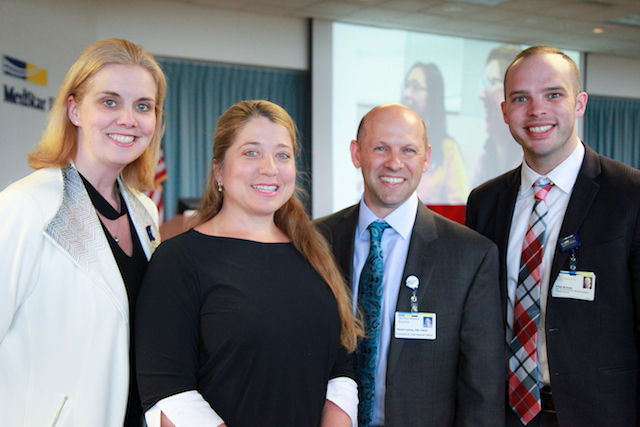 Next was Dr. Stuart Levine, President and Chief Medical Officer of MedStar Harbor Hospital. He told the young student artists just how meaningful their creation would be to the hospital, saying that it would be proudly displayed in MedStar's Emergency Department lobby. He talked about the VIPs in the room – the sixth graders – who had created this mural. He told them, "When community members come in for care, when they're sick, when they are at their moment of need, they're going to come into a place that has this incredibly hopeful work on the wall that's made with love by the kids of their community."
Then Dr. George Arlotto, Superintendent of Anne Arundel County Public Schools, spoke, stressing, "People who don't even know you love you; people who don't know you are proud of you." This was the legacy that, even as young tweens, they were creating for their community.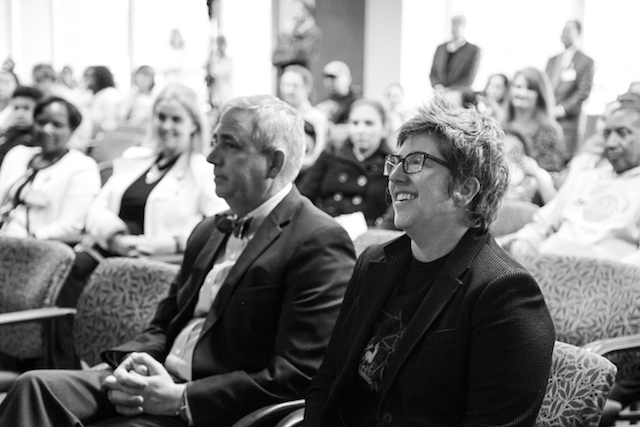 Following Dr. Arlotto, the two teachers who guided the kids through the process spoke. Lisa Radike, the Brooklyn Park Middle school science teacher, recalled that this process helped the kids learn more than just the science of cells, it also helped them "learn how to get along, how to work together." Amanda Pellerin is the Young Audiences artist who taught them to mold clay, shape it into the cells and viruses they were studying, and then assemble an entire mural from all the different parts they had imagined and created. As she looked proudly onto the students, she made sure they understood the significance of what they had done. "You now have artwork that is on permanent display– and you're not even out of sixth-grade yet!"
Finally, it was time for the unveiling of the mural. As the students and their teachers surrounded the mural, people leaned forward in their seats, many creeping to the front with cell phones to capture the much-anticipated moment. After a few more remarks from one of the students who reiterated the theme of how creating the artwork had required them to put aside differences and work together, the veil was cast off and everyone could finally see the finished artwork.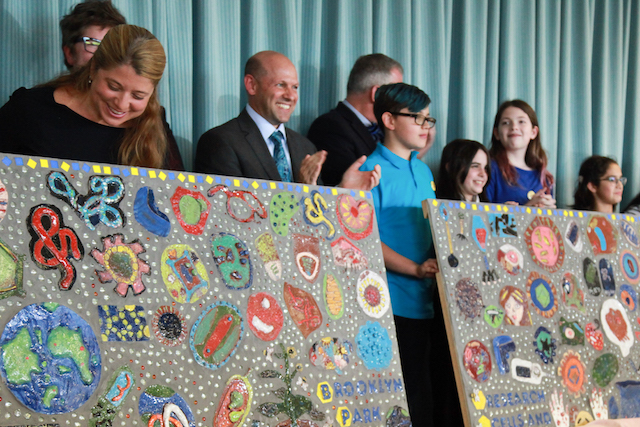 Brightly colored cells wiggled and squirmed their way across the surface. And like a visiting rock star, the mural sat "patiently" as a host of people came up to be photographed with it.
As the event wound down, I finally managed to talk to one of the students, asking simply, "How long did it take all of you to create this?" His answer pulled me out of my adult world of man-hours and Outlook schedules. "About 10 classes."
There it is simply. It's about the classes. It's about what you learn in the classes. It's about how the classes are taught. It's about the knowledge you retain from the classes. And though my own knowledge of sixth-grade biology is but a dim memory, it didn't take a Jonas Salk knowledge of cells to clearly see how wonderful this evening was. That these kids were excited about science. That the folks in attendance were proud of what the middle schoolers had learned and created. And that everyone loved the intersection of science and art.
YA roster artist Ryan Diehl and the Global Beat Connection's music assembly connects students' love of modern music to its rhythmic roots, revealing its history. Their highly interactive assembly invites students to explore a diverse array of cultures from locations in the U.S., Brazil, the Caribbean, and Africa.
Ryan is a professional singer and renowned drummer who has recorded and toured internationally with numerous artists including jazz legend Ethel Ennis. Using his drum kit, Ryan performs examples of jazz-inspired world rhythms like hip-hop, samba, reggae, and soca, to help students hear the connections between geographic locations and subtle changes in beat formation. Tracing the lineage of the rhythms from today's popular music is akin to tracing the branches of a family tree. Understanding and appreciating the musical evolution of jazz helps students connect to its history, to another culture, and to a different generation.
Ryan Diehl and the Global Beat Connection's assembly is a time-traveling journey around the world initiated through today's popular music. Students may be surprised to learn their favorite music's influences, creating an opportunity to appreciate a teacher's musical knowledge and experience. "A student will come up to me at the end of the assembly, usually on their way out, and tell me that they recognized a song or two from their parents' playlist," Ryan said. "They enjoy the modern take on the standard tunes!" This is a program that can spark an intergenerational conversation at home or at school and help kids relate to the adults in their life. Music does that. When adults and children can relate to one another, ears and minds open.
Ryan Diehl and the Global Beat Connection introduces students to music and rhythms from various world cultures. Learn how you can bring their residency, The Global Beat Connection, into your school today.
smartbeats is back this Saturday, November 4, during the weekly children's music program Young At Heart on WTMD. On this month's smARTbeats segment, Young At Heart host Lisa Mathews sits down for a chat with professional spoken word artist, slam poet, highly-animated and engaging frontman, and YA teaching artist Femi the Drifish.
Best known as one half of the spoken word/Hip Hop-influenced duo, THE 5th L, Femi uses his artistry to encourage listeners to discover their own unique voices and identities. The Drifish also partners with University of Maryland's Violence Prevention Program, using his words to address matters such as violence and bullying in our communities. He extends this experience, his skillful construction and delivery of words as art, along with compassion, patience, and high expectations to the classroom.
Femi the Drifish worked with our middle school students in Language Arts," said Christa Huber, the Arts Integration Coach at Patterson Park Public Charter School. "A great thing about that residency was the response we received from students who typically are not comfortable with performing in front of people. By their culminating performance, those students, in particular, were the ones to stand up and share their poetry with strength.
The artist teaches children to confidently use body language coupled with creative writing to convey emotions, communicate, and connect with others. He works with students to identify the similarities and differences between poetry, Hip Hop, and spoken word–or slam–poetry, then encourages them to try writing their own original poetry
Ken'Niya, a former Summer Arts & Learning Academy student declared "Mr. Fish" to be her favorite teacher from the program in summer 2015. "He helped me a lot through my writing by giving me examples and showing me his awesome poems. The most challenging and rewarding thing I did in the Academy was my poem I am Baltimore," said the student. "It was emotional because of what was going on my city. I wanted to quit and switch classes but I realized I was the oldest in the class and the younger kids were having the same problem. So I told myself if you quit, they will too. So I pushed myself and everyone else, and made sure we were organized and ready to perform."
This is the kind of guidance that makes Femi the Drifish shine. Whether students are processing their feelings after an emotional event, confronting their worries or disagreements with friends, or looking forward to a world of firsts: first high school, first love, first dance, first goal, one thing is certain, when Mr. Fish is in the classroom, students will find the courage to share their voices and be heard.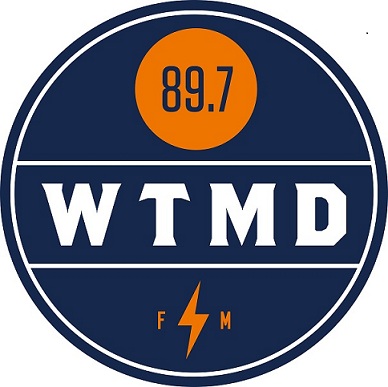 Young At Heart airs weekly from 7 to 8 am on Saturdays, featuring music that appeals to parents and children alike. Previous shows have featured music by Wilco, David Bowie, Andrew & Polly, Weezer, and others.
Hear YA teaching artist and musician Femi the Drifish online now!
    Written by Jaime Clough,
2nd Grade Teacher at Margaret Brent Elementary Middle School and
Summer Arts & Learning Academy Classroom Teacher
"This hit, that ice cold, Michelle Pfeiffer, that white gold." As soon as I heard the music echo into the buzzing auditorium, I knew it was time. Katherine Dilworth, my artist partner, and I put on our old lady gardener hats, fluffed our red feather boas, and strutted through the crowd of children gathered for the first day of Summer Arts & Learning Academy (SALA) at Thomas Jefferson Elementary Middle School. Waving and pointing to our new 1st and 2nd graders, we introduced ourselves as not just teachers, but people. We pulled out our best, but simultaneously horrible moves, and leaned into making ourselves look as silly and approachable as possible. It was fun, it was full of life, and we created it.
This scene, this first real moment of SALA, is a small snapshot of what the entire summer felt like for us as teachers working with Young Audiences. Neither Katherine nor I had ever worked at the Summer Arts and Learning Academy before and we were a bit hesitant about what fully integrating the arts into each lesson would look like, especially in dealing with Common Core math. Coming into this program, I had just completed my third year as a Baltimore City Public School teacher. I was less concerned with management, and more concerned with how to plan arts experiences all day, every day. Katherine has taught many residencies all over Maryland with Young Audiences, so she was more concerned with the management piece than with planning content. Young Audiences did a beautiful job of pairing us together because our strengths complemented each other perfectly and we filled in the gaps for each other seamlessly. Looking back, one of the massive assets of the SALA program is that teachers and artists work together so that the best of both art and content is intertwined beautifully into each students' day.
Another huge asset to SALA is the freedom we had in planning our content to help our students enjoy their experience through art. We had a variety of types of art involved in each day, from movements associated with how a plant grows to full projects like weaving flowers based on patterns to create a "community garden" like in our story City Green.
One of my favorite projects that we planned and implemented was a math lesson that focused on symmetry. Our math skill that day was understanding the value of the equals sign and how to make true number sentences. As a hook strategy to help students understand this concept, we let our class choose magazine photos that we had cut in half. Then, we taught them about symmetry and allowed them to try to create the second half of their picture so that both sides had equal patterns, lines, and shapes. Not only did this art connection engage our students so that they were excited once math started, but it gave them confidence and helped them understand much more clearly what it means for something (like a math equation) to "look equal."
Lessons and experiences like these projects enriched our students' understanding and knowledge in a way that I did not expect. This summer, I was able to clearly see how differently an arts-integrated classroom functions compared to a non-arts-integrated classroom. In an arts-rich class, students are more engaged, they have fun, they are more willing to take risks, and they come to see each other not just as students capable of learning, but as whole people capable of creating incredible things. On that first day of SALA, we were introduced to our students not just as teachers, but as whole people. Because of this, we were able to build more trusting and holistic relationships with them. This experience changed the way that I will teach, always, and I hope that it changed how my students feel about school and learning.
If you are a K-12 certified academic teacher interested in teaching in our 2018 Summer Arts and Learning Academy, email us at info@yamd.org. Professional artists interested in using their knowledge and expertise to transform the lives and education of City School students should visit Summer Arts Corps to learn about our paid training program.