By Valerie Branch, Young Audiences and Maryland Wolf Trap teaching artist
Empowering youth through my art form is something that I'm very passionate about. As a dance teaching artist, my role in the classroom is to enhance students' development in decision-making, communication, and self-confidence through individual and shared movement explorations and experiences. Students learn how to control their impulses and self-manage when it is time to be silly and when it is time to stop and focus.
I recently completed a year-long Maryland Wolf Trap residency at Holabird Academy with teacher partner Ms. Katie Fincke and her pre-kindergarten class of students ages three to six. Our residency specialized in Language Arts with a focus on narratives and storytelling, so Ms. Fincke and I found ways to integrate movement experiences into the curriculum.
We accomplished our major teaching goal by using the elements of dance to help children convey meaning. We did this through a series of six different books that Ms. Fincke read with her students throughout the year. Ms. Fincke and I guided the children through the process of generating imaginative ideas about how to portray and connect to moments in the story through movement. Ms. Fincke's class had many students whose first language was not English, so our goals uniquely overlapped with language development and vocabulary enhancement.
Ms. Fincke and I wanted the children to define and understand the meaning of creative movement. Our dancing activities did not follow the typical routine of me modeling a movement and students mimicking me. It was more about finding a way for me, Ms. Fincke, and the students, to have the experience together. Ms. Fincke and I didn't want to robotically lead the children by saying, "Arm up, arm up, down, turn, turn!" Instead, it was the children leading us. We would hear, "No, let's do our arms like this!" or "Let's move like this! Let's go here!" Students were given the chance to be creative and collaborate with their teachers and their peers. They were empowered to speak up and share their ideas because dance has no wrong answers. We encouraged our students to improvise without fear because we wanted them to know that their thoughts and ideas were valued. It's a scary thing to express yourself with your body in front of a crowd. We wanted them to find a comfort level that would allow them to express themselves without limitations.
When I first walked into Holabird Academy, many of the students struggled with understanding personal space, body impulses, and self-confidence in creating and sharing ideas. Ms. Fincke and I have seen so many students flourish during the course of our partnership, but one student who made tremendous strides in social development and leadership was Oscar. We have watched Oscar become a leader and set a great example for his peers. He was never afraid to demonstrate his ideas through dance. He encouraged his peers to make strong independent choices. His classmates have been able to take risks and explore their creativity because they saw Oscar doing just that. Oscar demonstrated his leadership through an activity called the "mirror game," which required students to slow down their energy and express themselves through dance in a calm and channeling way.
During the mirror game, one student at a time would face the class from the front of the room and then create slow movements with their body. The goal was to get the rest of the class to slowly repeat the leader's movements as if they were the reflection in a mirror. Oscar really took interest in this activity and whenever he was up at the front of the room, he made sure that his movements were clear for his classmates to follow. Because he took the activity so seriously, there were times when other students would poke fun at him, but he didn't let it bother him. A great leader is not somebody that forces their own ideas on people, but explores how people can share ideas together. Oscar led this activity with the intention to work with everyone as a team and that trait was very admirable.
What I loved most about working with this group was that I was not only able to teach them, but they were always teaching me. During the first few sessions, we would sing a greeting song in English, but by the third class, I had introduced the song in Spanish, a language I knew most of Ms. Fincke's class was familiar with. Suddenly, the looks on their faces changed and they realized they knew the words. The kids lit up with excitement when they felt that sense of home and comfort in the classroom. Ms. Fincke and I always took time for the Spanish language and that was important to her students. It was also crucial for Ms. Fincke to take time to do translations and have the kids work together through their language differences.
It was important that we did not tell them to always speak English. Yes, we were in an environment where English was the primary language, but we also wanted them to hold strong to their heritage. Seeing them take ownership of their language was inspiring. We often let them sing and dance in Spanish and those were truly their moments to shine and demonstrate how far they were excelling in the knowledge and understanding of the skills we were sharing with them.
It's been amazing to watch these students grow, interact with one another, and also feel better about themselves. It's important to get them thinking about these things at an earlier age because I think that we often forget that children can have problems and stresses, too. We think that they don't have any issues because they're young, but our youth go through so much. They are witnesses to everything. They may be young, but they are just as much a part of our world as we are. Using dance and movement to build our youth into better citizens is something that empowers me as an artist.
Learn more about Valerie Branch and her dance programs for schools.
The arts were an integral and memorable part of Chris Wallace's childhood. Her mother, Doris Morgan, an elementary school teacher and learning disabilities specialist, taught both her children and her students with joy, positivity, and an arts-integrative approach. This had a lifelong impact on them all: Chris made the arts a central component in her speech-language pathology work; her sister flourished as a writer; and former students or their parents would often approach Doris, thanking her for the impact she made on their lives and letting her know that they believed she was instrumental in their—or their children's—success.
Several years ago, Chris was invited to attend Young Audiences' annual Impact Breakfast, where she was impressed by the extent and impact of Young Audiences' programs, students' testimonials, and Executive Director Stacie Sanders Evans. In November 2013, Chris joined the Young Audiences board and, after her mother passed away in early 2014, she and her husband David made a generous, multi-year donation in Doris' memory. The Doris Morgan Fund supports teaching artists participating in Young Audiences' Maryland Wolf Trap Early Learning Through the Arts program, a 16-session residency that gives Pre-K students an in-depth experience with an artist as well as providing embedded professional development for teachers, making an impact that extends far beyond the life of the program.
At a recent site visit, Chris witnessed her first Wolf Trap residency in action, led by Young Audiences teaching artist and dancer Valerie Branch. On the day of Chris' visit, the classroom teacher was leading her first arts-integrated lesson, developed after several sessions of collaboration with, and mentorship by, Valerie. Chris was impressed by what she saw, especially the embedded professional development that is an integral part of the Wolf Trap program.
Chris believes that the work that Young Audiences does with Maryland's youngest learners is essential, and is happy that her mother's legacy of bringing creativity into the classroom can live on with Young Audiences' help. We are deeply grateful for the Wallaces' generosity and are proud to honor Doris Morgan's life by continuing to supply the resources needed to empower students and teachers in the classroom.
If you have a loved one whose memory you would like to honor, please consider making a donation to Young Audiences in their name, knowing your support will positively impact children's lives through the arts.
"Our main purpose in life as human beings is to help others," believes Barbara Howard, special education teacher at the William S. Baer School in Baltimore. "When we do that, the blessings come back to us, ten-fold." Barbara's journey to teaching was a long one, but she knew, once her mother introduced the idea, that it was exactly where she needed to be.
As evidenced in the 2014 video "Beautiful Surprises," Barbara is extremely dedicated to her students and cares deeply about helping them realize their full potential, and this is why she became not only a teacher partner, but also a donor. Young Audiences' acclaimed Maryland Wolf Trap Early Learning Through the Arts 16-Session Residency, with embedded professional development, helps teachers like Barbara to develop arts-integrative teaching skills with proven outcomes. Designed to serve students ages three to five, this program has been a wonderful way to also serve children with disabilities. Working with Wolf Trap has helped Barbara to more effectively reach her students – all of whom learn differently and have unique needs – and build their confidence, while fostering in them a love of learning. As she puts it, "they have a purpose now in becoming successful in whatever they do."
One student, Raymond, has continued to blossom since Wolf Trap came into his classroom and the Beautiful Surprises video was made. "As soon as Raymond comes into the classroom, he will walk over to the bin of tambourines," shares Barbara. "He will pull his assigned one out of the bin and begin to play it. He, along with the other six children I teach, is the main reason as to why I rise each morning at 4:30. Sometimes I wonder, who's teaching whom?"
Young Audiences is grateful to have the support of dedicated individuals like Barbara, who share with us a vision to help many children flourish like never before.
Join the Solstice Club today by pledging just $10 or more monthly, and your sustaining gift will help Young Audiences to continue to bring exceptional arts programs to students and offer professional development for both teachers and artists.
"Our life without the arts can be so empty," rapped Jamaal Collier at Young Audience's 2014 Impact Breakfast, "so I'm proud to be a part of YAMD!" A dynamic and engaging Hip Hop artist, Jamaal has been working with Young Audiences/Arts for Learning since 2007 and has served on its artist roster since 2013. His energy and passion for the arts is boundless, and show in the volume of work he does: not only does he offer assemblies and long-term residencies to elementary, middle, and high school students, but he also provides professional development for teachers, in addition to currently being trained for the renowned Maryland Wolf Trap Early Learning Through the Arts 16-session residencies for preschool and kindergarten students.
Jamaal began making donations to support Young Audiences ever since he joined Young Audiences' roster. This past fall, he became the first roster artist to make a multi-year pledge of support. Asked why he chose to do this, especially since he dedicates so much time to the organization, Jamaal stated simply, "I believe in what we do. We do a lot, and there is a lot to be done."
Jamaal's passion for the arts is clear, as is the impact it has had on his life. Today he brings the power of the arts into the lives of students and teachers in Maryland. In every case, the results are remarkable. For example, during a Maryland Wolf Trap Early Learning Through the Arts program in Baltimore, Jamaal witnessed students evolve from using one-word answers to expressing themselves in full sentences!
Young Audiences is truly grateful to donors like Jamaal, whose passion for and commitment to the arts helps students realize their full potential. As he put it, speaking about the relationship between artists, teachers, and students, "We're the ones who need each other, and we will help each other move forward."
Schedule a program with a Young Audiences teaching artist today! Browse Young Audiences' roster of more than 100 professional teaching artists, whose talent spans all art forms, including music, theater, dance, and visual arts.
Since 2000, the Wright Family Foundation has supported diverse educational initiatives that provide intervention, support, and enrichment programs for at-risk children to realize their full potential. Young Audiences/Arts for Learning is extremely grateful for the partnership of the Wright Family Foundation and its support of our early learning initiative, Maryland Wolf Trap Early Learning Through the Arts 16-session residency program.
Young children have a natural curiosity and a unique love of learning. Young Audiences' Wolf Trap residencies cultivate and encourage this love of learning in our youngest students by providing joyful, arts-integrated early learning programs in low-income schools throughout Baltimore. In addition to providing exceptional arts programming, Wolf Trap residencies are proven to increase student academic outcomes and improve teacher instructional practice. With the generous support of the Wright Family Foundation, Young Audiences has quadrupled the number of Wolf Trap residencies and increased the number of students served from 276 to over 1,100 – all in just three years.
According to the Wright Family Foundation, its support of Young Audiences grew out of its desire to provide children with opportunities to have arts-rich experiences. "One of our focus areas is Early Childhood Education," writes Mari Beth Moulton, Executive Director. "When Young Audiences partnered with Wolf Trap to bring quality arts programs to early learning classrooms, we were eager to support this partnership. This is an opportunity for the Foundation and Young Audiences to have far-reaching impact for many of Baltimore's children."
The Wright Family Foundation is passionate about providing educational opportunities for our most at-risk youth in Baltimore. Young Audiences shares this passion, and is proud to partner with the Wright Family Foundation to provide our youngest students, in some of Baltimore's most impoverished schools, with the opportunity to learn in and through the arts. With the support of generous donors like the Wright Family Foundation, we can offer a better and brighter future to our youngest students.
As a former preschool and kindergarten teacher, Jen Sachs often used music and theatre to engage her students. Although Jen lacked formal training in the arts or arts integration, she sang and used costumes and characters to encourage her students to participate in lessons. These small changes made a big impact.
"The benefits for my students were amazing," Jen said. "They learned and obtained concepts quicker. They were able to express themselves better. They loved coming to school and appreciated new experiences."
Seeing the impact of the arts on students is one of the reasons Jen was drawn to Young Audiences and became a Sunburst Society member in 2010.
Jen is particularly excited that Young Audiences has expanded into early learning classrooms as the Maryland sponsor of the Wolf Trap Institute's Early Learning Through the Arts.
"The arts programs that include music, visual arts, and theatre are extremely important for developing minds," Jen said. "Children are learning as they are doing. Whether they are building vocabulary through music and theatre or demonstrating the acquisition of knowledge through dance and movement—they are gaining vital skills for life and learning."
Using Wolf Trap's respected residency model, Young Audiences is bringing programs to Baltimore City preschool and kindergarten classrooms by off-setting the cost with community support.
"Low-income students often have limited opportunities to experience the arts in school," Jen said. "Young Audiences' programs fill this void and do more than teach students how to sing, act, dance, or play an instrument—they teach them to believe in themselves."
Read about the work Young Audiences supporters have helped make possible in our 2013 Annual Report.
By Stacie Sanders Evans, Young Audiences/Arts for Learning Executive Director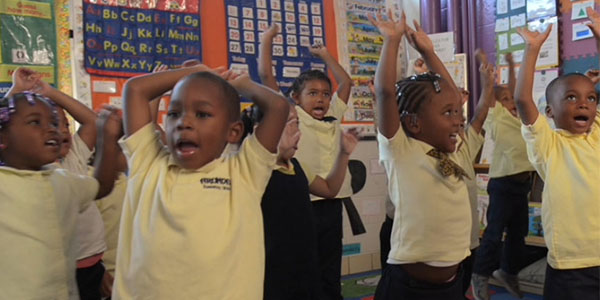 I recently took a foundation representative to see what our Maryland Wolf Trap Early Learning Through the Arts program looks like when an artist is in a preschool classroom.
Afterward the representative asked me a question that has stuck with me: "Why does this program really matter–what real difference is it going to make for kids?"
If you are like me, life hits you weeks later and you always have a better answer when the moment has long passed. I have my answer now.
Arts-integrated education programs, like the residencies offered through Maryland Wolf Trap, matter to Christopher. After we observed the lesson, the teacher, Ms. Miles, and teaching artist and musician Sue Trainor debriefed, discussing what worked (and didn't) during that day's lesson. In this session, Ms. Miles had taken the lead in incorporating music and drama into the literacy lesson with support from Sue. Both Sue and Ms. Miles mentioned what a big moment it was for Christopher to fully participate in the lesson centered on the book the class was reading.
Christopher had played the part of the goat during the reading, and held his friends' hands while traveling across the room singing. When the children were asked to sit, he joined his friends on the carpet to reflect on the elements of the lesson they liked the best using the song prompt: "That's what I like, uh-huh, that's what I like, uh-huh." Each student was asked to show what they had liked about the lesson by adding a movement to the end of the song. Christopher stayed with the group and listened intently as his peers shared.
I actually didn't know who Ms. Miles was referring to because Christopher looked no different from any other student in the class. But today had been an important step for Christopher, who often finds it difficult to pay attention, and wanders away from the group when he is distracted by the task at hand. Today Christopher was engaged and the lesson kept his interest. In these formative years, children develop a strong sense of how they feel about learning, school, and themselves. These impressions can hinder or fuel a child's confidence and achievement for years to come. Today we were the fuel.
This program matters to Ms. Miles who said tearfully that Christopher's success was the moment she lived for as a teacher. "These shining moments keep you going," she said.
Ms. Miles is an incredibly gifted teacher whose dedication to her students is evident from the moment you walk into her classroom. But, like every great teacher, she is hungry for these moments–and this is what motivated her to bring this 16-session Wolf Trap residency program into her classroom and fully take advantage of the embedded professional development.
Ms. Miles now has more confidence and skill in using singing, rhythm, and creative drama to actively engage children in stories. She has an arsenal of arts strategies that keep 25 little bodies and minds fully engaged in her lessons. Instead of a simple read aloud of a book she is using the arts to bring these stories to life.
This program matters to all the children in the classroom. What Ms. Miles and other participating teachers find is that these kinds of arts-integrated lessons stick–children are better able to recall the sequence of events and characters of the story, comprehend the story, and recognize the new words being introduced in the story. More importantly, students in our program have an increased interest in books and stories. All of these skills are essential to school readiness.
Fortunately, these moments also matter to the foundation who joined us in the classroom, which recently granted us an award that will make it possible for us to reach seven additional high-need Baltimore City preschool classrooms and 175 more early learners through the arts.
Learn more about the Maryland Wolf Trap Early Learning Through the Arts program here.
By Morgan Lyons, Kindergarten Teacher, William S. Baer School
When I first heard that an artist-in-residence program was coming to my school, William S. Baer, I was excited. I learned about arts integration while I was studying education in college and wanted to find a way to use the arts in my teaching, especially when I decided I wanted to teach special education. I feel that the arts are an amazing pathway, particularly for kids who might not necessarily understand the material when taught in a more traditional way. When I found out that this opportunity was being offered at my school, I was thrilled; I jumped at the opportunity.
As a relatively new teacher, I knew I wanted to integrate the arts into the curriculum in some way, I just didn't know how. Our curriculum is structure- and task analysis-based and there did not seem to be a lot of room for the arts, but Sue Trainor, the Wolf Trap-trained artist who I worked with during the 16-session residency, taught me how to make arts integration work for our program and how it could help our students.
The program began with Sue showing me her lesson plan, which we used for our first session with students. We continued to use Sue's plans for a few weeks. After every lesson we talked about how it went–what the high point was and what we could work on for the next session. As the program went on, it developed and changed so that I was giving more feedback and Sue was asking me more questions. I began to take more of the lead, and I grew from a consultant role on lesson plans, to writing the lesson plans with Sue, to creating the whole lesson myself. This was a great way for me to learn because I got to watch Sue, I collaborated, and then it was all me.
Sue taught me a lot of arts integration techniques that I continue to use every day in my teaching. We incorporate music and visual representation throughout the day which makes for more engaging activities. We sing through transitions and when we're teaching new material, such as shapes, letters, colors, and numbers.
One thing Sue and I collaborated on was the idea of using a mirror with my students. My students are kindergartners with autism. Students with autism often have a skewed perception of themselves and have a hard time making a mind-body connection. The mirror's reflection serves as an additional visual for them and provides a form of visual feedback. Rather than me just saying, "Touch your head," they actually see themselves do that motion and make the connection.
Sue also taught me what has become the go-to opening sequence for our classroom. It's a series of two or three short songs that integrate body movement, beat, and tone. This new practice has had a huge effect on my students, but it had an enormous impact on one student in particular.
See a sample arts-integrated lesson plan created by Morgan and Sue here!
Brittany was new to our school this year. She had never had a school experience, and she was very quiet and kept to herself. Sue came in and introduced the song and movement sequence to the students, and she asked them to mirror her actions. When Sue told students to "Show me your hand," students were asked to mirror Sue by raising their hands like she had raised hers. Brittany took to that, and she was soon asking for the song specifically by using sign language, which she had no exposure to before. Brittany was communicating and expressing her desire for the song; she was actively participating and engaging with her eyes. Had Sue not introduced this activity, Brittany may not have engaged with the group for quite some time. She has really benefited from the social lessons Sue brought to our classroom during this program.
My hope is that this experience and opportunity is available to as many teachers as possible, regardless of their academic area, because it has helped my classroom beyond words. I'm not only a personal advocate for the arts but an advocate for the arts in special needs programs.
We, as teachers, are here for the students, and whatever can benefit the students is what's most important. My kids are changing in front of my eyes because of what I've learned through this residency program. Because I gave it a chance and put in a little extra planning time, I have arts-integrated activities that keep my students engaged and entertained while they are learning.
To other teachers: Give it a try and you won't regret it.
By Sue Trainor, Young Audiences artist and singer/songwriter
In 1998, I sang for the first time in a classroom for and with children who have profound special needs. That 45-minute gig rocked my world: the children may not have been "typical" physically or cognitively, but their connectivity was palpable and potent! I still get goosebumps thinking about it. Ever since, my motto has been, "meet people where they are," because you miss out if you don't reach out.
This spring I had the opportunity to work with William S. Baer School in Baltimore City, another school attended by children with profound special needs. During my eight-week residency at the school I worked in four preschool classrooms with children who were three to five years old, but were approximately 12 months old developmentally. Many of them were very fragile medically, most were non-verbal, and some were non-locomotor. Several were blind and/or deaf.
This residency followed the Wolf Trap 16-Session Literacy Residency model. I have been on the roster of the Wolf Trap Institute for Early Learning Through the Arts since 2003, and I'm thrilled that Young Audiences has just joined the Wolf Trap family as the Maryland sponsor of Wolf Trap programs! In the Wolf Trap model, the teaching artist's primary goal is to provide professional development for the classroom teachers by modeling arts-integrated strategies and coaching the teacher to practice the strategies in the classroom with students. It sounds serious and technical, and it is in some ways, but didn't we just have the best time ever!
I'm a musician, so the artistic interest for me is the exploration of my art form's fundamental expression and interpersonal connectivity. What does it mean, for example, to sing with someone who is non-verbal? It's not singing in the traditional sense, but what is it that makes singing together work? Can we still engage in a more basic element of joined vibration? We can, and it is joyful—all the more so because it's usually a brand new experience for the children and the response is profound.
I think fondly of Sean, a four-year old student at Baer. He is blind and non-verbal, and he loves music. I would play my ukulele and he would belt out his sounds. It was delightful! One day while we were waiting for the class to assemble, I sat face to face with him and joined his vocalizing, using his sounds. He was surprised at first, but he leaned in, kept "singing," and together we created a joined sound-space and a profound connection. Now his teacher understands and can do this as well.
One of my favorite lesson experiences that came out of this residency was "Funky Duck." The children were learning shapes, and the traditional math teaching strategies had them focusing on a specific shape which was velcroed to a felt board. The student's task was to pull the shape off the board (or focus on the shape with their eyes if they were immobile). More advanced students were supposed to choose a specific shape from a small group of different shapes
I used the same fundamental teaching strategy, but I transferred it to a puppet that I dubbed "Funky Duck." I velcroed shapes on the puppet's chest, taught the teachers basic puppet manipulation, and created a chant for them to recite to a steady beat:
"I'm Funky Duck, hey hey
I'm Funky Duck, hey hey
I want to know, can you find
My circle today?"
We had 100% success—the children loved the puppet, focused intently and reached out to pull off the shape. The teachers promptly scoured their classrooms for puppets of their own that they could adapt to this and other purposes, including lessons about numbers, colors, and letters.
I look forward to returning to Baer School this fall, to reconnect with my preschool friends and to develop new connections in classrooms with older students.
Click here to learn more about Maryland Wolf Trap residencies. To schedule a program, please contact Young Audiences at (855) 245-2787.