Bringing photographer Christina Delgado to Cross Country Elementary Middle School in Baltimore City this spring for a self portrait residency was supposed to be one of the highlights of the school year. Last year, when Kristine Buls, the lead science teacher at the school, responded to a call to work with the artist, she knew the opportunity would be just right for her students. In her previous life, Ms. Buls worked as a photographer, so the thought of getting cameras into her students' hands was irresistible. It had to happen! At the time, of course, no one imagined that by spring, working together in a classroom would not be possible.
As it did around the globe, the COVID-19 pandemic sent the Cross Country students into a starkly different way of living and learning. "I was really upset when I realized we weren't coming back to school," said Ms. Buls. The artist residency that had been planned was special. Exelon, the energy provider and parent company of BGE, commissioned the project and would display the finished Cross Country student photographs and mixed media pieces as a permanent installation within their Chicago headquarters. It was a big deal—one that the school faculty and staff, Christina Delgado, and the students and their families had all been looking forward to.
Could the adults in our students' lives be resourceful and creative, proactive, and flexible–not just to ensure that children's basic needs are met, but that their whole selves are nurtured—even in times of crisis? The answer is yes. Ms. Buls said that she was met universally and enthusiastically with support. "It means so much that they're using actual cameras instead of cell phones. It's a very different experience and most of them haven't had that. And the fact that we could morph this experience from in-person to virtual… I think it's gonna be different, but I think it's gonna be great!"
The public health crisis could have halted any dreams of working on the project, but this was an opportunity too special to let slip away. With so much already being taken from students because of COVID-19, Principal Stanfield and Young Audiences thought it was more important than ever to create this work during this unique moment in history. "This has been a big undertaking and I wouldn't have been able to do it without the efforts and guidance of Katherine Dilworth from Young Audiences and Kristine Buls—there have been many successes along with many moments of learning and adjusting," said Christina Delgado. "This experience has played a pivotal role in my teaching/teaching artist career."
Christina reworked her in-person lessons so that they could be delivered virtually and the school district got the students the equipment they needed to complete the project. "I was elated that through this experience, Cross Country was able to purchase 50 cameras for their school," said the artist. "It has always been a dream of mine to leave cameras for students and teachers so that the work can continue."
"Parents have been really, really excited about participating," said Ms. Buls. "I think the school closures and social distancing has been really difficult on the kids. They feel special—they're getting a camera! And I think it's gonna be special, too, because of the time they're doing this in. They're recording history."
When Quynn Johnson steps into the Pre-K and Kindergarten classrooms at Margaret Brent Elementary School in Baltimore City, she is met with hugs and big, bright smiles. The students love that they've been learning to tap with the artist and they've been waiting patiently for her to return. "What do I do?" the artist asks. "You make music with your feet and you keep a steady beat!" the students respond.
Quynn is a multi-award-winning performing artist, choreographer, author, and the co-director of SOLE Defined, a percussive dance company. Though she has performed tap dance for national and international audiences, on this morning, she is captivating our state's youngest learners—not on a stage, but in a classroom—through rhythm, imagination, and dance. Already a professional teaching artist on the Young Audiences roster, Quynn is now training to also become a Maryland Wolf Trap Artist. 
As the Maryland regional affiliate of Wolf Trap, Young Audiences is proud to be expanding access to the arts for Maryland's youngest students during the critical early learning years. 
High-quality early childhood education is absolutely essential to giving children the best possible start in school and in life. Decades of practice and research prove that integrating the arts into classroom experiences contributes to greater academic achievement and social/emotional development for our youngest students. The creative collaboration between teachers and artists in the Wolf Trap residency builds foundations and fuels momentum in arts-integrated early learning classrooms.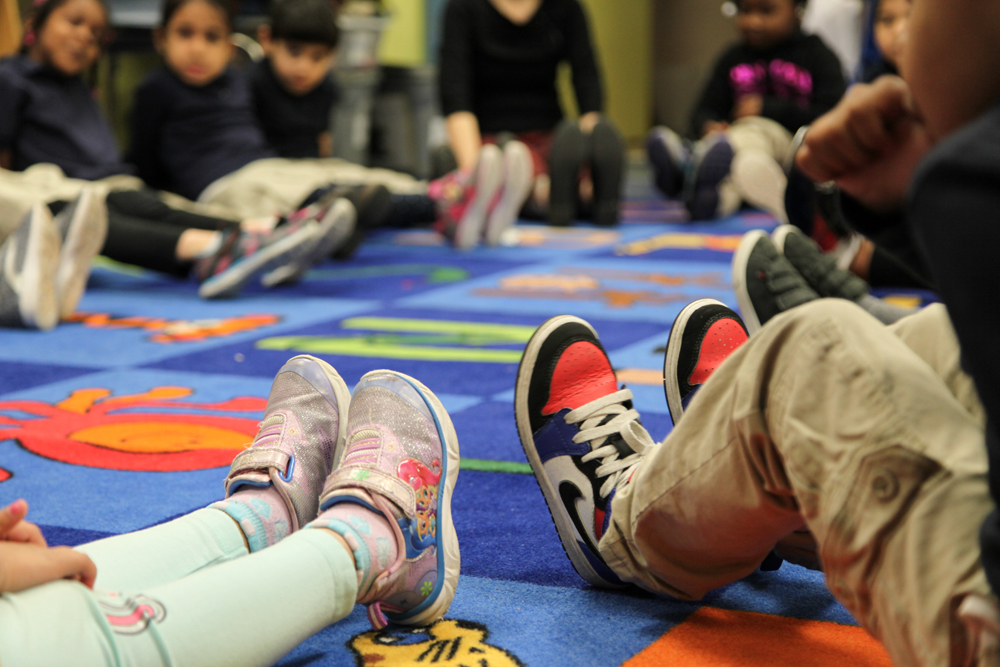 The children sing along with the artist to the tune of Frère Jacques, "I am ready, You are, too, Eyes on the teacher, We're going to learn." Everyone knows the song and everyone is excited to sing it—first in English, then in Spanish.
Estoy listo
Estás tambien
Ojos en la profe
Vamos a aprender
Quynn made up the song while teaching in the Summer Arts & Learning Academy last summer, but now sings it with students in lower elementary grades at every school she visits. Mrs. Jager, the Kindergarten teacher, likes it, too. She uses "I am ready" as a transition song all the time—and her students will remind her if she forgets!
The artist is not only here to teach the young students how to tap, she is here to build the teachers' skills and knowledge and demonstrate how to integrate the art form into their lessons throughout the year. This embedded professional development is something that distinguishes the Wolf Trap Early Learning Residency from other artist residencies.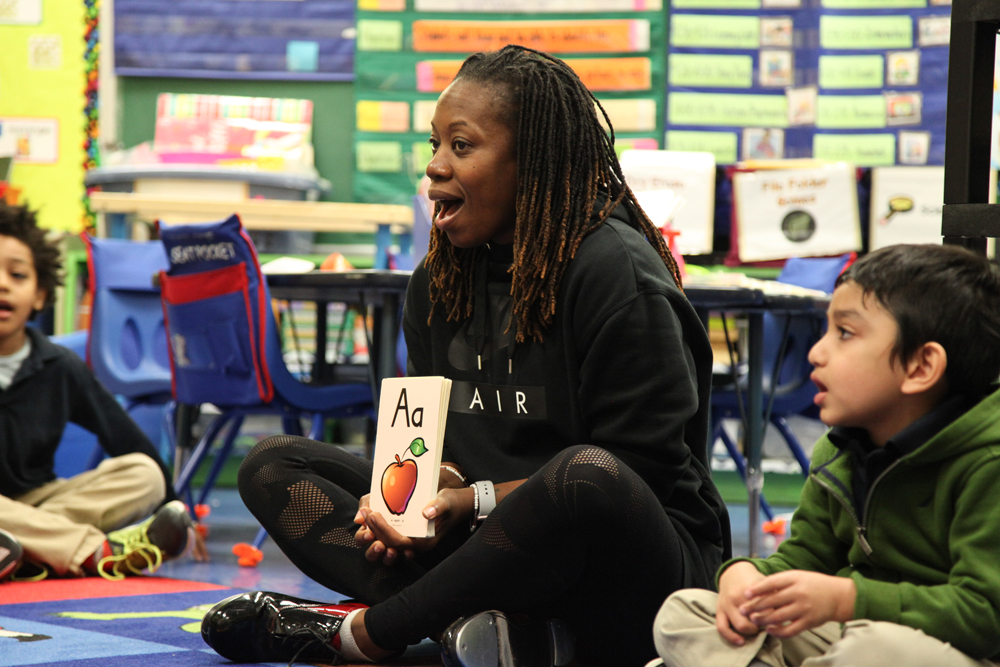 As Quynn leads the students in an exercise stomping out beats, another skill is being fortified. They are identifying patterns and practicing word sounds like "Apple, apple, ah, ah, ah," and "Bat, bat, buh, buh, buh." The classroom teachers and the artist work together to tailor the residency to each particular classroom—deciding how refined the dance movements should be for each age group and which literacy skills to focus on.
"The process is pretty new and different to me but I like it," said Quynn. The artist pays particular attention to teach the elements of her art form that educators will feel comfortable utilizing in the future—and not just off the cuff, but with some artistic integrity. "I think the embedded PD portion is a great way to keep the teachers involved and shows them how it doesn't have to be its own lesson but can be incorporated within what they're already doing. I never want them to feel like it's unreachable."
By the end of Quynn's residency in the Pre-K and Kindergarten classrooms, the students know how to keep a steady beat on their feet, and they remember a beat pattern and two basic tap steps. And the teachers can connect the art form to literacy—leading students to sound out words and sounds with their feet. "They both felt great and comfortable with everything we did in class and I could hear them using it after our time was over." They were ready.
Eighty-five percent of brain development occurs during the first five years of a child's life. Participation in the arts encourages positive growth in a child's emotional, physical, intellectual, creative, and social development. As the Maryland affiliate of the Wolf Trap Institute for Early Learning Through the Arts, Young Audiences expands access to the arts for Maryland's youngest students during the critical early learning years. Bring a Maryland Wolf Trap 16-Session Residency into your school.
Step into a FutureMakers workshop, and you are immediately met with bright colors, texture, and sound! The room is a symphony of whirring and spinning, and you can almost hear the busy minds buzzing. This is exactly the scene in the art room when FutureMakers coaches Topher and Ross taught a series of workshops at Gardenville Elementary recently.
Thanks to programs like the Access for All Initiative and Maryland State Arts Council (MSAC) Artist in Residence (AiR) grant, more and more schools are able to bring the high-quality STEAM programming that FutureMakers provides into their classrooms. "We're so happy to see so many schools leveraging resources from the Maryland State Arts Council," FutureMakers founder Matt Barinholtz told us. "In 2017, we served nearly 1000 Maryland students through AiR programs – all who were able to increase their understanding of the engineering design process, circuits and visual arts elements by creating artworks that are designed and built to move!"
The goal of each workshop was for every student to create a drawing machine: a small, unique, motorized tripod that doodles and draws as it swirls and whirls across a flat surface. But it would be a mistake to assume that the finished product that students carry away is the only benefit to the session. FutureMakers teaches kids that engineers cooperate and persevere—skills that will take students far.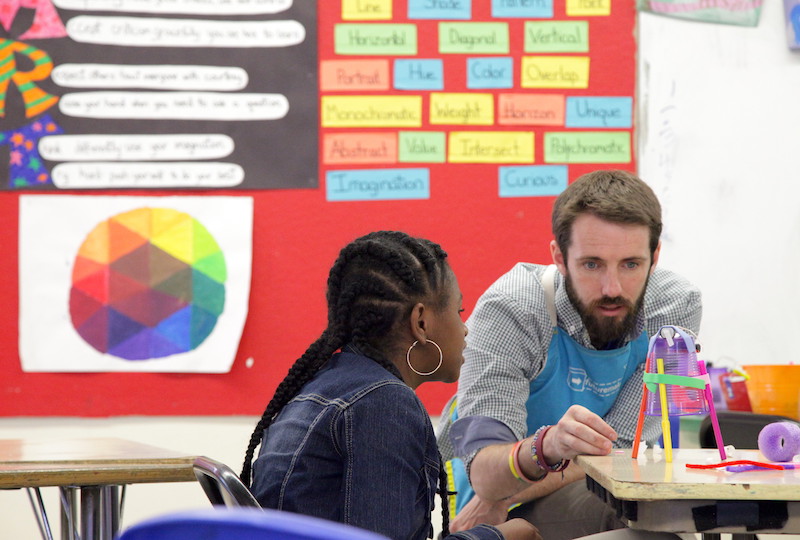 Coach Topher raised his hand at the front of the classroom and asked, "Who here has ever made something before?" The kids were excited. Some of the materials they received to build their machines, they recognized. Some, they did not. All of them, they had to connect and make work.
Problem-solving and troubleshooting are easy to talk about. "It's easy to say, 'try your best,' but in the moment, it's the most frustrating thing." Connecting batteries to motors and transforming them into pieces of art takes patience and skill. "Engineers fix stuff. Usually, they're fixing stuff they mess up themselves!"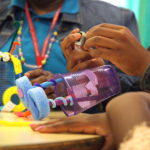 Though students all started on the same path, each robot took on its own distinct personality. Students directed the design of their bots, testing and retesting to see how design elements worked with the functionality of their machines. Through problem solving and teamwork, the young engineers found success.
"FutureMakers knows that integrating quality STEAM programs is essential – and requires support," said Barinholtz. Funding is available for schools and community organizations that can help all children experience high-quality arts programs.
Bring FutureMakers into your school with the help of a Maryland State Arts Council (MSAC) Arts in Education (AiE) grant. The MSAC AiE grant will fund up to 30% of the total cost of a YA residency program, including travel costs. The deadline to apply is Friday, May 19, 2017, by 5 pm. Start the application process today. 
Unique and innovative arts-based strategies are captivating young audiences in Maryland classrooms. At Margaret Brent Elementary/Middle School in Baltimore City, the very youngest students are excited to connect to literature with actress and master teaching artist Katherine Lyons through movement and theater as part of a Maryland Wolf Trap residency.
Katherine creates what she describes as "hands-on, multi-sensory story experiences" by having children actively participate in the telling of the story. Physical motions are assigned to important objects and costumes help illustrate characters. To prepare for Katherine's arrival on this day, Pre-K teacher Mrs. Lee asked her students to draw what they think will happen in the story. They hung one prediction on a clothesline.
Now, at the front of the room, between Katherine and Mrs. Lee sits a 'story box' filled with clues describing the characters in the story. One by one, a student pulls from the box a tool or an article of clothing, then the class takes turns guessing who the clues belong to.
As each character is identified, one student hangs a picture representing the character on the clothesline and another student becomes the character. The students use each of their senses to connect to the story, made ever more lively through the introduction of gestures, chants, and props. "Costumes help bring the story to life," Mrs. Lee said. "The class is more interested and invested in story time when they get to use props and act it out."
Once story time is completed, Katherine and Mrs. Lee begin planning lessons that they will co-teach. Every Wolf Trap program includes embedded professional development to build teachers' skills and confidence in arts integration techniques. Teaching artists work with classroom teachers to learn effective ways to engage students in participatory activities that involve all the senses and encourage critical thinking, creativity, communication, and collaboration. This ensures that the arts remain a strong part of the classroom teachers' lessons long after the residency ends.
Mrs. Lee plans to continue to use these new strategies during an instruction block that includes literacy, social studies and science, but she's excited to try them out in other areas of the curriculum as well. "I may use the story box with some counting stories and to help illustrate word problems in math!"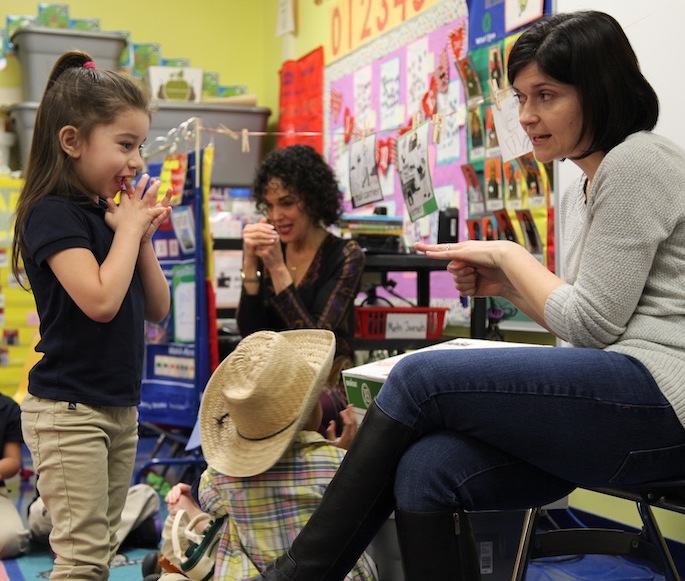 Eighty-five percent of brain development occurs during the first five years of a child's life. Participation in the arts encourages positive growth in a child's emotional, physical, intellectual, creative, and social development. As the Maryland affiliate of the Wolf Trap Institute for Early Learning Through the Arts, Young Audiences expands access to the arts for Maryland's youngest students during the critical early learning years. Bring a Maryland Wolf Trap 16-Session Residency into your school.

Young Audiences teaching artist Ssuuna, a dancer, musician, and storyteller from Uganda, brought his incredible stage presence to Dr. Henry A. Wise, Jr. High School recently. There, he taught over 100 high school students African dance and drumming using the same focused energy and passion he delivers on stage. What struck the teachers in attendance, however, was how well Ssuuna guided his students in building a community and how expertly he handled distractions in the classroom, even with pointed interruptions.

"He never raised his voice with them, but made it clear that their choices would have consequences," recognized Mrs. Black, a 9th-grade teacher at the school. By encouraging students to examine each of his or her options and the consequences and rewards that go along with them, Ssuuna cultivates classrooms built on cooperation and encouragement. "He put the responsibility on the students to take ownership of their actions and choices, and it was very meaningful for students to have that responsibility."
Another participating teacher, Mr. Hughes, observed that the residency made students feel more relevant. "Ssuuna met the students where they were and gave them confidence and a sense of belonging, no matter what their interest," he said. This "relevancy" seemed to be felt not only internally, but collectively. Participants created their own inclusive ritual by uniting and forming a prayer circle before performing at the culminating dance. Mrs. Black recalled how powerful the moment felt to her, "I was really inspired to see all kinds of students coming together to be supportive and work as a team in that way."
It is so important for students to be understanding, especially at this age, rather than making others feel like they don't fit in.
The culminating dance introduced one last challenge when a student suffered a panic attack onstage. Ssuuna stepped in to join the student and spoke with her. In the moments that followed, she was able to regain control, breathing and finally relaxing. Teachers could actually see the transition from panic to calm occur within the student. Mrs. Black described the experience as transcendent for the teachers, the students, and the audience. "That moment made the whole experience feel more intimate, supportive, and vulnerable," Mrs. Black explained. By witnessing first-hand Ssuuna's kindness and encouragement with the student in distress, the audience was inspired to also be encouraging and supportive. "It is so important for students to be understanding, especially at this age, rather than making others feel like they don't fit in."
At the oldest public all-girls high school in the United States, students recently had the opportunity to work with fiber artist Pam Negrin to stitch the likenesses of important, black, female scientists onto one collaborative work of art. Along with partner teacher Jennifer Becker, and with help from both the science and graphic design departments, Pam worked with Western High School students on the large project from conception to realization.
"Many of these women truly were 'hidden figures' and one of the scientists, Stephanie Hill, was a Western alumna!"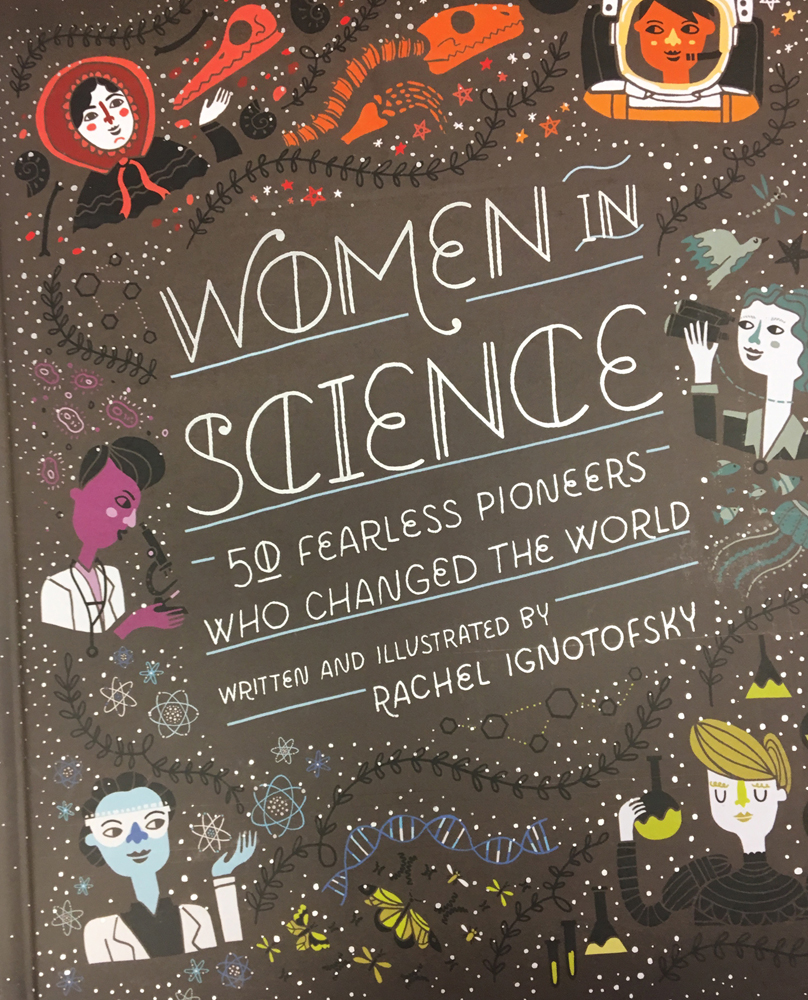 Drawing inspiration from the New York Times best-selling book, Women in Science, the group of students and teachers approached the project with reverence. "We lovingly call it our 'Women in Science Mural'," Mrs. Becker says of the artwork depicting portraits of women who paved the way for her students. "Many of these women truly were 'hidden figures' and one of the scientists, Stephanie Hill, is a Western alumna!"
Three different classes participated in this exciting project. "First, Western's lead science teacher, Ms. Washington, came up with a list of 25 women who have made important contributions in STEM fields," Mrs. Becker explained. "Graphic design students were tasked to research each of the 25 scientists, then collaborated with another group of students in a fine art class to turn these women into beautiful embroidered portraits."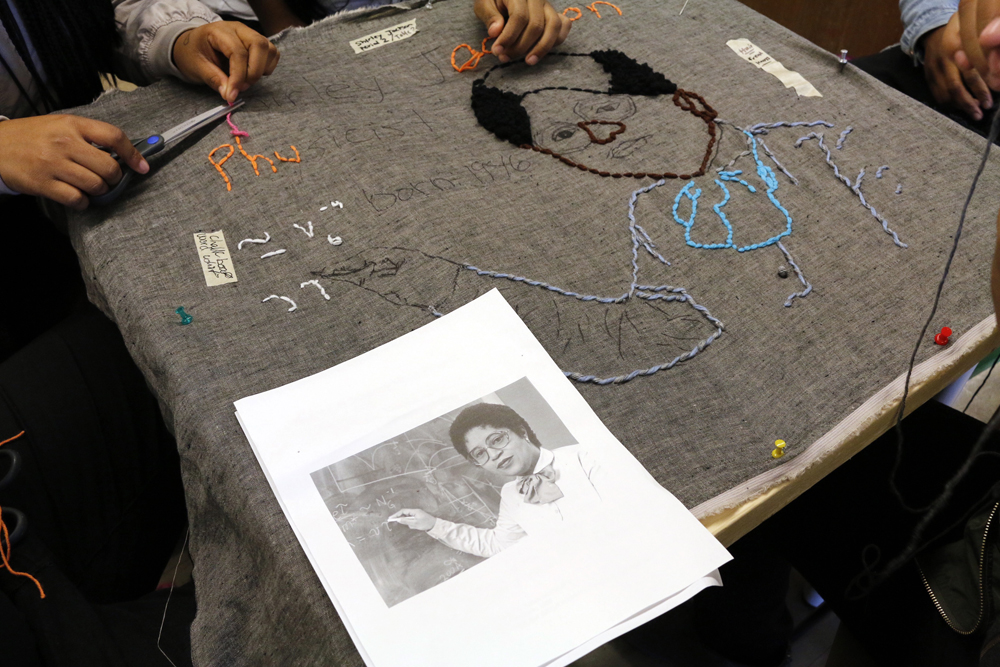 Pam taught the students how to project drawings onto fabric to create their own patterns. They learned various embroidery stitches to create different textures for hair, clothes, skin, and even a stitch for teeth! "Pam Negrin's residency was the highlight of our year. The students are eager to see their finished artwork on permanent display in the Science department."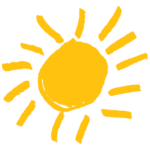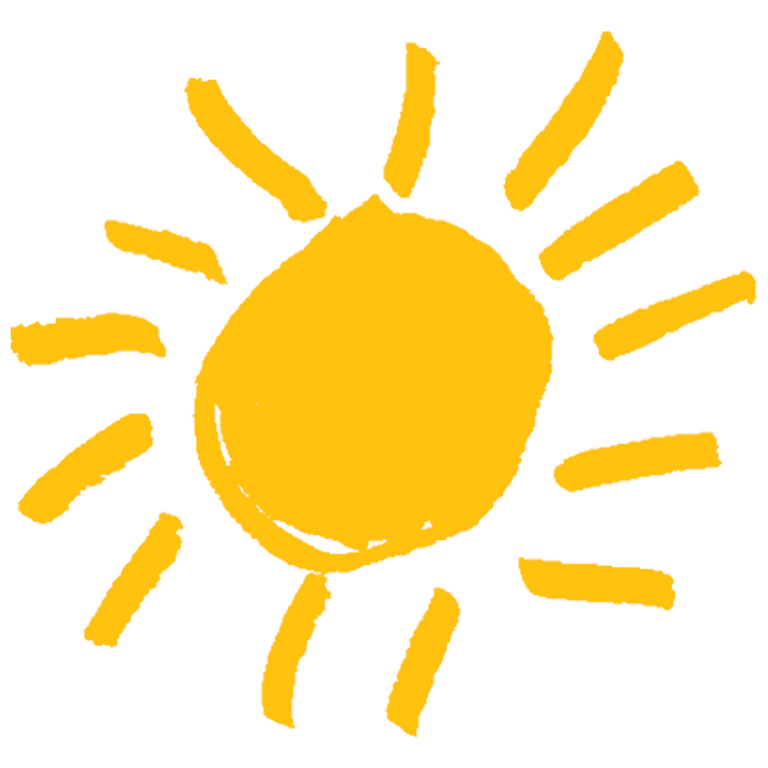 Pam Negrin's artwork includes embroidery, appliqué, drawing, collage, improvisational quilting, printmaking and sculpture. Her residencies transform classrooms into creative and collaborative handwork studios where students create something beautiful together. Schedule one of Pam's residencies for your classroom.
Skher Brown teaches world cultural awareness, body coordination and interpersonal skills through the basics of Capoeira Angola, an African-Brazilian martial art form that is a blend between a dance, game, and self-defense. In his new residency, Capoeira Speaks: Dancing for Social Intelligence and Life Success Skills, students develop non-verbal communication skills through body language and kinesthetic movement. This residency is well-suited for inclusive learning settings and those with behavioral, social, emotional, and/or physical disabilities.
"Over 90% of all communication is nonverbal, yet far too little focus is placed on teaching our children how to empathize with others and build relationships. Capoeira Angola is a non-verbal language that uses our bodies to speak instead of our mouths."
Social intelligence affects how students manage their own behavior, their decision-making process, and how well they are able to navigate social situations. It is, along with academic achievement, one of the greatest predictors of success. Learning to read and respond to body language helps students learn to communicate more effectively, strengthening their social intelligence, thus increasing their chances of success.
"C
apoeira Angola creates a culture of being more aware of one another. It's communicating all at once with everyone in the room," Skher explains. "I will say with my movement, 'I'm about to ask you a question, I need an answer,' and the student will respond with his or her choice of movement–the 'answer'. Over 90% of all communication is nonverbal, yet far too little focus is placed on teaching our children how to empathize with others and build relationships. Capoeira Angola is a non-verbal language that uses our bodies to speak instead of our mouths. Once students learn the movements, they come together and begin to have a conversation."
Capoeira requires students to be very expressive with their entire bodies, including their faces. Participants smile, open their eyes wide, and use animated gestures. These movements help students connect with their own emotions, which translates into being able to recognize and connect to the emotions of others.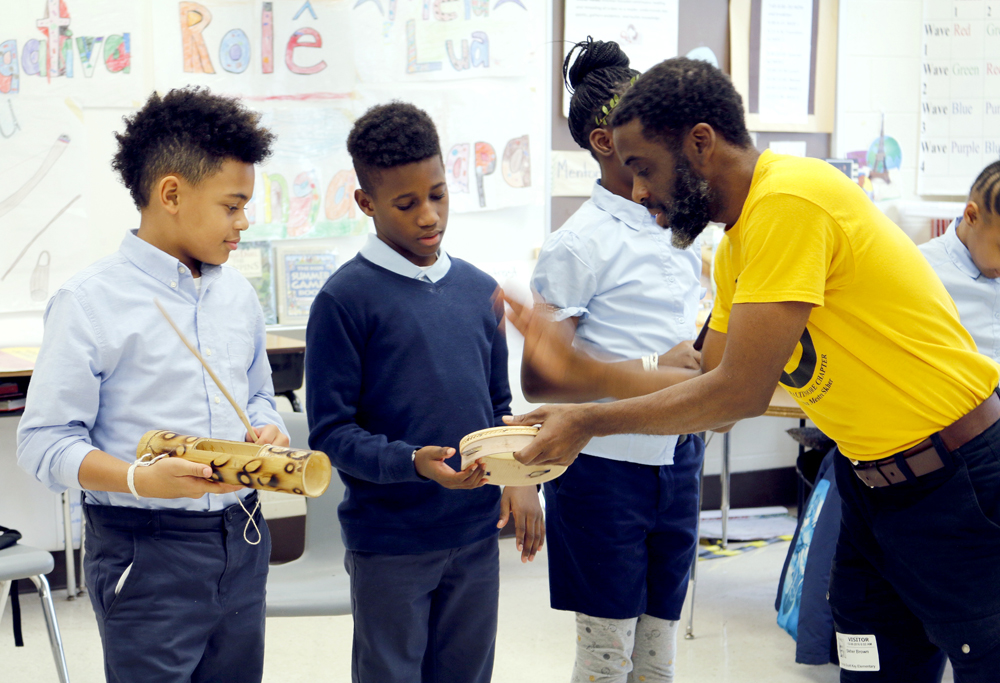 "Students take ownership of the new community culture and protect it."
In Skher's residency, students take turns observing one another performing the dance movements of Capoeira. "After the dance routine, we form a large circle for participants to look at one another using eye contact. Here, students express what positive observations they noticed about their partners. Then, students share how it felt to give and receive positive reflections. Invariably, though the expressions might start out a little stiff, the mood and classroom environment always turns into a welcoming and connected space. Students take ownership of this new community culture and protect it."
Skher Brown is one of nine selected roster artists who received training in a variety of inclusion tactics to utilize in the classroom through the Inclusive Allies program in partnership with Disability Rights Maryland. Learn more about our programs for students with special needs and the work we are doing to ensure that all students receive the many benefits of engaging and inclusive arts-integrated classroom experiences.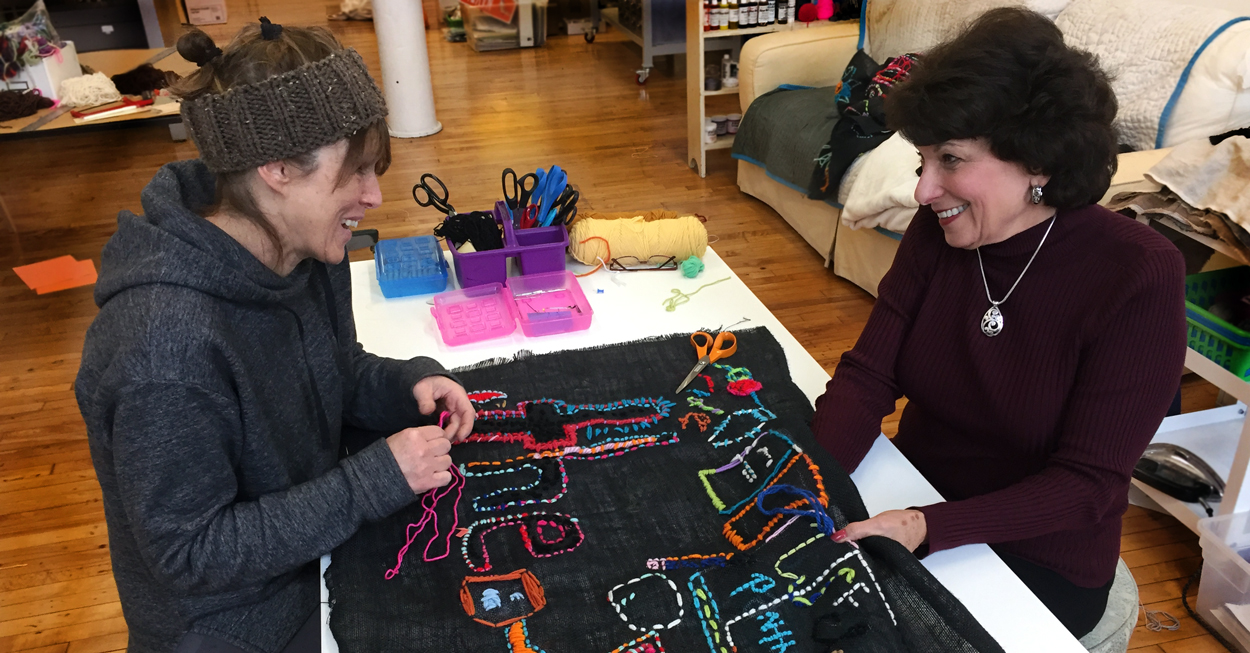 Co-written by Barbara Kesler, an active Young Audiences board member, volunteer, and retired Baltimore County Public Schools teacher and YA Visual Artist Pam Negrin. During Barbara's 39-year teaching career, she instructed third through sixth-grade students and spent the last 23 years at Franklin Elementary where she taught fifth graders in all subjects.
After attending a Young Audiences informational "Impact Breakfast," six of my friends and I were intrigued by visual artist Pam Negrin's embroidery and weaving with students. Pam's residencies transform classrooms into collaborative handwork studios, with countless ways to connect textile art with core subjects.
We learned that Pam's hours of preparation, finishing work, and providing one-on-one attention in a classroom of 25-30 students was challenging. With just one teacher and one teaching artist, the need for more hands, heads, and hearts presented a natural opportunity for volunteering with Pam.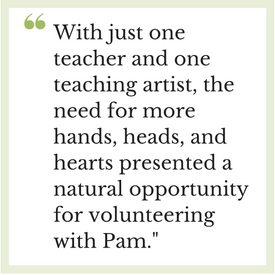 Our volunteering experience happened both in the classrooms and at Pam's studio. Throughout the experience, new friendships have developed and inspirations shared. Meeting at Pam's studio, we help while learning; rolling yarn, threading needles, and helping finish collaborative projects. In the classroom, our presence helps individual children feel successful in their completed works—sometimes by giving extra help with a new skill, sometimes by organizing materials, and other times just by listening while they work!
During a Spring residency at Commodore John Rodgers Elementary in Baltimore City, two English Language Arts third-grade classes were exploring character traits of a recently read Judy Blume novel. Expanding this textual element to their own character traits, the children designed self-portraits. The designs started on paper and were then embroidered onto fabric. Pam instructed them to explore color values, textures, and shapes.
Three volunteers accompanied Pam to the school to assist the very enthusiastic children in creating their self-portraits. The results were amazing.
One particularly shy boy proudly presented his self-portrait and said, "I did it!" Another told us how he was teaching his poorly behaved six-year-old cousin to 'draw with yarn.' "It calms him down, and we all need that!" he proclaimed. Another student told us that he had taken over the household chore of mending torn clothing for his brothers and sister. "No one else in my house knows how to use a needle like me."
Children were working together at sewing tables, chatting amicably about the novel that they were reading in class, their sports activities, and their weekend plans. All were engaged in a very peaceful and friendly manner, helping each other when necessary. No doubt presenting their finished projects to their families on Mother's Day was a beautiful culmination of this artistic endeavor. And it left three very happy volunteers with a feeling of purpose in assisting these youngsters in a meaningful project that will surely be an unforgettable experience.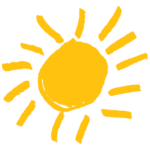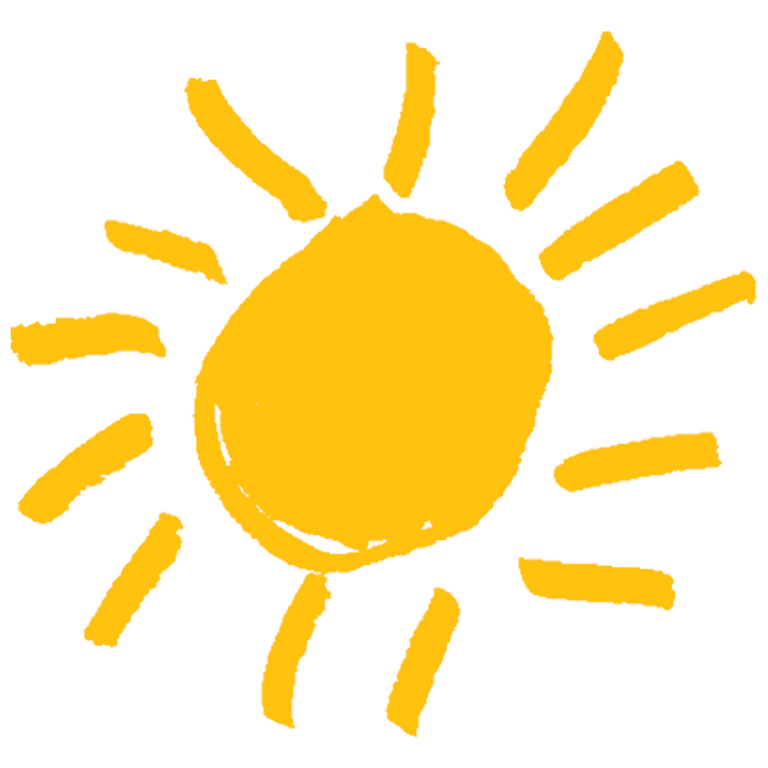 You can get involved, too!
At Young Audiences, we constantly see the arts inspire, engage and change lives. We are reminded of this power every day through our work providing more than 7,000 arts learning experiences a year to children in Maryland classrooms. And the benefit extends beyond the children, impacting the providers, observers, supporters and, yes, volunteers.  Learn more about how you can get involved with Young Audiences through volunteering.
Young Audiences of Maryland is excited to offer a new and innovative program from one of our roster artists, Alden Phelps, called Singing, Reading & Writing Songs: an Interactive Assembly. Alden Phelps' new assembly combines the inspiration and fun of a live concert with an extended hands-on time for students to participate in songwriting.
It's a show and it's a workshop: Silly Songster Alden Phelps plays guitar and sings his original children's songs, then leads students step by step as they design their own musical couplets in teams. This hands-on experience is designed for an entire school grade to enjoy together.
Why is this program so special?
Not only does this program combine the best aspects of an assembly and a classroom workshop, but it also uses a thoroughly engaging inspiration for writing: magnetic words. By physically manipulating magnetic words, roadblocks that inhibit participation (spelling, handwriting, etc.) are removed; new vocabulary is expanded and stimulated; students at different levels can engage meaningfully and achieve writing success in activities that build language skills. Guided exercises, along with teacher support, help students try their hand at lyric writing. Most importantly, it's a whole lot of fun! The assembly ends as students transform Alden's opening song into their own original creation. This Interactive Assembly is designed for up to 100 students or one full grade. The assembly is 45 minutes long and is suited for grades 3-5.
How does it work?
Alden sets up 25 magnetic easels in your gym (or suitable space) and 50 of his original boxes of magnetic nouns, verbs, adjectives, prepositions, and rhymes. The program begins with Alden singing an original silly song for the students. He then explains his songwriting technique and breaks down the lyrics to the songs' chorus on two large magnetic boards. Students are invited up to get creative and rewrite Alden's rhyming couplet.
In the second half of the program, all the students move to the magnetic easels and continue to get creative, rewriting Alden's lyrics. Alden circulates through the room, helping students and celebrating their successes by singing along with their newly created lyrics.
The differentiation is built in: basic & special needs students succeed by plugging in verbs, nouns, and rhymes, and the supplied dry-erase magnets allow advanced students to push their writing beyond Alden's selection of words.
Common Core Connections: CCSS.ELA-Literacy.L   CCSS.ELA-Literacy.RF
100% Participation!
Alden has spent months developing this new Interactive Assembly, and in its initial performances, every single student in the room participated every time! And not just participated, but gleefully dove in to write their own song lyrics!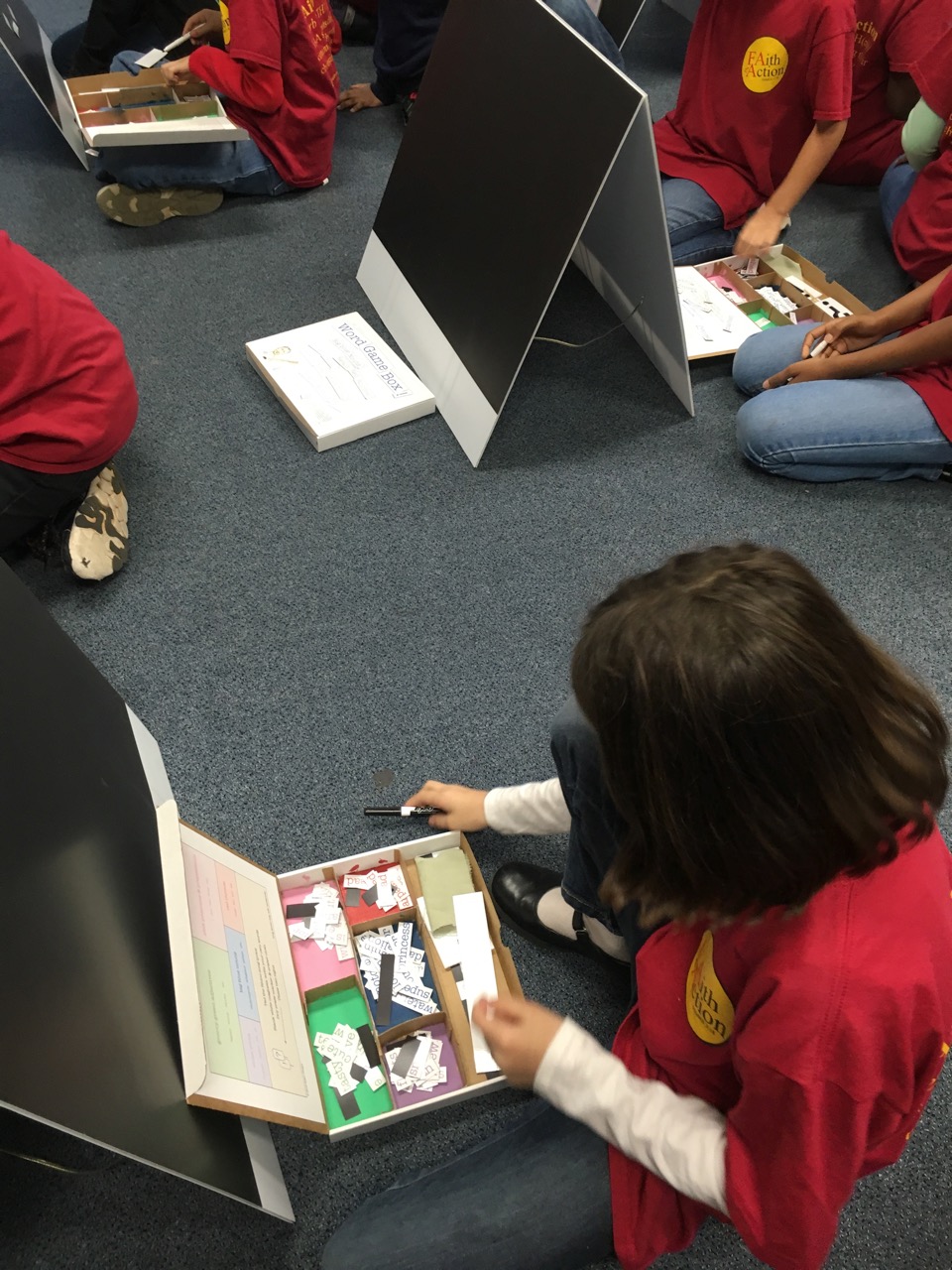 Mr. Phelps did an excellent job getting even my least interested students involved in this program!  Some of my students who hate to sing REALLY enjoyed this program!! The students were singing their song lyrics for the rest of the day. I highly recommend this program at any school!!"   –Frederick Adventist Academy, March 2016
Every single kid that participated LOVED IT!"   –Sandymount Elementary School

Alden's rapport with the kids and level of enthusiasm is contagious! It all channels our students' focus and involvement in the content he delivers."   –Thunder Hill Elementary School
Q: Who is this Interactive Assembly for?
A: Singing, Reading & Writing Songs: an Interactive Assembly is designed for grades: 3-5, up to 100 students, or one whole grade.
 Q: What about K – grade 2?
A: I'm working on adapting this for beginning readers using magnetic rebus. I think it's a great idea!
 Q: What about a longer version of this like a residency?
A: I'm working on it! I hope very soon this will be a multi-day residency too!
At Young Audiences, we're always building partnerships with great organizations to help enrich our children's lives through arts and culture. Hot Spots, a before and after school extended care cultural enrichment program, was a perfect match to do just that. This past spring, Young Audiences partnered with Hot Spots to bring Ugandan culture into the hands and hearts of the entire student body at Lyons Mills Elementary for a special performance dubbed "culminating".
Traditionally, Hot Spots offers artist residencies for students after school. For this partnership, an effort was led by Hot Spots Executive Director, Emily Gordon, to bring in-depth knowledge and meaningful craft-making to every student and teacher in the school for an entire day of culminating activities!
To facilitate this huge endeavor, Hot Spots chose Young Audiences Teaching Artist and Ugandan native, Ssuuna, a dancer, drummer, singer, and songwriter, to share significant cultural aspects of his home country with the entire school community. Hot Spots' ultimate goal with YA for the next year is to make these kinds of culminating performances an access point that will reach far beyond a school.
We spoke with Emily Gordon about this unique experience:
"We chose Ssuuna because he is an artist and performer who brings these experiences to life. He shares such enthusiasm and energy and encourages our students to be active learners, not passive. It's really important that we continue to work with artists who understand how to connect with children at their individual levels as opposed to simply teaching to the masses."
More from our interview with Emily:
"This partnership is different from how we've worked with Young Audiences in the past. The majority of our past work has been for students who participate in after-school programs and residencies. A culminating performance typically happens only with the students in the program. We are thrilled to be expanding that reach.
For this residency, we sent out lesson plans to every educator in the school with pre-assembly activities to support the experience with Ssuuna. Students memorized Ugandan vocabulary, researched facts about Ugandan every-day life, and learned about the musical instruments they would build in tandem with the performance later that day.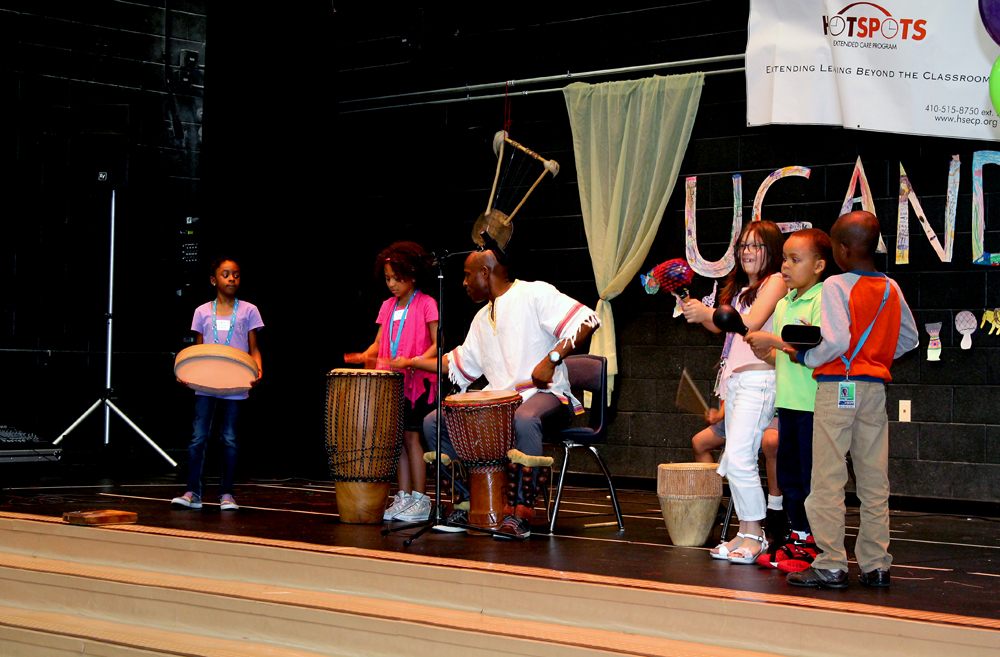 "This wasn't a 'come drop off your students at an assembly' type of day."
Teachers made sure they understood what the assembly was about and prepared questions for Ssuuna to answer. We didn't only focus on Ugandan music and dance; while grades third through fifth began the assembly watching a solo dance performance by Ssuuna and preparing questions, students K-2 sat down in small groups with Hot Spots teachers to create an Ensaasi, a Ugandan shaker. Rather than having them simply color in a pattern, Ssuuna identified forms of tribal art with cultural significance for design inspiration. From there, third through fifth-grade classes went back to the classroom and created Ugandan jewelry from different types of tribal wooden and plastic beads.
The success of this culminating day of activities reflects a desire to engage students differently with Teaching Artists. With assemblies, students are not able to stop and ask questions during a performance, and later they get forgotten. After Ssuuna had performed for 30 minutes, there was a fantastic Q & A session! Kids could ask Ssuuna anything based on what they had seen or read earlier in the day. We wanted to give them that forum, letting them express what they didn't understand. Ssuuna is such an amazing artist who can explain and relate to students not only his experience in America but his roots in Uganda. That unique connection helps reveal why his story is so relevant and compelling for students.
Another big part of this new model is encouraging not only our students, but the parents, families, and neighborhood to get involved. How do we make sure this experience can be expanded into the home? To extend our outreach, we shared photos and videos of the performance and activities in a short newsletter blast to every parent in the school. Included in the newsletter were extension activities and follow-up questions like this social media challenge:
Teach your family how to make Ugandan jewelry and take a picture of you and your family wearing it! Then, take a video of you and your family playing your shakers!
We really appreciate this unique opportunity to partner with Young Audiences. YA is a critical component of our efforts and we are excited to replicate and improve this program next year!"
Growing Up Green: Teaching Our Youngest Learners Environmental Citizenship Through the Arts
Part One: The Life Cycle of Plants
We think with our hands, and when students are immersed in a lesson together, they begin to make their own connections."
We are in the midst of pilot programming for Prince George's County Public School's new arts integration initiative—Growing Up Green, a Kindergarten-level, environmental literacy program. The initiative, part of an exciting new partnership between Young Audiences/Arts for Learning, the Chesapeake Bay Trust, and Prince George's County Public Schools, is funded in part by a BGE Green Grant and the Chesapeake Bay Trust.
The program engages kindergartners in meaningful and authentic outdoor experiences that connect them to their local ecosystems and inspire them to protect our environment. The arts provide the vehicle that the students use to demonstrate and communicate their learning to the greater learning community of their school.
Growing Up Green residencies are divided into four major themes—Habitats, Local Ecosystems, The Life Cycle of Animals, and The Life Cycle of Plants.
One of the first YA teaching artists to pilot this program was textile artist Pam Negrin. Pam chose "The Life Cycle of Plants" for her residency with the Kindergarten class at Rockledge Elementary School. "One of the tenants of this initiative is just getting kids outside!" With cuts to recess, these residencies provide purposeful outdoor experiences that directly engage students with their surroundings and sharpen their observation skills.
Along with being outside, one of Pam's favorite things about Growing Up Green is "giving students a chance to experience wonder." She and the students had several surprises while exploring the hidden parts of plants everyone gathers at the beginning of the residency. After reading about what constitutes a "fruit," students sort their treasures—dandelion, sweet gum fruit, crepe myrtle seed, milkweed—into the appropriate plant life phase: seed, seedling, mature plant, flower, or fruit. The students loved playing a game where they had to accurately categorize collected plant life alongside familiar food found in a grocery store by exclaiming "fruit!" or "not fruit!"
Early on in the pilot program, students gathered an assortment of "fruits" resembling spiky balls that fall from sweet gum trees. Even though most attempt to avoid these prickly pods, the students gave no hesitation in cracking them open to find hundreds of seeds! Once the plants were sorted, the students began to observe and draw each part. Using their original drawings as a visual guide, and after learning some basic embroidery stitches, they collectively stitched a large-scale embroidery depicting the life cycle of plants. "Kids are stitching around the table with each other, working in groups, exploring together. Really, collaboration is another strong aspect of Growing Up Green," says Pam. "We think with our hands, and when students are immersed in a lesson together, they begin to make their own connections."
Ultimately, Growing Up Green can naturally make children stewards of the environment, "not because we taught them preservation is important in a textbook, but because they were outside experiencing it for themselves." Pam adds, "this residency reminded me that the more immersed I can be in what the students are learning in their core curriculum, and the more I experience the wonder and excitement of that learning, the more I have to share with my students and the stronger the arts integration."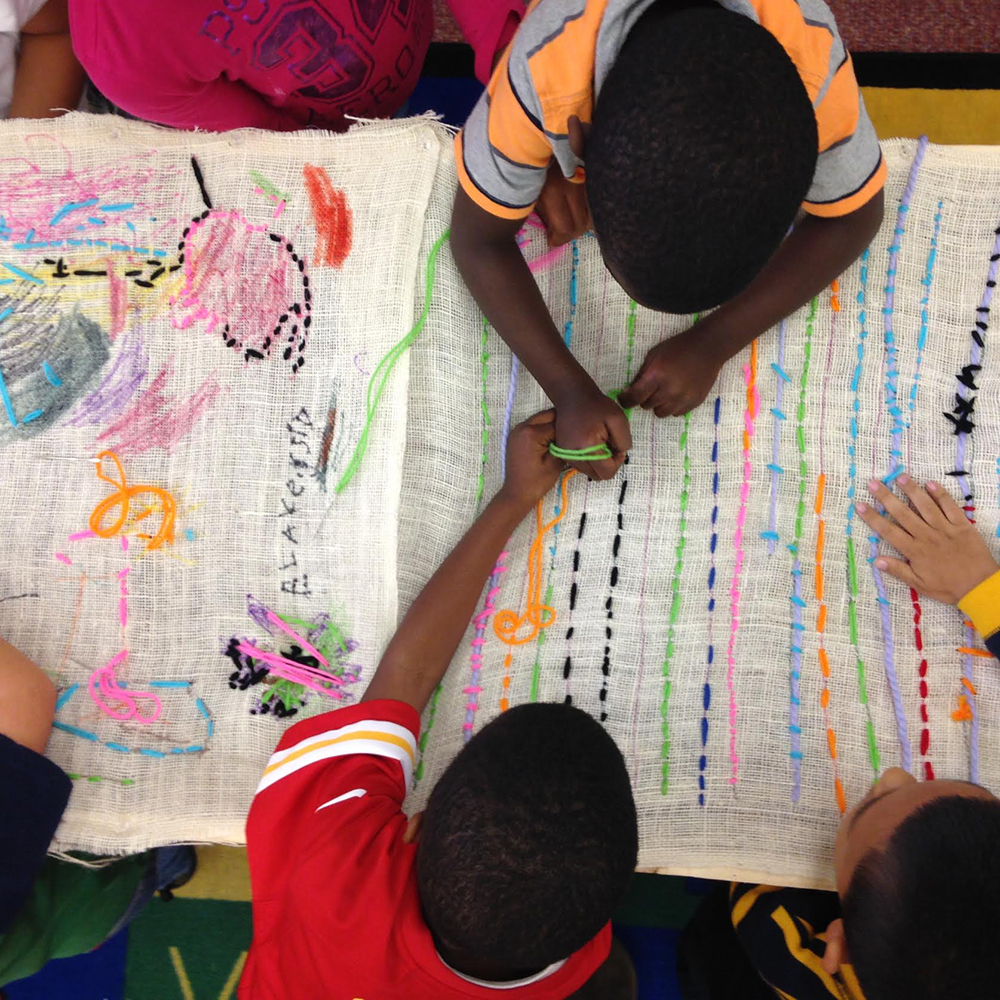 The program also provides teachers the tools to creatively engage students in curriculum-based learning through arts integration long after the residency has ended. In fact, one of Growing Up Green's primary missions is to ensure the program's long-term sustainability in the classroom. Once the residency ends, the arts integration techniques that were taught during the residency help teachers to more accurately and confidently employ environmentally based learning strategies into their current lesson plans. Ideally, once the piloting phase of the program is complete, Growing Up Green will become embedded into the core science and social studies curriculum of Prince George's County Public Schools.
By partnering with the Chesapeake Bay Trust to arm schools with relevant, local environmental data to meet district-level standards, and by doing our part to provide teaching artists and professional development in arts integration, this program could not be more equipped to succeed.
Video: Growing Up Green @ Rockledge Elementary
Growing Up Green aligns with Environmental Literacy Standards, Next Generation Science Standards, Common Core State Standards, and Visual Arts Standards.

By Christa Huber, Arts Integration Coach, Patterson Park Public Charter School
I have been with Patterson Park Public Charter School for six years in various teaching positions in Title I, third grade, the English for Speakers of Other Languages (ESOL) program, and am now the school's arts integration coach. This year has been a learning process, but also such a positive experience working in partnership with Young Audiences and Arts Every Day.
It was a personal goal for me to transition Patterson Park Public Charter School into becoming an arts-integrated school. I wanted to maximize our artist-in-residence programs with outside artists as much as I possibly could this school year. We believe in the strength of the impression that residencies make upon students and teachers. All of the work that comes out of a residency versus a day-long field trip makes such a difference. Residency programs allow students more time to engage with and learn from the artists. This exposure to artists is also important for the teachers because it provides a longer period of professional development so that they can learn skills and strategies that they can carry out in the future.
We had a fantastic variety of Young Audiences artists out to our school this year. These artists included: spoken word poet Femi the Drifish, ceramic visual artist Amanda Pellerin, Baltimore Improv Group, Flamenco dancer Anna Menendez, and more. These programs were made possible through Access for All grant funding from Young Audiences and funding from Arts Every Day.
We spread the residency experiences across different grade levels of the school. It was very helpful having the Young Audiences artist and program information online because it allowed me to search for artists that matched and linked to the content areas that our teachers were looking for.
There were a variety of stand-out experiences from our residencies, but here are a few:
Femi the Drifish worked with our middle school students in Language Arts. A great thing about that residency was the response we received from students who typically are not comfortable with performing in front of people. By their culminating performance, those students in particular were the ones to stand up and share their poetry with strength.
The third grade worked with Amanda Pellerin to create an Ancient Egyptian mosaic. This piece of work related to their study of the ancient civilization. Mr. O'Connell, our third grade science and social studies teacher, was blown away by how Amanda challenged the students to do their best work in a really positive way. We're very excited to have that piece of artwork as a permanent fixture in our school.
Anna Menendez brought some of the Spanish culture into our school. Some of our middle school students had just returned from a trip to Spain during spring break, so this residency was another way to connect with what they learned and saw on their travels. It also provided a relatable experience for the students who didn't have the chance to travel to Spain.
I have personally seen the impact that residencies have had upon teachers compared to other arts-related experiences. I believe that having artists at Patterson Park helped our teachers develop a great deal. Artists exposed teachers to new art forms that they may not have had any experience with, such as spoken word poetry or improvisation, and gave our teachers opportunities to learn how to tie these art forms to the curriculum.
One of our charter school philosophies is that children learn best through hands-on activities with interdisciplinary and semantic learning models. Arts integration is at the core of our values and it naturally makes sense for Patterson Park.