Some big ideas are meant to be shared. It is through partnership and collaboration that the big ideas grow roots and become an integral part of something even bigger. In 2015, Pat Cruz, YA's then-chief innovation officer, and educator Mary Kate Bransford had a dream. What if every kindergarten classroom in Prince Georges County Public Schools (PGCPS) had an arts-integrated environmental literacy program?
Their big idea brought together twenty teachers and five teaching artists to write a five-day lesson plan that both met environmental literacy and visual art criteria and explored themes like habitat restoration, local ecosystems, the life cycle of plants, and the lifecycle of animals for a brand new program: Growing Up Green. The program, a partnership between Young Audiences and the Prince Georges County Office of Environmental Literacy, would be piloted in 17 schools in the district in the 2015-16 school year.
That first year resulted in the creation of five separate 5-day arts-integrated environmental literacy lessons. Teaching artists worked side by side with kindergarten teachers all five days of the program with the goal of handing off that role to each individual school's art teacher in future years. To prepare teachers, Kristina Berdan, Young Audiences Education Director, trained teacher ambassadors, kindergarten lead teachers, and art/music teachers to use the arts as a teaching tool in their classrooms. "I used to think art was a product of a lesson," said one kindergarten teacher in Prince George's County Public Schools after being trained in arts integration through Growing Up Green. "Now I think art is the process to achieve the objective."
The team constantly listened, assessed, reflected, and revised, resulting in a comprehensive catalog of resources for teachers and the refinement of, in the second year, four unique residencies instead of the initial five, and then in its third year, one: Fiber artist Pam Negrin's The Lifecycle of Plants. Kindergarteners and their teachers explored nature with their real-life senses—looking, smelling, touching—to not just learn about our natural world, but experience it. Classrooms across the district were outfitted with custom-made embroidery tables where students could gather and stitch their observations, building with and learning from one another. "We think with our hands and when students are immersed in a lesson together, they begin to make their own connections," said Pam. From sharing what they learned during the school day at home to internalizing and remembering more information, the effects on learning were so profound that once-resistant teachers embraced learning through arts integration and extended it into other content areas.
Growing Up Green combines the arts and time outdoors with making connections between humans and the environment and brainstorming solutions. "The program gets kids outside and thinking about the bigger picture and the combination of all the elements of the program supports the district's goals," said James Roberson, PGCPS Instructional Specialist for Environmental Literacy. And after the lessons have ended, classes are left with beautiful embroidered tapestries they can share with the school community. "The tapestries are a great way to showcase what they've learned."
Our state was the first in the nation to approve an environmental graduation requirement for all Maryland students. In 2011, the school board created Environmental Literacy Standards that would support the growth of the planet's next generation of stewards. Prince George's County Public Schools is intentionally integrating these standards into the PreK-12 curriculum, and through Growing Up Green, they are successfully reaching the county's youngest students. This is the first year that PGCPS is running Growing Up Green without Young Audiences' support. "Young Audiences has been an outstanding partner over the last four years," said Roberson. 
"I'm really impressed by how different teachers have taken what they learned and run with it," said Jhanna Levin, PGCPS Environmental Literacy Outreach Teacher. As a result of Growing Up Green, teachers in the district's Autism Program, for instance, have embraced the art of embroidery, the fine motor skills it develops, and the calm it inspires. "It soothes the kids in a way they weren't expecting." Levin, new to the department, has taken the reigns of Growing Up Green and nurtured the development of teachers new to the program as well as veteran educators. She is constantly checking in and helping the teachers to do what works best for them.
She is holding a training session this coming January for lead kindergarten teachers to explore additional arts integration techniques for classrooms and it's not just new teachers who are looking forward to it. "We're talking about turning T-shirts into yarn and using dance for the observational piece," said Levin. James Roberson added, "We're really excited about what Jhanna brings to the program."
Growing Up Green was a tiny seed that with research and tremendous effort and love, Young Audiences was able to sow. Through the amazing partnership we've had with PGCPS, we've seen the program evolve and take shape in a way that both works best for the district and stays true to the vision of Growing Up Green at its conception. We are extremely proud to see the district take charge and continue nurturing and developing this incredible program. Levin said, "There are teachers who have done this for three years now and they say, 'Just give us the materials. We've got this.'"
smARTbeats is back this Saturday, January 13 on WTMD during the weekly children's program Young At Heart! On this month's segment, host Lisa Mathews sits down for a chat with Hip Hop performer, YA teaching artist, and Maryland Wolf Trap Artist, Jamaal "Mr. Root" Collier.
A dynamic and engaging Hip Hop artist, Jamaal has been working with Young Audiences/Arts for Learning since 2007, has served on its artist roster since 2013, and was named Artist of the Year for 2016. His energy and passion for the arts is boundless, and show in the volume of work he does, not only offering assemblies and long-term residencies in schools, but also providing professional development for teachers.
By incorporating rapping, vocal percussion, and dynamic stage presence, Jamaal articulates his passionate appreciation for his artistry every time he teaches and performs.
During the segment, you'll hear how the artist, who is also half of the family-friendly beatboxing duo Baby Beats, invites students to learn, listen, and participate.
"(Mr. Root's program) was a true testament of how you can take learning and make it fun," said Ms. Hines, Principal of Villa Maria School after the artists' residency. "He was able to get some of the most resistant kids engaged."
Jamaal uses rapping, freestyling, and beatboxing to appeal to a variety of learners. His students craft rhyming couplets and non-traditional quatrains to analyze and summarize their course content, gaining a deeper understanding of lesson material through elements of Hip Hop.
Take a look for yourself:
Staci Taustine, Fifth Grade Teacher at F.L. Templeton Preparatory Academy said that through her class' residency with Mr. Root, students didn't just advance academically, but socially.
"My students learned how to be vulnerable with one another, brave enough to share their feelings, and empowered to use their voices to express everything they learned," she said. "Each and every one of my students came away with a unique perspective on who they are as individuals."
Jamaal's passion for the arts is clear, as is the impact it has had on his life. "Our life without the arts can be so empty," he has said. Thankfully, the artist shares the power of art, music, and rhyme with students and their teachers across the state of Maryland every day.
Young At Heart airs weekly from 7 to 8 am on Saturdays, featuring music that appeals to parents and children alike. Previous shows have featured music by Wilco, David Bowie, Andrew & Polly, Weezer, and others.
Hear Jamaal "Mr. Root" Collier online now:
YA roster artist Ryan Diehl and the Global Beat Connection's music assembly connects students' love of modern music to its rhythmic roots, revealing its history. Their highly interactive assembly invites students to explore a diverse array of cultures from locations in the U.S., Brazil, the Caribbean, and Africa.
Ryan is a professional singer and renowned drummer who has recorded and toured internationally with numerous artists including jazz legend Ethel Ennis. Using his drum kit, Ryan performs examples of jazz-inspired world rhythms like hip-hop, samba, reggae, and soca, to help students hear the connections between geographic locations and subtle changes in beat formation. Tracing the lineage of the rhythms from today's popular music is akin to tracing the branches of a family tree. Understanding and appreciating the musical evolution of jazz helps students connect to its history, to another culture, and to a different generation.
Ryan Diehl and the Global Beat Connection's assembly is a time-traveling journey around the world initiated through today's popular music. Students may be surprised to learn their favorite music's influences, creating an opportunity to appreciate a teacher's musical knowledge and experience. "A student will come up to me at the end of the assembly, usually on their way out, and tell me that they recognized a song or two from their parents' playlist," Ryan said. "They enjoy the modern take on the standard tunes!" This is a program that can spark an intergenerational conversation at home or at school and help kids relate to the adults in their life. Music does that. When adults and children can relate to one another, ears and minds open.
Ryan Diehl and the Global Beat Connection introduces students to music and rhythms from various world cultures. Learn how you can bring their residency, The Global Beat Connection, into your school today.
Written by Barbara Krebs,
Young Audiences volunteer and Sunburst Society member
Seedfolks. Bizz Buzz. These are just a couple of the new things I learned about when I visited the Summer Arts and Learning Academy at Thomas Jefferson Elementary/Middle School in Baltimore.
And learning through the arts is the whole point of this summer academy, now in its third year of operation. Young Audiences/Arts for Learning, in partnership with Baltimore City Public Schools, operates four of these academies at schools throughout the district as part of a system-wide arts-integrated strategy to reduce summer learning loss in literacy and math. Approximately 1,144 kindergartners through fifth graders take advantage of this free, fun-filled educational opportunity. 
My first stop was to meet Site Director Kristin Taylor who manages the program at Thomas Jefferson. As we headed to the first classroom of fifth graders, she enthusiastically filled me in on the size of this particular academy (280 students), its average daily attendance (250 students), and the benefits provided at every site to help parents and kids (after-school care until 6:00 pm and free breakfasts and lunches served every day to each student).
As we walked through the halls, student-created posters, snippets of conversations, and the sounds of music offered glimpses of the learning that was taking place.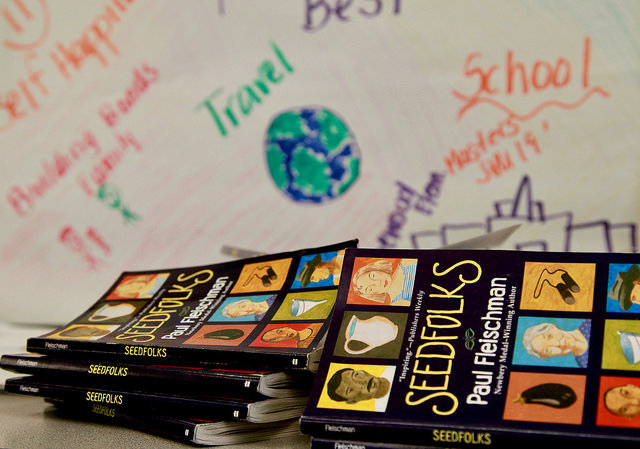 I entered the fifth-grade classroom of Ms. Paige and visual artist Mama Sallah just in time to watch a production of a chapter from Seedfolks, a book that shows how a neighborhood is transformed as people from different cultures interact in a garden. After the first group performed, I got a chance to ask Kenaya, one of the student actresses, about the book.  She explained to me that each chapter of the book focused on a different character. The classroom had been divided into groups, each assigned to act out a different chapter of the book. These groups were to then silently act out what the narrator was reading.  
Kenaya's group focused on Kim, a Vietnamese girl from the first chapter. The story starts with the girl staring at a portrait of her father. While one student narrated, others acted out the parts of Kim, the father's portrait, and even more characters as the action moved into the garden Kim had planted.
I enjoyed watching their attention to the story and how each child handled their role, whether it was bending down to dig in the "dirt" or, like the young man playing the role of the portrait, staring silently into space, giving no indication that he was anything other than a photograph frozen in time. These were serious actors, hard at work.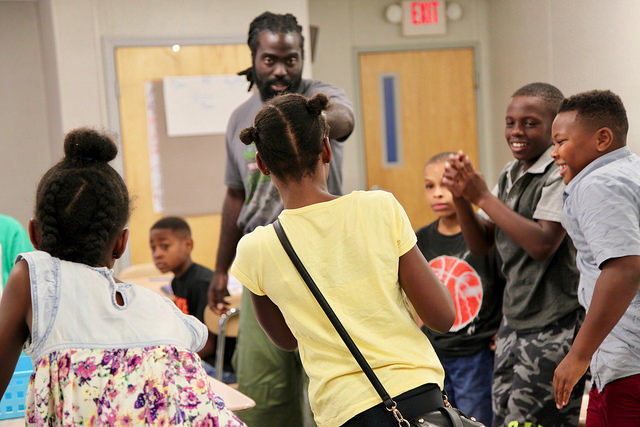 The next classroom was quite a contrast. Ms. Chase and hip hop musician Jamaal "Mr. Root" Collier were teaching math to a mixed classroom of fourth and fifth graders, and I had arrived in time to witness a game of Bizz Buzz. The children formed a large circle in the room, then took turns doing math calculations in their heads, making sure their answer was either a multiple of three or five. Emotional sounds quickly filled the room: Squeals of excitement for the game, celebratory cheers as someone answered correctly, silence filled with tension and pressure as someone struggled to find the right number, and supportive classmates whispering, "You can do it!" and "You got this!"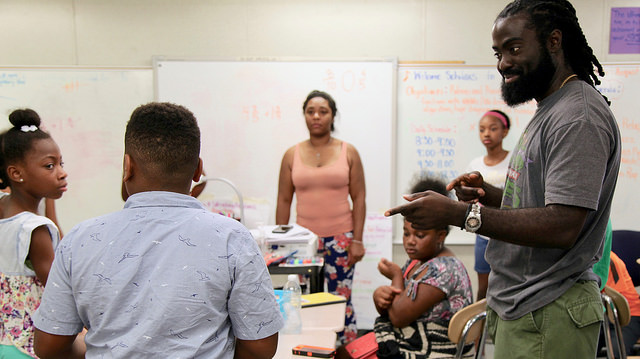 I have to admit I never did quite get the idea of when you yelled, "Buzz!" or "Bizz!" instead of a number, so I guess I'm going to have to admit that I am NOT as smart as a fifth grader. Luckily, they are!
The next classroom was filled with third graders who were also working on math. However this time the class focused on word problems and measurements. Without the drama of Bizz Buzz, this classroom was much quieter with children working at their desks. As I wandered around the room, one outgoing and cheerful girl, Mikhia, came up to me.  I probably looked a little lost because she explained to me what was going on – how they were learning about different cultures.  I asked her if she liked the Academy, and she grinned broadly and nodded her head, yes.  
"What do you like about it?"
"The teachers," she answered without hesitation.
"What do you like about them?"
"They are nice, loving, and helpful.  I'm learning so much this summer!"
The last classroom I visited was composed of first graders.  I noticed a colorful picture on one boy's desk of a volcano with a person going up the side of it and asked him about it.  "Who's that?" I asked, pointing to the person.  
"That's me," Donald answered.
At that point, we were interrupted as it was time to line up for lunch.  But before he left, I got another opportunity to ask him about his work. "Why are you walking up the side of the volcano?" I asked. He seemed a little confused but answered gamely, "I'm not walking, I'm flying."  
"Oh," and now it was my turn to be a little confused.  "You must be very powerful to fly."  
By now the girl in line behind him decided she had to help this poor confused person. Explaining patiently but emphatically, she corrected me. "It's not powerful. It's imagination!" At which point, I learned that their classroom was focusing on stories that dealt with imagination. So, yes, flying makes perfect sense. I'd rather fly over a volcano than walk up it, too!
As the children headed off to lunch, I thought about my first morning at Young Audience's Summer Arts and Learning Academy and all the kindergarten through fifth-grade pros who had guided me through the learning process. I realized I had learned a lot, too.  
For example, I learned that reading and acting out the story is a powerful way to concentrate on both the characters and the narration. I learned that math can be extremely riveting and exciting. I learned that different cultures can guide your math skills. And I learned that I need to let my imagination soar. But most importantly, I learned that combining arts with learning is fun – and effective – and that's why the kids love it.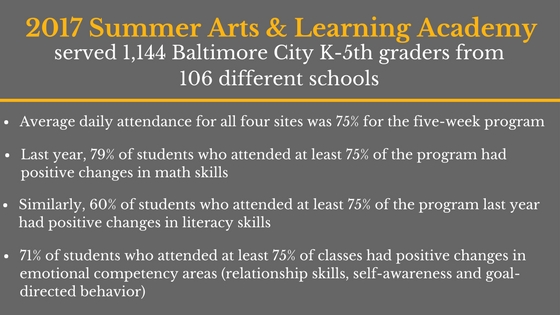 smARTbeats returns to WTMD this Saturday, July 8, during the weekly children's music program Young At Heart. On this month's smARTbeats segment, Young At Heart host Lisa Mathews sits down for a chat with Bomani. A seasoned performer, teaching artist, Director of Poetry Events for the Busboys and Poets restaurants, CBS Radio personality, and head audio-engineer for Urban-Intalek Studios, Bomani describes himself as a poet with a Hip Hop style.
During the segment, you'll get a taste of Baba Bomani's Hip Hop poetry as well as hear about his experience in the classroom. The artist teaches creative writing and prose through the exciting world of Hip Hop songwriting. By first creating a fearless, supportive and collaborative environment, he instructs children to use elements of creative writing including simile, metaphor, and rhyme to structure a song written in the pattern of a well-written essay. "Young people need to have freedom to develop an idea out loud without self-doubt and to not fear right or wrong answers," Bomani says.
"At the beginning of a residency, there are three writing rules I give students: Artists don't make mistakes, they make discoveries; Do not edit in your head; The only wrong answer is a blank answer."
"One of the reasons I love group creative-writing sessions is because the conversations that go on in a group setting are the same internal conversations that go on in a writer's head. Showing that process to young people in a physical way, where they are acting out how ideas are communicated — 'what about this idea, what about that idea, we should take this back, we should add that in there!' — helps them to better understand complicated topics."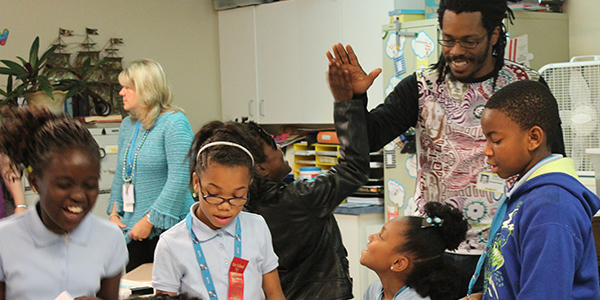 Young At Heart airs weekly from 7 to 8 am on Saturdays, featuring music that appeals to parents and children alike. Previous shows have featured music by Wilco, David Bowie, Andrew & Polly, Weezer, and others.
Hear YA teaching artist and composer Bomani online now!
Baltimore students in Young Audiences Summer & Learning Arts Academy Outperform Peers
Baltimore City Public Schools students who participated in a new arts-related summer academic program from Young Audiences avoided summer learning loss and, in many cases, gained ground on their national peers in standardized testing, according to evaluations released Tuesday. The new findings showed potentially groundbreaking progress in tackling summer learning loss, a chronic challenge facing public schools.
The results, confirmed in two separate studies involving nearly 800 students, are significant because summer learning loss – particularly among students at or below poverty level – is among the most difficult challenges facing the Baltimore school district and other high-poverty schools across the country. During summer, students typically fall below where they ended the previous grade, setting them back as they start a new school year. In fact, a 2013 National Summer Learning Association (NSLA) survey of 500 teachers found that 66 percent reported the need to spend three to four weeks re-teaching students course material at the beginning of the year. Another 24% reported the need to spend five to six weeks doing the same.
"City Schools has enjoyed a great partnership with Young Audiences, not only during the school year but also the past two summers," said Dr. Sonja Brookins Santelises, chief executive officer of Baltimore City Public Schools (City Schools). "During the summer, Young Audiences reinforces key math and reading concepts through the arts and creative activities – and we're pleased with the results we've seen. When students participate in summer learning programs that help them move ahead or reduce learning loss, they start the school year off stronger."
The Young Audiences Summer Arts & Learning Academy (SALA), run by the Baltimore-based arts-in-education nonprofit Young Audiences of Maryland in partnership with City Schools, was free for students and held at four sites across the city: Gardenville Elementary, Thomas Jefferson Elementary/Middle, William Pinderhughes Elementary, and Fort Worthington Elementary/Middle. Eighty-eight percent of the participating students were from high-poverty Title I schools.
"These results were a pleasant surprise given that we generally expect that students will lose ground over the summer," commented Dr. Marc L. Stein, Associate Professor at the Johns Hopkins University School of Education, who conducted a separate program evaluation for Young Audiences which looked at participating students' academic skill and social-emotional development. "The Young Audiences summer program combines many of the best practices of summer learning programs and appears to be a promising model. These findings deserve to be investigated more rigorously to find out how and for whom the program appears to be working."
"This is not your typical summer school program," said Stacie Evans, Executive Director of Young Audiences. "We taught literacy and math through the arts every day and instruction was collaboratively taught by teaching artists and teachers specifically trained in arts-integration methods. If you walked into one of our classrooms, you might have seen students using hip hop music to help solve word problems in math, or creating dances to summarize and sequence main events in a story."
The Baltimore City Public Schools evaluation found:
For math, statistically significant results showed that students in grades 3-5 who regularly attended (defined as attending at least 75% of the program) the SALA improved 1.8% percentile points in national student rankings on i-Ready standardized testing from the spring of 2016 to the fall of that year. That compares to a decrease of 2.8% percentile points for city schools students who did not attend any summer programming.
In reading, SALA students in grades 3-5 with regular attendance fell only .8% percentile points while students who did not attend any summer programming fell 2.1 percentile points upon returning to school in the fall.
Results for all grade 3-5 students regardless of attendance rate showed SALA attendees falling just .3% percentile points in math and .7% in reading. These were significantly smaller losses than students with no summer programming (down 2.8% in math, down 2.1% lost in reading).
In literacy, only 3% of the students in grades K-2 attending SALA did not meet their benchmark goal (the empirically derived target score that represents adequate reading progess1) on the standardized DIBELS assessment in the fall after returning to school compared to 8.1% of students not attending any summer programming not meeting the benchmark.
Young Audiences external program evaluation found:
79% of students who attended at least 75% of the program and who took pre- and post-tests had a positive change from the first to the last week of the program on a curriculum based measure of mathematics.
Approximately 60% of students who attended at least 75% of the program and who took pre- and post-test writing prompts showed positive change in their structure and content of their writing.
71% of students who attended 75% of the program and were administered pre- and post-assessments showed growth in at least one out of three social emotional competency areas over the course of the program. The social emotional competencies studied were relationship skills, self-awareness, and goal directed.
"The arts offer an extraordinary opportunity, particularly during the summer, to reignite the joy of learning and to set young people on the right course to start the school year strong. These impressive results from Young Audiences mirror findings of the landmark Wallace Foundation study showing that elementary school students with high levels of attendance in high-quality, voluntary summer learning programs can experience benefits in math and reading," commented Matthew Boulay PhD, National Summer Learning Association founder and interim CEO.
Eric Harrell, father of 9 year-old Academy participant, Aria Harrell, said "Before this academy, I could tell that my daughter was struggling in math. By using the arts she was able to learn math in a different way-a way that worked for her. She has so much more confidence in her math class."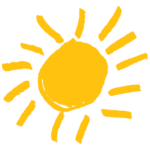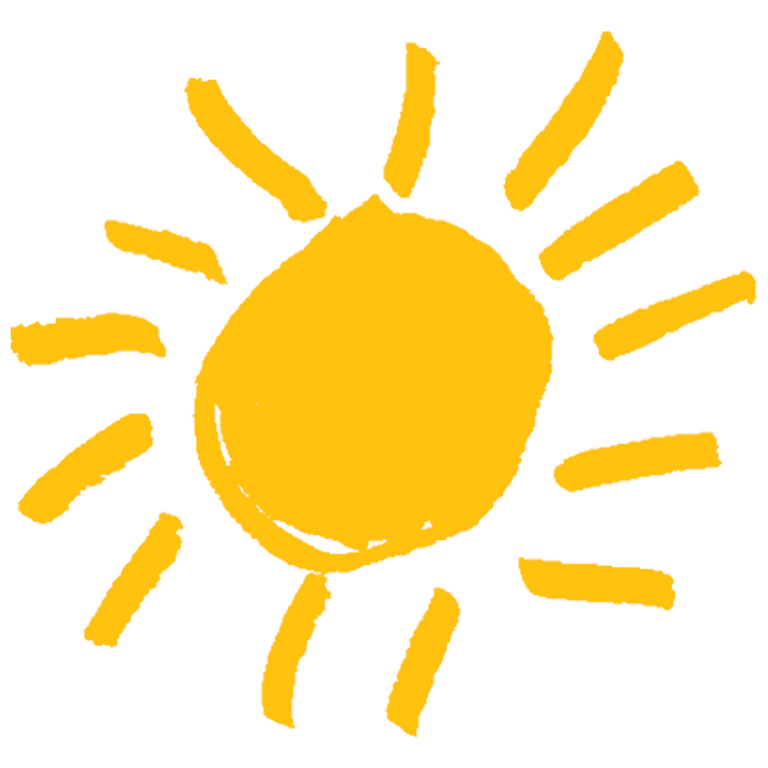 1 "Dibels Next Benchmark Goals and Composite Score, " Dynamic Measurement Group, Inc. (December 1, 2010). https://dibels.uoregon.edu/docs/DIBELSNextFormerBenchmarkGoals.pdf
Links to complete City Schools and Young Audiences Evaluations:

YAMD evaluation
Young Audiences' Summer Arts & Learning Academy is funded by Baltimore City Public Schools, The Abell Foundation, The Family League of Baltimore with the support of the Mayor and the City Council of Baltimore, The Alvin and Fanny B. Thalheimer Foundation and individual contributions to Young Audiences. All participants are students at a Title I Baltimore City Public School.
On an early Saturday morning this past fall, Drew Anderson, a hip hop artist, slam poet, screenwriter, producer and veteran school teacher, stood up in front of a sunny classroom filled with teaching artists and commanded:
"You are all now 6th graders!"
That's how most mock lessons begin at Young Audiences' Teaching Artist Institute (TAI); a weekend retreat giving Young Audience Teaching Artists and School Teachers the skills they need to maximize the huge potential of arts integration for students in classrooms.
Drew's bold command at first surprises, but quickly shifts observing teaching artists into the mindset of a student absorbing an unexpected, uncommon classroom experience. A teaching artist himself, Drew asks his "students" to listen to Michael Jackson and break down the beat, eventually re-writing verses with science vocabulary taught by his teacher partner in the classroom, Justin Leonard. The two make an exceptional team, as both have backgrounds in public science education. They smoothly interchange directing the classroom, keeping students engaged – a flow reminiscent of Drew's own performances on stage.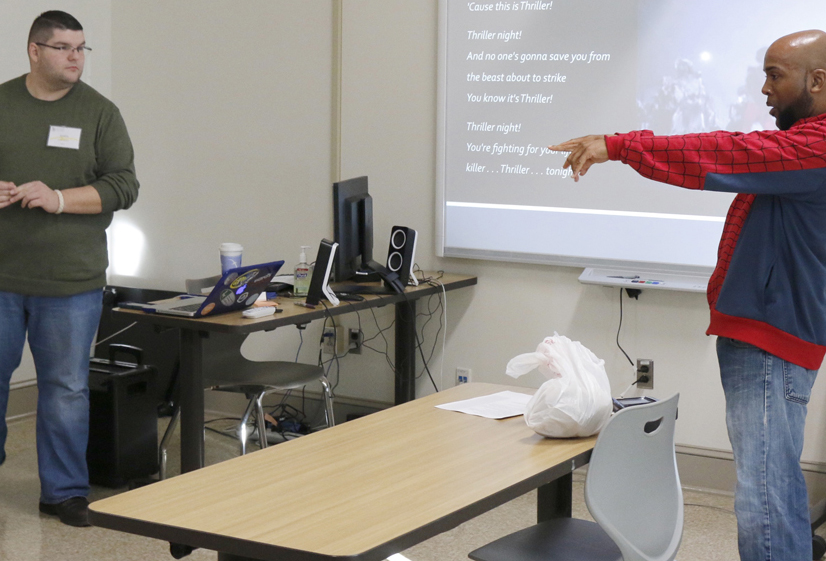 The experience is one of two Common Core compatible arts-integrated performance residencies Drew created at TAI: "C.R.U.N.K. Academy" and "Spoof School" – bridging his longtime passions for performing and teaching.
Here's an excerpt from Drew for the first lesson of his residency:
The first step is to pick a good song to spoof. It is important to pick a song that is catchy and easily recognizable with simple lyrics. As technology guru, Mr. Leonard will record and project the students' suggestions for spoof criteria and will play a few songs asking students to put their thumbs up or down to indicate whether the song would be easy or difficult to spoof. Students defend their responses and the creation of replacement lyrics begins!
"TAI
 forever altered my understanding of what it is to be a  teaching artist.
I learned more than I knew there was to know about arts integration and teaching artistry. I felt utterly enhanced in the realm of mind-shaping magic as if I'd been given a spell book of scholarly sorcery. I learned how to more dynamically apply my art form to educational content, how to break down my creative process for students and teachers, and how to connect my artform to 21st Century Skills, Maryland Art Standards, and the Common Core Curriculum. Every engaging exercise, helpful strategy, and supportive piece of advice from the superb staff and my equally excited peers confirmed that I had found where I belonged.
I am now prepared to convert all the potential energy hidden in classrooms into explosive kinetic energy, using engaging assemblies and super-charged residencies! I've been an educator and performing artist for my entire adult life and have observed the changes in both worlds. Gone are the days when students are programmed with rote memorization of stale "facts." Employers want workers who can think on their feet and on their own. This ever-evolving environment needs young entrepreneurs armed with the creativity to solve problems that have yet to appear. Through its audacity, its abstractions, its "aliveness," art activates parts of the brain that any teacher or employer should want to turn on. You might find yourself "shocked" at how much electricity comes from the marriage of art and education!"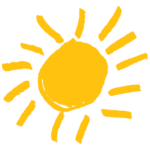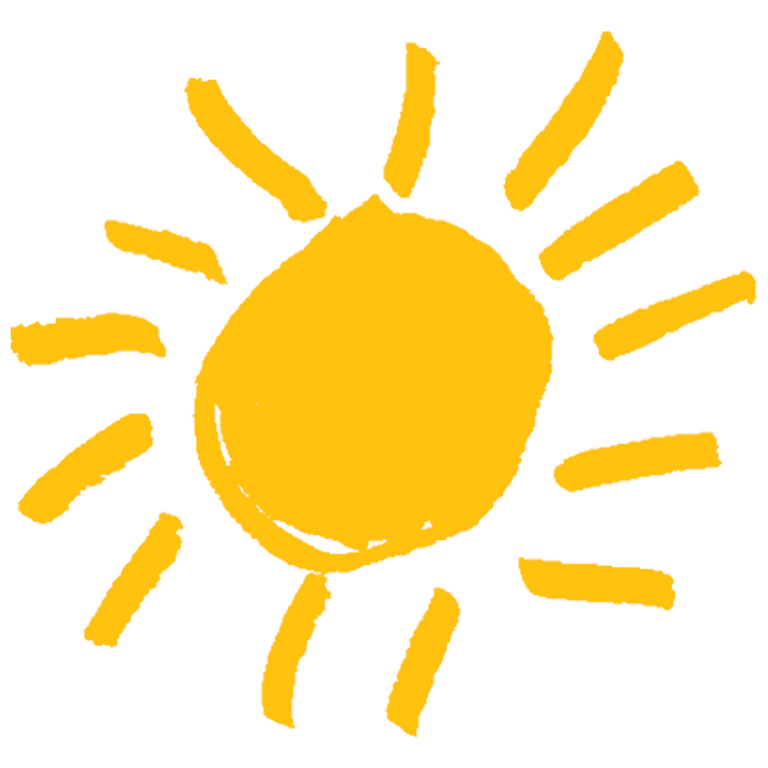 Interested in learning more about TAI? Click here!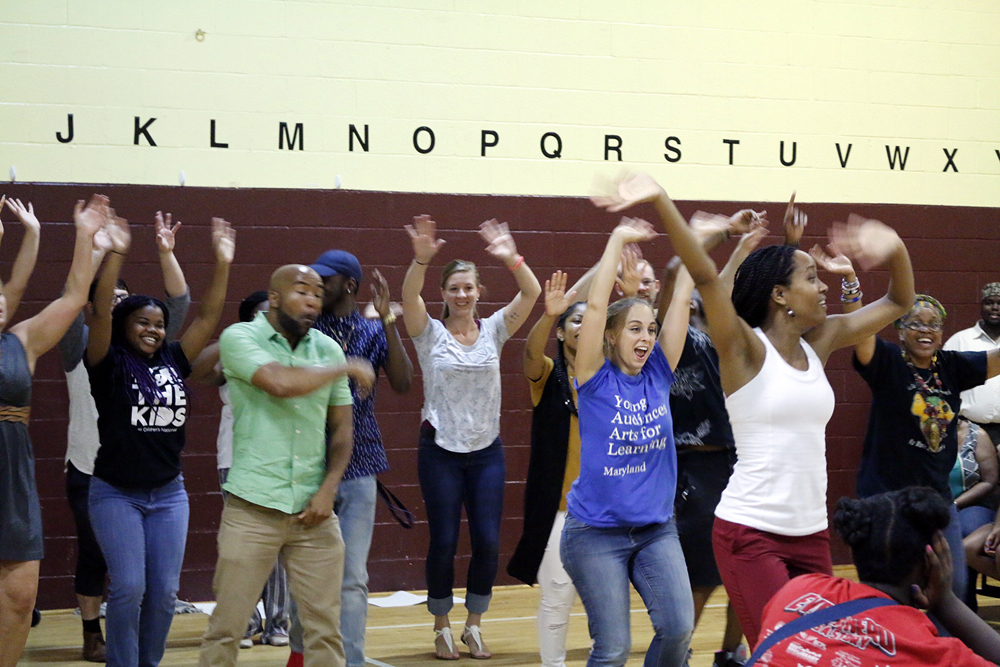 This morning, we kicked off our expanded Summer Arts and Learning Academy – a free, five week program immersing 900 City students in a variety of art forms taught by 36 locally-based professional artists. The full-day program welcomes students grades K-5, encouraging imagination, creation and expression through the arts, such as painting, songwriting, spoken word poetry, dance, piano, singing, visual art, sound production, playwriting, fiber art, and filmmaking.
Our kickoff this morning was a blast – welcoming students and their parents to the Academy's four sites with high-energy performances, live music, and vibrant interactive art demonstrations – giving them a preview of the truly unique and empowering experiences to come throughout the next five weeks.
Due to last year's success; with academic gains by students drawing from 93 different city schools—the district asked us to expand the Academy to four sites: Thomas Jefferson Elementary, William Pinderhughes Elementary, Gardenville Elementary and Fort Worthington Elementary.
Working with kids as they discover passions, refine creative processes and integrate arts in their everyday learning is an inspirational experience we and our Teaching Artists look forward to every year. We spoke with a few participating Teaching Artists about their plans and why the Summer Arts Academy is such a great opportunity for students and artists:
Scott Paynter, reggae singer:
I wanted to teach at this year's Summer Arts and Learning Academy to gain more experience working with Baltimore's greatest resource…it's children. My art form helps students express themselves through lyrics, it introduces them to cultures and people they've never encountered before, and it brings life to a classroom environment. Music is like a force of nature. It's everywhere you are if you pay attention."
Bridget Cavaiola, Baltimore Improv Group:
This is such a unique experience to provide our students with collaborative and engaging arts experiences that they may not get to during the school year. The mood and energy are contagious as you get to watch the students engage themselves in something in which they have passion."
Alden Phelps, musician:
My focus has always been on playing with words and the joy of language. Language is the foundation of how we communicate and function as human beings. Students who practice manipulating language, expanding their vocabulary, using rhymes, and counting syllables will better succeed in their regular academic work. Creative thinking opens up new pathways in our brains. There's also a wonderful freedom when a student can express an idea creatively. They synthesize their academic knowledge with skill in the arts, such as using color or figurative language, and the result is far more engaging to them."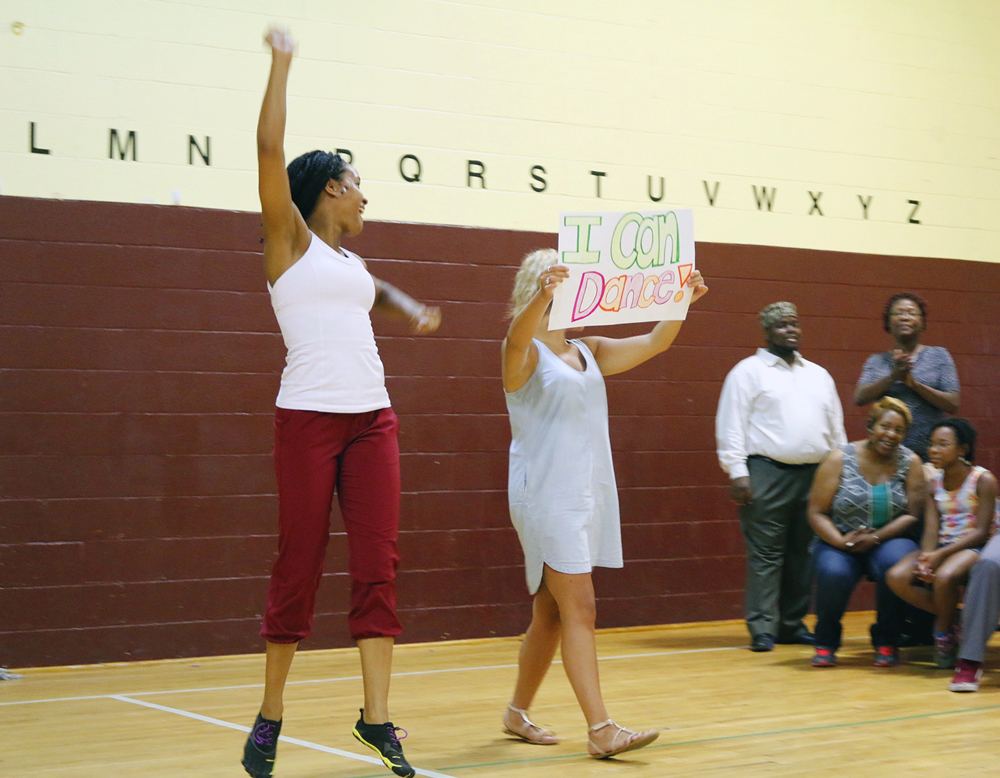 Students will imagine, create and express themselves through the arts, with a chance to concentrate on two art forms. The students even show-off their talents at Artscape, at pop-up performances in mobile art galleries around the city and at the August 5 final culminating event. We can't wait to see the students perform!
After this morning's successful kick-off event, led by teaching artists Valerie Branch and Sean Roberts, at William Pinderhughes Elementary, one parent said:
"I am just so excited to get to see my child perform soon. Seeing what the [teachers and artists] did just now, I know they are in trusted hands. It made me look at my daughter and think yes! This is going to be different, we are so excited! She LOVES art! I can't wait for the workshops too!"
Kicking off YA's Summer Arts Academy at #TJEMS with Femi the Drifish @BaltCitySchools #yamdsummer #SummerLearning pic.twitter.com/C8HwIkJ6MS

— Young Audiences MD (@arts4learning) July 5, 2016
Young Audiences' Summer Arts and Learning Academy is funded by Baltimore City Public Schools, The Abell Foundation, The Family League of Baltimore with the support of the Mayor and the City Council of Baltimore, The Alvin and Fanny B. Thalheimer Foundation and individual contributions to Young Audiences. All participants are students at a Title I Baltimore City Public School.
Taste the Arts X:
An evening of performance and culinary art!
Friday, May 6 at the Hippodrome Theatre in Baltimore
The lineup for our 10th annual Taste the Arts Fundraising Gala is set! We've put together another fantastic evening featuring award-winning artists and top culinary talent in Baltimore.
The best part? When you buy your ticket, you support Young Audiences' programs and mission to bring high quality, low-cost arts experiences to Maryland schoolchildren! Last year we delivered arts experiences to 183,153 students in Maryland. With your ticket purchase, we can keep it up – and do even more.
At Taste the Arts, we'll transform all three levels of The Hippodrome Theatre into a celebration of the arts through live performances and interactive arts experiences, with food and drink served on all three floors. Here's a taste of what to expect:
Taste delicacies from 25 restaurants:
Absolutely Perfect Catering
Alma Cocina Latina
Argosy Café
Baltimore Waffle Company
Blackwater Distilling
Blue Pit BBQ
Brio Tuscan Grille
Charm City Cakes
Charmington's
Chiapparelli's
Clavel
Gertrude's
Golden West Café
Heavy Seas Alehouse
La Cuchara
Maggie's Farm
Mother's
Teavolve
The Charmery
The Food Market
The Hipp Cafe
The Local Oyster
The Oceanaire
The Scratch Mill Kitchen
Tio Pepe
Wine from Noble Vintners
Beer from Union Craft Brewing
On the menu from Clavel is Cochinita Pibil, a traditional Mexican slow-roasted pork dish, with a side of Hex Ferments special slaw. The tapas-inspired menu from La Cuchara features Charred Broccoli Pintxo and Pickled Mushroom Pintxo. The Local Oyster will be shucking out sustainably farm-raised raw oysters. Maggie's Farm is serving chicken liver pate with fig jam on baguette and Heavy Seas Alehouse brings it home with Smoked Brisket Mac & Cheese. On the sweet side, Baltimore Waffle Co. will serve up Belgian Liege Waffles and Gertrude's presents a twist on a Baltimore classic with its Berger Cookie Cheesecake. Local winery, Noble Vintners, has graciously donated wine, and Union Craft will be on hand, offering their award-winning brews!
Don't miss 9 live performances and interactive art demonstrations, including: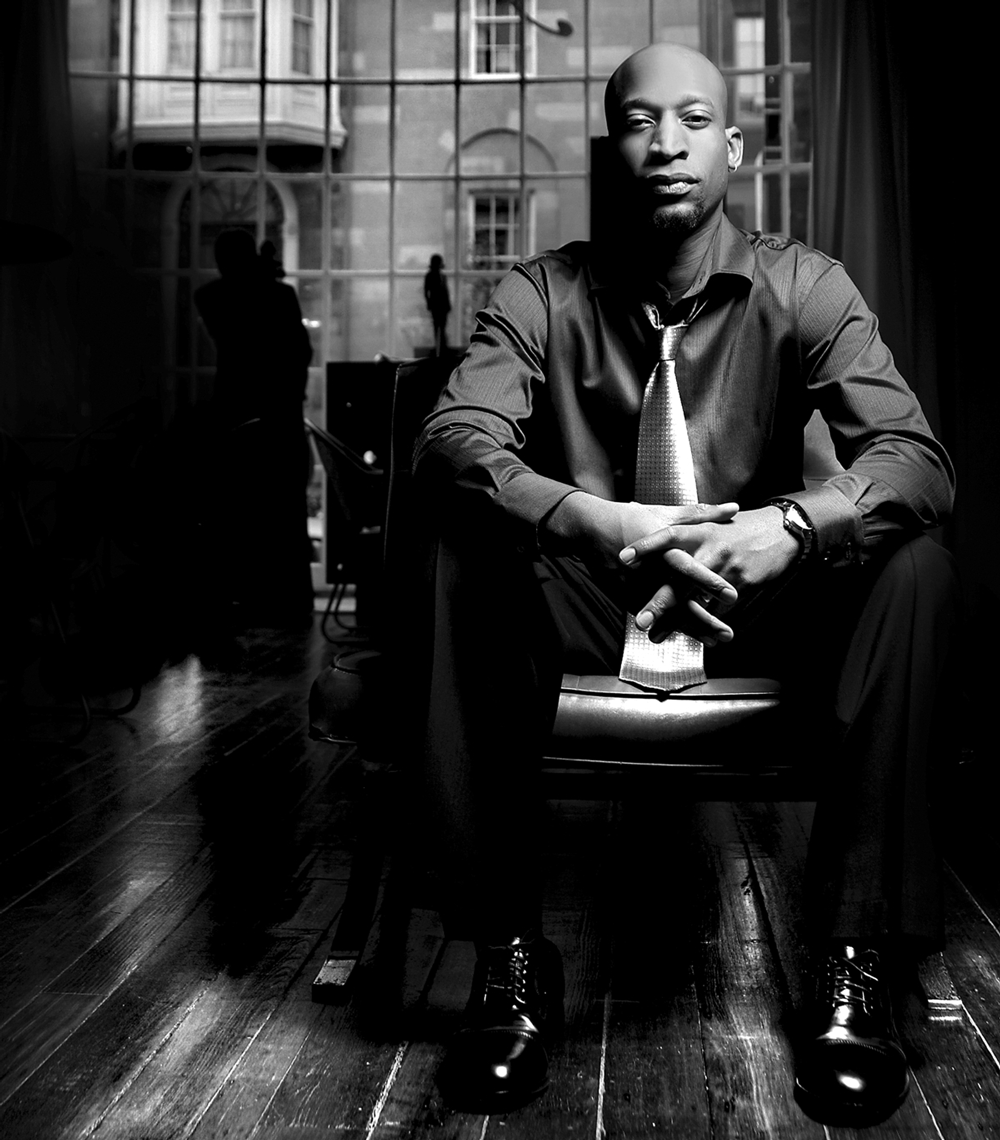 A collaborative music production composed and directed by Wendel Patrick, YA Artist and 2015 Baker Artist Award Winner, and performed by Peabody Institute musicians Jahi Alexander, Blair Skinner, Louna Dekker-Vargas, and Yoshi Horiguchi and YA artists Max Bent, Wendel Patrick, and Jamaal Collier—2016 Artist of the Year.
I don't want to give away TOO much. But at Taste the Arts, I'll be working with an arrangement from one of my favorite hip hop producers." —Wendel Patrick, 2015 Baker Artist Award Winner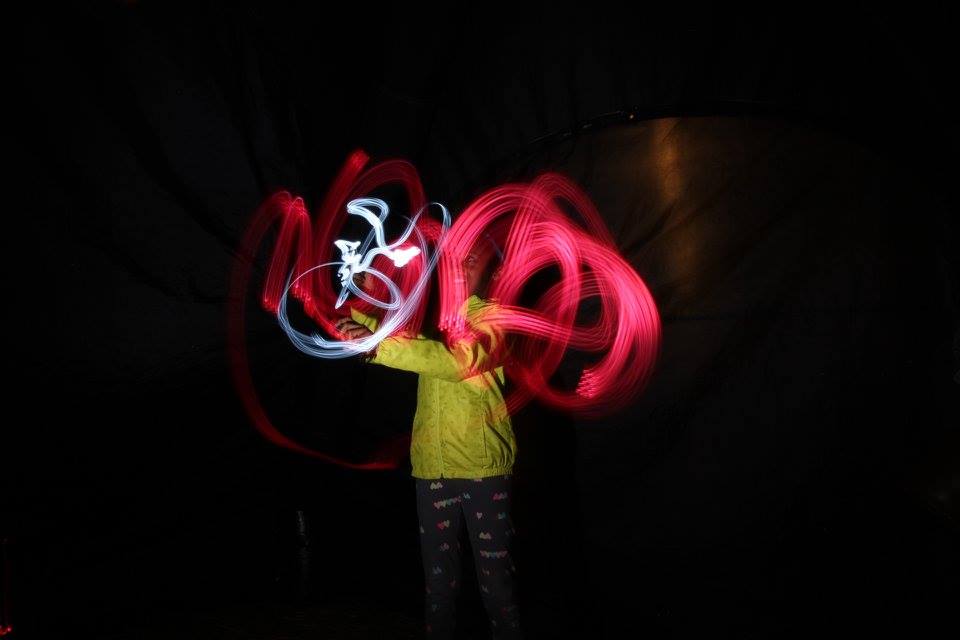 Interactive "light painting" with maker-educators FutureMakers (fresh from Light City!)
Get ready for light painting with LED brushes at Taste the Arts! You'll even be able to email your creation home!" —Matt Barinholtz, FutureMakers

Indian classical dance performance by NRITYA
I have had the opportunity to be a performer at several Taste the Arts over the years, and I am excited to be a part of the 10th Taste the Arts gala," she said. "When my students perform with me at the gala, it is a wonderful experience for them as they get to showcase their talent and culture through their performance to the guests. It is almost as if they are cultural ambassadors." —Lakshmi Swaminathan, NRITYA, as quoted in the article "Tasty fundraiser hits the Hippodrome" on Avenue News.com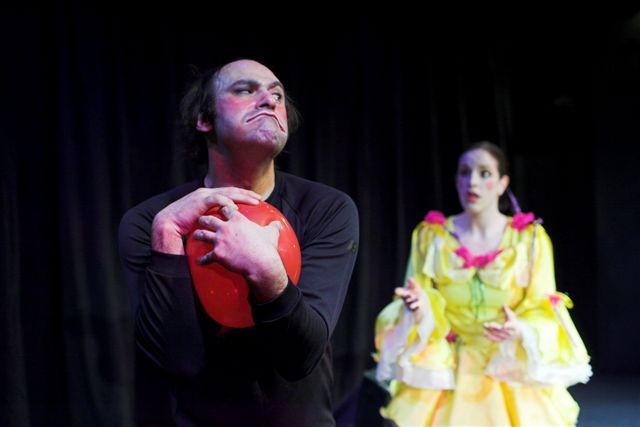 Pantomime theatre from DC's award-winning Synetic Theater
The Magic Balloon is a series of hilarious sketches synthesizing music, ballet, clowning, and audience participation. At Taste the Arts, you'll discover the art of acting without words and open the door to your imagination. 'Balloon' tells a wonderful story of a traveling actor and his magical trunk of tricks and toys." —Tori Bertocci, Synetic Theater
Plus:
Acoustic roots and blues music by Curtis Blues
Screen painting with John Iampieri
Performances by Thomas Jefferson Elementary/Middle School's String Ensemble and Kindergarten ballet dancers
Kevin Martin of Rockcreek Steel Drums performing with students from the Holistic Life Afterschool Program at Robert W. Coleman Elementary School
Taste the Arts also includes a live and silent auction with one-of-a-kind items and experiences and an awards ceremony honoring Maryland's arts-in-education leaders, including 2016 Artist of the Year Jamaal Collier, who has more than a decade of professional experience facilitating Hip Hop workshops and live performances across the state.
"I'm thankful to have an effect on kids' lives and for the effect they have on me. Every human has talent. YA helped me to build skill within that talent. I have become a better artist because of YA." —Jamaal Collier, 2016 Artist of the Year
Tickets are only $100 and ensure high-quality art experiences for Maryland schoolchildren. We're expecting hundreds of artists, educators, and arts supporters in attendance and hope to raise $150,000. Get your tickets now!
—
Can't make it to Taste the Arts?
You can still be part of our fundraising efforts by bidding on some fantastic items in our online auction—happening now through Thursday, May 5. There are still a bunch of great items available with low or no bids, and several new items were just added this week!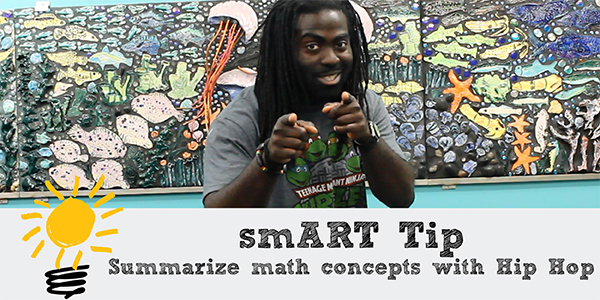 Rhyming couplets are a great way for students to summarize their knowledge and demonstrate their understanding of math concepts. In April's smART Tip, Young Audiences Hip Hop musician Jamaal "Mr. Root" Collier shows teachers how to get started!
smART Tips is a monthly video series sharing tips for educators who are interested in new, creative ways to use the arts in their classroom with students. See all smART Tips to date here. Interested in a specific topic? Let us know!
"Our life without the arts can be so empty," rapped Jamaal Collier at Young Audience's 2014 Impact Breakfast, "so I'm proud to be a part of YAMD!" A dynamic and engaging Hip Hop artist, Jamaal has been working with Young Audiences/Arts for Learning since 2007 and has served on its artist roster since 2013. His energy and passion for the arts is boundless, and show in the volume of work he does: not only does he offer assemblies and long-term residencies to elementary, middle, and high school students, but he also provides professional development for teachers, in addition to currently being trained for the renowned Maryland Wolf Trap Early Learning Through the Arts 16-session residencies for preschool and kindergarten students.
Jamaal began making donations to support Young Audiences ever since he joined Young Audiences' roster. This past fall, he became the first roster artist to make a multi-year pledge of support. Asked why he chose to do this, especially since he dedicates so much time to the organization, Jamaal stated simply, "I believe in what we do. We do a lot, and there is a lot to be done."
Jamaal's passion for the arts is clear, as is the impact it has had on his life. Today he brings the power of the arts into the lives of students and teachers in Maryland. In every case, the results are remarkable. For example, during a Maryland Wolf Trap Early Learning Through the Arts program in Baltimore, Jamaal witnessed students evolve from using one-word answers to expressing themselves in full sentences!
Young Audiences is truly grateful to donors like Jamaal, whose passion for and commitment to the arts helps students realize their full potential. As he put it, speaking about the relationship between artists, teachers, and students, "We're the ones who need each other, and we will help each other move forward."
Schedule a program with a Young Audiences teaching artist today! Browse Young Audiences' roster of more than 100 professional teaching artists, whose talent spans all art forms, including music, theater, dance, and visual arts.

By Bomani, Young Audiences teaching artist and Hip Hop poet
Before my recent residency with fourth-graders at Scholars K-8 in Baltimore County began, the teachers I worked with–Mrs. Brumbalow, Ms. Barnes, and Ms. Hicks–had prepared the students for my arrival. When I walked through the door on the first day, the students recognized me and treated me like a rock star, so I knew I had to make a meaningful impact.
At the beginning of a residency, there are three writing rules I give students:
Artists don't make mistakes, they make discoveries.
Do not edit in your head.
The only wrong answer is a blank answer.
Students are oftentimes drilled to memorize answers in order to score highly on assignments. Sometimes they become paralyzed with fear when asked their opinion, so I try to loosen them up to think creatively. Young people need to have freedom to develop an idea out loud without self-doubt and to not fear right or wrong answers.
I worked with the Scholars K-8 teachers to create a series of Hip Hop writing workshops to strengthen students' comprehension skills. In the two weeks I was at the school, students wrote songs about the writing process, how to count money and use decimals, as well as climate and how humans affect the environment.
The initial challenge was getting students excited about writing. They were energized by Hip Hop poetry writing because it's a style of music they admire beyond the school setting.
Once they got used to the idea that we weren't looking for one correct answer, they felt free to say what they were thinking. There was one student in particular whose reading and comprehension skills were not where they should have been for his grade level. One of his teachers revealed that this residency was one of the few opportunities where he felt confident enough to answer questions because he could take his time and work through his ideas out loud. Each day he was fighting through the door for the front seat, and his self-esteem was boosted each time he answered a question.
During an exercise, we discussed the music video "Me, Myself, and I" by De La Soul which includes symbolism about self-acceptance. The light bulb went off for many students, who immediately related to trying to fit in or be cool. They realized that at some point, you have to validate yourself without caring about the opinion of others. To see them react to that song, and have students come in the next day writing lines I didn't assign, was a very powerful feeling. They were using art to reflect their realities and project their hopes for the future.
There was one point during the residency that I had to put my "teacher" foot down when a student became disruptive while we were writing the chorus of a song. Students that age can struggle with differentiating positive and negative attention, but when we got down to the last line, that student raised his hand and offered a new idea to our brainstorming session. The line was exactly what we needed and the whole class recognized him for it. To be validated like that after being reprimanded showed him that we wanted him to participate and be a part of the team, but in a constructive way.
This residency strengthened their class bonds by allowing students to collaborate and recognize each other's talent. Even students who often had problems dealing with their classmates or paying attention were invested. They appreciated each other's creativity and when they were put into groups to write on their own, they just took off.
One of the main complaints I get from young people is that they aren't understood. My response is always that they need to improve their communication. The ability to speak, write, and create art in a way that others can comprehend is something students latch onto, and they internalized the techniques I gave them. We would brainstorm an idea, flesh out a paragraph on this idea, and then break the paragraph into a rhyme.  While writing the song, they formulated introductory and supporting paragraphs. Before they knew it, they had completed an essay. The process made them realize how much they want this skill. One student gave me a poster she made outside of class time with an anagram for my name. Her classmates loved it so much they all signed it and gave it to me. I still don't think I've come down from that high.
Learn more about Bomani and his programs for schools at yamd.org.