Written by Barbara Krebs,
Young Audiences volunteer and Sunburst Society member
Excited. Proud. Love. These are the three words that I heard repeatedly as I attended the unveiling of the mural that sixth-grade students from Brooklyn Park Middle School created. Though these are not words typically linked with a middle school science project, they help illustrate the magic that is produced when you combine science education with an arts-integrated approach to learning.
The collaboration between their science class and a professional teaching artist from Young Audiences, in partnership with Arts Empowered Minds Initiative (AEMI), resulted in a 10-foot science-themed mural, titled "Brooklyn Park Middle Students Research Cells and Viruses." As explained in the program, the mural "illustrates the dynamic, multifaceted interactions occurring thousands of times a day between cells, viruses, and living things."
I wasn't sure what to expect as I entered MedStar Harbor Hospital's Baum Auditorium in South Baltimore, but I immediately felt welcomed as a saxophone quartet from Brooklyn Park Middle played classical music. Their melodies formed a soothing backdrop to the animated conversations between medical personnel, artists, educators, politicians, parents, students, and others who had gathered for the event. A delightful spread of food – chicken satay, veggie trays, fruit and cheese platters, and even cupcakes for the kids – provided by the catering arm of the hospital, Morrison Healthcare, ensured that no one would walk away without all their senses satisfied.
But I digress.  As the reception wound to a close, the formal program began. First up, Stacie Sanders Evans, the President and CEO of Young Audiences. Reaching for a hospital analogy, she spoke of Young Audiences' facilitating role behind the scenes as the "spinal cord" or "backbone" that makes the arts-integrated learning possible in area schools. She described how Young Audiences partners with schools and other organizations like AEMI and the Arts Council of Anne Arundel County (who helped fund this project) to pair core curriculum teachers with professional teaching artists to enhance learning experiences in Maryland classrooms. Rather than rote learning, students explore academic subjects in any number of hands-on, arts-oriented ways.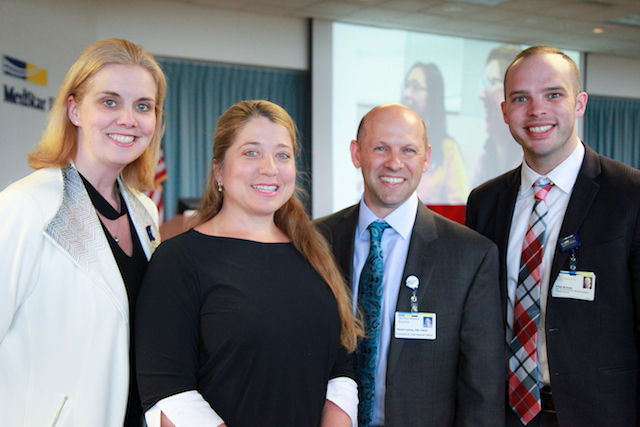 Next was Dr. Stuart Levine, President and Chief Medical Officer of MedStar Harbor Hospital. He told the young student artists just how meaningful their creation would be to the hospital, saying that it would be proudly displayed in MedStar's Emergency Department lobby. He talked about the VIPs in the room – the sixth graders – who had created this mural. He told them, "When community members come in for care, when they're sick, when they are at their moment of need, they're going to come into a place that has this incredibly hopeful work on the wall that's made with love by the kids of their community."
Then Dr. George Arlotto, Superintendent of Anne Arundel County Public Schools, spoke, stressing, "People who don't even know you love you; people who don't know you are proud of you." This was the legacy that, even as young tweens, they were creating for their community.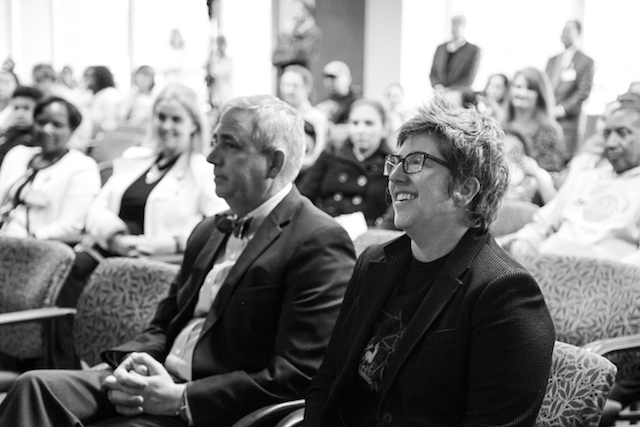 Following Dr. Arlotto, the two teachers who guided the kids through the process spoke. Lisa Radike, the Brooklyn Park Middle school science teacher, recalled that this process helped the kids learn more than just the science of cells, it also helped them "learn how to get along, how to work together." Amanda Pellerin is the Young Audiences artist who taught them to mold clay, shape it into the cells and viruses they were studying, and then assemble an entire mural from all the different parts they had imagined and created. As she looked proudly onto the students, she made sure they understood the significance of what they had done. "You now have artwork that is on permanent display– and you're not even out of sixth-grade yet!"
Finally, it was time for the unveiling of the mural. As the students and their teachers surrounded the mural, people leaned forward in their seats, many creeping to the front with cell phones to capture the much-anticipated moment. After a few more remarks from one of the students who reiterated the theme of how creating the artwork had required them to put aside differences and work together, the veil was cast off and everyone could finally see the finished artwork.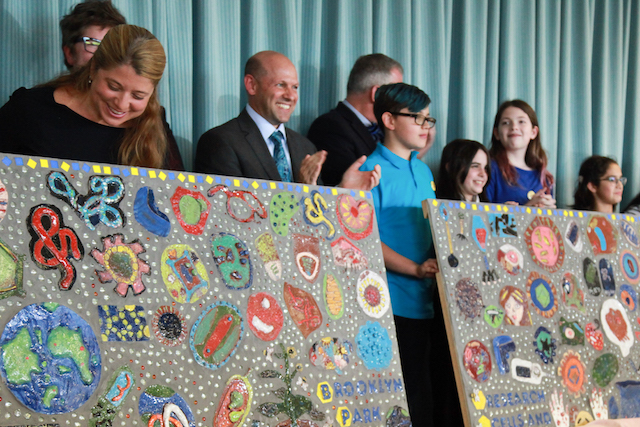 Brightly colored cells wiggled and squirmed their way across the surface. And like a visiting rock star, the mural sat "patiently" as a host of people came up to be photographed with it.
As the event wound down, I finally managed to talk to one of the students, asking simply, "How long did it take all of you to create this?" His answer pulled me out of my adult world of man-hours and Outlook schedules. "About 10 classes."
There it is simply. It's about the classes. It's about what you learn in the classes. It's about how the classes are taught. It's about the knowledge you retain from the classes. And though my own knowledge of sixth-grade biology is but a dim memory, it didn't take a Jonas Salk knowledge of cells to clearly see how wonderful this evening was. That these kids were excited about science. That the folks in attendance were proud of what the middle schoolers had learned and created. And that everyone loved the intersection of science and art.
Children in Prince George's County Public Schools know how to celebrate Earth Day! Through Growing Up Green, a PGCPS arts integration initiative, children in kindergarten classrooms learn environmental stewardship by experiencing nature first-hand, marveling in the wonders of our natural world, and nurturing a passion within themselves to respect and preserve it. Funded in part by a BGE Green Grant and the Chesapeake Bay Trust, the program engages kindergarteners in meaningful and authentic outdoor experiences that help connect them to their local ecosystems and inspire them to learn more about protecting our environment. The arts provide the vehicle that the students use to demonstrate and communicate their understanding to the greater learning community of their school.
At Mount Rainier Elementary School recently, YA roster artist Pam Negrin worked with young students to record their own observations of plant life over the course of her residency, The Life Cycle of Plants. On outdoor adventures, the class immersed themselves in the drama of nature. They set out to identify and explore the many characteristics of plant life in all of its forms: seeds, seedlings, mature plants, flowers, and fruit. Their drawings and observations were then rendered in colorful yarn, stitch by stitch into one large-scale embroidered mural for their entire school community to learn from and enjoy.
The children's work serves as a reminder of one of the biggest lessons even our smallest students can teach us. Just as this kindergarten class' finished mural is a collaborative effort, so is making our world a safe, strong, and healthy one for every living being. Happy Earth Day to all.
Pam Negrin's artwork includes embroidery, appliqué, drawing, collage, improvisational quilting, printmaking and sculpture. Her residencies transform classrooms into creative and collaborative handwork studios where students create something beautiful together. Schedule one of Pam's residencies for your classroom.
Before there is art, there is planning- lots of planning. This is something that 7th graders at the Baltimore Design School know all too well. Without it, the mural that these students created under the guidance of YA roster artist Amanda Pellerin and art teacher Stephanie Cafaro would not be the magnificent work that it is.
The class began with brainstorming and list-making. "We asked the students, "What's important to you?" Amanda Pellerin explained, "And we had different posters that asked, "What's important to you at home? What's important to you at school? What's important to you in your city? What's important to you in the world?"
From these ideas, Miss Cafaro had the students narrow down what they believed to be most important into one list of possible mural themes. Some suggested a tribute to President Obama or a better Baltimore. Others wanted to illustrate the power of protesting or important issues in the world today. "When I looked at this, I didn't see 10 different murals," Pellerin said. So, the artist proposed combining each idea into one single, powerful mural, and the students were all for it.
Before they could get to work on cutting and etching and glazing their tiles, however, the group first had to decide what the project was going to actually look like. After discussing composition and scale, and considering how the piece would flow visually, the group decided that the mural would feature three "larger than life" role models among a crowd of protesters. The class felt that President Obama, Harriet Tubman and a native American should stand out. The choices that the class made in the design process were purposeful. Role models weren't chosen randomly, they were justified and carried significance for each student.
Small teams of students worked together to create each larger than life figure, then reunited to complete the picture and piece the mural together. In their finished artwork, historic role models protest alongside important figures of the present. The figures carry protest signs that reflect current issues with sentiments that students imagined each role model might express if given the chance today.
"We're trying to help them understand that designers work as teams."
From conception to execution, the class was instrumental in seeing the project to completion. Directing the vision of the finished piece allowed the students to take ownership of the artwork and truly see it as their project. "I love that they had to come up with a concept and work together," noted Miss Cafaro. Every material that needed to be prepped and every decision that needed to be made happened because the class took charge, collaborated, and cooperated. "We're trying to help them understand that designers work as teams," Miss Cafaro said. "Even if it's not their favorite idea, they're part of a team and still need to contribute."
Amanda Pellerin specializes in handmade tile murals and clay sculptures and has 20 years of experience in teaching both children and adults. Learn how to bring Amanda's residency, Handmade Tile and Mosaic Murals, into your school.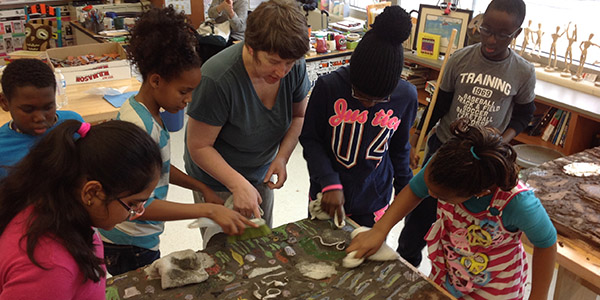 By Lori Mellendick, fifth-grade art teacher at Ducketts Lane Elementary
This December, my fifth-grade students gathered around a table functioning as young archaeologists, researchers, and artists. Their collaborative clay mural sat before them covered in grout waiting to be exposed. As my students began to buff the dried grout away, the ceramic animals they sculpted and arranged in the mural earlier in the fall began to pop through. My class had been working toward this moment since Young Audiences visual artist Amanda Pellerin first arrived as our artist-in-residence in October.
The massive four-by-eight-foot panels of the mural took up the entire floor. I didn't realize how busy my classroom could be as we built something so large. Slowly, a vast food web stretched across the mural revealing the entire habitat network of the Chesapeake Bay.
On this final culminating day, my students experienced what we like to call their "Aha!" moment. They took a step back and discovered harmony behind their mural as a collaboration. The looks on their faces expressed the "now we get it" type of feeling. They ended by celebrating each other by giving and receiving compliments of their work. The positive energy in the room was out of control!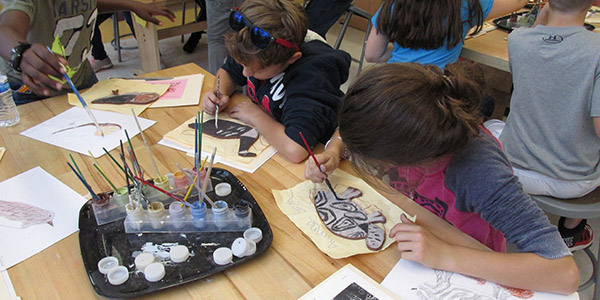 In October, my students had spent five days conducting research of Maryland animals surrounding the Chesapeake Bay as a theme. They built an understanding of how these animals survive depending on their diets. The students also investigated the Chesapeake's surrounding habitat by studying the water cycles, plants, and local natural resources. In order to display these facts on a visual web, the students had to be imaginative. This is where Amanda's expertise came in. Amanda guided students through the necessary steps to creatively assemble this piece of work.
There were times when kids pondered whether or not they should take an artistic risk by making verbal decisions in front of a group. When energy subsided, some surprising moments occurred when a few particularly shy students stepped up to the plate and made executive decisions for the group. It was a wonderful chance for students to express creativity in ways that they didn't expect to, especially within the subject of science.
I wanted to find a meaningful residency that would integrate the arts into the subject of science. I knew that this was the perfect opportunity to find a project that could cover environmental research in a creative way. Knowing Amanda's experience as a Young Audiences roster artist, I knew that the kids would get a lot out of the program.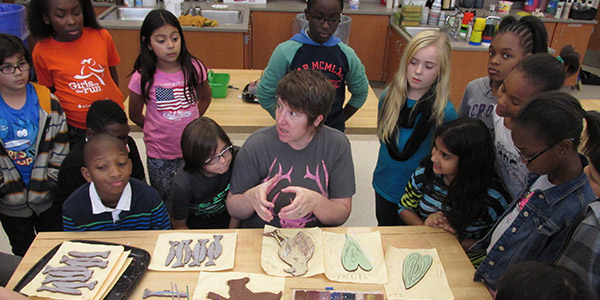 It was important to bring in an outside artist because it gave some of our teachers an understanding of how the artistic process works. Teaching children artistic behaviors is important because it demonstrates tasks such as researching, modifying, and executing that energy into a product. It doesn't work like a magic trick where *poof*, a beautiful piece of artwork suddenly appears. It takes work. It's similar to the scientific process. You formulate a hypothesis, test your theories, and then provide a conclusion statement in the end. In this case, our conclusion was a mural that demonstrated a deeper understanding of the Chesapeake Bay.
Using a tactile form such as clay, gave students a substantial gift in the end. Since these fifth graders will be going onto middle school very soon, I wanted to give them an opportunity to leave their mark upon the school. In April, there will be an unveiling of the mural in a reserved space across from a beautiful fountain. Strong light filters into this area which will give the mural the perfect spotlight that it deserves. We can't wait to put it up!
When you are studying something across the board of a curriculum, it resonates with children. It hits on so many different content levels. These experiences give so much more meaning to the students than you would expect. I immediately go back to my own experiences and remember the impact that resident artists had upon me in school. I wanted to give my students that same opportunity.
Learn more about Amanda and her programs for schools at yamd.org.
Photos and content were originally posted on Daneytt Tucker's blog "Daj'zha Vu" here and here. 
This fall, Young Audiences visual artist Danyett Tucker worked with John Hanson Montessori middle school students to create a mural that now brightens their school hallway.
The theme for the eight, two- by four-foot wood panels is "Earth's Treasures." Danyett explains how the project began:
"I Googled "earth's treasures" and found [the poem] 'A Lunar Lament' by Ann Pedtke. After I read the poem to the class for inspiration, I asked them to imagine that they were the moon looking down upon the earth, marveling at its treasures. What treasures would make you a jealous moon? They came up with some great sketches, which I pieced together into our mural composition, all from the moon's perspective."
The four week-long residency was a powerful experience for all involved.  Danyett writes, "I am so proud of the students at John Hanson Montessori. They are creative, focused, and fun! They made me feel like a part of their family."
Read more about this residency (and see photos from all stages of the project!) on Daneytt's blog "Daj'zha Vu" here and here. 
On a Monday afternoon in late June, students filled the Goodnow Community Center for the Summer Showcase, a vibrant display of visual and performing arts. The art shown was created by students, families, and community members through programs with Young Audiences teaching artists. Young Audiences has partnered with Goodnow since 2008 to bring a combination of arts assembly and residency programs to students attending the spring afterschool and summer programs at the center, which are made possible through generous funding from the Macht Fund of THE ASSOCIATED.
"We're very fortunate that we have been able to have Young Audiences work with the Goodnow Community Center for the past six years," said Gloria Jenkins, director of the center. "Our children have grown through their help."
Those who stopped by the Summer Showcase got a taste of Young Audiences' programs immediately when walking through the door, as students' photographs taken with artist Christina Delgado were displayed by the entrance. These stunning images varied from full portraits to up-close snapshots.
First to perform at the showcase was Young Audiences roster ensemble Illstyle and Peace Productions, a dance company whose work focuses on the movement and spirit of Hip Hop. In her introduction for the group, Gloria noted, "When we're planning events, the students always remind me to 'get those boys that dance.'"
See more photos from the showcase here!
Illstyle and Peace Productions' performance, titled NO Bullying, STOP Bullying: Let's Be Friends, incorporated contemporary and old school dance moves with the positive message of acceptance. Throughout the show, cheers could be heard from all corners of the packed room. The program's message was clear: when asked why they shouldn't bully others, students passionately replied that they should treat others the way they want to be treated.
Acting as a backdrop for Illstyle and Peace Productions' performance was a mural students created with the help of Young Audiences visual artist Danyett Tucker. "We came together and thought of a positive message we wanted to share with the community," Danyett explained. The students decided on a quote from Harriet Tubman about following your dreams:
Every great dream begins with a dreamer. Always remember, you have within you the strength, the patience, and the passion to reach for the stars to change the world.
"We're hoping that it will be used in performances for years to come," said Danyett of the final product.
Coming together as a village and a community was the theme of the afternoon. It was especially prevalent during the unveiling of the "Mural Without Borders" artwork adorning the Goodnow Community Center's facade. A sixth-month-long project, the work was created by members of the community with ceramic artist Herb Massie. It depicts the community's past and present.
"The mural involved different aspects of the community to help put it together," Rev. Kevin Bacon, Baltimore City Fire Dept. Chaplain said. "Police officers, the church, and schools all got involved."
Retired Baltimore City Police Officer Craig Singleterry added, "People always say it takes a village. Well, this is our village."
Though the project brought together all members of the community, it seemed to especially impact students. Rita Crews, a teacher at Hazelwood Elementary who helped students with the mural, shared, "The students were always eager to come in, even on Saturdays. They were the ones reminding me that we had to get to work."
Barbara Combs, artist and art educator, believes that this interest in art has a practical application, noting that there "isn't any career that art doesn't touch."
For Officer Singleterry, it's also about showing students that they can do more. "Programs like these give students a new outlook on what they can do, from poetry to dance to music," he said. "Young Audiences has brought more into their view."

By Danyett Tucker, Young Audiences illustrator and Artist Associate
During my recent mural residency program at Hamilton Elementary/Middle, students celebrated their community by remodeling Main Street and adding their own businesses. Social awareness symbols are sprinkled throughout their fantasy blueprint which now proudly covers their lunchroom wall.
I began by taking photos of well-known businesses in the area so that students could work on designs to upgrade their neighborhood. They decided what businesses they would like to add and represented those with related symbols. In class, we listened to a socially-conscious soundtrack and used some of the lyrics as inspiration to include messages that would uplift the community.
The students created all of the drawings and then I collaged their individual efforts together to create the scene. Together, we painted for days on end! During the course of six more workshops with me, and several additional sessions led by my teacher partner Ms. Friedman, this mural came to life. The sixth, seventh, and eighth grade art classes all contributed to the piece.
Ms. Friedman worked tirelessly on the mural panels outside of our workshops in the classroom. Since Ms. Friedman is retiring at the end of this school year, we included a student drawing of her in the finished mural.
Click here to see the full mural and see if you can spot Ms. Friedman!
Ms. Friedman's first name is Charlotte, like in "Charlotte's Web," so look for the spider web as a clue to where she is located.
Ms. Freidman shared: "I love, love, love the mural! Everywhere I look, I see something new! Students and parents went down to see the finished piece after a recent school concert and the building's custodians finally had to chase them out because they were so caught up in it."
It was an awesome experience!
This residency was made possible through a Maryland State Arts Council Arts in Education Artist-in-Residence Grant. Learn more about how Young Audiences can assist your school or community organization in applying for this and other grant funding opportunities online.
Learn more about this residency program and Danyett Tucker's other program offerings.
By Juernene Bass, Western High School alumna
I was very excited to take time away from work to be a part of a Young Audiences clay mural residency at my alma mater, Western High School, in October. Being a proud alumna from the Class of 1975, the program was a great example of our school motto, "Lucem Accepimus, Lucem Demus," meaning: "We have received light, let us give forth light." The mural project connected alumnae and current students with the rich history of our school. We had the chance to share our experiences and look back to historic articles, yearbooks, and artwork to create a piece that we could share with the whole Western community.
During the course of the project I was able to spend quality time interacting with my sister Westernites, grades nine through 12, as we learned from Young Audiences ceramic artist Amanda Pellerin how to create a clay mural depicting Western's 170-year-long history of rigorous studies in arts, sciences, literature, drama, and fashion.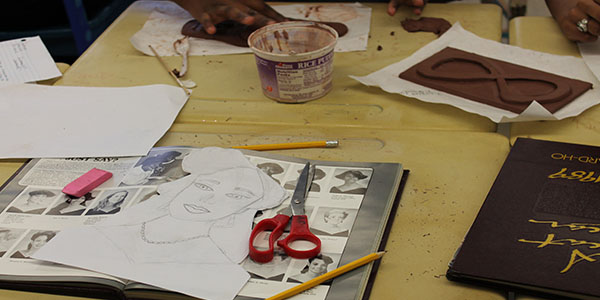 Amanda invited me to share my memories of Western during the 1970s with the current students. They found my reflections to be interesting, humorous, and sometimes unbelievable. I shared how Western taught me the academics that prepared me for college, the skills I needed to succeed in the workforce, and what studies I am using today to progress in my career.
As I mingled with the students and got to know them one-on-one, I learned that Western students are very creative and artistic. They were also knowledgeable about Western's history, and many expressed great pride in attending the school. They used their imaginations and pulled their ideas together with the decades of historical facts and traced, drew, carved, and painted the clay pieces to form a magnificent treasure. Clay tiles depicted the different school buildings to illustrate the school's various locations in Baltimore City over the years. Other clay pieces showed girls playing basketball, reading books, and graduating in cap and gown.
The clay mural project brought multiple classes of students and teachers together, giving them the opportunity to share their ideas and creativity while learning more about working with clay, Western, and each other. It allowed the students a chance to experience an art form which they may not have been exposed to before for lack of materials and time. I am sure the students enjoyed sharing this experience with one another.
Many sincere thanks to everyone who made this happen!
Read more about this project from a student participant, Nadine, who wrote a reflection of the project in January.
By Nadine Elsigal, senior at Western High School
As a senior at Western High School I had the privilege of being involved in a clay mural project with Young Audiences artist Amanda Pellerin in October. Working with Ms. Amanda during the residency was such a pleasure because clay is a medium I don't often get to use in my art classes at Western. This project was new territory for me since most of my school projects are created digitally and working with clay was an opportunity to get more hands-on. I feel that art is a crucial element to a person's development that is often overlooked, but projects like the mural we created with Ms. Amanda really gave back to the students and allowed us a chance to create. Art is a big part of my life and I plan to pursue it as my career. This residency was also a chance for me to learn about Young Audiences, an organization that shares my belief in the importance of the arts in learning.
Seniors from both my graphic design class and a history class worked with several Western alumnae and Ms. Amanda throughout the project. We decided to create a visual timeline of our school's history to celebrate Western's 170th anniversary this year. I knew little about our school's rich history at the start of the project. We worked as a team to delve into past yearbooks and brainstorm with alumnae to decide on the imagery we would include in the final piece.
I decided to recreate our senior class T-shirt design in my clay tile to represent current Western students. Including a symbol of our class in the mural was a chance to leave behind a piece of the Class of 2014 within an artwork that will hang at our school for years to come.
View all three pieces of the finished mural, as well as photos of its creation, online. 
As hard as it is to choose my favorite part of the residency, I think I enjoyed hanging the finished mural the most. There isn't a better feeling than seeing work you have created put on display. It made me realize that I had done it–I overcame the challenges of the project and created something that current and future students will enjoy. I feel proud to have been a part of this residency and to have successfully completed such a large project that can be shared by my school community.
At the start of the residency I was excited–I thought the project would be fun and a great opportunity to leave our mark on Western. Now that the mural is complete and installed I feel accomplished. As I finish my last year at Western, I will graduate knowing that I added to my school's long history.
Learn more about Amanda Pellerin and her residency and teacher professional development program offerings online!
By Danyett Tucker, Young Audiences visual artist and illustrator
Do you think there is a difference between listening and hearing? One of my professors once asked me to illustrate Jimmy Hendrix's song "Voodoo Child." The project made me see art in a new light. I don't think I've ever had to listen to lyrics as hard as I did to really hear Jimmy. After hitting repeat over and over again, I finally heard Jimmy and realized the power of his music. I realized that music has the power to unite us by telling stories that we can all identify with and illustrating themes of what it means to be human.
This summer I worked with Baltimore City middle school students at Rognel Heights as a part of Young Audiences' partnership with Baltimore City Public Schools Summer Academies which brought Young Audiences artists to 10 sites throughout the city. In the mornings I partnered with the
sixth-grade science teacher to incorporate arts integration with the summer science curriculum, and each afternoon my mural painting class was one of the choices offered to students for arts enrichment.
Summer programming is a valuable resource for Baltimore City students. Many Baltimore neighborhoods are deprived and neglected. Many lack basic necessities, such as access to fresh groceries or safe places for children to play and the community to gather, preventing individuals and families from thriving. Challenges related to gun violence, poverty, public health, and family structure are obstacles for students in these communities to remain focused and committed to their education. These challenges can also make summer the scariest time of the year for students in the inner city. Without a regular school schedule, these children lack access to school lunches, a safe place to spend the day, and activities that keep them intellectually engaged.
My goal for the summer learning program was to show my students how music combined with a public work of art can play an important role in restoring a community's broken spirit. I wanted to encourage them to uplift each other through the powerful lyrics and positive messages that we shared during our mural project.
To guide the project, I selected a series of songs that spoke to community concerns. We started with one of my favorite songs of all time, Lauryn Hill's "Everything is Everything." I began by demonstrating how illustrators turn words into pictures. We illustrated the chorus together and then students had the chance to pick a verse of the song that painted the clearest picture in their mind and illustrate it.
Next was Cat Stevens' "Where Do the Children Play?" which introduced students to creating depth in settings. The environmental references in this song are so profound and led to deep discussions about the physical conditions of our communities. I talked with students about using public spaces to promote a cause or message and how music and art combined can move a community to action.
The next songs on the soundtrack were Bob Marley's "Get Up Stand Up" and "One Love." Imagine the vibe in the classroom as we collectively realized that gun violence wasn't just something in the news–many of us had friends or family who had been affected by gun violence. We listened to Bob's words of peace, love, and his call for all to move to action and reflected on the social commentary of the times.
As we continued work on our mural, we began focusing on the people depicted and drawing proportions. The students wanted to create a piece with a lasting legacy that would awaken civic responsibility in all viewers of the mural.
The final 12-panel mobile mural portrayed people coming together and holding up signs that displayed community declarations. Places to play, to honor loved ones lost, and to highlight every day community heroes were interwoven throughout our visual testimony.
Click on the images above to see the "A" and "B" sides of the completed mural.
We ended the project on a personal note and illustrated Emily King's, song "Walk in My Shoes," because let's face it, if we could walk in each other's shoes we would spend less time judging, hating, and bullying others.
The students were inspired by the music and were so expressive in the images they created. They were singing along with the songs by the time we started painting. They couldn't wait to get to my class every day and they didn't want to leave. The work we created was magical and the five C's–culture, comparisons, connections, communication, and community–were covered in this socially conscious endeavor. Every student was carrying their community on their shoulders and felt a civic responsibility to represent the voices of many through their art.
I could not have been happier with the outcome. The confidence of each student soared during the five-week program, and I know they will listen harder to the music they hear from now on and think about the messages that are received and sent. One voice, one love, and one heart! Let's get together and feel all right!
See more photos of the completed mural and other photos from this summer's arts-integrated programs!