Written by Barbara Krebs,
Young Audiences volunteer and Sunburst Society member
A few weeks ago, I was happy to attend Young Audiences' third Art Crawl, held this year at the Single Carrot Theatre adjacent to YA's offices.
For those of you who have not attended this annual event, I highly encourage you to do so. First of all, you'll get to party with a group of fun, interesting, entertaining and dedicated folks. Secondly, you'll get to enjoy the learning environment presented to the kids who attend YA's Summer Arts & Learning Academy (SALA). And by that, I mean you'll act, play music and create artwork, which helps you understand your reading assignment or your math homework. And finally, you get to nosh on great hors-d'oeuvres and sip handcrafted cocktails created by some of YA's board members!
As always, I find myself splitting my time between talking to people I've met in the past, and meeting new folks who have interesting stories to tell. This time was no different. Balancing a plate of delicious appetizers from Copper Kitchen and a glass of wine provided by North Charles Fine Wine & Spirits, my husband and I soon found an empty spot at a table and introduced ourselves to Cori Daniel and Carlotta Williams. Turns out they were actually a teaching artist/teacher team who would later explore the book, Tar Beach, a story by artist Faith Ringgold recalling the dream adventure of a young girl flying high above her neighborhood in 1939 Harlem.
No matter the genre, the goal is making sure the children stay focused on the subject matter, sneakily presented as a lot of fun.
But I didn't know this yet. What I did find out though was how long they had been teaching, what they taught, and I got to observe their obvious enthusiasm for the children and learning. Their animated conversation about their SALA classroom was fascinating, as were their fond memories of inspiring kids to learn while the children used their imaginations to improve their reading scores.
Oh, did I just use inspire, imagine and improve in one sentence? Yes, I did, and that is, of course, no accident. Having witnessed teachers and children in action in several of SALA's classrooms this summer, and getting a chance to actually engage in it myself during Art Crawl is to truly understand how those three words create an arts-integrated learning environment that SALA uses to stem summer learning loss and bridge the Inspiration Gap.
In SALA's five-week summer classrooms, kids use a wide variety of art techniques to help them master core subjects – whether it's textile art to illustrate a story they are studying or rapping their multiplication tables or dancing to show character development. No matter the genre, the goal is making sure the children stay focused on the subject matter, sneakily presented as a lot of fun.
And so it was. In the segment taught by the second-grade teacher and teaching artist I had just met, we warmed up with some dance movements to highlight acting concepts. Then we looked at the pictures in the book and explained what we saw in them. Finally, we paired off and used our imaginations to explore a special place for us – one that made us feel warm and welcomed.
Next up was a math segment, guided by teaching artist Nadia Rea Morales and teacher Jose Hernandez. With a chart in the room illustrating ones as yellow, tens as red, and hundreds as blue, I created a Piet Mondrian "masterpiece."  The focus was to teach second-graders their ones, tens, and hundreds places and the relationships between digits and their place value. My own memory of learning such things was of boring, rote exercises that left me cold. Here, I hadn't had so much fun with scissors and construction paper in ages. And to think – I was learning math!
I ended the evening with teaching artist Christina Cook, who was surrounded by a variety of percussion instruments. As she demonstrated how these were used to sound out the syllables in words, I noticed how she was combining both math and vocabulary – a certain number of syllables to express a phrase, as she beat the rhythm on her drum.  She then handed out instruments and instructed us to follow along.
In addition, she said she used this technique to help the pre-K kids she taught to express their emotions. At first, she told us that the students mostly stuck to "happy" or "sad," but soon she noticed that, as the kids gained confidence with the percussion pieces, their emotional range expanded, too. Now they were "curious" and "frustrated" and "ecstatic." She admitted that she was impressed with the varying emotions the kids conveyed as well as the fact that they already had the vocabulary to communicate it. They had only needed the little nudge the music gave them to open up and express themselves more fully.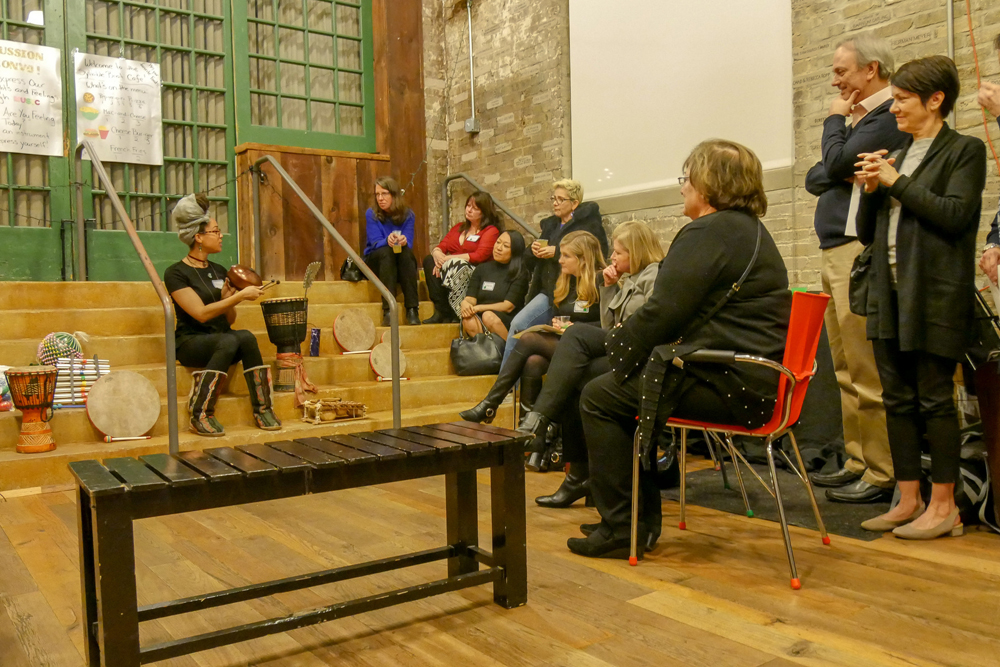 I have to admit – Inspire, Imagine, Improve is a mantra I can really get behind. Because each time I've attended Art Crawl, I come away inspired by all the people who donate time, expertise and/or money to make SALA a reality for 2,100 elementary school-age kids.  I can only imagine how much harder it would be for the children and their teachers if this summer program didn't exist. And I know that Young Audiences' aim to improve test scores and access to arts-integrated learning is something I'm behind 100 percent.
Wouldn't you like a little Inspire, Imagine, Improve in your life?  Come join us next year and I think you'll find your own stories of imagination that inspire you to improve. Until then, Happy Holidays!
Written by Barbara Krebs,
Young Audiences volunteer and Sunburst Society member
When I was studying for exams in college, I would often create a strong visual image to help me remember test items. For example – the 6 C's of credit? Character, capacity, capital, condition, collateral, cash flow. And while these concepts didn't flow naturally through my brain, the image I created did. There was a guy (character) leaning on a crutch (condition) with a cap on (capacity) standing in front of the Capitol Dome (capital) with a briefcase (collateral) full of dollar bills (cash flow).
At the time I didn't have a name for my study method – I just knew it worked for me. Years later I can now identify this as arts integration with an emphasis on a visual learning style.
And so I felt very at home as I toured Young Audiences' Summer Arts & Learning Academy (SALA) at Lyndhurst Elementary/Middle School in Baltimore. That's because each classroom was filled with young students learning in a variety of arts-integrated formats. I witnessed drama, rap songs, textile art, drawings, and writing—all used in conjunction with classwork such as a math problem or a reading assignment.
And while I knew, and the teachers knew, that these children were involved in thoughtful, hard work here—the serious business of arresting summer learning loss—the kids were focused on how much fun learning was. For example, in the PreK classroom, YA roster artist Mama Rashida of WombWork Productions and her teacher partner, Samantha Amey, worked with the students on a basic math problem: 1 + 2 = 3. Now, of course, you can force your brain to learn this by sheer rote repetition, but let's face it. How exciting is that?
But if you illustrate it with a story about the marketplace where you must buy one fruit (fruit sellers stand here to the right!) and then move on to the vegetable stalls where you need a tomato and a carrot (veggie vendors over here, please!), you set the stage for a fun learning experience.
As the kids moved excitedly from place to place to "fill" their baskets or "sell" their wares, the teacher illustrated what they were doing on the whiteboard. With their "shopping" completed, the children returned to their seats and began to answer questions about the math problem. At this point, the teacher pretended to be confused and wrote wrong answers on the board. As the children rushed to correct her, she had them explain what was wrong, until everyone agreed that the proper answer was three.
No, this wasn't bored voices droning "1 + 1 = 2," "2 + 2 = 4." Instead, these were kids excited about math, happy to supply the correct answer to a befuddled teacher and eager to learn more!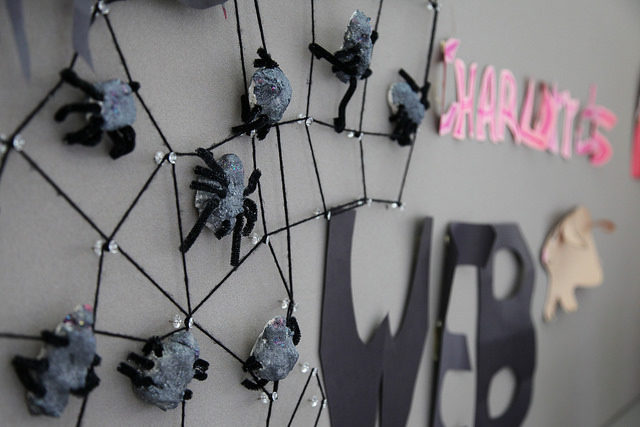 But what about English? A little later I stepped into a first-grade classroom where students were studying Charlotte's Web. Here, I found a mix of visual art and drama being used to tell the story. Several children took turns at the front of the classroom with a drawing they had made. After displaying it, they then acted out that portion in mime. Initially, the teacher set the scene, reminding the kids what was happening in the story at this point. After the child was done, the teacher asked the other students what they had observed as their classmate portrayed the scene.
Later, I noticed a bulletin board filled with tiny spiders made using a modified papier mache technique, with pipe cleaner legs. As I looked at this, one young girl came up to me and proudly told me about the paper collages they had made to illustrate what the barnyard looked like. "They're displayed outside the classroom. You have to see them!" Indeed, I did, and when I left, I enjoyed all the bright, cheery artwork that surrounded the door frame.
My next stop was a mixed class of second, third, and fourth graders who were working on both how to solve for an unknown number in a math problem and the nine's in the multiplication table. And here is where I definitely appreciated the arts-integrated approach. I remember learning the nine's and, oh, how I despised them.
But nobody seemed to hate nine's here. Maybe that's because as they chanted this portion of the multiplication table, not only did they give it a fun rap slant, but other classmates accompanied the song with percussion instruments. Why couldn't they have done that when I was in school?
My final stop was to a fourth-grade classroom where the lesson was to reinforce the basic math operations: addition, subtraction, multiplication, division. Here, too, I felt very at home, but this time it was because not only did I recognize the teaching artist, YA roster artist Femi the DriFish, who I've witnessed teaching on several occasions, but I actually recognized kids whom I had seen before. This heightened my sense of how compelling arts-integrated learning is in capturing kids' imaginations, so much so that they return for another summer of learning!
They rapped their way through a popular song remixed to describe math operations terms in word problems (equals to, divided by, times, added to, subtracted from, etc.) in preparation to shoot their own music video. As they practiced, I wondered what they would take away with them after this summer. Would they remember these lyrics and hum them in their head as they take a math quiz next year? Will they think about a marketplace full of vegetables and fruits and how math filled their baskets? Perhaps they'll draw a picture that will help them recall the story they're reading in class.
But most of all, will they remember the fun that accompanied all these math and English concepts? And that 1 + 2 = 3? I think so. And this funny little guy, leaning on his crutch with his cap, briefcase and dollar bills, standing in front of the Capitol agrees with me!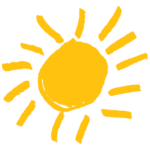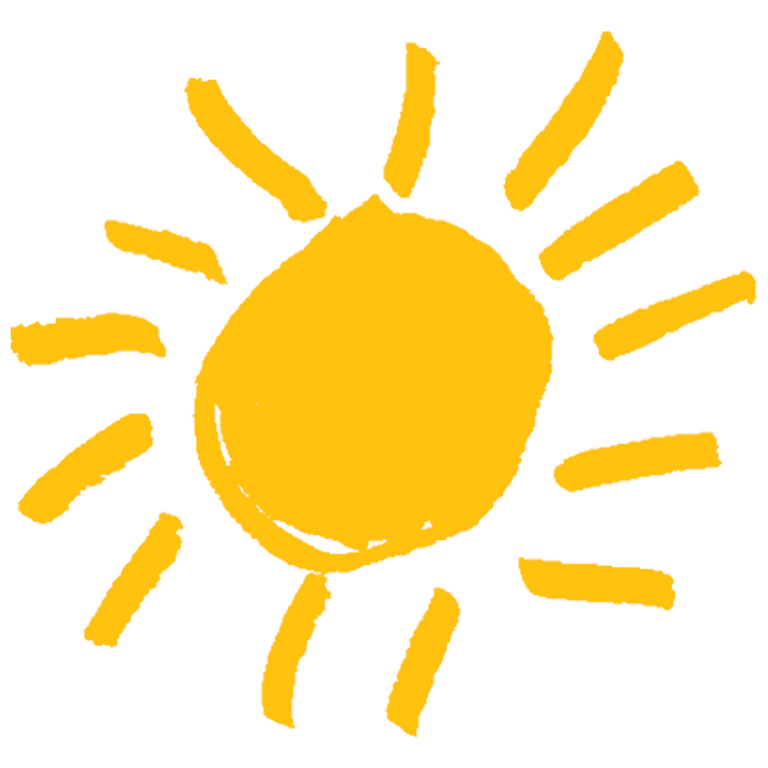 Learn more about our mission, our methods, and our future plans during a one-hour Meet Young Audiences event. In addition to hearing from the organization's leaders and getting an inside look into the amazing work we are doing around the state, one of our roster artists will share their amazing work with you and speak about how the arts complements and enriches classroom learning. Please reach out to Ingrid Murray, Individual Giving Manager, at ingrid@yamd.org for more information or call (855) 245-2787. Interested in hosting your own Meet Young Audiences event? Find out more here!
smARTbeats returns to WTMD on Saturday, June 14 during the weekly children's program Young At Heart! On this month's segment, host Lisa Mathews talks with the multi-talented Khaleshia Thorpe-Price. Khaleshia is a musician, actor, and Young Audiences teaching artist with a contagious and explosive energy for the arts that fills students with creativity and excitement.
For over 15 years, she has facilitated residencies and workshops for children and adults for many arts organizations including Wolf Trap, Arena Stage, Young Playwrights' Theater, Young Audiences of Maryland, Folger Shakespeare Library, Shakespeare Theater Company, and M-NCPP. In classrooms across Maryland, DC, and Virginia, Khaleshia helps students create and perform original plays with props and visual aids.  In addition to teaching, you can find Khaleshia directing performances in the Folger Shakespeare Children's Festival and serving as a dramaturge for the Young Playwrights Theater Festival.
The artist not only co-wrote A Journey with Jazz, an interactive performance experience for young audiences, for the Wolf Trap Institute for Early Learning through the Arts, she performs in the production with the Wolf Trap Jazz Trio. "In my classes I love to use music to unify my students, to build ensemble and community," Khaleshia said. "The language of music has a way of speaking to my students and pulling us all together. I begin and end all of my classes with some type of music."
Young At Heart airs weekly on 89.7 WTMD from 7 to 8 am on Saturdays, featuring music that appeals to parents and children alike. Previous shows have featured music by Wilco, David Bowie, Andrew & Polly, Weezer, and others.
Tune into 89.7 WTMD this Saturday at 7 am as YA teaching artist, actor and musician Khaleshia Thorpe-Price joins host Lisa Mathews in the studio!
The Arts Empowered Minds Initiative (AEMI) is aimed at ensuring equitable access to the arts for Northern Anne Arundel County Public Schools through in-school arts integration, out-of-school arts programming, and professional development for teachers. Now in its second year, the initiative has been expanded to include all twelve schools in the region thanks to generous funding from the National Endowment for the Arts!

Notable among the additional schools is the North County High School (NCHS). All students in every other school impacted by AEMI are zoned to complete their secondary education at this high school. North County High School's new designation as an AEMI school will enable local students to continue their learning through arts integration throughout their school years. This creates a unique opportunity for the school to serve as a beacon for arts engagement, not just for high school students, but for the whole Northern Anne Arundel County community.
NCHS is already home to a variety of performing band and orchestra ensembles, and offers students the opportunity to become involved in a number of in-school and after-school arts activities. "The medium of music is a fantastic way to teach some wonderful life lessons as part of the comprehensive program at North County," wrote NCHS Music Director Theresa Bange on the school's extensive music program's webpage. The school climate encourages a culture of respect for the arts in its many forms. NCHS has also shown a commitment to innovation, offering special programs including the STEM (science, technology, engineering, mathematics) Magnet Program, the IT3 (International Trade, Transportation, and Tourism) Program, and the Early College Access program.
This year, the high school will participate in several arts-integrated opportunities where artists will professionally deliver instruction through the arts. Math Department chair Amy Goodman is leading the charge of integrating the arts at North County High. She is currently coordinating a residency developed by YA artist and spoken word poet Femi the DriFish in collaboration with the school's Algebra 1 team as well as collaborating with theatre artist, storyteller, and YA roster artist TAHIRA to develop a residency through the Teaching Artist Institute (TAI). Also through TAI, 9th grade algebra teacher Sarah Dobry is collaborating with steel drummer, Kevin Martin, integrating music with the curriculum!
"It's all about creating opportunities," said Mrs. Goodman. She recalled her experience working with teaching artist Carolyn Koerber in the previous school year. "There was one student who struggled all year, but finally felt success working with Carolyn. Bringing artists into the classroom is an amazing opportunity for not only our students, but for faculty as well."
We are looking forward to sharing the collaborative work of YA artists and educators in arts integration at North County High School over the next few months and for years to come.
The Arts Empowered Minds Initiative is the combined effort of many groups and individuals seeking to build a movement for increased equity through the arts in their community. With funding from the NEA in 2016, we built partnerships with Anne Arundel County Public Schools (AACPS), Chesapeake Arts Center (CAC), Arts Education in Maryland Schools Alliance (AEMS), Arts Council of Anne Arundel County, and University of Maryland – Baltimore County (UMBC).
Promoting empathy and kindness in all schools is a priority across school systems, with particular attention paid to encouraging a positive school climate in the month of October, National Bullying Prevention Month. New YA roster artist Tasty Monster Productions designed an award-winning program to open communication in the classroom and inspire students and teachers to engage in conversations about social issues such as loss and bereavement, the many guises of bullying, the necessity of kindness and empathy, and the power of our words in society.
Tasty Monster Production's Ferdinand is a powerful and moving modern adaptation of the classic children's book The Story of Ferdinand by Munro Leaf. "Ferdinand tells the poignant story of Tom, a single dad, struggling to go with the flow and raise his son in a world determined to make him fight," says the artist. "Raised on the story of his namesake Ferdinand, the bull who refused to fight but just wanted to sit and smell the flowers, young Ferdy learns the hard lessons in life as his father endeavors to shield him from the harsh realities of adulthood."
A 2013 Congressional Research Service report found that these school-based bullying prevention programs decrease bullying by up to 25%.
Researchers have found that programs designed to build character and empathy, address conflict management, and enhance social- and emotional-development are successful at reducing bullying behaviors (Swearer, Wang, Collins, Strawhun, & Fluke, 2014). School systems have rightly begun implementing strategies and hosting programs to address concerning behavior and educate both adult and peer communities to recognize the signs and effects of bullying. A 2013 Congressional Research Service report found that these school-based bullying prevention programs decrease bullying by up to 25%. And since peer interventions have been found to end 57% incidents of bullying (Hawkins, Pepler, & Craig, 2001), it is imperative that schools keep the dialogue open year-round about what it means to be kind, how to listen, and the importance of empathy and understanding.
Schools searching for meaningful, current, and effective programming to relay a message of positivity will find an ally in Tasty Monster Productions. "Ferdinand is a hard-hitting yet heart-warming one-man show which takes the audience on a journey of rebirth. Told from the perspective of Tom, a hard-working middle manager, this is the story of a father bringing up his son with empathy and kindness in a world that seems determined to push him in all the wrong directions. Through Tom we experience all the joys and all the heartbreaks of growing up, as well as quite a few very real parental dilemmas, as he battles to preserve the innocence of childhood despite corporate downsizing, classroom peer pressure, and mixed social messages about what it means to be a man in this contemporary twist on a grown-up fairy tale."
Tasty Monster Productions brings engaging new and re-envisioned works to a broad audience while expanding the use of technology and multi-media as a tool for storytelling. Learn how to bring Tasty Monster Production's award-winning performance, Ferdinand, into your school.
Over the summer, Baltimore City Public School principals convened for the third time to attend a professional development course unlike any other. The first session was held in May at the Baltimore Museum of Industry where they explored the many ways arts and creativity intertwine with local industry of both the past and the future. The second, at Creative Alliance, where the group attended a workshop and lunch with Artesanas Mexicanas, a group of talented Mexican women, now residents of Southeast Baltimore, who share their rich cultures and folkloric traditions through art.
On this third session, principals gathered on a stage where so many critically acclaimed actors and singers have stood before. Looking out into the house of the Hippodrome Theatre, one could only imagine the thrill a performer might feel standing before a crowd of fans.
But how does an actor get to the stage? And what needs to happen for a show to go on? What can Baltimore City Public Schools do to prepare students for careers in theatre? These are some of the questions local principals explored in Creative Collaborations for School Improvement, a leadership course designed for principals to experience first-hand the many facets of Baltimore arts and cultural organizations, as well as how innovative partnerships with area cultural resources can help schools prepare their students for careers in fields related to the industry.
Throughout the course, principals have the opportunity to build strong relationships with not only engaged cultural organizations, but with expert teaching artists, like YA roster artists Matt Barinholtz of FutureMakers and internationally acclaimed slam poet Gayle Danley, as well as guest speakers including arts integration advocates.
"I do think that in my 31 years in City Schools that the Creative Collaborations for School Improvement course is among the most beneficial professional developments in which I have participated," said Sinclair Lane Elementary School principal Roxanne Thorn-Lumpkins.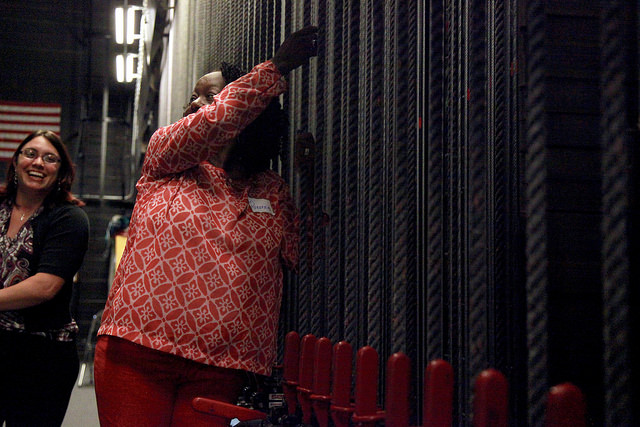 The principals were briefed on the history of the renowned theatre, then were led on a tech tour of the space by assistant electrician Danyela Marks. High above the stage is home to the control center of all of a production's moving parts: the fly system. Thick, strong ropes, levers, weights and counterweights are all strung taut, connected precisely and purposefully, reminiscent of the inside of a piano. Any movement on the set during a production: a wall sliding, scenes changing, or an actor flying, is made from here. To work on this side of the curtain, they discover, a person needs a solid foundation in math and physics.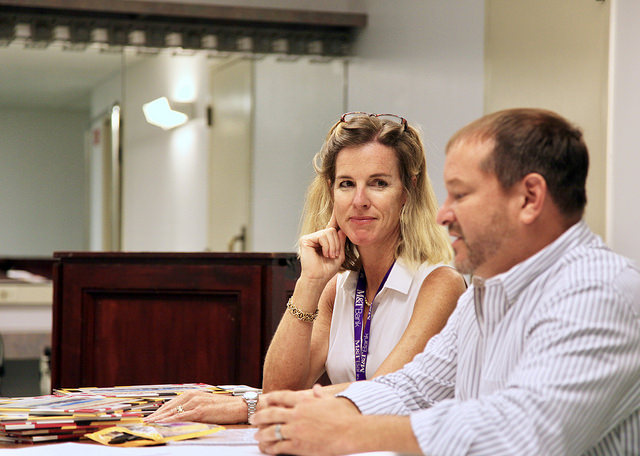 The group descended from the tech booth to the dressing rooms, located one level beneath the stage. Here, among the bright lights and mirrors, they learned about the Hippodrome Foundation (HFI), its mission & educational outreach programs, and how their schools can take advantage of them. They spoke with Olive Waxter, Director of the Hippodrome Foundation and Ron Legler, President of the France-Merrick Performing Arts Center about their institutions' commitment to providing opportunity in the community.
Former long-time Baltimore Sun critic and current WYPR theatre critic Judy Wynn Rousuck met principals for a fun written exercise. Part of Judy's work with HFI centers on enhancing written communication skills with young people. On this day, she challenged the educators to write a short descriptive piece using just one of their fives senses to illustrate their subject. It is easy to imagine the excitement young people must feel in Judy's classes when they see their words come alive and work together to paint a vivid picture.
Of course, no visit to the theatre is complete without getting a taste of the performers' experience. So here, on the Hippodrome Stage, principals stepped into students' shoes to work with co-director of the Hippodrome Foundation's summer theatre camp, Becky Mossing, education director Barb Wirsing, and Markia Smith, a former camper, now a counselor to learn a number from the musical 70, Girls, 70. At the piano, they worked on vocals. The group then moved on to blocking (the movements and positions actors are assigned on stage), and after some practice, revealed their grand performance of "Coffee (In a Cardboard Cup)." And they did a pretty great job.
The next Creative Collaborations for School Improvement course will be held at Center Stage on October 7, 2017. Principals and assistant principals who would like to register for the course should contact Valeriya Nakshun for more information.
Baltimore City School students closed out a summer of creativity and arts-integrated education with performances and visual art exhibitions at Young Audiences Summer Arts and Learning Academy. The academy's culmination events were an opportunity for students to showcase their art forms and what they learned to family and friends. 
The Summer Arts and Learning Academy took place over five weeks, giving students from Title 1 schools in Baltimore City a free, daily opportunity to explore art forms with teaching artists while improving literacy and math using hands-on, arts-integrated learning techniques. They wrote songs to memorize grammar rules, learned dances to recall fractions, and immersed themselves in a multitude of art forms, making literacy and math concepts stick. The third annual academy had children and staff laughing, learning, and inspired.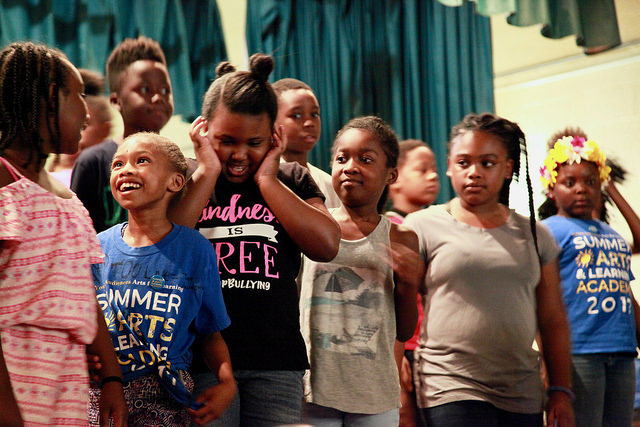 This kind of summer engagement with the arts is proven to have a significant impact on kids' education. In Summer Arts and Learning Academy, classroom teachers and teaching artists work together to continue to build momentum while stemming summer learning loss, or the loss of academic knowledge over the summer months. According to a study last year by Baltimore City Schools, students in 3rd-5th grade attending the Summer Arts and Learning Academy avoided summer learning loss, and in many cases, gained ground on their national peers in literacy and math.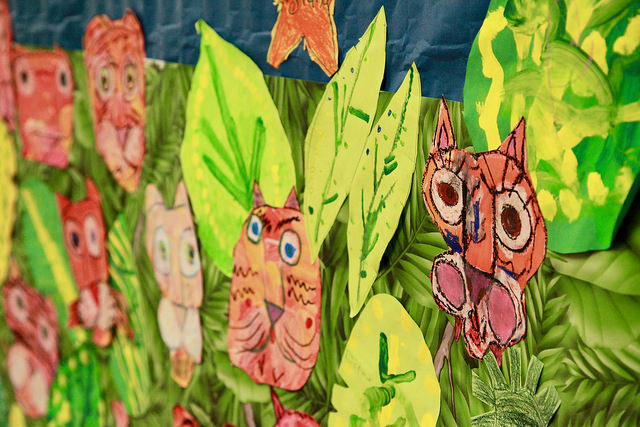 The culmination events, held at Thomas Jefferson Elementary/Middle, Coldstream Park Elementary/Middle, James Mosher Elementary, and Gardenville Elementary, put students on stage to showcase the art they created at the academy for parents, teachers, friends and family. Here is some of what we saw.
Two students from YA roster artist Femi theDrifish's spoken word poetry class read aloud their own inspiring words. They expressed the challenges caused by bullying through their writing, moving the audience with their heartfelt performance.

A larger group of students performed African dance on stage as their teacher, YA roster artist Ssuuna, led an accompanying rhythm section. A dance circle broke out at the end as students entered and showed the audience their skills. Cheers, laughs and applause filled the auditorium.
Music, poetry, and theater graced the stage as another group performed a chapter from a short story they read during the Academy. Kids performed as trolls and goats while their teacher, YA roster artist Drew Anderson narrated. Positive energy filled the room.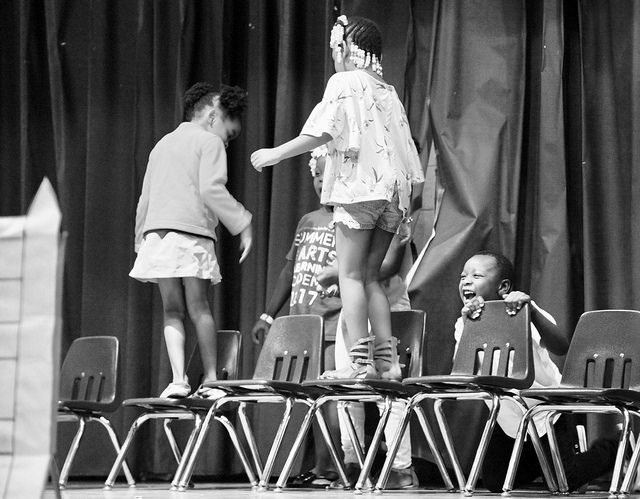 And that's only a taste of the dozens of performances that took place at culmination events around the city. Watching students light up and enjoy learning with the infusion of arts experiences is remarkable. We can't wait for next summer.
You can view images from all four of our summer sites by visiting our Flickr page. More information about Summer Arts and Learning Academy can be found on our website.
Written by Barbara Krebs,
Young Audiences volunteer and Sunburst Society member
Seedfolks. Bizz Buzz. These are just a couple of the new things I learned about when I visited the Summer Arts and Learning Academy at Thomas Jefferson Elementary/Middle School in Baltimore.
And learning through the arts is the whole point of this summer academy, now in its third year of operation. Young Audiences/Arts for Learning, in partnership with Baltimore City Public Schools, operates four of these academies at schools throughout the district as part of a system-wide arts-integrated strategy to reduce summer learning loss in literacy and math. Approximately 1,144 kindergartners through fifth graders take advantage of this free, fun-filled educational opportunity. 
My first stop was to meet Site Director Kristin Taylor who manages the program at Thomas Jefferson. As we headed to the first classroom of fifth graders, she enthusiastically filled me in on the size of this particular academy (280 students), its average daily attendance (250 students), and the benefits provided at every site to help parents and kids (after-school care until 6:00 pm and free breakfasts and lunches served every day to each student).
As we walked through the halls, student-created posters, snippets of conversations, and the sounds of music offered glimpses of the learning that was taking place.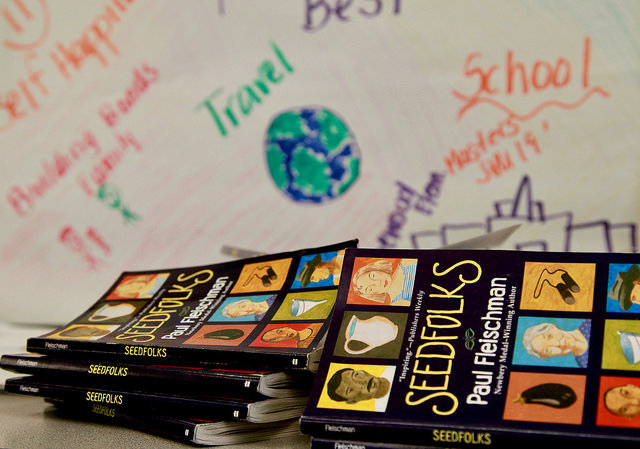 I entered the fifth-grade classroom of Ms. Paige and visual artist Mama Sallah just in time to watch a production of a chapter from Seedfolks, a book that shows how a neighborhood is transformed as people from different cultures interact in a garden. After the first group performed, I got a chance to ask Kenaya, one of the student actresses, about the book.  She explained to me that each chapter of the book focused on a different character. The classroom had been divided into groups, each assigned to act out a different chapter of the book. These groups were to then silently act out what the narrator was reading.  
Kenaya's group focused on Kim, a Vietnamese girl from the first chapter. The story starts with the girl staring at a portrait of her father. While one student narrated, others acted out the parts of Kim, the father's portrait, and even more characters as the action moved into the garden Kim had planted.
I enjoyed watching their attention to the story and how each child handled their role, whether it was bending down to dig in the "dirt" or, like the young man playing the role of the portrait, staring silently into space, giving no indication that he was anything other than a photograph frozen in time. These were serious actors, hard at work.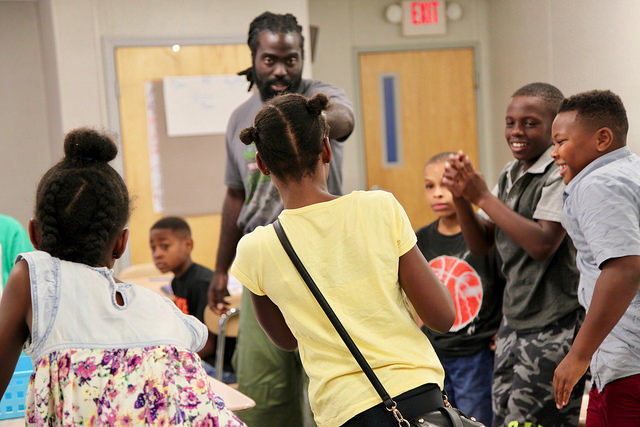 The next classroom was quite a contrast. Ms. Chase and hip hop musician Jamaal "Mr. Root" Collier were teaching math to a mixed classroom of fourth and fifth graders, and I had arrived in time to witness a game of Bizz Buzz. The children formed a large circle in the room, then took turns doing math calculations in their heads, making sure their answer was either a multiple of three or five. Emotional sounds quickly filled the room: Squeals of excitement for the game, celebratory cheers as someone answered correctly, silence filled with tension and pressure as someone struggled to find the right number, and supportive classmates whispering, "You can do it!" and "You got this!"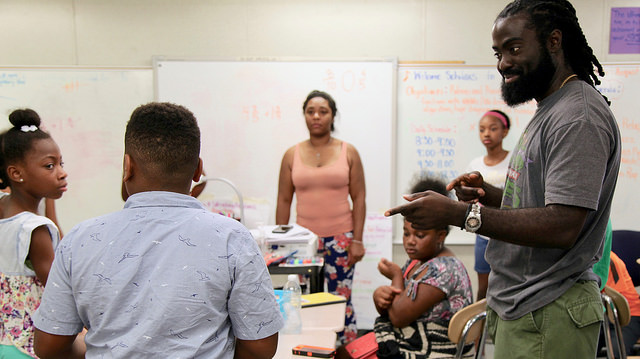 I have to admit I never did quite get the idea of when you yelled, "Buzz!" or "Bizz!" instead of a number, so I guess I'm going to have to admit that I am NOT as smart as a fifth grader. Luckily, they are!
The next classroom was filled with third graders who were also working on math. However this time the class focused on word problems and measurements. Without the drama of Bizz Buzz, this classroom was much quieter with children working at their desks. As I wandered around the room, one outgoing and cheerful girl, Mikhia, came up to me.  I probably looked a little lost because she explained to me what was going on – how they were learning about different cultures.  I asked her if she liked the Academy, and she grinned broadly and nodded her head, yes.  
"What do you like about it?"
"The teachers," she answered without hesitation.
"What do you like about them?"
"They are nice, loving, and helpful.  I'm learning so much this summer!"
The last classroom I visited was composed of first graders.  I noticed a colorful picture on one boy's desk of a volcano with a person going up the side of it and asked him about it.  "Who's that?" I asked, pointing to the person.  
"That's me," Donald answered.
At that point, we were interrupted as it was time to line up for lunch.  But before he left, I got another opportunity to ask him about his work. "Why are you walking up the side of the volcano?" I asked. He seemed a little confused but answered gamely, "I'm not walking, I'm flying."  
"Oh," and now it was my turn to be a little confused.  "You must be very powerful to fly."  
By now the girl in line behind him decided she had to help this poor confused person. Explaining patiently but emphatically, she corrected me. "It's not powerful. It's imagination!" At which point, I learned that their classroom was focusing on stories that dealt with imagination. So, yes, flying makes perfect sense. I'd rather fly over a volcano than walk up it, too!
As the children headed off to lunch, I thought about my first morning at Young Audience's Summer Arts and Learning Academy and all the kindergarten through fifth-grade pros who had guided me through the learning process. I realized I had learned a lot, too.  
For example, I learned that reading and acting out the story is a powerful way to concentrate on both the characters and the narration. I learned that math can be extremely riveting and exciting. I learned that different cultures can guide your math skills. And I learned that I need to let my imagination soar. But most importantly, I learned that combining arts with learning is fun – and effective – and that's why the kids love it.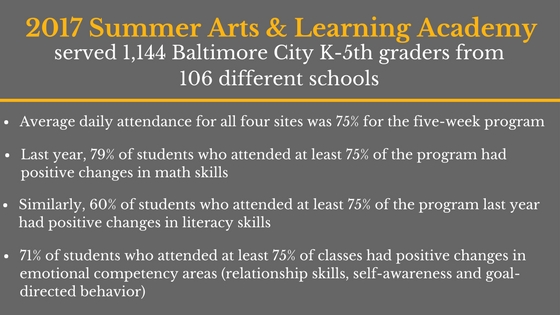 Written by Barbara Krebs, a Young Audiences volunteer and Sunburst Society member.
Colorful sticky notes adorned the walls of the classroom. Like before-and-after photos of an amazing remodel, the notes told the story of how a group of Head Start teachers in Southern Maryland unveiled their hidden talents to reach their young students through the arts. The 'before' stickies began, "I used to think…" Teachers filled in the rest of the sentence with thoughts such as, "dance, music and theatre weren't that effective," or "movement and story time could not go together," and "it was hard to integrate the arts into the classroom."
Then, as Young Audiences teaching artists demonstrated techniques that blend learning and the arts, the Head Start classroom teachers began making their own artistic/educational connections – connections that would help them return to their classrooms and engage kids in ways they had been hesitant to trust before. They soon realized that when kids are singing, dancing, and moving, it's easy for them to forget that they're actually learning!
The Professional Development course was held on February 17th and sponsored through the PNC Grow Up Great® initiative. Created to help children from birth through age five develop a passion for learning that lasts a lifetime, the program generously funded training that provided Head Start teachers with a variety of resources to increase learning, engagement and confidence by incorporating art into the curriculum.
Three YA teaching artists, musician Lisa Mathews, actor Khaleshia Thorpe-Price, and dancer Anna Menendez, taught the group. They learned, for example, how to use dance tools to create patterns, how to use their bodies and musical instruments to express themselves, and how the use of props and different character voices can more fully engage students in story time. At the end of the class, each teacher was tasked with writing and presenting a lesson seed in each art form for when the class reassembled in May.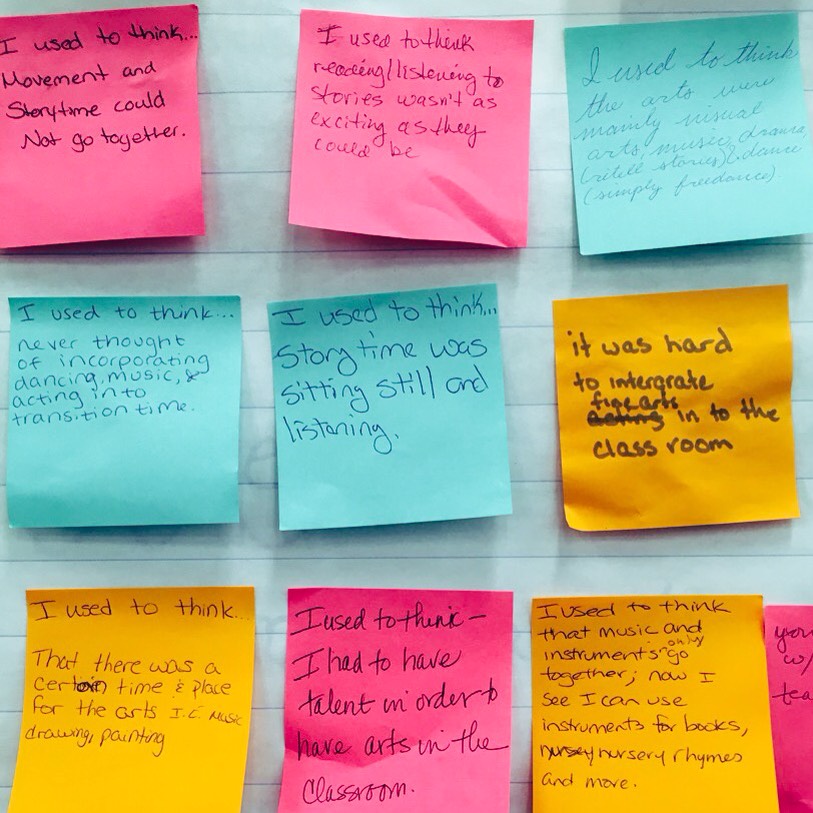 "It was very evident from their participation on the first day and their reflections on the second day that teachers were excited about these arts strategies and implemented them immediately," explained Kristina Berdan, YA's Education Director. "Having strong backgrounds in social and emotional learning, they were able to quickly experience and understand the impact that the arts can have on this kind of growth in young people. Most of them tap into the arts regularly through chants and songs, yet these professional development opportunities allowed them to learn deeper, more meaningful strategies in and through the arts. The 'ah-ha's and feelings of excitement were palpable!"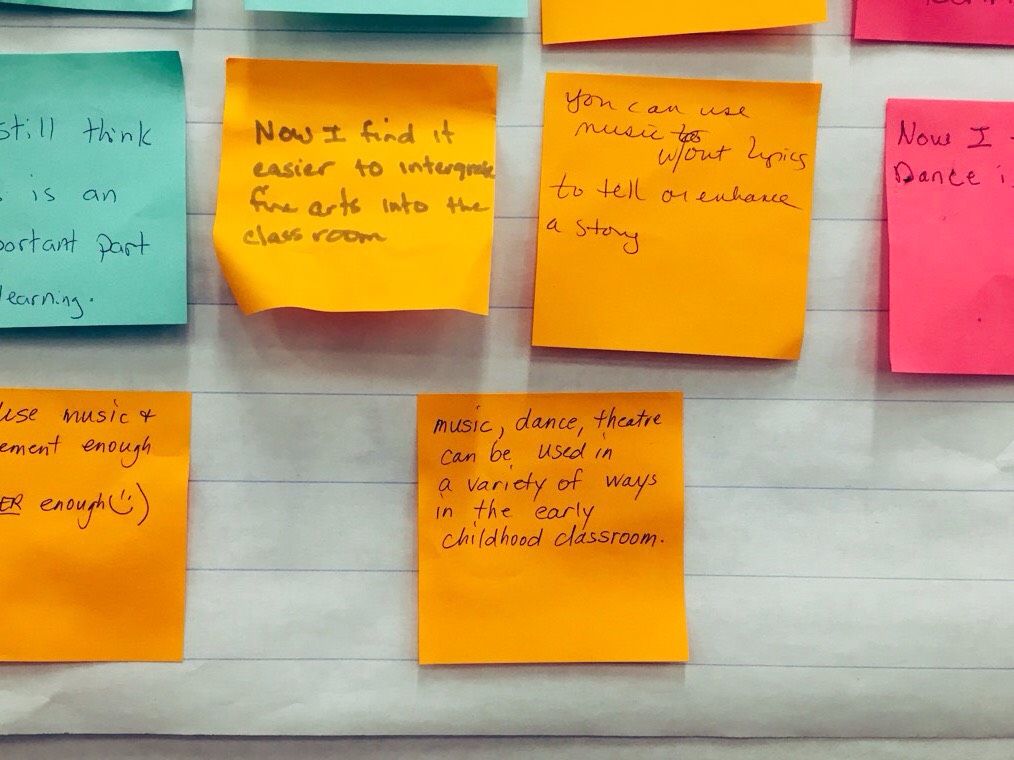 For some, wariness about the role arts could play in the classroom had been replaced with a newfound willingness to incorporate them into their lesson plans. Through the introduction of dramatic play and puppetry, for example, students had a greater understanding of the stories they read in class than they did before the professional development course. One Head Start teacher, Jessica Wiley, summed up her experience in YA's Professional Development class this way, "The ideas and suggestions were practical, applicable, and personalized. I love how Young Audiences was able to address our questions, challenges and concerns very well."
The teachers ended the day completing sentences on sticky notes that began, "Now I think…" Their statements showed how their opinions about using the arts as a tool for learning had evolved from hesitancy to a feeling of openness and anticipation, writing, "you can use music in all areas of teaching," and "dance can be a calming technique," or "movement in story time is helpful to keep children engaged."
For Maryland's youngest students, the new strategies will be especially impactful. "Head Start supports our nation's most vulnerable children by offering a comprehensive, high quality early-learning experience that prepares them for kindergarten and strengthens family participation in their children's learning," said Yasmina S. Vinci, executive director, National Head Start Association.
Like any successful renovation, the before-and-after sticky notes showed what can be created when you effectively blend harmonious elements – education and the arts – to capture a child's natural desire to learn.
Unique and innovative arts-based strategies are captivating young audiences in Maryland classrooms. At Margaret Brent Elementary/Middle School in Baltimore City, the very youngest students are excited to connect to literature with actress and master teaching artist Katherine Lyons through movement and theater as part of a Maryland Wolf Trap residency.
Katherine creates what she describes as "hands-on, multi-sensory story experiences" by having children actively participate in the telling of the story. Physical motions are assigned to important objects and costumes help illustrate characters. To prepare for Katherine's arrival on this day, Pre-K teacher Mrs. Lee asked her students to draw what they think will happen in the story. They hung one prediction on a clothesline.
Now, at the front of the room, between Katherine and Mrs. Lee sits a 'story box' filled with clues describing the characters in the story. One by one, a student pulls from the box a tool or an article of clothing, then the class takes turns guessing who the clues belong to.
As each character is identified, one student hangs a picture representing the character on the clothesline and another student becomes the character. The students use each of their senses to connect to the story, made ever more lively through the introduction of gestures, chants, and props. "Costumes help bring the story to life," Mrs. Lee said. "The class is more interested and invested in story time when they get to use props and act it out."
Once story time is completed, Katherine and Mrs. Lee begin planning lessons that they will co-teach. Every Wolf Trap program includes embedded professional development to build teachers' skills and confidence in arts integration techniques. Teaching artists work with classroom teachers to learn effective ways to engage students in participatory activities that involve all the senses and encourage critical thinking, creativity, communication, and collaboration. This ensures that the arts remain a strong part of the classroom teachers' lessons long after the residency ends.
Mrs. Lee plans to continue to use these new strategies during an instruction block that includes literacy, social studies and science, but she's excited to try them out in other areas of the curriculum as well. "I may use the story box with some counting stories and to help illustrate word problems in math!"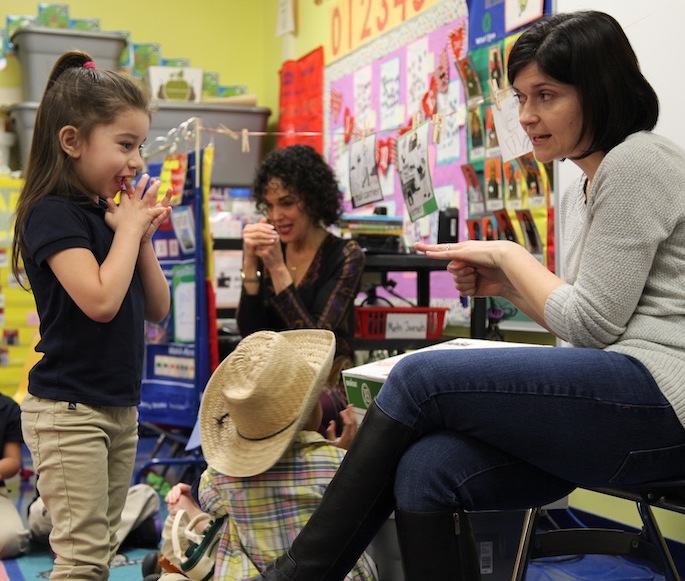 Eighty-five percent of brain development occurs during the first five years of a child's life. Participation in the arts encourages positive growth in a child's emotional, physical, intellectual, creative, and social development. As the Maryland affiliate of the Wolf Trap Institute for Early Learning Through the Arts, Young Audiences expands access to the arts for Maryland's youngest students during the critical early learning years. Bring a Maryland Wolf Trap 16-Session Residency into your school.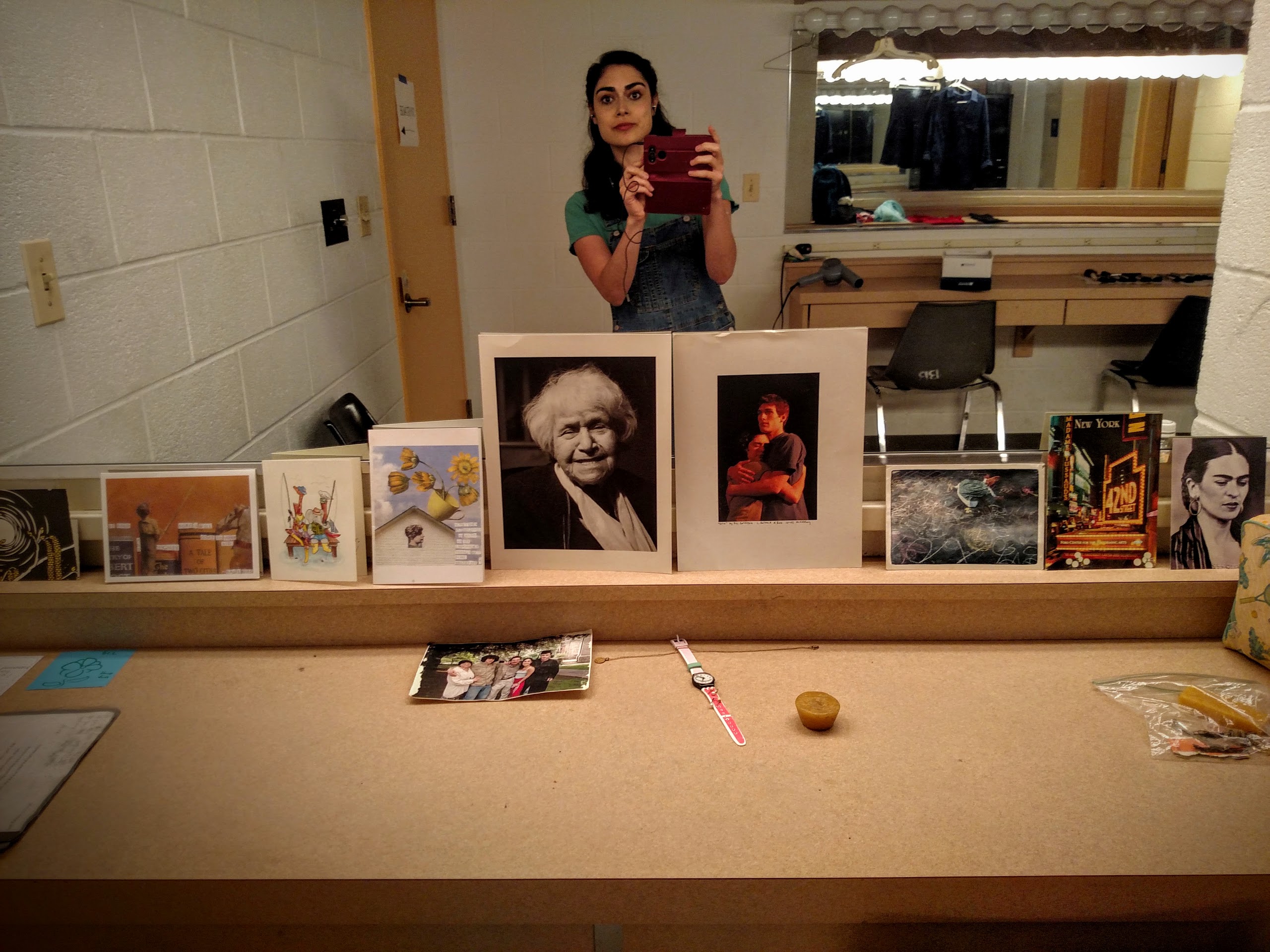 Written by Tea Carnell, an active Young Audiences board member, Chair of 50,000 Kids Committee, and member of the Literature to Life Fundraising Committee.
Last fall, I was lucky enough to see Literature to Life's staged presentation of Sue Monk Kidd's The Secret Life of Bees in Washington, DC at a fundraiser hosted by Laura Handman, daughter of Literature to Life's creator, Wynn Handman. Wynn Handman is also one of the founders of The American Place Theatre in New York City. That night, we were raising funds to bring this program to Prince George's County Public Schools where it was performed last week.
I was moved by The Secret Life of Bees because, among other things, it touches on themes relevant not only to the students, but to everyone: racism and prejudice, the power of women, the vulnerability of women, what is real versus what is presented to us, and guilt and forgiveness. These issues are weighty and the performance compels the audience to confront them, showing that performance can exceed entertainment and that life's biggest questions and broadest experiences can be captured and expressed. With the leadership of the teaching artist, Literature to Life creates an opportunity for students to consider and reflect. Wynn Handman once said, "There is so much noise in the entertainment world today, but where is the mind? We are not going for noise, we are going for the core. We do things that stay with youth, that get to them in a deep way…. That's how we connect with youth. There is nowhere to hide from the story once the actor begins." This opportunity is important for all students. And, it is especially critical for those students who don't have access to the arts.   
The performance of The Secret Life of Bees is accomplished just by one woman, Lily Balsen, playing all of the characters, and using verbatim excerpts from the novel. The actress spins these elements into a seamless production. I was lucky enough to see it again last week, on International Women's Day. Of course, The Secret Life of Bees is a novel about women, and written by a woman. The date of the showing was a coincidence – a little serendipitous.  Young Audiences/Arts for Learning was 'showing off' Literature to Life to a Baltimore-based audience interested in, and supportive of, arts in education.
This performance coalesced around the messages I had grown up with and personalized them for me with an immediacy that I had not yet experienced in the suburbs where I was growing up.
As I've thought about these wonderful performances, I have been reminded of the impact that a single play had on me as a child. I grew up just outside of Philadelphia in the mid-1970's. In 1976, my parents took us to see One Acre at a Time at Freedom Theatre. Freedom Theatre is a Philadelphia-based theater company whose mission is "rooted in the African American tradition." The play was intense, it made me uncomfortable, and the experience left me with lots to think about as a young person.  During my childhood, my parents tried to educate me and my brother about the importance of the Civil Rights Movement. I always understood what they were telling me and accepted that racism and discrimination were wrong. I don't remember the specific plot at this point. I do remember the impact of the emotion and passionate expression in the context of historical issues of race in the United States. This performance coalesced around the messages I had grown up with and personalized them for me with an immediacy that I had not yet experienced in the suburbs where I was growing up. That experience sits with me today and has left me with messages I don't think could have been communicated in a more compelling way.
Literature to Life brought me back to that experience of being a child, moved profoundly and enduringly by a performance. I feel strongly about the power of theatre in the lives of students. Theatre has many layers for students beyond audience: content, expression, production. Children benefit from them all – as young writers, performers, writers, artists, stage crew.
4,000 young people will experience the staged presentation Secret Life of Bees and, afterward, participate in a "talk back" with Young Audience teaching artist Molly Moores and the phenomenal actress Lily Balsen, who travels from New York for these performances.  The schools participating in the tour include:
Annapolis Road Academy
Bowie High School
Dr. Henry A. Wise, Jr. High School
International High School at Langley Park
International High School at Largo
Largo High School
Northwestern High School
Mount Washington School
Southwest Baltimore Charter School
I hope that Literature to Life will find its way to many more Maryland students.  To learn more about the program, visit literaturetolife.org.
If you are like me and care about the power of theatre, or more broadly about the power of the arts in our schools, I suggest you get to know more about Young Audiences/Arts for Learning at one of its regular Bright Side events. Bright Side events are not fundraisers, rather they are one-hour, fun, interactive presentations that go more in-depth about our work (including all of our programs beyond theatre with music, visual arts, and dance) and share stories of the people we serve. The next event will be on March 21st at 5:30 pm at Herman, Sessa & Dorsey in Hunt Valley (307 International Circle Suite 280, Hunt Valley, MD 21030). To RSVP for this event, please email Chaz Walters at chaz@yamd.org.
Baltimore students in Young Audiences Summer & Learning Arts Academy Outperform Peers
Baltimore City Public Schools students who participated in a new arts-related summer academic program from Young Audiences avoided summer learning loss and, in many cases, gained ground on their national peers in standardized testing, according to evaluations released Tuesday. The new findings showed potentially groundbreaking progress in tackling summer learning loss, a chronic challenge facing public schools.
The results, confirmed in two separate studies involving nearly 800 students, are significant because summer learning loss – particularly among students at or below poverty level – is among the most difficult challenges facing the Baltimore school district and other high-poverty schools across the country. During summer, students typically fall below where they ended the previous grade, setting them back as they start a new school year. In fact, a 2013 National Summer Learning Association (NSLA) survey of 500 teachers found that 66 percent reported the need to spend three to four weeks re-teaching students course material at the beginning of the year. Another 24% reported the need to spend five to six weeks doing the same.
"City Schools has enjoyed a great partnership with Young Audiences, not only during the school year but also the past two summers," said Dr. Sonja Brookins Santelises, chief executive officer of Baltimore City Public Schools (City Schools). "During the summer, Young Audiences reinforces key math and reading concepts through the arts and creative activities – and we're pleased with the results we've seen. When students participate in summer learning programs that help them move ahead or reduce learning loss, they start the school year off stronger."
The Young Audiences Summer Arts & Learning Academy (SALA), run by the Baltimore-based arts-in-education nonprofit Young Audiences of Maryland in partnership with City Schools, was free for students and held at four sites across the city: Gardenville Elementary, Thomas Jefferson Elementary/Middle, William Pinderhughes Elementary, and Fort Worthington Elementary/Middle. Eighty-eight percent of the participating students were from high-poverty Title I schools.
"These results were a pleasant surprise given that we generally expect that students will lose ground over the summer," commented Dr. Marc L. Stein, Associate Professor at the Johns Hopkins University School of Education, who conducted a separate program evaluation for Young Audiences which looked at participating students' academic skill and social-emotional development. "The Young Audiences summer program combines many of the best practices of summer learning programs and appears to be a promising model. These findings deserve to be investigated more rigorously to find out how and for whom the program appears to be working."
"This is not your typical summer school program," said Stacie Evans, Executive Director of Young Audiences. "We taught literacy and math through the arts every day and instruction was collaboratively taught by teaching artists and teachers specifically trained in arts-integration methods. If you walked into one of our classrooms, you might have seen students using hip hop music to help solve word problems in math, or creating dances to summarize and sequence main events in a story."
The Baltimore City Public Schools evaluation found:
For math, statistically significant results showed that students in grades 3-5 who regularly attended (defined as attending at least 75% of the program) the SALA improved 1.8% percentile points in national student rankings on i-Ready standardized testing from the spring of 2016 to the fall of that year. That compares to a decrease of 2.8% percentile points for city schools students who did not attend any summer programming.
In reading, SALA students in grades 3-5 with regular attendance fell only .8% percentile points while students who did not attend any summer programming fell 2.1 percentile points upon returning to school in the fall.
Results for all grade 3-5 students regardless of attendance rate showed SALA attendees falling just .3% percentile points in math and .7% in reading. These were significantly smaller losses than students with no summer programming (down 2.8% in math, down 2.1% lost in reading).
In literacy, only 3% of the students in grades K-2 attending SALA did not meet their benchmark goal (the empirically derived target score that represents adequate reading progess1) on the standardized DIBELS assessment in the fall after returning to school compared to 8.1% of students not attending any summer programming not meeting the benchmark.
Young Audiences external program evaluation found:
79% of students who attended at least 75% of the program and who took pre- and post-tests had a positive change from the first to the last week of the program on a curriculum based measure of mathematics.
Approximately 60% of students who attended at least 75% of the program and who took pre- and post-test writing prompts showed positive change in their structure and content of their writing.
71% of students who attended 75% of the program and were administered pre- and post-assessments showed growth in at least one out of three social emotional competency areas over the course of the program. The social emotional competencies studied were relationship skills, self-awareness, and goal directed.
"The arts offer an extraordinary opportunity, particularly during the summer, to reignite the joy of learning and to set young people on the right course to start the school year strong. These impressive results from Young Audiences mirror findings of the landmark Wallace Foundation study showing that elementary school students with high levels of attendance in high-quality, voluntary summer learning programs can experience benefits in math and reading," commented Matthew Boulay PhD, National Summer Learning Association founder and interim CEO.
Eric Harrell, father of 9 year-old Academy participant, Aria Harrell, said "Before this academy, I could tell that my daughter was struggling in math. By using the arts she was able to learn math in a different way-a way that worked for her. She has so much more confidence in her math class."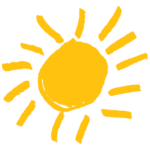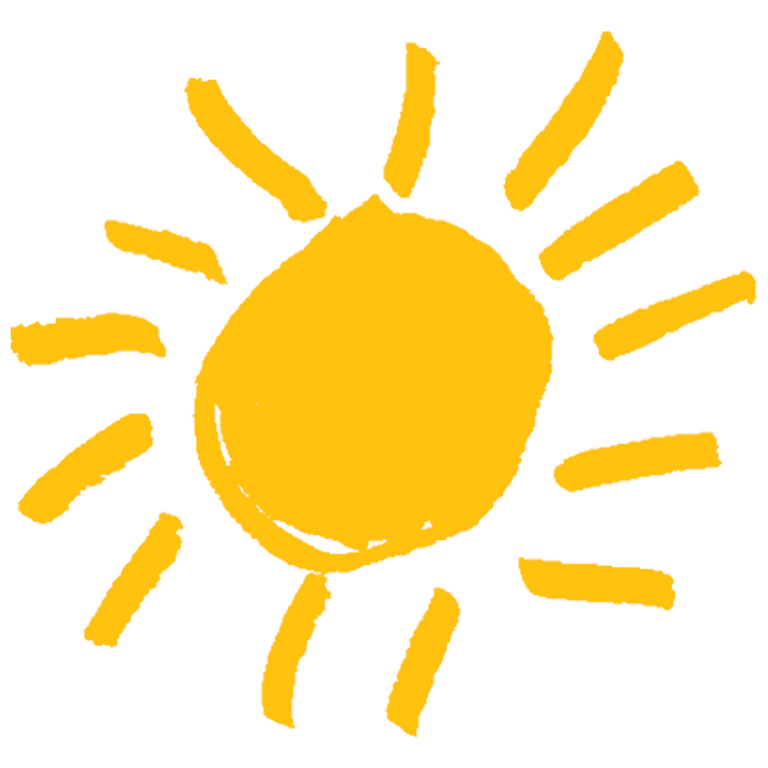 1 "Dibels Next Benchmark Goals and Composite Score, " Dynamic Measurement Group, Inc. (December 1, 2010). https://dibels.uoregon.edu/docs/DIBELSNextFormerBenchmarkGoals.pdf
Links to complete City Schools and Young Audiences Evaluations:

YAMD evaluation
Young Audiences' Summer Arts & Learning Academy is funded by Baltimore City Public Schools, The Abell Foundation, The Family League of Baltimore with the support of the Mayor and the City Council of Baltimore, The Alvin and Fanny B. Thalheimer Foundation and individual contributions to Young Audiences. All participants are students at a Title I Baltimore City Public School.