Written by Barbara Krebs,
Young Audiences volunteer and Sunburst Society member
As a Young Audiences volunteer, I've been fortunate enough to watch a variety of artists at work in the classroom. And the results always amaze and humble me. Whether it's rapping the multiplication tables, or acting out a storyline, or drawing to illustrate a book's theme(s), I love how the arts grab kids' attention and not only hold it, but draw them out, asking questions, trying out new ideas, and expanding their horizons.
But it dawned on me that I had never watched a class in its entirety–had never witnessed the full lesson plan. I finally got a chance to do so recently when I visited Ms. Bradley's eighth-grade Honors English class at Chesapeake Science Point Charter School in Hanover, Maryland. Over the course of a week, Gayle Danley, an internationally recognized slam poet, was there to guide them in writing their own poems.
Full disclosure: Gayle is a personal friend of mine. I met her five years ago when she mentored my daughter, Colette, who had been asked to speak at Young Audiences' annual Impact Breakfast. And over the years, I have watched her perform at YA events and in her own shows. But I had not yet witnessed her in action in the classroom.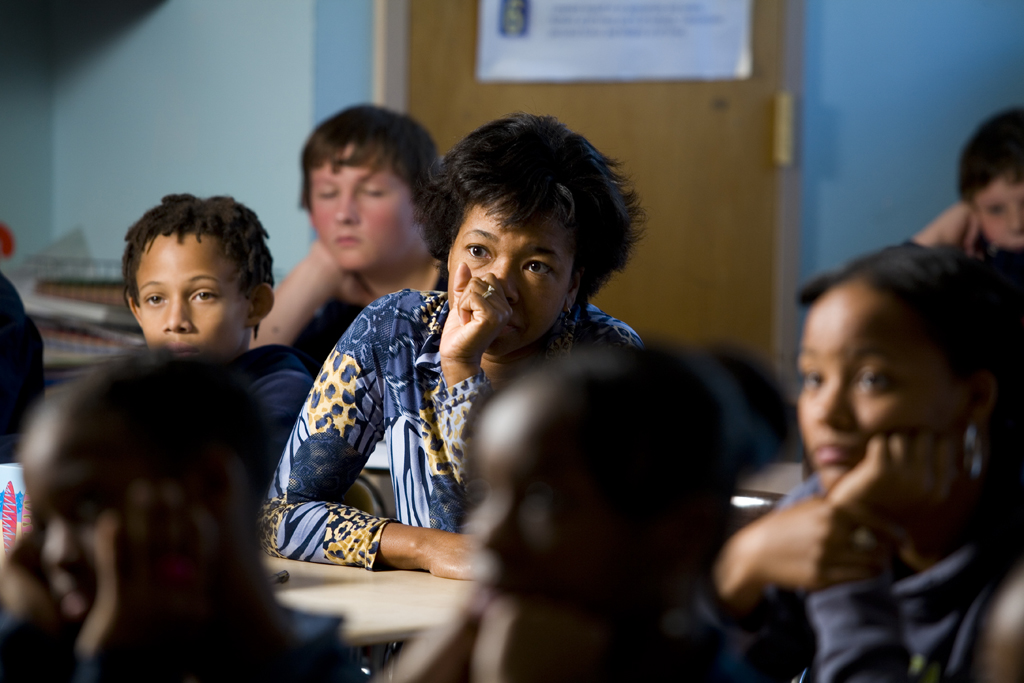 And so, I found an inconspicuous spot from which to observe. Gayle quickly got to the heart of the lesson. She had started working with the class on Monday, so she now asked for volunteers to read the poems they had written since then. She instructed them to listen carefully and write down two things: 1) a sentence or phrase they really liked; that they could truly identify with and 2) a sentence or phrase they didn't like or didn't understand.
"So, who wants to go first?" After a predictable silence, Gayle encouraged them, "Poets have to be afraid sometimes. I know you're afraid to share your work. But if you come up here, we'll support you."
After another quiet pause, one brave soul ventured forth. "Let's hear it for the poet!" Gayle shouted, and led the class in applause. Even so, the first girl almost returned to her seat. But by then, her classmates were shouting their own encouragement, "You got this!" "Own it–you're already up there!"  "You can do it!"
And so she read. Sometimes Gayle interrupted to ask her to slow down or to speak louder. Another time she stopped her to ask the class what they thought of one line, "how does that make you feel?" When the teenager had finished, Gayle again led the applause and praised her for being first.
Then she asked the class for their favorite and least favorite lines, and asked them to explain. At one point, Gayle focused on "f-a-i-t-h," which the young woman had spelled out rather than saying the word. She asked if that bothered anyone, threw them out of the poem temporarily because that's how Gayle had felt. And when there was no comment, she asked, "Ms. Barbara, what about you?"
And so, being honest, I answered that I had actually liked that because it made me truly pause on that word and think about it. Hopefully, that was a good teaching moment about how unique poetry is and that your own personal experience will guide your interpretation!
Back at the front of the classroom, Gayle pointed to words that were written on the board: Wring, Fling, Bling, Sing. "Let's talk about these for a while." And for the uninitiated (as I was), Gayle describes this as her writing process.
Wring: Wring the words out onto the paper like you're wringing out a washcloth. Just write it down!
Fling: Once it's on paper, fling out any words that aren't needed.
Bling: Now, add words that will really make your meaning stand out.
Sing: Finally, read it aloud and see how it sounds. Fling or Bling as needed.
As she described this, I laughed internally because I recognized my own writing process. Except I had always described it (skip this part if you're squeamish) as the vomit method. Throw it up on the paper and clean it up later. Leave it to a poet to be, well, more poetic about it!
And so it went. Kids coming to the front, reading their poems, a start-and-stop process to consider edits. "When you say 'ancestors,' I think it would be good to be more specific. What if you substituted 'Rosa Parks' for ancestors?"
"His color was dangerous," Gayle repeated from another poet. "What is dangerous?" she asked the teens. "A knife!" "A gun!" "A wild animal!" And with those words, she suggested illustrating the danger more concretely with a visual image that would strike the listener/reader.
As the lesson wound down, I gathered my things to leave. Did I mention there are no observers in this classroom? At the beginning of the lesson, the teacher had explained what she was looking for in an assignment that talked about regional differences and dialects in language. Before I could exit, I found myself surrounded by a group of three girls who asked me where I was from (North Carolina), how did I pronounce "pecan" (accent on the second syllable), what word do I use that generally isn't used in other parts of the country (y'all).
Signing off on their papers, I felt excited to be a part of their education even in such a small way, inspired to try this on my own, and happy to be a tiny part of Young Audiences' mission to reach kids through arts-integrated education. With Gayle's teaching style demonstrated, I am ready to Wring, Fling, Bling, and Sing on my own!
Written by Barbara Krebs,
Young Audiences volunteer and Sunburst Society member
A few weeks ago, I was happy to attend Young Audiences' third Art Crawl, held this year at the Single Carrot Theatre adjacent to YA's offices.
For those of you who have not attended this annual event, I highly encourage you to do so. First of all, you'll get to party with a group of fun, interesting, entertaining and dedicated folks. Secondly, you'll get to enjoy the learning environment presented to the kids who attend YA's Summer Arts & Learning Academy (SALA). And by that, I mean you'll act, play music and create artwork, which helps you understand your reading assignment or your math homework. And finally, you get to nosh on great hors-d'oeuvres and sip handcrafted cocktails created by some of YA's board members!
As always, I find myself splitting my time between talking to people I've met in the past, and meeting new folks who have interesting stories to tell. This time was no different. Balancing a plate of delicious appetizers from Copper Kitchen and a glass of wine provided by North Charles Fine Wine & Spirits, my husband and I soon found an empty spot at a table and introduced ourselves to Cori Daniel and Carlotta Williams. Turns out they were actually a teaching artist/teacher team who would later explore the book, Tar Beach, a story by artist Faith Ringgold recalling the dream adventure of a young girl flying high above her neighborhood in 1939 Harlem.
No matter the genre, the goal is making sure the children stay focused on the subject matter, sneakily presented as a lot of fun.
But I didn't know this yet. What I did find out though was how long they had been teaching, what they taught, and I got to observe their obvious enthusiasm for the children and learning. Their animated conversation about their SALA classroom was fascinating, as were their fond memories of inspiring kids to learn while the children used their imaginations to improve their reading scores.
Oh, did I just use inspire, imagine and improve in one sentence? Yes, I did, and that is, of course, no accident. Having witnessed teachers and children in action in several of SALA's classrooms this summer, and getting a chance to actually engage in it myself during Art Crawl is to truly understand how those three words create an arts-integrated learning environment that SALA uses to stem summer learning loss and bridge the Inspiration Gap.
In SALA's five-week summer classrooms, kids use a wide variety of art techniques to help them master core subjects – whether it's textile art to illustrate a story they are studying or rapping their multiplication tables or dancing to show character development. No matter the genre, the goal is making sure the children stay focused on the subject matter, sneakily presented as a lot of fun.
And so it was. In the segment taught by the second-grade teacher and teaching artist I had just met, we warmed up with some dance movements to highlight acting concepts. Then we looked at the pictures in the book and explained what we saw in them. Finally, we paired off and used our imaginations to explore a special place for us – one that made us feel warm and welcomed.
Next up was a math segment, guided by teaching artist Nadia Rea Morales and teacher Jose Hernandez. With a chart in the room illustrating ones as yellow, tens as red, and hundreds as blue, I created a Piet Mondrian "masterpiece."  The focus was to teach second-graders their ones, tens, and hundreds places and the relationships between digits and their place value. My own memory of learning such things was of boring, rote exercises that left me cold. Here, I hadn't had so much fun with scissors and construction paper in ages. And to think – I was learning math!
I ended the evening with teaching artist Christina Cook, who was surrounded by a variety of percussion instruments. As she demonstrated how these were used to sound out the syllables in words, I noticed how she was combining both math and vocabulary – a certain number of syllables to express a phrase, as she beat the rhythm on her drum.  She then handed out instruments and instructed us to follow along.
In addition, she said she used this technique to help the pre-K kids she taught to express their emotions. At first, she told us that the students mostly stuck to "happy" or "sad," but soon she noticed that, as the kids gained confidence with the percussion pieces, their emotional range expanded, too. Now they were "curious" and "frustrated" and "ecstatic." She admitted that she was impressed with the varying emotions the kids conveyed as well as the fact that they already had the vocabulary to communicate it. They had only needed the little nudge the music gave them to open up and express themselves more fully.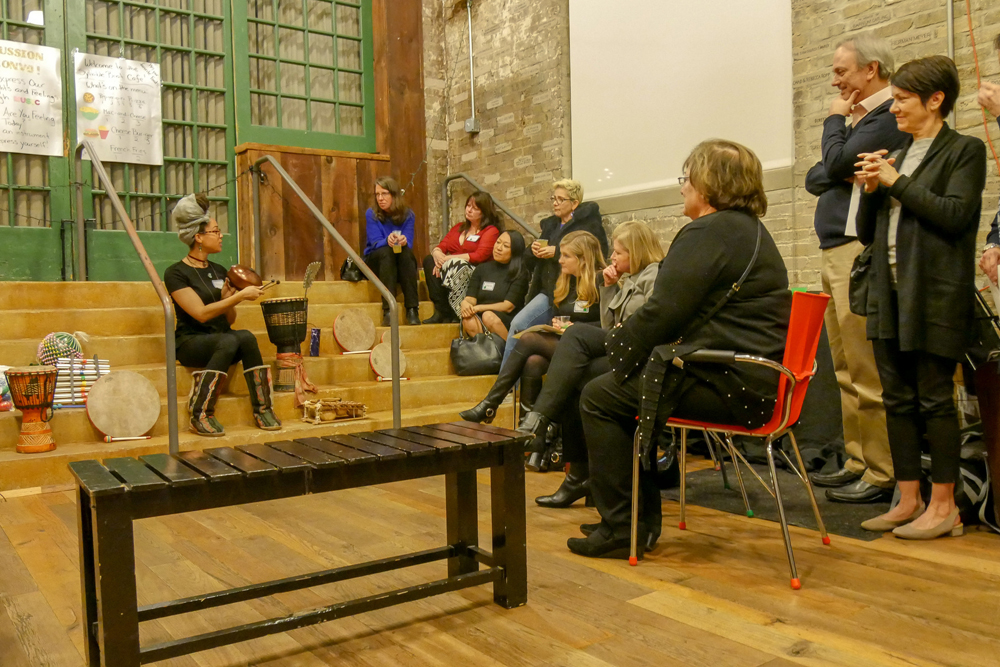 I have to admit – Inspire, Imagine, Improve is a mantra I can really get behind. Because each time I've attended Art Crawl, I come away inspired by all the people who donate time, expertise and/or money to make SALA a reality for 2,100 elementary school-age kids.  I can only imagine how much harder it would be for the children and their teachers if this summer program didn't exist. And I know that Young Audiences' aim to improve test scores and access to arts-integrated learning is something I'm behind 100 percent.
Wouldn't you like a little Inspire, Imagine, Improve in your life?  Come join us next year and I think you'll find your own stories of imagination that inspire you to improve. Until then, Happy Holidays!
Written by Barbara Krebs,
Young Audiences volunteer and Sunburst Society member
When I was studying for exams in college, I would often create a strong visual image to help me remember test items. For example – the 6 C's of credit? Character, capacity, capital, condition, collateral, cash flow. And while these concepts didn't flow naturally through my brain, the image I created did. There was a guy (character) leaning on a crutch (condition) with a cap on (capacity) standing in front of the Capitol Dome (capital) with a briefcase (collateral) full of dollar bills (cash flow).
At the time I didn't have a name for my study method – I just knew it worked for me. Years later I can now identify this as arts integration with an emphasis on a visual learning style.
And so I felt very at home as I toured Young Audiences' Summer Arts & Learning Academy (SALA) at Lyndhurst Elementary/Middle School in Baltimore. That's because each classroom was filled with young students learning in a variety of arts-integrated formats. I witnessed drama, rap songs, textile art, drawings, and writing—all used in conjunction with classwork such as a math problem or a reading assignment.
And while I knew, and the teachers knew, that these children were involved in thoughtful, hard work here—the serious business of arresting summer learning loss—the kids were focused on how much fun learning was. For example, in the PreK classroom, YA roster artist Mama Rashida of WombWork Productions and her teacher partner, Samantha Amey, worked with the students on a basic math problem: 1 + 2 = 3. Now, of course, you can force your brain to learn this by sheer rote repetition, but let's face it. How exciting is that?
But if you illustrate it with a story about the marketplace where you must buy one fruit (fruit sellers stand here to the right!) and then move on to the vegetable stalls where you need a tomato and a carrot (veggie vendors over here, please!), you set the stage for a fun learning experience.
As the kids moved excitedly from place to place to "fill" their baskets or "sell" their wares, the teacher illustrated what they were doing on the whiteboard. With their "shopping" completed, the children returned to their seats and began to answer questions about the math problem. At this point, the teacher pretended to be confused and wrote wrong answers on the board. As the children rushed to correct her, she had them explain what was wrong, until everyone agreed that the proper answer was three.
No, this wasn't bored voices droning "1 + 1 = 2," "2 + 2 = 4." Instead, these were kids excited about math, happy to supply the correct answer to a befuddled teacher and eager to learn more!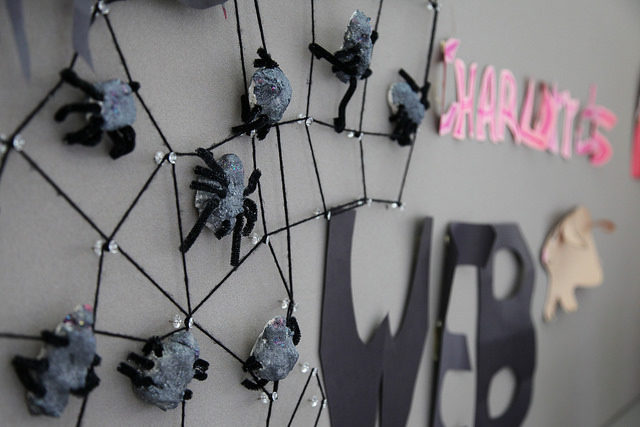 But what about English? A little later I stepped into a first-grade classroom where students were studying Charlotte's Web. Here, I found a mix of visual art and drama being used to tell the story. Several children took turns at the front of the classroom with a drawing they had made. After displaying it, they then acted out that portion in mime. Initially, the teacher set the scene, reminding the kids what was happening in the story at this point. After the child was done, the teacher asked the other students what they had observed as their classmate portrayed the scene.
Later, I noticed a bulletin board filled with tiny spiders made using a modified papier mache technique, with pipe cleaner legs. As I looked at this, one young girl came up to me and proudly told me about the paper collages they had made to illustrate what the barnyard looked like. "They're displayed outside the classroom. You have to see them!" Indeed, I did, and when I left, I enjoyed all the bright, cheery artwork that surrounded the door frame.
My next stop was a mixed class of second, third, and fourth graders who were working on both how to solve for an unknown number in a math problem and the nine's in the multiplication table. And here is where I definitely appreciated the arts-integrated approach. I remember learning the nine's and, oh, how I despised them.
But nobody seemed to hate nine's here. Maybe that's because as they chanted this portion of the multiplication table, not only did they give it a fun rap slant, but other classmates accompanied the song with percussion instruments. Why couldn't they have done that when I was in school?
My final stop was to a fourth-grade classroom where the lesson was to reinforce the basic math operations: addition, subtraction, multiplication, division. Here, too, I felt very at home, but this time it was because not only did I recognize the teaching artist, YA roster artist Femi the DriFish, who I've witnessed teaching on several occasions, but I actually recognized kids whom I had seen before. This heightened my sense of how compelling arts-integrated learning is in capturing kids' imaginations, so much so that they return for another summer of learning!
They rapped their way through a popular song remixed to describe math operations terms in word problems (equals to, divided by, times, added to, subtracted from, etc.) in preparation to shoot their own music video. As they practiced, I wondered what they would take away with them after this summer. Would they remember these lyrics and hum them in their head as they take a math quiz next year? Will they think about a marketplace full of vegetables and fruits and how math filled their baskets? Perhaps they'll draw a picture that will help them recall the story they're reading in class.
But most of all, will they remember the fun that accompanied all these math and English concepts? And that 1 + 2 = 3? I think so. And this funny little guy, leaning on his crutch with his cap, briefcase and dollar bills, standing in front of the Capitol agrees with me!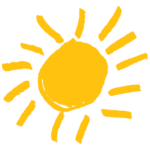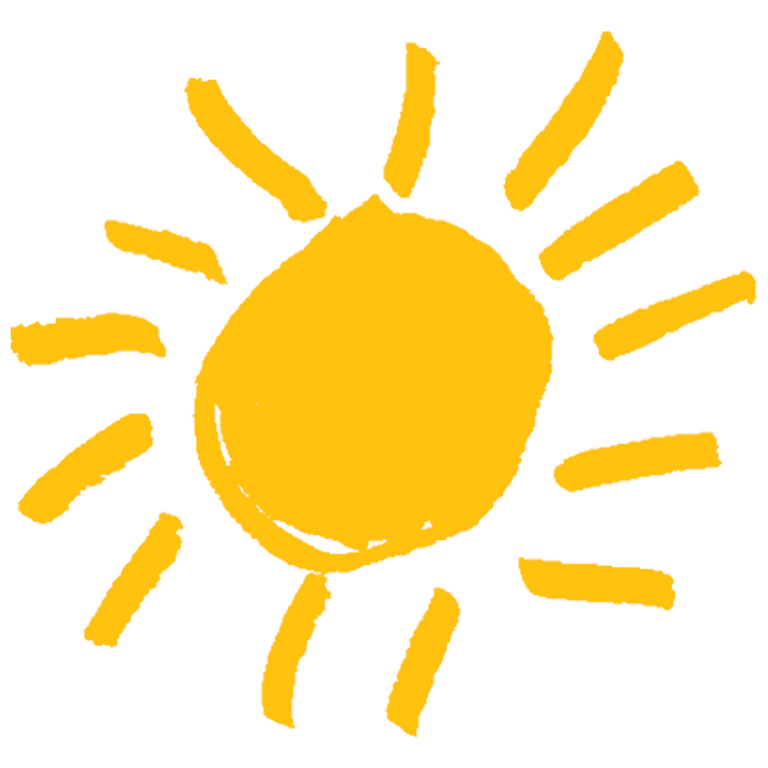 Learn more about our mission, our methods, and our future plans during a one-hour Meet Young Audiences event. In addition to hearing from the organization's leaders and getting an inside look into the amazing work we are doing around the state, one of our roster artists will share their amazing work with you and speak about how the arts complements and enriches classroom learning. Please reach out to Ingrid Murray, Individual Giving Manager, at ingrid@yamd.org for more information or call (855) 245-2787. Interested in hosting your own Meet Young Audiences event? Find out more here!
 Written by Jaime Clough
The 2nd grade Baltimore City Public Schools teacher spoke about how the tools she learned at Summer Arts & Learning Academy have informed her teaching and transformed her classroom at Young Audiences' annual Impact Breakfast earlier this month.
"Buffalo Woman, go," Mr. Briggs nudged me. I stepped onto the stage, took a deep breath, and began my lines. I was eight and dressed in a leather Native American dress with beads and fringe. I was shy, but I had done the work. By the morning of the production, I had read primary texts, written a research paper, and created my own costume. So, when I stepped onto that stage, I was not timid or nervous, but passionate and proud. This was my first experience with arts integration.
Fourteen years after my role as the Buffalo Woman, I was accepted into Teach for America Baltimore and began teaching at Margaret Brent Elementary/Middle School in Charles Village. My students are diverse. One walked with her family from Mexico to America. One, who cannot yet read, learns in the same space as another, who is reading Harry Potter. Some of my students come to school without having eaten since the night before. Others rarely have clean uniforms.
I knew what I wanted to do in my classroom, but I didn't have the tools to execute my ideas.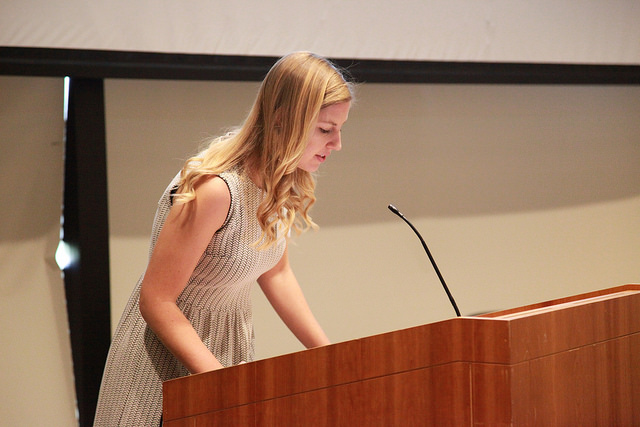 It was last March that I found Young Audiences. They matched me with fiber artist and Young Audiences teaching artist Katherine Dilworth, and together we went through a one-week professional development class. I learned how to use song and rap to teach students multiplication, and theatre to understand points of view in a story. During Summer Arts & Learning Academy, for the first time, I taught the way I had always wanted to teach.
As part of our literacy unit, students read City Green. To help kids understand the message of the book, "what makes a community?" and connect with the characters, Katherine and I planned a lesson around creating a community garden out of woven flowers. We'd use our art standards to create ABAB patterns and connect math standards for adding and subtracting the strings.  
We had one student in the class with lots of sensory difficulties. He had challenges with personal space, with expressing his emotions, and would often just put his head on his desk. As he began to wind thread through his loom to make his flower, I was ready for him to say, "It's too hard," and stomp away. After 15 minutes of weaving blues and purples, a pattern emerged. His flower was taking shape beautifully. He was adding and subtracting, counting his strings, and weaving the pattern. Absorbed in his work, he sat without prompting for the longest amount of time since I had known him. "Ms. Clough, look! Ms. Clough, I did it," he said. "I made my flower and it's so cool!" That was the spark.
From that moment on, my student was different. He raised his hand. He worked with partners. He asked questions about how to make his work better. Without that moment at the beginning of summer, we would not have seen a change in him. The arts gave both him and me the tools we needed to help him succeed.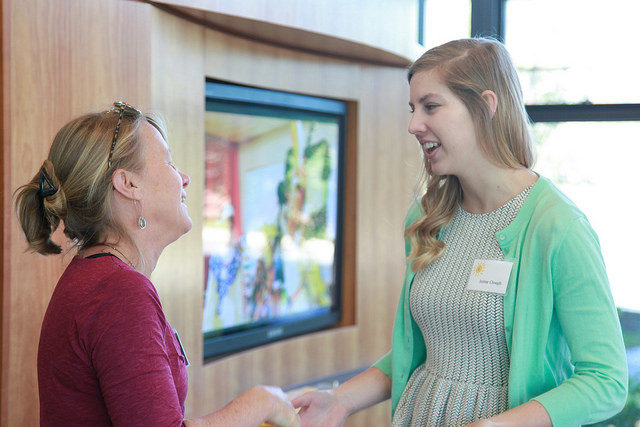 My classroom after SALA is a different world. Teaching through the arts doesn't just work for some students, it works for everyone. I have the highest engagement I have ever had, we are on track to grow two years in one school year as a class, and there is a spark in every single eye in the room when I write the lyrics to a "Ms. Clough Original" on the board. iReady, ANET, and DIBELS tests do not make us anxious anymore. When we walk into the computer lab, my students cheer because now they know they can do it. They are confident because they know their math and reading strategies from the songs, skits, and choreography we use every day. The successes and swagger among students in my classroom are because of the skills I gained while teaching with Young Audiences. Now, my dream is to be a principal so that I don't just have a classroom of sparks, but a whole school of them.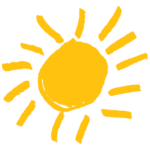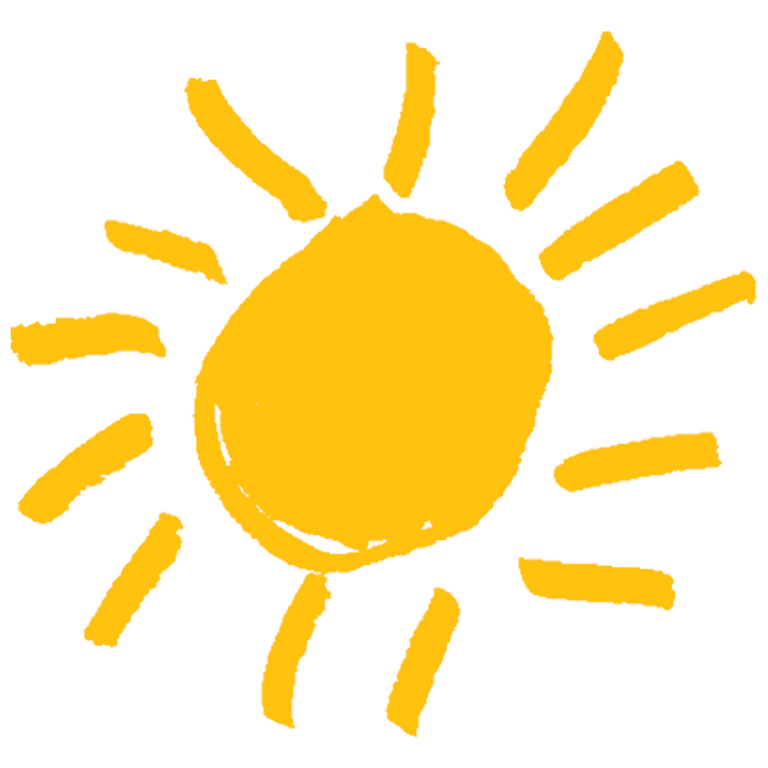 Jaime Clough is a 2nd Grade Teacher at Margaret Brent Elementary/Middle School and Summer Arts & Learning Academy Classroom Teacher. Her first-hand experience is a testament to the power of arts integration in the classroom and is an example of the incredible strides a class can take both emotionally and academically when children learn through the arts.
Written by Barbara Krebs,
Young Audiences volunteer and Sunburst Society member
Excited. Proud. Love. These are the three words that I heard repeatedly as I attended the unveiling of the mural that sixth-grade students from Brooklyn Park Middle School created. Though these are not words typically linked with a middle school science project, they help illustrate the magic that is produced when you combine science education with an arts-integrated approach to learning.
The collaboration between their science class and a professional teaching artist from Young Audiences, in partnership with Arts Empowered Minds Initiative (AEMI), resulted in a 10-foot science-themed mural, titled "Brooklyn Park Middle Students Research Cells and Viruses." As explained in the program, the mural "illustrates the dynamic, multifaceted interactions occurring thousands of times a day between cells, viruses, and living things."
I wasn't sure what to expect as I entered MedStar Harbor Hospital's Baum Auditorium in South Baltimore, but I immediately felt welcomed as a saxophone quartet from Brooklyn Park Middle played classical music. Their melodies formed a soothing backdrop to the animated conversations between medical personnel, artists, educators, politicians, parents, students, and others who had gathered for the event. A delightful spread of food – chicken satay, veggie trays, fruit and cheese platters, and even cupcakes for the kids – provided by the catering arm of the hospital, Morrison Healthcare, ensured that no one would walk away without all their senses satisfied.
But I digress.  As the reception wound to a close, the formal program began. First up, Stacie Sanders Evans, the President and CEO of Young Audiences. Reaching for a hospital analogy, she spoke of Young Audiences' facilitating role behind the scenes as the "spinal cord" or "backbone" that makes the arts-integrated learning possible in area schools. She described how Young Audiences partners with schools and other organizations like AEMI and the Arts Council of Anne Arundel County (who helped fund this project) to pair core curriculum teachers with professional teaching artists to enhance learning experiences in Maryland classrooms. Rather than rote learning, students explore academic subjects in any number of hands-on, arts-oriented ways.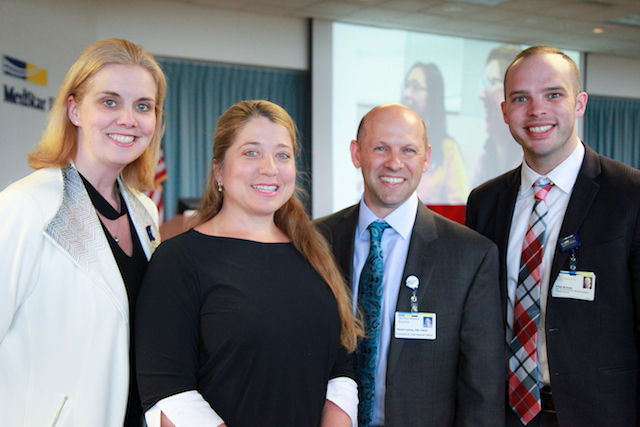 Next was Dr. Stuart Levine, President and Chief Medical Officer of MedStar Harbor Hospital. He told the young student artists just how meaningful their creation would be to the hospital, saying that it would be proudly displayed in MedStar's Emergency Department lobby. He talked about the VIPs in the room – the sixth graders – who had created this mural. He told them, "When community members come in for care, when they're sick, when they are at their moment of need, they're going to come into a place that has this incredibly hopeful work on the wall that's made with love by the kids of their community."
Then Dr. George Arlotto, Superintendent of Anne Arundel County Public Schools, spoke, stressing, "People who don't even know you love you; people who don't know you are proud of you." This was the legacy that, even as young tweens, they were creating for their community.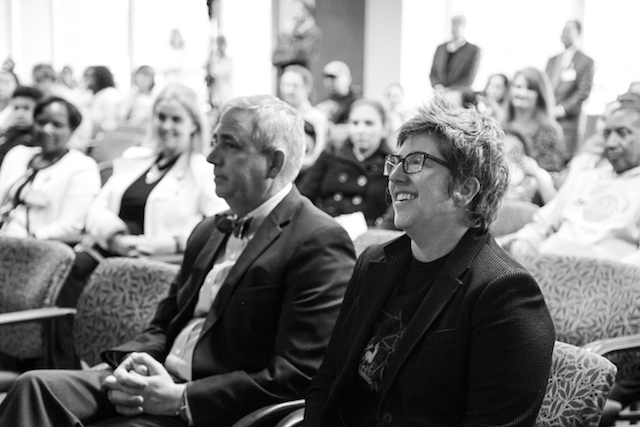 Following Dr. Arlotto, the two teachers who guided the kids through the process spoke. Lisa Radike, the Brooklyn Park Middle school science teacher, recalled that this process helped the kids learn more than just the science of cells, it also helped them "learn how to get along, how to work together." Amanda Pellerin is the Young Audiences artist who taught them to mold clay, shape it into the cells and viruses they were studying, and then assemble an entire mural from all the different parts they had imagined and created. As she looked proudly onto the students, she made sure they understood the significance of what they had done. "You now have artwork that is on permanent display– and you're not even out of sixth-grade yet!"
Finally, it was time for the unveiling of the mural. As the students and their teachers surrounded the mural, people leaned forward in their seats, many creeping to the front with cell phones to capture the much-anticipated moment. After a few more remarks from one of the students who reiterated the theme of how creating the artwork had required them to put aside differences and work together, the veil was cast off and everyone could finally see the finished artwork.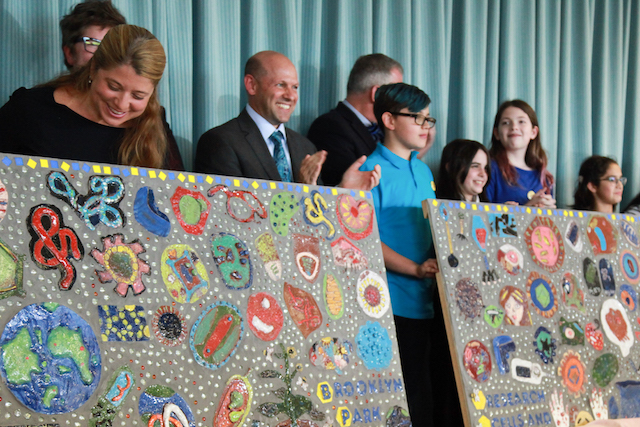 Brightly colored cells wiggled and squirmed their way across the surface. And like a visiting rock star, the mural sat "patiently" as a host of people came up to be photographed with it.
As the event wound down, I finally managed to talk to one of the students, asking simply, "How long did it take all of you to create this?" His answer pulled me out of my adult world of man-hours and Outlook schedules. "About 10 classes."
There it is simply. It's about the classes. It's about what you learn in the classes. It's about how the classes are taught. It's about the knowledge you retain from the classes. And though my own knowledge of sixth-grade biology is but a dim memory, it didn't take a Jonas Salk knowledge of cells to clearly see how wonderful this evening was. That these kids were excited about science. That the folks in attendance were proud of what the middle schoolers had learned and created. And that everyone loved the intersection of science and art.
You can feel a good story in your core- the sadness, the suspense, the bitterness, and the beauty. We are good at registering and reacting to all of the characters, events, and plot twists a story throws at us, but have you ever tried to look at one through the eyes of a mathematician? What would a story look like without words, without pictures, its content plotted on a graph?
YA teaching artist and storyteller TAHIRA and Amy Goodman, Math Department Chair at North County High School (NCHS), collaborated in the development of a unique residency through the Teaching Artist Institute (TAI) to show just that. NCHS is one of 12 in Northern Anne Arundel County benefiting from professional development like TAI, in-school arts integration, and out-of-school arts programming as part of the Arts Empowered Minds Initiative (AEMI), a partnership aimed at ensuring equitable access to the arts for Northern Anne Arundel County Public Schools.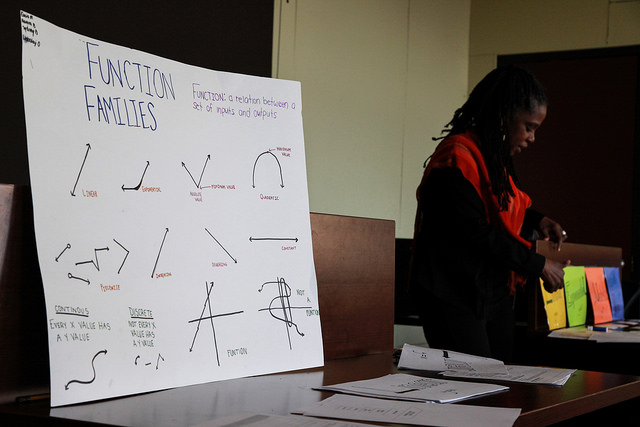 TAHIRA: What happened that surprised you?
Student: As you were telling the story, the story was compared to math- because events were escalating like in a graph. And then when events took a downfall in the story, the graph started decreasing.
TAHIRA: Then the class had to describe what function the story plotted out, right?
Student: Exponential.
TAHIRA: Yeah, it was exponential. And you had a reaction to all that. What did you say? Do you remember what you said?
Student: I was surprised at how the story could be compared to math.
Each student was asked to illustrate why they chose a particular function over another to describe the characteristics of the story. Could there be more than one answer? Two students each shared their understanding of how a story unfolded by taking turns plotting it out on the same graph, compared and contrasted their unique perspectives, then decided if both functions made sense or if one more accurately described the story than the other.
TAHIRA: Did it make you look at storytelling differently? Or math differently- or help you understand the math?
Student: Yeah, it helped me understand how the graph can be compared to anything such as… in the story, when everything goes wrong, the graph decreases and it shows how it takes a negative effect.
TAHIRA: Exactly. And then?
Student: And then everything comes back together and that creates a positive effect.
TAHIRA: And we talked about the parts of a story: There's a beginning…
Student: A middle and an end… when there's a conflict, the two forces, the positive and the negative collide and whoever wins- that's how the story plays out.
TAHIRA: Exactly, how it plays out- that's right, it's called a resolution.
The Arts Empowered Minds Initiative is the combined effort of many groups and individuals seeking to build a movement for increased equity through the arts in their community. With funding from the NEA in 2016, we built partnerships with Anne Arundel County Public Schools (AACPS), Chesapeake Arts Center (CAC), Arts Education in Maryland Schools Alliance (AEMS), Arts Council of Anne Arundel County, and University of Maryland – Baltimore County (UMBC).
Young Audiences' Summer Arts & Learning Academy (SALA), the innovative, free, five-week arts-integration program for Baltimore City Public Schools students, will double in size this summer, expanding to eight sites and serving nearly 2,200 students across Baltimore City.
New data show that arts integration at SALA reduces summer learning loss and improves academic performance.
The Academy will be held July 9 to August 10, 2018, at eight sites: Commodore John Rodgers Elementary, Lakeland Elementary/Middle, Steuart Hill Academic Academy, Lyndhurst Elementary, Sinclair Lane Elementary, Gardenville Elementary, Edgecombe Circle Elementary and the newly renovated and expanded Dorothy I. Height Elementary. Now in its fourth year, the program engages students in hands-on creativity while exploring math and literacy with local teaching artists and teachers.
Students will participate directly with 86 teaching artists (local, working artists trained for classroom instruction) – twice as many artists as last year – working in a variety of mediums including painting, songwriting, poetry, illustration, dance, music, photography, playwriting, and filmmaking. Students might find themselves writing songs to summarize main ideas in a story with musician Lisa Mathews, or creating dance sequences to remember the steps in solving math word problems with dancer Cynthia Chavez.
Other local artists teaching at the Academy include Valerie Branch (dance), Scott Paynter (reggae musician), Mama Sallah (ceramics), Femi the Drifish (slam poetry), and Marian McLaughlin (guitar).
Along with the Academy's expansion this year comes new opportunities for students through various partnerships, including athletics with Morgan State University and one on one reading tutoring with Reading Partners. These expanded offerings will be available to all students, with opportunities to participate in sports, to learn to code, and to have one-on-one literacy tutoring. Students will also perform at Artscape in July, Baltimore's largest arts festival, and at pop-up performances around the city. SALA applications opened March 1.
"Every single day, I see how infusing creativity into learning transforms classrooms and children," said Young Audiences President and CEO Stacie Sanders Evans. "We're overjoyed to know that the Summer Arts & Learning Academy's expansion this summer will help us reach twice as many students with arts integration—an approach that research shows works, especially in summer months."
Data released in January 2018 by City Schools and Young Audiences show that students in 2017's Summer Arts & Learning Academy significantly reduced summer learning loss in reading and math, and improved writing skills. Summer learning loss—when students lose academic ground over the summer months—is among the most difficult challenges facing the Baltimore school district and many others across the country.
"Young Audiences' summer program gives students the chance to express themselves creatively, pursue their interests, and be inspired to reach their potential, things that we've also been focusing on this school year as part of our blueprint for success," said Dr. Sonja Brookins Santelises, CEO of Baltimore City Public Schools. "We're excited by our partnership with Young Audiences and the positive results our students have seen in the program in past years. By expanding the program this coming summer, more students can enroll and will start next school year off stronger."
City Schools study shows that in reading, third through fifth grade SALA attendees experienced negligible summer learning loss (less than one percentile point) in i-Ready standardized testing compared with more than three percentile points lost by all other students in the district. In math, third through fifth graders regularly attending SALA lost only 3.77 percentile points in i-Ready standardized testing. City Schools students with no summer activities lost nearly twice that, at an average of 5.77 percentile points.
According to an analysis by Young Audiences, all third through fifth grade SALA attendees improved their writing content and structure in pre to post testing. Particularly strong improvements came from students furthest behind their grade level. In addition to the academics, SALA experienced the highest rate of attendance of any elementary summer programming in the district.
Click here for more information on Young Audiences Summer Arts & Learning Academy.
Links to complete Young Audiences and City Schools evaluations:
What do you call a collection of two or more equations using the same set of unknowns? Can you identify the variables and constants in a mathematic expression? Why would a person ever use the Method of Matrices? If you were an Algebra student, you'd be committing these definitions, methods, and terms to memory, filling your lexicon with the language of math.
"If you don't use it, you'll lose it." Any veteran language learner will tell you that old adage. Being challenged to use their new vocabulary in a different context is one way to help students become (and remain) fluent. To encourage this, Amy Goodman, Math Department Chair of North County High School (NCHS) in Northern Anne Arundel County, coordinated an artist residency developed by YA artist and spoken word poet Femi the DriFish in collaboration with the school's Algebra 1 team. Artist residencies, like this one, came to the school thanks to the Arts Empowered Minds Initiative.
Through the initiative, schools in Northern Anne Arundel County are learning to use arts integration as a strategy for boosting student achievement and engagement. Classroom teachers and school administrators are building sustainable partnerships with teaching artists and arts organizations that inspire students and use the creative process to make meaningful, real-world connections to the curriculum.
"Mr. Fish!" NCHS students announced Femi the DriFish's arrival. The artist is a master of illustrating the meaning of words through poetry and, through literary guidance, builds a strong rapport with the young scholars. For this residency, Femi worked with students to write poems within small groups on the topic where I'm from.
The 9th graders brainstormed over how to use the algebraic vocabulary words scribed onto the backs of index cards to convey their thoughts: function, common difference, output, relation. The language usually reserved for Algebra class became double entendres in lyrics carrying messages of citizenship, diversity, and pride. "If you use the terms correctly," Femi said, "you remember the definition. You retain it and can access it later."
"Like parallel lines, some soulmates never meet," one student revealed in his group's performance. Some soloists represented their classmates. "Word pairs are like the relation to life, we are all like terms so we don't have to fight."
NCHS Algebra teacher Mrs. Russell was pleasantly surprised by the outpouring of creativity. "I'm seeing different things and personalities from kids that I don't normally see," the teacher said. "They're a lot more excited than I thought they'd be!"
As they industriously crafted metaphors and similes, cleverly using their new vocabulary as figurative language, debate arose over whether or not the verses should rhyme. "It never has to rhyme," Femi advised. "It's how you perform it that gives it flavor." He taught the children to confidently use body language by analyzing performing techniques and discussing what is needed to relay a message. "It's all about how to effectively communicate with your audience," Femi said. Scholars rehearsed the delivery of their collaborative poetry to truly express their emotions, communicate their history, and challenge the audience to walk in their shoes.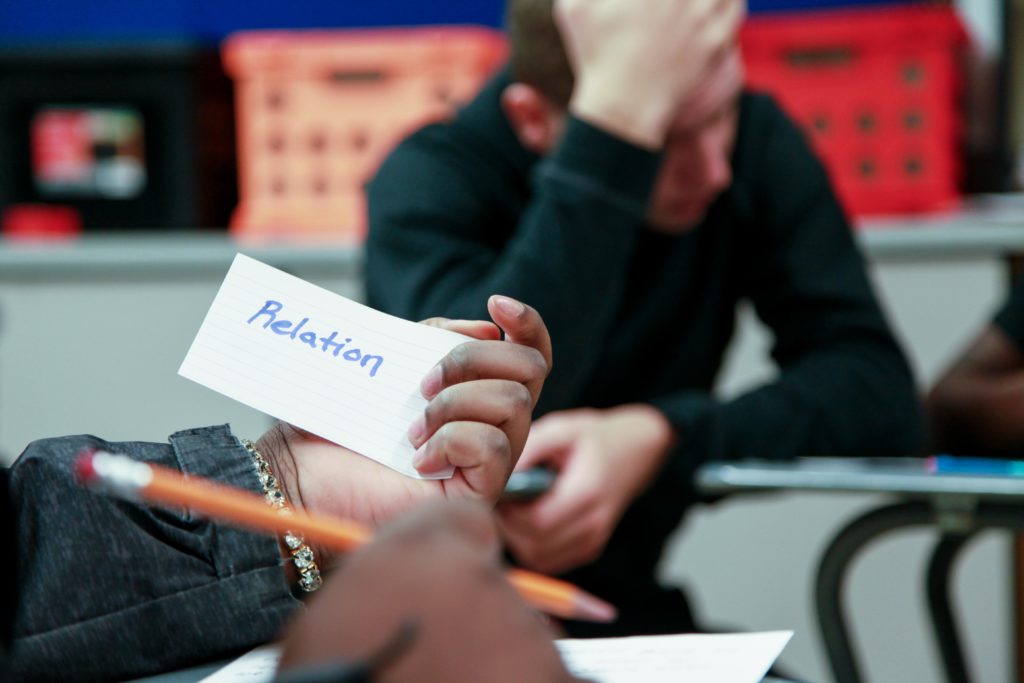 The students did not disappoint. "Like parallel lines, some soulmates never meet," one student revealed in his group's performance. Most groups selected just a few students to deliver their words in the culminating performance. Some soloists represented their classmates. "Word pairs are like the relation to life, we are all like terms so we don't have to fight." Performers garnered many cheers and rousing support from the teachers and peers populating the auditorium. And everyone involved in the residency left with a much stronger understanding of algebraic vocabulary and a knowledge of terms they won't soon forget.
So, what do you call a collection of two or more equations with the same set of unknowns? A system. You call it a system.
The Arts Empowered Minds Initiative is the combined effort of many groups and individuals seeking to build a movement for increased equity through the arts in their community. With funding from the NEA in 2016, we built partnerships with Anne Arundel County Public Schools (AACPS), Chesapeake Arts Center (CAC), Arts Education in Maryland Schools Alliance (AEMS), Arts Council of Anne Arundel County, and University of Maryland – Baltimore County (UMBC).
"Will I ever use this in real life?" A teacher could rattle off the professional fields that a mathematician could enter after pursuing a degree when students challenge, "Why do we have to learn this?" Or, they could show them what they can do now with the skills they are practicing. The arts are good for that, and YA roster artist Kevin Martin is an expert at teaching students how to employ their new mathematical knowledge in a very cool and tangible, real-world way.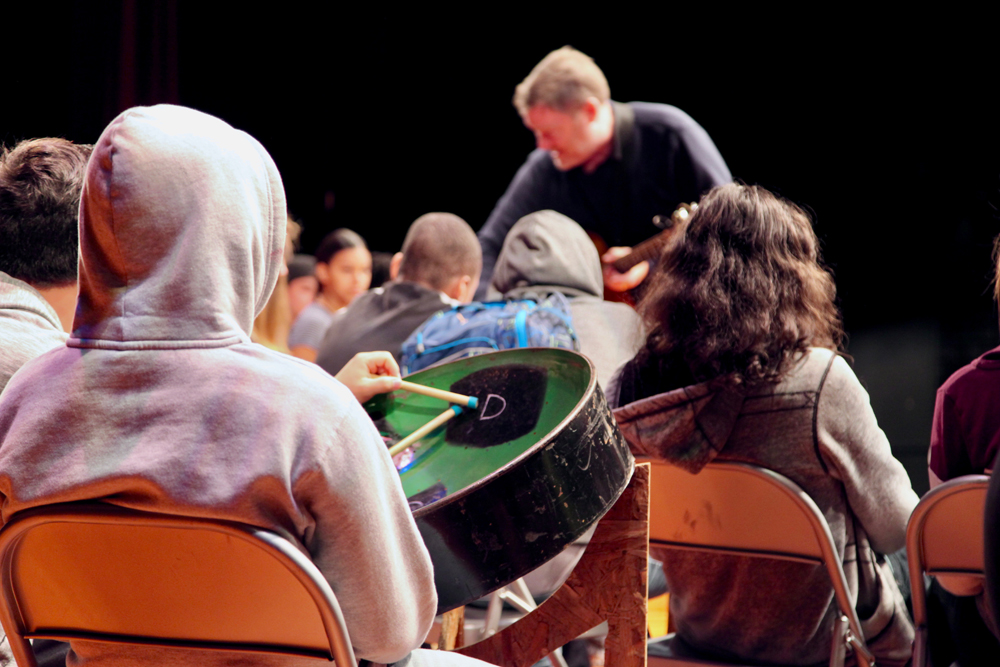 Kevin has been building and playing steel drums, also called steel pans, for more than 20 years. Through his company Rockcreek Steel Drums, the artist has built thousands of steel drum instruments for clients across the world, and now, he is sharing this knowledge through a residency with students at North County High School (NCHS) in Anne Arundel County. "A steel pan is really a musical sculpture," says Kevin. These sculptures are tuned instruments that have been methodically hammered into a very specific shape and thickness from the flat base of a steel barrel.
This residency came to NCHS thanks to professional development for teachers in arts integration as part of The Arts Empowered Minds Initiative. Through the initiative, schools are learning to use arts integration as a strategy for boosting student achievement and engagement. Classroom teachers and school administrators are building sustainable partnerships with teaching artists and arts organizations that inspire students and use the creative process to make meaningful, real-world connections to the curriculum.
Kevin worked with 9th grade algebra teacher Sarah Dobry to teach students how steel drum design and fabrication requires the same mathematical concepts explained in their textbooks.
Using careful measurements and the same tools and algebraic formulas that Kevin uses in his shop, the students learn to graph a drum's rate of change to see how the sides of the pan slope inwards at different rates. Because they're not just learning, but applying the strategies and formulas they've learned, students appreciate the instrument's transformation from flat to concave and the depth and location of each depression.
Of course, the class also learned to play the instruments. Pairs of students learned where to hit specific notes on the pan and how to control their drumsticks to achieve different effects, rolling them over a note to extend a sound, or striking it purposefully.
As the students gained confidence, they took turns demonstrating their ability. Ms. Dobry was impressed by her class' excitement and eagerness to participate, "The kids who are usually silent in math have been volunteering to be the example this week."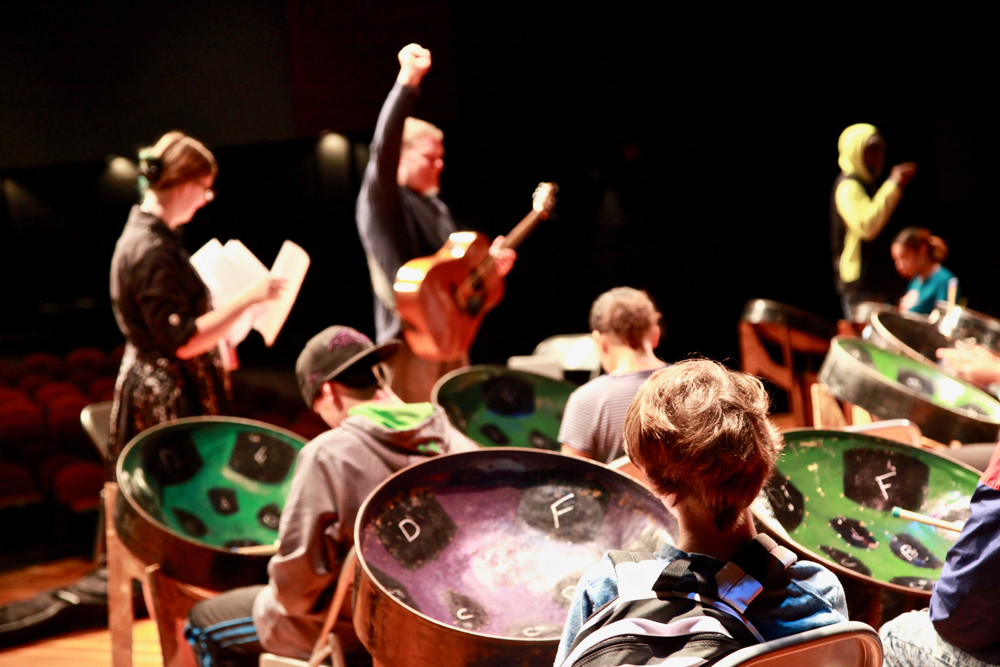 "As a math guy, I enjoy the challenge of learning the notes and shaping the metal," Kevin told Trumpf Express, a professional magazine published for the sheet metal processing trade. "As a musician, I try to recreate the essence of sound." The artist gave Ms. Dobry's ninth graders an introduction to what's possible when you combine an academic skill with the art form you love. And perhaps some of them even discovered a new talent.
The Arts Empowered Minds Initiative is the combined effort of many groups and individuals seeking to build a movement for increased equity through the arts in their community. With funding from the NEA in 2016, we built partnerships with Anne Arundel County Public Schools (AACPS), Chesapeake Arts Center (CAC), Arts Education in Maryland Schools Alliance (AEMS), Arts Council of Anne Arundel County, and University of Maryland – Baltimore County (UMBC).