By Dr. Sherrie Norwitz, Instrumental String Music Teacher, Thomas Jefferson Elementary Middle
Art and aesthetics are crucial to the foundation of society. Arts education provides children the opportunity to be exposed to–and develop their own–appreciation of beauty in their world. Art is a way to transmit the values of the society. Through the arts, children learn about their community, helping to provide them with a context for their lives within their communities, and become active participants in helping to create their communities. Arts experiences open doors to children, allowing them to say, "I am touched by this. I am a part of this beauty. I created this. I shared my creation. This has meaning to me."
Sequential education in the arts is a crucial component in a child's education. Learning about and through the arts gives students ownership of skills and knowledge to become active participants in society through creative expression and communication.
It is important to me for students to experience the integration of the arts across the curriculum and the varying natural connections that are inherent between the arts and their core curriculum subjects. This arts integration approach supports the learning of core curriculum subjects, reaches a wide-range of learners, provides authentic real world experiences that directly involve students in the act of creating, provides opportunities for collaboration, and supports the development of 21st Century Skills through the Common Core and Career Ready Standards.
Through our partnerships with Arts Every Day and Young Audiences, our school community is finding its way in creating a comprehensive arts integration program. With the support of our principal, Ms. Henry, we feel that we have a very strong foundation for our program's growth and development.
This year we began by extending the arts-integrated approach to learning beyond the artist-in-residence program which we had previously brought to our students. Working with Young Audiences, we created a Resident Teaching Artist position for the year to allow for the continued presence of a teaching artist within our school. Our Resident Teaching Artist, Young Audiences artist Kwame Opare, performed with his ensemble, DishiBem G.R.O.W. during school-wide assemblies, and provided workshops to fifth- through eighth-grade students. Kwame also provided our teachers professional development in arts integration to help answer their questions, provide guidance, calm apprehensions, and worked with teachers during collaborative teaching days to bring arts integration directly to the students in their classrooms.
Partnering with Young Audiences to provide such a variety of programs throughout the year ensured that we incorporated arts integration best practices and included all of our grade levels–preschool to grade 8–in these art experiences. Being an International Baccalaureate School (IB) also helped support our way forward in the interdisciplinary learning of arts integration.
Arts integration and arts-enhanced learning is happening in many ways in different classes. Among our activities, students have drawn Grecian vases as part of their Ancient Civilizations unit, they have dramatized stories through dance, applied music notation to learning fractions, used music to help understand number columns, made connections between literature and music while dancing "The Nutcracker," and created a paper Freedom Quilt.
We have developed a rhythm of arts integration at Thomas Jefferson. We are working to create an environment where everywhere you look, the arts are happening, where the arts are for everyone at the school and where connections with the arts can be made throughout a student's day. Having a sense of continuity of arts experiences helps create a feeling of expectation of such experiences for both students and teachers. There is a developing sense school-wide that the arts and arts integration "is what we do." We look to have the arts not as "special" but as a continuing presence in our daily school life, where learning can take place through the arts. There is something for everyone–for students in all grades covering a variety of subjects, and for teachers to feel supported with our teaching artists and our partnerships with Arts Every Day and Young Audiences.
Artistic energy invigorates the school environment, developing our professional skills as teachers and invigorating learning for students.
Thomas Jefferson Elementary Middle School is an IB World School, an Arts Every Day School, and a Maryland Green School. Learn more online here. 
Young Audiences programs teach students about teamwork, tap into their creativity and imagination, and increase their understanding of other cultures through performances and artist-in-residence programs. We believe it is critical to share these opportunities with all students in Maryland.
In 2012-2013, Young Audiences reserved $102,847 of contributed funds to provide deeply-discounted programs for special needs and Title I schools in Baltimore City and rural Maryland counties through the Access for All Initiative.
To expand access in the city, public and private funds were matched with funds from the Baltimore City school district and the Maryland State Arts Council, which allowed us to serve more than 14,500 youth in 53 high-need schools, where on average 87.5 percent of the student body is eligible for free and reduced-price meals.
Blaustein Philanthropic Group, one of the contributors to this initiative, has significantly increased its support of Young Audiences to help lower the financial barrier to the arts.
Lara Hall, Blaustein Philanthropic Group program officer, said that supporting Young Audiences and Access for All allows the group to meet their goals of increasing their support of educational arts experiences in Baltimore City.
"The Blaustein family has a long history as patrons of the arts," Lara said. "As the younger generation has come into leadership roles at the foundation, they have posed the question: How do we use the arts as a spark to make sure kids have the best educational experience in Baltimore?"
Blaustein chose Young Audiences as the strongest nonprofit candidate to accomplish this work.
"Supporting Young Audiences' Access for All Initiative is the most efficient way for Blaustein Philanthropic Group to support more arts education in the city," Lara said.
Learn more about the Access for All Initiative.
Read about the work Young Audiences supporters have helped make possible in our 2013 Annual Report.
As a former preschool and kindergarten teacher, Jen Sachs often used music and theatre to engage her students. Although Jen lacked formal training in the arts or arts integration, she sang and used costumes and characters to encourage her students to participate in lessons. These small changes made a big impact.
"The benefits for my students were amazing," Jen said. "They learned and obtained concepts quicker. They were able to express themselves better. They loved coming to school and appreciated new experiences."
Seeing the impact of the arts on students is one of the reasons Jen was drawn to Young Audiences and became a Sunburst Society member in 2010.
Jen is particularly excited that Young Audiences has expanded into early learning classrooms as the Maryland sponsor of the Wolf Trap Institute's Early Learning Through the Arts.
"The arts programs that include music, visual arts, and theatre are extremely important for developing minds," Jen said. "Children are learning as they are doing. Whether they are building vocabulary through music and theatre or demonstrating the acquisition of knowledge through dance and movement—they are gaining vital skills for life and learning."
Using Wolf Trap's respected residency model, Young Audiences is bringing programs to Baltimore City preschool and kindergarten classrooms by off-setting the cost with community support.
"Low-income students often have limited opportunities to experience the arts in school," Jen said. "Young Audiences' programs fill this void and do more than teach students how to sing, act, dance, or play an instrument—they teach them to believe in themselves."
Read about the work Young Audiences supporters have helped make possible in our 2013 Annual Report.
"Wow, this is the first time I have ever felt artistic!"
Young Audiences ceramic artist Amanda Pellerin overheard this proclamation from a student during an artist-in-residence program. The student made this statement to no one in particular, but Amanda asked him to explain.
"He said he never thought he could do art, so he had never opted to take an arts class before," Amanda said.
Instances like these, when the arts change how a student thinks of him or herself, are the reason why Amanda is committed to sharing her art and skills with students. "I work for those moments when kids exclaim to the world: I get it. I'm special. This is making me see myself in a different way," Amanda said.
Amanda partners with Young Audiences to bring arts experiences to Maryland students—regardless of the school's budget limitations. Young Audiences' Access for All Initiative was created to lower the financial barrier for Title I Baltimore City Public Schools interested in bringing a Young Audiences program to their students.
"I live in Baltimore and personally feel really good when I'm working on a residency that is funded by Access for All," Amanda said. "I'm directly affecting my community—I feel a special pride."
This pride has propelled Amanda to donate to Young Audiences and join the many community members who invest in our work.
"I believe in the mission," Amanda said. "As I've watched Young Audiences grow, my work has grown exponentially. I've realized that it's very satisfying for me to share my skills and my knowledge with someone—to see the light go on inside of someone's head as they turn an idea into a clay project."
Learn more about Amanda and her artist-in-residence and teacher professional development workshop offerings.
Read about the work Young Audiences supporters have helped make possible in our 2013 Annual Report.
By Stacie Sanders Evans, Young Audiences/Arts for Learning Executive Director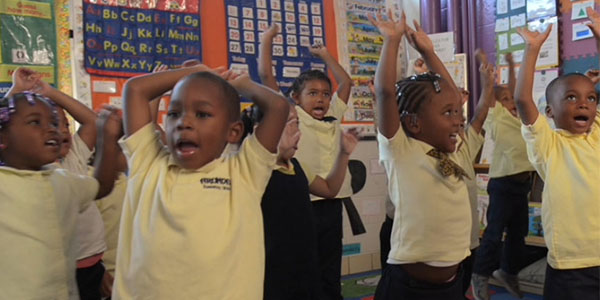 I recently took a foundation representative to see what our Maryland Wolf Trap Early Learning Through the Arts program looks like when an artist is in a preschool classroom.
Afterward the representative asked me a question that has stuck with me: "Why does this program really matter–what real difference is it going to make for kids?"
If you are like me, life hits you weeks later and you always have a better answer when the moment has long passed. I have my answer now.
Arts-integrated education programs, like the residencies offered through Maryland Wolf Trap, matter to Christopher. After we observed the lesson, the teacher, Ms. Miles, and teaching artist and musician Sue Trainor debriefed, discussing what worked (and didn't) during that day's lesson. In this session, Ms. Miles had taken the lead in incorporating music and drama into the literacy lesson with support from Sue. Both Sue and Ms. Miles mentioned what a big moment it was for Christopher to fully participate in the lesson centered on the book the class was reading.
Christopher had played the part of the goat during the reading, and held his friends' hands while traveling across the room singing. When the children were asked to sit, he joined his friends on the carpet to reflect on the elements of the lesson they liked the best using the song prompt: "That's what I like, uh-huh, that's what I like, uh-huh." Each student was asked to show what they had liked about the lesson by adding a movement to the end of the song. Christopher stayed with the group and listened intently as his peers shared.
I actually didn't know who Ms. Miles was referring to because Christopher looked no different from any other student in the class. But today had been an important step for Christopher, who often finds it difficult to pay attention, and wanders away from the group when he is distracted by the task at hand. Today Christopher was engaged and the lesson kept his interest. In these formative years, children develop a strong sense of how they feel about learning, school, and themselves. These impressions can hinder or fuel a child's confidence and achievement for years to come. Today we were the fuel.
This program matters to Ms. Miles who said tearfully that Christopher's success was the moment she lived for as a teacher. "These shining moments keep you going," she said.
Ms. Miles is an incredibly gifted teacher whose dedication to her students is evident from the moment you walk into her classroom. But, like every great teacher, she is hungry for these moments–and this is what motivated her to bring this 16-session Wolf Trap residency program into her classroom and fully take advantage of the embedded professional development.
Ms. Miles now has more confidence and skill in using singing, rhythm, and creative drama to actively engage children in stories. She has an arsenal of arts strategies that keep 25 little bodies and minds fully engaged in her lessons. Instead of a simple read aloud of a book she is using the arts to bring these stories to life.
This program matters to all the children in the classroom. What Ms. Miles and other participating teachers find is that these kinds of arts-integrated lessons stick–children are better able to recall the sequence of events and characters of the story, comprehend the story, and recognize the new words being introduced in the story. More importantly, students in our program have an increased interest in books and stories. All of these skills are essential to school readiness.
Fortunately, these moments also matter to the foundation who joined us in the classroom, which recently granted us an award that will make it possible for us to reach seven additional high-need Baltimore City preschool classrooms and 175 more early learners through the arts.
Learn more about the Maryland Wolf Trap Early Learning Through the Arts program here.
By Juernene Bass, Western High School alumna
I was very excited to take time away from work to be a part of a Young Audiences clay mural residency at my alma mater, Western High School, in October. Being a proud alumna from the Class of 1975, the program was a great example of our school motto, "Lucem Accepimus, Lucem Demus," meaning: "We have received light, let us give forth light." The mural project connected alumnae and current students with the rich history of our school. We had the chance to share our experiences and look back to historic articles, yearbooks, and artwork to create a piece that we could share with the whole Western community.
During the course of the project I was able to spend quality time interacting with my sister Westernites, grades nine through 12, as we learned from Young Audiences ceramic artist Amanda Pellerin how to create a clay mural depicting Western's 170-year-long history of rigorous studies in arts, sciences, literature, drama, and fashion.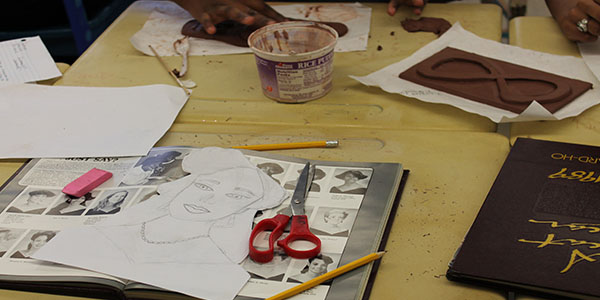 Amanda invited me to share my memories of Western during the 1970s with the current students. They found my reflections to be interesting, humorous, and sometimes unbelievable. I shared how Western taught me the academics that prepared me for college, the skills I needed to succeed in the workforce, and what studies I am using today to progress in my career.
As I mingled with the students and got to know them one-on-one, I learned that Western students are very creative and artistic. They were also knowledgeable about Western's history, and many expressed great pride in attending the school. They used their imaginations and pulled their ideas together with the decades of historical facts and traced, drew, carved, and painted the clay pieces to form a magnificent treasure. Clay tiles depicted the different school buildings to illustrate the school's various locations in Baltimore City over the years. Other clay pieces showed girls playing basketball, reading books, and graduating in cap and gown.
The clay mural project brought multiple classes of students and teachers together, giving them the opportunity to share their ideas and creativity while learning more about working with clay, Western, and each other. It allowed the students a chance to experience an art form which they may not have been exposed to before for lack of materials and time. I am sure the students enjoyed sharing this experience with one another.
Many sincere thanks to everyone who made this happen!
Read more about this project from a student participant, Nadine, who wrote a reflection of the project in January.
By Morgan Lyons, Kindergarten Teacher, William S. Baer School
When I first heard that an artist-in-residence program was coming to my school, William S. Baer, I was excited. I learned about arts integration while I was studying education in college and wanted to find a way to use the arts in my teaching, especially when I decided I wanted to teach special education. I feel that the arts are an amazing pathway, particularly for kids who might not necessarily understand the material when taught in a more traditional way. When I found out that this opportunity was being offered at my school, I was thrilled; I jumped at the opportunity.
As a relatively new teacher, I knew I wanted to integrate the arts into the curriculum in some way, I just didn't know how. Our curriculum is structure- and task analysis-based and there did not seem to be a lot of room for the arts, but Sue Trainor, the Wolf Trap-trained artist who I worked with during the 16-session residency, taught me how to make arts integration work for our program and how it could help our students.
The program began with Sue showing me her lesson plan, which we used for our first session with students. We continued to use Sue's plans for a few weeks. After every lesson we talked about how it went–what the high point was and what we could work on for the next session. As the program went on, it developed and changed so that I was giving more feedback and Sue was asking me more questions. I began to take more of the lead, and I grew from a consultant role on lesson plans, to writing the lesson plans with Sue, to creating the whole lesson myself. This was a great way for me to learn because I got to watch Sue, I collaborated, and then it was all me.
Sue taught me a lot of arts integration techniques that I continue to use every day in my teaching. We incorporate music and visual representation throughout the day which makes for more engaging activities. We sing through transitions and when we're teaching new material, such as shapes, letters, colors, and numbers.
One thing Sue and I collaborated on was the idea of using a mirror with my students. My students are kindergartners with autism. Students with autism often have a skewed perception of themselves and have a hard time making a mind-body connection. The mirror's reflection serves as an additional visual for them and provides a form of visual feedback. Rather than me just saying, "Touch your head," they actually see themselves do that motion and make the connection.
Sue also taught me what has become the go-to opening sequence for our classroom. It's a series of two or three short songs that integrate body movement, beat, and tone. This new practice has had a huge effect on my students, but it had an enormous impact on one student in particular.
See a sample arts-integrated lesson plan created by Morgan and Sue here!
Brittany was new to our school this year. She had never had a school experience, and she was very quiet and kept to herself. Sue came in and introduced the song and movement sequence to the students, and she asked them to mirror her actions. When Sue told students to "Show me your hand," students were asked to mirror Sue by raising their hands like she had raised hers. Brittany took to that, and she was soon asking for the song specifically by using sign language, which she had no exposure to before. Brittany was communicating and expressing her desire for the song; she was actively participating and engaging with her eyes. Had Sue not introduced this activity, Brittany may not have engaged with the group for quite some time. She has really benefited from the social lessons Sue brought to our classroom during this program.
My hope is that this experience and opportunity is available to as many teachers as possible, regardless of their academic area, because it has helped my classroom beyond words. I'm not only a personal advocate for the arts but an advocate for the arts in special needs programs.
We, as teachers, are here for the students, and whatever can benefit the students is what's most important. My kids are changing in front of my eyes because of what I've learned through this residency program. Because I gave it a chance and put in a little extra planning time, I have arts-integrated activities that keep my students engaged and entertained while they are learning.
To other teachers: Give it a try and you won't regret it.
By Nadine Elsigal, senior at Western High School
As a senior at Western High School I had the privilege of being involved in a clay mural project with Young Audiences artist Amanda Pellerin in October. Working with Ms. Amanda during the residency was such a pleasure because clay is a medium I don't often get to use in my art classes at Western. This project was new territory for me since most of my school projects are created digitally and working with clay was an opportunity to get more hands-on. I feel that art is a crucial element to a person's development that is often overlooked, but projects like the mural we created with Ms. Amanda really gave back to the students and allowed us a chance to create. Art is a big part of my life and I plan to pursue it as my career. This residency was also a chance for me to learn about Young Audiences, an organization that shares my belief in the importance of the arts in learning.
Seniors from both my graphic design class and a history class worked with several Western alumnae and Ms. Amanda throughout the project. We decided to create a visual timeline of our school's history to celebrate Western's 170th anniversary this year. I knew little about our school's rich history at the start of the project. We worked as a team to delve into past yearbooks and brainstorm with alumnae to decide on the imagery we would include in the final piece.
I decided to recreate our senior class T-shirt design in my clay tile to represent current Western students. Including a symbol of our class in the mural was a chance to leave behind a piece of the Class of 2014 within an artwork that will hang at our school for years to come.
View all three pieces of the finished mural, as well as photos of its creation, online. 
As hard as it is to choose my favorite part of the residency, I think I enjoyed hanging the finished mural the most. There isn't a better feeling than seeing work you have created put on display. It made me realize that I had done it–I overcame the challenges of the project and created something that current and future students will enjoy. I feel proud to have been a part of this residency and to have successfully completed such a large project that can be shared by my school community.
At the start of the residency I was excited–I thought the project would be fun and a great opportunity to leave our mark on Western. Now that the mural is complete and installed I feel accomplished. As I finish my last year at Western, I will graduate knowing that I added to my school's long history.
Learn more about Amanda Pellerin and her residency and teacher professional development program offerings online!
By Micaela Gramelis, Young Audiences Grants and Annual Gala Manager and former teacher
Sitting in my class each day, Nadia did well. She worked hard; she smiled. She was kind, but deferred to her third-grade classmates for academic guidance during group activities. After the first half of the school year I would not have described her as a leader. Boy, was I wrong.
Nadia's gift spent months undercover in our classroom. It was not until the class held a talent show at our pre-spring break celebration that a brave, confident Nadia emerged. As Nadia's group began their rehearsed dance for the audience, her dance partners—both confident learners who often directed activity in the classroom—lost track of the dance sequence. All eyes turned to Nadia, whose poise and confidence in her movements indicated to her classmates that she was the one they should look to; she was the one they should follow.
During the two years I spent teaching in Baltimore City Public Schools, my students were aware of what was out there. They knew of museums, universities, and instruments, even if they did not utilize these things in their day-to-day lives. These artistic tools and institutions–so cool at first–quickly lost their appeal when my students thought that they were inaccessible. Consistently kept at a distance, they became the enemy and symbols of what one lacked.
Nadia was fortunate to discover her connection to dance outside of the classroom, despite not having access to dance classes at her school. Nadia's visual arts classes often consisted of coloring with crayons and pasting one color of construction paper on top of another when she was lucky—but a student's access to the arts should not be up to luck. Artistic opportunities in school are about much more than cultivating fine motor skills and identifying artistic talent; they are about closing the gap between what students know exists, and what they have been conditioned to believe is out of their reach from years of deprivation.
Nadia and her classmates did have the opportunity to play recorders in their music class, and the pride with which they carried their recorders down the hallway let me know that these instruments were prized possessions. When my students held their own recorders, with their names attached, the arts became tangible; they began to move forward, one step, toward what they deserved. When they performed in our talent show, and were cheered on by siblings, parents, and classmates, my students nudged forward toward what they deserved. When they wrote plays, and their written words were enthusiastically acted out by their peers, read aloud and valued by others, they began to experience how the arts can create a community and boost the self-esteem of each class member. Our students deserve this community. They deserve the opportunity to try new things. They deserve positive attention for their accomplishments, and for their voices to be valued. This is all possible through the arts.
To ensure that each Maryland student has the opportunity to experience the power of the arts, Young Audiences has increased its presence in Baltimore City schools from 89 schools to 119 schools during the last four years. In 2009, we served 22,033 students; in 2013, we served 38,317. Since its launch in the winter of 2009, our Access for All Initiative has subsidized programs for students in low-income Baltimore City schools to ensure that all students have equitable access to the best artists and educational arts experiences that our state has to offer.
Inequity in access to the arts is just one manner in which many of our students from low-income backgrounds are underserved. Increased access to the arts will not solve every challenge of poverty, but it can produce empowered leaders—equipped with resiliency, creative thinking, and problem-solving skills—who are prepared to tackle future challenges. It will produce youth who have learned to value their voice because they have had the opportunity to share it with others. It will produce students who know what they deserve, and have the tools they need to put up a fight for it.
e interested in applying for a Spring 2014 for Allgrant to bring a Young Audiences program to your school, the application is available online here. To learn more about Access for All and our work to increase equity in arts programming, click here.
By Staci Taustine, Fifth Grade Teacher, F.L. Templeton Preparatory Academy
During the course of my fifth-grade class' six-day Hip Hop residency with Young Audiences artist Jamaal "Mr. Root" Collier, walls were broken down, confidence was built up, and the entire context of my classroom changed for the better.
As an educator I work hard to provide my students with diverse learning opportunities that give each child a chance to shine. However, I did not anticipate how effective Mr. Root's strategies would be for the many different types of learners in my class. I went into this experience hoping that Mr. Root might be able to give a fresh perspective that would help my students summarize and internalize autobiographical texts. By the end of the residency, I knew that my students gained abilities far beyond that, having learned more deeply about how they express themselves and their story along the way.
Our time with Mr. Root began with an interactive assembly where he introduced the history of Hip Hop and taught students about the five components of this complex art form. Mr. Root motivated students by giving them the opportunity to participate in making beats and validated their contributions by recording and using their input right there on the spot. The students cheered and looked on as he mimicked some of their favorite Rap musicians.
The real magic happened when Mr. Root returned to our classroom and engaged with the students in a more intimate setting for a series of workshops. In a classroom of 20 students he quickly learned everyone's name and became part of our classroom community. The kids shared with him that we were reading "The Narrative of the Life of Frederick Douglass" and he began to teach them how to summarize the content through the use of rhyming couplets. This strategy challenged students to return to the text over and over (an academic demand that is typically frustrating to them) to fish out the most important information. They reflected on the value of certain facts and determined which details could combine to most effectively summarize the text.
Together the class wrote a rap that brought the story of Frederick Douglass to life. It was truly amazing to see students who are usually self-conscious about participating come to the front of the room to offer input on better ways to write a line or to question if the number of syllables in a line would be best for the flow of the rap. The class later performed their work for the whole fifth grade during our culminating assembly at the end of the residency.
This was their final product:
Frederick Douglass was born a slave
Maryland-born he knew to be brave
1817 when he was born
When his ancestors left him he was torn
Owned and leased by several masters
Forced to work he had to work faster
Thought they were happy when slaves sang songs
But they sang about pain… Slavery was wrong!
After discussing the components of autobiographical writing in reference to our work with Frederick Douglass, we turned our focus to the need to know oneself in order to write an authentic autobiography. Students shared that sometimes people act certain ways to get attention but this behavior doesn't necessarily accurately represent who they are as a person. Students brainstormed a number of ways that people wear "masks" on a daily basis to cover up how they are really feeling or to alter the way that the world perceives them.
Mr. Root led the students in an essay-writing exercise about how the "masks" each of them wear impact their relationships with others. Each student considered what they wanted to show the world through their actions and their autobiographical writing. To accompany their essay, students also created actual masks with construction paper, which were proudly displayed at the school-wide literacy fair in October.
In the end, my students learned how to be vulnerable with one another, brave enough to share their feelings, and empowered to use their voices to express everything they learned. Whether through singing their Frederick Douglass rap, expressing their ideas visually with their masks, or by simply having the confidence to think creatively, each and every one of my students came away with a unique perspective on who they are as individuals.
Going forward, I am excited to continue incorporating the components of Hip Hop to benefit my students' learning and I am so pleased with this incredible learning experience. Thank you, Mr. Root!
Learn more about Jamaal "Mr. Root" Collier's assembly and residency programs here!
Earlier this week, Kurtis Donnelly, Young Audiences Program Director, shared his experience visiting Stadium School to watch Young Audiences artist Max Bent lead the class in an arts-integrated math lesson this summer. Max also recently posted about his time at Stadium on his blog Outside the Box. 
Stadium was one of 10 sites where Young Audiences artists worked with classroom teachers to co-teach arts-integrated math and STEM lessons and offer arts enrichment programs as a part of Baltimore City Public Schools' five-week-long Summer Academy program.The program aims to fight summer learning loss by keeping students active and engaged during the summer months.
Read more about Max's experience on his blog, Outside the Box. Click here to see more photos from this summer's arts-integrated programs on Flickr.
Photo by Max Bent
By Danyett Tucker, Young Audiences visual artist and illustrator
Do you think there is a difference between listening and hearing? One of my professors once asked me to illustrate Jimmy Hendrix's song "Voodoo Child." The project made me see art in a new light. I don't think I've ever had to listen to lyrics as hard as I did to really hear Jimmy. After hitting repeat over and over again, I finally heard Jimmy and realized the power of his music. I realized that music has the power to unite us by telling stories that we can all identify with and illustrating themes of what it means to be human.
This summer I worked with Baltimore City middle school students at Rognel Heights as a part of Young Audiences' partnership with Baltimore City Public Schools Summer Academies which brought Young Audiences artists to 10 sites throughout the city. In the mornings I partnered with the
sixth-grade science teacher to incorporate arts integration with the summer science curriculum, and each afternoon my mural painting class was one of the choices offered to students for arts enrichment.
Summer programming is a valuable resource for Baltimore City students. Many Baltimore neighborhoods are deprived and neglected. Many lack basic necessities, such as access to fresh groceries or safe places for children to play and the community to gather, preventing individuals and families from thriving. Challenges related to gun violence, poverty, public health, and family structure are obstacles for students in these communities to remain focused and committed to their education. These challenges can also make summer the scariest time of the year for students in the inner city. Without a regular school schedule, these children lack access to school lunches, a safe place to spend the day, and activities that keep them intellectually engaged.
My goal for the summer learning program was to show my students how music combined with a public work of art can play an important role in restoring a community's broken spirit. I wanted to encourage them to uplift each other through the powerful lyrics and positive messages that we shared during our mural project.
To guide the project, I selected a series of songs that spoke to community concerns. We started with one of my favorite songs of all time, Lauryn Hill's "Everything is Everything." I began by demonstrating how illustrators turn words into pictures. We illustrated the chorus together and then students had the chance to pick a verse of the song that painted the clearest picture in their mind and illustrate it.
Next was Cat Stevens' "Where Do the Children Play?" which introduced students to creating depth in settings. The environmental references in this song are so profound and led to deep discussions about the physical conditions of our communities. I talked with students about using public spaces to promote a cause or message and how music and art combined can move a community to action.
The next songs on the soundtrack were Bob Marley's "Get Up Stand Up" and "One Love." Imagine the vibe in the classroom as we collectively realized that gun violence wasn't just something in the news–many of us had friends or family who had been affected by gun violence. We listened to Bob's words of peace, love, and his call for all to move to action and reflected on the social commentary of the times.
As we continued work on our mural, we began focusing on the people depicted and drawing proportions. The students wanted to create a piece with a lasting legacy that would awaken civic responsibility in all viewers of the mural.
The final 12-panel mobile mural portrayed people coming together and holding up signs that displayed community declarations. Places to play, to honor loved ones lost, and to highlight every day community heroes were interwoven throughout our visual testimony.
Click on the images above to see the "A" and "B" sides of the completed mural.
We ended the project on a personal note and illustrated Emily King's, song "Walk in My Shoes," because let's face it, if we could walk in each other's shoes we would spend less time judging, hating, and bullying others.
The students were inspired by the music and were so expressive in the images they created. They were singing along with the songs by the time we started painting. They couldn't wait to get to my class every day and they didn't want to leave. The work we created was magical and the five C's–culture, comparisons, connections, communication, and community–were covered in this socially conscious endeavor. Every student was carrying their community on their shoulders and felt a civic responsibility to represent the voices of many through their art.
I could not have been happier with the outcome. The confidence of each student soared during the five-week program, and I know they will listen harder to the music they hear from now on and think about the messages that are received and sent. One voice, one love, and one heart! Let's get together and feel all right!
See more photos of the completed mural and other photos from this summer's arts-integrated programs!