A post from Young Audiences Executive Director, Stacie Sanders Evans
Today, we visited one of our Summer Arts and Learning Academy sites at William Pinderhughes Elementary Middle School. The first classroom we entered had this statement on the board:
Every morning at 9 a.m., a teacher, an artist and their students gather in a small "Crew" as part of Young Audiences' commitment to helping children build relationships and community with one another and their teachers.  It is called Crew because it is based on the belief that we are not just passengers on this "ship," but we are "crew" members playing a role in where we go and how we get there. Crew gives our kids and teachers an opportunity to talk, to listen, and to connect as people.
The violence happening in our city and other cities is not going unnoticed by our children.
At our Academy, we strive to give our children the tools they need to express themselves, push for what they believe in, and build the communities they envision. We believe arts integration helps continue that process.
Young Audiences is not a political organization, so it feels inappropriate for me to make statements on behalf of Young Audiences about our City's and nation's current struggles. However, I will say this:
We are committed to creating safe places for children to reflect, to express themselves, to learn and to grow as people (artistically, academically, socially, and emotionally) through the arts.
Our Academy artists and their teacher partners are providing safe and nurturing places for some of our most vulnerable children to imagine, to create and to realize their full potential.
The posts we have been sharing on Facebook about our work have been inspiring others to reach out with words of encouragement. From one commenter:
"In a time when our society seems to be crumbling before our eyes, the hope and joy created by YA cannot be overstated.  Everyone at Young Audiences should be incredibly proud of being beacons of light to so many children in our community."
There are so many ways that you can be more than a passenger in this city — you can be a part of a "crew" to provide transformative learning opportunities for our young people.
If you would like to learn more about our Summer Arts and Learning Academies, the artists involved, or where the academies are located, please contact Lisa Fritsch at lisa@yamd.org or register to attend a one-hour tour of our offices and mission (what we call our On the Bright Side Tour) this Thursday, July 21 at 5:30 p.m.
______
Young Audiences' Summer Arts and Learning Academy is funded by Baltimore City Public Schools, The Abell Foundation, The Family League of Baltimore with the support of the Mayor and the City Council of Baltimore, The Alvin and Fanny B. Thalheimer Foundation and individual contributions to Young Audiences. All participants are students at a Title I Baltimore City Public School.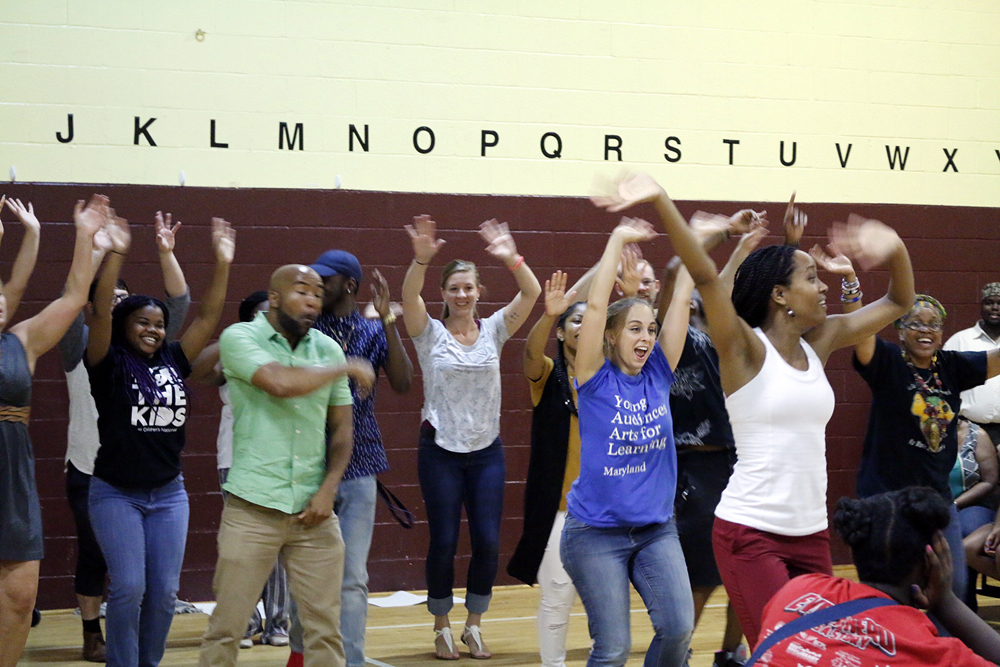 This morning, we kicked off our expanded Summer Arts and Learning Academy – a free, five week program immersing 900 City students in a variety of art forms taught by 36 locally-based professional artists. The full-day program welcomes students grades K-5, encouraging imagination, creation and expression through the arts, such as painting, songwriting, spoken word poetry, dance, piano, singing, visual art, sound production, playwriting, fiber art, and filmmaking.
Our kickoff this morning was a blast – welcoming students and their parents to the Academy's four sites with high-energy performances, live music, and vibrant interactive art demonstrations – giving them a preview of the truly unique and empowering experiences to come throughout the next five weeks.
Due to last year's success; with academic gains by students drawing from 93 different city schools—the district asked us to expand the Academy to four sites: Thomas Jefferson Elementary, William Pinderhughes Elementary, Gardenville Elementary and Fort Worthington Elementary.
Working with kids as they discover passions, refine creative processes and integrate arts in their everyday learning is an inspirational experience we and our Teaching Artists look forward to every year. We spoke with a few participating Teaching Artists about their plans and why the Summer Arts Academy is such a great opportunity for students and artists:
Scott Paynter, reggae singer:
I wanted to teach at this year's Summer Arts and Learning Academy to gain more experience working with Baltimore's greatest resource…it's children. My art form helps students express themselves through lyrics, it introduces them to cultures and people they've never encountered before, and it brings life to a classroom environment. Music is like a force of nature. It's everywhere you are if you pay attention."
Bridget Cavaiola, Baltimore Improv Group:
This is such a unique experience to provide our students with collaborative and engaging arts experiences that they may not get to during the school year. The mood and energy are contagious as you get to watch the students engage themselves in something in which they have passion."
Alden Phelps, musician:
My focus has always been on playing with words and the joy of language. Language is the foundation of how we communicate and function as human beings. Students who practice manipulating language, expanding their vocabulary, using rhymes, and counting syllables will better succeed in their regular academic work. Creative thinking opens up new pathways in our brains. There's also a wonderful freedom when a student can express an idea creatively. They synthesize their academic knowledge with skill in the arts, such as using color or figurative language, and the result is far more engaging to them."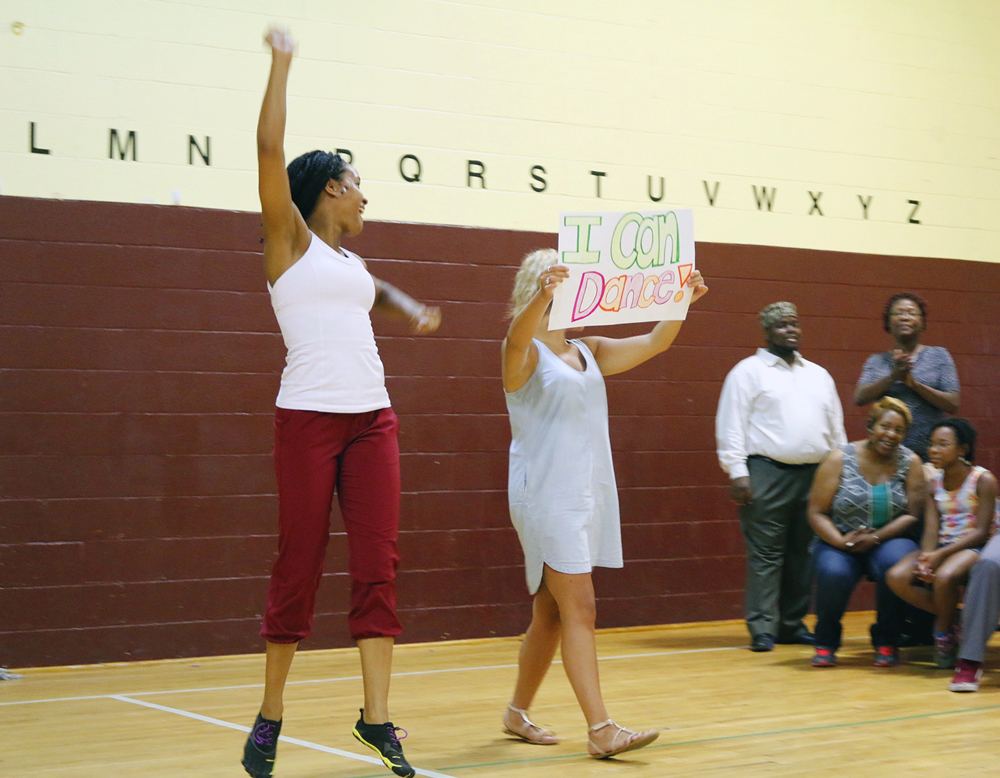 Students will imagine, create and express themselves through the arts, with a chance to concentrate on two art forms. The students even show-off their talents at Artscape, at pop-up performances in mobile art galleries around the city and at the August 5 final culminating event. We can't wait to see the students perform!
After this morning's successful kick-off event, led by teaching artists Valerie Branch and Sean Roberts, at William Pinderhughes Elementary, one parent said:
"I am just so excited to get to see my child perform soon. Seeing what the [teachers and artists] did just now, I know they are in trusted hands. It made me look at my daughter and think yes! This is going to be different, we are so excited! She LOVES art! I can't wait for the workshops too!"
Kicking off YA's Summer Arts Academy at #TJEMS with Femi the Drifish @BaltCitySchools #yamdsummer #SummerLearning pic.twitter.com/C8HwIkJ6MS

— Young Audiences MD (@arts4learning) July 5, 2016
Young Audiences' Summer Arts and Learning Academy is funded by Baltimore City Public Schools, The Abell Foundation, The Family League of Baltimore with the support of the Mayor and the City Council of Baltimore, The Alvin and Fanny B. Thalheimer Foundation and individual contributions to Young Audiences. All participants are students at a Title I Baltimore City Public School.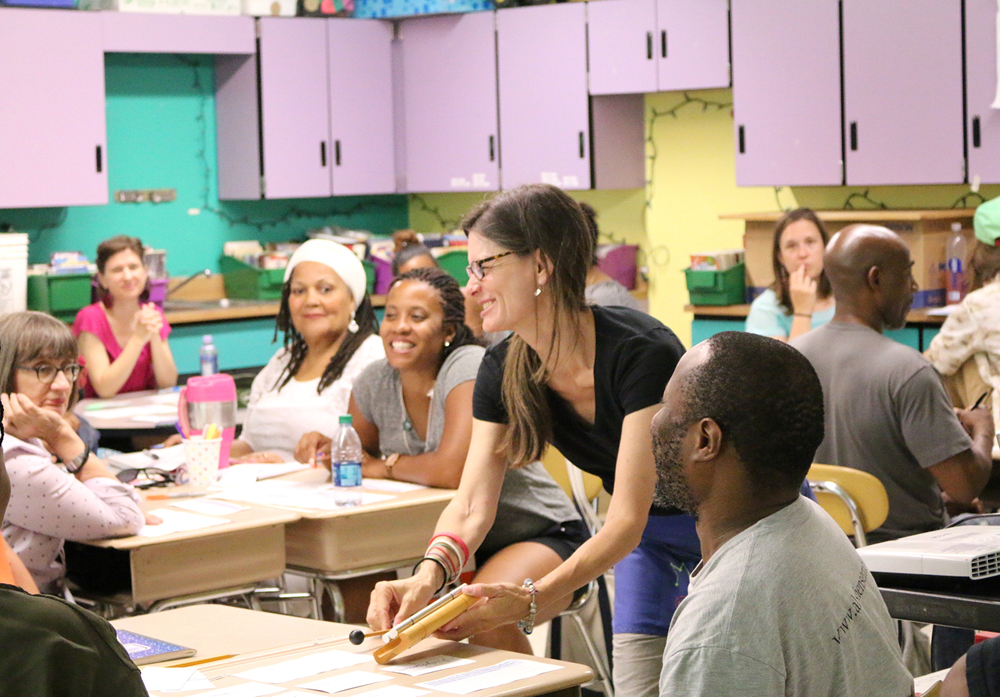 How our teachers and artists get ready for Young Audiences' Summer Arts and Learning Academy
If you were a school teacher and had just spent the last ten months in the classroom, where would you be on the 7th morning of your vacation? In bed? In your PJs on the couch? Perhaps in Ocean City? Anywhere, but a school building participating in 35 hours of professional development and gearing up for 5 weeks of summer school, right?
On the 7th morning of their summer break, 36 of our amazing Baltimore City Public Schools teachers were with Young Audiences and their 36 teaching artist partners participating in a week of professional development and preparation to teach in Young Audiences' Summer Arts and Learning Academy, which kicks off at four sites July 5. We're talking true dedication!
Whether Young Audiences is working with kids or adults, we believe learning should be creative and fun. That goes for these 36 teachers! Thankfully, Kristina Berdan, who designed this week-long training, is Young Audiences' Queen of Fun! But not just your normal fun — the intense, laugh-out-loud, creative, hard fun — that comes with joyful learning through the arts.
Let the summer fun begin: the Young Audiences at TJEMS team is stellar! @arts4learning @BaltCitySchools #BeArtSmart pic.twitter.com/HjiHEcwhex

— Eryn Lessard Sherman (@LitLeadrLessard) June 27, 2016
Case in point: Kristina wrote, sang and recruited backup dancers to perform a parody of the classic, "Summertime" by DJ Jazzy Jeff & The Fresh Prince (lyrics shared at the bottom) to welcome our teachers to the training.
When asked what inspired her to create and perform this song, Kristina said she wanted to do something special for the teachers and teaching artists. After all, they are giving up their summer break (and the rare opportunity to sleep in!) for the next five weeks to make a difference in the lives of hundreds of children who normally would not be able to afford this opportunity.
Young Audiences is asking a lot of our teachers and artists. We expect them to challenge our students AND themselves to take creative risks, try something new, and put themselves and their powerful ideas "out there," regardless of who is watching.
Some examples of how that happens: Teachers who have never tried incorporating vocal percussion into math lessons will be doing so with help from their partner musician. And dancers who have never connected dance to literacy units will be doing just that with their partner teacher. Through this training, we help all teachers and artists take risks, learn and actively collaborate to develop their craft.
Dawn Johnson, a fourth-grade teacher, said the difference in how Young Audiences develops teachers lies in creativity. "When you are creative about it, people are going to remember what you are teaching them. That is why I love this training and love arts integration. In many trainings I go to as a teacher, instructors sit and present information. They tell us what to do but don't model and show us how to do it. If you expect the world out of us, then show us what you want it to look like by modeling it. That's why arts integrated trainings are so incredible."
The training that Kristina has designed is filled with intense, thoughtful, collaborative sessions, including:
How to create a learning environment that impacts the social emotional learning of students
How to use portfolios to give students a voice in sharing work that is important to them
How to connect reading and writing exercises to students' lives
How to intentionally build community
How to create authentic opportunities for students to reflect on their work and their own creative processes
How to integrate the art authentically into literacy and math
Kristina and her team modeled how to do all of this through the arts and through powerful partnerships between artists and teachers in classrooms.
After the 35 hours of arts integration training wrapped up on June 30, our 72 Academy teachers and teaching artists walked away inspired and prepared to create a world for their students filled with creativity, meaning, connections, joy and — of course, learning! Here are some final thoughts shared by both teachers and artists on our Graffiti Reflection Wall:
To see Kristina in action, performing this song (lyrics below!) at the training, click here!
Summer summer summertime
Time to stop the summer slide
Here it is the school
Greatly transformed
Just a bit of a break from the norm
Just a little somethin' to break the monotony
Of all that hardcore school that has gotten to be
A little bit out of control it's cool to learn —
But what about the arts that soothe and move our kids
Math and literacy in the mix
Cuz we know it works so let's put on the fix
And think of the schooling of the past
Adjust the stress — let creativity blast
Artists and teachers together in time
Just put them in classrooms and lay back
and this is summertime
Chorus
School is out and it's a sort of a buzz
And back then I didn't really know what it was
But now I see what have of this
The way that kids respond to these artists
The classroom — it rocks and kids are singing tunes
And sculpting with clay and dancing through rooms
Rapping to their beats and acting on their feets
Filming and recording — all out of their seats
Here in BMore we are in four schools
All filled with arts cuz we know that's cool
Kids are reading and writing through the arts
Doing math, making art, reflecting, showing their hearts
Being assessed in many different ways
Celebrating learning each and every day
And with a pen and pad we composed this rhyme
To hit you and get you equipped for the summertime
Chorus 
Stay Connected!
Follow us throughout the next five weeks as we share daily inspiration from Summer Arts and Learning Academy classrooms!
Taste the Arts X:
An evening of performance and culinary art!
Friday, May 6 at the Hippodrome Theatre in Baltimore
The lineup for our 10th annual Taste the Arts Fundraising Gala is set! We've put together another fantastic evening featuring award-winning artists and top culinary talent in Baltimore.
The best part? When you buy your ticket, you support Young Audiences' programs and mission to bring high quality, low-cost arts experiences to Maryland schoolchildren! Last year we delivered arts experiences to 183,153 students in Maryland. With your ticket purchase, we can keep it up – and do even more.
At Taste the Arts, we'll transform all three levels of The Hippodrome Theatre into a celebration of the arts through live performances and interactive arts experiences, with food and drink served on all three floors. Here's a taste of what to expect:
Taste delicacies from 25 restaurants:
Absolutely Perfect Catering
Alma Cocina Latina
Argosy Café
Baltimore Waffle Company
Blackwater Distilling
Blue Pit BBQ
Brio Tuscan Grille
Charm City Cakes
Charmington's
Chiapparelli's
Clavel
Gertrude's
Golden West Café
Heavy Seas Alehouse
La Cuchara
Maggie's Farm
Mother's
Teavolve
The Charmery
The Food Market
The Hipp Cafe
The Local Oyster
The Oceanaire
The Scratch Mill Kitchen
Tio Pepe
Wine from Noble Vintners
Beer from Union Craft Brewing
On the menu from Clavel is Cochinita Pibil, a traditional Mexican slow-roasted pork dish, with a side of Hex Ferments special slaw. The tapas-inspired menu from La Cuchara features Charred Broccoli Pintxo and Pickled Mushroom Pintxo. The Local Oyster will be shucking out sustainably farm-raised raw oysters. Maggie's Farm is serving chicken liver pate with fig jam on baguette and Heavy Seas Alehouse brings it home with Smoked Brisket Mac & Cheese. On the sweet side, Baltimore Waffle Co. will serve up Belgian Liege Waffles and Gertrude's presents a twist on a Baltimore classic with its Berger Cookie Cheesecake. Local winery, Noble Vintners, has graciously donated wine, and Union Craft will be on hand, offering their award-winning brews!
Don't miss 9 live performances and interactive art demonstrations, including: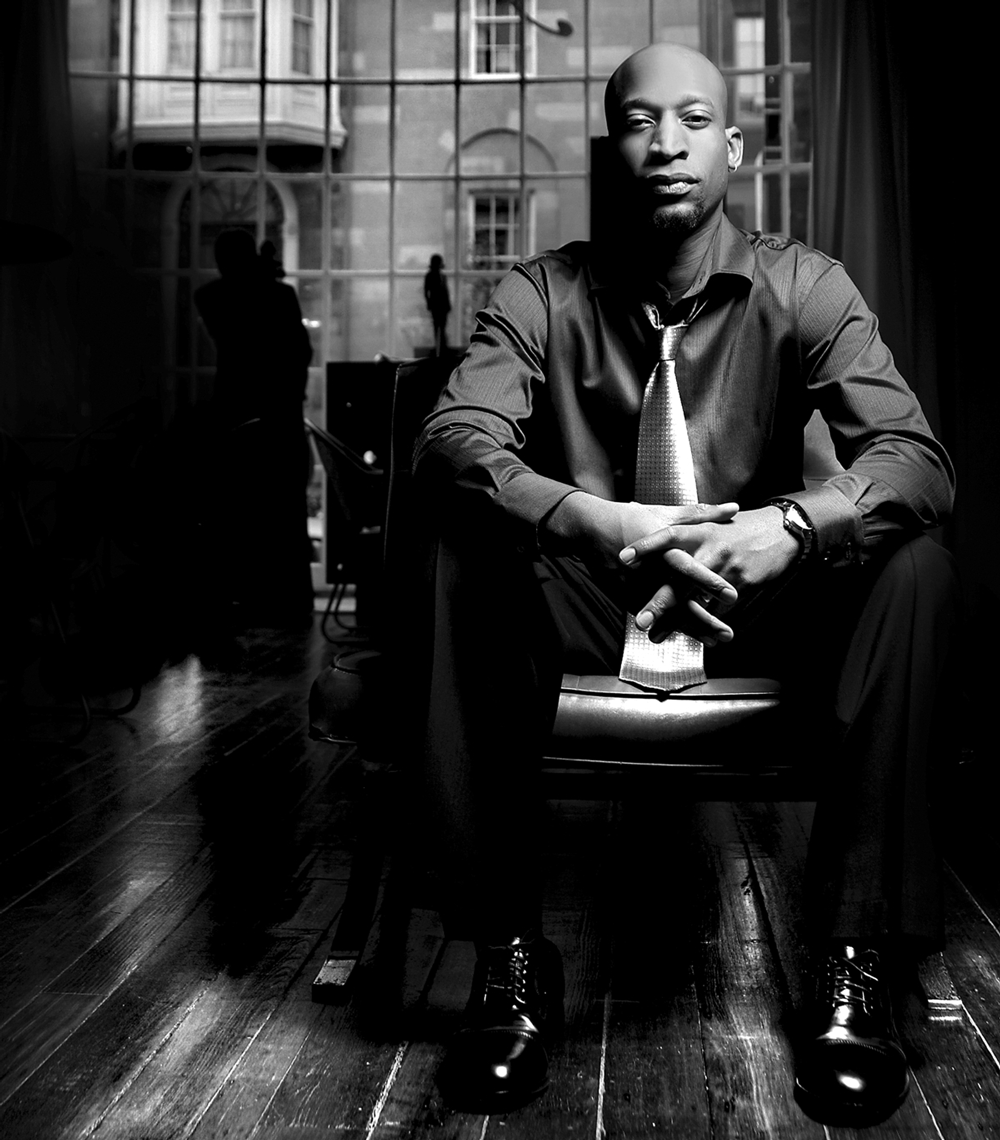 A collaborative music production composed and directed by Wendel Patrick, YA Artist and 2015 Baker Artist Award Winner, and performed by Peabody Institute musicians Jahi Alexander, Blair Skinner, Louna Dekker-Vargas, and Yoshi Horiguchi and YA artists Max Bent, Wendel Patrick, and Jamaal Collier—2016 Artist of the Year.
I don't want to give away TOO much. But at Taste the Arts, I'll be working with an arrangement from one of my favorite hip hop producers." —Wendel Patrick, 2015 Baker Artist Award Winner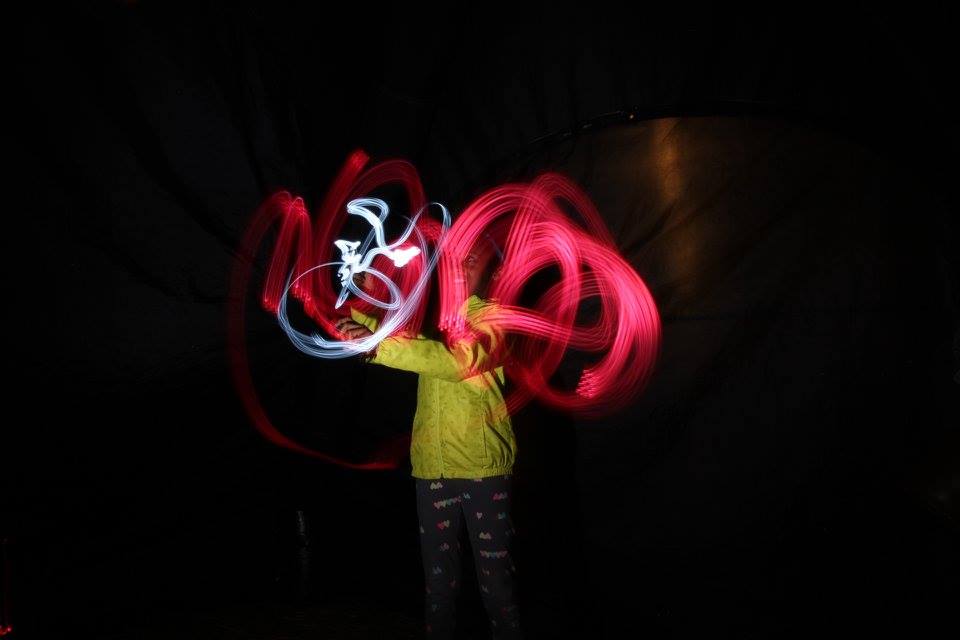 Interactive "light painting" with maker-educators FutureMakers (fresh from Light City!)
Get ready for light painting with LED brushes at Taste the Arts! You'll even be able to email your creation home!" —Matt Barinholtz, FutureMakers

Indian classical dance performance by NRITYA
I have had the opportunity to be a performer at several Taste the Arts over the years, and I am excited to be a part of the 10th Taste the Arts gala," she said. "When my students perform with me at the gala, it is a wonderful experience for them as they get to showcase their talent and culture through their performance to the guests. It is almost as if they are cultural ambassadors." —Lakshmi Swaminathan, NRITYA, as quoted in the article "Tasty fundraiser hits the Hippodrome" on Avenue News.com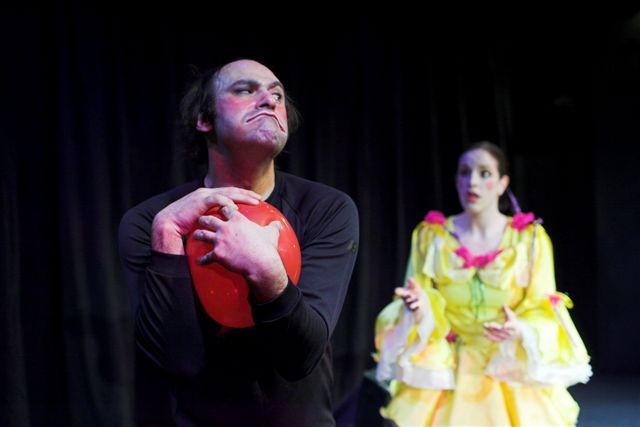 Pantomime theatre from DC's award-winning Synetic Theater
The Magic Balloon is a series of hilarious sketches synthesizing music, ballet, clowning, and audience participation. At Taste the Arts, you'll discover the art of acting without words and open the door to your imagination. 'Balloon' tells a wonderful story of a traveling actor and his magical trunk of tricks and toys." —Tori Bertocci, Synetic Theater
Plus:
Acoustic roots and blues music by Curtis Blues
Screen painting with John Iampieri
Performances by Thomas Jefferson Elementary/Middle School's String Ensemble and Kindergarten ballet dancers
Kevin Martin of Rockcreek Steel Drums performing with students from the Holistic Life Afterschool Program at Robert W. Coleman Elementary School
Taste the Arts also includes a live and silent auction with one-of-a-kind items and experiences and an awards ceremony honoring Maryland's arts-in-education leaders, including 2016 Artist of the Year Jamaal Collier, who has more than a decade of professional experience facilitating Hip Hop workshops and live performances across the state.
"I'm thankful to have an effect on kids' lives and for the effect they have on me. Every human has talent. YA helped me to build skill within that talent. I have become a better artist because of YA." —Jamaal Collier, 2016 Artist of the Year
Tickets are only $100 and ensure high-quality art experiences for Maryland schoolchildren. We're expecting hundreds of artists, educators, and arts supporters in attendance and hope to raise $150,000. Get your tickets now!
—
Can't make it to Taste the Arts?
You can still be part of our fundraising efforts by bidding on some fantastic items in our online auction—happening now through Thursday, May 5. There are still a bunch of great items available with low or no bids, and several new items were just added this week!
by Ken'Niya Baltimore, Young Audiences Summer Arts Academy student
My name is Ken'Niya Baltimore. I am 13 years old and in the 8th grade at Henderson Hopkins. During the summer, my mother told me that I was accepted into Young Audiences' Summer Arts Academy. My face was puzzled because I had no idea I was even signed up. But after I started to learn more about the program, I could not wait for it to start. Before it started, I would take my 5-year-old sister to school and come home. My father was at work, my mother was in school, so I was at home alone, watching TV, bored out of my life.
Before I started the program I did not know there were celebrities here in Baltimore that should be in Hollywood with Taraji P. Henson or Beyoncé — artists like Femi the DriFish or Black Root. These were my teachers!
When I first arrived at the Academy I did not want to talk out a lot or share any ideas that I had in groups. I took poetry, theatre, and hip hop dance.  In my hip hop dance class, I had to dance differently in front of the class which I was not comfortable.  I had to realize that I need to get myself together and be more confident.  Confident.  That word helped me out a lot.  In all the classes I took I had that word in my mind — I kept telling myself that I can do it. I can do it just keep going. In dance class, I told myself I cannot do it, but I knew that, in life, I will always have to try something new so I danced a solo at the Academy's final performance!
My poetry class was my favorite. Femi the DriFish was my favorite teacher because he helped me a lot through my writing by giving me examples and showing me his awesome poems. The most challenging and rewarding thing I did in the Academy was my poem "I am Baltimore." It was emotional because of what was going on my city. I wanted to quit and switch classes but I realized I was the oldest in the class and the younger kids were having the same problem. So I told myself if you quit, they will too. So I pushed myself and everyone else, and made sure we were organized and ready to perform.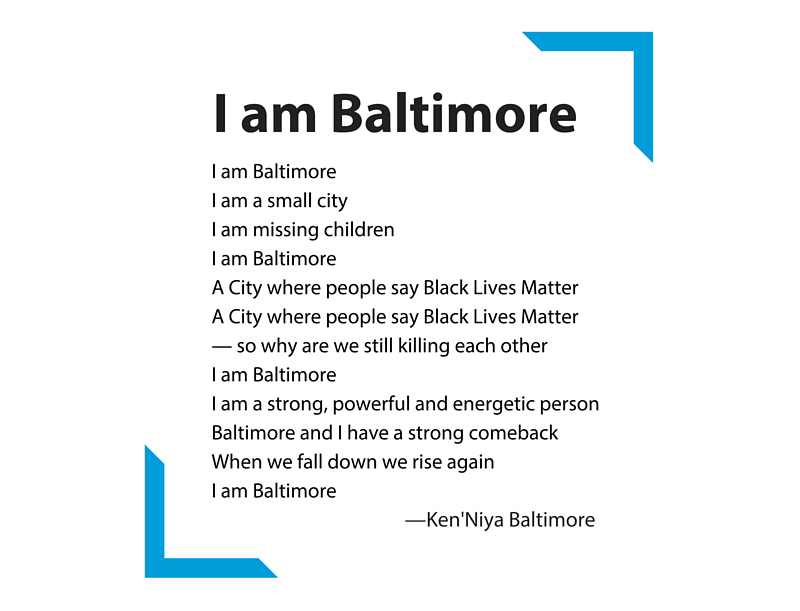 I performed that poem at Artscape.
When the program ended I did not want to leave. I wanted to cry and stay longer. I asked the teachers, "Can I come back next year and help as a youth worker?" I already knew that wasn't an option because I would be in the 9th grade and too old for the program, but I told my parents I would find a way to get back there. This experience has impacted my life so much. I now feel great about speaking to a crowd. I feel confident about my tomorrow. I am going to attend City College or Baltimore School for the Arts. I am going to be an actress, writer, producer, and lawyer…and maybe in my spare time a singer.
I hope many kids have the same experience I did at the Summer Arts Academy; it will change their lives too.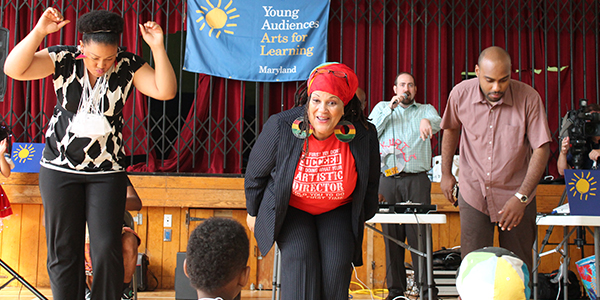 Young Audiences has again partnered with Baltimore City Public Schools to make sure that arts-integrated learning does not end with the school year. On Monday, June 29, energy filled the gymnasium of Thomas Jefferson Elementary/Middle School as Young Audiences artists greeted 250 Baltimore City students and their families with high-energy performances, live music, and vibrant interactive art demonstrations during the kick-off assembly of the Summer Arts Academy.
The Academy is a five-week, city-wide program that provides students, third-grade through seventh-grade, with a free once-in-a-lifetime opportunity to spend their summer learning from the talented artists who live in our communities. The Academy was created as part of City Schools CEO Dr. Gregory Thornton's plan to increase arts education opportunities for Baltimore City students. The Academy's literacy component, with the overarching theme of "What Makes a Hero?" will be team-taught through the arts by City Schools teachers and faculty artists specializing in visual art, sound production, clay, African Drumming, modern and African dance, and improvisational and urban theatre. The Academy also gives students the opportunity discover art forms they have never experienced before and delve into two artistic disciplines of their choice. Students will perform at Artscape and visit other arts destinations through field trips. See the full list of the Academy's artist faculty here!: Summer Academy Artists
See more photos from the Summer Arts Academy kick-off assembly here!
Hip Hop musician Jamaal "Mr. Root" Collier set the stage for the crowd during the Academy's kick-off assembly. Joined by another Young Audiences musician, Kevin Gift, on the turntables, the performance used high-energy beats, improvised rapping, and beatboxing to get the crowd swaying and dancing. A couple of shy boys watched from afar, but slowly began to inch their way toward the booming set with growing curiosity.
Nearby, the dance moves of Cynthia Chavez of Baltimore Dance Crews Project (BDCP), caught the eye of three girls who were interested in learning how to moonwalk. Cynthia worked through foot techniques and demonstrations until the girls were ready to  try it themselves.
Filmmaker and photographer Ras Tre showed one intrigued student how he operates his professional video camera equipment.
Artists, students, and family members began to gather on the dance floor as the popular music began to flow out of the speakers. One talented student stepped toward the center of the floor with confidence. He began to lead the choreography of one popular song while the crowd stepped back, learned the moves, and cheered him on. This encouraged other nearby students and artists to join in until the entire dance floor was full.
The assembly wrapped up with artists, teacher partners, and other Academy staff introducing themselves by dancing onto the stage. As students broke off into their grade-level groups, one parent asked: "Is there an adult Young Audiences class that the parents can take? We want to have this much fun, too!"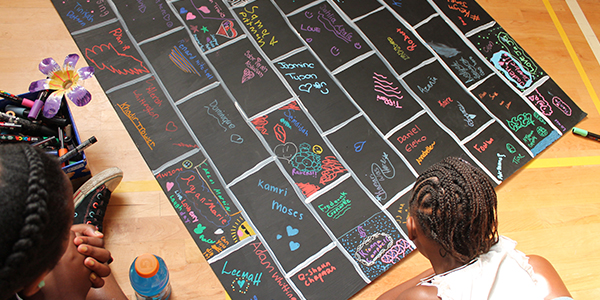 On average, all children can lose approximately two months of learning from the previous school year during the summer months without engaging education activities, and for low-income students, the loss is even greater. More than half of the achievement gap between low-income students and their more affluent peers can be attributed to the unequal access to summer learning opportunities. Programs like the Summer Arts Academy provide students with a safe place to go during the day, access to free healthy meals, adequate adult supervision, and positive, educational activities.
The high-energy kick-off assembly was only the beginning of what is to be expected this summer. Be sure to follow the Young Audiences blog, as well as our Facebook page, for updates from the Summer Arts Academy throughout July.
Much research has suggested that students from low-income families often struggle in school compared to their more affluent peers. However, the Maryland Campaign for Achievement Now (MarylandCAN) published a report in April that seems to dispel this belief. After studying schools throughout Baltimore City, MarylandCAN found that eight public schools with large populations of low-income students are doing the unthinkable: repeatedly outperforming overall state proficiency rates. Young Audiences is a proud partner to seven of the eight schools featured in the report that believe, as we do, that the arts are a valuable tool in engaging students in learning across all subjects.
The highlighted schools are Cecil Elementary, The Empowerment Academy, Hamilton Elementary/Middle, Liberty Elementary, Medfield Heights Elementary, The Mount Washington School, Thomas Johnson Elementary/Middle, and Tunbridge Public Charter School.
Some of the city and state's highest concentrations of students from low-income households attend these schools; however, for the past two years, at least half of the tested grades have performed above the state proficiency rates on the Maryland School Assessment. The report names these schools "Opportunity Schools," arguing that they are "beacons to prove what is possible in Baltimore."
What exactly do these schools have that allows them to break the link between poverty and lower academic achievement? MarylandCAN writes that it comes down to effective leadership. This leadership often comes in the form of a strong principal, the report notes, pointing to inspiring leaders such as Joe Manko, principal of Liberty Elementary–also a standout partner of Young Audiences.
Congratulations to all the Opportunity Schools on their success. It's because of your determination that the educational opportunity gap may finally come to a close.
By Chanel Traboldt, Third Grade Teacher at Harford Heights Elementary and Young Audiences Public Programs Summer Intern
Two middle school girls sit in the back of the classroom. One of them is sneaking a look at her cell phone under her desk; the other is braiding her hair. They are in a morning class during the first week of the Young Audiences and Baltimore City Public Schools 22nd Century Pioneers Arts-Based Summer Camp, and neither girl is looking at the front of the room or listening as the teacher, Ms. Moss, begins a math lesson on integers.
For a school teacher, like me, this can be the scene of many early mornings. The question you ask yourself each time is: "How do I better engage my students in their learning?" This often can seem like an impossible task. We know that if you make learning fun, students will want to learn. As an educator, there is an urgency to fight the achievement gap and prepare your students with the skills needed to be college and career ready. But now the tricky part: how do we make learning fun?
Young Audiences again partnered with Baltimore City Public Schools to solve this dilemma in July. In addition to providing arts enrichment activities at seven summer learning sites in Baltimore City, Young Audiences and City Schools created the first-ever completely arts-integrated summer learning site at Edmondson Westside High School. All eight sites were a part of the 22nd Century Pioneers Summer Camp, which is a free program for Baltimore City Public School middle school students.
Back in the classroom at the Young Audiences arts-integrated camp site something surprising happens. Ms. Moss continues her math lesson by projecting photographs students took the previous day while working with Young Audiences photographer Christina Delgado. The two girls stop what they were doing and look up. Ms. Moss asks the group what elements of photography are being used in each image and how these elements relate to what they are learning about integers. The girls raise their hands to join the conversation.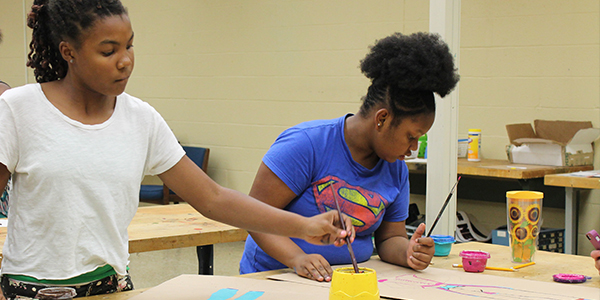 See more photos from the Young Audiences arts-integrated summer learning site!
During my time at Young Audiences' site, I saw that teachers and artists had found a solution to many teachers' student engagement woes. Integrating the arts into daily lesson plans allowed students to create, explore, express, have fun, and most importantly, to learn.
At the Young Audiences camp, nearly 150 students explored math and science concepts through the arts in classes and arts enrichment activities led by Baltimore City teachers and Young Audiences artists during the five-week program. Students chose the art form they would focus on during afternoon enrichment sessions, with choices including dance, photography, illustration and mural painting, theatre, Hip Hop, steel drums, and VEX robotics.
In another class, I saw a group of chatty sixth-graders sitting in the corner go completely silent to listen to steel drum musician Kevin Martin play musical phrases the class had created using what they had learned about ratios.
An unenthused student turned frustration into joy while drawing blueprints for a cage to carry a wild boar across a lake of alligators in visual artist Danyett Tucker's eighth-grade math class.
Students, who were at first more focused on their weekend, turned that energy into an intricate dance routine about pollution in dancer Valerie Branch's class.
As a teacher witnessing these moments of transformation, I am amazed at how easy it is to engage students in learning. The key is to understand that learning and the arts are not separate entities. By combining the two elements and creating arts-integrated educational lessons, students are truly able to learn while having fun.
Read more about the Young Audiences 22nd Century Pioneers Arts-Based Summer Camp site and see photos here.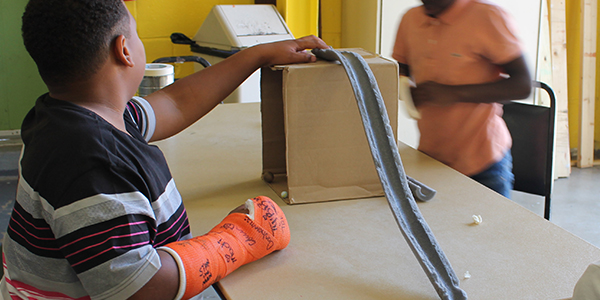 During the past few weeks, nearly 150 middle school students have dived into math and science concepts through the arts at the Young Audiences and Baltimore City Public Schools 22nd Century Pioneers Arts-Based Summer Camp. Students have learned how ratios are used in photography and how the physics of sound affect each note played on a steel drum. Through these art forms, and many more, students have been engaged in learning this summer so that they are prepared to hit the ground running this school year.
While most of the learning goes on inside the school, students have also had the opportunity to take their knowledge beyond the classroom walls on field trips. These excursions allow students to continue their hands-on learning in a new atmosphere, applying the skills and knowledge they've acquired throughout the summer.
The first trip was a visit to the Baltimore Museum of Industry, where students learned the ins and outs of technology and put their own engineering skills to the test. In one activity, students worked together in small groups to create a track that would carry a wooden ball and drop it into a can. This required them to go through the five steps of solving an engineering problem: plan, get materials, build, test, fix, and re-rest. Students were forced to adjust and readjust their designs before finally reaching their goal, usually resulting in loud cheers.
Students received another challenge: creating an artistic interpretation of the word industry. Groups joined together, combining their knowledge and creativity to come up with dances, skits, and songs that showed what they had learned that day.
See more photos from summer learning!
The following week, students traveled to Baltimore's Artscape, America's largest free arts festival organized by the Baltimore Office of Promotion and the Arts. Surrounded by artists of all disciplines, the students put on a show of their own at the Station North Stage, showcasing what they've been working on during their arts enrichment classes. The show opened with a lively Hip Hop dance performance from Jamaal Collier and Alicia Shaw's Hip Hop class. After the performance, one student explained the four pillars of Hip Hop, the most important one being knowledge. Next, Valerie Branch and Heather Tuttle's dance class got the crowd cheering with a dance set to Ariana Grande and Iggy Azelea's "Problem." Kevin Martin and Kevin Older's students also got to show off their steel drum skills.
Even those who didn't perform on stage took part in their own form of art-making. Throughout the day, Christina Delgado's photography students captured Artscape from behind the lens, while Danyett Tucker's illustration students filled up their sketchbooks with drawings of everything from festival attendees to graffiti on buildings.
Bridget Cavaiola's improv class performed an exercise called "Improv Everywhere." All over the festival, they held compliment battles, gave flowers to strangers, and posed as wax statues, making them the target of many curious stares and even a few pictures. See this group in action in the video below!
[youtube http://youtu.be/hg-sdwpGYQg]
Read more about the arts-integrated learning happening at the Young Audiences 22nd Century Pioneers Arts-Based Summer Camp site and see photos here.
By Azya Maxton, 22nd Century Pioneers Arts-Based Summer Camp Arts Integration Facilitator
Summer Learning is off to a great start. Our sixth-graders are studying coordinate grids and the engineering process. Seventh- and eighth-graders are learning about run off in science and ratio in math. It's so exciting to see them learning their math and science through arts integration and hands-on projects. Students have been designing roofs, buildings, and even cities! Last week, we got to explore the engineering process, and learn about science and industry during a field trip to the Baltimore Museum of Industry. Students were also given an opportunity to test water from the Chesapeake Bay for phosphates, dissolved oxygen, pH, and Chlorine. Today, students participating in arts enrichment classes will have the opportunity to present their work at Baltimore's Artscape while students in robotics go on to a citywide competition!
We'll continue to keep you posted on the wonderful learning of our middle school students throughout the next few weeks!
Read more about the arts-integrated learning happening at the Young Audiences 22nd Century Pioneers Arts-Based Summer Camp site and see photos here.
My name is Amanda Sessa and I am a student at the Institute of Notre Dame (IND) in Baltimore City. I am a member of the Shalom Club, a worldwide high school organization dedicated to peace. At IND, the Shalom Club partners with local charities to raise money for them.
For as long as I can remember my father, Thomas Sessa, has been on the board of Young Audiences/Arts for Learning. So, when the Shalom Club was looking to partner with a new organization, I automatically thought of Young Audiences. When I told the other members of Shalom Club about the work Young Audiences does to bring arts experiences to Maryland students, they jumped at the opportunity to partner with them because we believe that education is a gateway to peace in the world. Additionally, IND has focused on expanding its arts programs and its use of the arts to more fully develop the education of our students. Therefore Young Audiences was a perfect partner for IND and the Shalom Club.
On April 2, 2014, IND held a fundraiser called Bread and Soup Day organized by the Shalom Club. Prior to Bread and Soup Day, Young Audiences staff members Pat Cruz and Jess Porter (who is also an alumna of IND) came to our school to educate the students about Young Audiences and its mission. The response was overwhelming. On Bread and Soup Day we sold lunches to IND students and donated all of the proceeds (approximately $400) to Young Audiences.
I am very excited that I was able to connect IND with Young Audiences, especially because both organizations are dedicated to maximizing student achievement in Baltimore City and beyond. In addition to introducing Young Audiences to IND's 400 students and its faculty, I learned a great deal about the role that Young Audiences plays in educating Maryland's students, especially students of limited means.
I am lucky. I have always had an arts program in my school and assumed that all other students were also exposed to the arts. Pat and Jess showed me that many students–who often could most benefit from arts programs–do not have the chance to learn with the arts in school. I saw that my participation in middle school theatre performances and IND's Choral Performance class should not be taken for granted. These experiences have been some of the greatest educational opportunities for me but are not available to thousands of students throughout Maryland.
My teachers have used the arts, including music and dance, in so many ways. I learned the alphabet through the ABC song, danced to a song warning me about talking to strangers, and continue to use music and song to recall words in Spanish. In English class this year my teacher had us act out the plays we read so we could see the events as the author intended. When we were not reading, she would have us draw pictures of settings, characters, and symbols to depict the text in a different way. The arts make learning fun and interesting and these were some of the best assignments I was given. It saddens me that they are not available to everyone.
The Shalom Club and the IND community hopes that our donation will help fund the important work of Young Audiences. We hope that our efforts will allow Young Audiences to reach students who otherwise would never experience the power of the arts educationally or in their lives outside of the classroom. I am proud to have been able to make a contribution to Young Audiences' important work. I hope that IND and Young Audiences will continue to be partners for years to come.
Many thanks to Amanda Sessa and all the members of IND's Shalom Club for their support of Young Audiences and increasing access to arts-in-education programs for all Maryland students!

By Danyett Tucker, Young Audiences illustrator and Artist Associate
During my recent mural residency program at Hamilton Elementary/Middle, students celebrated their community by remodeling Main Street and adding their own businesses. Social awareness symbols are sprinkled throughout their fantasy blueprint which now proudly covers their lunchroom wall.
I began by taking photos of well-known businesses in the area so that students could work on designs to upgrade their neighborhood. They decided what businesses they would like to add and represented those with related symbols. In class, we listened to a socially-conscious soundtrack and used some of the lyrics as inspiration to include messages that would uplift the community.
The students created all of the drawings and then I collaged their individual efforts together to create the scene. Together, we painted for days on end! During the course of six more workshops with me, and several additional sessions led by my teacher partner Ms. Friedman, this mural came to life. The sixth, seventh, and eighth grade art classes all contributed to the piece.
Ms. Friedman worked tirelessly on the mural panels outside of our workshops in the classroom. Since Ms. Friedman is retiring at the end of this school year, we included a student drawing of her in the finished mural.
Click here to see the full mural and see if you can spot Ms. Friedman!
Ms. Friedman's first name is Charlotte, like in "Charlotte's Web," so look for the spider web as a clue to where she is located.
Ms. Freidman shared: "I love, love, love the mural! Everywhere I look, I see something new! Students and parents went down to see the finished piece after a recent school concert and the building's custodians finally had to chase them out because they were so caught up in it."
It was an awesome experience!
This residency was made possible through a Maryland State Arts Council Arts in Education Artist-in-Residence Grant. Learn more about how Young Audiences can assist your school or community organization in applying for this and other grant funding opportunities online.
Learn more about this residency program and Danyett Tucker's other program offerings.