Written by Barbara Krebs,
Young Audiences volunteer and Sunburst Society member
It's all about priorities. There are only 24 hours in a day, and as a busy person, you have to prioritize the most important things. I could tell that this principal really wanted to talk about the Arts Empowered Minds Initiative (AEMI), Young Audiences, and how arts-based learning was impacting his school. That's because, despite the week-long game of telephone and email tag we played just before the start of the new school year, he kept contacting me to set up the next potential interview time. Happily, I finally connected with Rodney Walker, principal of Brooklyn Park Elementary School in Northern Anne Arundel County.
But first–what is AEMI? According to its website, it is "a collective impact initiative that utilizes the arts to improve school achievement, parent involvement, and student engagement and empathy in Northern Anne Arundel County Public Schools (AACPS)." That collective involves more than a half dozen organizations selected for, among other things, their "expertise in the arts, education, or both."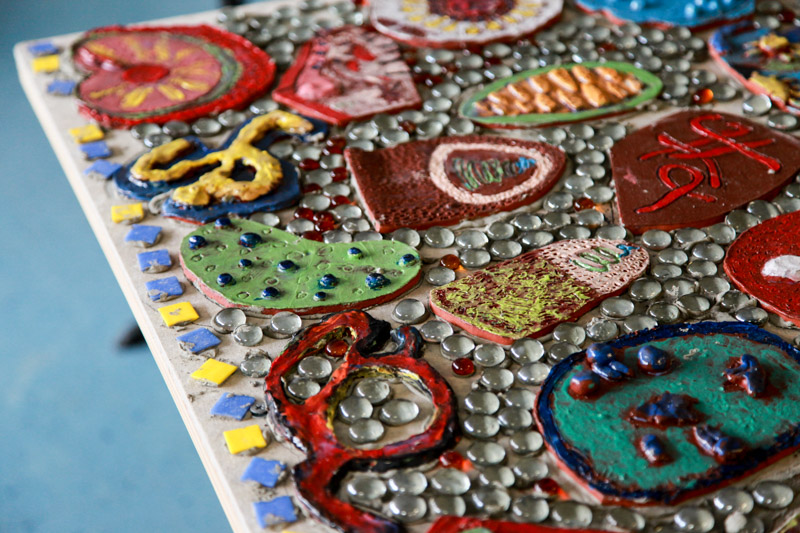 So when I spoke to Principal Walker, I was curious as to how his school had become involved, how the partnership worked in his school, and what his observations of its impact were. Brooklyn Park Elementary had become an AEMI school about three years ago when he received info about the group from AACPS' Central Office. When he met with AEMI staff and learned of their mission and partnerships, he knew that it would be a "natural fit" for his school. He liked the idea that it "gives kids different opportunities to expand their learning. It exposes them to different art genres and focuses on creative ways to teach core subjects."
Over the summer, Principal Walker attended one of Young Audiences' tours of Summer Arts & Learning Academy (SALA), which was specifically geared towards introducing principals to the program. Having toured SALA earlier in the summer myself, I wondered how his experience as an educator differed from mine.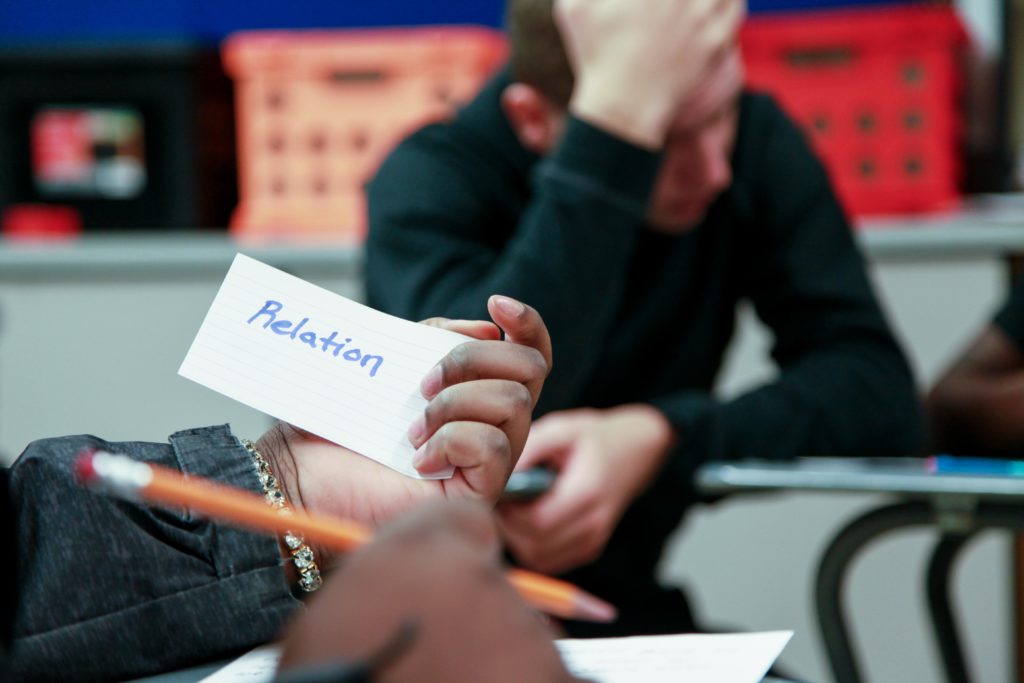 Like me, he was impressed with the fourth-grade classroom he observed using a rap song to learn math concepts. We both noticed how much fun the kids were having while they were learning, a crucial element in creating positive learning experiences.
But as a long-term educator, he noticed something that I had missed. "Sometimes our kids have difficulty in learning the math vocabulary. Here, they're connecting because they're having fun. But in the process, the kids are becoming leaders. They're holding themselves accountable." In other words, it was the children who were helping to create a positive classroom culture. Of course, the teachers were guiding it, but by empowering their students, the kids took ownership and were self-motivated.
Principal Walker's assessment of the learning techniques he witnessed was "phenomenal," but how will this translate back on the ground at Brooklyn Park Elementary? With AEMI's focus on arts-based learning and its links to other arts/education groups, Principal Walker sees a continued focus on "creating a safe space for learning and exploration."
"We will continue to work with AEMI, Young Audiences, and its partners to add professional development for our teachers, and incorporate new and creative ways to add arts-based learning into our writing and math classes."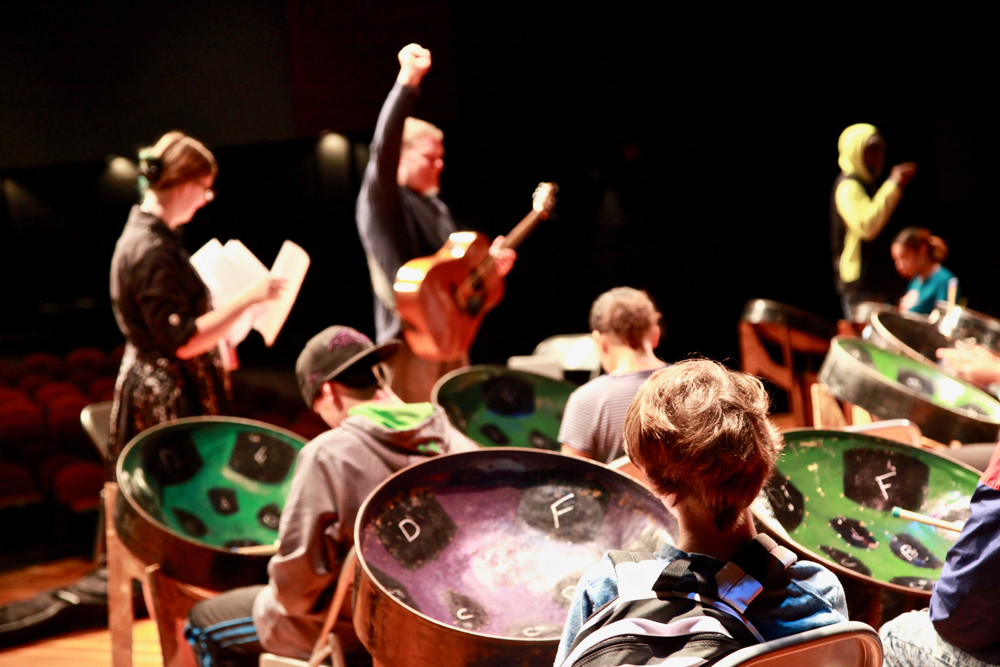 AEMI's priority is to "increase access to high-quality, arts-integrated learning opportunities…" Though it's not always easy to quantify any particular program's impact, there is one thing that Principal Walker is absolutely certain of. That's the "happy faces" he sees during assemblies with an arts orientation.
As Principal Walker's enthusiasm for AEMI and its partners show, I suspect that arts-focused education will continue to be a priority at Brooklyn Park Elementary School.
The Arts Empowered Minds Initiative is the combined effort of many groups and individuals seeking to build a movement for increased equity through the arts in their community. With funding from the NEA in 2016, we built partnerships with Anne Arundel County Public Schools (AACPS), Chesapeake Arts Center (CAC), Arts Education in Maryland Schools Alliance (AEMS), Arts Council of Anne Arundel County, and University of Maryland – Baltimore County (UMBC).
Written by Barbara Krebs,
Young Audiences volunteer and Sunburst Society member
Excited. Proud. Love. These are the three words that I heard repeatedly as I attended the unveiling of the mural that sixth-grade students from Brooklyn Park Middle School created. Though these are not words typically linked with a middle school science project, they help illustrate the magic that is produced when you combine science education with an arts-integrated approach to learning.
The collaboration between their science class and a professional teaching artist from Young Audiences, in partnership with Arts Empowered Minds Initiative (AEMI), resulted in a 10-foot science-themed mural, titled "Brooklyn Park Middle Students Research Cells and Viruses." As explained in the program, the mural "illustrates the dynamic, multifaceted interactions occurring thousands of times a day between cells, viruses, and living things."
I wasn't sure what to expect as I entered MedStar Harbor Hospital's Baum Auditorium in South Baltimore, but I immediately felt welcomed as a saxophone quartet from Brooklyn Park Middle played classical music. Their melodies formed a soothing backdrop to the animated conversations between medical personnel, artists, educators, politicians, parents, students, and others who had gathered for the event. A delightful spread of food – chicken satay, veggie trays, fruit and cheese platters, and even cupcakes for the kids – provided by the catering arm of the hospital, Morrison Healthcare, ensured that no one would walk away without all their senses satisfied.
But I digress.  As the reception wound to a close, the formal program began. First up, Stacie Sanders Evans, the President and CEO of Young Audiences. Reaching for a hospital analogy, she spoke of Young Audiences' facilitating role behind the scenes as the "spinal cord" or "backbone" that makes the arts-integrated learning possible in area schools. She described how Young Audiences partners with schools and other organizations like AEMI and the Arts Council of Anne Arundel County (who helped fund this project) to pair core curriculum teachers with professional teaching artists to enhance learning experiences in Maryland classrooms. Rather than rote learning, students explore academic subjects in any number of hands-on, arts-oriented ways.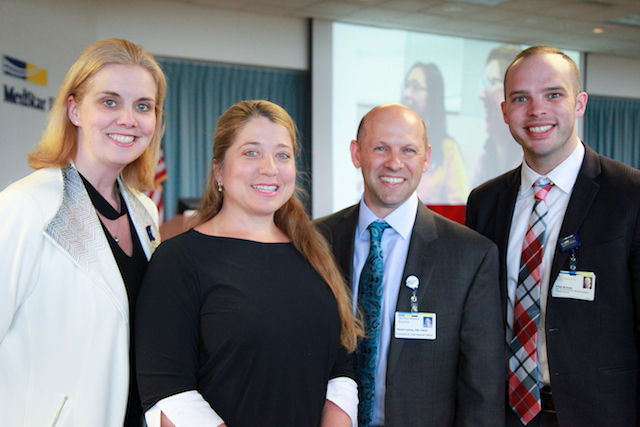 Next was Dr. Stuart Levine, President and Chief Medical Officer of MedStar Harbor Hospital. He told the young student artists just how meaningful their creation would be to the hospital, saying that it would be proudly displayed in MedStar's Emergency Department lobby. He talked about the VIPs in the room – the sixth graders – who had created this mural. He told them, "When community members come in for care, when they're sick, when they are at their moment of need, they're going to come into a place that has this incredibly hopeful work on the wall that's made with love by the kids of their community."
Then Dr. George Arlotto, Superintendent of Anne Arundel County Public Schools, spoke, stressing, "People who don't even know you love you; people who don't know you are proud of you." This was the legacy that, even as young tweens, they were creating for their community.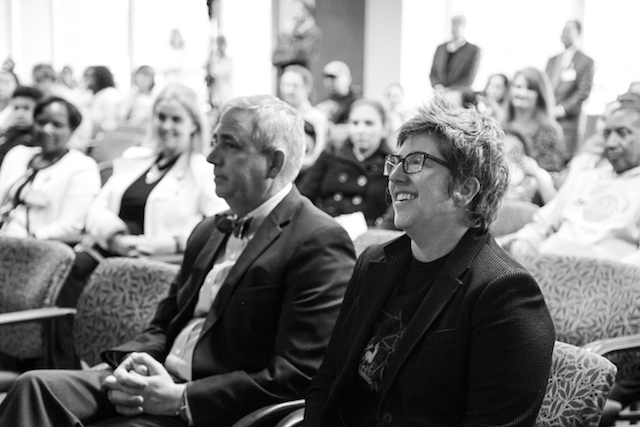 Following Dr. Arlotto, the two teachers who guided the kids through the process spoke. Lisa Radike, the Brooklyn Park Middle school science teacher, recalled that this process helped the kids learn more than just the science of cells, it also helped them "learn how to get along, how to work together." Amanda Pellerin is the Young Audiences artist who taught them to mold clay, shape it into the cells and viruses they were studying, and then assemble an entire mural from all the different parts they had imagined and created. As she looked proudly onto the students, she made sure they understood the significance of what they had done. "You now have artwork that is on permanent display– and you're not even out of sixth-grade yet!"
Finally, it was time for the unveiling of the mural. As the students and their teachers surrounded the mural, people leaned forward in their seats, many creeping to the front with cell phones to capture the much-anticipated moment. After a few more remarks from one of the students who reiterated the theme of how creating the artwork had required them to put aside differences and work together, the veil was cast off and everyone could finally see the finished artwork.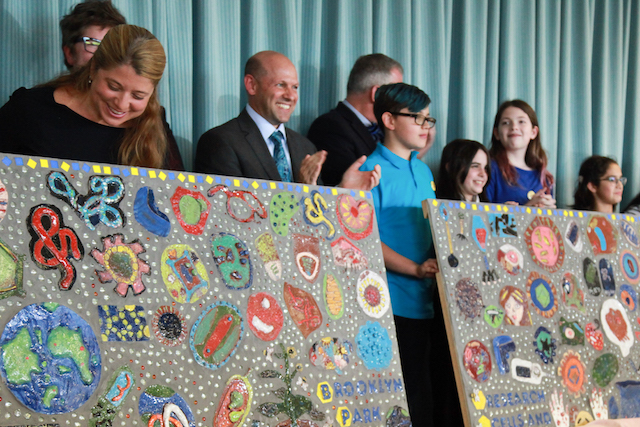 Brightly colored cells wiggled and squirmed their way across the surface. And like a visiting rock star, the mural sat "patiently" as a host of people came up to be photographed with it.
As the event wound down, I finally managed to talk to one of the students, asking simply, "How long did it take all of you to create this?" His answer pulled me out of my adult world of man-hours and Outlook schedules. "About 10 classes."
There it is simply. It's about the classes. It's about what you learn in the classes. It's about how the classes are taught. It's about the knowledge you retain from the classes. And though my own knowledge of sixth-grade biology is but a dim memory, it didn't take a Jonas Salk knowledge of cells to clearly see how wonderful this evening was. That these kids were excited about science. That the folks in attendance were proud of what the middle schoolers had learned and created. And that everyone loved the intersection of science and art.
Written by Barbara Krebs,
Young Audiences volunteer and Sunburst Society member
If you follow education trends even a little, you can't avoid the STEM acronym. In fact, at many area high schools, getting a slot in the highly popular STEM (Science, Technology, Engineering, and Math) magnet program is tricky at best.
Why is that?  Why do people automatically assume that if you want your student to get ahead in life, your best bet is to seek out an education that prioritizes a STEM-based curriculum over one that values the humanities or visual and performing arts? Now, enrolling in a STEM-focused program is certainly not bad advice. But, it's definitely not the only path to success as one recent Washington Post article reported.
"Kids have been educated in a computer world.  But that computer world continues to threaten traditional jobs, so success will rely on the ability of students to innovate and use tools in a non-traditional way."
In the article, "The surprising thing Google learned about its employees – and what it means for today's students," the Post reported on a 2013 study that Google conducted on its own hiring practices. Its founders, with solid backgrounds in computer science, felt certain that only "technologists can understand technology." But after every bit of data was gathered and analyzed, the company discovered something unexpected. Of the top eight criteria considered essential for a top employee, STEM expertise rated… um… eighth.
This led to a deeper dive into the data, which ultimately led to Google re-evaluating its employment processes and putting more emphasis on hiring "humanities majors, artists, and even MBAs." Other companies (such as Chevron and IBM) have also discovered the positives of hiring liberal arts majors because they "prize their ability to communicate."
On a personal level, I feel very strongly about this. My daughter, Colette, spent seven years (three in middle school and four in high school) pursuing a Performing and Visual Arts education. She learned to sing, dance, act, write, and most importantly from my perspective, think creatively. And while she was singing and acting her way through high school, she was also taking AP Physics and Calculus and learning to wire circuit boards. So it didn't come as a huge surprise when she enrolled in Engineering as a college freshman.
While some people were shocked at the 180° turn she made, I viewed it as the logical conclusion to a style of learning that she honed as an arts major in high school. Combining a love of math and science with the arts is not as unusual as you might think.
"Finding a path to my final images is a complex choreography of math, my sensibilities as an artist/scientist, and the subtleties of the subject."
Take, for instance, Dr. Tim Christensen, biology professor at East Carolina University (ECU) and Senior Faculty Fellow in their Honors College (full disclosure – that's how I first met him, when touring ECU with my daughter, who was accepted into both ECU and their Honors College). Dr. Christensen is primarily a scientist but also an artist. Merging the two disciplines, he fully embraces and personifies the concept of STEAM (Science, Technology, Engineering, Arts, and Math).
I was immediately struck while perusing the awe-inspiring galactic photographs on his website, AstroWimp. "As an artist, I've been heavily influenced by my scientific training," he wrote. "To a scientist, images are 'data.' Standing in both art and science worlds, I attempt to convey the art of the data." In his role as teacher, Dr. Christensen transfers the wonder he experiences as a scientist and an artist to his students.
He readily admits that while he finds jumping back and forth between scientific and artistic worlds a natural leap, that is not the case with every scientist.  "Some are still wary of anything that can't be measured scientifically."  Nevertheless, he continues to champion the intersection of science and art, as evidenced in his own artwork. "Finding a path to my final images is a complex choreography of math, my sensibilities as an artist/scientist, and the subtleties of the subject."
Dr. Christensen is currently collaborating with a fellow faculty member, Daniel Kariko, Associate Professor of Fine Art Photography. Their project, dataSTEAM, "focuses on artists who work directly with scientists to develop a deep understanding of the data, preparing artists to contextualize data in their art, connecting both disciplines… art to science, and science to art."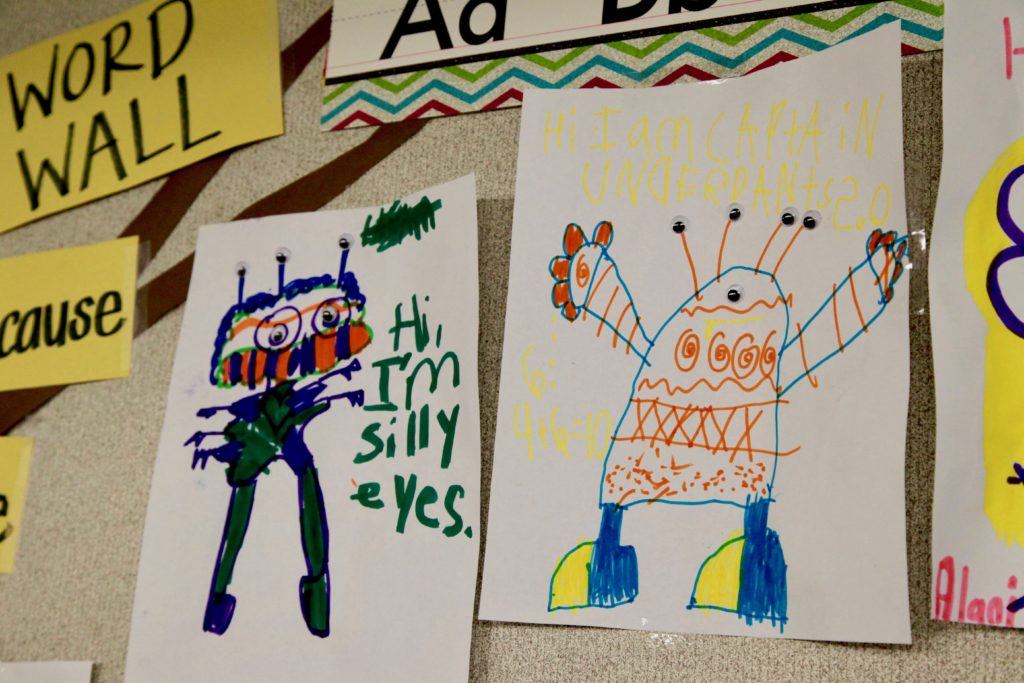 Starting in the fall semester, the two will "facilitate collaborations between Art and Honors/Science students" leading to a gallery exhibit at the university. But more important than the exhibition is, of course, the concept of cross-fertilization between the two disciplines.
As Dr. Christensen explained it, "Kids have been educated in a computer world.  But that computer world continues to threaten traditional jobs, so success will rely on the ability of students to innovate and use tools in a non-traditional way." He feels that merging science and art will create students who are quicker to think outside the box and can straddle both the worlds of imagination and hard-core data.
Similarly, what Google has identified as the top characteristics of successful employees are not unlike the same skills that educators and other business leaders identify as being critical to a person's success in careers, in college, and as a citizen: critical thinking, collaboration, communication, and creativity. These are behaviors that Young Audiences' teaching artists observe and nurture every day among students in arts-integrated classrooms. And so, for those folks who doubt the value of arts integration into core curriculum subjects such as science and math, the, ahem, data demonstrate that arts and science together create a more balanced individual who can successfully work in today's fast-paced, ever-changing work environment.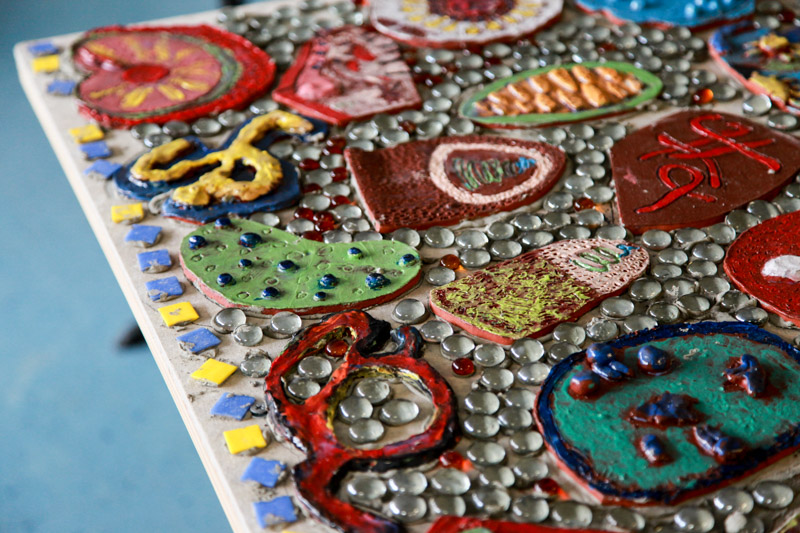 But don't take my word for it, just ask my daughter.  In a recent phone call, Colette was excitedly discussing her Statics class.  The definition of her Statics class from ECU's website- the analysis of equilibrium of particles, addition and resolution of forces, equivalent system of forces, equilibrium of rigid bodies, centroid and moment of inertia, structural analysis, internal forces, friction, and virtual work- left my head spinning.
When I commented on the apparent difficulty of the class, she assured me breezily, "Oh Mom, it's easy for me.  After all those arts classes in high school, I can see in 3-D." 
At the oldest public all-girls high school in the United States, students recently had the opportunity to work with fiber artist Pam Negrin to stitch the likenesses of important, black, female scientists onto one collaborative work of art. Along with partner teacher Jennifer Becker, and with help from both the science and graphic design departments, Pam worked with Western High School students on the large project from conception to realization.
"Many of these women truly were 'hidden figures' and one of the scientists, Stephanie Hill, was a Western alumna!"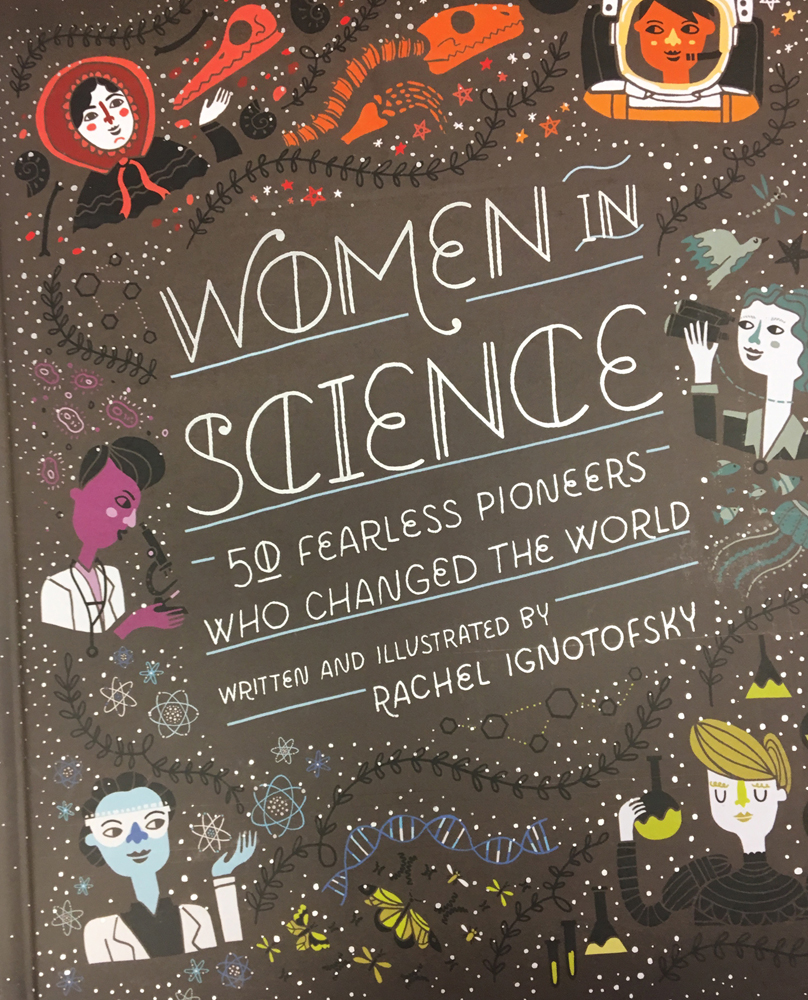 Drawing inspiration from the New York Times best-selling book, Women in Science, the group of students and teachers approached the project with reverence. "We lovingly call it our 'Women in Science Mural'," Mrs. Becker says of the artwork depicting portraits of women who paved the way for her students. "Many of these women truly were 'hidden figures' and one of the scientists, Stephanie Hill, is a Western alumna!"
Three different classes participated in this exciting project. "First, Western's lead science teacher, Ms. Washington, came up with a list of 25 women who have made important contributions in STEM fields," Mrs. Becker explained. "Graphic design students were tasked to research each of the 25 scientists, then collaborated with another group of students in a fine art class to turn these women into beautiful embroidered portraits."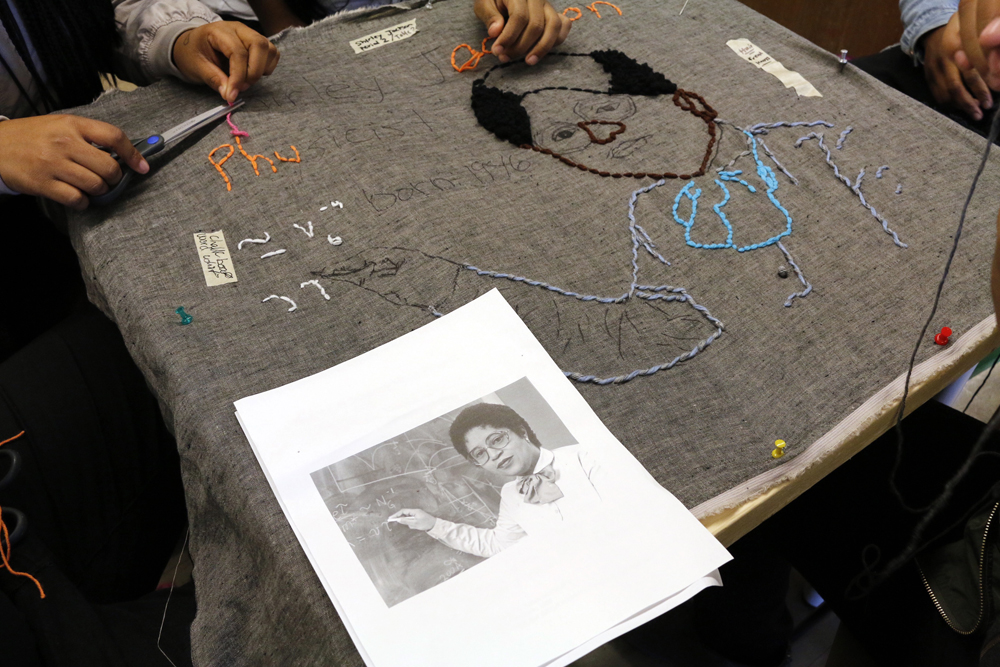 Pam taught the students how to project drawings onto fabric to create their own patterns. They learned various embroidery stitches to create different textures for hair, clothes, skin, and even a stitch for teeth! "Pam Negrin's residency was the highlight of our year. The students are eager to see their finished artwork on permanent display in the Science department."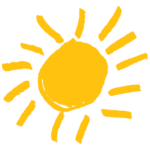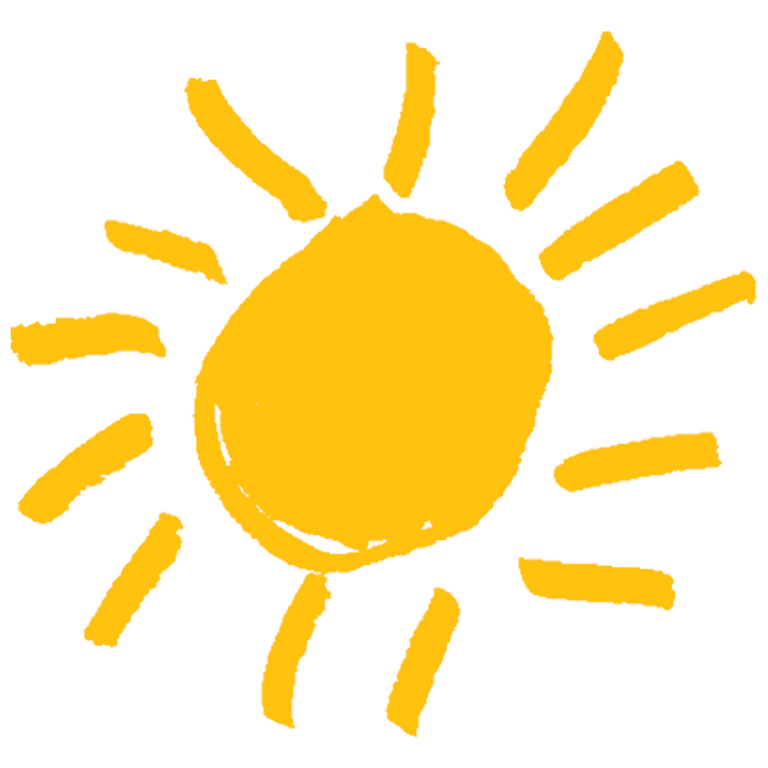 Pam Negrin's artwork includes embroidery, appliqué, drawing, collage, improvisational quilting, printmaking and sculpture. Her residencies transform classrooms into creative and collaborative handwork studios where students create something beautiful together. Schedule one of Pam's residencies for your classroom.
On an early Saturday morning this past fall, Drew Anderson, a hip hop artist, slam poet, screenwriter, producer and veteran school teacher, stood up in front of a sunny classroom filled with teaching artists and commanded:
"You are all now 6th graders!"
That's how most mock lessons begin at Young Audiences' Teaching Artist Institute (TAI); a weekend retreat giving Young Audience Teaching Artists and School Teachers the skills they need to maximize the huge potential of arts integration for students in classrooms.
Drew's bold command at first surprises, but quickly shifts observing teaching artists into the mindset of a student absorbing an unexpected, uncommon classroom experience. A teaching artist himself, Drew asks his "students" to listen to Michael Jackson and break down the beat, eventually re-writing verses with science vocabulary taught by his teacher partner in the classroom, Justin Leonard. The two make an exceptional team, as both have backgrounds in public science education. They smoothly interchange directing the classroom, keeping students engaged – a flow reminiscent of Drew's own performances on stage.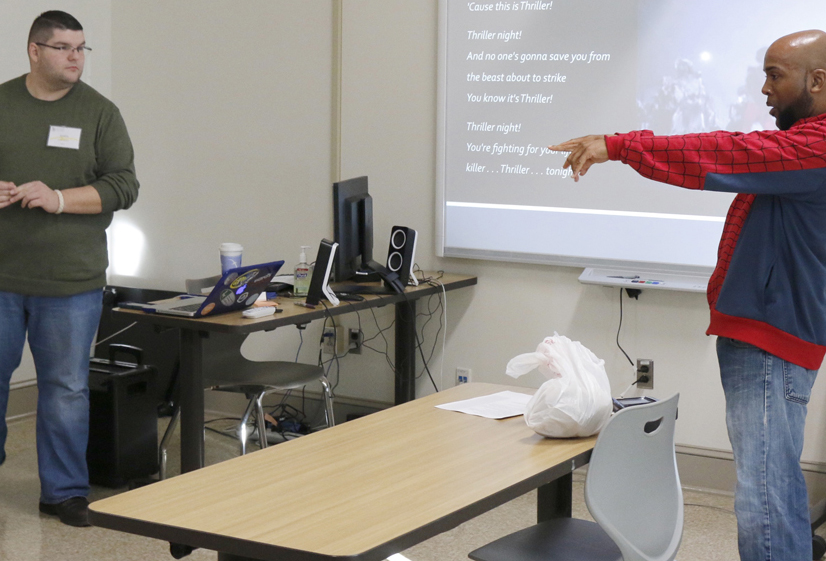 The experience is one of two Common Core compatible arts-integrated performance residencies Drew created at TAI: "C.R.U.N.K. Academy" and "Spoof School" – bridging his longtime passions for performing and teaching.
Here's an excerpt from Drew for the first lesson of his residency:
The first step is to pick a good song to spoof. It is important to pick a song that is catchy and easily recognizable with simple lyrics. As technology guru, Mr. Leonard will record and project the students' suggestions for spoof criteria and will play a few songs asking students to put their thumbs up or down to indicate whether the song would be easy or difficult to spoof. Students defend their responses and the creation of replacement lyrics begins!
"TAI
 forever altered my understanding of what it is to be a  teaching artist.
I learned more than I knew there was to know about arts integration and teaching artistry. I felt utterly enhanced in the realm of mind-shaping magic as if I'd been given a spell book of scholarly sorcery. I learned how to more dynamically apply my art form to educational content, how to break down my creative process for students and teachers, and how to connect my artform to 21st Century Skills, Maryland Art Standards, and the Common Core Curriculum. Every engaging exercise, helpful strategy, and supportive piece of advice from the superb staff and my equally excited peers confirmed that I had found where I belonged.
I am now prepared to convert all the potential energy hidden in classrooms into explosive kinetic energy, using engaging assemblies and super-charged residencies! I've been an educator and performing artist for my entire adult life and have observed the changes in both worlds. Gone are the days when students are programmed with rote memorization of stale "facts." Employers want workers who can think on their feet and on their own. This ever-evolving environment needs young entrepreneurs armed with the creativity to solve problems that have yet to appear. Through its audacity, its abstractions, its "aliveness," art activates parts of the brain that any teacher or employer should want to turn on. You might find yourself "shocked" at how much electricity comes from the marriage of art and education!"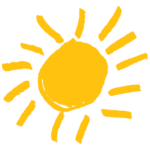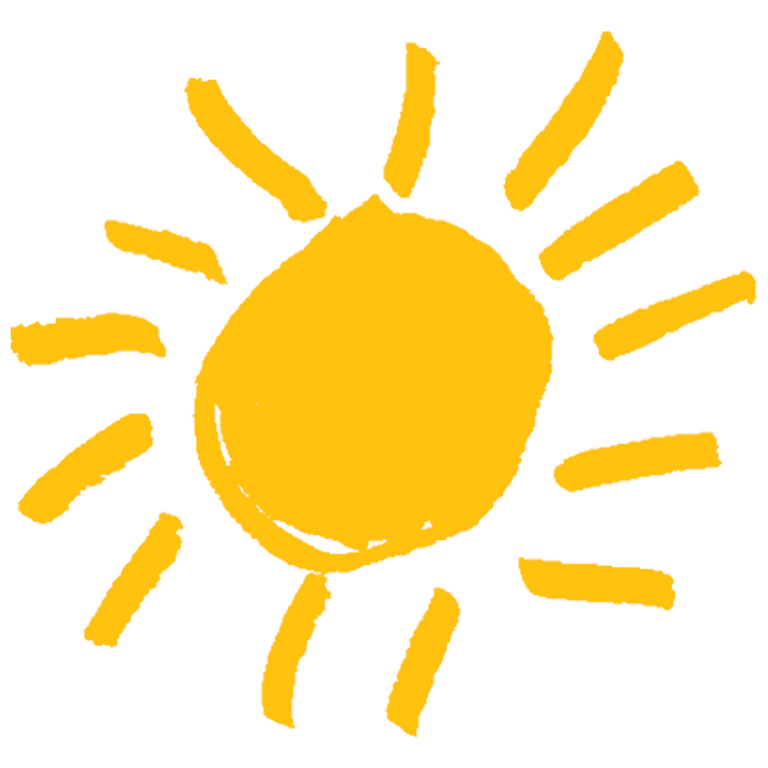 Interested in learning more about TAI? Click here!
Arts Integration in Action! Young Audiences' Summer Arts & Learning Academy 2nd graders learned math and multiplication through the arts with teaching artist Mama Rashida of Wombwork Productions.
The Art of Science Learning (AoSL), a National Science Foundation (NSF)-funded initiative, spearheaded by its Principal Investigator, Harvey Seifter, has released its newest report, titled The Impact of Arts-Based Innovation Training on the Creative Thinking Skills, Collaborative Behaviors and Innovation Outcomes of Adolescents and Adults. The report was written by Audience Viewpoints Consulting, the independent research firm AoSL retained to conduct the study. The effort compared the impacts and outcomes of arts-based innovation training with more traditional innovation training that does not incorporate the arts.
"With this research, we now have clear evidence that arts-based learning sparks creativity, collaboration, emotionally intelligent behavior and innovation in both adolescents and adults," Seifter said. "The implications for 21st Century learning and workforce development are profound."
Working with Worcester, MA high school students and early career STEM (Science, Technology, Engineering and Math) professionals from San Diego, the results were compiled through a series of experimental studies testing AoSL's hypothesis: that integrating the arts into STEM innovation training results in enhanced individual creative thinking skills, increased collaborative behaviors, and more robust team innovation outcomes.
The research yielded compelling results; a strong causal relationship does indeed exist between arts-based learning and improved creative thinking skills and innovation outcomes in adolescents, and between arts-based learning and increased emotionally intelligent and collaborative behavior in adults.
The study divided participants into control and treatment groups. Both groups used a hands-on project based approach to learning innovation. The treatment curriculum replaced 9 hours of the traditional innovation pedagogy used in the control curriculum with 9 hours of arts-based activities designed to achieve the same learning objectives. The study lasted five weeks.
"Our research provides quantitative evidence that validates what artists, inventors, scientists, technologists, educators, entrepreneurs and humanists have known for thousands of years," Seifter said: "discovery and innovation happen at the intersection of art, science and learning."
The research demonstrates that arts-based learning directly strengthens many key 21st Century learning and workforce skills, a finding with numerous immediate and longer-term practical applications for K-12 and post-secondary education, informal learning and workforce development.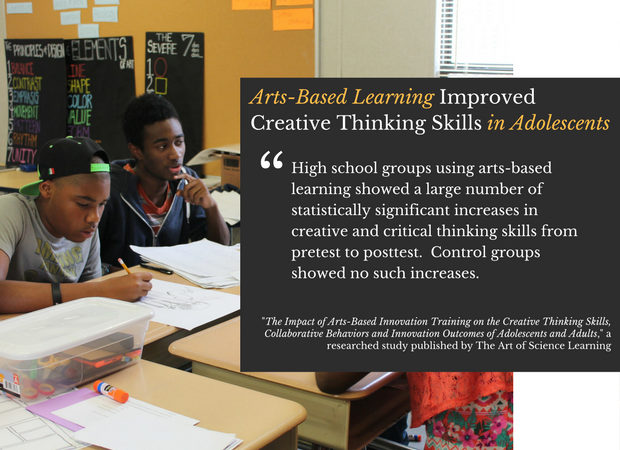 The data strongly suggests that arts-based learning can help STEM companies to spark high performance innovation teams among a new generation of professionals, and that schools, museums and science centers can create environments that foster creativity, collaboration, innovation and engagement by integrating the arts into STEM learning.
Read the full report and its key findings
——–
About Harvey Seifter
Art of Science Learning was founded by Harvey Seifter 2008, and grows out of his decades of work at the intersection of art, science and learning. In addition to his research work, Seifter brings his arts-based approaches to innovation, leadership development and high performance teamwork to dozens of global corporations, and serves as Visiting Associate Professor of Design, Arts and Cultural Management at Pratt Institute in New York City. He is also a classically trained musician with a 25-year career at the helm of several distinguished arts organizations including Orpheus Chamber Orchestra and the Magic Theatre of San Francisco. During his tenure these organizations garnered 5 Grammy Awards, 24 Obie and Critics Circle Awards, and the Kennedy Center Award.
About The Art of Science Learning
The Art of Science Learning (AoSL) is a National Science Foundation (NSF)-funded initiative, founded and directed by Harvey Seifter, that uses the arts to spark creativity in science education and the development of an innovative 21st Century STEM (Science, Technology, Engineering and Math) workforce. AoSL's national partners include The American Association for the Advancement of Science, Americans for the Arts and The Association of Science-Technology Centers.
All text Republished with permission from the Art of Science Learning (AoSL)
Young Audiences' roster of artists continues to grow to encompass new artists, ensembles, and art forms, from slam poets to improvisers to Capoeira masters. We'll be regularly posting interviews with our artists, giving them a chance to share more about themselves and their experiences bringing their Young Audiences programs to schools.
How did you first hear about Young Audiences? What made you decide to become a roster artist?

A colleague told me about the Arts Education in Maryland Schools (AEMS) Alliance, and I found information about Young Audiences on the AEMS website. My reasons for deciding to become a roster artist are twofold. First, I have fond memories of the school assemblies I attended as a child. Whether the assembly was about public safety or a performance, the message always stuck with me. Assemblies were presented as something special, a time to get out of the classroom and see information presented in a fun and interesting way. It is my hope that Outer Space Improvisations leaves the same kind of positive impression on students as the assemblies I attended as a child. Second, I place a high value on professional development, and when I learned about the Teaching Artist Institute (TAI), I realized that Young Audiences does too.
How does your art form help connect students to what they are learning in school?

When composing music I utilize basic math concepts. Additionally, I rely on my skills as a writer to create song lyrics and devise hypotheses. As I experiment with new sounds, I recall historical events and scan my current environment for inspiration.
Through music, I encourage students to see the convergence of academic disciplines, rather than single out one in particular. In using improvisation activities, I invite students to pull from what they know about math, literature, science, and history to create something entirely new and unique.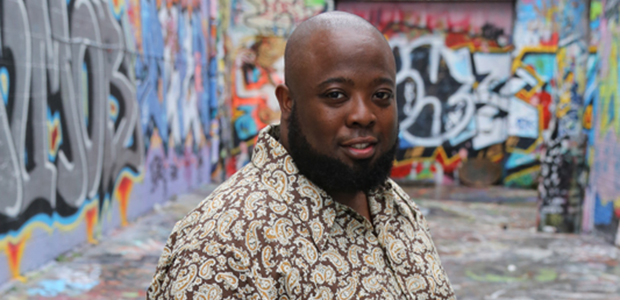 We love your concept of connecting live, improvisational music with the theme of space exploration. Can you tell us more about your program "Outer Space Improvisations"?

"Outer Space Improvisations" is a program designed to stoke students' imaginations. The students and I take a musical space journey, leaving our day-to-day existence on Earth to travel to far and distant places, both charted and uncharted. It is the uncharted place that most excites me because students have to use their imagination to create what these places look, feel, sound, taste, and smell like; this is where the improvisational aspect of the program comes into play.
Through sound design, I welcome students into the performance with the sounds of space. When I play, students are immersed in original space-themed compositions inspired by composers and musicians like Beethoven, Franz Liszt, Earth, Wind & Fire, Led Zeppelin, Jimi Hendrix, and Thundercat. Facts about space are woven into the program to deepen their intergalactic experience, and improvisation activities connect students to the infiniteness of their imagination.
How do the lessons/skills you teach students about or through your art form apply to and affect their everyday life outside of the classroom?

An important aspect of my work as a composer is improvisation; however, it is through my imagination that I can improvise. The ability to create something that has never existed before is an essential skill that all people must have. Without it, the ability to solve the simple and complex problems that pop up in everyday life would be impossible.
It is important to me that students feel confident in their capacity to think through and learn how to present a new idea. The problems children are solving today and those they will address in the future require a strong imagination, critical thinking, and courage.
Why do you believe it is important for every student to have access to the arts?

I am committed to arts education. It was through the arts that I learned how to improvise, communicate, and imagine. The arts education I received as a child helped shape the person I am today. Seeing that I had a passion for music, my parents enrolled me in arts programs. In high school, I attended a performing arts magnet program where I had the opportunity to interact daily with teaching artists. They challenged me to think creatively and critically about how to contribute to the world around me through my art.
What is the most rewarding aspect of becoming a Young Audiences roster artist?

Performing in front of students who at first don't know what to expect when they see me, and then seeing the impact my music has on them as their imaginations light up is exciting. I believe the ability to use imagination, to see beyond one's circumstance or everyday reality is not a privilege, but a necessity. To see students grasp this concept, and then watch them use it to do something that has never been done before is my greatest joy.
Learn more about Scott Patterson's assembly "Outer Space Improvisations"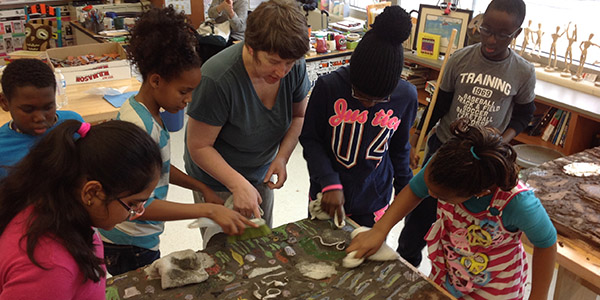 By Lori Mellendick, fifth-grade art teacher at Ducketts Lane Elementary
This December, my fifth-grade students gathered around a table functioning as young archaeologists, researchers, and artists. Their collaborative clay mural sat before them covered in grout waiting to be exposed. As my students began to buff the dried grout away, the ceramic animals they sculpted and arranged in the mural earlier in the fall began to pop through. My class had been working toward this moment since Young Audiences visual artist Amanda Pellerin first arrived as our artist-in-residence in October.
The massive four-by-eight-foot panels of the mural took up the entire floor. I didn't realize how busy my classroom could be as we built something so large. Slowly, a vast food web stretched across the mural revealing the entire habitat network of the Chesapeake Bay.
On this final culminating day, my students experienced what we like to call their "Aha!" moment. They took a step back and discovered harmony behind their mural as a collaboration. The looks on their faces expressed the "now we get it" type of feeling. They ended by celebrating each other by giving and receiving compliments of their work. The positive energy in the room was out of control!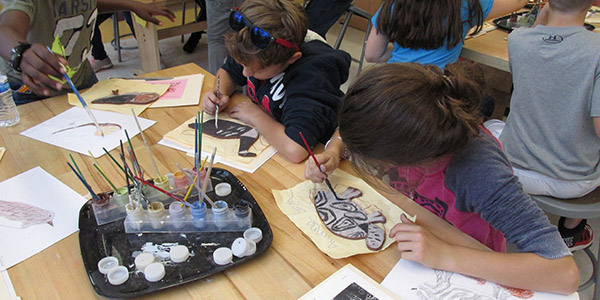 In October, my students had spent five days conducting research of Maryland animals surrounding the Chesapeake Bay as a theme. They built an understanding of how these animals survive depending on their diets. The students also investigated the Chesapeake's surrounding habitat by studying the water cycles, plants, and local natural resources. In order to display these facts on a visual web, the students had to be imaginative. This is where Amanda's expertise came in. Amanda guided students through the necessary steps to creatively assemble this piece of work.
There were times when kids pondered whether or not they should take an artistic risk by making verbal decisions in front of a group. When energy subsided, some surprising moments occurred when a few particularly shy students stepped up to the plate and made executive decisions for the group. It was a wonderful chance for students to express creativity in ways that they didn't expect to, especially within the subject of science.
I wanted to find a meaningful residency that would integrate the arts into the subject of science. I knew that this was the perfect opportunity to find a project that could cover environmental research in a creative way. Knowing Amanda's experience as a Young Audiences roster artist, I knew that the kids would get a lot out of the program.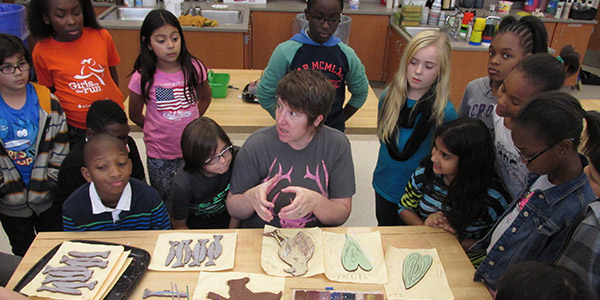 It was important to bring in an outside artist because it gave some of our teachers an understanding of how the artistic process works. Teaching children artistic behaviors is important because it demonstrates tasks such as researching, modifying, and executing that energy into a product. It doesn't work like a magic trick where *poof*, a beautiful piece of artwork suddenly appears. It takes work. It's similar to the scientific process. You formulate a hypothesis, test your theories, and then provide a conclusion statement in the end. In this case, our conclusion was a mural that demonstrated a deeper understanding of the Chesapeake Bay.
Using a tactile form such as clay, gave students a substantial gift in the end. Since these fifth graders will be going onto middle school very soon, I wanted to give them an opportunity to leave their mark upon the school. In April, there will be an unveiling of the mural in a reserved space across from a beautiful fountain. Strong light filters into this area which will give the mural the perfect spotlight that it deserves. We can't wait to put it up!
When you are studying something across the board of a curriculum, it resonates with children. It hits on so many different content levels. These experiences give so much more meaning to the students than you would expect. I immediately go back to my own experiences and remember the impact that resident artists had upon me in school. I wanted to give my students that same opportunity.
Learn more about Amanda and her programs for schools at yamd.org.
By Cyan McMillian, seventh-grade student, Windsor Hills Elementary/Middle
My name is Cyan McMillian and I am a seventh grader at Windsor Hills. I'd rather throw a football than paint my nails (seriously). I felt like a free spirit until my tenth birthday–which was the worst day ever. I was excited but made the mistake of not bringing enough cupcakes for the whole class. One girl–the drama queen–decided to take out her frustrations on me. She waited until we got in the cafeteria and took a mixture of yogurt, milk, juice, and water and poured it over my head in front of everyone. On my birthday! Everyone who saw it laughed. Even the adults. I was so hurt and embarrassed that I ran out of the cafeteria in tears.
I never wanted any friends after that. The more I tried to be myself the more I would get picked on. Bullies targeted me for all the ways that I was different–my weight, my clothes, and my love for school.
My parents signed me up for the Baltimore City summer learning academy, the summer before middle school started. I like math and science, but I was most interested in the art classes provided by Young Audiences. See, I don't get to enjoy the liberties of art during the school year. Having art every day during the summer was a treat because I got to make new friends, I learned how to use the color wheel, how to make 2D pictures become 3D pictures.
Watch Cyan share her story at Young Audiences' Impact Breakfast event earlier this month!
My art class was taught by Young Audiences teaching artist, Danyett Tucker. She played a song by Lauryn Hill called "Everything is Everything," and asked us to illustrate what the lyrics meant to us. I love that song. It was like math because my hands and brain were working at the same time to solve a problem. I was able to express myself without being judged in a way that was fun and challenging. I learned from Ms. D that there is no "right" or "wrong" when it comes to art.
Ms. D believed in me and gave me the confidence to believe in myself. She let me come to her when I needed someone to talk to and gave me helpful advice when I was stuck. I was free to be who I am again, which made me feel like my old happy-go-lucky free-spirited self.
Ms. D inspired me to keep drawing after the program was over. My dad loves to draw and after that summer we started drawing together. When I found out the summer program was going to happen again this summer, I found out where Ms. D was teaching and signed up. This summer was even better because not only did I get art with Ms. D, other artists also helped teach the science and math classes. I learned how ratios relate to music and how dance movements connect with science.
In Ms. D's class, we created a mural that's displayed here today illustrating Maya Angelou's poem, "A Brave and Startling Truth." The poem was confusing at first but the more we read it as a class it became easier to understand and inspired me to speak out about the positive and negative things that happen around me. I was able to use my voice through illustration again. I attended this program every single day and now I have two murals in my portfolio.
Now when I feel like I have something to express but don't know how to say it, I draw it out. Thanks to Young Audiences, I have learned a lot about myself. I'm more observant and I know what a real friend is. I know who I am. So what if I'm not a girly girl, I'm fast and I can handle my business. When they call my clothes trashy, I don't let it bother me because their shiny white sneakers always end up dirty in a few days. And when they talk about my weight, like the song "All About That Bass" says: "Every inch of me is perfect from the bottom to the top!"
Last year I had the highest grade point average in middle school and it is still sky-high. I have a scholarship to any college that I want. I plan to get a PhD and work for NASA. Thanks to the support of my family, a few good friends, and the Young Audiences artists who understand me like a parent would, I am going for my dreams. And while the summer program is over, what I learned from Ms. D, that "Everything is Everything," will stay with me forever. What that means to me is that if you want to be something and you work hard, you will most likely become that. So keep an eye out for me.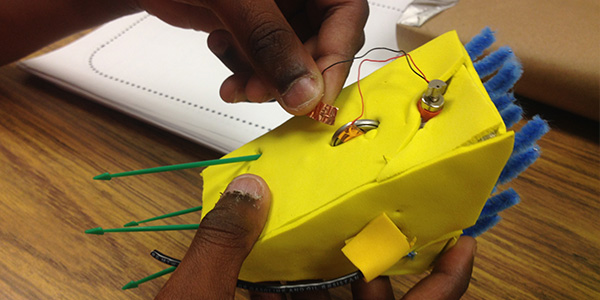 During the last two years, our roster has grown in size to encompass new artists, ensembles, and art forms. From slam poets to improvisers to Capoeira masters, these new artists are undeniably unique.
To introduce audiences to our new artists, we'll be posting interviews with those who recently joined our roster, giving them a chance to share more about themselves and their experiences with Young Audiences so far. We recently sat down with Matt Barinholtz of FutureMakers.
What is your background as an artist?
FutureMakers started from work I was doing as a visual artist and sculptor with other makers and educators. I was frequently asked if I could bring the type of work I was doing to classrooms. I had met artists, engineers, and technologists that wanted to do projects with young people, but didn't feel confident about how to approach it. I wondered if an organization could connect makers and educators, so both could build their skills.
During the summer of 2012, I was invited to work with a supportive cohort of community colleges in Maryland to bring STEAM workshops (Science, Technology, Engineering, Arts, Mathematics) into their summer programs for youth. Since then, we've steadily been growing our staff, or as we call them, coaches, and are excited to be working with Young Audiences to provide a formal pathway for those interested in joining FutureMakers to deliver programs to schools.
How did you hear about Young Audiences?
Someone shared a workshop offered by Pat Cruz, Young Audiences Education Director. I wasn't able to attend, but reached out to Pat to find out how FutureMakers could learn from and work with Young Audiences. In 2013, we were invited to support a summer learning program in Harford County, and participate in the Teaching Artist Institute (TAI) Seminar. Through TAI, we developed a FutureMakers residency. We've been making things that wiggle, draw, glow, and do crazy stuff with kids ever since.
See these sculptures in action here!
What has been the most memorable part of the programs you've had through Young Audiences?
I was watching morning announcement videos at a school which used puppets created by students with TAI instructor and playwright John Morogiello. They were funny and sharp. It wasn't about adults, it was about youth development with young people out in front. I was impressed by the way art was completely integrated into that school. It made me wish that more places would work and integrate this way.
What was your favorite part of the Teaching Artist Institute (TAI) Seminar? How has the experience changed your approach to teaching?
TAI solidified the way we at FutureMakers think about the pathway our coaches follow. It focuses our expertise and creativity on student engagement, measurable outcomes, and addresses the needs of our teacher partners. They get to see and do what they'd like within boundaries of what they need to do.
Our coaches are experiencing how maker education can connect in classrooms because of Young Audiences. Being observed, receiving feedback, and having scheduling and communications support is an enormous value that Young Audiences adds to our organization.
What does your art form–particularly as it relates to STEM subjects–teach students?
With technology, things are moving toward additive processes – for example, 3D printing, which is a process we incorporate in many community workshops. Traditional craft and art media are now expanding to incorporate materials often found in science or technology classrooms, or only available to higher education students. In a rapidly evolving, project-based learning world, coaches help young people embrace the design process in their creative lives – think like engineers to figure out how to solve a design challenge, and have the confidence to iterate, or try again, when things go in unexpected directions.
How do the lessons or skills you teach students apply to their everyday life outside of the classroom?
Students asking, imagining, planning, creating, and improving is the core of what we're about. Young people have limitless imaginations, and are open to learning how to take a step back and ask questions. In the past, young makers followed plans or prescriptive examples to complete a project.  We're learning that truly effective coaches facilitate their discovery of paths and options that lead to mastery – supported by the design cycle.
Why do you believe art is important for every student to have access to?
Young people need to have the opportunity to try something and fail, and a coach who can help them through difficult spots. Art was the only thing that kept me focused and motivated in high school; it was my identity early on. When we're working with students in upper-elementary and middle school, identity is a large and important part of what our residencies are about. Art is a fast path to forming and grabbing onto an identity, whatever the content is.
What is the most rewarding aspect of being a Young Audiences roster artist?
It's incredibly validating to know as an organization we're doing something that our school systems embrace. I think the most rewarding aspect is knowing that we're working in a community of other practitioners who are phenomenal performing and visual artists and amazing coaches. That is a very rare mix, and we're honored to be a part of it.
Learn more about FutureMakers' offerings through Young Audiences.
Keep an eye out for more interviews featuring our newest roster artists! See past new artist interviews here.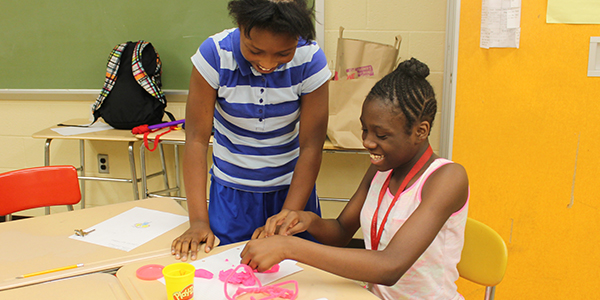 See photos from the Young Audiences arts-integrated summer learning site!
The summer can be a time for fun in the sun with family and friends, but for many students across the country, it is a time of uncertainty. Without school, many at-risk students are left without adequate supervision, access to regular, healthy meals, and opportunities to participate in engaging and constructive activities. On average, all children can lose approximately two months of learning from the previous school year during the summer months without engaging education activities, and for low-income students, the loss is even greater. More than half of the achievement gap between low-income students and their more affluent peers can be attributed to the unequal access to summer learning opportunities.
For five weeks this summer, Young Audiences again partnered with Baltimore City Public Schools to combat summer learning loss through a free math- and science-focused summer camp opportunity for Baltimore City middle school students. Young Audiences artists provided arts enrichment activities at seven Baltimore City 22nd Century Pioneers Summer Camp sites. In addition, for the first time, Young Audiences managed an eighth completely arts-integrated camp site at Edmondson Westside High School.
At the Young Audiences camp, morning math and science classes were co-taught by Baltimore City teachers and Young Audiences artists, who explored STEM subjects through the arts. Students had a choice in the art form they focused on during afternoon enrichment classes, including dance, photography, illustration and mural painting, improvisational theatre, Hip Hop, steel drum, or VEX robotics. The camp also included field trips, giving students the chance to apply their knowledge outside of the classroom.
The program was a learning opportunity for participating teachers as well, some of whom were new to arts integration as a teaching practice. Co-teaching with Young Audiences artists gave teachers the opportunity to try out a different way to approach each lesson, growing their knowledge of the arts and the natural connections that exist between core subjects and the arts.
In a recent survey of 500 U.S. teachers, 66 percent said it takes at least three to four weeks to re-teach content from the previous school year to get their students up to speed at the start of each new school year. At Edmondson Westside, the arts made learning fun and students both stayed intellectually engaged so they would not fall behind in their classes this coming school year, and also discovered a new way of learning through the arts. Students had the opportunity to develop their knowledge in math and science in a hands-on way, learning how the length of sound waves relates to the pitch of each note on a steel drum, or how a photographer or illustrator uses mathematical ratios to compose a piece. Students learned about themselves as they tried new things; took risks during classroom activities; and showcased what they had learned for others.
Read more about the Young Audiences arts-integrated summer learning site and see photos from this summer here.

By Grace Galarpe, Baltimore City Public School teacher
When I got involved in the Young Audiences and Baltimore City Public Schools 22nd Century Pioneers Arts-Based Summer Camp, I wasn't sure if I was in the right place at first. Even though I've seen arts integration in the news, this summer was my first time really working with it. It was my first time working with Young Audiences, too, so when they told me that this program was all about arts integration, I was curious to learn more.
As a high school teacher, I've had the opportunity to collaborate with other core subject teachers before, but a collaboration with an artist? This was my first time and the idea interested me. In the past, I've used the arts in my classroom in the sense that we would sometimes draw or dance or sing. If I did incorporate the arts, it was separate. These activities would be after instruction or after school. The program this summer, where arts integration happened within the instruction, used a completely different method.
I was paired with Valerie Branch, a dancer. Before Valerie and I started teaching, we did lesson planning. Looking back, we consider this the biggest factor in our success because the planning helped us gain a greater understanding of how we would integrate the arts into our lessons.
I was very fortunate because both of us took the program very seriously. We would do thorough planning and would really talk about what was going to happen the next day and the next. Everything that Valerie and I accomplished this summer was possible because we had time to plan together. I wasn't just going into a classroom where I would do everything by myself; it was a partnership.
See more photos from the Young Audiences arts-integrated summer learning site!
Our lessons weren't always perfect, but since the teacher and the artist planned together, we could always reflect and revise–not just one of us, but both of us. We helped and respected each other, and as the summer went by, we became very comfortable with one another. When Valerie and I would sit down together, she made me feel confident about where the arts would come in and how we would make it possible. She made me feel more comfortable with her art form, too, and because of this, I could easily explain the elements of dance to students.
This summer, I realized that a dance activity can be incorporated with a science activity using the same concepts and vocabulary. That was amazing to me. At first, I wondered, "How will my students benefit from this collaboration and integration of the arts?" I now feel that arts integration gives students the chance to learn at a different level because we are able to touch multiple intelligences. I believe that our students achieved a deeper understanding of the science concepts and vocabulary that we taught them due to the integration of the arts into our teaching. They were able to apply what they had learned, not only through science but through dance, too.
Sometimes during the science instruction, students would ask: "Why do we need to learn this?" I would respond that they needed to know the terms and concepts so that we could apply them to our next dance choreography, and then they would get excited. When Valerie would talk about the elements of dance at the same time as the science, the students would be able to perform a dance choreography based on something related to science, such as pollution. That was a really wonderful outcome.
I can now see that if arts integration is a regular part of a classroom, it helps increase academic achievement and positive intervention regarding behavioral problems. I could tell that the arts were a huge help in attendance in our classroom, too, and I was so happy that the students looked forward to our class every day.
The arts also helped create responsibility. For example, Valerie and I decided that we needed to do something that would make the students understand that they had an obligation in the classroom. As a part of our teaching, we did an activity we called "Human Mirror," which incorporates dance movements that develop a sense of responsibility. It requires listening, following directions correctly, being observant, and an understanding of what it means to be a leader and a follower. This was a great success for our class. I could sense that the students also gained respect for both of us. They called both me and Valerie artists, which surprised me. I was like, "Oh wow, I'm an artist!"
[youtube http://youtu.be/7laf55H68VE]
If ever given the chance, I would tell teachers who haven't used arts integration not to be afraid of co-teaching with an artist. If there were an opportunity for me to be involved in another arts integration program, I would gladly do it. I've realized that in programs like this, the artist and teacher can become more than just teachers. I believe that they can do more than just share concepts or explain the academic side of things: they can inspire students' lives.
Read more about the Young Audiences 22nd Century Pioneers Arts-Based Summer Camp site and see photos here.